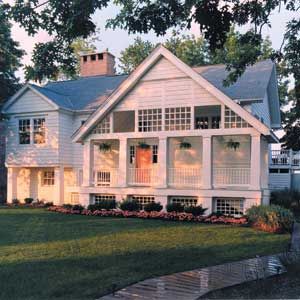 Real estate agents like to say that the three things that determine the value of a house are location, location and location. But they also talk about "curb appeal"—the impression a house gives when you first approach it. It also helps determine value and makes a house feel like home.
That's where an exterior face-lift comes in. At the very least, this type of remodel can correct previous design mistakes. Something as basic as using new paint colors can update an outmoded home. A plain exterior can be made more distinctive by adding a package of coordinated trim. Inappropriate siding treatments—that horrible diagonal planking of the 1970s comes to mind—can be replaced with something more appropriate for your home. Or you can go for the truly dramatic by adding porches or dormers to totally change the character of your house.
Changes like the ones shown here are also a plus if you put your home on the market. Charlette Seidel, a branch sales manager in the Coral Gables, Florida, office of Coldwell Banker Residential Real Estate, reports that more than half of the calls to her office are from potential buyers who have been attracted to a home just on the basis of driving by. "Curb appeal is vitally important," she stresses.
What's a project of this nature going to run you? Obviously, costs will vary a lot, depending on the scope of the project. Assuming that there's more than a coat of paint involved and barring any unforeseen structural problems, you can spend anywhere from a few thousand bucks up to $10,000 or more to make full-blown changes in the siding or entryway design. Here are some midrange examples of contractors' fees and materials:
•A residing job that uses 2,200 sq. ft. of cedar clapboard runs $20,000. In stucco, it's about $16,000.
•A 24-by-16-ft. wraparound porch costs $5,000 to $6,000.
•A 4-ft. vinyl-sided, gable dormer runs in the neighborhood of $2,000. A 12-ft. shed dormer is $5,500.
Doing some of the work yourself will help bring costs down.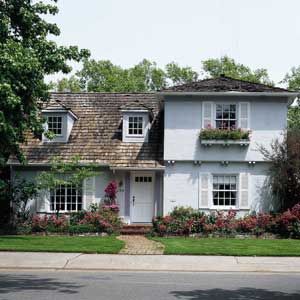 Getting Started
Begin by studying the houses in your area. Look for ideas you would like to try on your house and for ways to tie the remodeling into the overall appearance of the neighborhood. For instance, a bare-bones ranch house on a block of cottages would blend in more if you were to add a front porch. If stucco covers most of the homes, think twice before opting for vinyl siding.
Snap a photograph of your house, blow it up on a copying machine, lay a sheet of tracing paper over it and sketch out some different details. Or take a more high-tech approach with home design software that lets you cut and paste a new façade onto your house. Some larger home centers also offer this service.
See what impact dormers would have on the front of the house, or how a new trim treatment or a covered entry would change its appearance. If this kind of creativity isn't your strong suit, hire an architect to develop a few ideas for you. Architects work on either a per-project or an hourly fee basis. In the first arrangement, you define the job (for example, design only, or design and construction supervision) and negotiate a fixed fee for it. The second option can be more flexible, but you'll need to keep an eye on how much time is being spent on the job. When you're paying $60 or more per hour, time really is money.
There are several major elements to be considered in exterior remodels. Applied singly or in concert, they can make a dramatic difference in the appearance of any home, as our two examples illustrate. Read on for information on each of the major elements.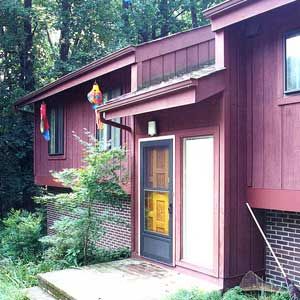 Exterior Remodel Elements
The entry. The natural focal point of the façade, the entry is often the site of the most dramatic changes. Entries can be enhanced or redefined in many ways. Give a boost to an underscaled or awkwardly proportioned entry by building an awning or extending the roof over the front door. Add some interest to it with a distinctive profile, such as a peaked or arching overhang. Two-story homes (and, if handled correctly, some single-story ones) can accommodate a covered porch. Consider including built-in seating; it's a real convenience and looks welcoming. If your home has a set of concrete steps at the door, face them with brick or stone. Don't forget the door itself. Replace it with a more fashionable style, perhaps complemented with a set of sidelights.
The roof. Redesigning the profile and pitch of the roof is a dramatic but expensive strategy. You can make less extensive alterations that will still make a real
difference in the appearance of your home. Properly scaled and styled, dormer additions are a major but manageable cosmetic improvement. They not only change the look of the roofline, but they also provide better lighting and increased floor area inside. Look to the edges of the roof for other opportunities. Changing the depth of the eaves, widening or applying trim to the overhang and boxing in the underside of the eaves to create a soffit are some ideas that will bring a new look to the house.
Materials. Simplicity is the key to using building materials effectively. While in many cases new siding can be installed over the existing material without much trouble, don't overindulge. For the most seamless and graceful appearance, keep the number of siding materials—be it shingles, brick, clapboard, stucco or vinyl—to a minimum. In fact, using just one material is perfectly fine, and will allow you more freedom to work with trim and color. Avoid butting different siding materials together. Designers do it only if a wall jogs and the offset is at least 12 in., such as where an addition meets the original part of the house.
Consider the role the roof plays in the picture, too, especially if you're thinking about having it replaced. This would be the ideal opportunity to make any changes in its material, color or texture that would improve the appearance of the house. Evaluate roofing choices for compatibility with the siding material and the style of the home.
Trim. There's a lot to choose from when it comes to trim. You can use traditional wood millwork and trim pieces or polyurethane molding that looks like the real thing. The designs you select can give your house either a formal or casual appearance. For instance, mitered joints have a more finished appearance than butt joints, which have a more rustic feeling. Staying true to the style of your home keeps the selection process on target. A classic Cape would look ridiculous dressed up with the elaborate gingerbread that marks homes of the Victorian era; simple shutters, perhaps some dentil molding and a few window boxes are more in keeping with its character.
For blank-box homes, focus on the front entrance as a starting point. "Especially if you have a limited budget, the right package of trim elements can pay off with a lot of curb appeal. It's an easy way to escape the cookie-cutter look," says Steve Roth, marketing director of Style-Mark, a millwork company based in Archbold, Ohio.
Finally, remember the garage. Particularly if it's detached, it should receive a similar treatment as the main house. For a coordinated look, investigate the options for garage door and window designs before you sign off on a scheme for the whole house.
Inspired by these ideas and examples, you can make your home a real head-turner with a face-lift.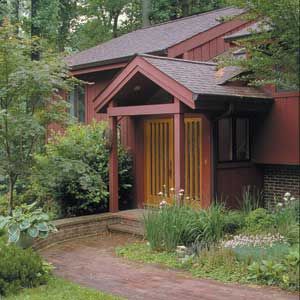 Cure for Boxy Homes
Two changes are at the root of this radical transformation, which was orchestrated by Annapolis, Maryland, architect D. Wayne Speight. "It is a dramatic example of the tremendous potential that exists in older, out-of-date housing," says Speight. Swapping the original flat roof of this split-level house for a gabled one was the first step in achieving the relaxed, traditional look the homeowners wanted.
Next, Speight added a deep, columned porch that stands two stories tall across most of the façade, and turned its peaked profile perpendicular to the main house, parallel to the street. Large framed openings in the 2×2 lattice screen preserve the view from the second-floor windows.
Inappropriate to begin with, the original shutters were removed and the single-pane double-hung windows were replaced in favor of muntined models. Rather than using color to add a final layer of interest to the front of the house, Speight used a textured mix of siding—clapboard on the ground floor, shingles above—a big improvement over the 1960s-era stained T1-11 siding.
Up-Front Updates
"Welcoming" wasn't exactly the first word to come to mind when surveying this mid-1970s split-level home. The entry, while centrally located, was clumsy—a lopsided composition of a paneled door and a fixed-glass sidelight. Covered by a shed-roof overhang that dropped down in a slot between the "wings" of the house, it also lacked any presence. To right these wrongs, Running Remodeling, of Kensington, Maryland, put in some smart double doors, and sheltered them with a simple front-gable canopy set into the existing roof. Supported by squared-off redwood columns, it breaks the monotony of the old design and gives an inviting focus to the front of the house.
Homeowners Yardena Mansoor and Michael Phillips, veterans of several remodeling projects, share a tip about communicating with architects and building professionals: "We've gotten the best results by giving them a list—not a sketch—of the things we want," says Mansoor.
Where to Find It
Architects
Michael Frank Malinowski Architect
2420 K St.
Sacramento, CA 95816
916/442-6955
Running Remodeling
10516 Summit Ave.
Suite 201
Kensington, MD 20895
301/493-9040
Speight Studio Architects
915 Bay Ridge Ave.
Annapolis, MD 21403
410/26-7890
Style-Mark
960 W. Barre Rd.
Archbold, OH 43502
800/446-3040