So you're ready to sell your home, and you don't know where to begin with the staging process? Before you look around inside your home for projects to work on, we recommend you start with your house's exterior first.
Why? Because when it comes to buying a house, the old adage is true: People judge a book by its cover. In other words, the way the exterior of your home looks will determine if potential buyers want to take a tour. If the landscape is well-kept, the exterior looks freshly cleaned or painted, and the upkeep is great overall, buyers will eagerly want to see what you offer inside.
So if you're considering selling, this is an important factor to invest in to ensure you attract as many buyers as possible. Here are some of the best curb appeal ideas to apply when selling your home.
Why Curb Appeal is Important
Whether you are selling your home or not, let's face it, what your house looks like on the outside means a lot. Curb appeal is what passersby notice first from the street. So this is your opportunity to make a good first impression on your guests, whether they are friends, family members, neighbors—or potential buyers. It would be unflattering for an onlooker to see a grimy deck, toys strewn on the lawn, paint chipping, overgrown grass, or general wear and tear—all clues that could signal to a buyer that you don't keep your house in good condition. According to the National Association of Realtors, a whopping 92 percent of realtors recommend sellers boost their home's curb appeal before listing—most of them stressing the importance of landscaping maintenance and lawn and tree care. And it's not just about attracting more buyers; a 2020 study from the Journal of Real Estate Finance and Economics found that good curb appeal can raise a property's price by up to 7 percent.
You shouldn't assume that how you maintain your exterior only affects the value of your home either. A bad exterior can also bring down the value of the neighborhood. It may even get you a violation if you live in a community with a homeowner's association. So you must work on your home's curb appeal throughout the duration of living in it.
Key Areas to Focus on When Selling
Now that you know just how important curb appeal is in making a sale, direct your efforts on the areas that will make the biggest difference in improving your home's exterior. Here are the best curb appeal ideas that are bound to entice buyers.
Dress Up the Entryway
To instantly improve curb appeal, start with what will catch buyers' eye first: the front door. So consider painting the front door a shade that will stand out yet coordinate well with the overall color scheme of the house's exterior. One of the most popular colors to paint the front door is red. Other eye-catching shades include black, yellow, navy, green, and gray. Don't forget to throw down a new welcome mat and maybe flank the door with potted plants to make the entry look as cheery as possible.
A layer of paint will add visual interest. However, upgrading the front door may be a better idea. One of the most valuable options to switch to is steel because it offers a great amount of security. It may also help muffle outdoor sound and improve energy efficiency. But you can also consider a wood, aluminum, or fiberglass-composite door.
Upgrade the Garage Door
If you think about it, the garage door takes up a lot of real estate of the exterior of your house. That's why it's so important that it's in good condition. It could be a huge turn-off for buyers to see a chipped or unattractive garage door. Putting a fresh coat of paint on the garage door can help improve curb appeal big time. Buyer-friendly colors include white, black, beige, or brown. If you have a plain door, sprucing it up with decorative hardware can also make it look more polished. However, if the garage isn't opening and closing correctly, you want to make sure to repair it or buy a new garage door .
Pressure-Wash Outside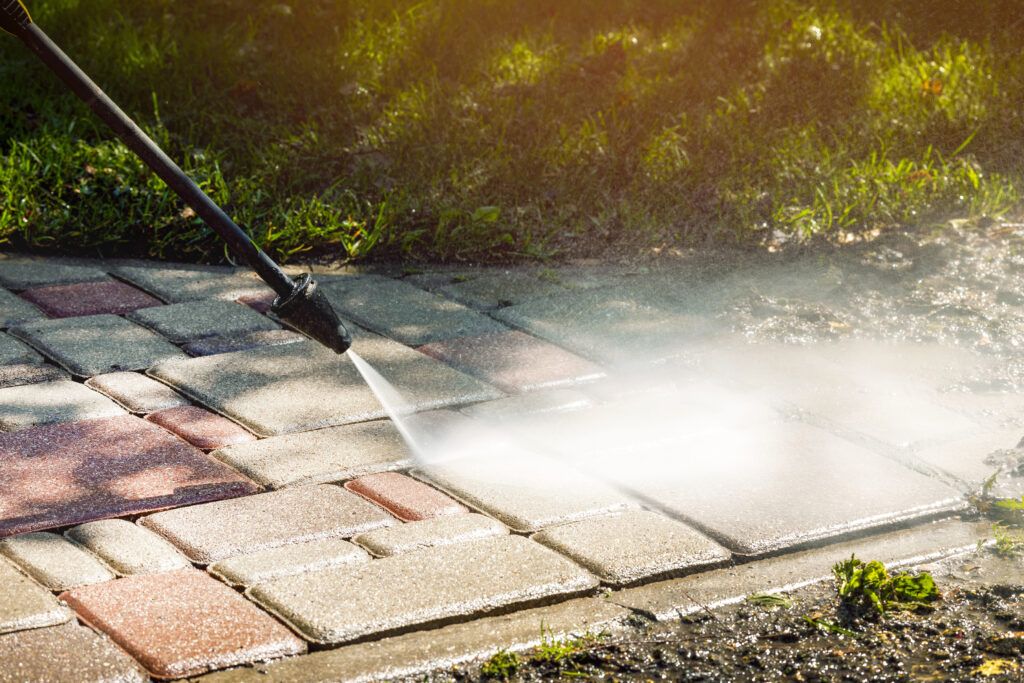 A well-maintained home is a big selling point so be sure to give the exterior of your house a deep cleaning using a pressure washer. Mildew, soot, dirt,, cobwebs, and other grime may cause your home to look dingy and old. Pressure washing can easily give it a sparkling makeover.
Don't just stop at the house, though. It is also a good idea to pressure wash walkways, the deck or patio, the driveway, and any other place that needs scrubbing.
Clean the Roof
Make sure to check out the condition of your roof as one that looks stained can be a red flag for buyers. Plenty of microorganisms could develop on the roof, such as moss, lichen, and black algae, and they items can cause significant roof damage if left to grow—plus it looks unsightly from the street.
Applying a zinc strip to clean a mossy roof can help minimize the development of microorganism growth on your roof. But because the roof is an area of the home that can be easily damaged, it is best to be gentle (this is not the place to use the pressure washer!) to prevent the shingles from getting damaged and keep your roof warranty intact. Since it's not an easy job and can be dangerous to climb on the roof, you may want to hire a professional roof-cleaning service to handle it.
Create a Lush Yard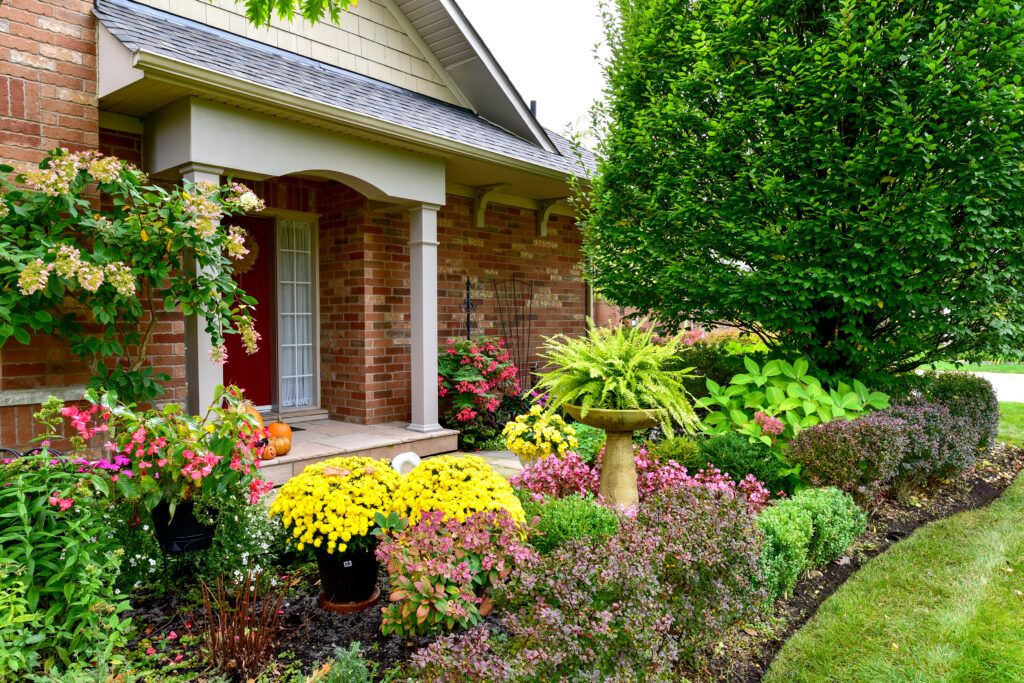 One of the biggest secrets to great curb appeal is inviting landscaping. If buyers see a yard that needs a ton of work, it can be a dealbreaker. Start by focusing on the grass, making sure it's not only mowed but free of weeds, and try to fix patches in the lawn as well.
Next, take a look at the trees and bushes on your property. If there are any that are dying or tree branches that look like they could potentially fall and cause harm, it's a good idea to remove them. Otherwise, prune any dead branches and trim the foilage to a nice shape. Planting flowers and other greenery will make a major impact, but even a low-lift container garden can seriously brighten things up. And adding a fresh layer of mulch will also go a long way.
Brighten Up with Lighting
Lighting is another added touch that will boost your home's exterior. Remember that there are times of the year when it will get darker earlier and potential buyers will still want to view the property in the evenings. Having adequate lighting makes your property noticeable. It can also make your house seem safer.
Good pathway lighting is important to illuminate walkways so that people can see where they are going. You may also want to add some landscape lighting to spotlight certain features of the property, say, a garden bed or the impressive architecture of the house. Traditional outdoor lighting can be pretty expensive. So, if you want to reduce the cost of your energy bills despite increasing the lighting on the exterior of your property, you may want to incorporate some solar lights..
Refresh the Mailbox and House Numbers
A small yet substantial transformation is to install a new mailbox. You can have a perfectly manicured lawn, a clean house, a new door, and an updated garage, but a banged-up mailbox will stand out like a sore thumb. If your metal mailbox is in good condition but looks a little weathered, you may consider adding a few coats of paint.
While you're it, you may want to spring for a new set of house numbers so potential buyers can easily find your address. There are many options, from traditional to modern, make sure they coordinate with the style of your house for the most complimentary look. You'll also want to check that the color and size will be visible from the street at all times of the day.