Make a Plan for Your Plantings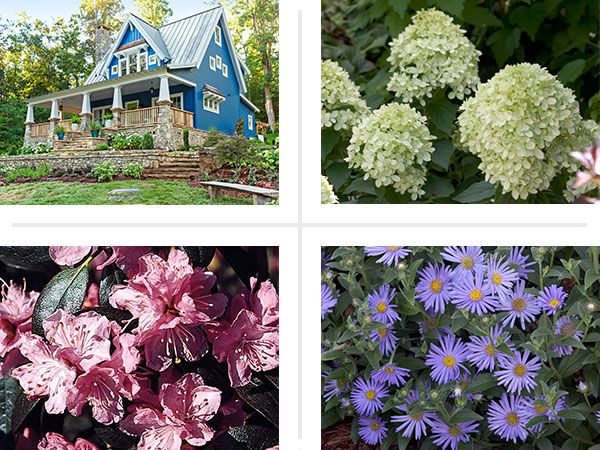 Whether you're starting from scratch or renovating an existing landscape, take comfort in knowing that every site has its challenges—and this one was no exception. Weather in Zone 7B ranges from ice storms and 10-degree lows to intense heat and humidity and 110-degree highs. The Cottage at Cloudland Station was new construction, so very little native topsoil remained after grading. The sloped terrain funneled rivers of rainwater into the front yard. And where there wasn't deep shade, there was searing sun. Against all that, I aimed to create a landscape that's colorful and interesting in four seasons, yet easy-care and fuss-free. And you can, too. Here are a few tips—and some of my favorite plants—to get you going!
Use Old-Growth Trees as an Anchor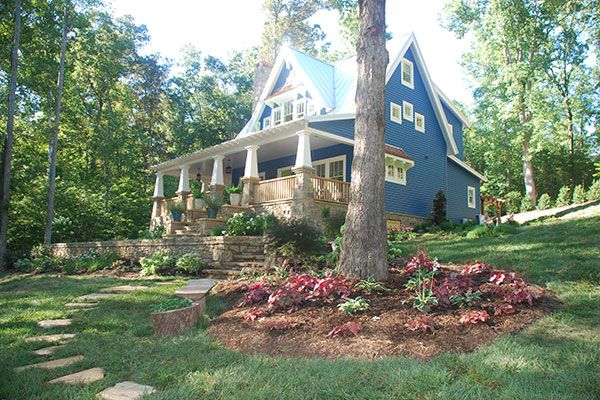 The fastest way to get a mature-looking landscape is with hardy, low-fuss, self-cleaning shrubs in a limited color palette. I started with stands of evergreens—juniper, holly, arborvitae, cypress, Viburnum tinus—to create structure, serve as focal points, and solve a few problems. Then I added several trees for instant height.
One of the few original trees that remained inside the lot was an old white oak. I took advantage of the focal point this afforded by visually connecting it to the beds at the front door and below the retaining wall. While their light requirements were different, the colors are similar. Connecting these beds makes the front yard more seamless.
The challenge of landscaping under a tree is finding plants that tolerate dry shade's triple trouble of parched soil, root competition, and lack of sunlight. Read on for four plants I used (Japanese painted fern, hosta, heucherella, and heuchera) that thrive in these conditions.
Japanese Painted Fern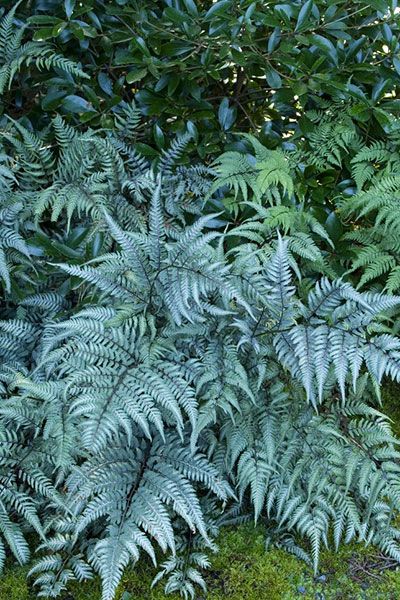 Athyrium niponicum 'Pictum'
Blue is one of the great harmonizers in a landscape. It cools down hot reds and oranges and warms up whites or pale pastels. What makes this fern special is both the variegated foliage and the dark burgundy stems. If you're stumped for a solution to lighten up a dark spot, this is one to consider. Full to partial shade. Grows up to 2 feet tall and wide. Zones 5–10; Monrovia
Francee Plantain Lily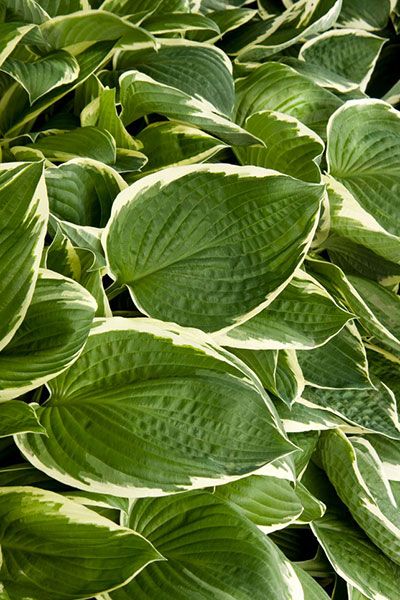 Hosta x 'Francee'
There are hundreds of hosta varieties to choose from, with a dizzying array of colors, sizes, shapes, and leaf forms. I chose this one because its large leaves are in scale with the wide canopy of the oak tree, and because the variegated leaves contrast with the darker hues of other plants in this bed. If you're planting under a large tree, a small-leafed hosta (even when massed) looks dinky; go big for impact! Full to partial shade. Grows up to 2 feet tall and 4 feet wide. Zones 4–8; Monrovia
Redstone Falls Trailing Foamy Bells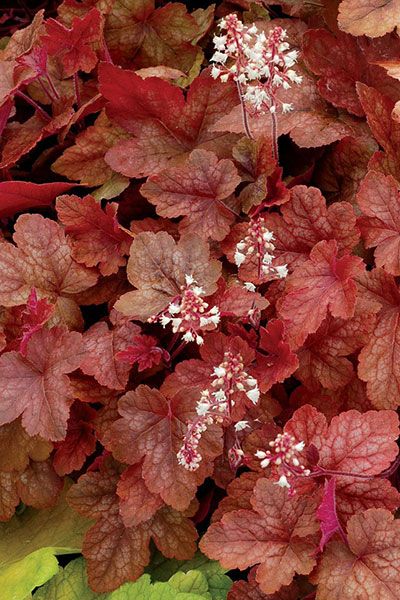 Heucherella x 'Redstone Falls' P.P. # 22,394
The most "natural-looking" garden beds usually have at least one plant whose habit is to wend itself between the others. You could use ivy here, but I chose ruby-colored Redstone Falls heucherella, the first groundcover variety of this stalwart shade lover. It is vigorous, fast-spreading, unfussy, and changes colors with the seasons. Partial shade to full sun in cool summer areas. Grows up to 10 inches tall and 3 feet wide. Zones 4–9; Monrovia
Georgia Peach Coral Bells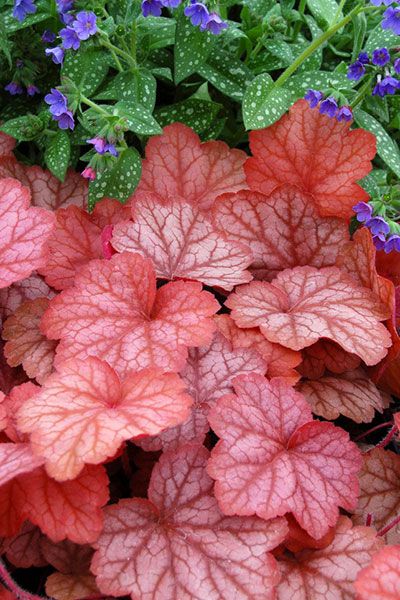 Heuchera x 'Georgia Peach' P.P. # 19375
For the big punch of color in this bed, I chose 'Georgia Peach,' a vigorous heat- and humidity-tolerant variety whose glowing peach-colored foliage shifts to rose-purple as the weather cools. Creamy-white bloom spikes add to the charm. It's more sun-tolerant in cool, northern gardens and evergreen in areas with mild winters. Grows up to 14 inches tall and 2 feet wide. Zones 4–9; Monrovia
Make a Destination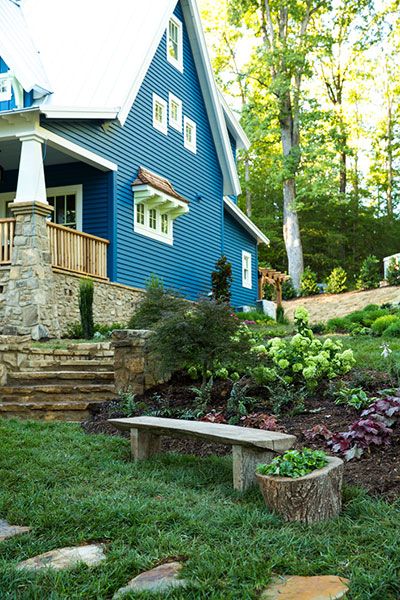 Under the cooling shade of the oak tree, I placed a faux-bois bench to create an inviting resting spot along the stepping-stone walkway that leads from the lower driveway to a flight of curving stairs up to the house. To keep in scale with the planes of the structure, plantings begin to get taller as we get closer to the house. With so much hardscape here, I chose airy plants that soften up the stone. Notice that we continue to use the same perennials that are found under the tree.
Garnet Japanese Maple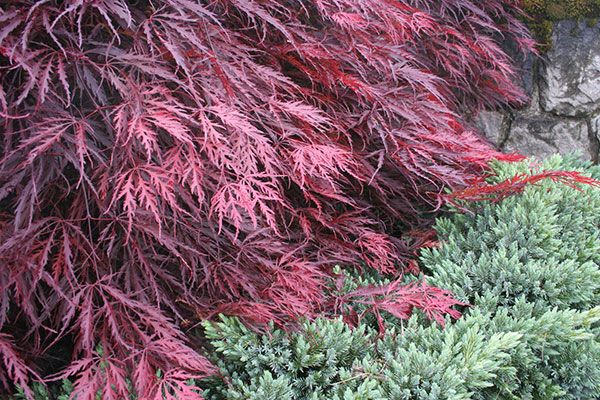 Acer palmatum var. dissectum 'Garnet'
I chose a weeping variety of Japanese maple whose burgundy leaves continue this important anchor color you'll see throughout the landscape. It will thrive in this partial-shade to full-sun spot. It grows very slowly, up to 10 feet tall and wide. Zones 5–8; Monrovia
Little Lime™ Hardy Hydrangea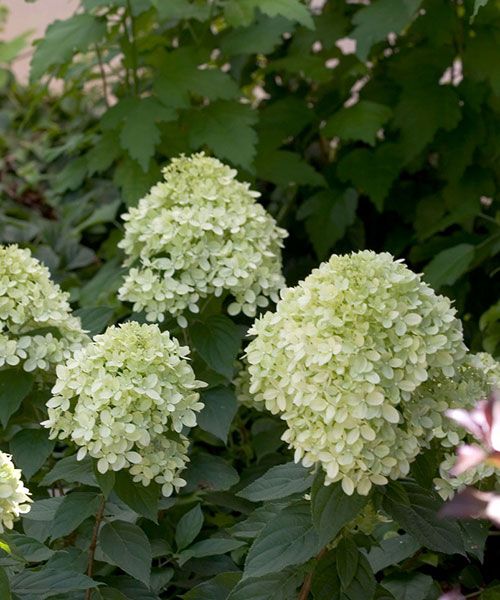 Hydrangea paniculata 'Jane' P.P.A.F.
I dotted the landscape on all four sides of the house with different varieties of white hydrangea. While they are deciduous, they provide amazing volume and flowers for cutting in summer. And they're a great foil for denser plants such as conifers. This one's a dwarf form of 'Limelight' and its green summer flowers turn pink in fall. Grows up to 5 feet tall and wide. Zones 3–9; Monrovia
Terrace Sloped Sites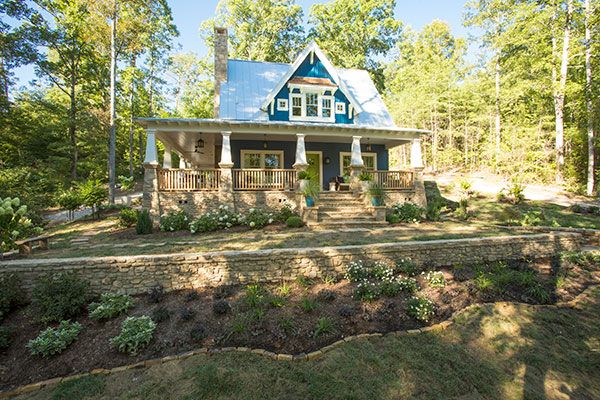 When you have a sloping site, terracing is your best friend. Here, a 3-foot-tall stone retaining wall provides a level surface to allow easy, safe access to the house from the road and a backdrop for a lower garden below. The upper garden, around the foundation, is a mix of evergreen shrubs and hydrangeas; the lower garden is the first bit of landscape you see as you come up the driveway. We designed it to be full of happy color, with loads of texture, compelling shapes, and something of interest during all four seasons.
Berri-Magic® China Holly Combination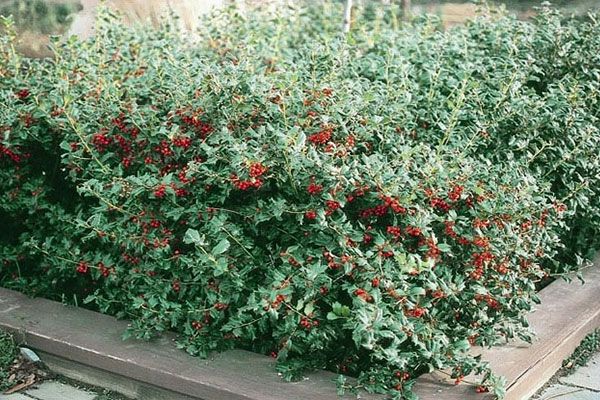 While it's tempting to plant your home's foundation with all kinds of summery, flowery color, the better choice in colder zones is evergreens with lots of texture. In the very deep beds flanking the front stairs, I paired a holly that has berries in winter (shown here) with an arborvitae that has a naturally rounded shape and a juniper with an upright habit. For seasonal interest, I added a few 'Annabelle' hydrangeas; when they go dormant their bare branches will be largely concealed by the holly.
Ilex x meserveae 'Mesdob' & 'Mesog'
In the back of the border, we planted this fabulous holly whose profusion of bright red berries each fall is assured because male pollinizer China Boy® has been planted in the same container as China Girl®. Its dense branches take shearing well, so size can be managed. Plus, it's so thick, you can cut a big handful of branches for holiday decorating! Grows up to 10 feet tall and 8 feet wide. Zones 4–9; Monrovia
Mr. Bowling Ball™ Arborvitae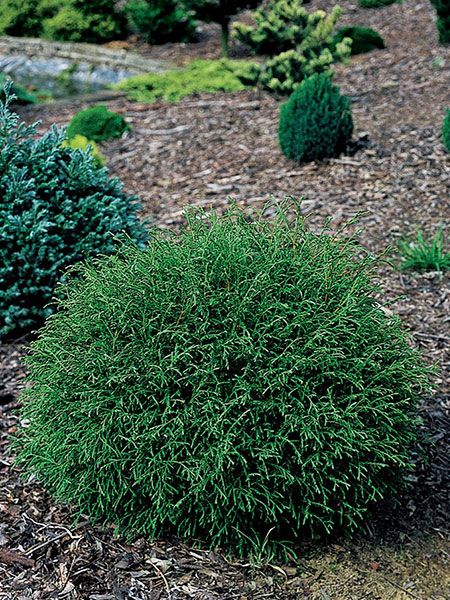 Thuja occidentalis 'Bobozam'
On the inside corners, flanking the steps, I planted this tubby, compact, lacy-foliage evergreen shrub, which keeps its naturally rounded shape and size. None of us like having to fight our way past huge shrubs to reach the front door; erring on the smaller size here adds a nice green touch that's not overwhelming. I used this shrub throughout the landscape when we needed a tidy, shapely little accent plant. Grows up to 30 inches tall and wide. Zones 3–8; Monrovia
Blue Point Juniper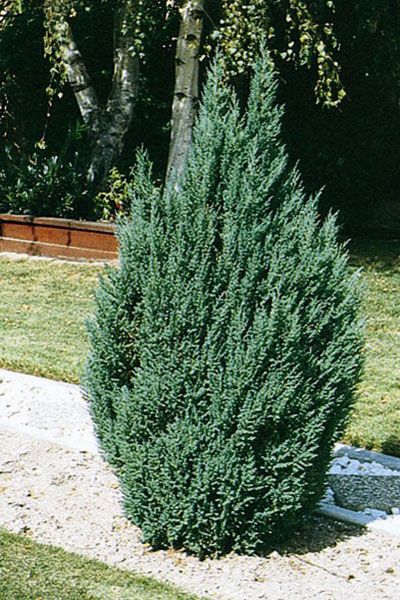 Juniperus chinensis 'Blue Point'
The outside corners of the front foundation beds needed height to be in scale with the porch columns. I chose this Blue Point juniper for its tall but narrow and upright habit and glowing blue-green foliage, which complements the house's color. It maintains its natural form well with practically no pruning. If you need a tough, hardy evergreen for the corner of your house, consider this one. Grows up to 12 feet tall and 8 feet wide. Zones 4–9; Monrovia
Annabelle Hydrangea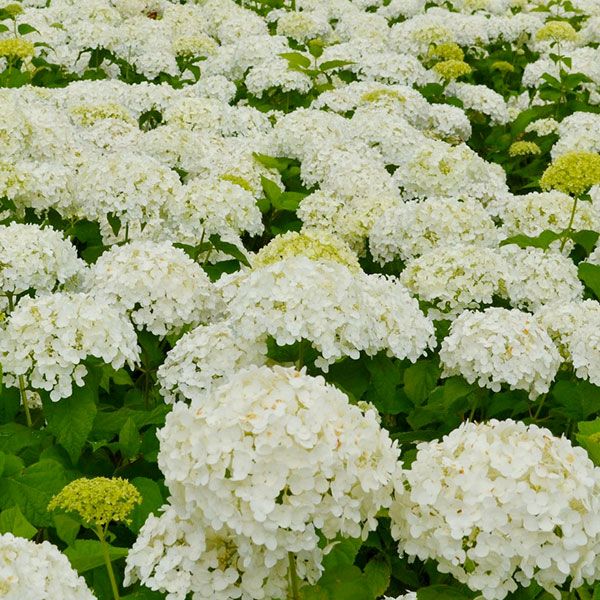 Hydrangea arborescens 'Annabelle'
For a dose of delightful color and form, I added 'Annabelle' hydrangea. It's a timeless classic. Flowers appear in late spring to summer and often continue into fall. Strong, straight stems hold the huge flower heads up well, even in heavy rain. Grows up to 5 feet tall and wide. Zones 4–9; Monrovia
P.J.M. Rhododendron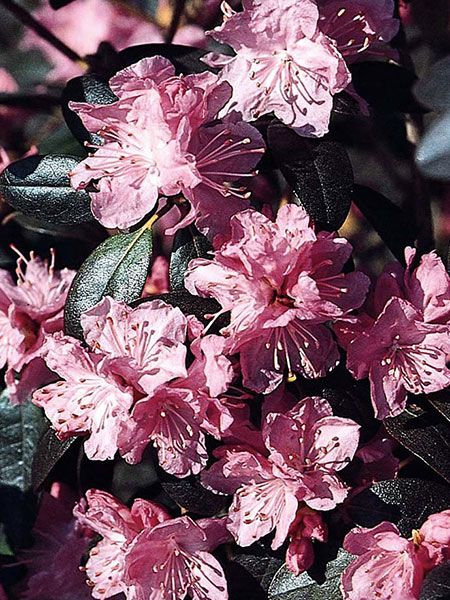 Rhododendron x 'PJM' (H-1)
In the lower garden, spring kicks off with this rugged little variety that performs even in climates that are on the warm side for most rhododendrons. Huge trusses of super-showy, purple-pink blooms come on early, followed by handsome glossy leaves. I like to plant these in clusters or against a foundation or wall because the shrub won't exceed 5 feet tall. It also performs well under a high canopy of conifers since it thrives in acid soils. Grows up to 5 feet tall and wide. Zones 4–8; Monrovia
Concorde Japanese Barberry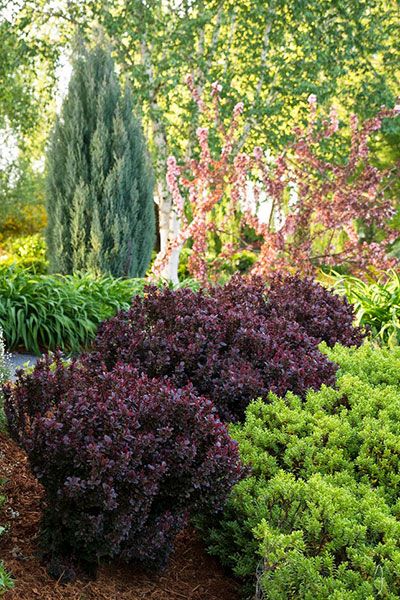 Berberis thunbergii 'Concorde'
You're thinking barberry = invasive, right? This variety produces little to no viable seed, making it a great alternative to other barberries. Naturally petite, with deep maroon-purple foliage that becomes even more intense during fall, it stays small, round, and compact. In winter, when other plants go dormant, barberry really proves its worth. I added two masses of this shrub to create an undulating effect in contrast to the taller surrounding shrubs. Grows up to 2 feet tall and wide. Zones 4–8; Monrovia
Icecap™ Rose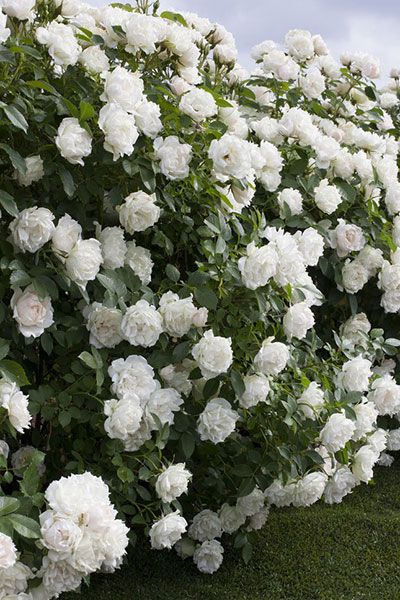 Rosa 'Meiradena' PPTBS
Smack-dab in the center of the lower garden, I planted a lavish stand of Icecap Rose knowing that it will be a stunning centerpiece from late spring right up to fall. It's an improved version of the always popular 'Iceberg' rose, with dense, pure-white flowers on a compact, rounded shrub. An excellent repeat bloomer, it's also resistant to many common rose diseases such as black spot, mildew, and rust. It's new—look for it! Grows up to 3 feet tall and wide. Zones 5–9; Monrovia
Variegated Hydrangea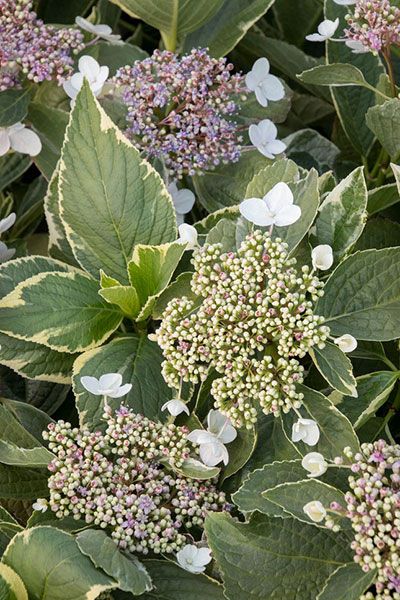 Hydrangea macrophylla 'Variegata'
Variegated leaves are another theme that connects beds throughout the landscape. I used two groupings of this handsome variegated shrub with bright-green foliage surrounded by white margins and rounded clusters of pinkish-white flowers for bloom from midsummer to fall. Grows up to 6 feet tall and wide. Zones 6–9; Monrovia
Joan Senior Daylily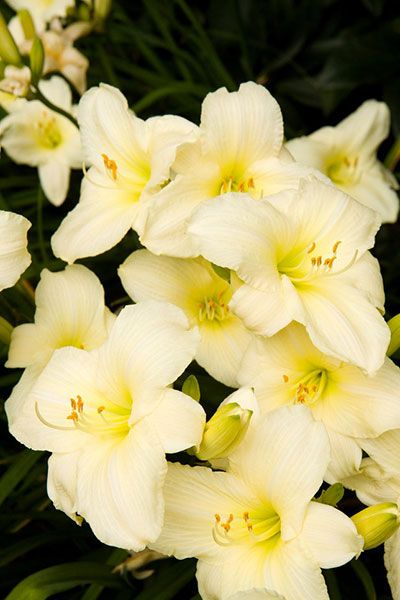 Hemerocallis x 'Joan Senior'
Tucked in large groupings between all those stellar shrubs is one of my favorite daylilies, 'Joan Senior.' I chose it for its lily-like, creamy-white flowers on tall stems, and because it's a repeat bloomer, flowering in flushes throughout the summer. This easy-to-care-for plant forms large clumps of graceful, arcing grass-like leaves that add texture when not in bloom. And it's fragrant, too. Grows up to 2 feet tall and wide. Zones 4–9; Monrovia
Wood's Blue New York Aster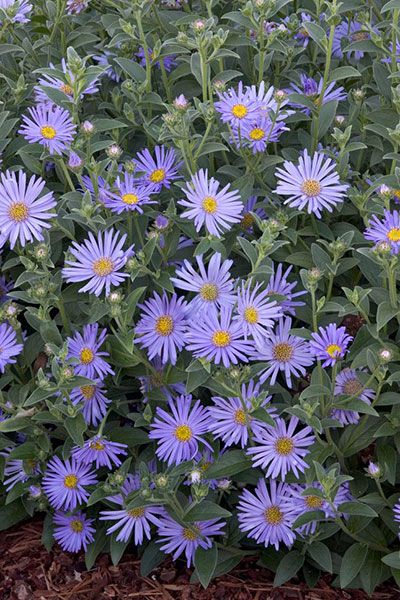 Aster novi-belgii 'Wood's Blue'
Just as the roses are wrapping it up, this aster bursts into bloom. Its bluish-purple, daisy-like flowers with yellow centers are the perfect foil for the nearby purple barberry and faded-pink hydrangea blooms. These dense, mounding plants have attractive, fine-textured foliage. Grows up to 16 inches tall and 14 inches wide. Zones 4–8; Monrovia
Add an Espalier for a Surprising Sculptural Element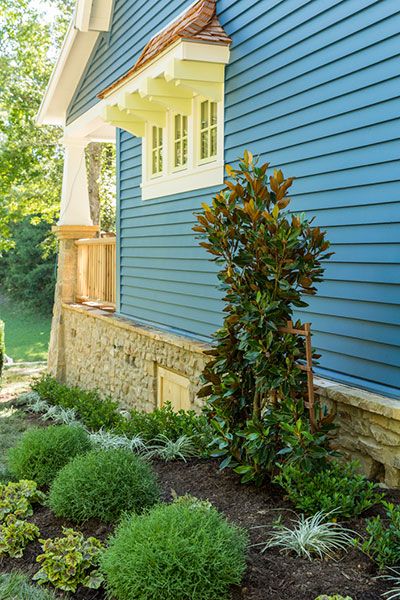 A blank wall between two windows on the sunny side of the house provided a perfect opportunity for something a bit showy and unexpected. This dwarf magnolia blooms from late spring through summer and sports fragrant white flowers. It has been trained into an espalier. A trellis will be added to the house's wall, and the branches will be tied to it and pruned so the tree will grow flat against the wall. Little Gem Dwarf Southern Magnolia (Magnolia grandiflora 'Little Gem') grows up to 25 feet tall and 15 feet wide. Zones 7–9; Monrovia
Learn more about growing and training your own espaliers here.
Aztec Grass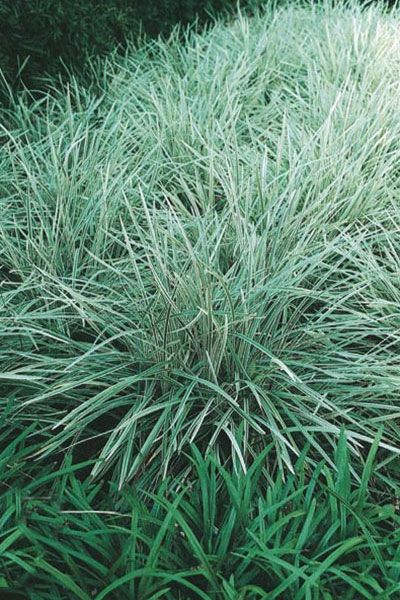 Liriope muscari 'Aztec Grass'
I used this eye-catching green-and-silver variegated perennial throughout the landscape. It's ideal for fronting a border, tucking into containers, or planting anywhere you need a low-growing, bulletproof groundcover that can quickly knit soil in places such as hillsides. Plant en masse for a great display. (In colder zones, use Fubuki Japanese Forest Grass for a similar effect.) Grows up to 15 inches tall and wide. Zones 7–9; Monrovia
Dazzle® Me Pink Crape Myrtle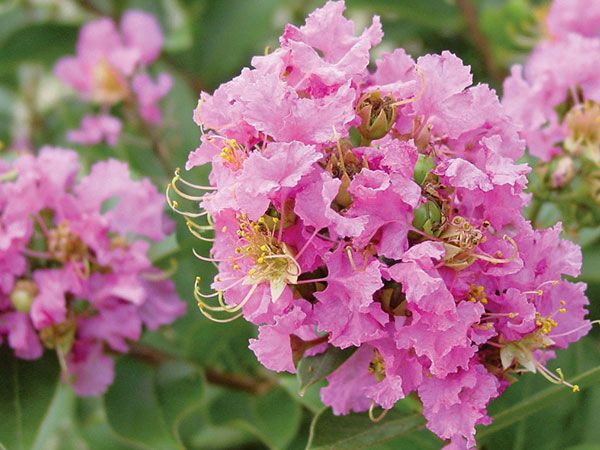 Lagerstroemia 'Gamad V' P.P.# 17411
To dress the foundation on either side of the house, I chose a dwarf crape myrtle. Like its tree and shrub cousins, it has clusters of flowers that bloom from late summer into fall, but it tops out at just 3 feet tall and wide. It's disease-resistant, too! Zones 6–9; Monrovia
Dress the House with Seasonal Container Plantings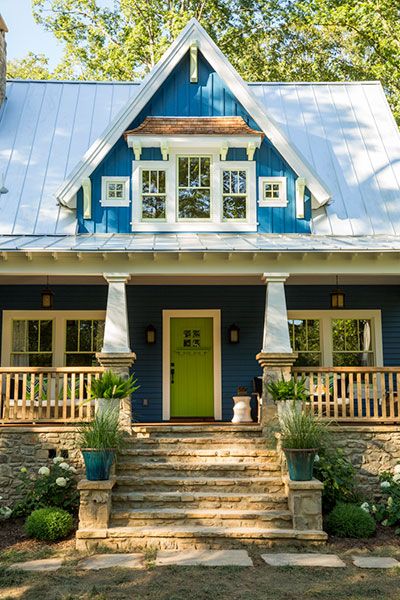 Containers offer a chance to carry the garden right up onto the porch, to soften hardscape on a patio, and to easily switch out plants for seasonal splashes of color or texture. On the stair landings, I chose a set of tall sisal weave planters in cream to house a pair of whimsical Foxtail ferns (Asparagus densiflorus 'Myers') with undulating stems that hold soft needle-like leaves. For contrast, I filled two weathered-copper-finish planters with Maiden Grass (Miscanthus sinensis 'Gracillimus'), whose silver-green blades turn golden-bronze after the first frost.
All the plants I used at the cottage were sourced through Monrovia Growers. So when you're ready to start planting, find a participating garden center near you at shop.monrovia.com.