Small House, Big Style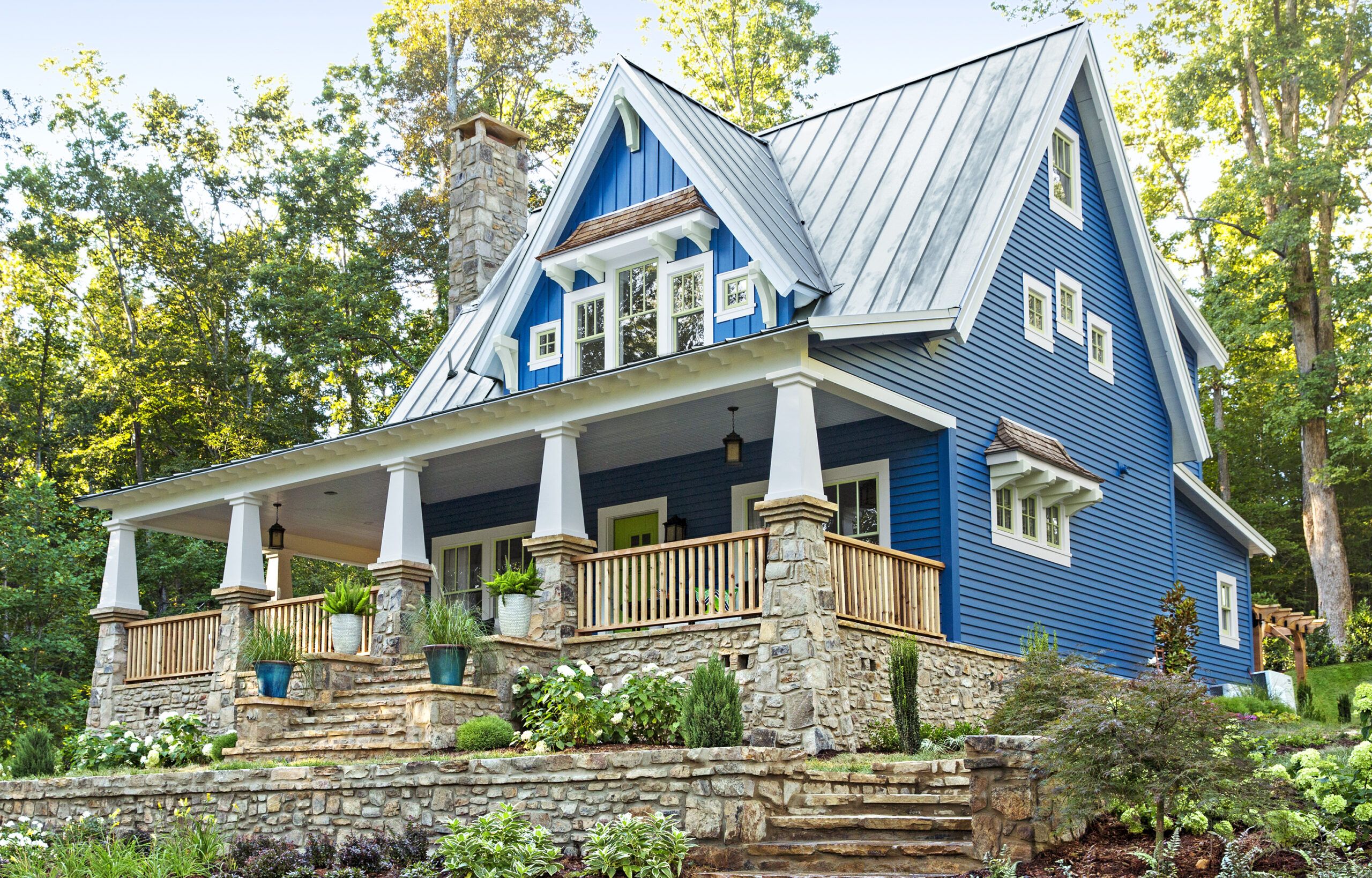 Our first built-from-the-ground-up Idea House puts a fresh spin on a classic American house style. A storybook cottage with a steeply pitched roof, it combines historical architectural details with modern amenities. An open floor plan, a flexible layout, and a wraparound porch maximize space indoors and out for a home that's functional, adaptable, and full of appeal. Click through to take a tour.
How exactly does this small house live large? The wide-open ground floor embraces living, dining, and kitchen areas. It also hosts one of two master suites, to allow for a family's changing needs or to welcome guests. Upstairs, the main master suite, a third bedroom, and a hall bath lead to a top-story sleeping loft tucked beneath the rafters. Clever storage and seating built-ins throughout tap every extra sliver of space. One reason we chose to build our Idea House at Cloudland Station, a Southern Living Inspired Community in Chickamauga, Georgia, is the obvious craftsmanship of the homes, which are based on traditional turn-of-the-century designs. We believe this cottage offers inspiration and accessible ideas that you can apply to your own home, whether you're making modest upgrades, embarking on a major remodel, or building from scratch.
Shown: The facade's tapered porch columns on stone piers, stone-clad foundation walls, and beefy brackets are classic Craftsman touches. The peaked metal roof updates the traditional form, as does the vibrant paint color (Olympic's Chinese Porcelain).
Gracious Porch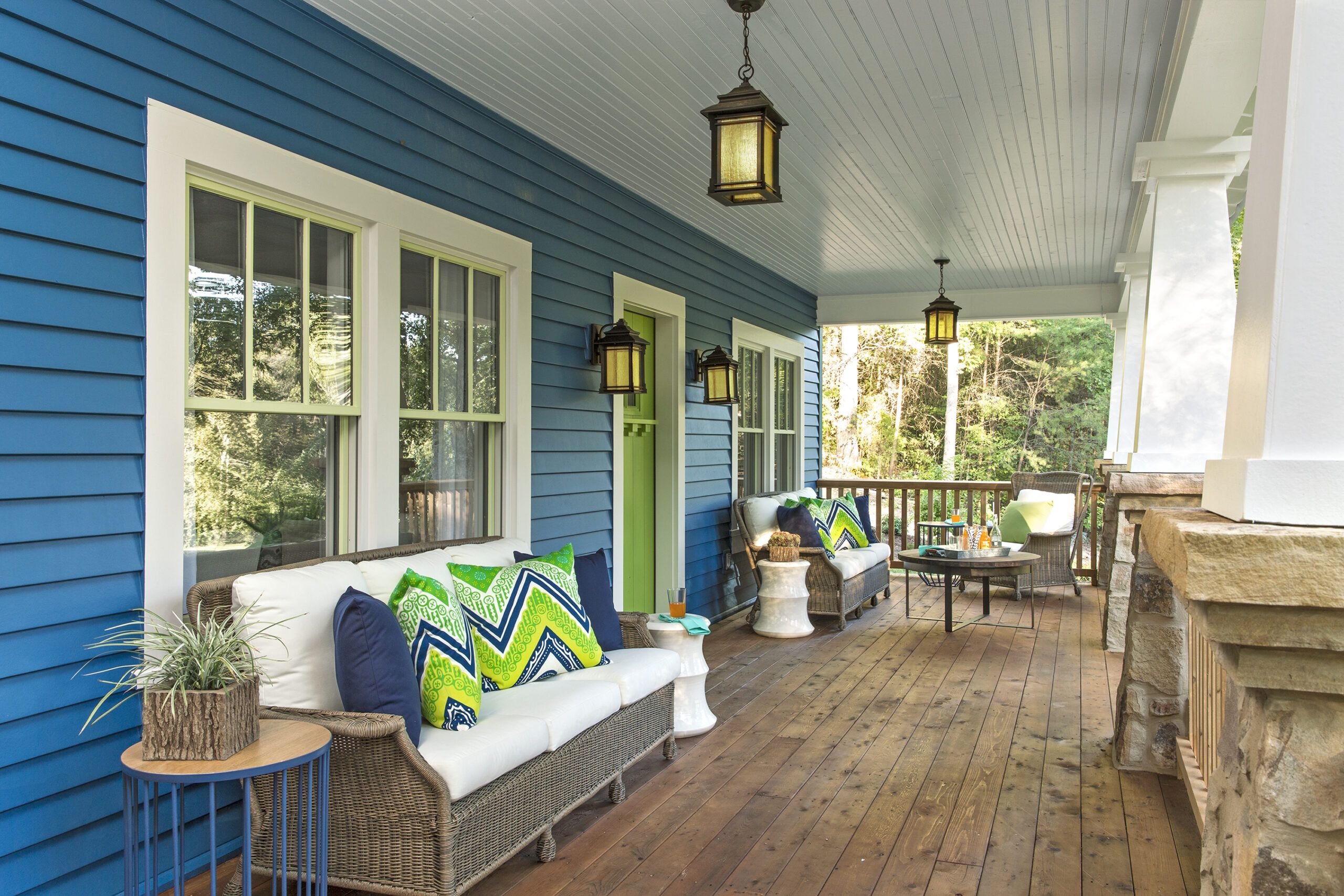 The porch, a generous 10 feet deep on two sides, accommodates multiple seating areas to extend living space. Interior Designer Yvonne McFadden chose furniture, including a pair of all-weather wicker sofas, to suit family life as well as entertaining. The carpenter-built cedar coffee-table top hosts cocktails or cards with ease. Pendant lights allow conversation into the evening. The green custom front door brightens the shaded area.
Paint: Olympic's Asparagus (door)
Floor, railings: Western Red Cedar Lumber Association
Sconces, pendants: Lamps Plus
Wire side tables: The Company Store
Plants: Monrovia
Tongue-and-Groove Porch Ceiling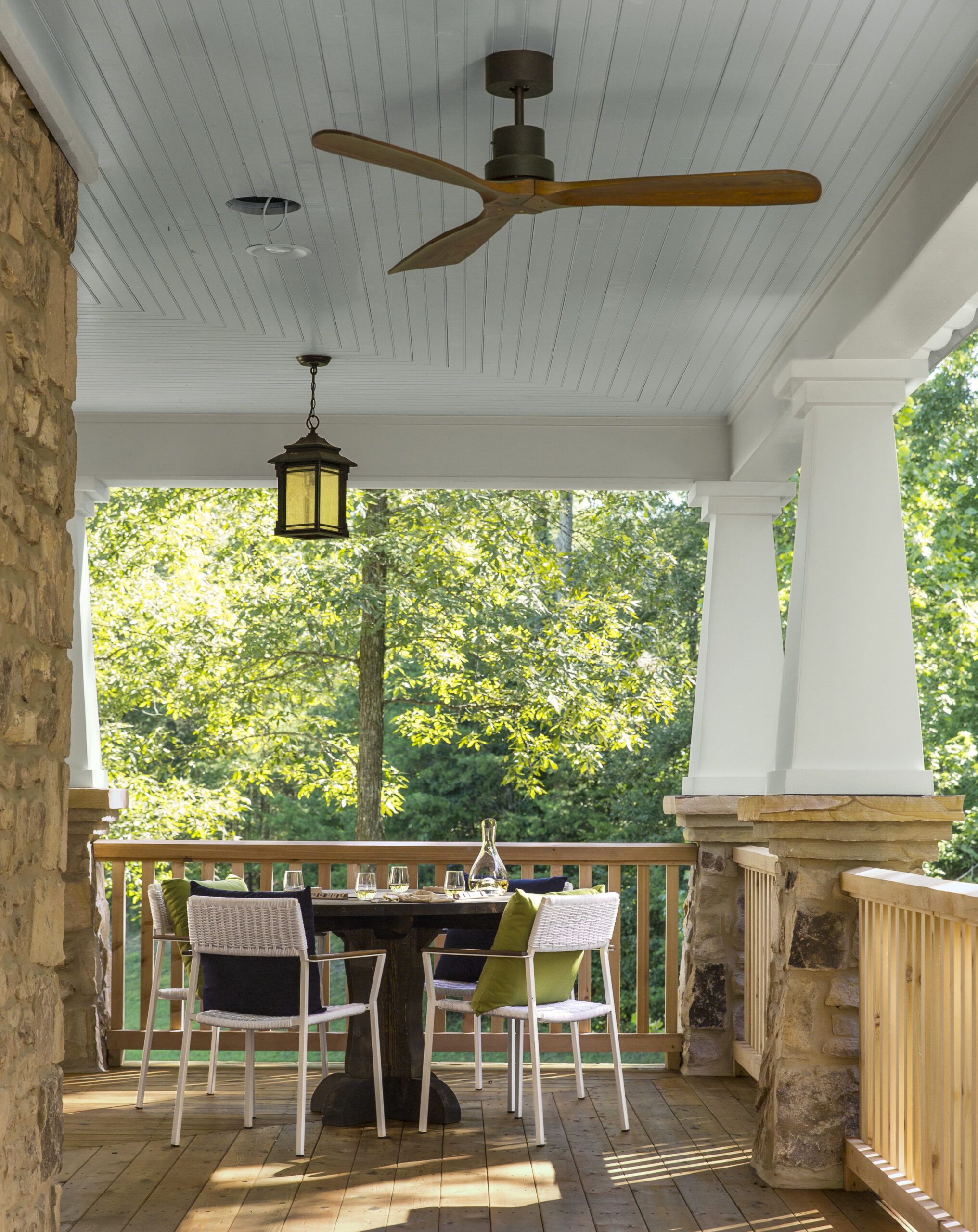 The porch ceiling is clad in tongue-and-groove white-pine beadboard. Painted in Olympic's Beach House, it helps reflect light into the house on a gloomy day. An outdoor ceiling fan keeps air moving on a sultry summer afternoon.
Inviting Open-Plan Living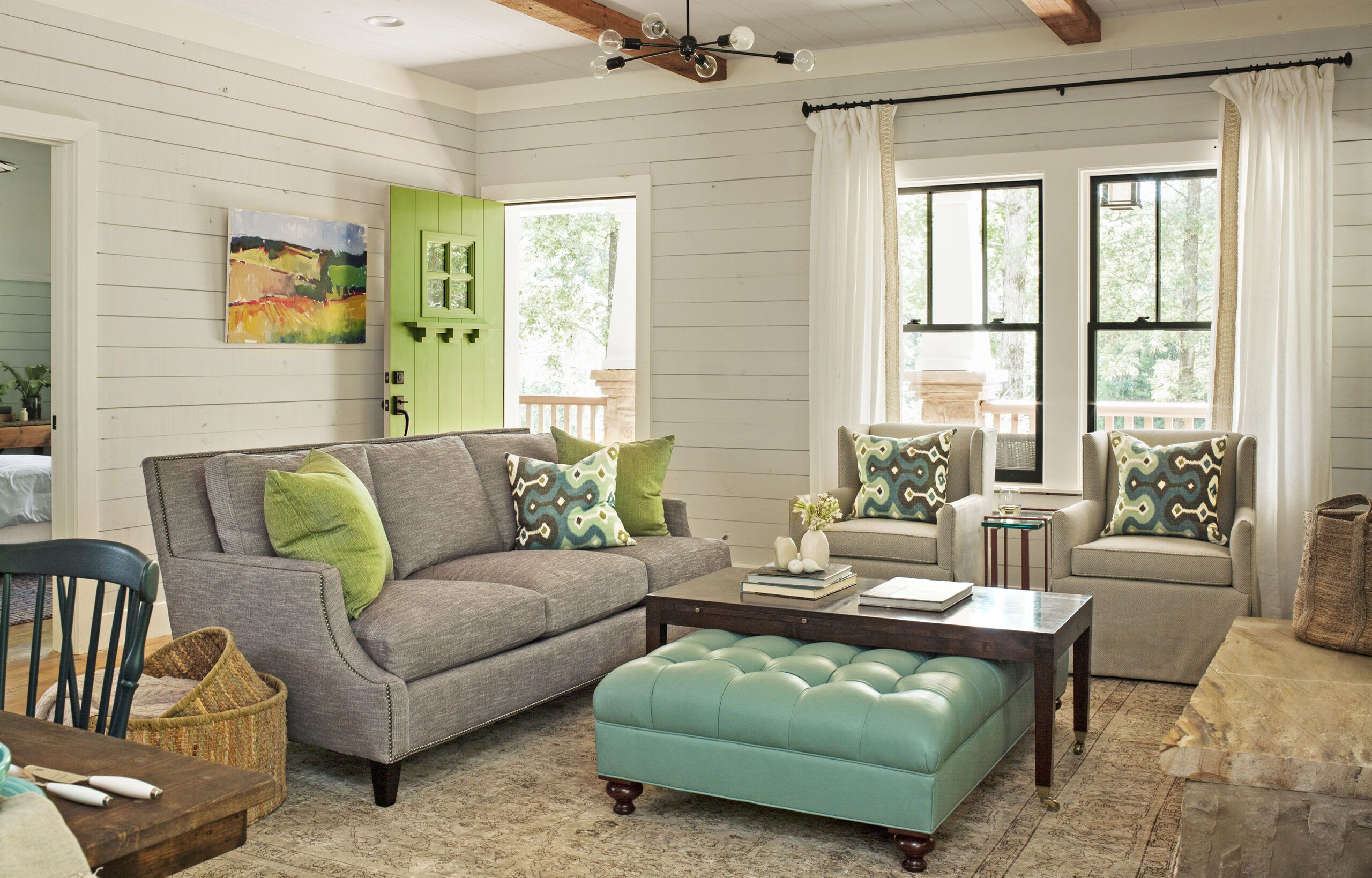 Come on in! No space is wasted on an entryway in the family room, where shiplap paneling and decorative red-cedar beams set the rustic cottage tone. Atlanta interior designer Yvonne McFadden chose tailored seating and a coffee table on casters that glides over a supersize ottoman to free up floor space.
Paint: Olympic's Quill (walls)
Beams: Western Red Cedar Lumber Association
Drapes, Roman shades, baskets: The Company Store
Art: UGallery
Plenty of Seating in the Cozy Space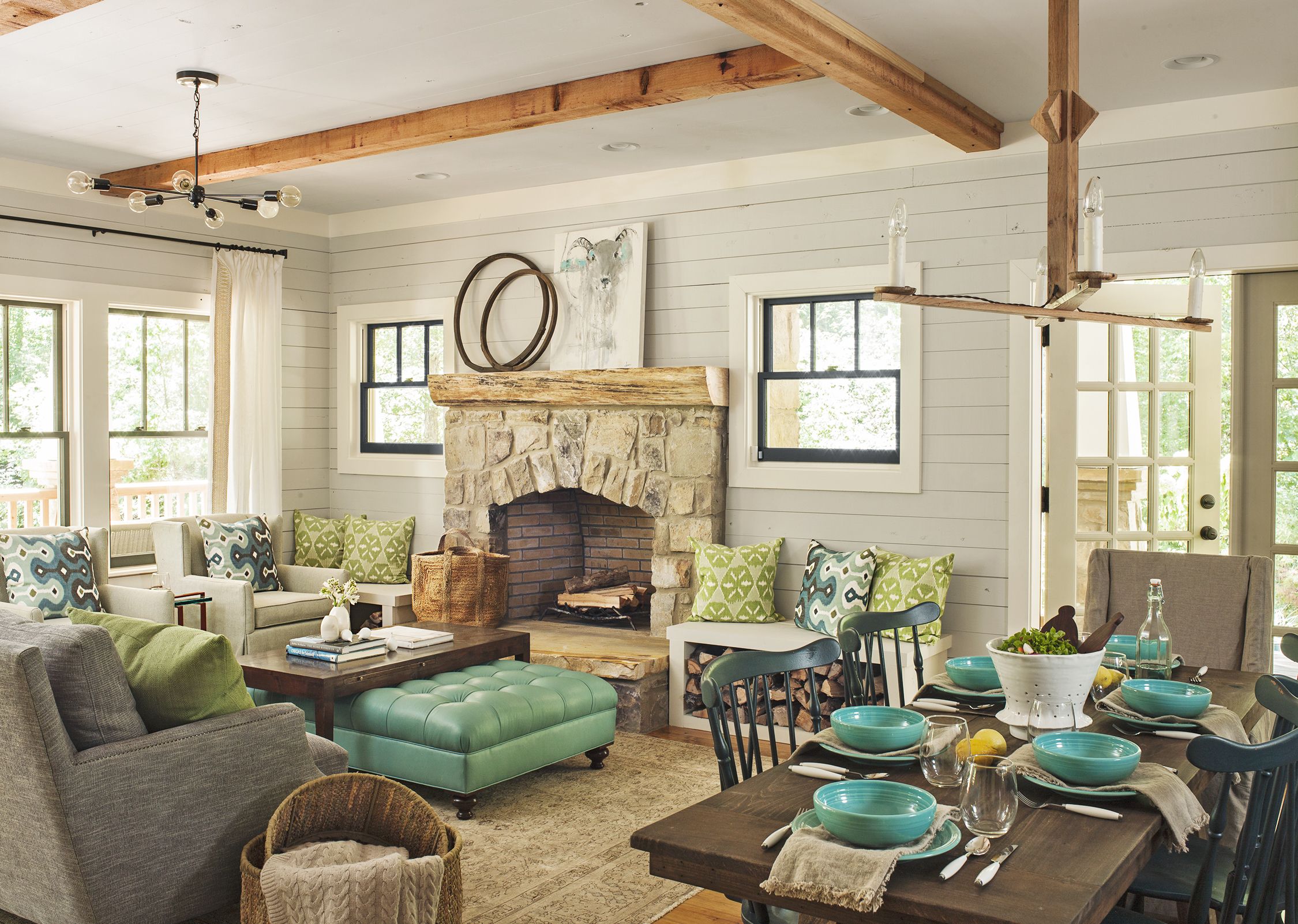 Multiple seating areas create a comfortable space for entertaining by the fire. Window sashes are painted charcoal to disappear, putting the vistas just outside in focus.
Handcrafted Touches in the Dining Area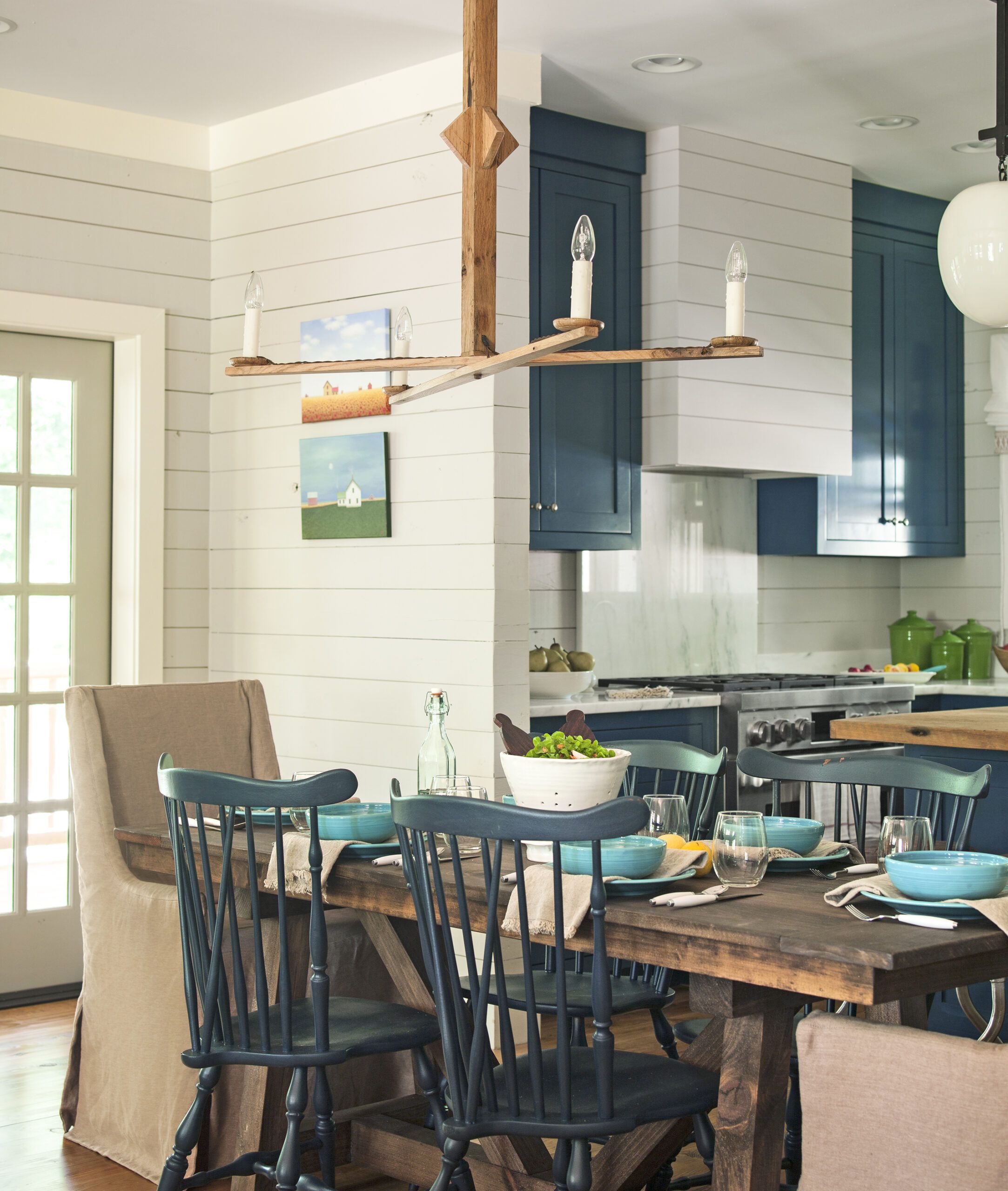 The dining area's custom-built trestle table bridges living and kitchen spaces. Nearby, French doors lead to the side section of the wraparound porch.
Custom dining table: Sonny Whitt (423-488-5762)
Dishware: The Homer Laughlin China Company
Kitchen Cabinet Color That Pops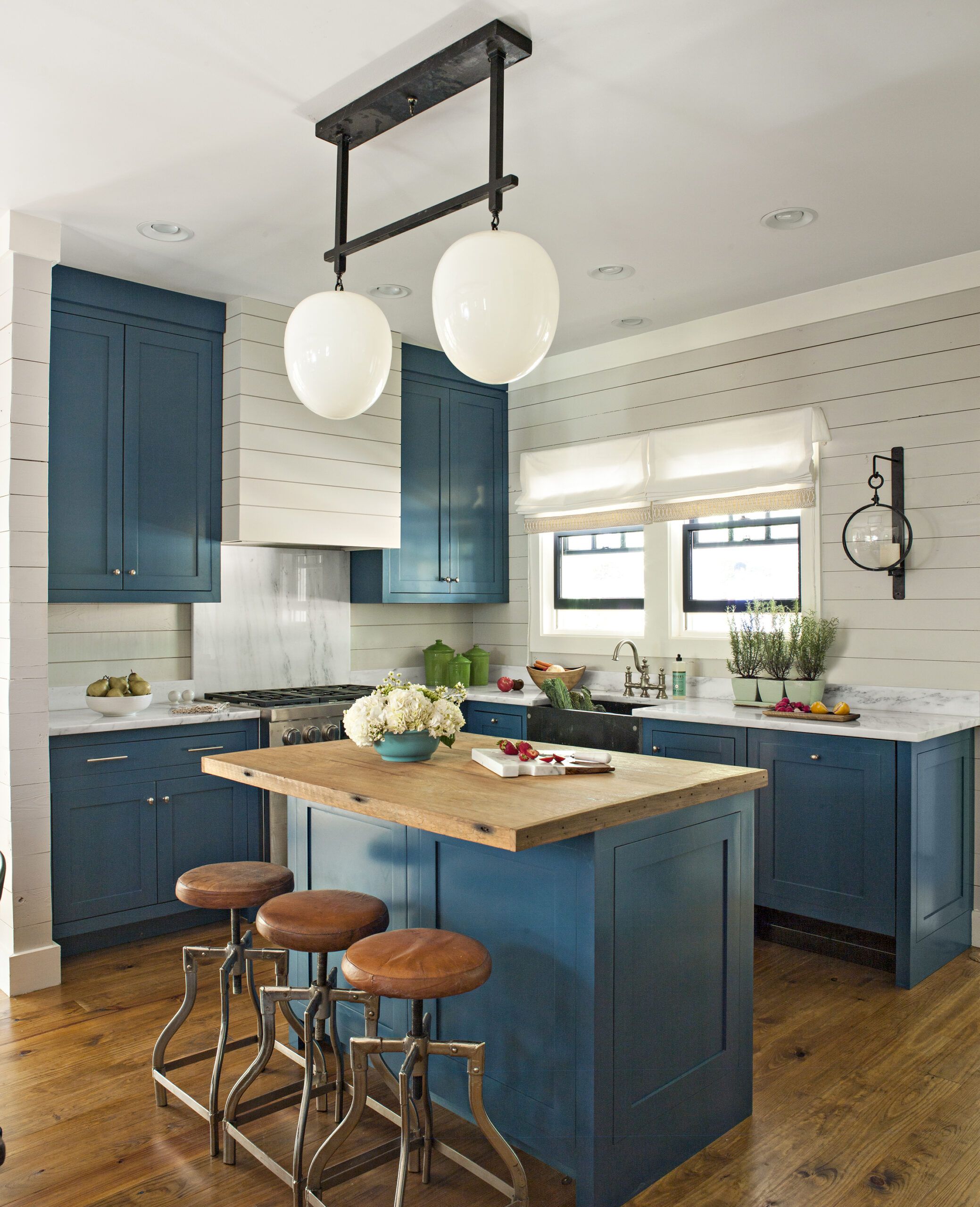 McFadden enlivened the kitchen with cabinets painted in Olympic's Castile. She also designed a pendant with glass globes found at an antiques warehouse. Marble lines the counters; shiplap wraps the range hood. Reclaimed chestnut—with 10 coats of food-safe butcher-block oil—tops the island.
Custom cabinetry, countertops: Harris Custom Cabinetry
Faucet: Moen
Flexible Space in the Mudroom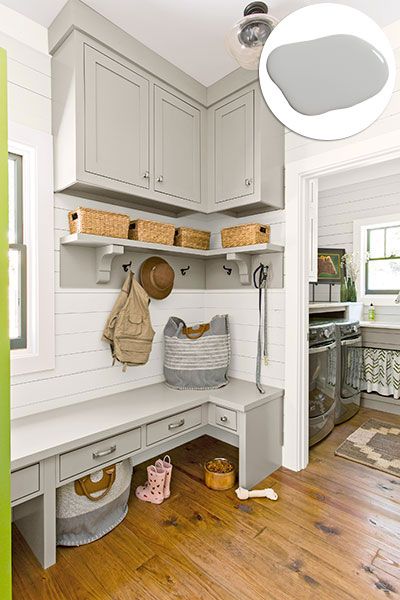 A custom built-in bench houses drawers for nicknacks and space underneath for just-shed shoes. Additional cabinets and hooks organizes inhabitants of all ages and sizes.
Paint: Olympic's Stormy Weather (cabinets)
Ceiling light: Lamps Plus
Bags, pet accessories: The Company Store
Functional, Compact Laundry Room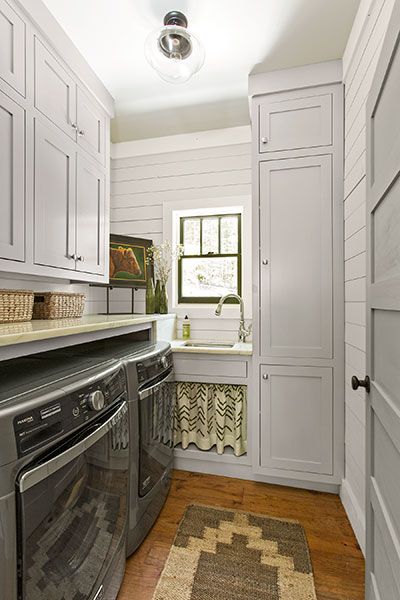 Floor-to-ceiling cabinets keep the compact laundry room tidy. A counter for folding spans the washer and dryer. The sink can serve as a hand-washing and hand-laundering station or a palce for potting plants.
Faucet, sink: Moen
Art: UGallery
Convenient First-Floor Bedroom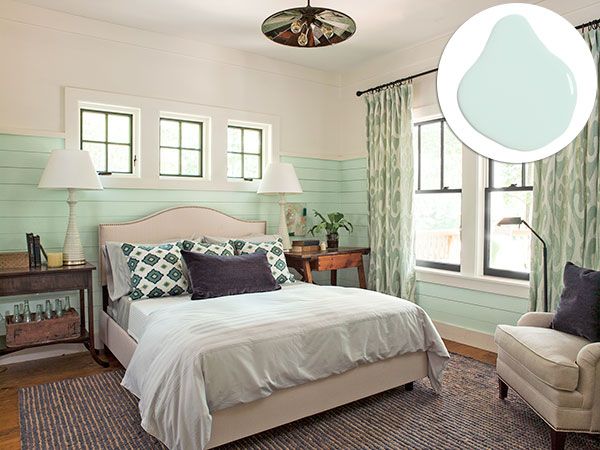 The first-floor master bedroom hosts guests—or homeowners who prefer to avoid stairs. Three-over-one windows face the front porch, while small casements over the bed allow a cross breeze.
Paint: Olympic's Cactus Blossom (walls)
Bedding, rugs: The Company Store
Table lamps, drape and pillow fabric: Schumacher
Custom drapes: Home Accent Inc.
Floor lamp: Lamps Plus
Pleasing Mix of Materials in the First-Floor Bath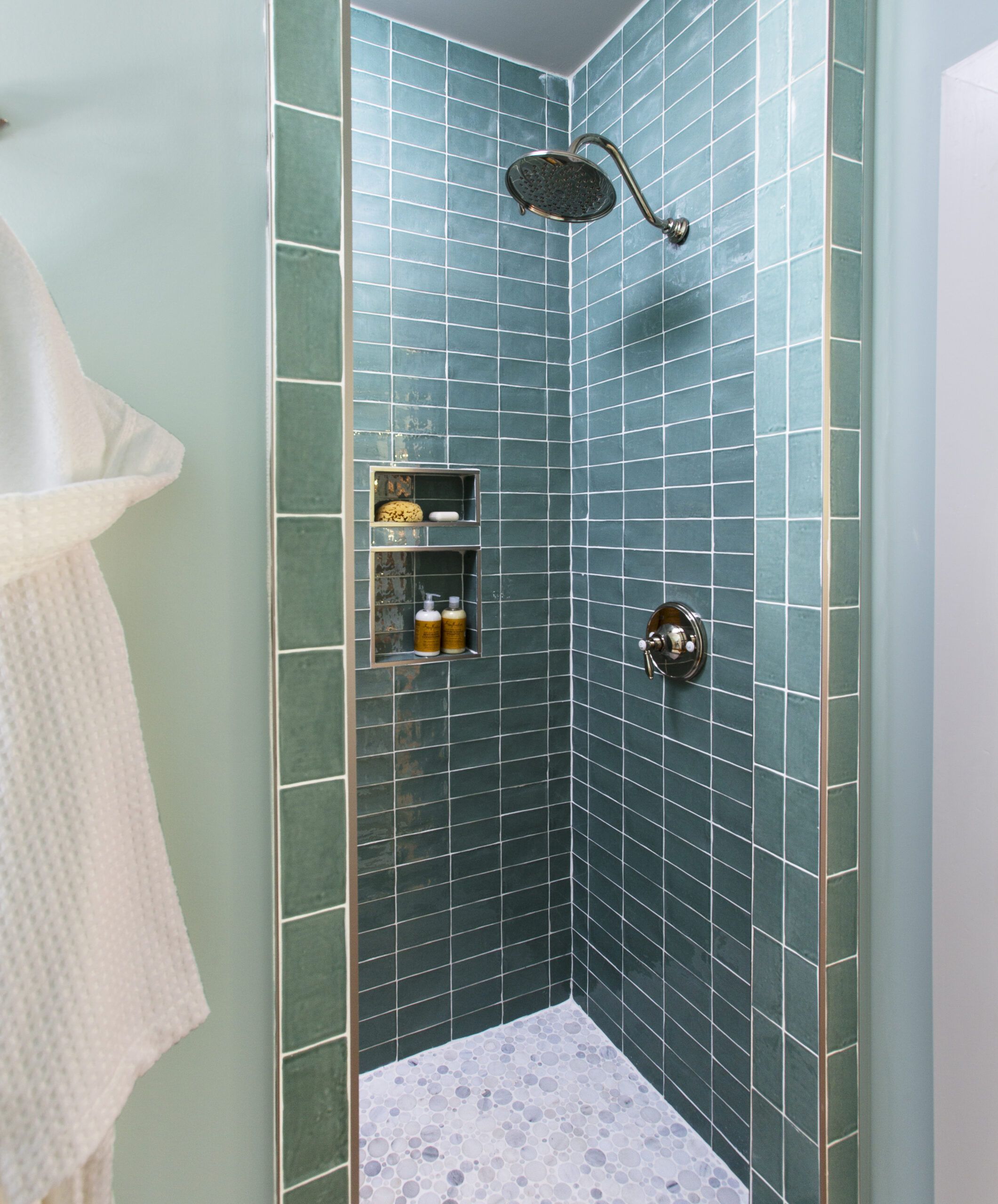 In the first-floor master bath, porcelain tile clads the shower walls. Honed-marble mosaic tile on the floor provides a nonslip surface. Two niches offer dedicated spots for soap and shampoo.
Tile: TileBar
Hallway Work Nook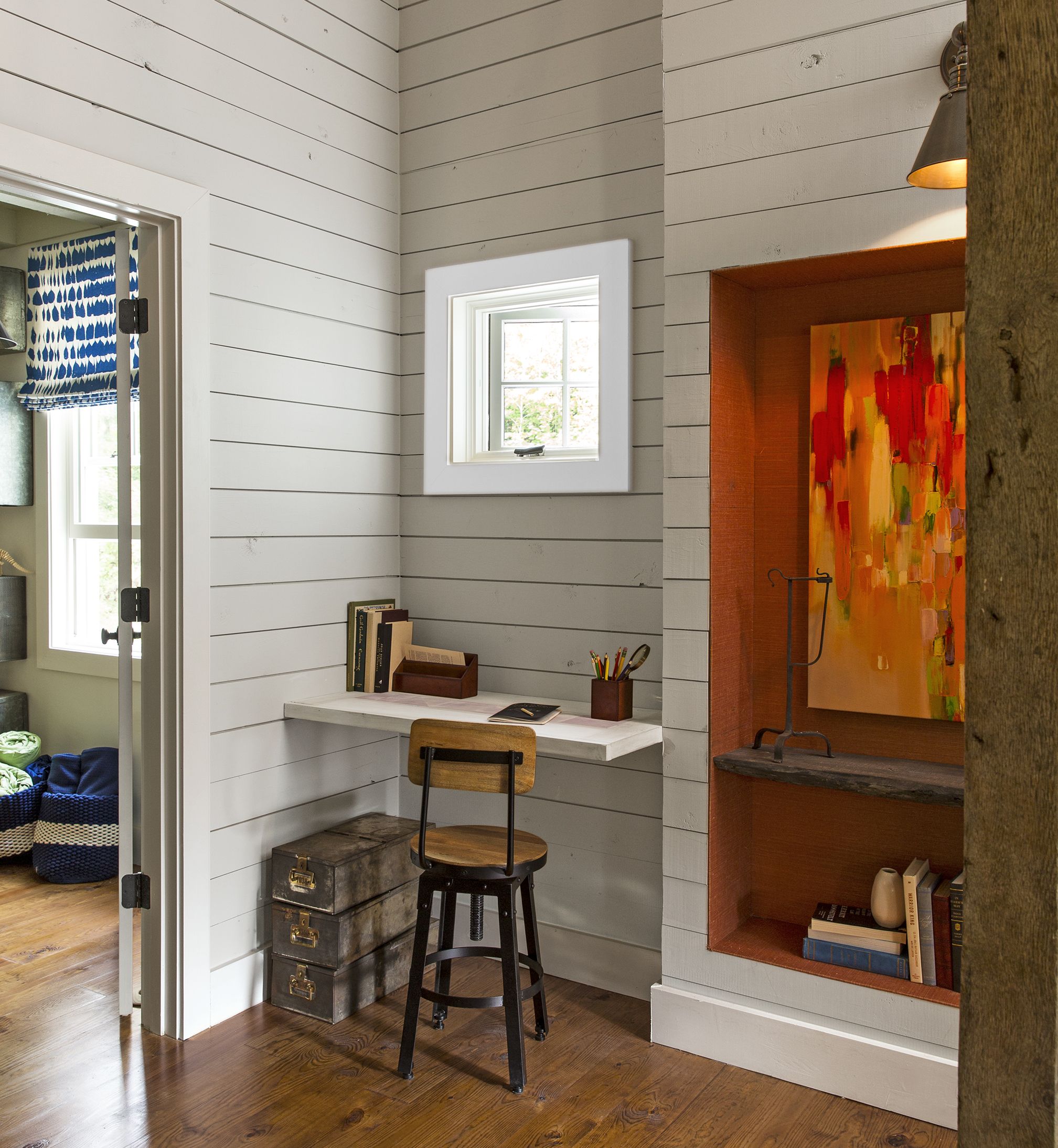 Shiplap walls continue in the upstairs hall. Just outside the bunk room, a small laptop desk takes advantage of a natural alcove, with a small window above.
Desk chair: The Company Store
Art: UGallery
Exposed Beams in the Master Bedroom
Tucked under the front gable, the upstairs master bedroom gains height—and interest—by exposing the structure overhead, all painted rough-sawn white pine. Showing off beams and rafters throughout the cottage lends a lofty feel.
Paint: Olympic's Cornmeal (walls)
Bed, bedding, rug: The Company Store
Art: UGallery
Tucked-Away Bath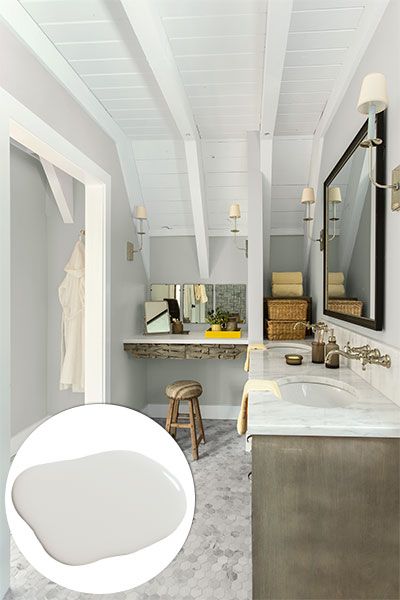 A generous bath is divided into functional areas by partitioned walls, including an alcove for a vanity table, whose apron is made from two pieces of a salvaged door.
Paint: Olympic's Quill (walls)
Robe, towels, accessories: The Company Store
Tile: TileBar
Easy-Clean Faucet Feature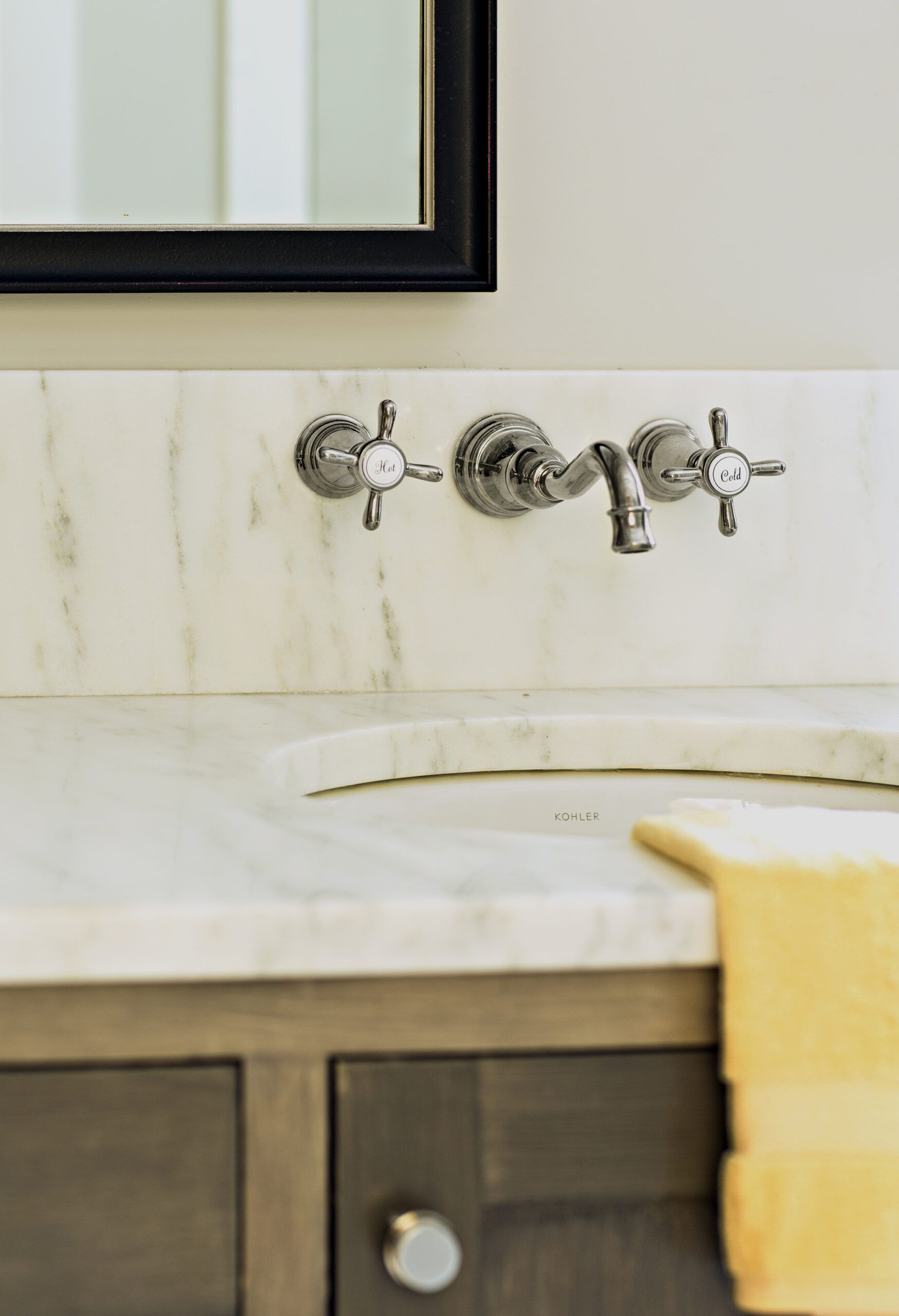 Wall-mount faucets make it easy to clean the marble counter with a swipe. The sink cabinet has a warm, gray-washed finish for a reclaimed-wood look.
Faucet: Moen
Sophisticated Marble Shower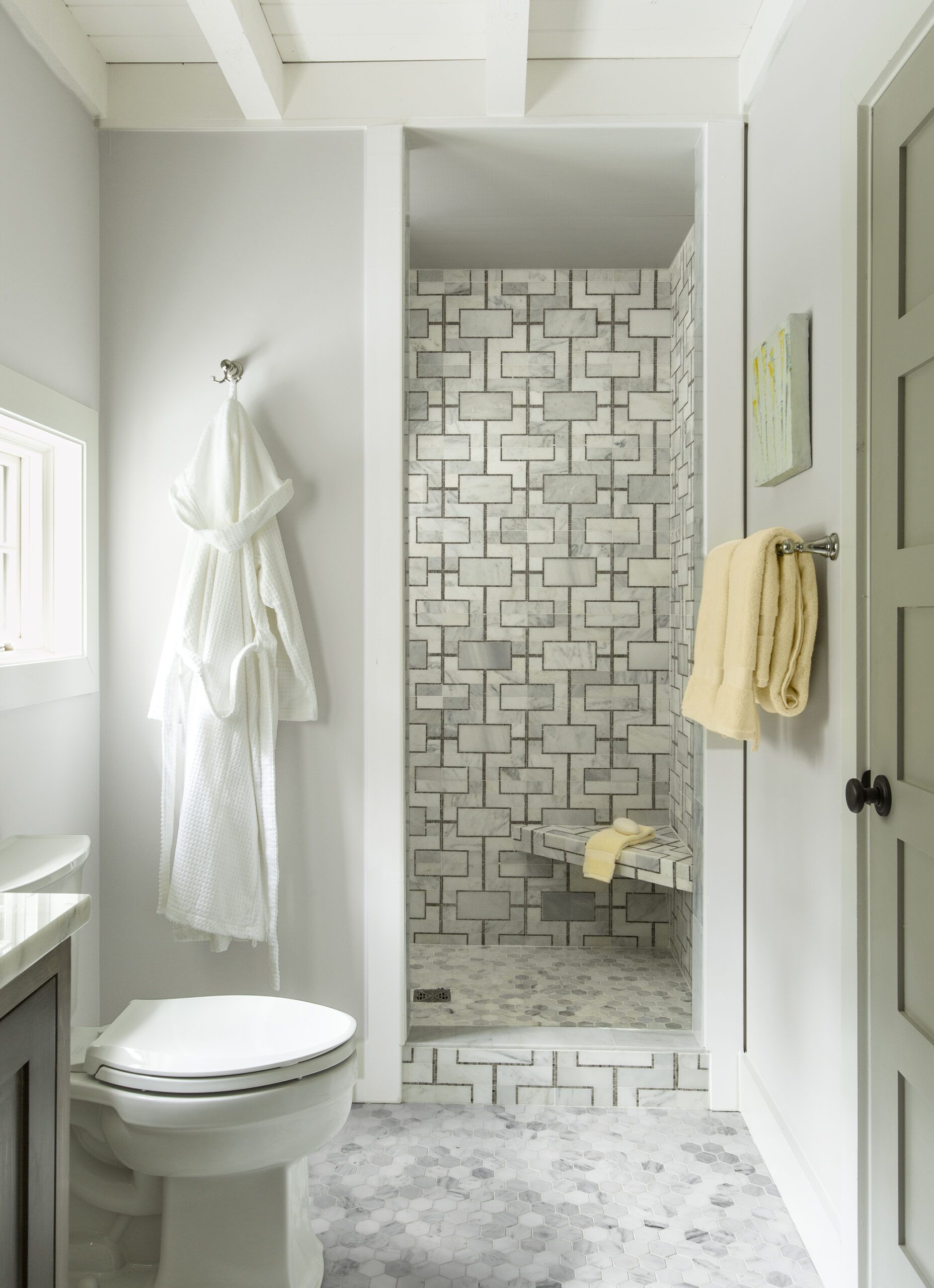 The shower is lined with a sophisticated marble mosaic tile befitting a master bath. A triangular bench tucks discreetly in the corner. A robe hook on the wall beside the shower provides easy access to robes and clothes after bathing.
Tile: TileBar
Hooks, towel bars: Moen
Tile: TileBar
Varied Textures for a Colorful Bedroom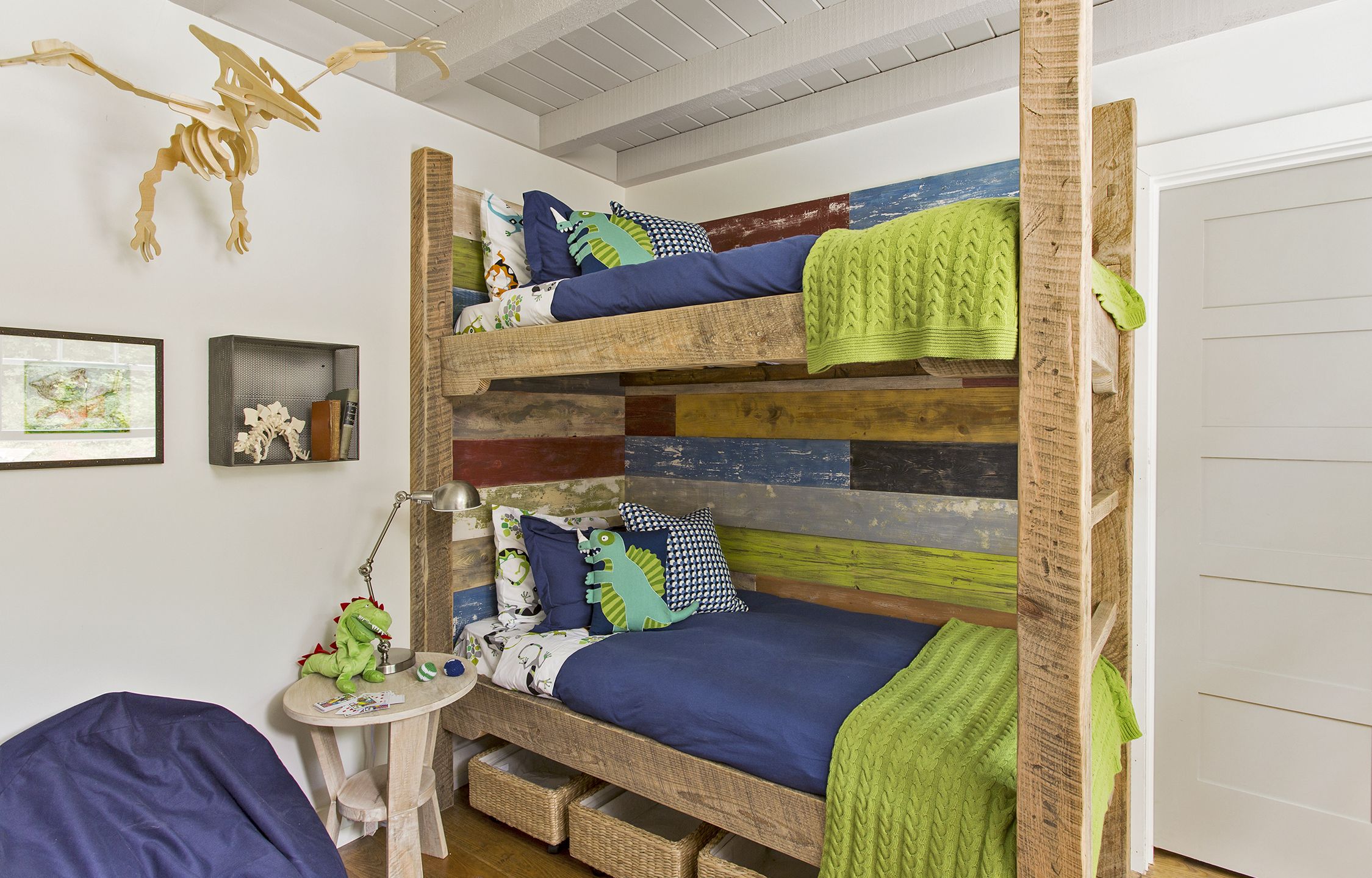 For this second-floor bedroom, carpenter Sonny Whitt built bunk beds from rough-sawn white-pine rafters, distressed the wood with hand tools and chains, then applied a diluted ebony stain. The beds, attached to colorfully painted pine planking that wraps the head and side, are anchored to the walls.
Bedding, end table, table lamp, baskets: The Company Store
Bunk beds: Sonny Whitt (423-488-5762)
Playful Stencil for a Hall Bath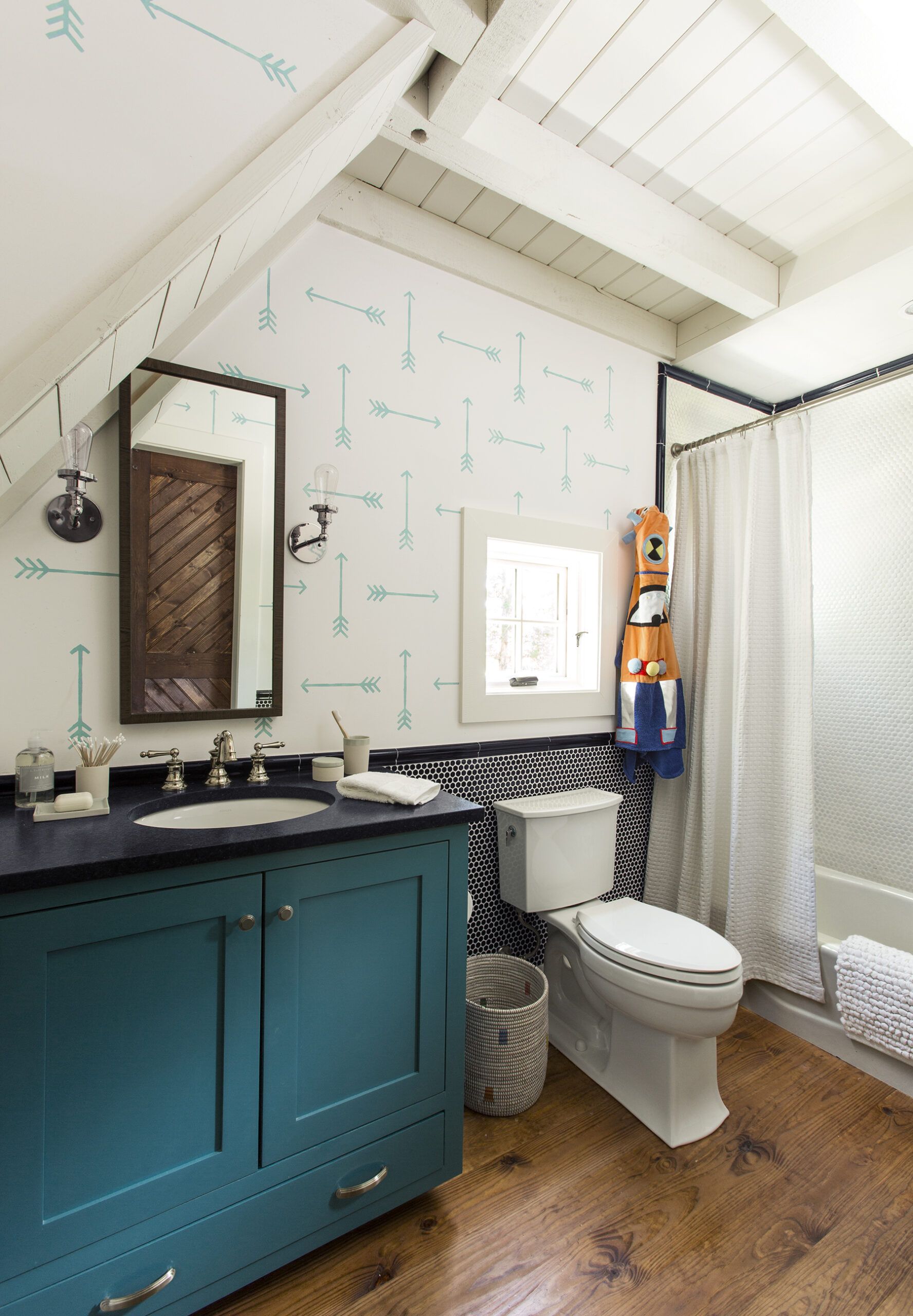 A stenciled design of turquoise arrows above the wainscot of black penny-round tile is a practical alternative to wallpaper in the upstairs hall bath.
Tile: Tile Bar
Faucet: Moen
Shower curtain, towels, robe, bath accessories: The Company Store
Stencil: Cutting Edge Stencils
More Space-Saving Features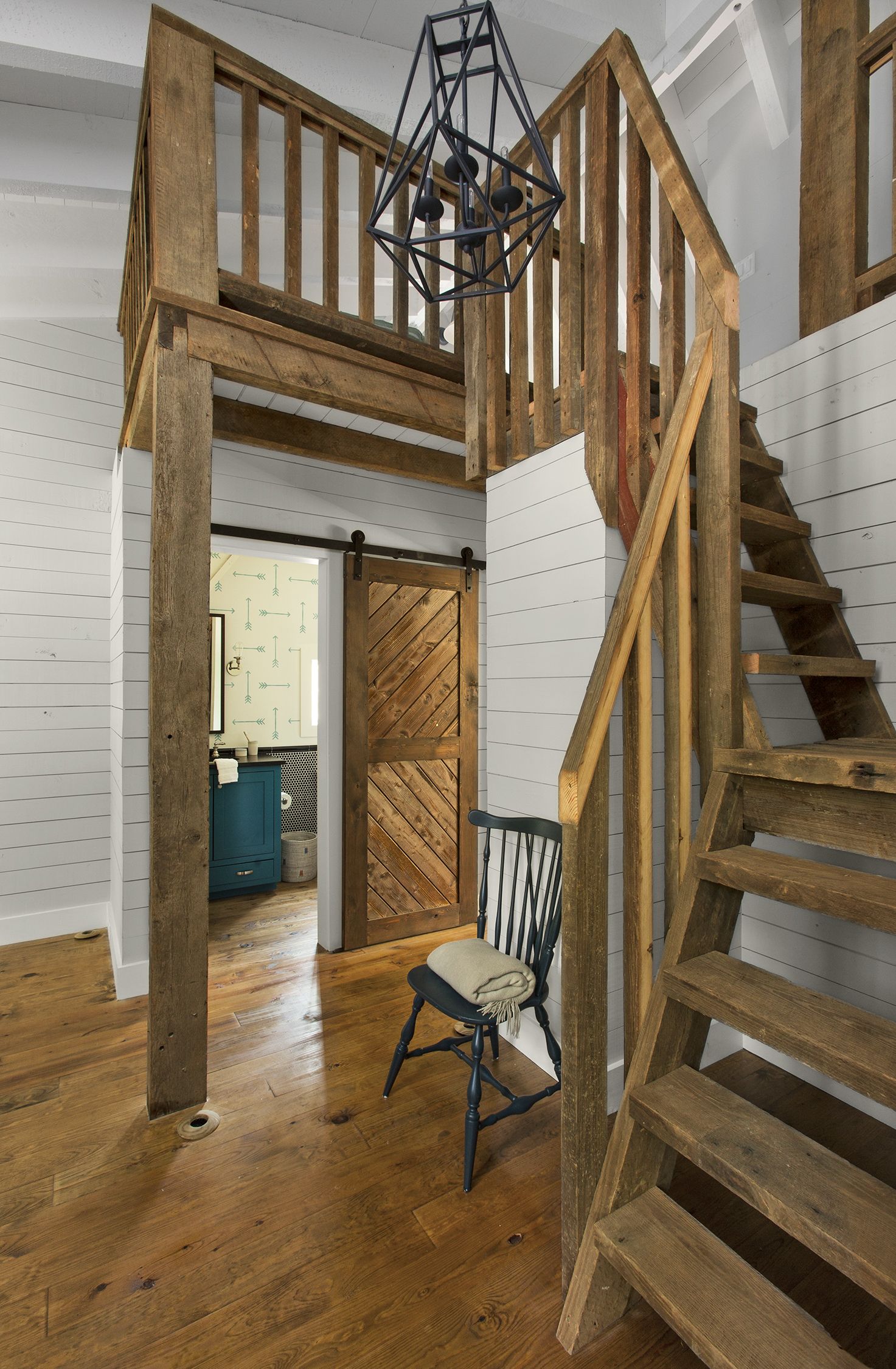 The loft is accessed via a ladder-step stairway of reclaimed barn wood. To accommodate the steep pitch of the staircase, the steps are 8 inches deep. A sliding barn door on the hall bath eliminates a space-hogging door swing.
Staircase: Sonny Whitt (423-488-5762)
Charming Kids' Loft Space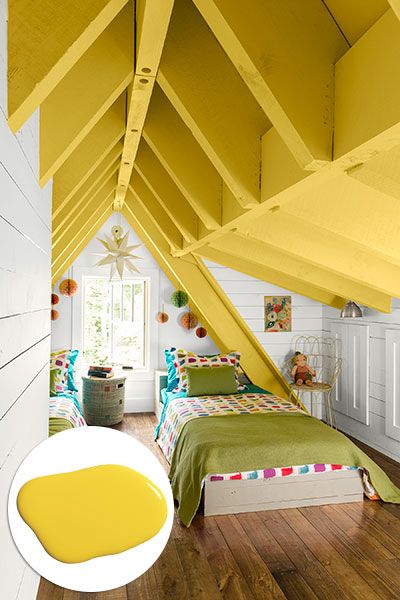 The loft offers a kids' play space at one end, twin beds at the other. The roof structure allows 7 feet 2 inches of clearance at its highest point. Egress windows are locked when kids are present. Clothes reside in cabinets built into the crawl space.
Paint: Olympic's Gone Bananas
Beds: Sonny Whitt (423-488-5762)
Bedding, chair, hamper: The Company Store
Art: UGallery
Comfy Romp Room for Kids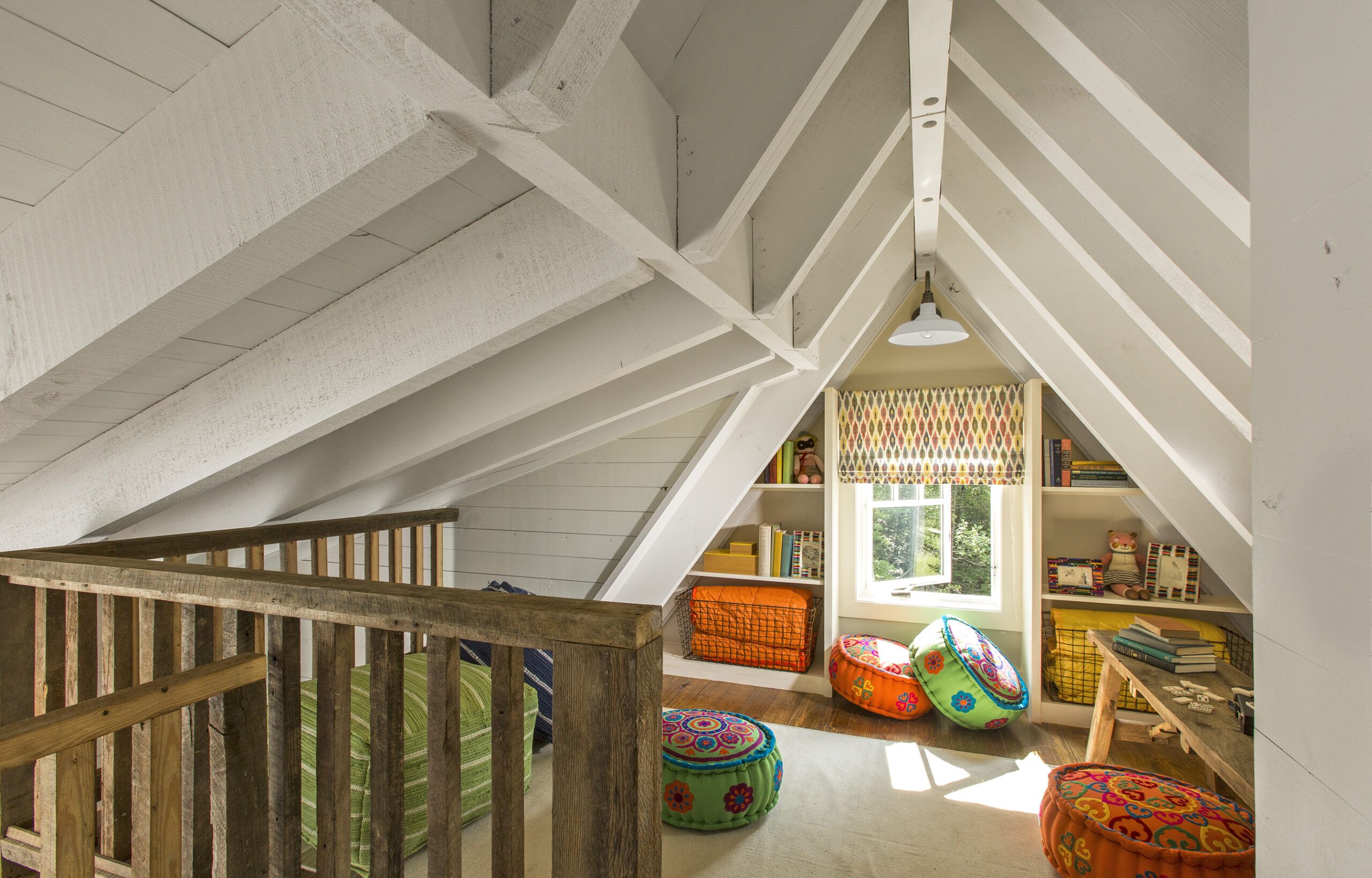 In the play area, foot-deep built-in shelves fit into the space between the first sets of rafters. A wood bench supplements the cushion seating.
Custom built-ins: Sonny Whitt (423-488-5762)
Poufs, baskets, toys: The Company Store
Garden Perch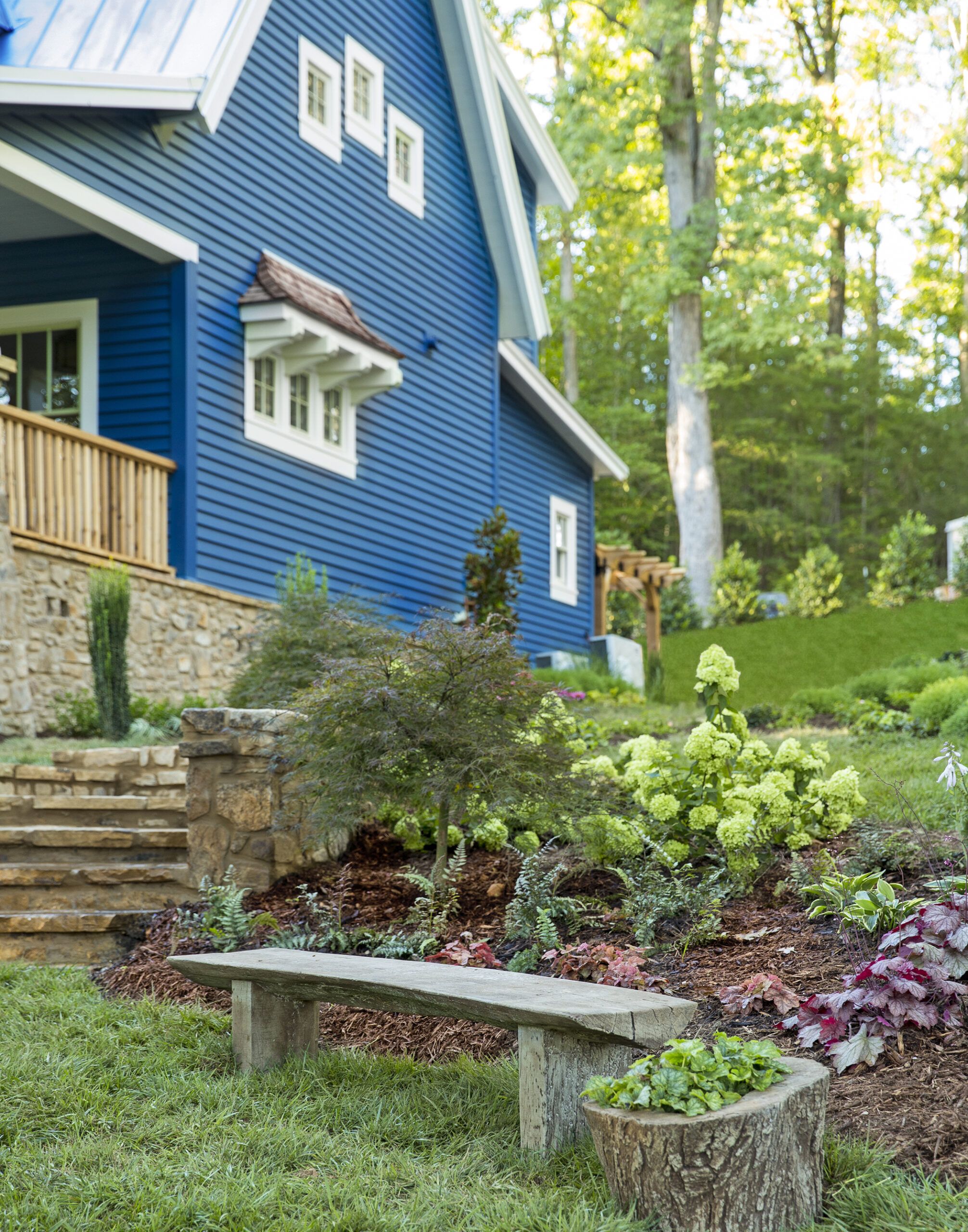 Landscape designer Kate Karam added a small garden in the space connecting the front and back yards. A faux-bois bench, with a matching cast-stone planter, offers a quiet rest spot. A garnet Japanese maple shares the plot with Little Lime hydrangeas and Japanese painted ferns.
Landscaping: Monrovia
Planters, bench: Campania International
Metal roofing: GreenForm
Generous-Size Pergola for Outdoor Entertaining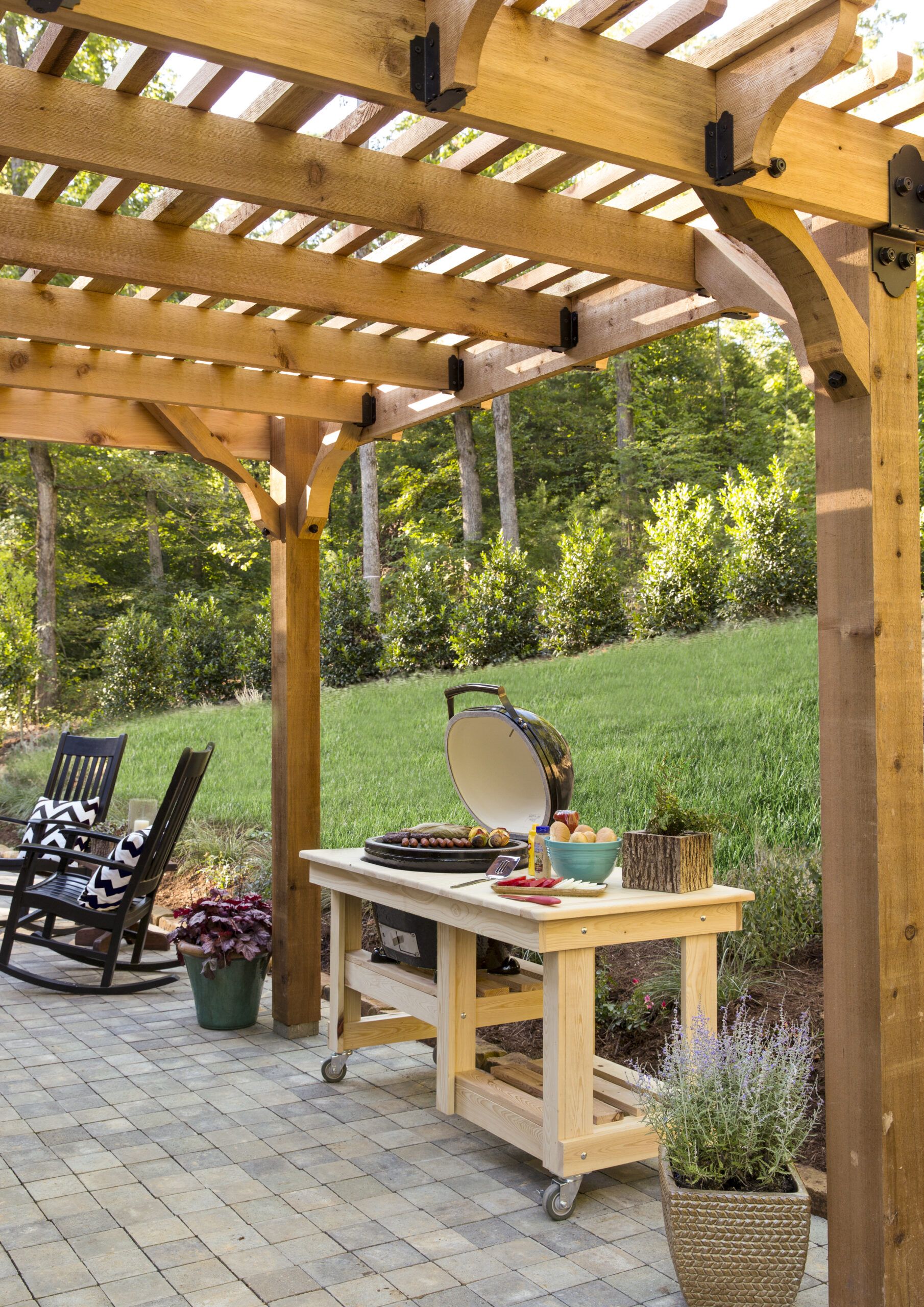 Sheltered by a 10-by-12-foot pergola, a ceramic grill and smoker sit on the perimeter of the paver patio so that smoke drafts away from diners.
Dishes: The Homer Laughlin China Company
Pergola: The Home Depot and Design Craft Millworks
Grill: Southern Hearth and Patio
Extended Seating on the Patio
The pergola and patio allow for multiple seating areas.