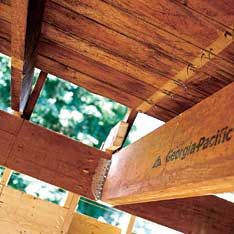 The second floor of the Concord cottage is just what you'd expect an old hayloft to be: snug, wrapped in weather-beaten timbers, full of character — and entirely unsuitable for living quarters. With much of the ceiling sloped at head-
bumping height, light trickling in from just one window and loft door, and the only access from a set of rickety stairs, the space could never pass local codes.
And therein lies the problem for the This Old House crew as they convert the former barn behind Janet and Jeff Bernard's house into an in-law cottage for Janet's parents. The town of Concord, Massachusetts, insists that the building must be brought up to code as it's renovated, and there's too much slope in the loft's headroom to meet the requirements. In addition, the code mandates second-floor windows that are large enough, and close enough to the floor, for someone to climb out in case of fire.
Meanwhile, zoning rules in this historic district limit the expansion of the barn to one fifth of its existing volume (not just square footage). That means architect Holly Cratsley can't simply raise the roof to make the second story more livable, because the space added overhead would steal from any other additions she wants to put on the building. But having the bedroom on the second floor is the only option for this tiny building. "It's a deal breaker," says TOH general contractor Tom Silva. "Without it, you've got a one-story house with an attic — and no place to sleep."
The solution to all these problems with light and space? Lower the loft floor (not as hard as it sounds), add two dormers and a skylight, and reconfigure the stairs.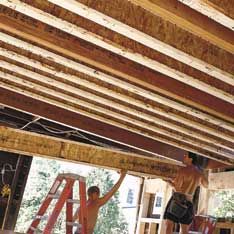 Rejiggering the Joists
Fortunately for Tom Silva, the downstairs has enough ceiling height to accommodate the 9-inch loss needed to lower the second floor. Plus, in a barn with exposed framing, lowering the joists is straightforward; with no plaster and lath to rip out or plumbing to worry about, Tom can simply install new joists below the old ones, tying them into new rim joists he's bolted to the wall framing. Then, with all the new joists in, he can simply pull up the existing hayloft floor and remove the old joists from above before laying the new flooring. With the second-floor ceiling at the new height of 7½ feet, and the first floor now at 8 feet, "both are perfectly usable," says Tom.
Tom uses engineered I-joists, which are made of composite wood, interspersed with joists made from laminated veneer lumber (LVLs), a form of plywood made to the dimensions of standard 2x framing lumber. This gives the floor strength across the span of the barn without requiring any interior load-bearing walls. "I couldn't make that span with standard 2×12 lumber," says Tom. "I could use a 2×14, but I'd have no flexibility to cut holes. When it came time to run plumbing, I'd be dead in the water."
I-joists, by contrast, are not structurally compromised by holes — even large holes for drainpipes and small ductwork — as long as they are positioned according to the lumber manufacturer's specifications. As a result, systems that might otherwise need to go into chase walls can be tucked into the ceiling. And because they are so stable and rigid, I-joists make for one tight floor. "The code says this floor can bounce half an inch when I'm walking on it," says Tom, as he moves across the new attic floor. "That's good enough for code, but it's not good enough for me. I'd be surprised if we even had an eighth-of-an-inch bounce — just enough to be flexible."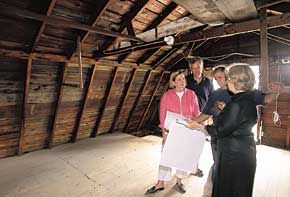 Adding Dormers
To gain more headroom and light under the gambrel eaves of the second story, Cratsley has designed two dormers — a small one in the bathroom and a larger one with a walkout in the bedroom itself. The bedroom dormer, which will overlook an arbor and patio, is more than 11 feet wide — eliminating nearly half of the sloped roofline on that side. It also incorporates about 15 square feet of windows, plus a French door. "That's a lot of view from an attic bedroom," says Cratsley, who adds that the dormer also satisfies the egress requirements of the code.
Because dormers are not traditional barn elements, Cratsley is careful to integrate them with the existing rooflines. "Big gables on the dormers would be too houselike," she says. Instead, her hip-roof design gives the dormers a low profile, and also saves on volume. "Conversions are often about making trade-offs," says Cratsley, "but in this case the hip roofs were the best way to go from both a practical and an aesthetic standpoint."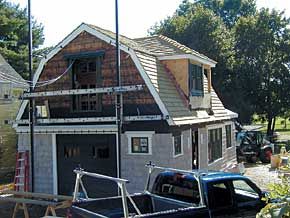 Reworking the Stairs
Stair layout is another major consideration. A straight staircase would have been too steep for Janet's parents, Jacqueline and Len Buckley. So Cratsley designed a double flight with a landing, adding a skylight directly above for maximum illumination. Cratsley points out that although skylights can detract from historic homes, this one won't be noticeable on the back of the house. "In this case, gaining the light is more important," she says.
Just as important is getting the stairway right. Landings under attic ceilings are notorious head bumpers. In order to meet the code requirement for height between the landing and the ceiling (measured at the edge of the first stair), Tom and TOH master carpenter Norm Abram whip out their calculators. After about 10 minutes of numbers crunching, they arrive at a combination of landing depth, stair rise, and tread run that satisfies all the code requirements while giving the Buckleys a comfortable stairway — including a seat built into an extra-wide landing.
"All in a day's work," says Tom, as he quickly marks off cuts on the stair risers. "But this project really demonstrates why a conversion can be tricky. It's hard to meet code in these tight spaces, but those codes are there for a reason. If the job's done properly, you'll have a space you can really live in safely."
Where to Find It
Architect:
Holly Cratsley
AIA
Principal
Nashawtuc Architects, Inc.
Concord, MA
Landscape Architect:
Stephanie Hubbard
RLA
Halvorson Design Partnership
Boston, MA
617-356-0380