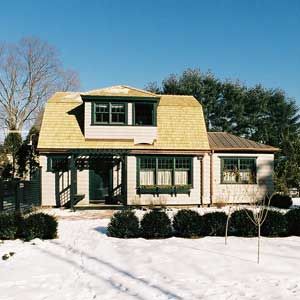 When Len and Jackie Buckley started their search for a new home, they knew all too well that Len might not ever live in it. Len had been battling cancer for the last several years, and he and his family knew he was nearing the end of his life. Len Buckley — husband, father, grandfather, homeowner, business executive, and retired Marine Corps captain — passed away in November knowing that his wife would have a beautiful and safe new home to move into.
"When our father first got sick we started talking about what my mother's life would be like without him," says Janet Bernard. "They did everything together — shopped together, went everywhere together — they were never apart. We couldn't picture her living in their big house by herself, even though it's only a few miles from us. She's very active and loves being around people. We talked about condos, but she'd still be alone in a condo."
The cottage project started as a joke in one of those early conversations, when Janet's brother David suggested she convert her barn into an apartment for their mother. Janet originally suggested he convert his own garage instead, but the joke took hold. One day Janet mentioned it to her mother — who told her daughter that she didn't want to spend her golden years in a horse stall.
"But we started talking about it more seriously," says Janet. "Would she consider it? Would she want to live that close to us? Then my husband and I talked about it, started thinking about how it would work for our family. Jeff was really in favor of it; his take on it was that we could help each other but still have our own homes. We can help my mother, but she can also help us — feed the dogs when we're not home, things like that."
Len Buckley wasn't well enough to get over to the project site very often, but he wanted to hear all the details as the work progressed. He watched the Web cams, and had lots of questions about what he saw. "He'd want to know things like, 'There was a guy in the kitchen today — what was he doing?' " says Janet. "When the work tent went up he wanted to know what it was, he couldn't figure it out from the Web cams. We'd e-mail back and forth, and he enjoyed watching the progress. It gave him hope — he really believed, right up until he got very sick at the end, that he might live there. I think he knew he'd never make it, but it gave him comfort to know my mother would be in such a happy place."
A much-decorated soldier whose life was greatly influenced by his service in Vietnam and Korea, Len was also a proud father of four and grandfather of six. He had the good fortune to be surrounded at the end of his life by his family, who had the opportunity to thank him for all he'd done for them.
The little cottage will be a lot emptier without him. But we're glad to know Jackie Buckley will be moving in with a lifetime of memories to share with her family.