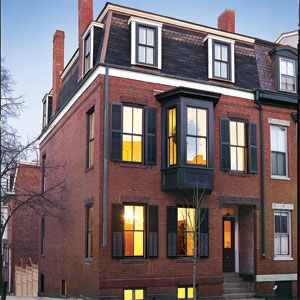 As in many neighborhoods that surround the historically significant
cities of the country, private outdoor space in Boston is usually modest
and inconspicuous. What precious opportunities for light and air that
these spaces afford are often hard to visualize, and the restraints of
an urban setting can seem overpowering. Issues of privacy, proximity to
neighbors, orientation and security compound the challenge.
Nonetheless, I've found that with every restraint I encounter in these
lackluster courtyards, there is an equally rewarding solution. In
Charlestown, landscaped courtyards are the urban "diamond in the rough."
With a little forethought, these cramped spaces can be transformed into
intimate gardens that give sanctuary on a hot summer day.
The initial step in designing the courtyard on Bunker Hill Street was an
inventory of the existing site conditions and restraints. Sandwiched
between the house, a rear walkway and a neighboring firewall, the
courtyard is a L shaped parcel that slopes from front to back following
the steep grade of the side street. This three-foot drop along the rear
of the courtyard would dictate the construction of a retaining wall and
the location of two proposed patios, one for each apartment, at
different levels of the slope. Fencing would be required for both
privacy and security. This is a lot to consider within only 550 square
feet. The courtyard design needed to take these restraints into account
while also providing an enjoyable garden setting.
To this end, I designed the courtyard as an outdoor room. Entering from
the street, homeowners will walk through an arched arbor and continue
along meandering walkways that connect to the patios as well as to the
staircase to the second floor and the first floor entrance. The upper
patio material, sited to allow water to drain away from the house's
foundation, is made of colored impressed concrete, which comes in a
variety of surfaces and colors and can be formed to meet any patio
design. Plant pockets along the perimeter fence soften its impact,
while traditional details help reduce its scale. A retaining wall winds
around the second patio to accommodate the change in grade. The wall
serves as seating and will allow plantings to be terraced, creating a
more dramatic effect. Undulating walls and walkways in a small yard can
soften the space and provide a variety of planting areas. The walls and
walkways are made of colored, pre-cast concrete, a durable, good-looking
alternative when your budget prohibits traditional paving material. It's
available in an assortment of styles and colors and is tumbled to give
it more of a natural effect.
In an urban courtyard, planting is the ultimate weapon in adding scale
and softening walls. Mature plantings, in particular, give a sense of
permanence and tame uncomfortable proportions, such as the neighboring
three-story brick wall. I've espaliered (trained
and attached) plants and climbing vines to accent and minimize the
fence's impact. Plantings should contain a good mix of evergreens,
deciduous flowering shrubs and broadleaf evergreens. I like to blend
sizes and varieties so the garden will look beautiful throughout the
year. In this case, because of the courtyard's northern orientation, I
made sure to allow for varieties that will thrive in shaded conditions.
In a dense neighborhood like the one in Charlestown, open space is
precious. No matter how small, a well-landscaped courtyard can provide
residents with a small oasis of green in an urban ocean of brick and
concrete. It just requires a bit of imagination and forethought.