Good for Another 165 Years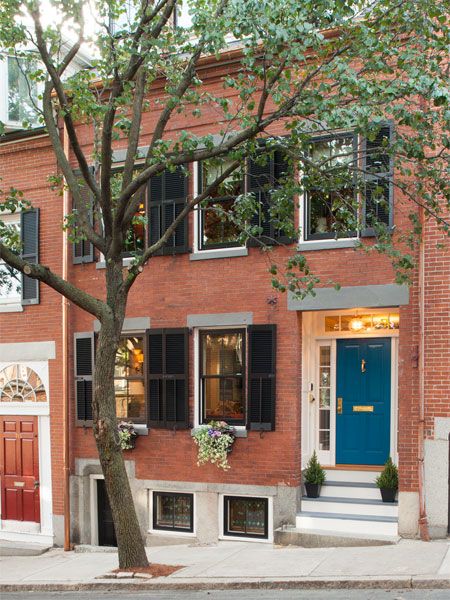 "I love seeing people's personalities in their decor," says home-owner Angela Daigle. A traveler at heart, she has collected everything from vivid Asian textiles to classic 19th-century ironstone. No matter what she discovers or where she finds it, her favorite old object is the home she always returns to, an 1850 Greek Revival rowhouse in Charlestown, the oldest neighborhood in Boston.
Shown: Unbeknownst to homeowner Angela Daigle, the brick facade of her Greek Revival rowhouse was bowing out and had to be shored up by TOH general contractor Tom Silva. He also installed a new, energy-efficient front door and exposed the recessed entryway.
Architect: Sally DeGan, SpaceCraft Architecture, Lexington, MA; 781-674-2100
Front door: Simpson
Front-door paint: Delft Blue 4003; Fine Paints of Europe
Time for Renovation Action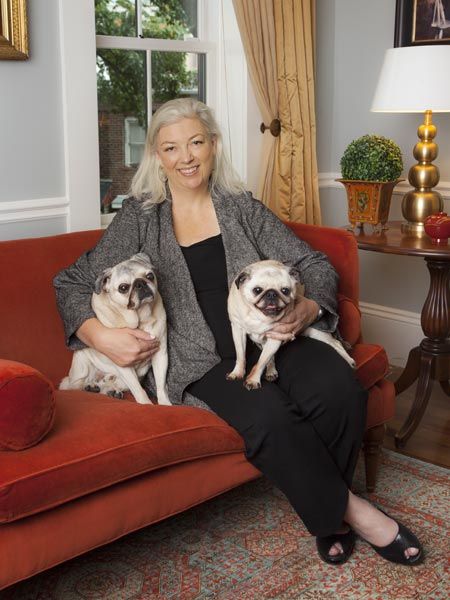 After 10 years of living in the house and saving for a renovation, Angela became increasingly alarmed about its condition: The second-floor bathroom's tub lost a claw foot and collapsed, the third-floor bathroom's shower door fell off, and the kitchen appliances were sputtering. "When the skylight started raining on me," she says, "I knew I had to act."
Period-Perfect Greek Revival Front Room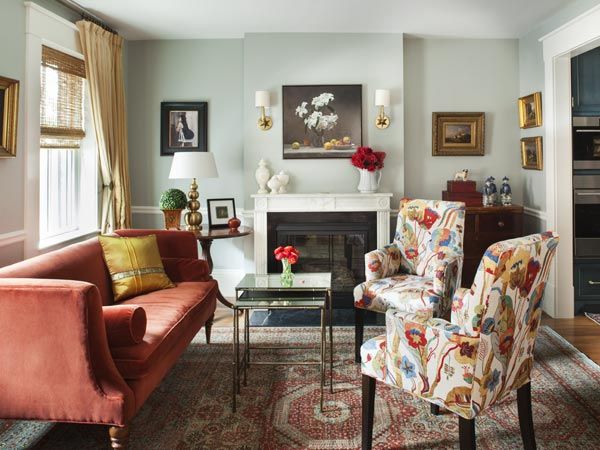 That's when she set out on the path that led to her house being chosen for the current season of This Old House TV. The trick would be to make the most of the house's modest footprint, 1,500 square feet over three stories.
Shown: An architectural-salvage-yard find, the white marble mantel in the first-floor sitting room brings period-appropriate Greek Revival details—pilasters and a central urn—to the original fireplace, which had been outfitted with a wood mantel by previous owners.
Interior designer: K. Marshall Design, Wenham, MA; 978-468-7199
Flooring: Lumber Liquidators
Art above mantels: Powers Gallery, Acton, MA; 978-263-5105
Shades: Budget Blinds
Sitting room Rug: Landry & Arcari
Streamlined Kitchen for Convenience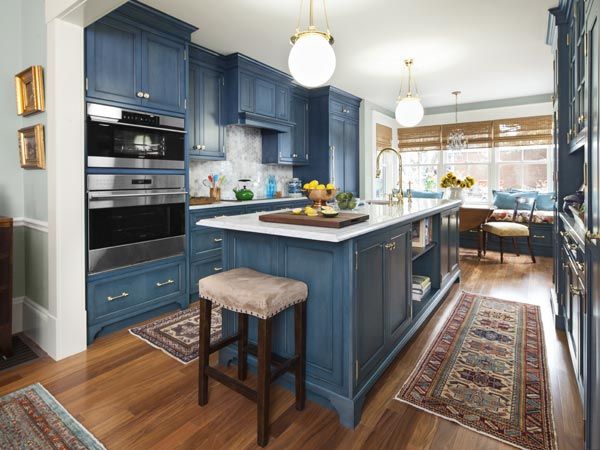 Working with architect Sally DeGan, Angela envisioned a more open first-floor layout with spaces to entertain and to display her passion for vibrant colors and her collected objects, a roomier kitchen with a windowed bumpout showcasing the view to the backyard, and a third-floor master suite with a walk-in closet and spa-like bath. "When you have a small space like a rowhouse, it doesn't take much to really make a big difference," says DeGan. "Removing a wall between the front room and kitchen, for example, transformed the entire first floor."
Shown: A new, efficient layout arrays the work areas in convenient proximity, with wall ovens, cooktop, and built-in refrigerator (at far end) all arranged along one wall, and the sink built into the parallel island just a step away. Floors of Cumaru, a Brazilian hardwood, cast a warm glow.
Wall ovens, cooktop, and vent hood: Wolf
Built-in refrigerator: Sub-Zero
Cabinetry: Plain & Fancy
Globe pendants: Rejuvenation
Basement floor and fence post anchors: Quikrete
Kitchen Island Paradise: After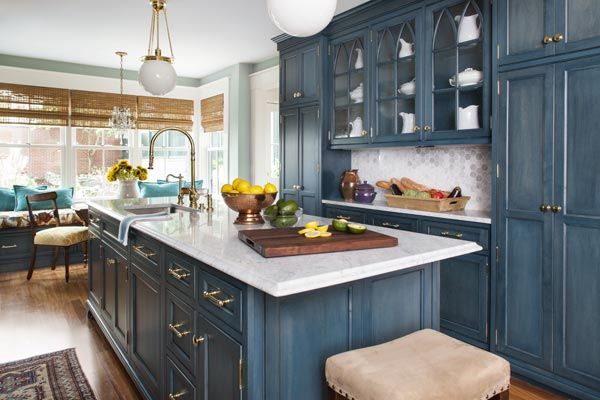 At just 40 square feet, the judicious kitchen bumpout accommodates a built-in banquette where Angela can seat up to six around the dining table. That one small addition opens up the kitchen and creates space for a tiny—but useful—3-by-6-foot powder room, yet preserves the outdoor kitchen area. Likewise, up on the third floor DeGan called for a small change with big impact: a shed dormer to connect two doghouse dormers, creating a multipurpose "studio" space where there had barely been room to store luggage.
Shown: The original black-and-white galley kitchen gets an upgrade with a generous island and a custom stain that gives the cabinetry the appealing look of old painted furniture. Above the marble-hex backsplash, a lighted wall cabinet with period-style seeded-glass doors and arched muntins displays the homeowner's collection of antique ironstone pitchers and tureens.
Marble countertops: International Stone
Marble backsplash: Tile Bar
Pull-down faucet: Waterstone
Black-and-White Galley Kitchen: Before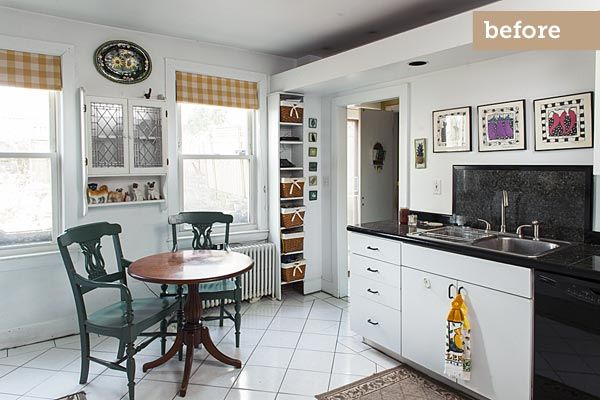 For TOH general contractor Tom Silva, building a bumpout and a shed dormer seemed like an easy assignment—until he came up against a brick wall. Two of them, actually. Both the front and rear brick facades were pulling away from the house by as much as 2 inches in places. "Over time, the roof load had worked the brick walls in and out so they were breaking away from the house," says Tom. "The challenge was to pull them in just the right amount without affecting the rowhouses on both sides." So he reframed the front and back walls, top to bottom, and tied the brick back into them.
Jewel-Box Bumpout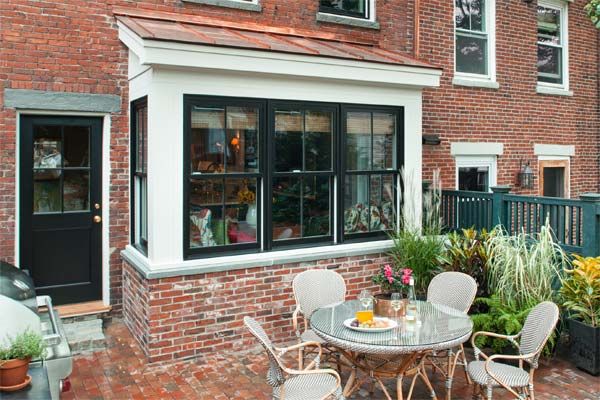 With the new spaces carved out, Angela and designer Kathy Marshall had a blank canvas to play up sentiment and soul by highlighting her collections, including 19th-century Dutch oil paintings, regional still lifes, and antique Chinese carvings. "I enjoy having things around me that reflect my family, my interests, my travel," says Angela.
Shown: The 40-square-foot kitchen addition features a copper roof, windows on three sides, and original brick that Tom Silva salvaged and reused.
Windows: Harvey Building Products
Flower-Power Powder Room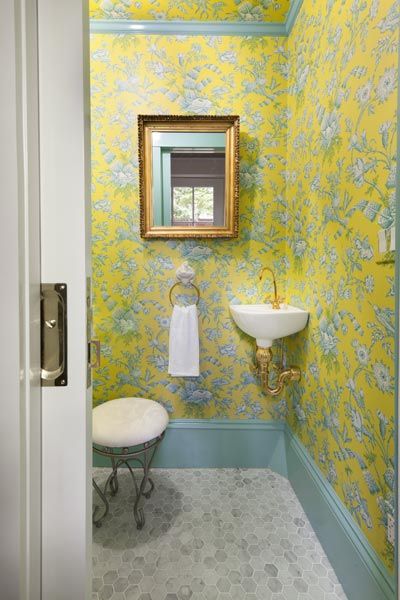 Nowhere is this more striking than in the distinctive kitchen cabinetry, finished with a custom stain Marshall had created that happened to complement a hue in Angela's oil paintings. Indeed, everything in the house reflects Angela's eye for color, pattern, and form. She's always envisioned a home where she could share her love of old architecture, period details, and collected objects. So it's only fitting that after the renovation, she opened her house to the annual Charlestown Preservation Society Historic House Tour, inviting everyone in to see where she's been.
Shown: A pocket door, a miniature corner sink with decorative plumbing, and arresting floral wallpaper trimmed with aqua-painted baseboards make the most of the 3-by-6-foot first-floor half bath.
Wallpaper: Shell Toile Blue on Pineapple; Brunschwig & Fils
Sink faucet and fittings: Herbeau
Bath sink: Bates and Bates
Cozy Quarters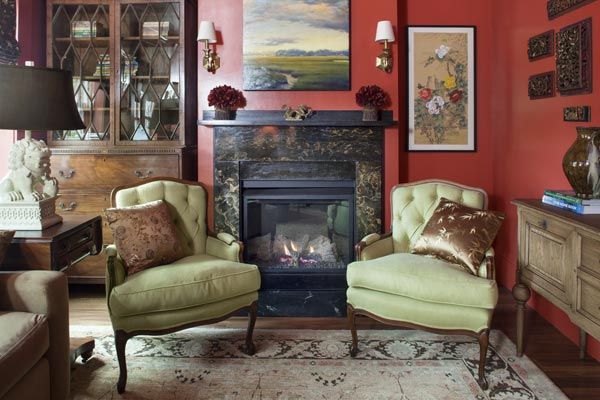 The second-floor front room's dark marble fireplace surround is original, a distinctive detail from the Greek Revival era; a gas insert was installed to make the fireplace functional again. The homeowner's collections from her travels in Asia include textiles and artwork displayed in the room.
Paint: Custom color, The Home Depot
Mantel sconces: House of Antique Hardware
Asian Inspired Decor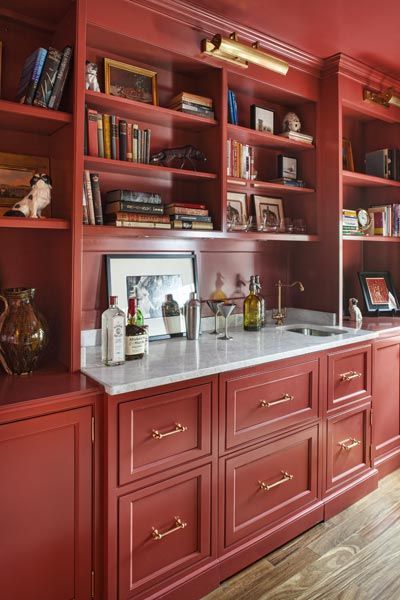 Designed to evoke lacquered chinoiserie, floor-to-ceiling cabinetry in ruby red anchors the second-floor front room—Angela's true living room—with a wet bar and illuminated display shelves.
Cabinetry: Plain & Fancy
Brass pulls: Clarke Distribution
A Mix of Old and New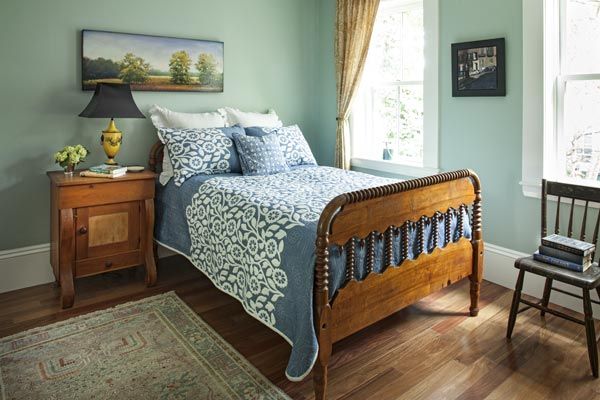 The second-floor guest bedroom gained space with the removal of a defunct chimney. The new floors and windows are dressed up with refurbished original baseboards and casings.
Height and Light: After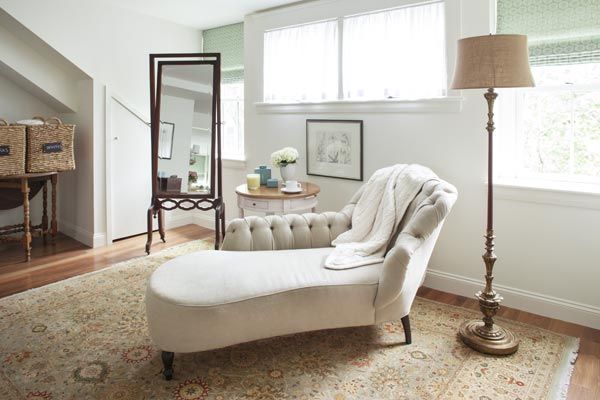 Bridging the dormer roofline created a spot for another pair of windows. Now the space multitasks as a dressing room, a guest room, and a reading aerie.
Dormer Distraction: Before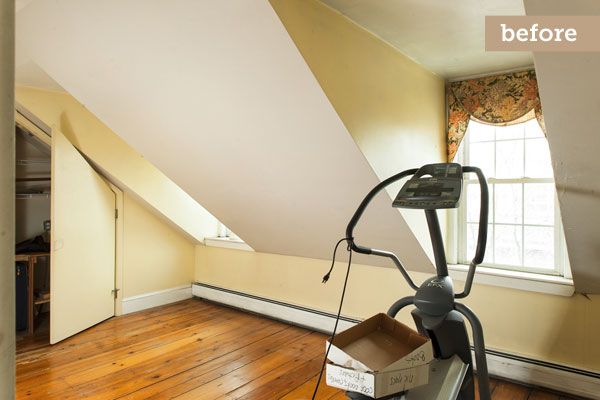 The roofline between the old doghouse dormers in the third-floor front room made standing up a challenge.
Sitting Pretty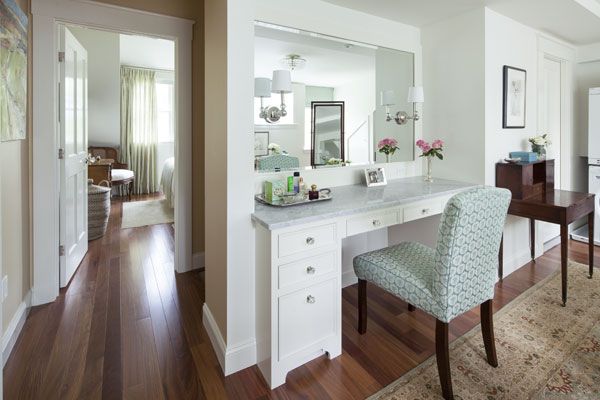 A niche in the third-floor front room was outfitted as a dressing area, with a built-in marble-topped vanity and a wall mirror complete with sconces. The opening to the left of the vanity shows the path to the master bedroom at the rear of the house.
Chaise longue: Grange
Cool and Inviting Master Bath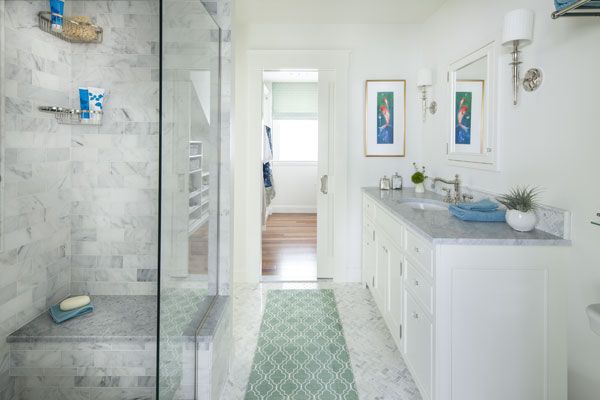 The 6-by-8-foot master bath features a roomy marble-tiled shower with glass walls, and a marble-topped vanity. A pocket door opens to the much-needed walk-in closet.
Shower tile: Tile Bar
Floor Plan: First Floor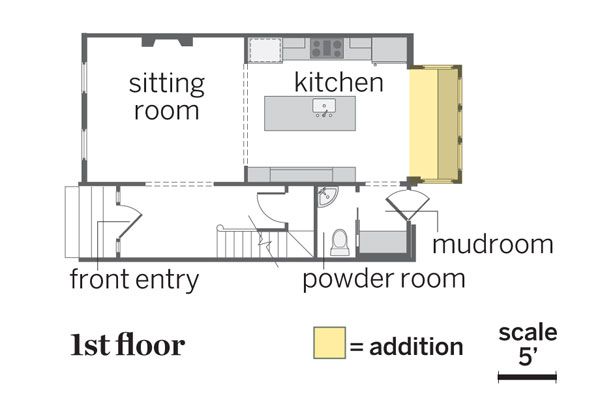 Bumping out the dining nook, abandoning a chimney, and elongating the kitchen carved out first-floor space for a powder room and a mudroom.
Floor Plan: Second Floor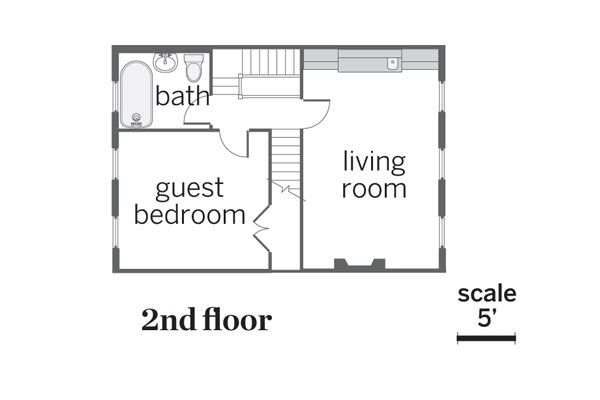 The second floor kept its footprint.
Floor Plan: Third Floor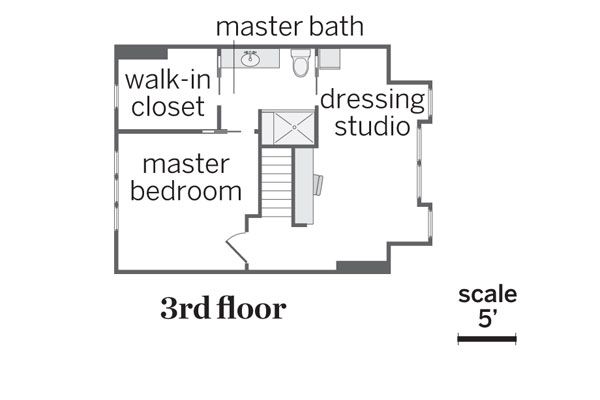 The third floor was gutted and reconfigured with a master suite.