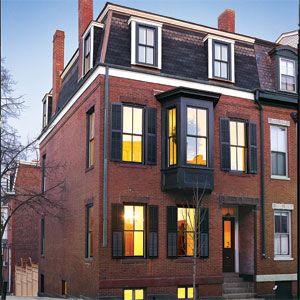 When I first came to look at the chimneys on This Old House TV's Charlestown project, series producer Bruce Irving told me that there were four fireplaces with beautiful mantels, but was unsure of their condition. Little did Bruce or the homeowners know that these fireplaces were actually fire hazards.
Whenever I look at a job, I examine not only the chimney but the entire
chimney system. This means checking the distance between
combustibles—such as wood framing or mantels—and wood or coal stoves,
boilers furnaces, fireplaces and smoke pipes in addition to inspecting
the actual chimney for proper height, size, lining and clearance from
combustibles. I also check the sides, rear and underside of the firebox
as well as any hearth extensions for proper size and clearances. A
certified chimney professional should both clean and evaluate your whole
chimney system once a year. In most of the United States, no license or
certification is required, so homeowners should ask their sweep for an
up-to-date certificate from the Chimney Safety Institute of America,
which requires sweeps to pass a written examination based on fire codes,
clearances and standards for chimney construction and maintenance. In
addition you should call references and ask for proof that the chimney sweep is fully insured. Many municipalities
actually have codes that are more stringent than the national fire code,
so it is important that your sweep also have knowledge of local codes.
Today the predominant lining of masonry chimneys is terra cotta tile.
Prior to the 1920s, chimneys were typically unlined, consisting of brick
or stone and soft mortars, with their wood framing in direct contact
with the chimney. The most commonly burned fuel was coal, which created
an acid rich environment within the chimney that actually ate away at
the unprotected brick and mortar. This combination of acids, exposed
wood framing and lack of lining is recipe for a house fire. In
1994, 32,500 chimney fires in the United States resulted in 70 deaths,
and $181.8 million worth of damage. Virtually all of these fires were
preventable with proper yearly inspections.
Burning wood produces a sticky, tar-like flammable substance called creosote that can ignite and
send flames up the flue, raising temperatures as high as 2,300
degrees—hot enough to melt mortar, crack flue tiles and char or burn
nearby studs and rafters. Creosote comes in three different strengths:
first-degree creosote is a fluffy gray dust; second-degree is denser and
looks like blackened popcorn; and third degree creosote is crystallized
and hard like rock candy. Most chimney professionals now have a closed
circuit TV camera that can be inserted up the chimney for a closer look at
creosote buildup. Although this service costs a little more, it usually
reveals otherwise hidden problems and also allows homeowners a first-hand look at the culprit.
The four fireplaces in the Charlestown house figured prominently in the renovation plans. If they could get them working, the homeowners could add over $20,000 in value to their home. But this was not as
simple as it sounded. The chimneys were unlined,
originally used to feed hot air from the basement furnace into the rest
of the house. In the first floor dining room, the tiled hearth and gas
log were added around the turn of the century. In the second floor
dining room, the fireplace was gradually built up around an outlet for a
wood stove pipe. In the second floor living room, currently outfitted
with a gas-fired log, I found charred wood in the framing around the
chimney from the heat that the logs threw off. Because these fireplaces
weren't originally used for wood burning, they would be complicated—and
expensive—to get fired up. I recommended that the homeowners focus on
the two living room fireplaces: relining the chimneys, building masonry
fireboxes and moving the wood a safe distance from the hearths. All
this rehabilitation would cost nearly $20,000—the very cost they could
recoup whenever they sell the house. This news was more than they had
bargained for; most of the hazards were hidden within the walls behind
the decorative fireplaces they fell in love with. But these chimneys
were a classic case of what you see isn't always what you get.