Inside job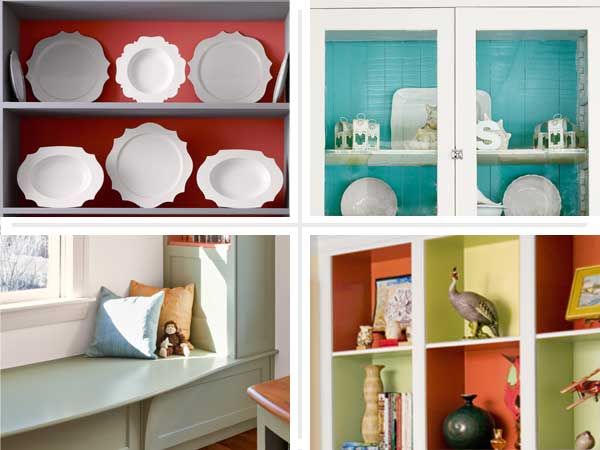 Bookcases have been quietly blending in with the woodwork for far too long. Fortunately, after years of providing a muted backdrop for artfully arranged objects and book spines, these hardworking built-in and freestanding furniture pieces are no longer doomed to disappear under a coat of plain white. In fact, controlled blasts of color at the back, and maybe on the sides too, can be an ideal way to make collectibles and other display items come alive. Options range from intense jolts of color to soothing neutrals. The only rule is to keep the rest of the space in mind, whether the goal is to create an accent wall, tie together the furnishings, or provide a bit of needed contrast and energy. Read on for ways to emphasize shelf assets while giving a room a fresh new look.
Mix and Match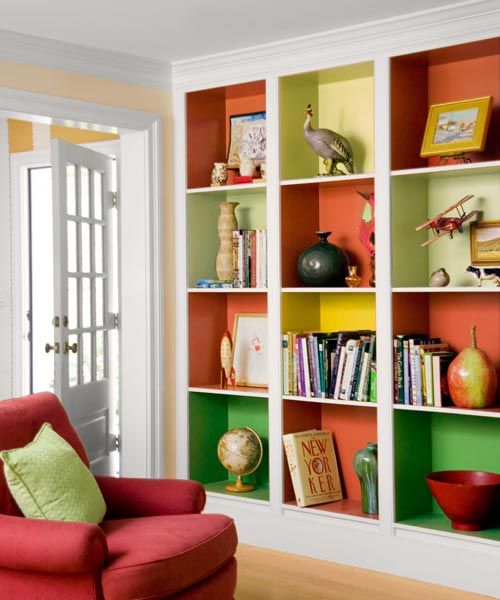 A grid of uniform cubes becomes a playful display case with the help of outspoken colors in a five-way dialogue. Tangerine complements lime and partners with an equally warm yellow, while two additional variations on green keep things lively. Painting the sides as well as the backs gives the grid extra dimension.
Similar to shown: Behr's Sweet Mandarin (orange); Citron (acid green), Dried Palm (pale green), Chickadee (yellow), and Par Four Green (deep green)
Vibrant Bands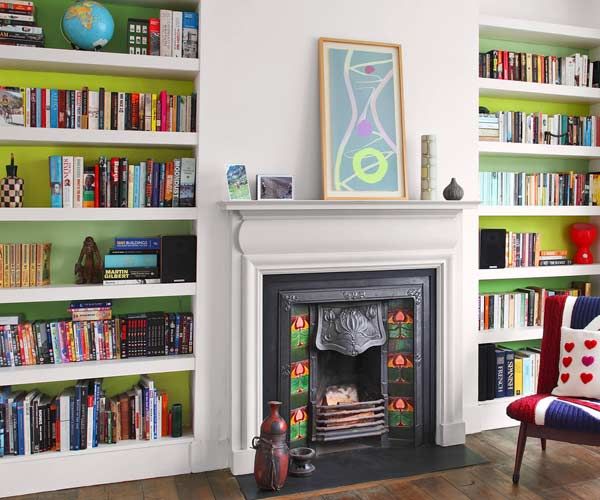 Formerly white shelving is now an accent wall with an unexpected twist—easily done with paint samples in three hues of green. The color changes in a random fashion from shelf to shelf, inviting the eye to look up, down, and side to side.
Similar to shown (top to bottom): Valspar's Lush Meadow, Lime Burst, and Jaunty Green
Mood Changer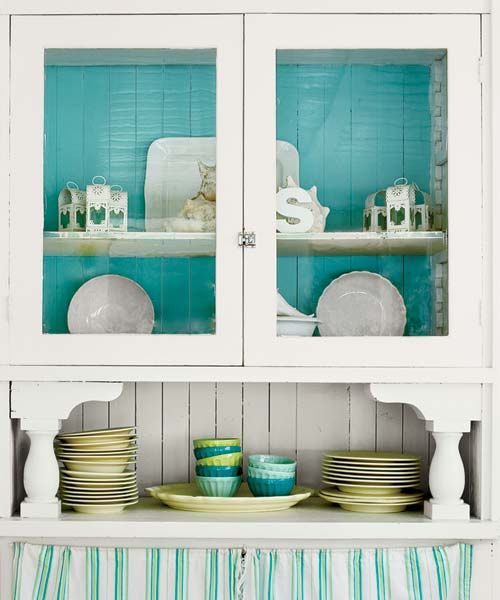 A vintage-style hutch with glass doors and visible boards develops a little attitude when the back is an upbeat aqua blue.
Similar to shown: Benjamin Moore's Tropicana Cabana
Knockout Niche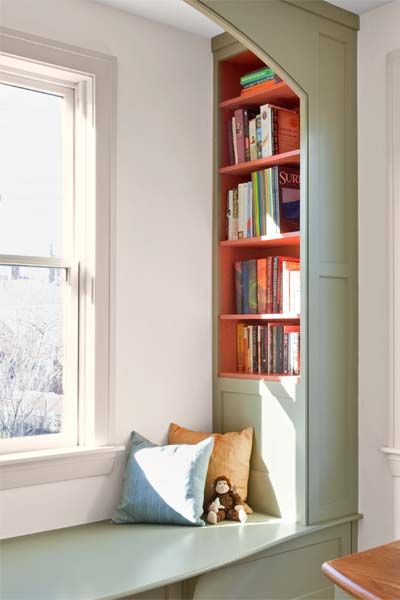 Recessed bookcases come to the fore with a bright orangey red that saturates each shelf area from back to front. The contrast also enhances the built-in's otherwise gray-green surfaces.
Similar to shown: Olympic's Light Sage (built-in) and Candy Corn (shelves)
Added Depth
The dramatic deep red at the back of this built-in makes it and its pale serving pieces pop.
Similar to shown: Glidden's Seal Grey (built-in) and Candy Apple (interior)
Polished Presence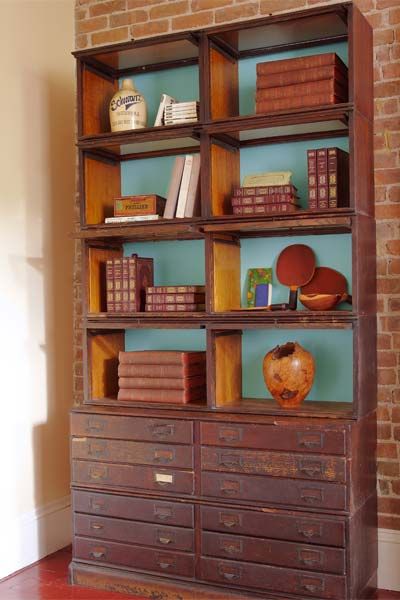 Salvaged barrister bookcases with curated contents shake their curio-shop style with a shot of clear blue that cools off the dark-red floor and brick wall.
Similar to shown: Benjamin Moore's Spectra Blue
Natural Match
Turquoise pulls together this crisp, sunny space, and using two dominant colors of equal intensity brings balance to the scheme. Framing them with white keeps the effect from being overpowering.
Similar to shown: Sherwin-Williams's Straightforward Green and Fountain