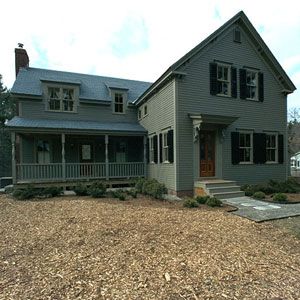 Every This Old House project has its greatest hits—products or services that everyone on the show seems to be impressed by, with the kind of staying power that means we'll be using them again. In Milton, for example, there were the panelized shingles that allowed us to cover the barn and workshop in a matter of days, rather than the weeks individual shingles would have taken. In Watertown, the composite-frame new windows we used have reappeared in force on the current Billerica job.
One of the Billerica project's winners, we think, are the synthetic slate roof shingles, made of 100% recycled rubber and plastic. Invented by Jim Crowe, a third-generation homebuilder from Canada, these "slates" come as individual tiles, 18 inches long, 12 inches wide, injection molded in dies made from 100-year-old roof slates. Their appeal is that, while they look uncannily like the real thing, they cost less and install more easily.
At 1.25 pounds per tile and about 198 pounds per square (100 square feet of finished roof), they are lighter than the lightest asphalt shingles and a quarter of the weight of real
slate. This makes for easy lifting, from unloading the delivery truck to transferring the tiles to the roof to putting them in place. It also means that a standard roof structure can support them, with no special reinforcement, straps or battens. Unlike real slates, whose fragility requires extreme care in nailing, these go down with standard roofing nails, shot by pneumatic nail gun. They cut with a utility knife for fitting. All this reduces labor and therefore cost.
Mark Mulloy, our roofing contractor for this job, reports that the tiles "go down easily, cut and nail easily, and are easy to keep to a nice, true line." Since they are made in batches, and from seven different molds, Mulloy points out that it is very important to
"shuffle" the tiles to distribute them randomly across the roof. "And because they have a 50-year warranty, and the manufacturer is predicting a 100-year life expectancy," says Mulloy, "make sure you're using all top-quality peripherals, like bituminous membrane along all edges and valleys, 30-pound felt on the deck, and heavy-gauge aluminum, copper
or lead-coated copper for the flashing."
Of course, all this quality comes at a price. The product itself, which is available from building and roofing supply houses nationwide, arrives on the jobsite for around $260 to $300 per square. Installation costs vary widely, possibly because of the newness of the product (it's been on the market since 1993) and roofers' lack of familiarity with it. According to the complexity of the job, Mulloy estimates he'll be charging from $700 to $900 per square, materials included. By comparison, he charges $200-300 per square for a 30-year asphalt roof, and $1,300-1,500 for real slate.
Douglas Hobbs, who is putting the same product on his house near the famous Battle Green in Lexington, Massachusetts, heard about it at the historical commission hearing his new addition required. "One of the members suggested I use it," he says. "After I drove up to Billerica to see it in place, I ordered it up. So far, it looks fantastic."