After: A Newly Usable Bedroom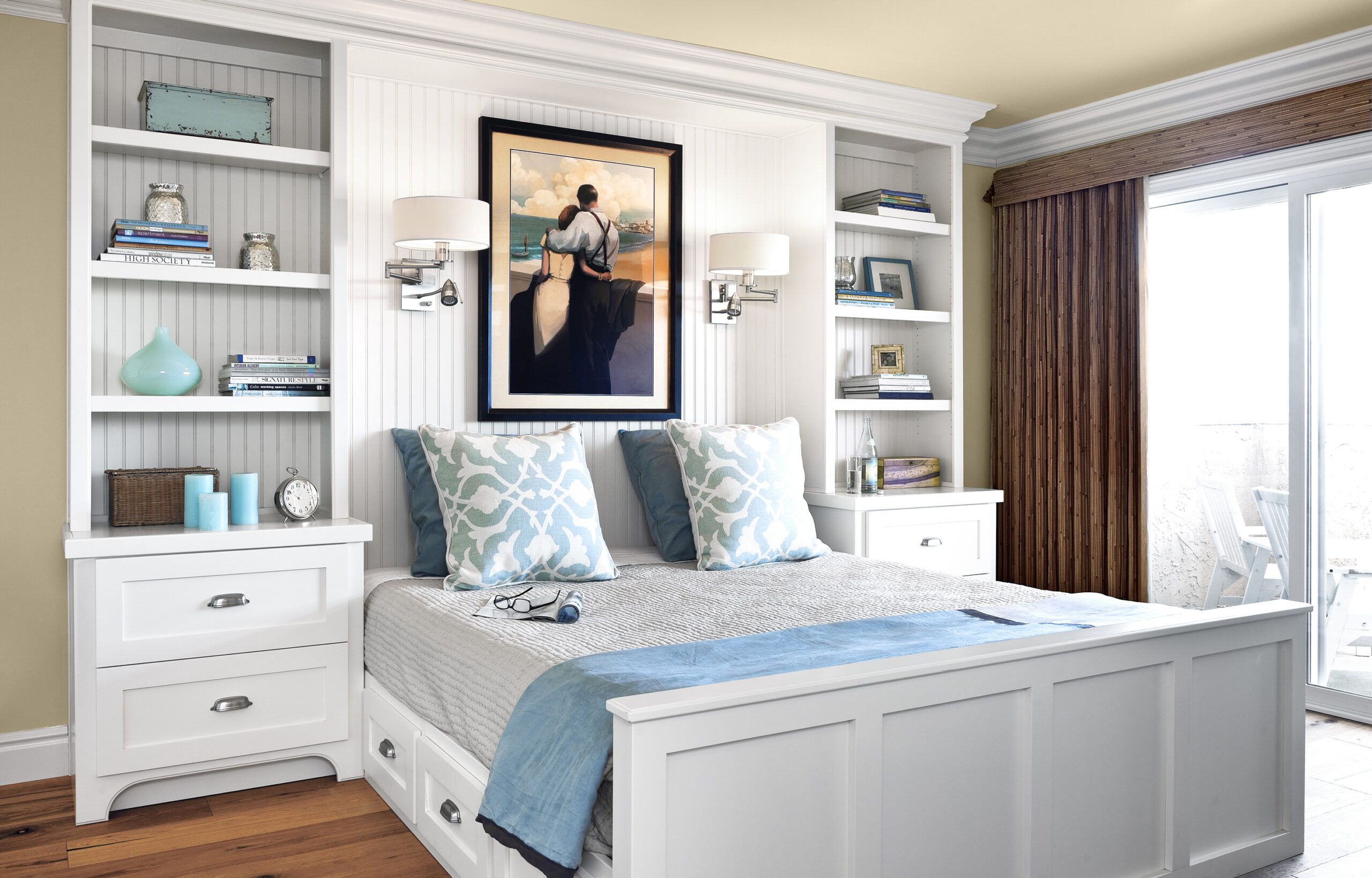 A bedroom without a closet is bad enough. But when it also falls short on workspace and creature comforts, you've got issues. Just ask Larry and Dona Burns, whose home, in Oceanside, California, had a guest room with plenty of potential but not enough function. "We wanted to have a space where Dona could work on her sewing projects, and visitors could relax and watch TV," says Larry. Plus, they needed storage because the one closet had been annexed by an adjacent bath.
Shown: Beadboard-backed built-ins have an inviting cottage vibe, along with drawers for clothing and linens, and open shelves for books and keepsakes.
Before: Little to No Storage
Designer Beth Bynon found the fix: custom built-ins, including a platform bed, drawers for clothes and linens, a hidden-wire TV mount, and a desk fit for a sewing machine or a laptop. Assembled off-site and installed over new oak floors, the built-ins look as if they came with the room, thanks to matching 6-inch crown molding on the walls and cabinets. Beadboard, bin pulls, and glass-front doors give the space a charming bed-and-breakfast look. "Whatever we don't have a place for we store back here," says Larry. "And then, of course, we leave some drawers available for our guests."
Shown: The bare-bones space had a daybed with a trundle and little storage room.
Major Wall Storage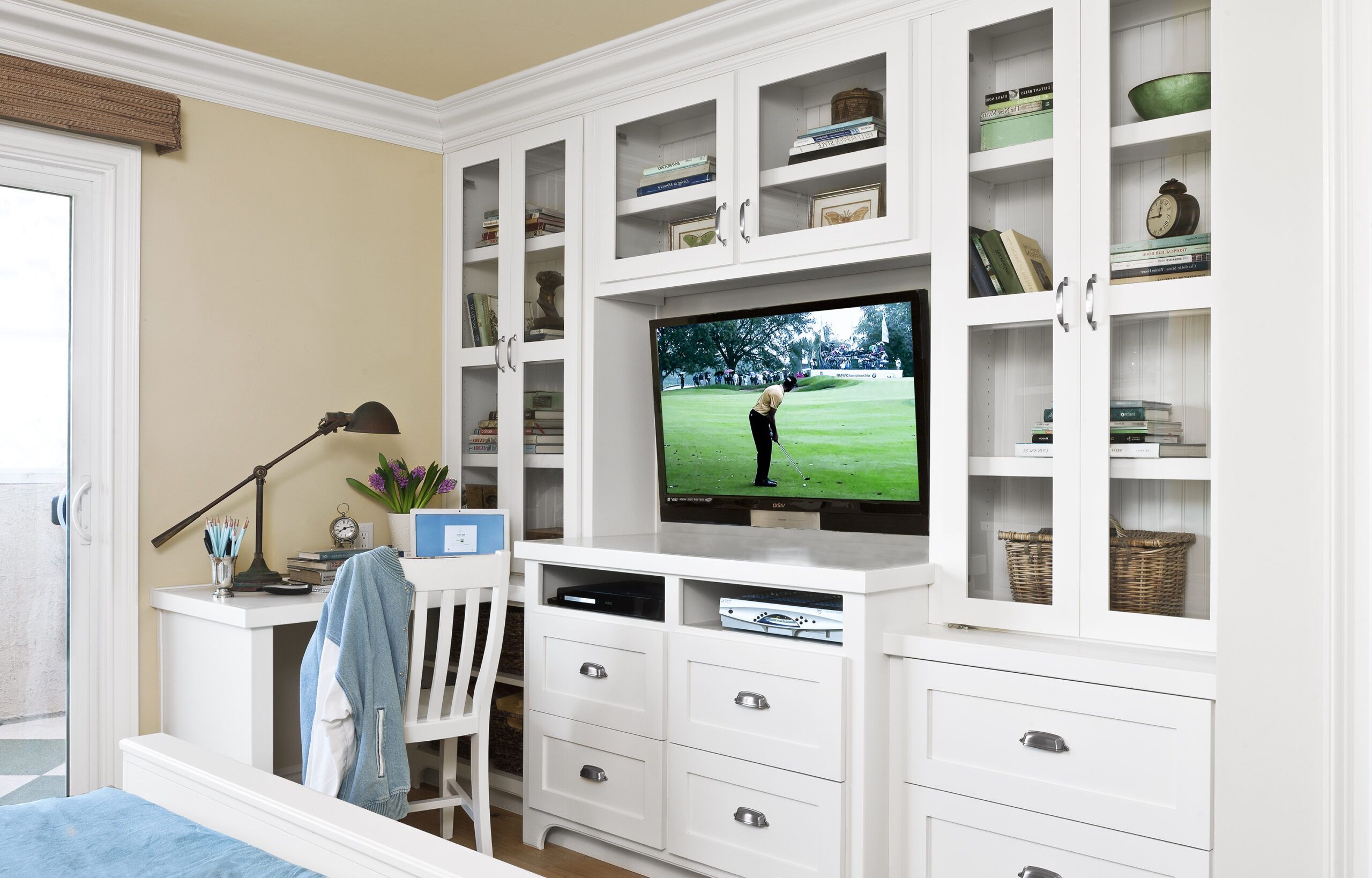 Storage cabinets made from maple and poplar have open shelves for TV components and drawers that stop 2 inches short of electrical outlets.
Cords Tucked Away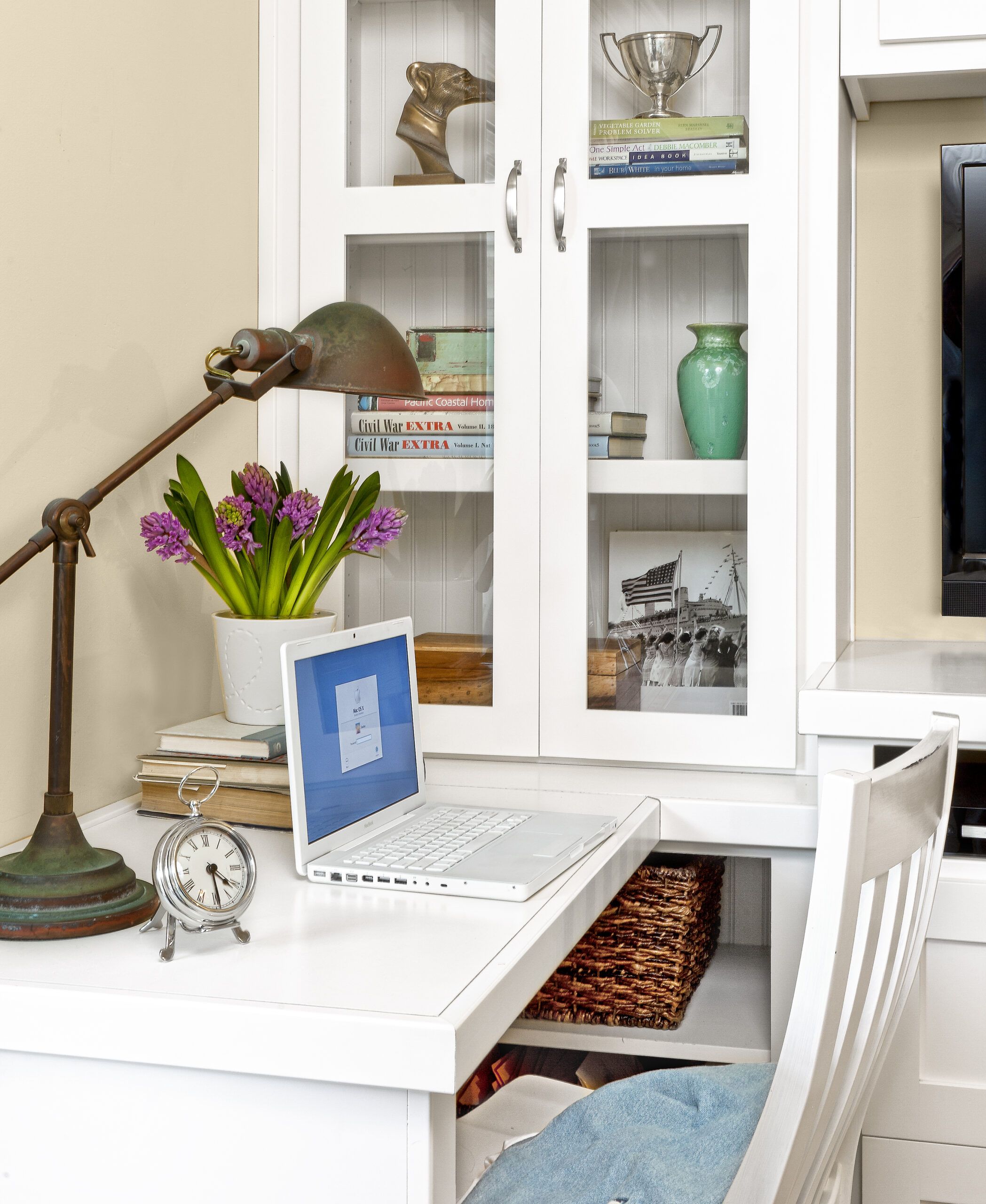 The built-in desktop has a hole that controls cords. Glass doors break up the wall of cabinets and offer a peek at the beadboard inside.
Hefty Drawers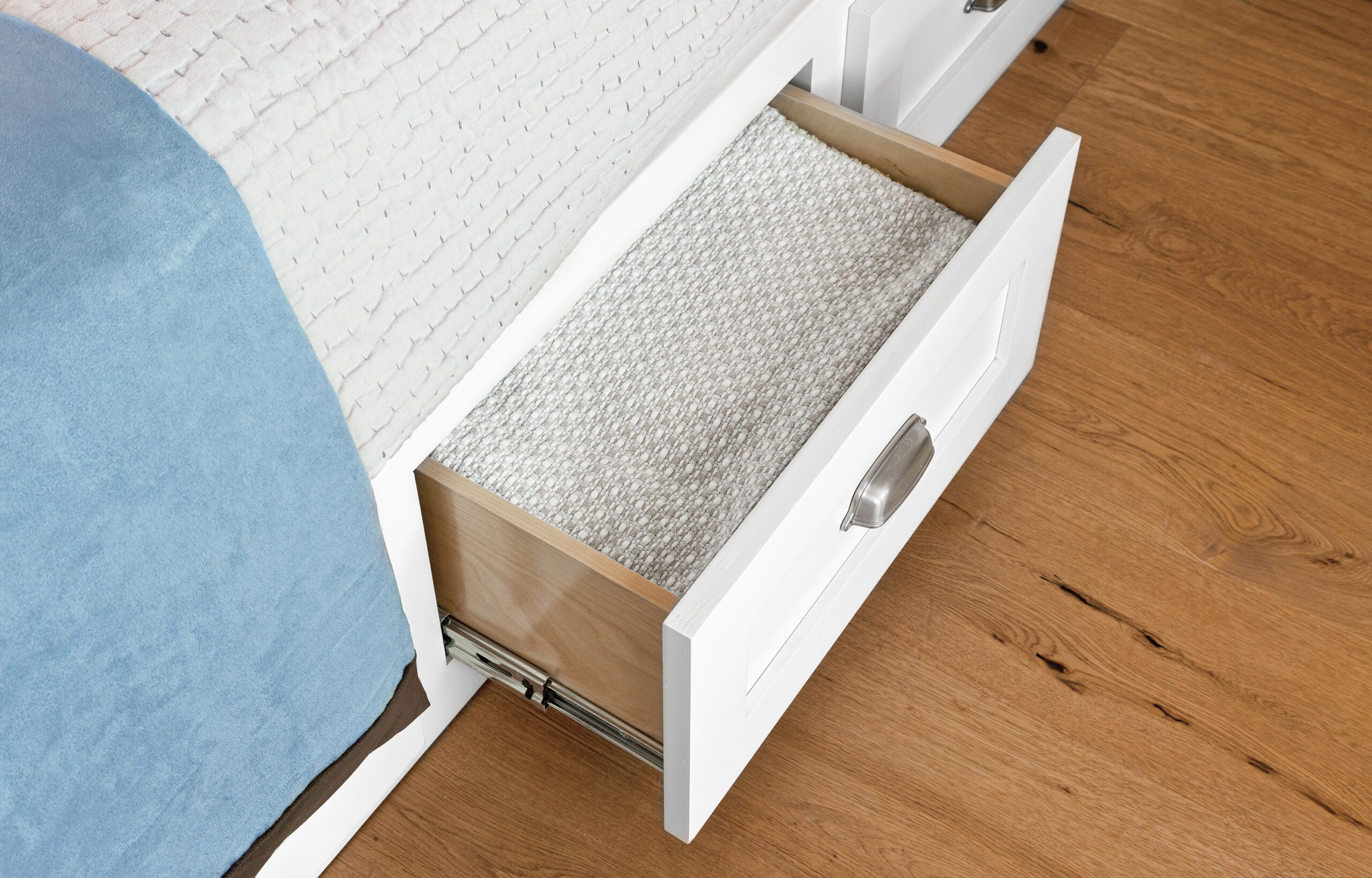 Drawers in the bed platform have full-extension slides that can handle 100 pounds.
Pulls: Pottery Barn
Faux Stand Alone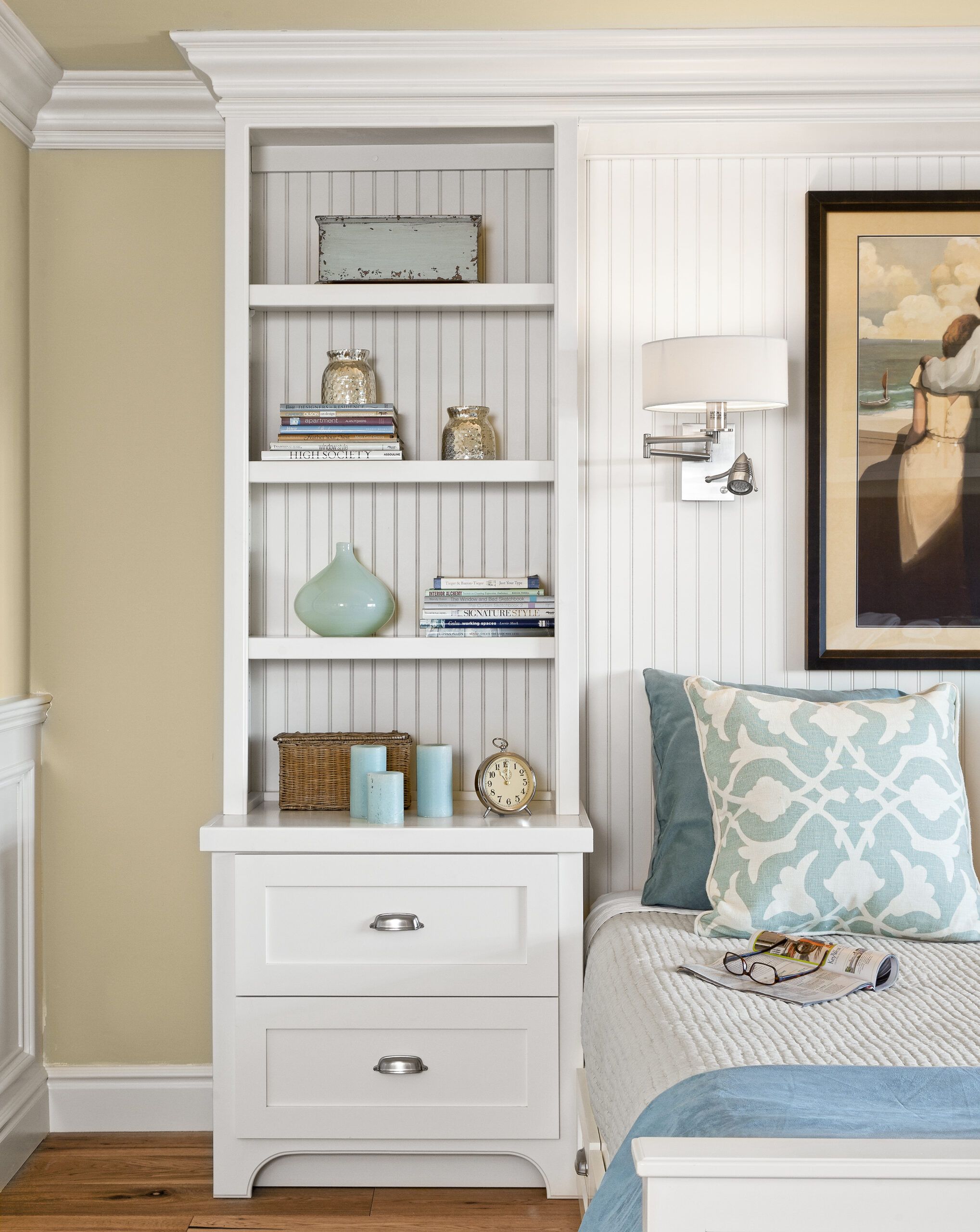 The nightstands have curved bases and recessed toekicks to give them the look of stand-alone furniture. Drum-shaded sconces add a soft glow; the task lamps below them are reader-friendly.
Sconces: Lamps Plus
Cottage Style
Beadboard panels made of medium-density fiberboard create a cottage-style backdrop for the platform bed. Like the cabinets, they were finished with white lacquer for a smooth surface that's easy to wipe down.
Floor Plan: Before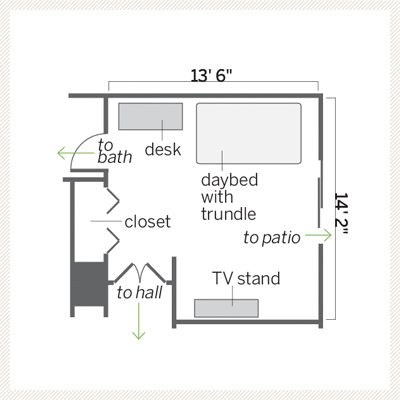 The 190-square-foot space had an awkward "foyer" and was about to lose its closet.
Homeowner tip: "To achieve a hidden-wire look without damaging built-ins once they're in place, have an electrician move outlets and cables closer to where you'll need them before the cabinetmakers arrive." —Larry Burns, Oceanside, Calif.
Floor Plan: After
The footprint stayed the same, while two walls of built-ins help the spare bedroom multitask as a storage and sewing room.
1. Rebuilt the wall where the closet was absorbed by the adjacent bath.
2. Opened up the room by shortening a wall that jutted past the entry.
3. Added cabinets for dresser storage, with niches for the TV and its components.
4. Built in a bed with drawers, a to-the-ceiling headboard, and nightstands topped with open shelving.
5. Created a work zone with a desk big enough for sewing and surfing the Web.