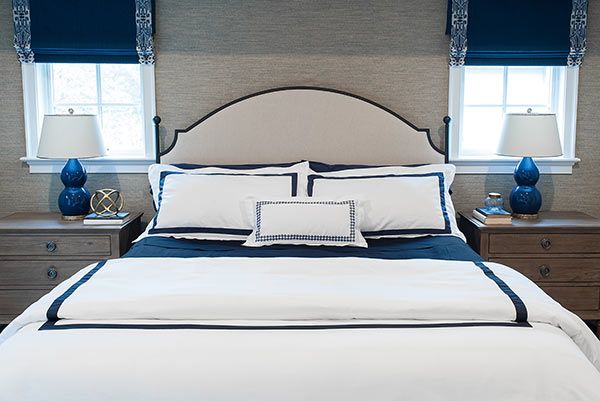 Whether you follow the military discipline of making your bed every morning or settle for just throwing back the sheets, everyone can agree that a cozy place to fall asleep at night is essential. Missy Tannen, president and co-founder of Boll & Branch, let us in on some of her tried-and-true ways for making up a bed since she started the direct-to-consumer company of fair-trade U.S.- and organic-certified bedding. Read on for her expert tips on getting the best of both worlds—individualized comfort and hotel-worthy style—for your bed.
1. Start with cozy surroundings
High-end throw pillows and velvety throws may make your bedroom feel ethereal, but they're not worth your biggest sleep-space investment. The best place to invest your money is in your sheets, says Tannen. "That's what touches your skin." Aim for oh-so-soft sheets and pillowcases. If you prefer to skip the top sheet in favor of just a fitted sheet, make sure that your duvet or comforter feels soft against your skin, as well.
2. Look past the thread count
A high thread-count number on packaging isn't necessarily an indication of quality. "Customers thought, The bigger the better, but people don't know why it matters. I don't think about thread count on my shirt or pants," says Tannen. A thread-count number is determined by counting the number of vertical and horizontal threads in a square inch of a sheet. But the ply of thread can impact the final thread count. A single ply—like Boll & Branch's—is one strand of thread and allows for better airflow. Threads with multiple plies make for thicker sheets and may add to your discomfort. (Think of embroidery thread that often comes with six plies you can pull apart.) Additionally, the number of threads in that square inch is multiplied by the number of thread plies. So a square inch of fabric with 300 single-ply threads will have a thread count of 300, whereas a square inch with 300 double-ply threads will have a deceptive thread count of 600. Tannen suggests finding bedding retailers with good return policies so that you can give sheets a proper test run.
3. Opt for a lighter duvet insert
The dead of winter is enough to make anyone order the thickest duvet insert, but Tannen encourages investing in a lighter one instead. The freedom of a thinner insert will allow you to layer on blankets during the winter or go without during warmer months, she says.
4. Smooth wrinkles with a clothing steamer
The crisp hotel look is a crowd-pleaser, but the work behind it can be time-consuming. Tannen likes to use a clothing steamer to smooth out parts of sheets and bedding that you can see. The results might not be as perfect as ironing, but the bedding won't look rumpled.
5. If you must iron, do only what you can see
Few things are as inviting to a visitor as a well-styled guest bed. Tannen takes a few minutes to iron guest-bedroom pillowcases and just the top 8 inches of the flat sheet for a pulled-together look. After all, those are the only parts you see before you slide under the covers.
6. Stack throw pillows when not in use
You can make your wrinkle-tackling efforts last until (almost) the next laundering by taking the time to neatly stack decorative pillows when you're turning in for the night. Then the throw pillows and shams will look as good as new in the morning.
7. Launder sheets right before guests arrive
Guest bedrooms are often a design afterthought and the recipients of discarded master-bedroom bedding. But Tannen recommends purchasing new linens and towels for these rooms because they'll get less wear and tear than your daily linens. Even if you're guilty of the hand-me-down practice, keep the bedding feeling fresh and laundered with this easy hack: Keep the guest bed made with the comforter and shams but wait until right before guests arrive to launder the sheets and pillowcases.
8. You can opt out of the 'hospital corner'
Personal sleeping styles and aesthetic preferences determine everything from your pillows to your bed skirt. Pulling sheets into the "hospital corner" isn't appealing to everyone, though. "I do try and pull at the ends of my flat sheets," says Tannen. "It just secures them and keeps them in place longer." But if you don't care about neat corners or don't have the time to tuck them in the mornings, she suggests at least pulling your sheets and duvet back up to the head of the bed for a neat look and sense of accomplishment.