This story originally appeared in the Spring 2023 Issue of This Old House Magazine. Click here to learn how to subscribe.
Think of it as the equivalent of the open-plan kitchen: With walls removed to create one expansive sight line, a wet-room bath channels light and air for a luxurious feeling of space. It may combine the shower and tub in a waterproofed area with a glass partition or array all the fixtures in a fully water-tight, barrier-free setup. With no walls separating the tub and shower, and no shower curtain or enclosure to contend with, taking the wet-room approach can make any space look larger. "It makes the showering experience so much nicer because you're not stuck behind a glass box," says San Francisco architect John Lum, who has designed more than a dozen wet rooms for clients.
While easiest to design and build when starting from scratch, a wet room can be a good retrofit option, too. "If you have a tiny space and you want to add a bath, a wet room might make a lot of sense," says Matthew McHenry, a construction manager in Berkeley, CA. Long found in European homes, the traditional wet room is a fully waterproofed space shared by a shower, sink, and toilet, and, less often, a tub. It is typically small, with walls tiled to the ceiling and the drain in the center of the room, with the sink and toilet hung from the wall. More common these days is a wet room where the shower and tub share a wet area at the far end of the room, with the vanity and toilet shielded by a glass partition. Coming up: a look at what it takes to plan and put in this type of open-plan bathroom.
Steps for Building a Bathroom Wet Room
1. Figure out the layout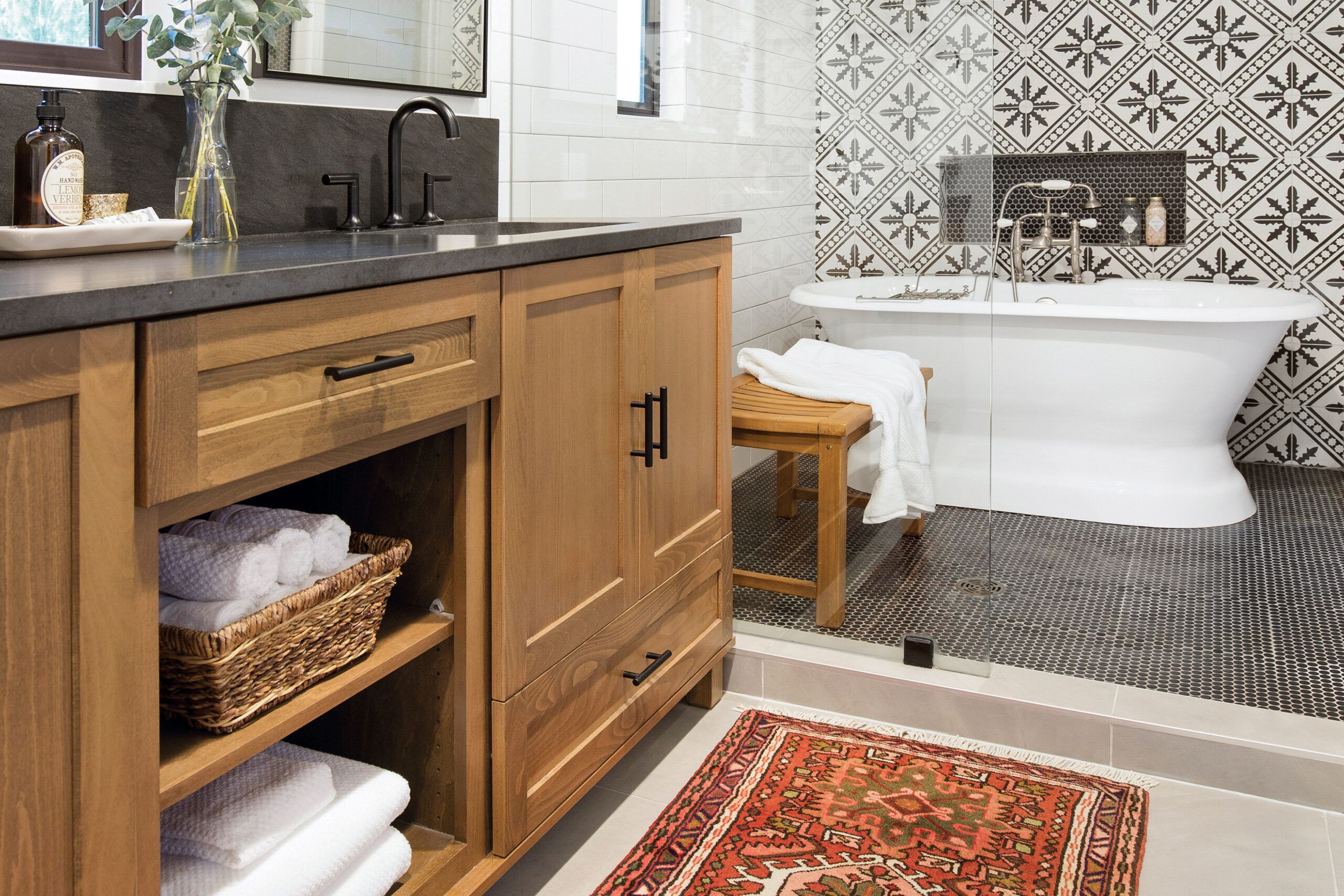 Start with the shower and the tub, if you're including one. To give a wet room a focal point, designers often place the tub against the back wall with the shower in front of it. Alternatively, the tub and shower might sit opposite each other on the side walls. Ideally, showers should have 36 inches of clearance on all sides, with a tub at least 3 feet away.
If possible, place shower controls outside the splash zone, so you can run the water without getting soaked. Since a shower's spray pattern can extend up to 6 feet in diameter, a glass panel, or splash screen, is often used to shield the sink and toilet. It can be hinged or stationary but is usually flush with the floor, or the curb. In larger baths, the glass may run wall to wall with a door in the center—and up to the ceiling if there's a steam unit—or be two fixed panels with an open doorway.
Consider the clearances
36″ from the center of a shower accounts for its spray; less can work, especially with a glass screen
At least 24″ in front of a toilet
At least 15″ from center of toilet to wall or partition
At least 30″ from center of toilet to center of another fixture, such as a sink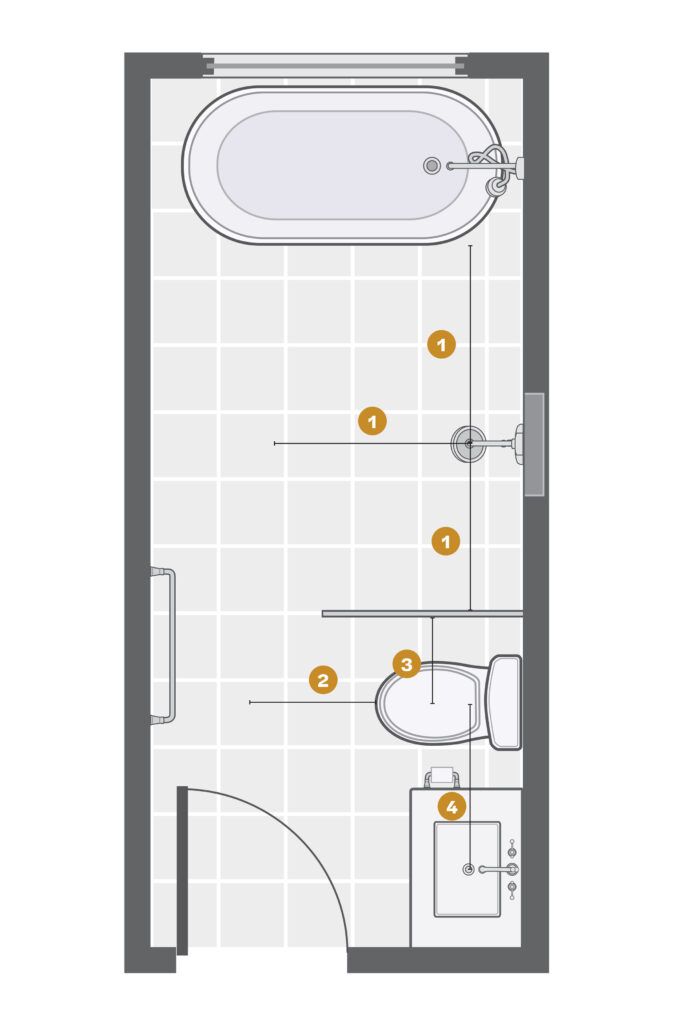 This can help contain the shower spray—and make a wide-open space feel cozier. Locate the sink on the same wall as the shower, so water is directed away from it. A splash screen allows for a vanity cabinet,
which needs protection from direct shower spray. In a full wet room, a porcelain pedestal or wall-mounted sink better withstands moisture. No one likes a wet toilet seat, so consider placing the commode as far as possible from the showerhead, or in its own room if space allows. A wall-hung toilet makes cleaning easier, especially in a full wet-room bath. Store towels (and toilet tissue) on recessed shelves or in a cabinet far away from the shower. To have a bath towel close at hand, hang a hook beyond the reach of the shower spray or close to the entry to the wet area to keep it high and dry.
2. Set the drain location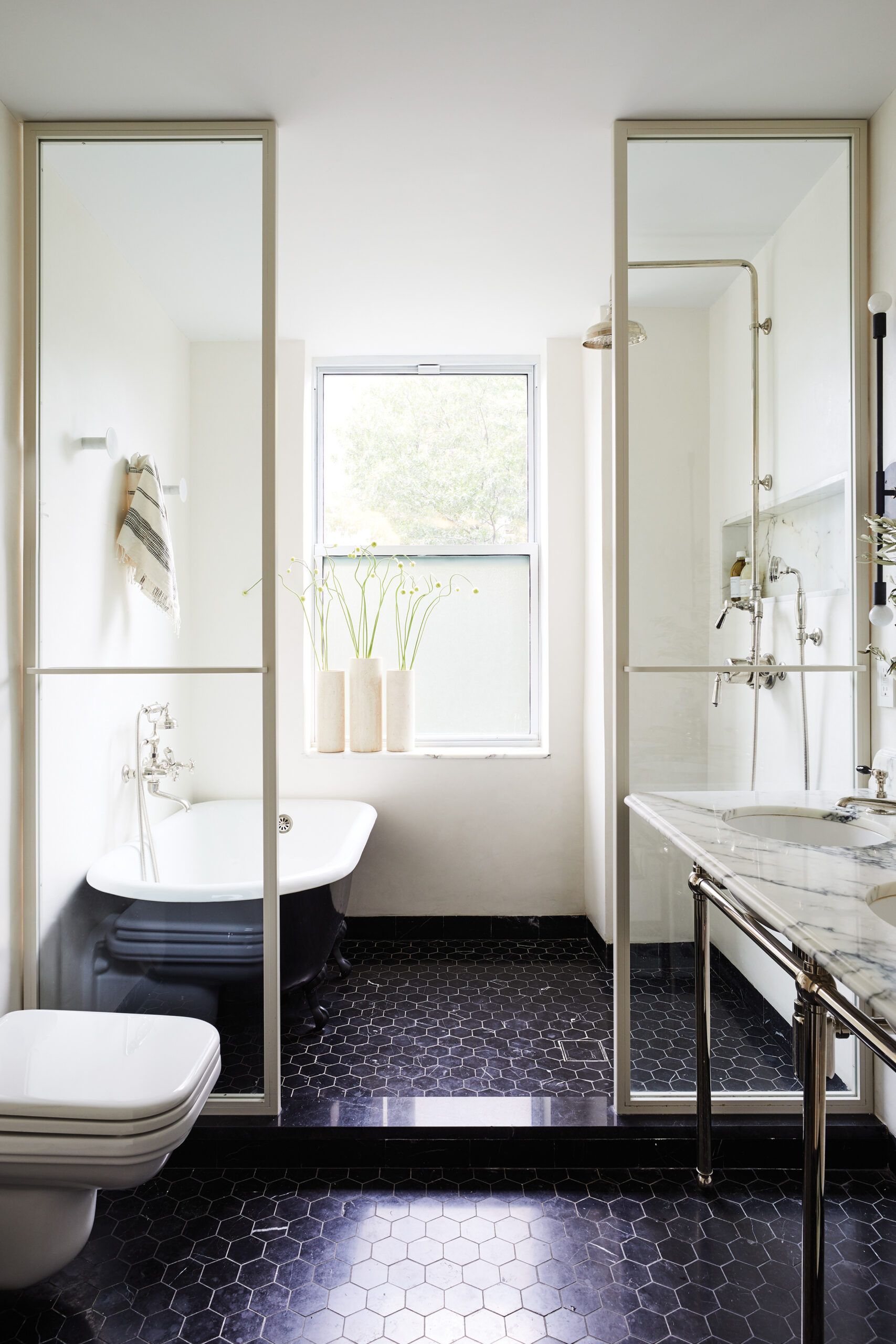 Working with the orientation of the existing floor joists will avoid having to rebuild the shower floor or cut into it significantly to run plumbing. You want to fit the drain body between joists and, with a linear drain allow space for it to run parallel to the joists. Space for a wall drain (p. 64) will have to be accounted for at the base of a shower wall. To start, the floor should be square and level to facilitate drainage and minimize settling, and have sufficient structural strength—a wet room can be significantly heavier than a traditional bath.
"In an older home, you can sister undersized joists so they're to code and also 16 inches on center, just to make sure your structure's strong," says veteran tile setter Joe Cannato. The wet-area floor needs to slope at least 1/4 inch per foot to send water toward the drain; code also requires that the drain be at least 2 inches below the high point in the floor. If incorporating a wet room in an addition, the floor structure can be built to accommodate the plumbing plan from the beginning. Some contractors go the extra mile with more resilient lumber.
"Whether we're building from scratch or renovating, we like to use marine-grade lumber in every single location: floor joists, wall studs, and rafters," says Seattle contractor Jim Dow. Any water that escapes the waterproofing will be less likely to rot the framing that way. "It just makes it completely bulletproof, and it's not much more expensive," Dow says.
3. Curb or no curb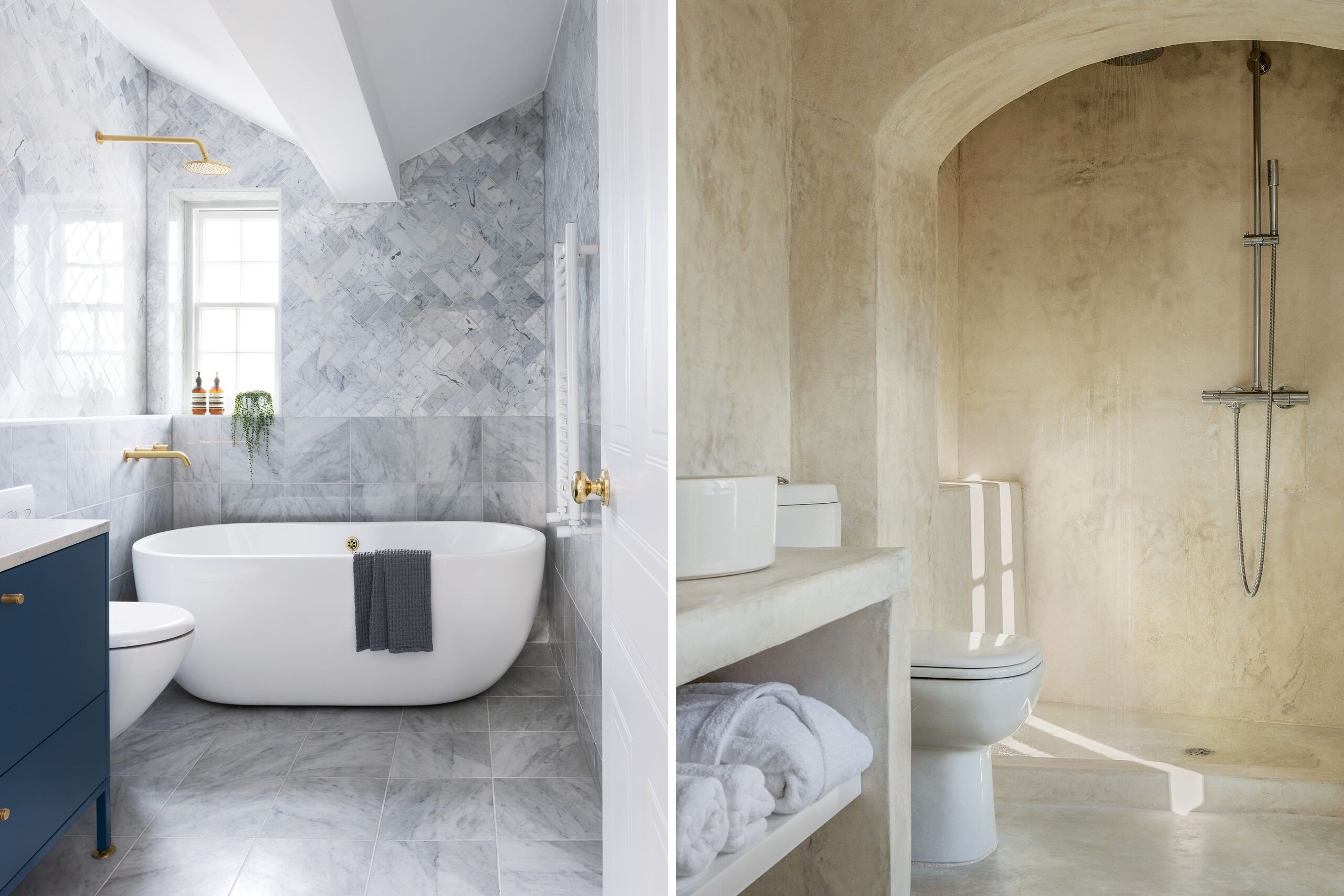 Curbless wet areas transition seamlessly from the rest of the bath, creating a sleek open space that can be fully accessible for homeowners aging in place. In a wet-room bath with a partition, the floor beneath the sink, toilet, and tub is level and slopes in the shower zone toward the drain. In a full wet room with no tub and a center drain—again, these are usually on the small side—the floor slopes from all directions; another reason wall-hung sinks and toilets are a practical choice.
Here's the rub: For a wet-area floor to meet flush with the rest of the room, the subfloor has to be lowered to accommodate the slope toward the shower drain, whether you're adding a thin, pre-sloped tray made of polyurethane foam or dense plastic or a custom mortar bed. If the joists in an older home are beefy enough, it may be possible to shave a few inches off the tops and then sister them to achieve the needed structural strength. Otherwise, the wet-area floor may need to be reframed at a lower height.
An elevated curb at the entry to a wet area with a shower and tub helps contain the water collecting
inside and prevent it from flowing into the surrounding space. A curbed wet area is easier and less expensive to retrofit since you can build up the shower floor to slope in any direction for drainage and create room for plumbing, minimizing the need to alter the underlying floor structure. You can size the curb accordingly to ensure its top sits at least 2 inches above the drain. The downside? It can look clunky, and pose a challenge for those with mobility issues.
Waterproofing Systems
Since grouted tile is water permeable, a waterproof wet area needs a system underneath it that is completely watertight. Most contractors today use some combination of foam board, bonded sheet membrane, and liquid membrane to waterproof wet-area floors and walls, even when using a traditional mortar bed for the shower base and cement board for the walls. These products are often used together in various combinations, too.
FOAM BOARD is fast and easy to work with, but expensive. It serves as a backer board and waterproofing in one. Most brands, including Schluter and Wedi, offer preformed shower pans that interlock with their wall panels, as well as sealant to cover the joints.
BONDED SHEET MEMBRANE is usually made of polyethylene with a bonding fleece on both sides to help it adhere. It goes down with thinset and is covered with more of the same to accept tile. Used with compatible corner pieces and seam tape, it is effective over everything from traditional cement backer board to a mud bed shower pan and offers a high level of waterproofing, durability, and crack isolation to protect tile and grout.
LIQUID MEMBRANE is convenient to work with, as it can be brushed or rolled on in layers, and is relatively inexpensive. Many contractors use it liberally, even over seams and penetrations covered with sheet membrane, often considering it "cheap insurance" against water leaks.
Types of Drains
The following options are most commonly found in wet room baths.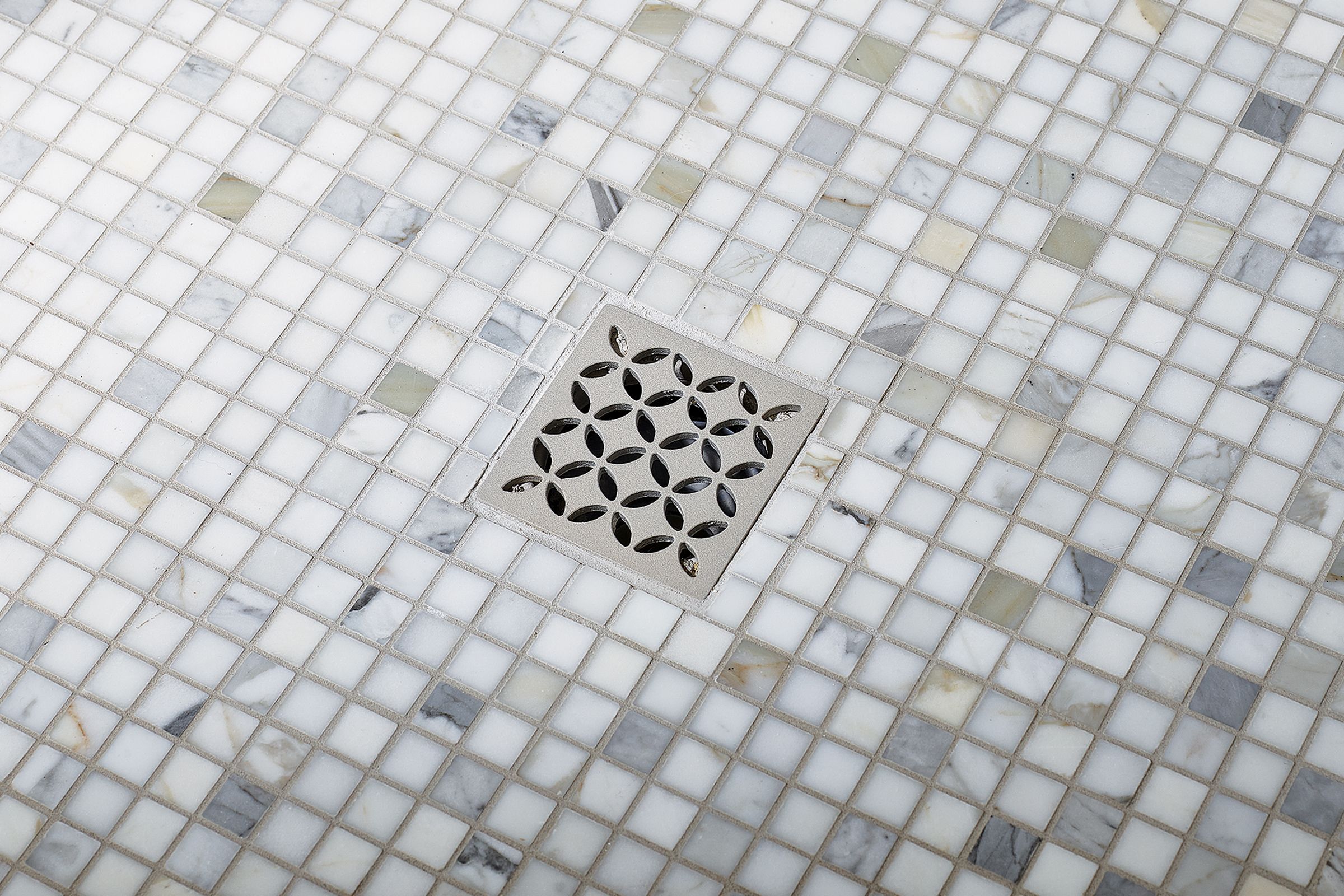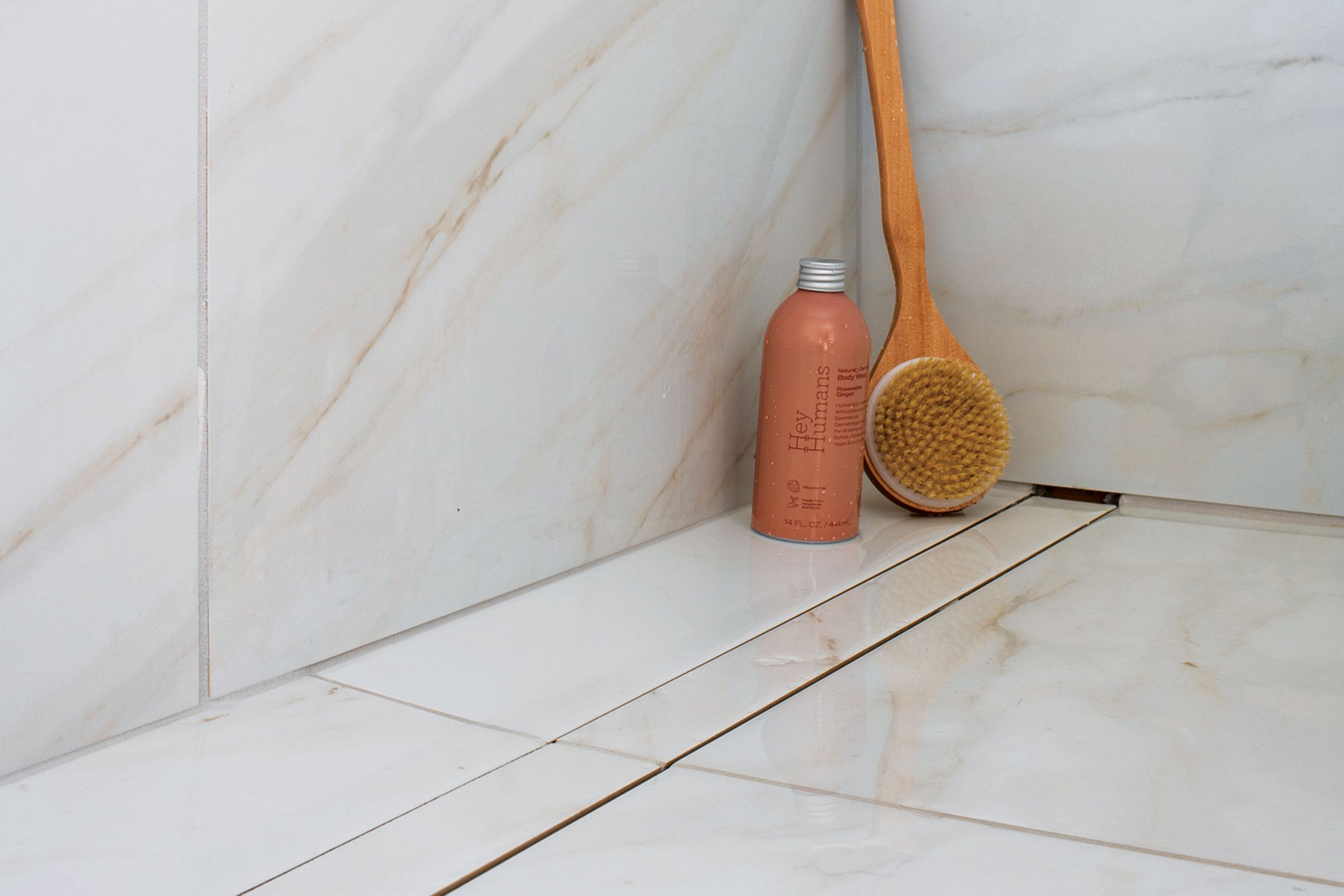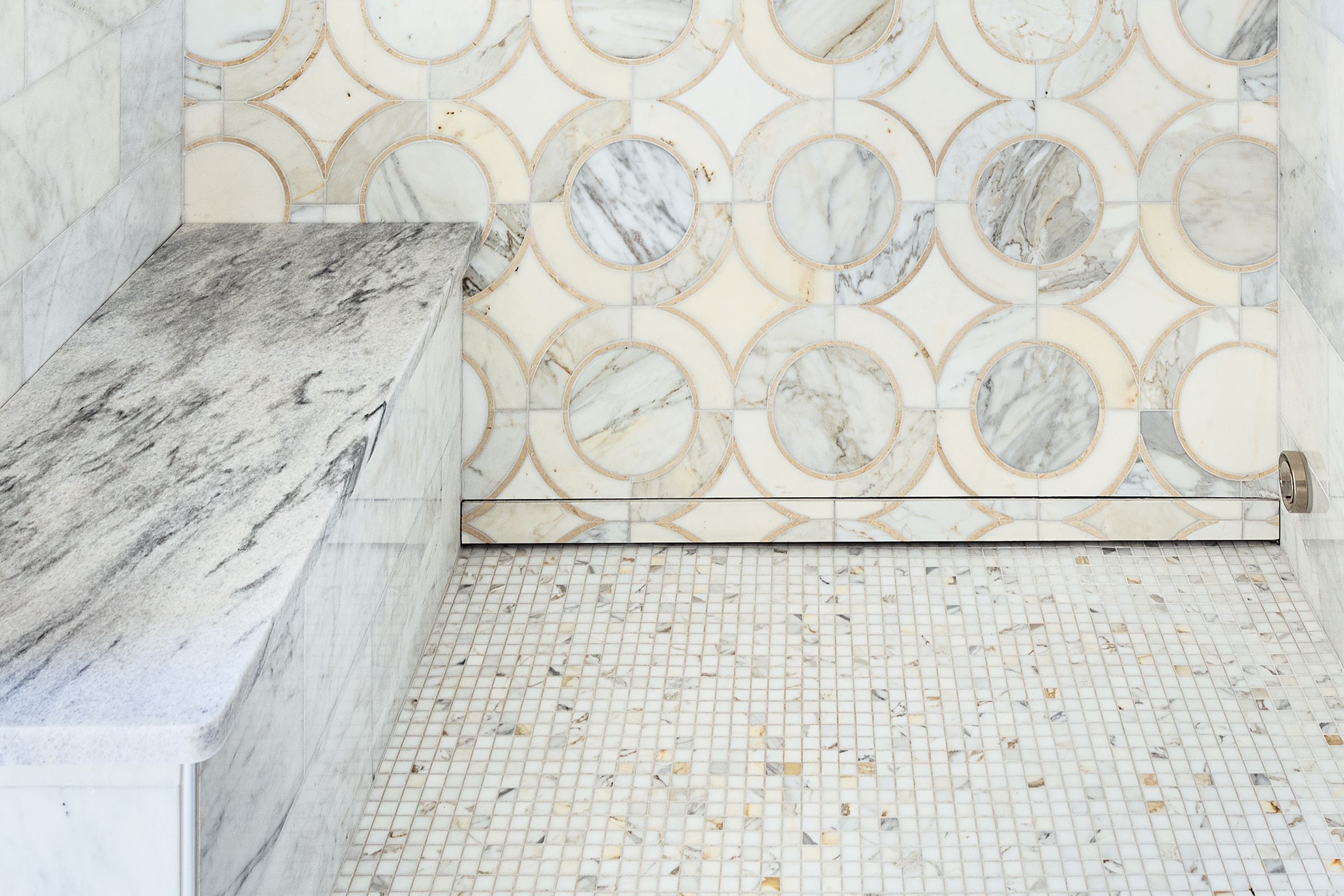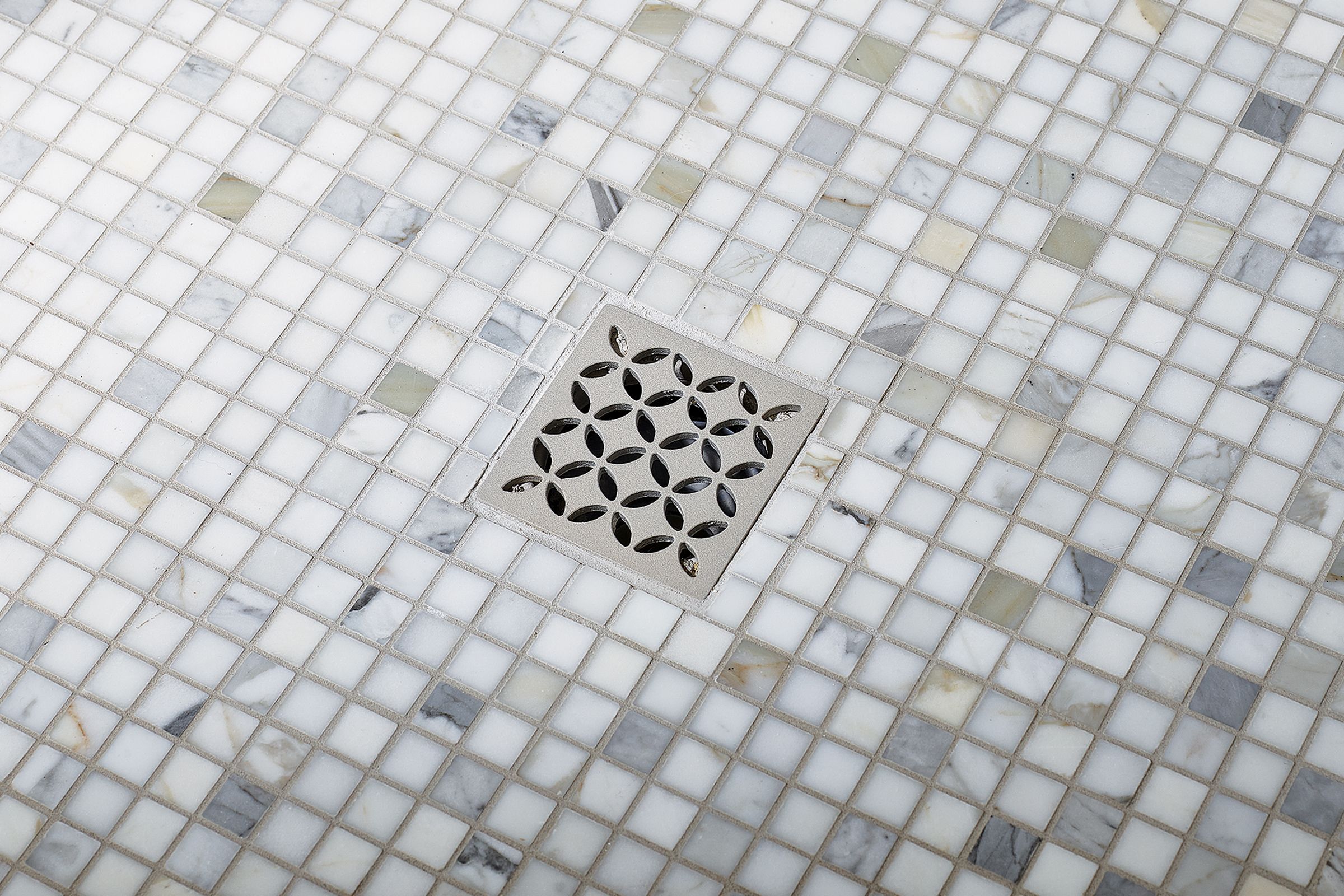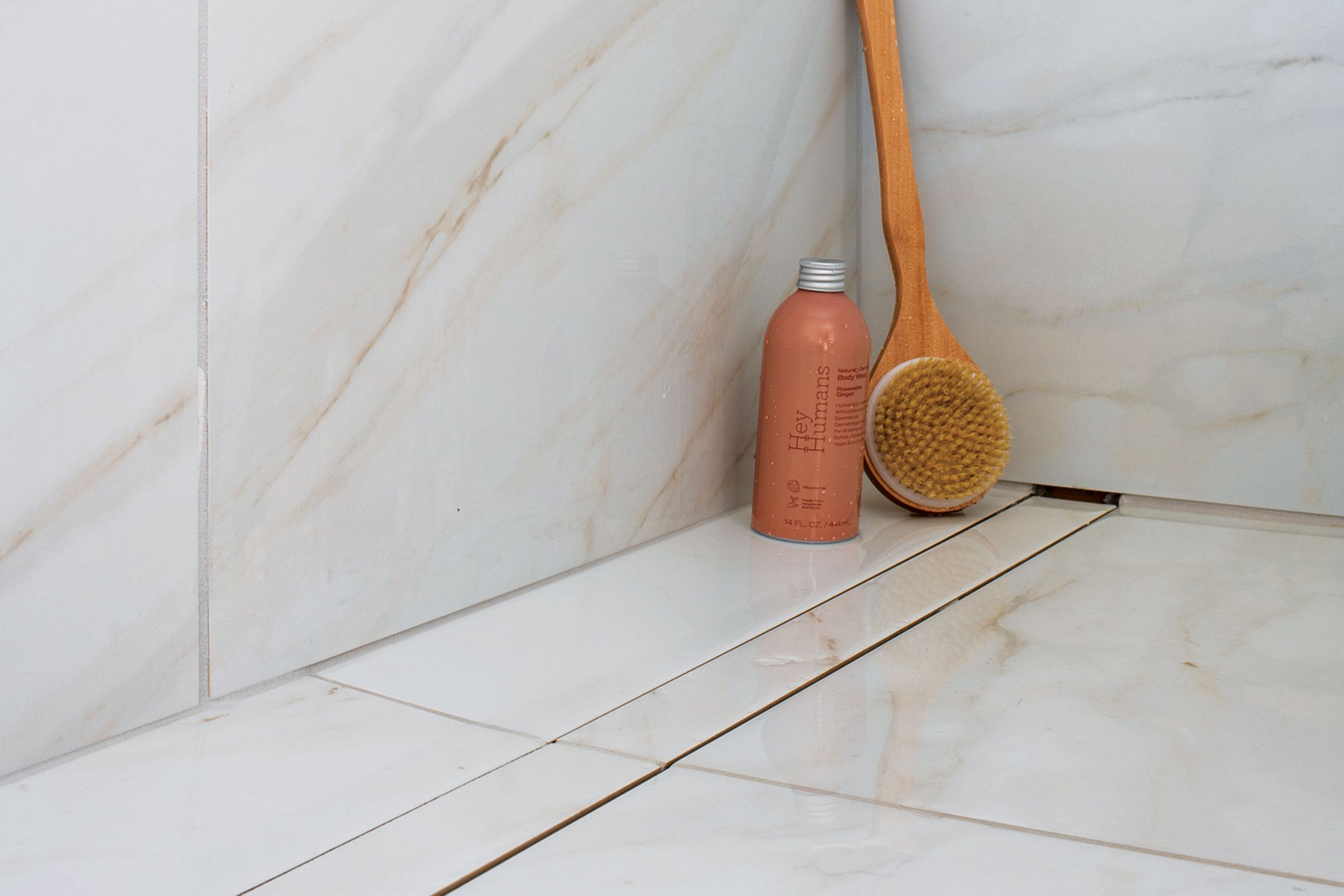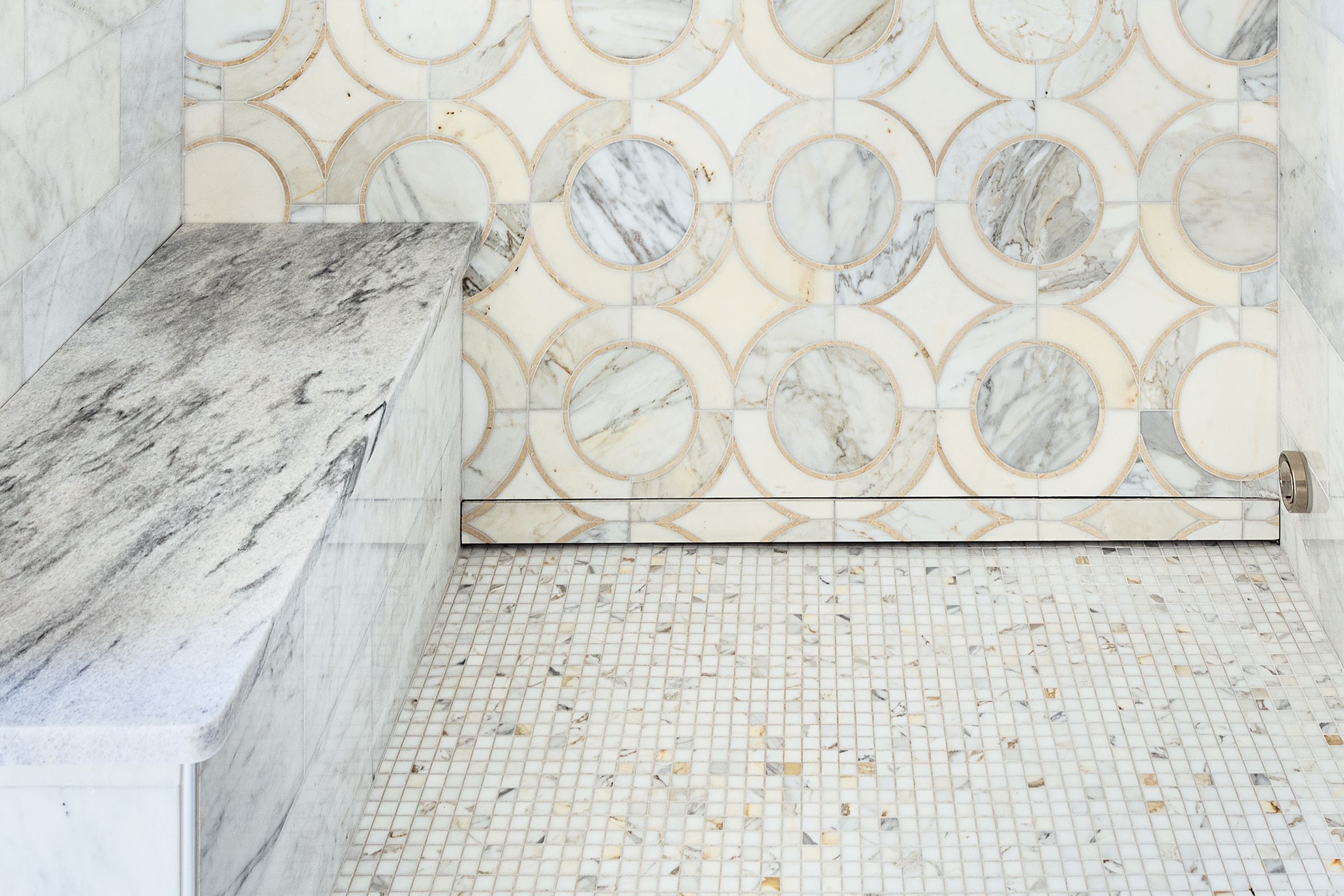 TOH Pro Tip: "Caulk joints where horizontal and vertical tile surfaces meet, and seal grout at
least once a year—if it changes color when wet, it's time to reseal. Don't wait to replace cracked tile and missing grout; both can allow water to pass through and potentially damage the substrates below." – Richard Trethewey, Plumbing and Heating Expert
Wall and Floor Options for Wet Rooms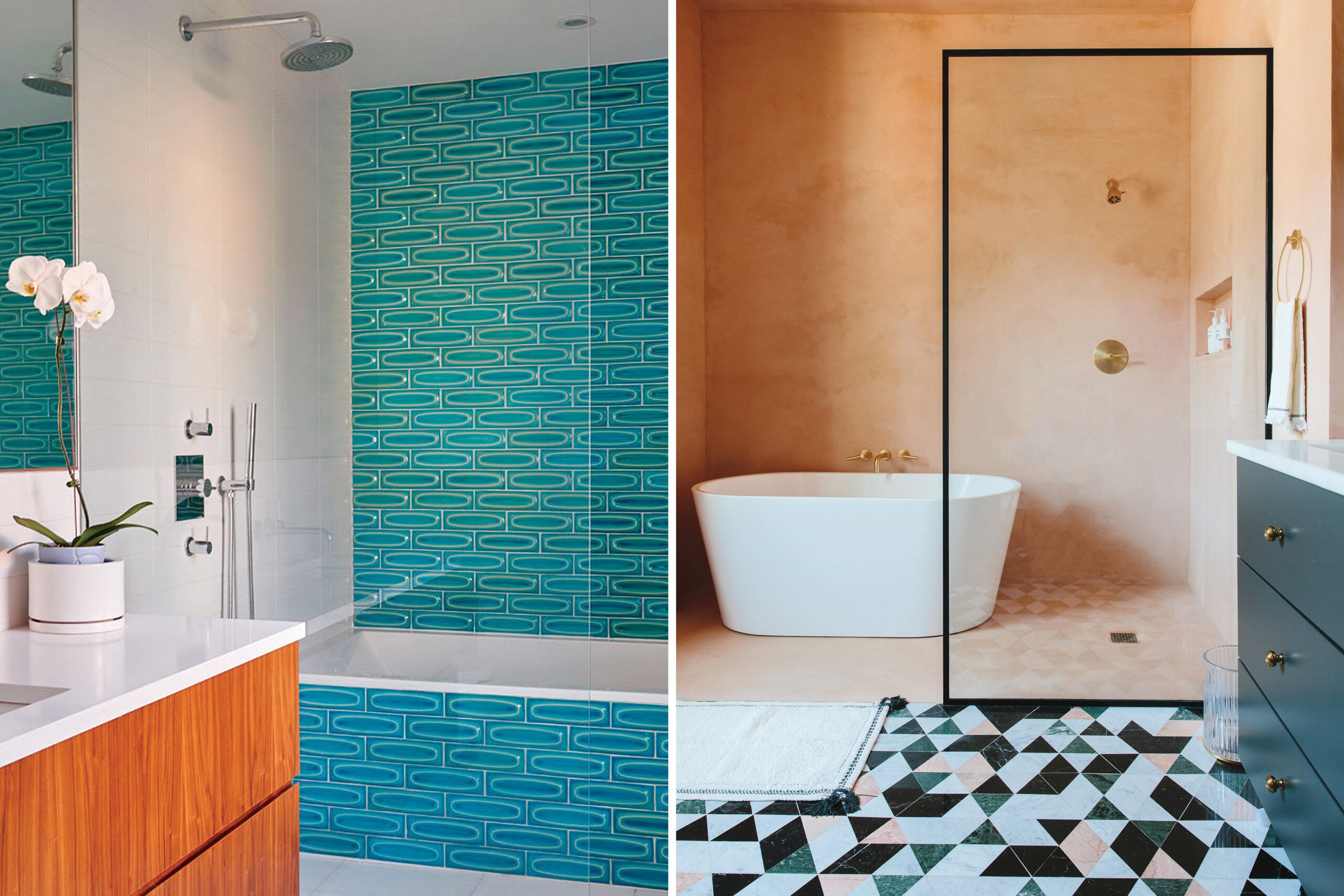 While tile is the go-to for wet-room walls, designers are incorporating other materials, too, including stone veneer, metal panels, and waterproof plaster. "Tadelakt is a limestone plaster that has a handmade feel," says Los Angeles architect John Hamilton, who often fields requests for the material, which is finished with beeswax to repel water. Wood accent walls are another option; Dow cautions that they should be glued into place, not nailed or screwed, to keep from penetrating the waterproofing behind them.
For floors, "porcelain tile is probably the best product on the market," says Cannato. It's fired at high heat to be ultradense. "Just look for a textured or matte finish in a small mosaic that's 2 or 3 inches across so there are enough grout lines to prevent slipping." A DCOF product rating of 0.42 or higher ensures good slip resistance. If you have large tile elsewhere and want to continue the look on the floor, consider having the material cut into smaller pieces. Avoid stone floors that need sealing, as even sealed stone is vulnerable to etching from toiletries, Cannato says. "And when they start to show stains, it's too late."
Windows for Wet Room Bathrooms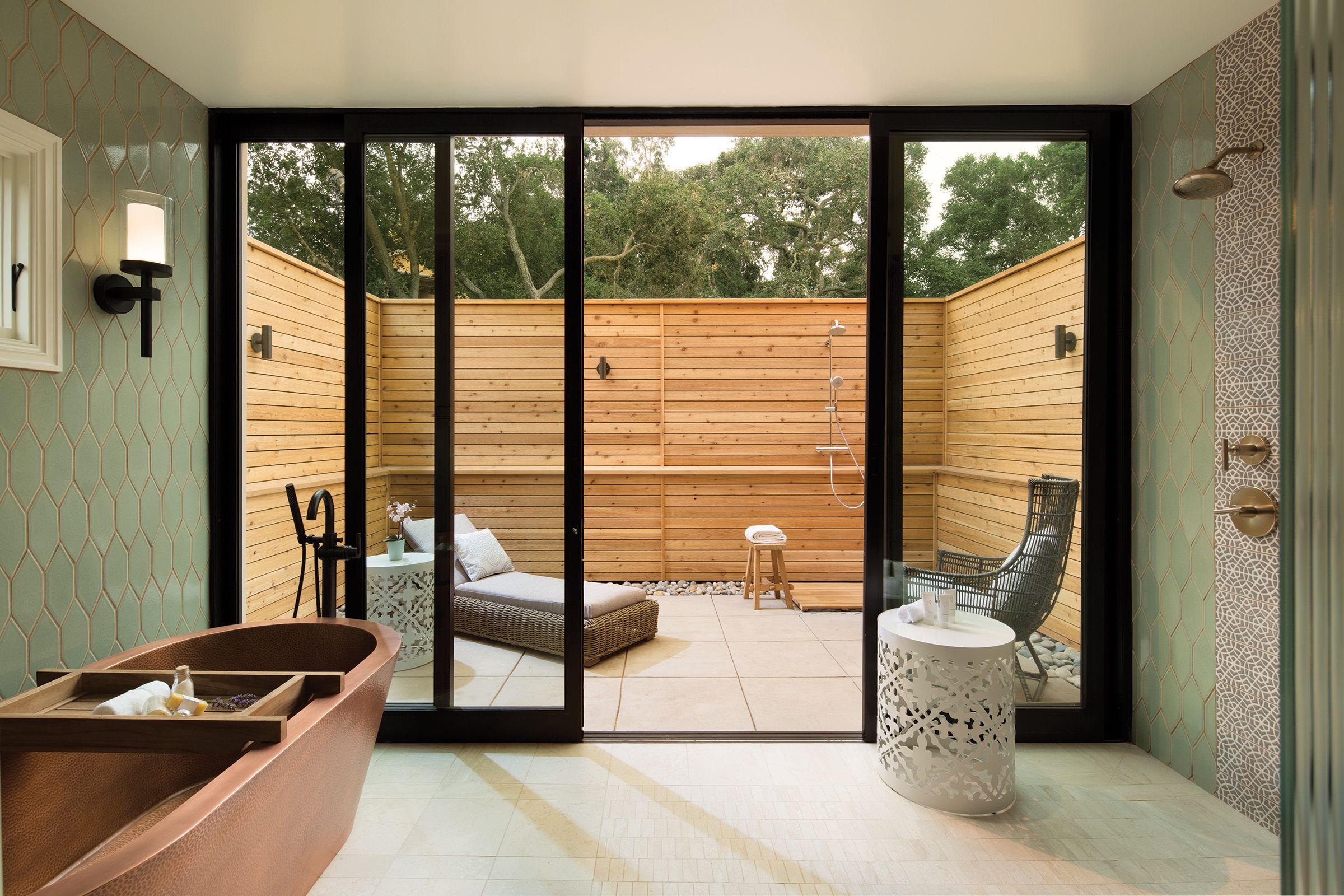 Often discouraged in a conventional shower, windows are welcome in a wet room—especially if they can be located high on the wall and away from direct contact with the shower spray. You can even wrap the room in them to take advantage of a view if privacy isn't an issue or add sliders to a deck with high walls and an outdoor shower for the ultimate indoor/outdoor bathing experience.
TOH Pro Tip: "In a wet area, stick to vinyl, fiberglass, or aluminum windows, and if there's an interior sill, slope it so water runs off. Use a waterproofing membrane on all exposed wood framing. Finish
the window with cellular PVC trim sealed with mold-resistant caulk, except along the bottom, so that
any water that does intrude can escape." – Tom Silva, General Contractor
Proper Ventilation
Robust ventilation is important to discourage condensation on ceilings and walls, which can lead to mold and mildew. A vent fan in a wet area must be wet-rated and installed with GFCI protection; a sound level of 1 sone or less will keep the peace. Choose a fan that will move air at a rate of 1 cubic foot per minute (cfm) for each square foot of floor space (so, 80 cfm for an 8-by-10-foot room); add 20 percent if your ceilings are over 8 feet. A single-vent fan near the shower is usually sufficient, but if your wet room includes an enclosed steam shower, install a second one in the open area.
Be sure to run any vent fans for a minimum of 20 minutes after showering. To take the guesswork out of maintaining a bathroom's indoor air quality, choose a vent fan with a timer function that you can set and forget, or a model that comes equipped with a humidity sensor, which will turn on automatically when the moisture level in the air rises too high, usually above 60 percent. Another option, though more expensive, is to install a wall-mounted humidistat in the bathroom that is tied into your home's HVAC system to dehumidify the space.
Heat Options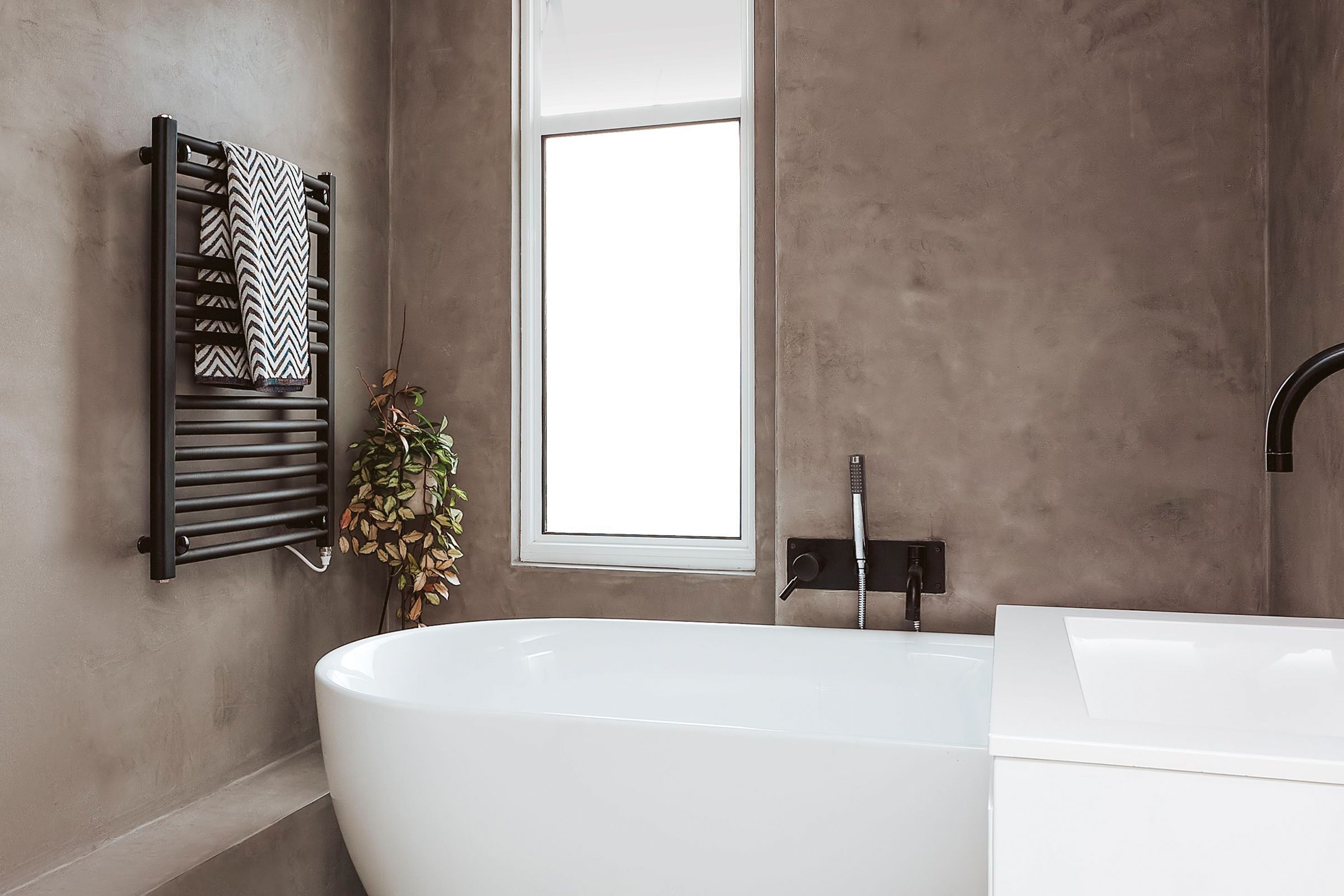 When showering in an open space, the heat is not contained as readily, so a wet room can cool off quickly once you shut off the water, especially in a four-season climate. While the wet room should be tied into the home's HVAC system, an additional heat source can provide extra warmth when it's cold out. The options:
IN-FLOOR RADIANT HEAT: An electric mat installed just beneath the finished tile surface provides comfortable, even heat underfoot. Some types of electric mats can be installed behind walls, too especially handy to add comfort below windows. While hydronic systems are also an option where the house already has a boiler, it's generally costlier and more complicated to install unless it's a primary heat source elsewhere in the home.
VENT FAN HEATER: You need a vent fan in the wet area, so why not add one that heats, too? These come with either a fan that blows warm air or an infrared bulb that radiates heat.
HEATED TOWEL BARS: These ladder-like metal racks can be plug-in or hardwired, or warmed with hot water. Though some European models are integrated with a wall-mounted radiator, heated towel bars alone don't produce a lot of heat, so you will sense their presence more in a small space. Either way, wrapping up in a toasty towel when you're fresh from the tub or shower is a nice way to chase away the chill.
Light it Right
Designers typically plan for one or two recessed lights in the wet-area ceiling that are UL-rated for wet lo-
cations, and sealed to keep out moisture. Low-profile LED ceiling fixtures will last for years without needing a replacement. For a more decorative look, you can also use lights that are rated for outdoor use. Whatever the case, adding a dimmer switch can help ease you into the day or encourage you to decompress at night.
TOH Pro Tip: "If you're installing a vent fan that has a light built-in, wire separate GFCI-protected switches for each function for added convenience." – Heath Eastman, Master Electrician