Utilitarian as it might be, the bathroom shower is also a personal refuge, a place to get energized for a busy day or banish stress at the end of one. Plus, all of us use our showers differently: The parents of young children have different needs than older folks or those with mobility issues.
Fortunately, there have never been more options regarding shower shapes, sizes, and systems. Anyone planning a bathroom redo or addition has plenty to ponder when it comes to the shower. Start here to get ideas about the various components and amenities you can combine to create a shower you'll enjoy using for years to come.
Start with Stall Configurations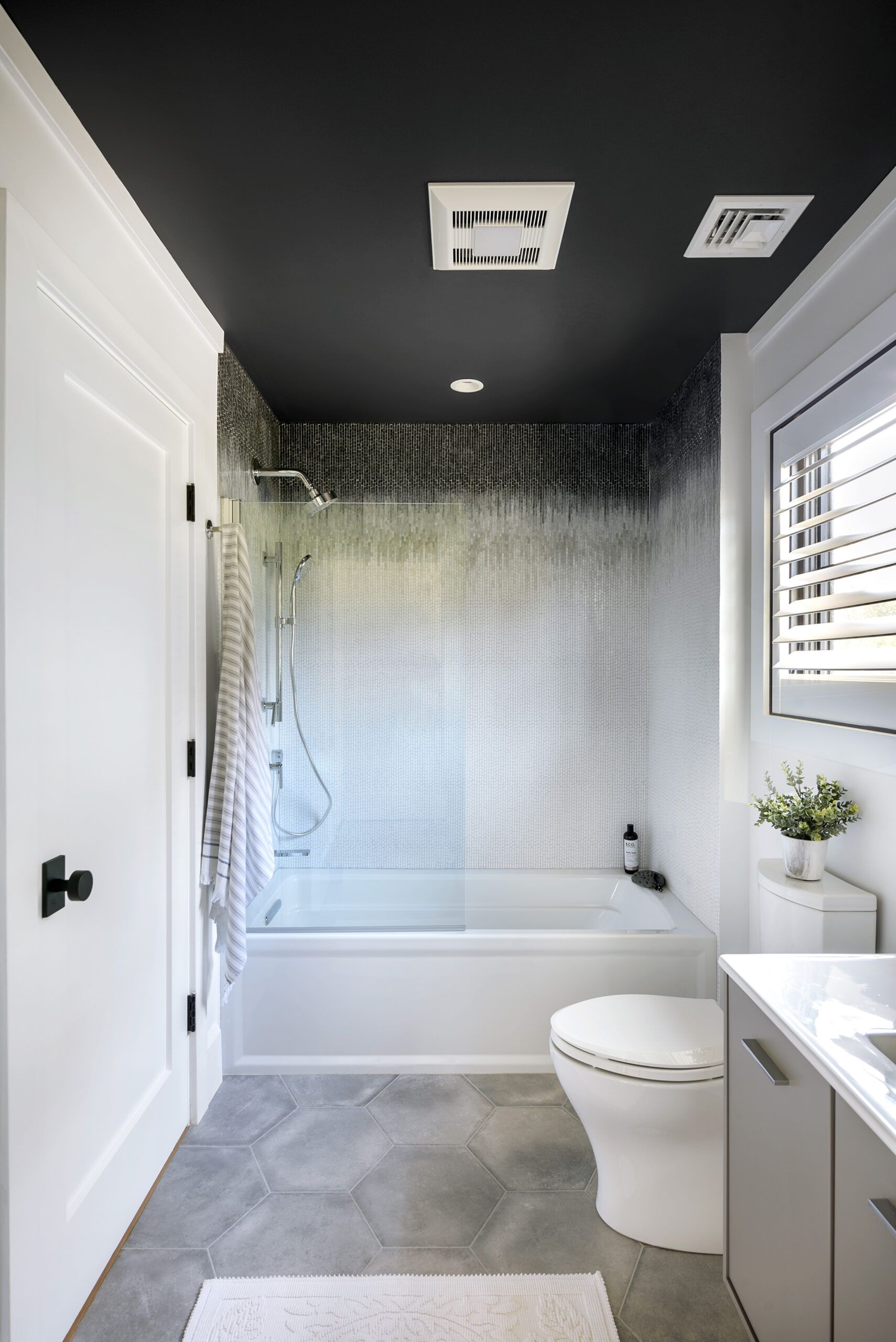 The size and shape of your shower stall is often the first decision to make, which will largely depend on the dimensions of the bathroom. (Note that the International Building Code has established that the minimum size a shower can be is 30 inches wide by 30 inches deep.) The demands of your household should be factored in as well when choosing the enclosure configuration.
Tub-shower combo
In many modest bathrooms, the tub and shower are combined to make best use of the footprint.
Basics: There are two standard sizes for a tub-shower combo: 36 inches by 48 inches and 36 inches by 60 inches. Bathers must have the ability to step over and into the tub safely. That said, tub-shower combos are possible with walk-in tubs designed for those with physical challenges, and typically, the showerhead is handheld.
Best for: Smaller spaces and/or homes with only one bathroom. Families with young children may also appreciate a tub-shower combo to make bathing little ones easier.
Benefits: Shower-tub combos take up less precious space in the bath. They may also add resale value, since the desirable "full bath" constitutes a sink, toilet, shower, and tub.
Walk-in shower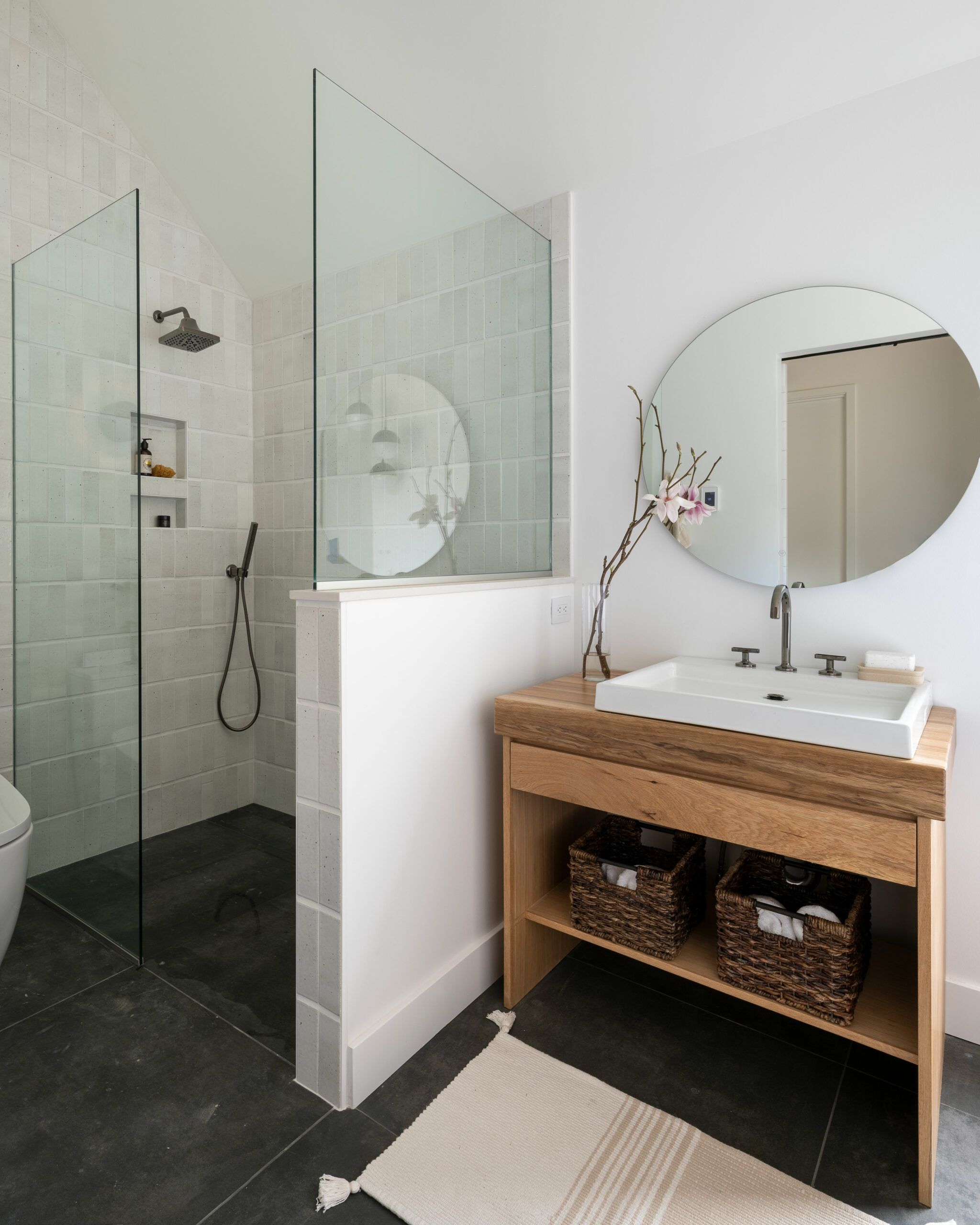 This stall style is typically enclosed by three walls, with an opening where the fourth wall would be, allowing you to step right in. A walk-in shower may have a minimal curb or be curbless (also known as a zero-entry), with a slightly sloped floor to direct water down the drain. A door or curtain may be added for privacy, but a true walk-in shower lacks a barrier to evoke an airy vibe.
Basics: Standard sizes for walk-in showers are 36 inches by 42 inches and 48 inches by 48 inches, though some can be built larger.
Best for: Fairly large bathrooms and people who like an open look. Wheelchair users and others who have difficulty stepping over a substantial curb or into a tub may do well with a walk-in, especially if it is curbless and a bench seat is installed.
Benefits: The open appearance of a walk-in shower is well suited to a modern bath. It may be an asset for those who intend to age in place and might eventually need easy entry down the road.
Corner shower
Despite being confined to a corner of the bathroom, this space-saving option is quite versatile, as various shapes beyond a triangle may be configured. Rectangular versions typically have sliding doors, while curved corner showers have a rounded front with either a glass door or a curtain.
Then there's the neo-angle shower, where the front of the stall has three glass sides; this lends an iconic modern look and can also maximize bathroom floor space since the shower doesn't jut out into the room a full 90 degrees.
Basics: The standard size of a corner shower is 32 inches wide by 32 inches deep, though 36 by 36 is more popular for the extra elbow room.
Best for: Growing families and people who often entertain sleepover guests—in other words, homes that will be improved by adding an extra shower so multiple people can bathe at the same time.
Benefits: You may be able to convert a powder room into a three-quarter bath. Thanks to various shape options, a corner shower can suit different décor styles.
Prefab shower
DIYers and folks on a budget may go for this stall style, usually made of affordable fiberglass or acrylic and relatively simple to install (This Old House shows you how). A prefabricated shower can come as a single molded piece or as several pieces, including a shower pan, two side walls, a back wall, and a door (unless you prefer a curtain).
Basics: The standard prefab shower size is 32 inches by 32 inches, though these stalls can run as large as 60 inches by 70 inches.
Best for: Non-primary bathrooms or those in guest houses or rental apartments.
Benefits: Prefab showers are inexpensive and have DIY-friendly installation (no tile to install and grout!).
Select a Shower System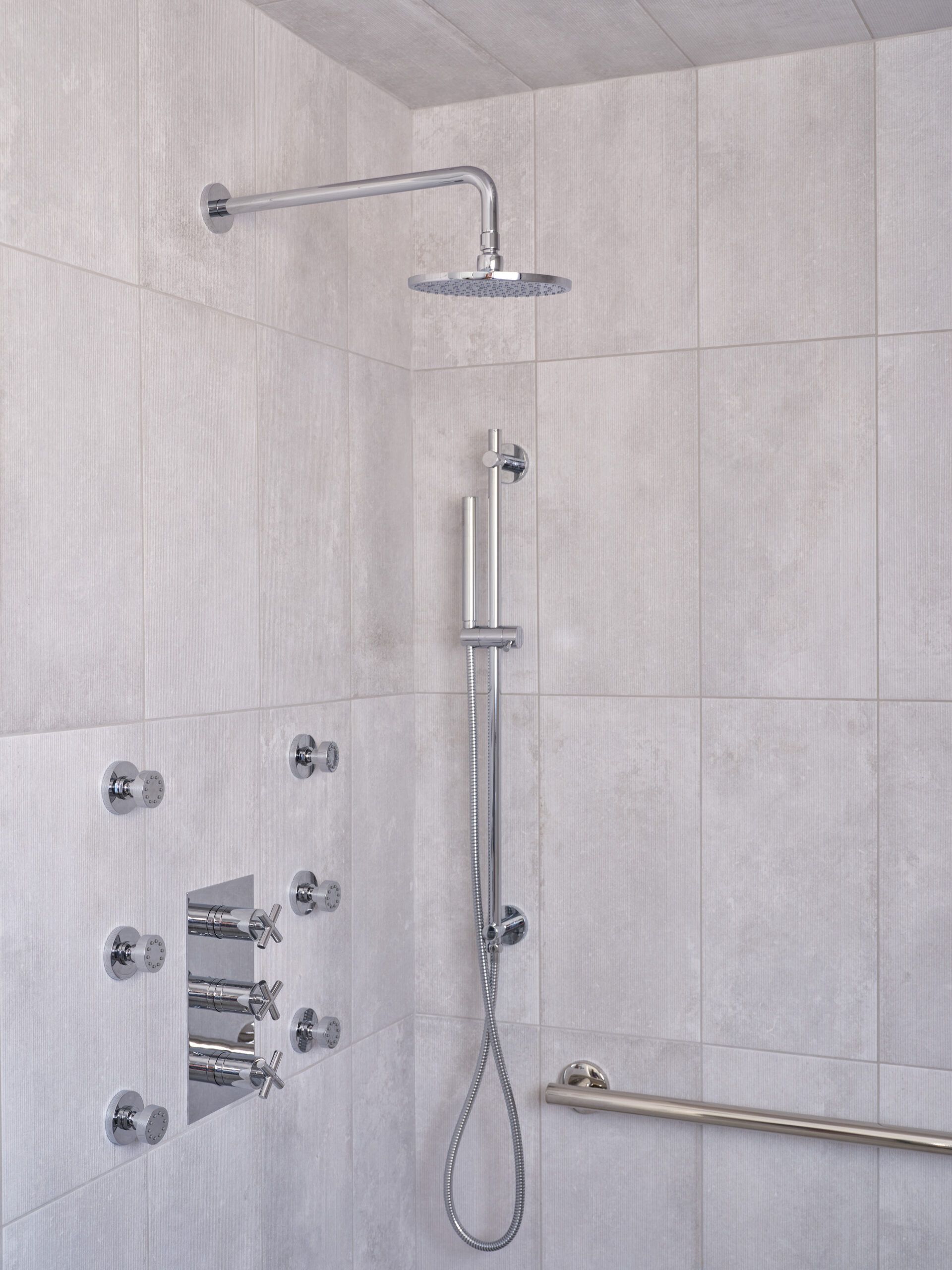 A shower system refers largely to the plumbing components that deliver water. Most important are the valves that power the spray and the controls for water volume and temperature. Taps, faucets, drains, and showerheads may also be considered part of the system. (Read more on showerheads later.)
These shower system options listed below control water temperature and pressure, plus there are other system options that you can customize to suit your lifestyle preferences.
Pressure balanced: This popular standard system, also known as a manual mixer, features a single valve to control both water volume and temperature. The user turns one handle or knob to deliver the spray. While the temperature is adjustable, for the most part, the force of the water is either on or off. A pressure-balanced valve tends to be the most affordable choice, and the easiest for DIY installation.
Thermostatic: This system offers more control because there are separate valves for water pressure and temperature. Thermostatic valves prevent accidental scalding by holding water to a precise maximum temperature, a smart safety measure for households with young kids. Plus, users may appreciate being able to increase or decrease the water flow without changing the temperature.
Digital: Gaining popularity in smart homes, digital controls let you plan, customize, and adjust your preferred shower experience via a wall-mounted control panel. Not only can you preset precise desired temperatures for various household members, you can also establish an exact shower time (receiving an alert to keep you on schedule) and even pause the water flow. A Wi-Fi-enabled app allows you to start your shower remotely and signal you when the temperature is just right. Eco-conscious consumers will be pleased that being able to set the ideal temperature and pause the shower if necessary (rather than let it run) helps conserve water,
Steam: For wellness benefits and spa-like luxury, consider a shower enclosure with added steam capability. A small generator, usually tucked into a nearby cabinet, heats water and then pumps in steam, typically through ports on the floor. Steam shower enclosures must be totally watertight and are usually tiled all around, except for a glass door. The enclosure's ceiling should have a slight slope to direct water droplets away from users.
Electric: Rather than relying on the home's water heater, this type of system employs a separate electrical device built into the shower to heat water on demand, just prior to dispensing it. Electric systems often have memory settings that can save several preferred temperatures. A "power shower" is a type of electric shower that also boosts water pressure. Electric systems are fairly uncommon in the United States though.
Choose Your Showerheads
While a fixed showerhead is simply a nozzle with a perforated cap attached to the wall of the enclosure, nowadays you've got a host of additional options. Just keep in mind that as part of a national water-saving initiative, the maximum flow rate the U.S. government allows for showerheads is 2.5 GPM (gallons per minute)—and in some municipalities, the flow rate may be held at 1.8 GPM. If you like a strong shower, but your area dictates a low-flow showerhead, read product labels for terms like "massaging" and "powerful" to ensure the design can deliver your preferred pressure.
Rainfall: Larger than standard fixed showerheads and typically ceiling mounted, a rainfall showerhead delivers a vertical spray designed to mimic a pleasing light rain as opposed to a regular showerhead in which the water spray is directed at an angle. It's typically round in shape with a wide diameter (ranging from eight to 14 inches). Because of the gentle pressure, the spray feels more relaxing than invigorating.
Waterfall: Another approach to replicating nature, a waterfall showerhead dispenses a broader, stronger spray than rainfall models. This type of fixture is usually modern in appearance, often rectangular in shape, and may even feature mood lighting.
Tower: A sleek shower tower (also called a column) encompasses the valves of the system (traditionally installed behind a stall wall) and controls, but its chief appeal is its spray options. In addition to a primary overhead showerhead, it may also include a handheld unit and boast several massaging body jets. Shower towers are fairly large, so you'd need a spacious, high-ceilinged enclosure, and the water pressure must be strong enough to power the multiple showerheads and jets.
Handheld: A handheld showerhead provides the freedom to direct the water spray wherever you want it—a benefit when massaging sore muscles or rinsing shampoo as well as bathing young children and cleaning the shower's surfaces. This type tends to boast a variety of spray modes, from gentle to intense. Handhelds are usually mounted high on the wall to function like a fixed showerhead until the business end is removed from its dock.