This article appeared in the Spring 2022 issue of This Old House Magazine. Click here to learn how to subscribe.
A Farmhouse Refresh
When starting with a blank slate, it helps to have a strong aesthetic endgame in mind, as Maison de Pax blogger Rachel Paxton did for the attic bath in her family's 1984 ranch outside Austin, TX. "I knew I wanted a mix of black and white, with wood for the rustic charm that just feels right in this little farmhouse," says Rachel.
Carving out space for the necessities—a sink and a toilet—as well as some luxuries—a claw-foot tub and a large shower—was a challenge with a ceiling that slopes to a low of 5½ feet. Using white subway tile on the walls and white penny rounds underfoot keeps the windowless space light and bright. Frameless-glass shower panels preserve the open feeling, with the tub nestled in a cozy alcove. "I couldn't be more pleased," Rachel says of the result. "It feels classic and modern, retro and rustic, all at the same time."
What they did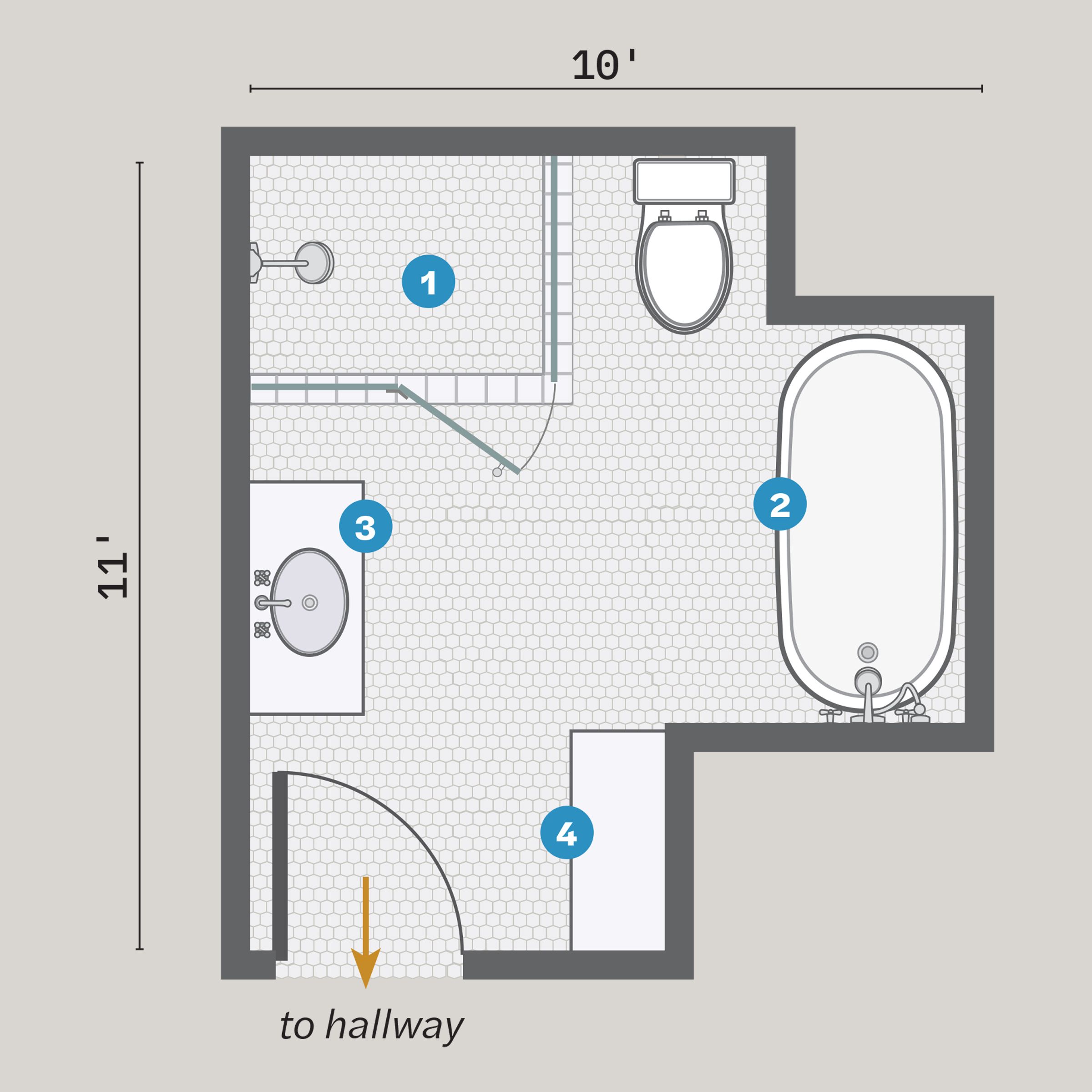 Finishing a huge attic space included building this 88-square-foot shared bath. Following the pitch of the roof, walls were framed to tap the usable ceiling height, which ranges from 51/2 to 8 feet high.
Built a 21/2-by-4-foot shower from stock frameless glass panels along the back wall, with the toilet alongside it.
Nestled the 69-inch-long tub in a spot where the sloped ceiling is lowest; all-new plumbing meant using a less pricey wall-mount tub filler was no big deal.
Installed a single-sink cabinet and mirror along the tallest wall.
Put a second cabinet just inside.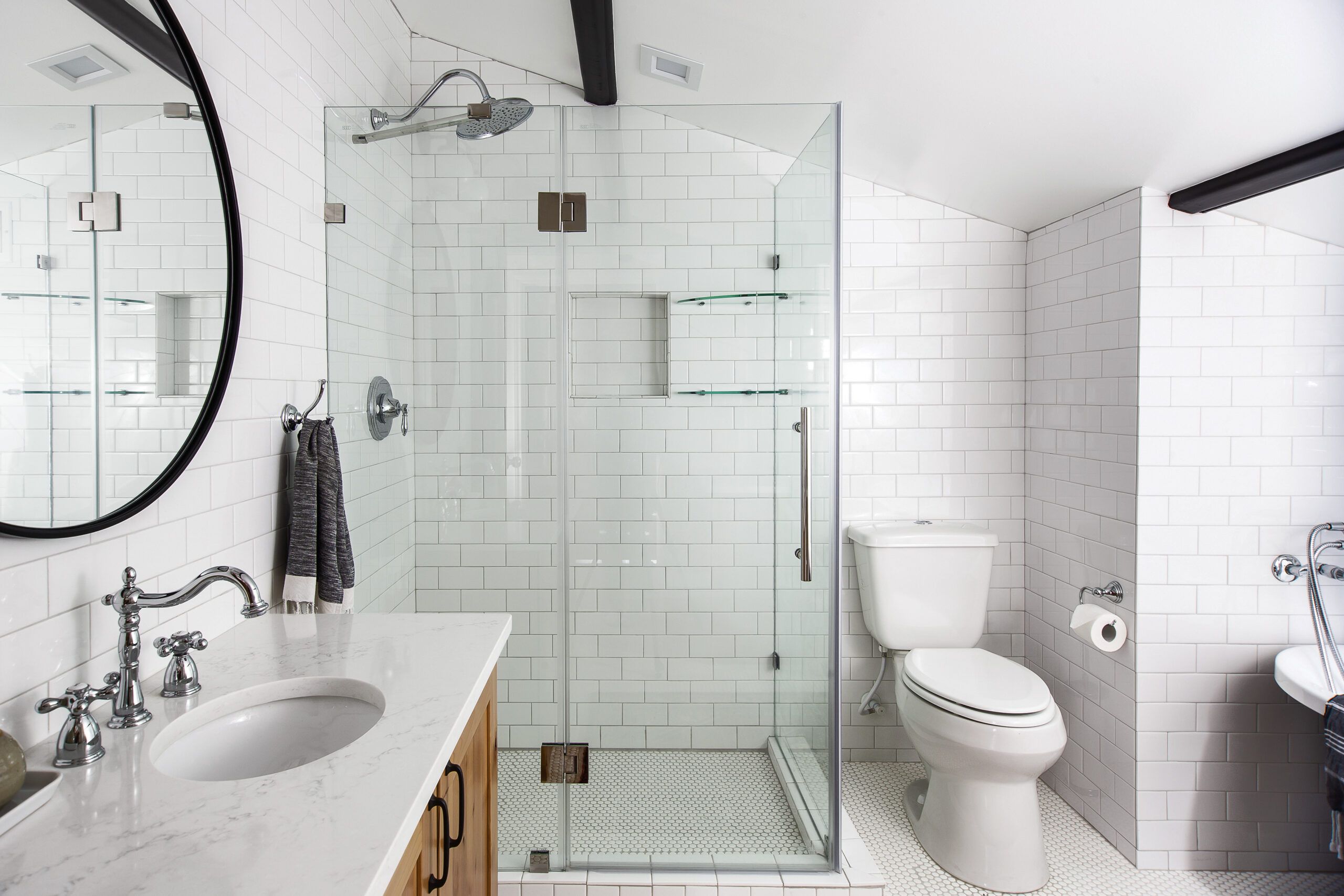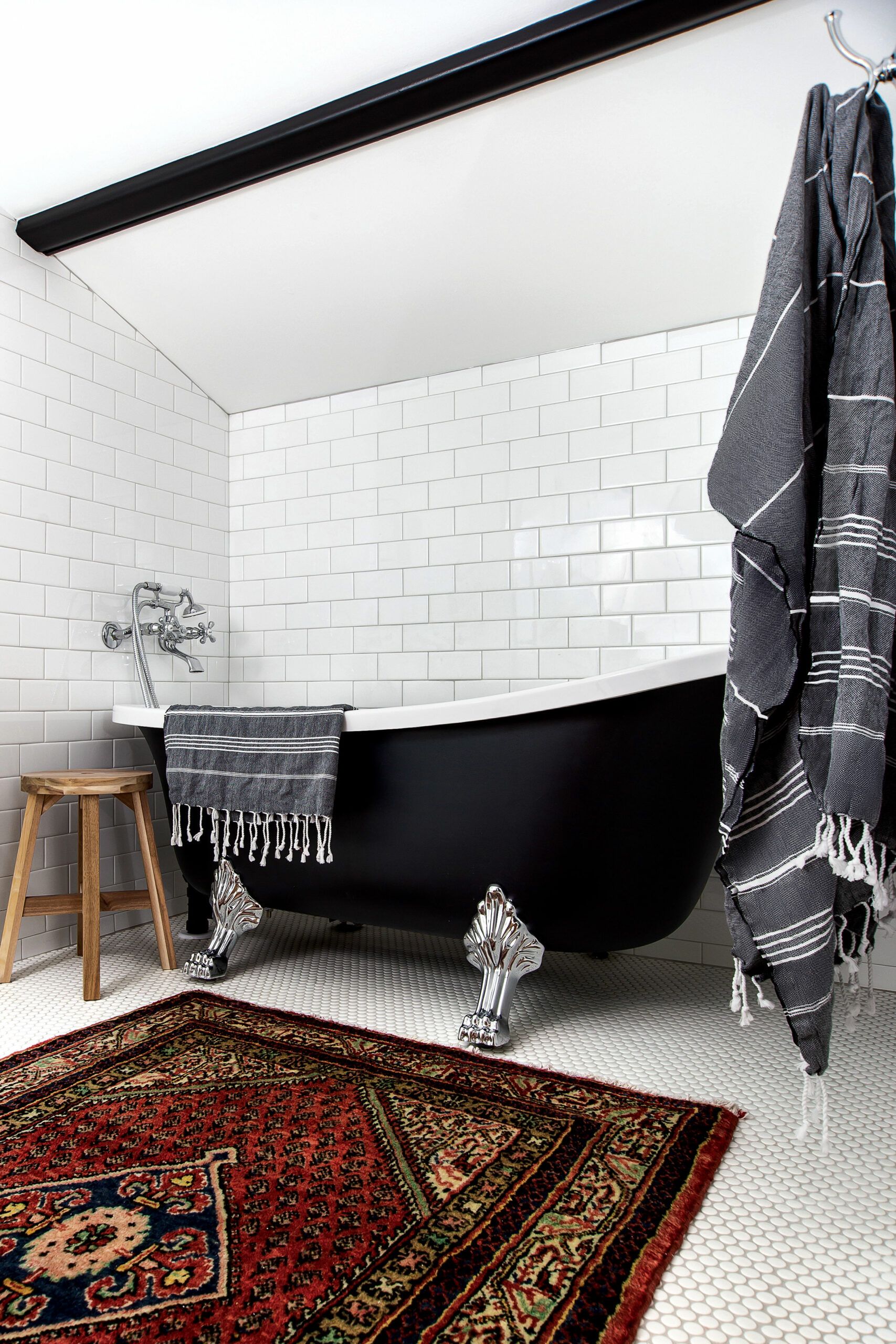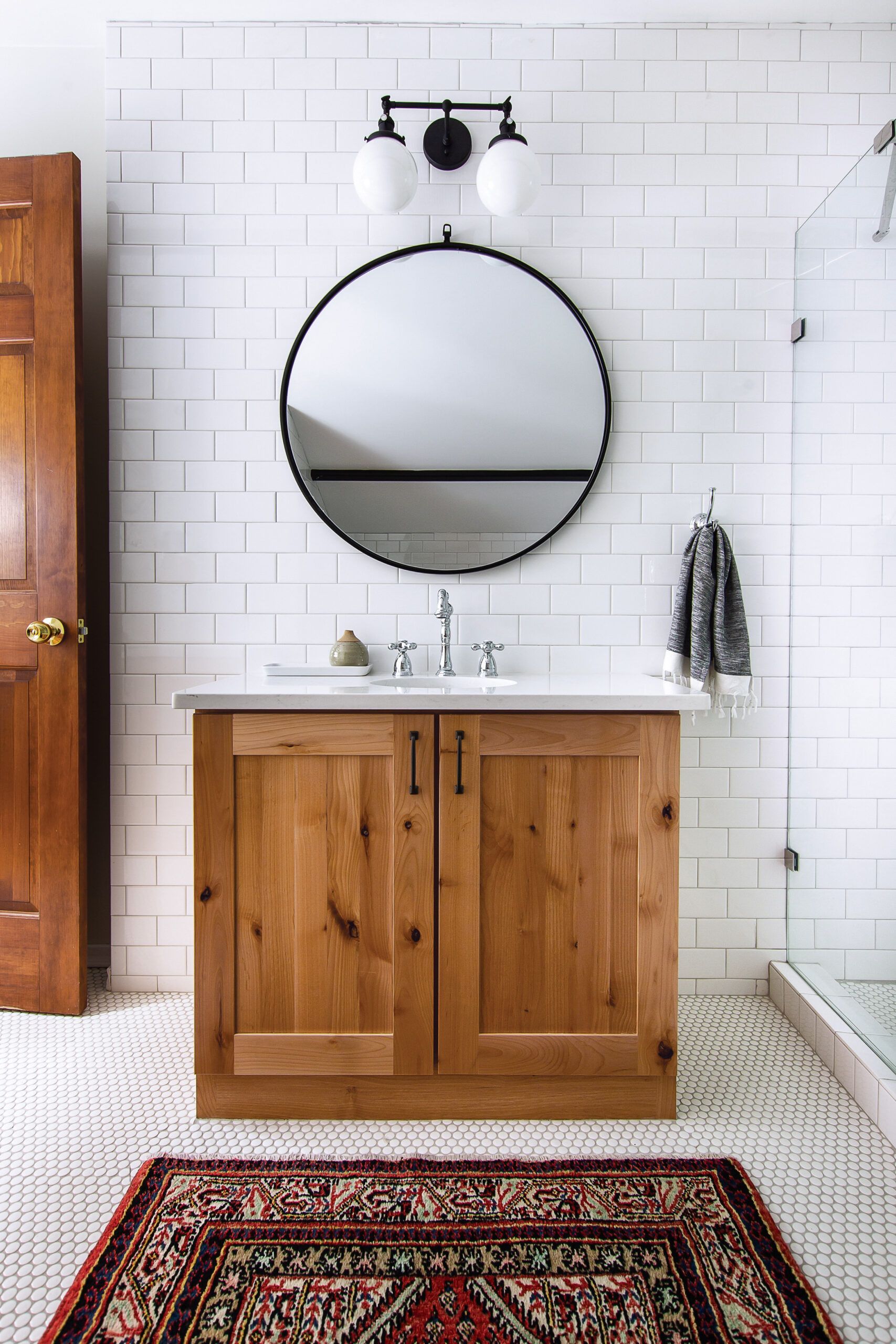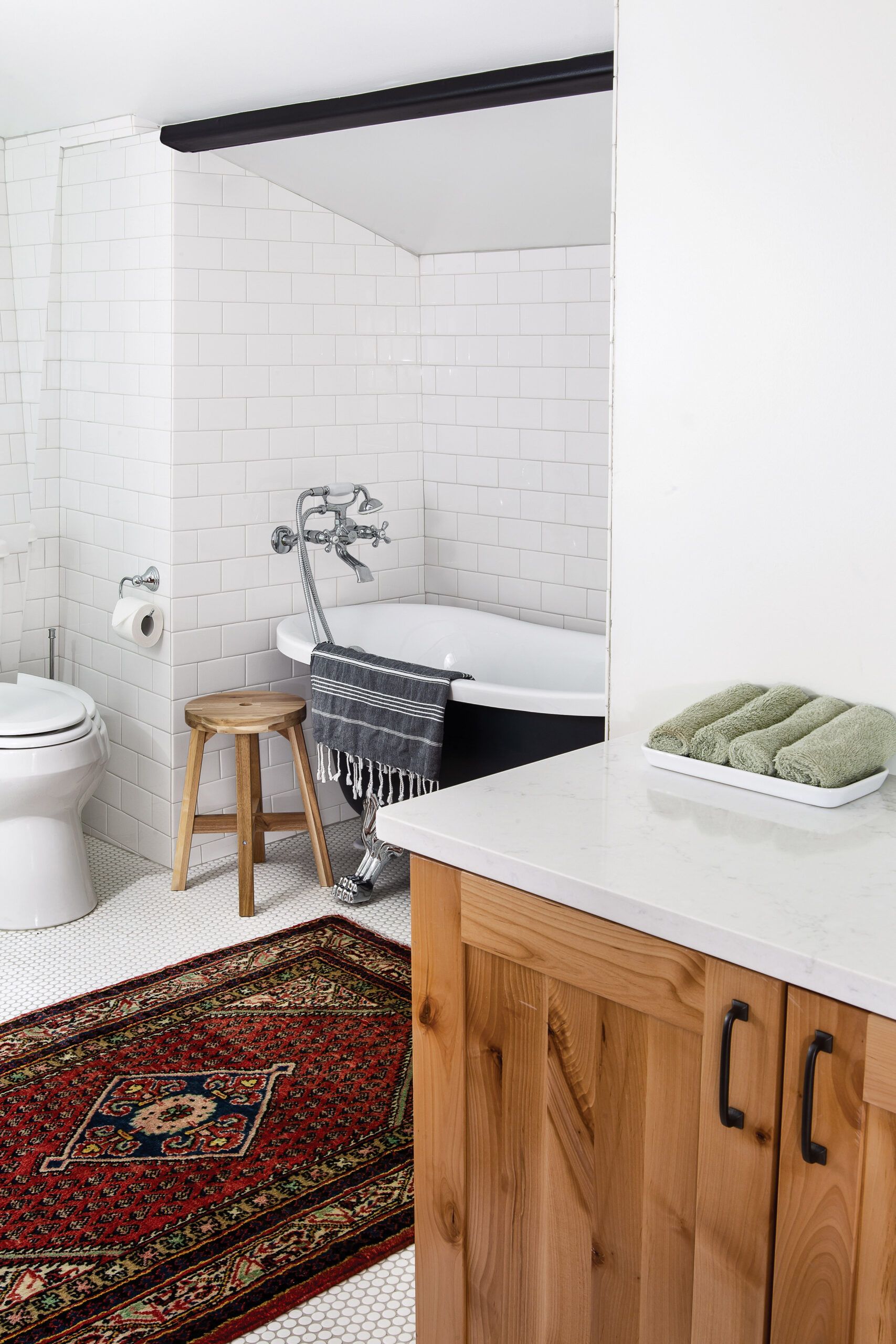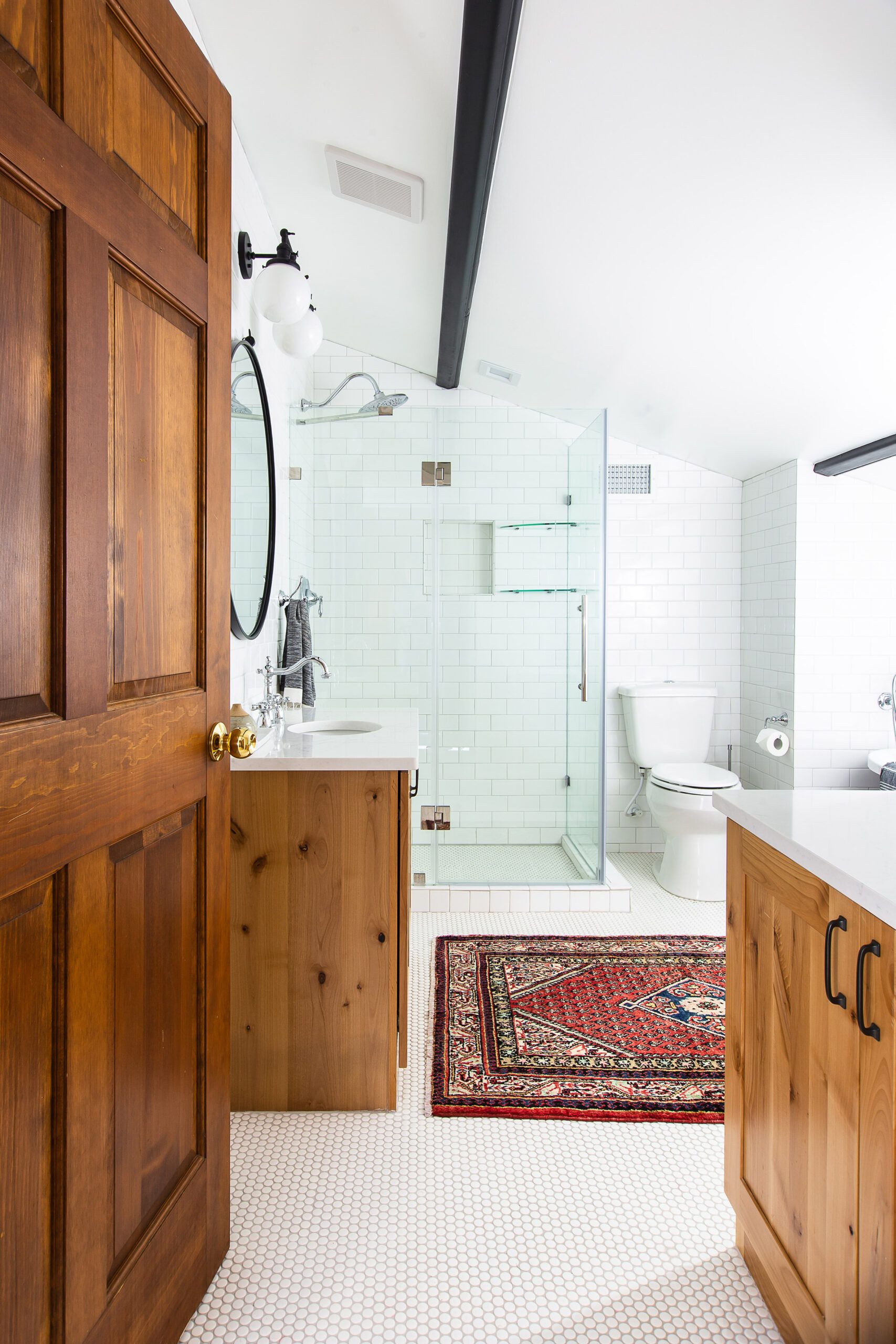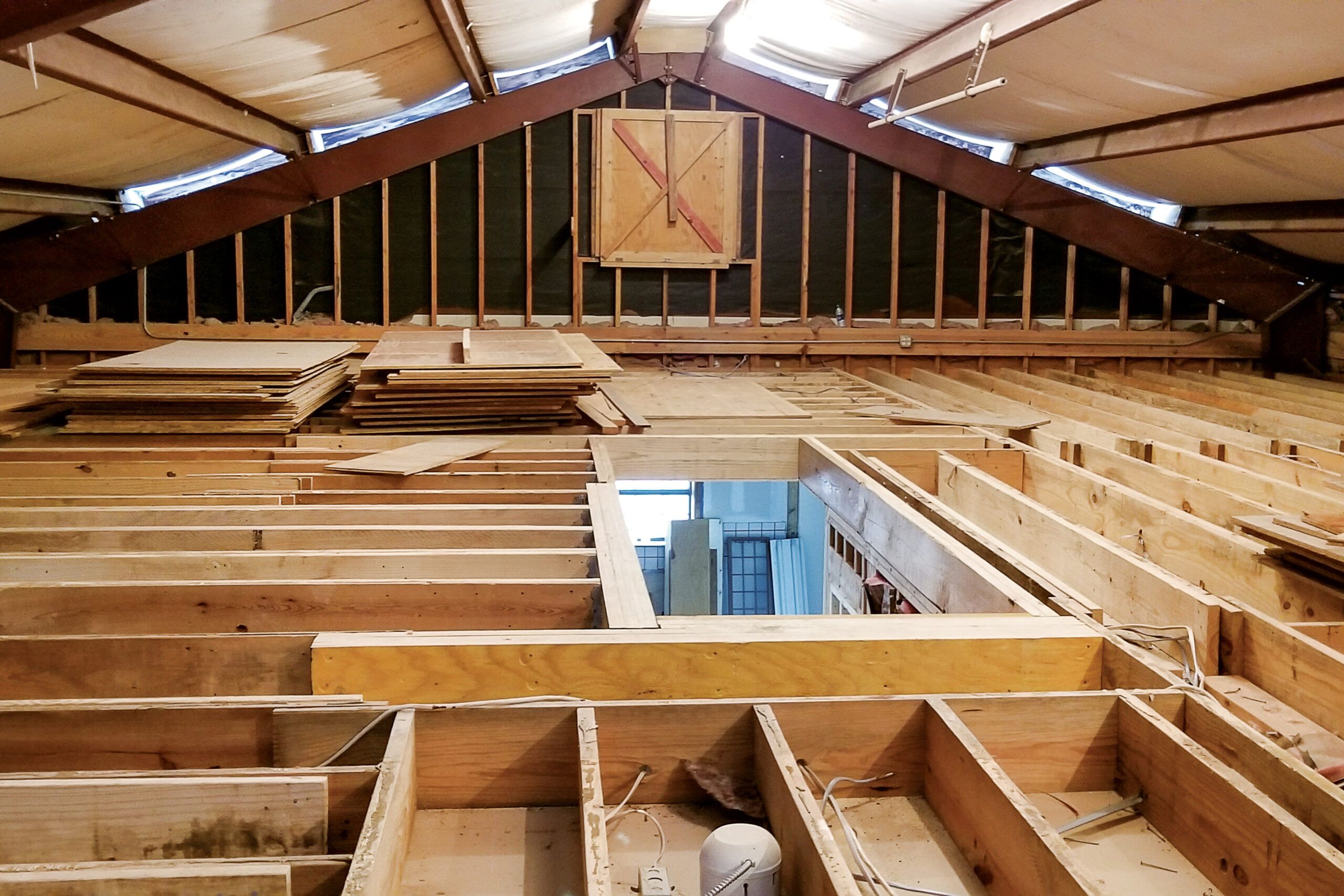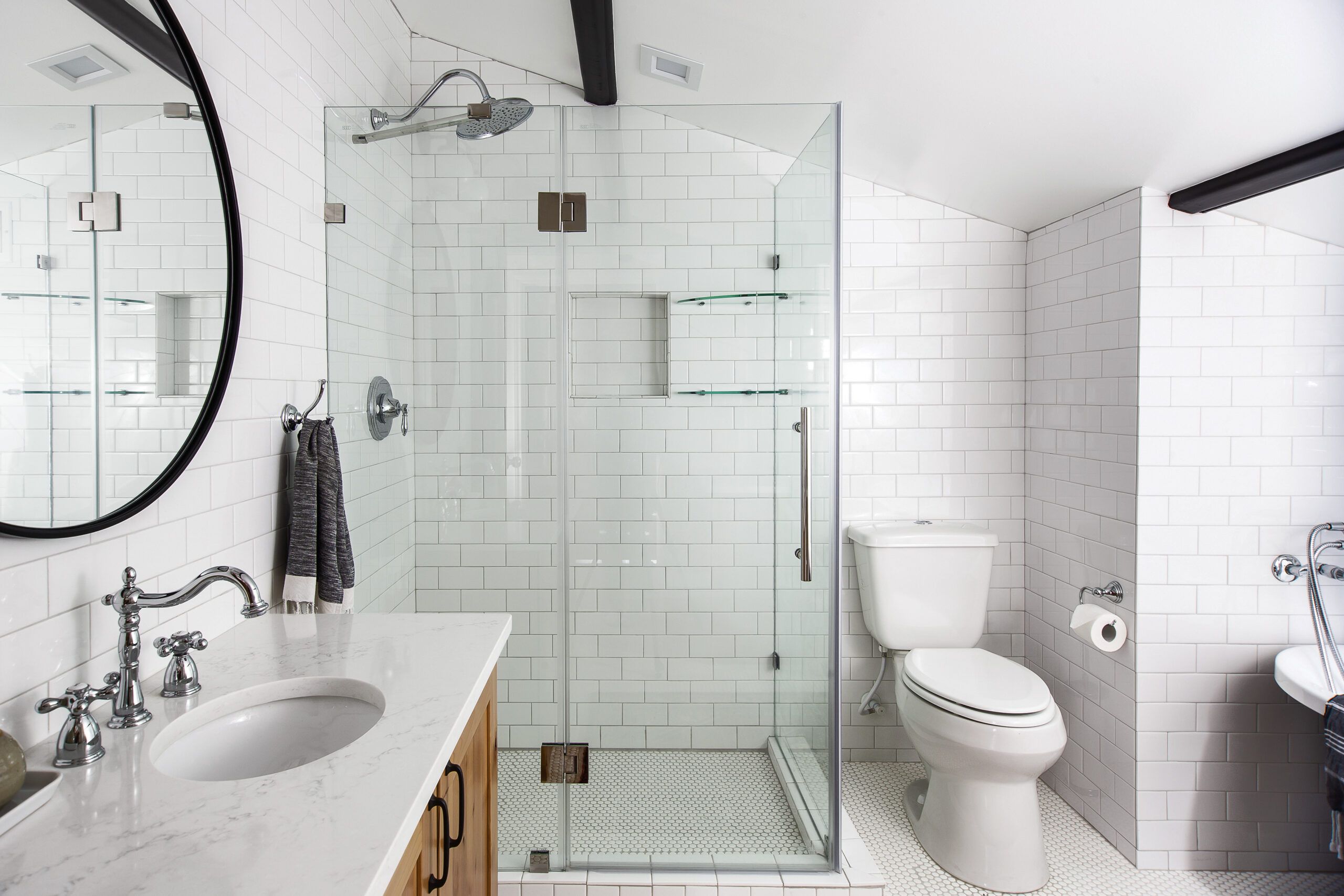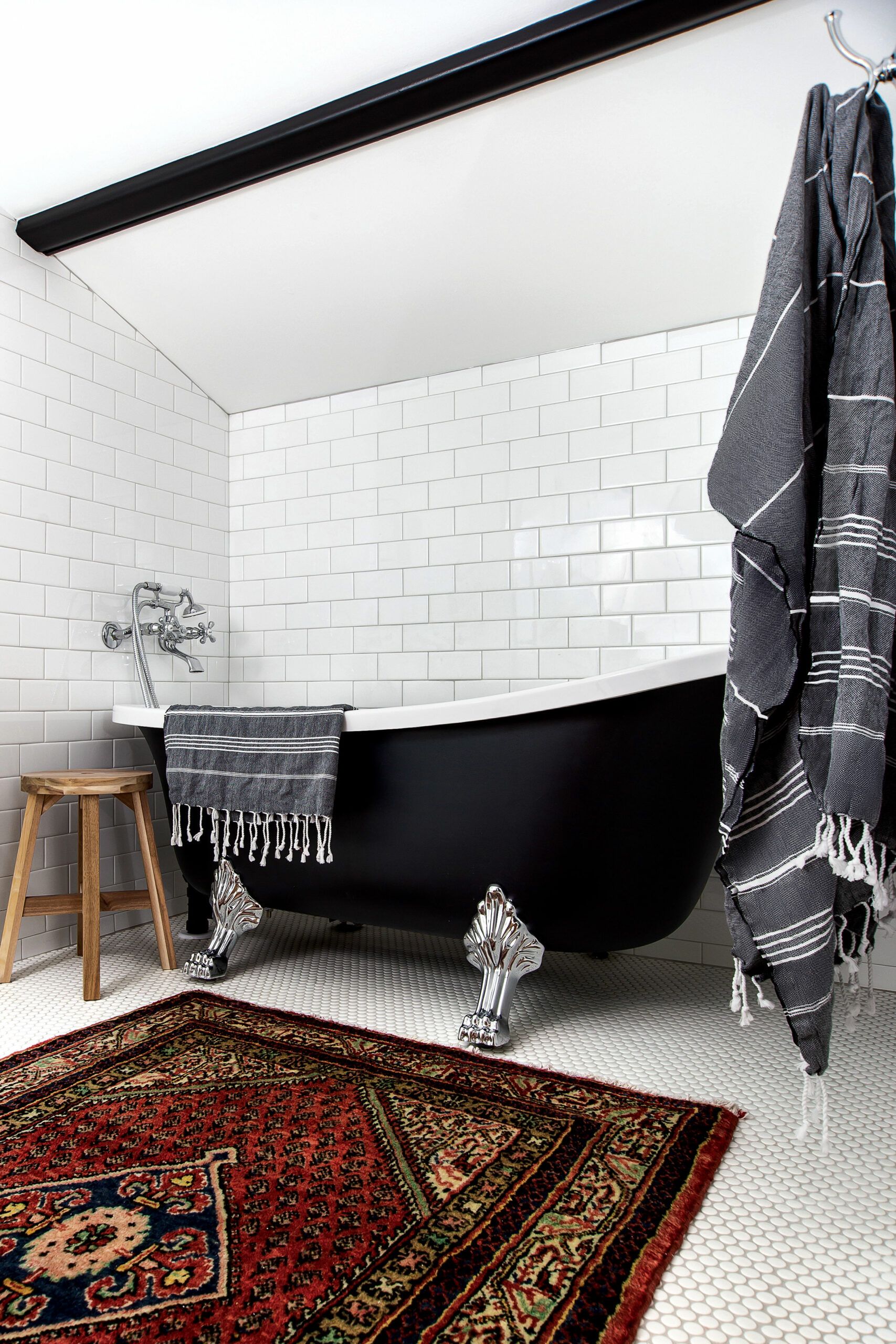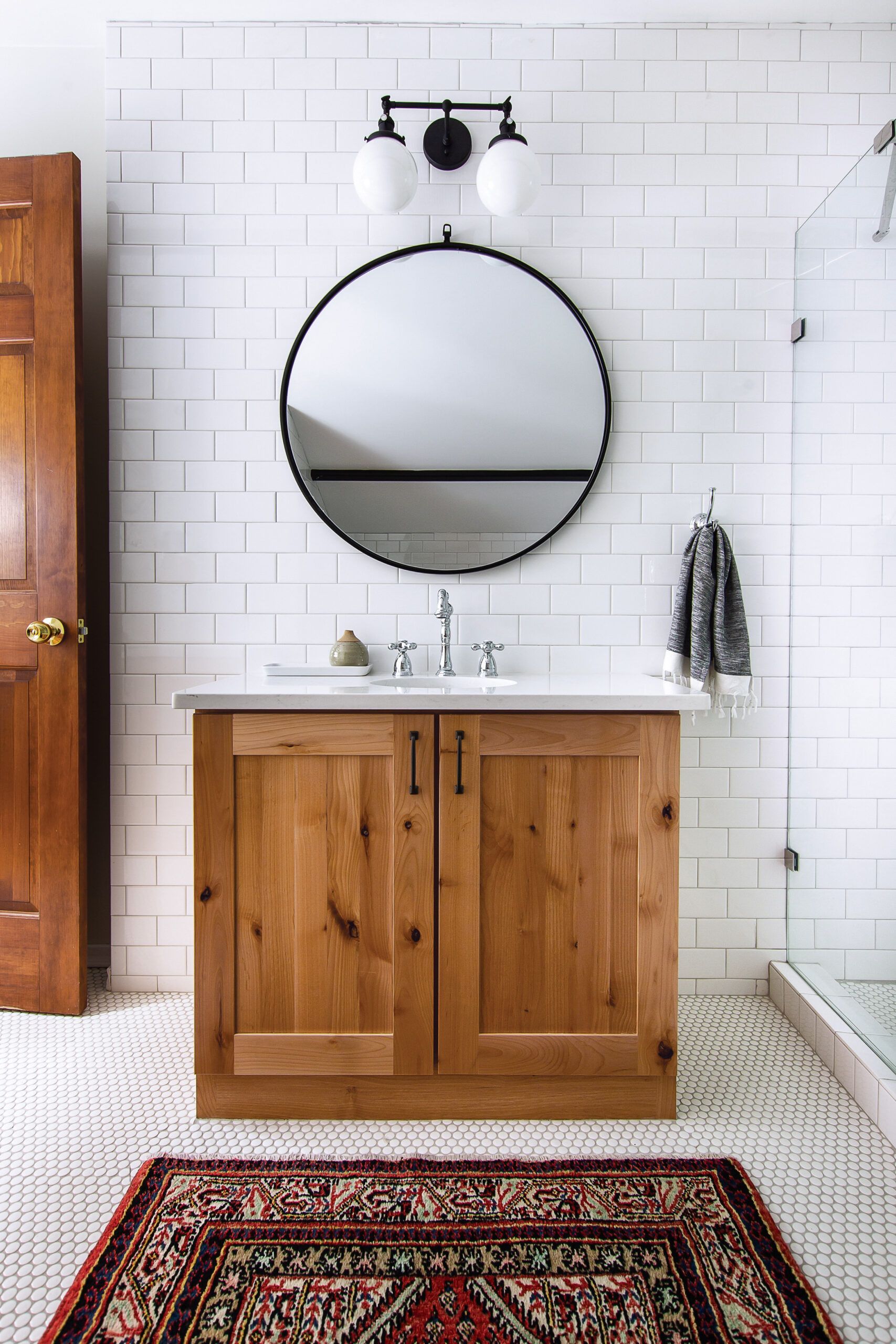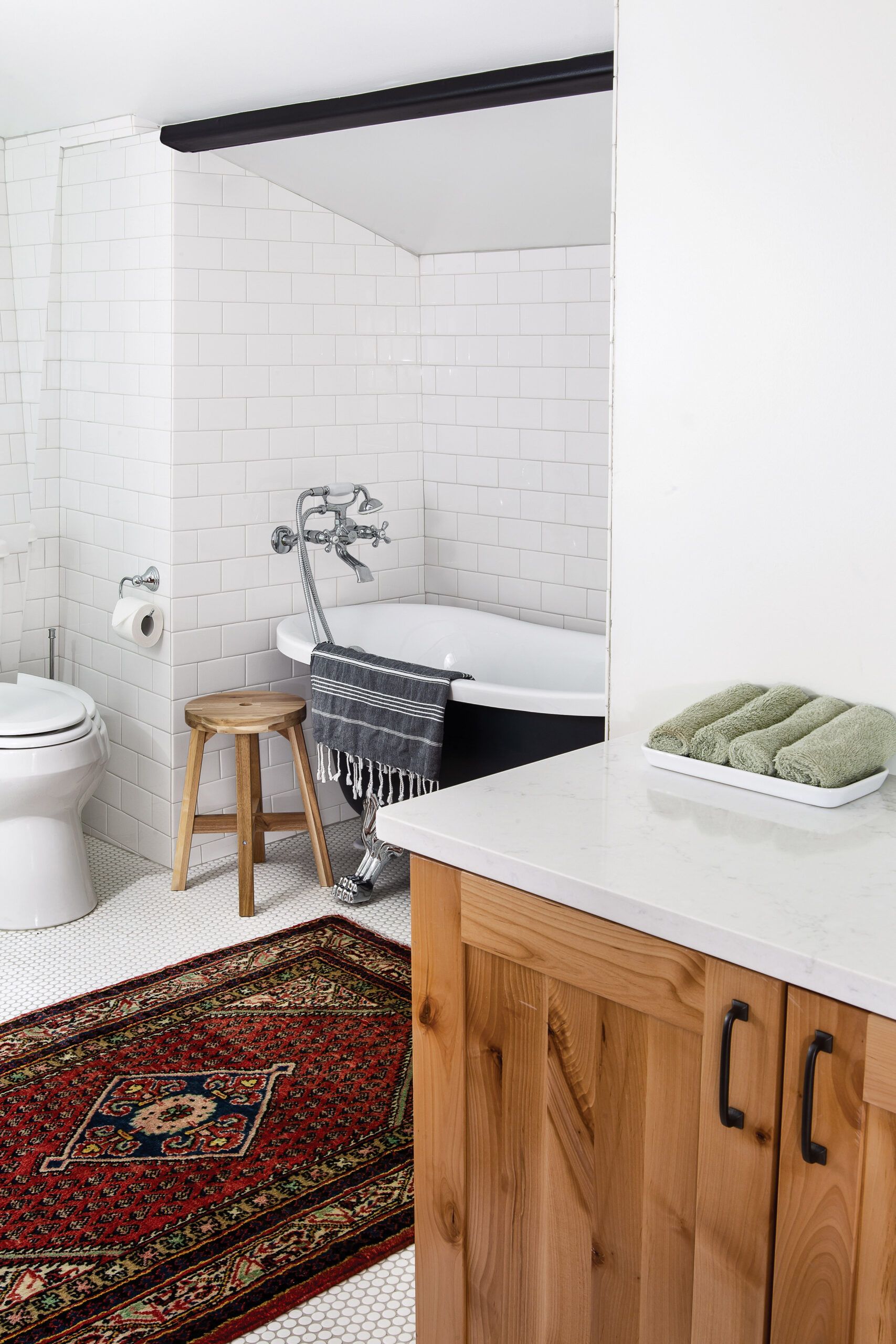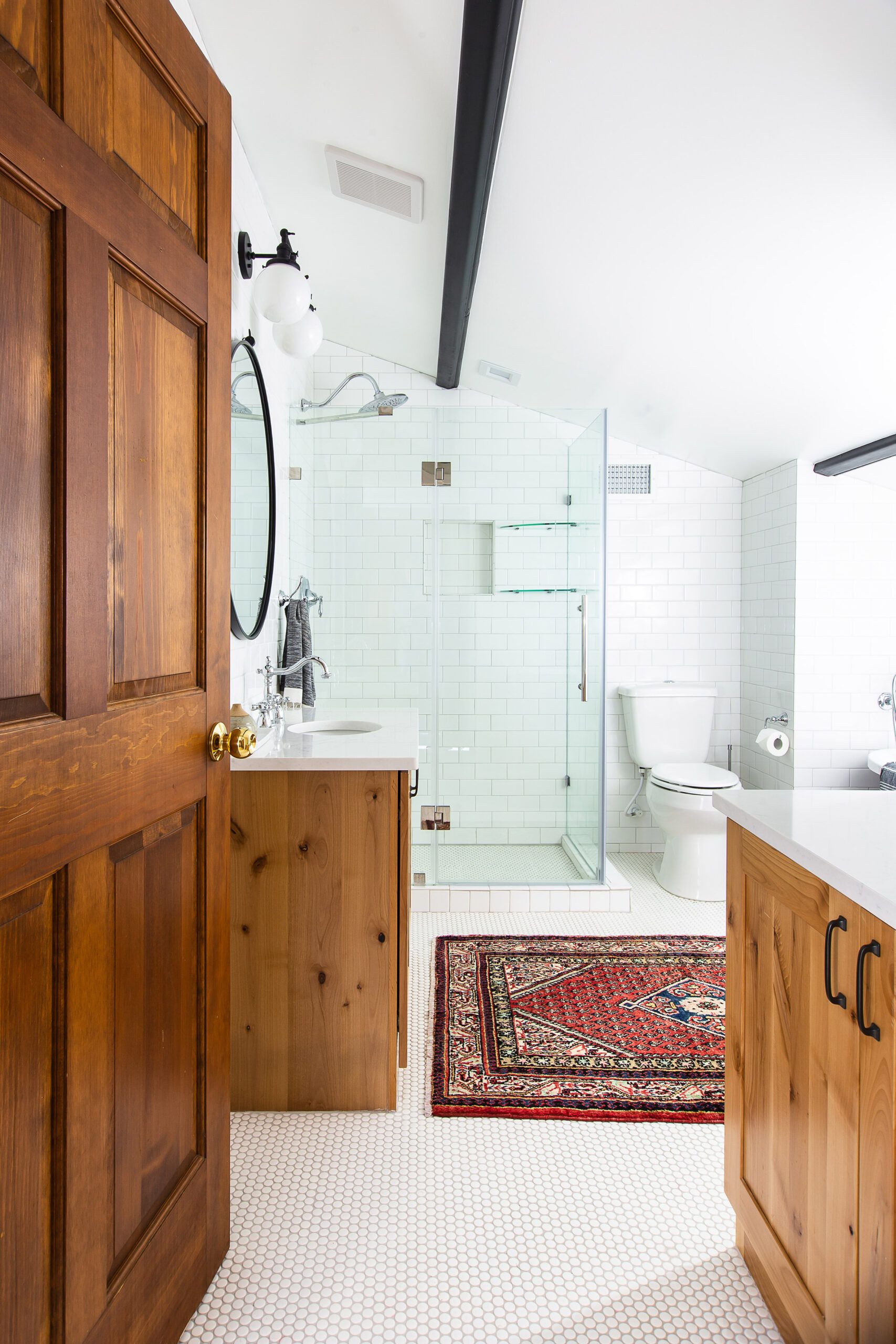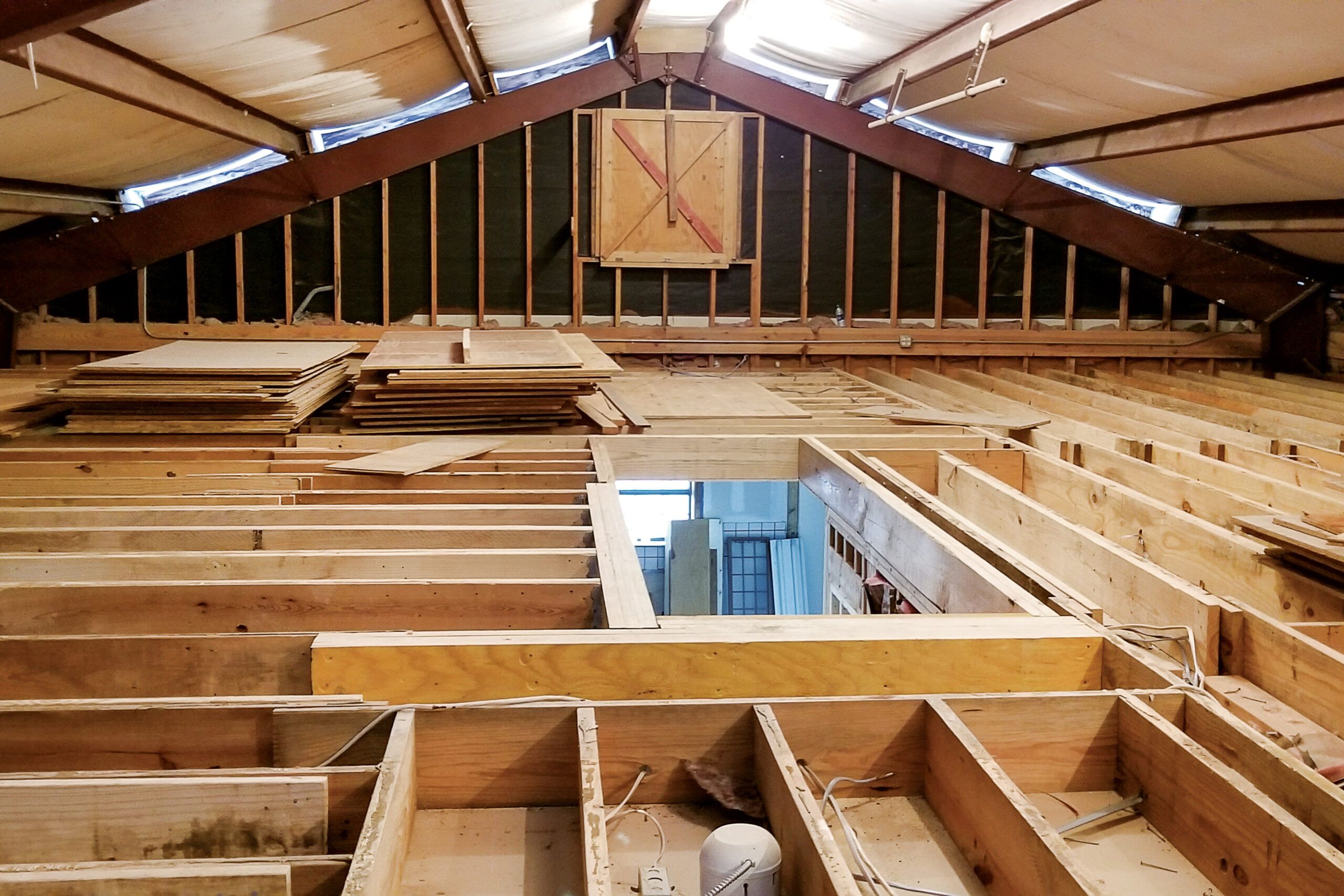 Modern Medley
From a design perspective, using wood in an otherwise all black-and-white color scheme can create some warmth—so say the pros at Chicago's Chi Renovation & Design, who created the sleek update on these pages.
Reimagining a 15-year-old builder-grade bath to suit the homeowner's needs, the design team used rift-sawn white oak cabinetry to complement two sizes of hex-shaped black tile on the floors and to-the-ceiling swaths of elongated white subway tile on the walls. Matte-black fixtures and hardware add a subtle industrial feel, while globe-style sconces soften all the linear shapes. The result: a timeless update that will feel right for years to come.
What they did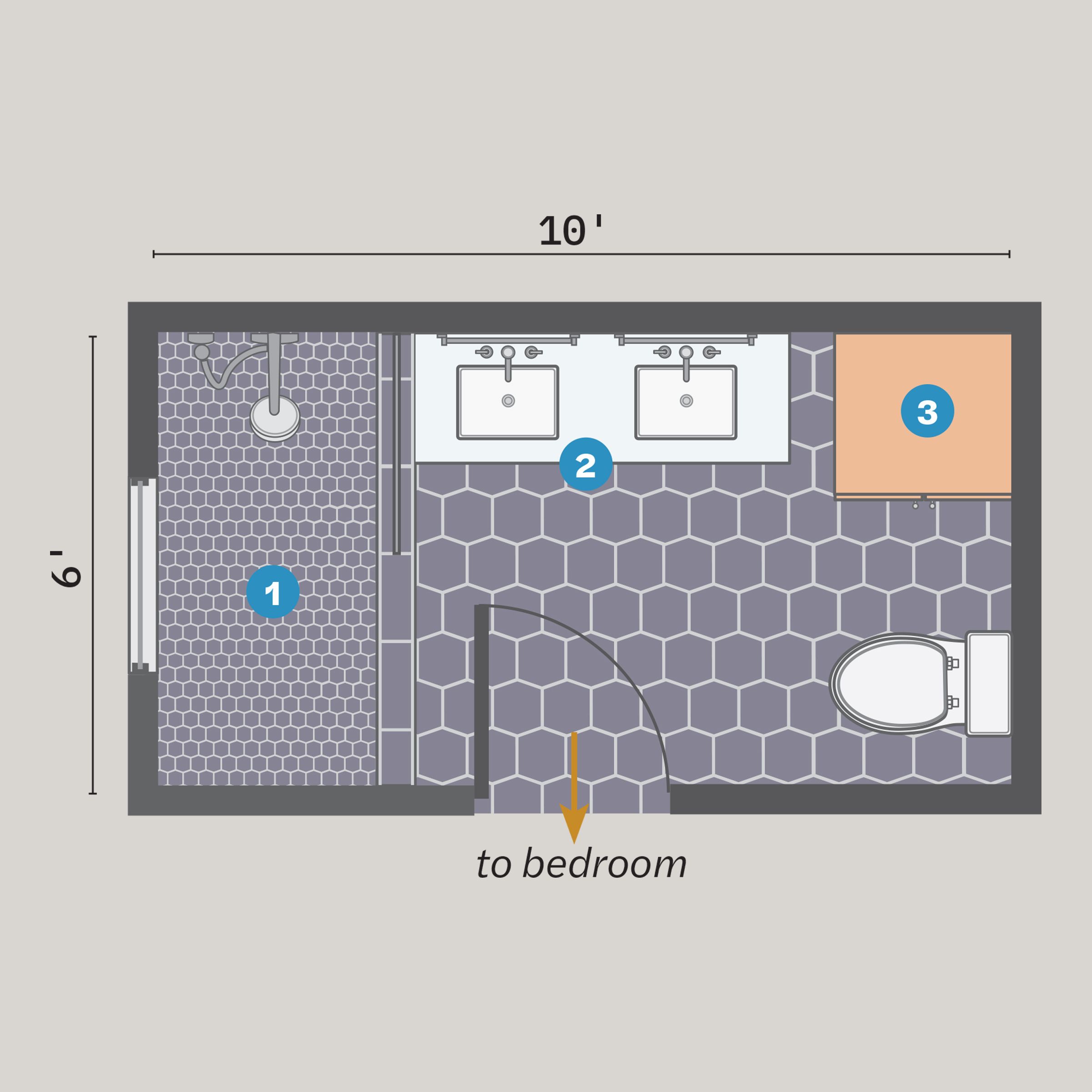 Before the renovation, the bath had a double vanity with a tub on one side and a cramped corner shower on the other. Scrapping the tub—which the homeowner had no use for—opened up new possibilities in the 60-square-foot space.
Removed the tub and installed a spacious 3-by-6-foot shower with a sleek fixed-glass panel to contain splashes.
Installed a floating 60-inch double vanity opposite the door, replacing one large mirror with two separate ones and adding a double-light sconce above each.
Replaced a cramped corner shower with a custom linen closet that's 2 feet wide and 8 feet high, freeing up plenty of elbow room around the toilet.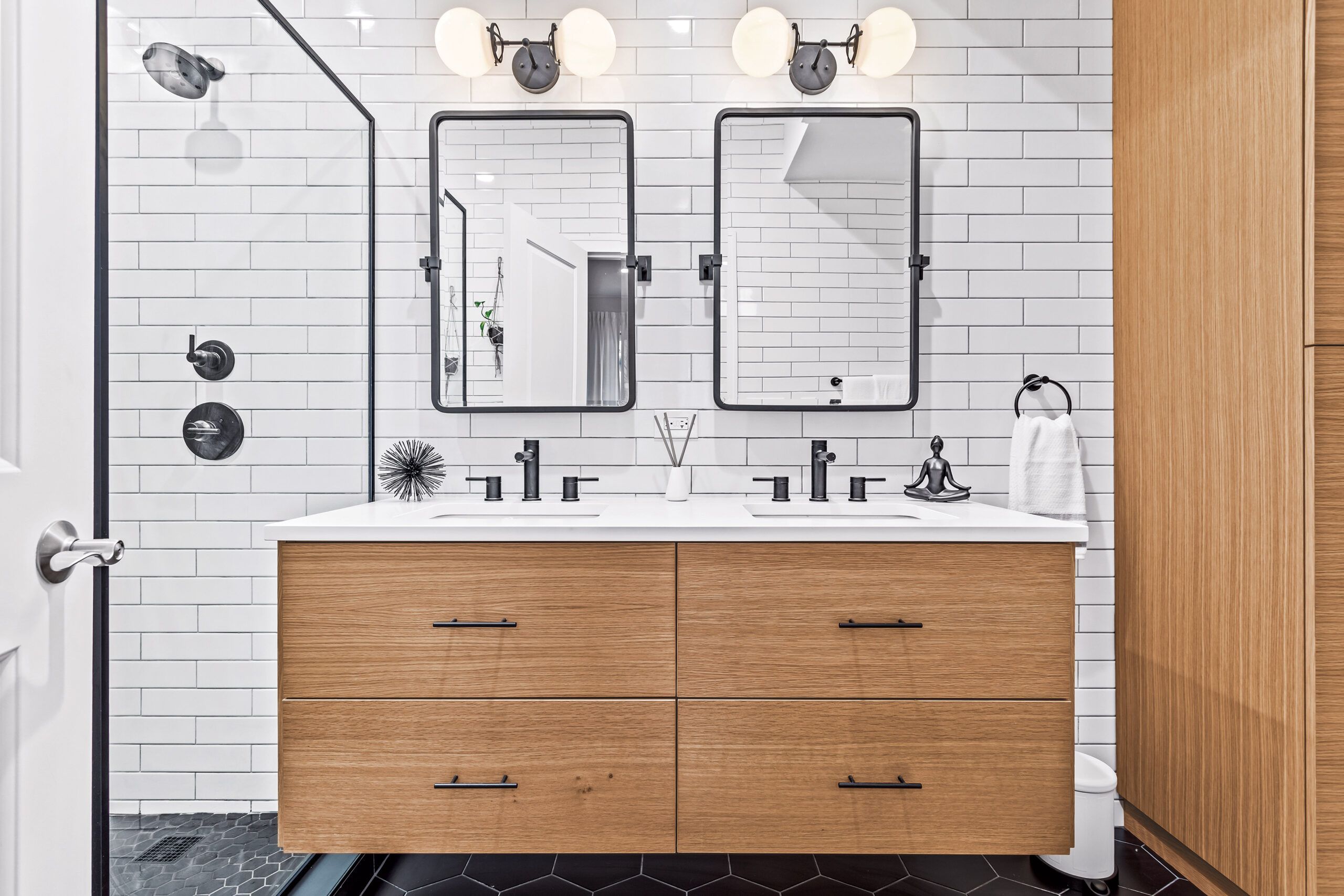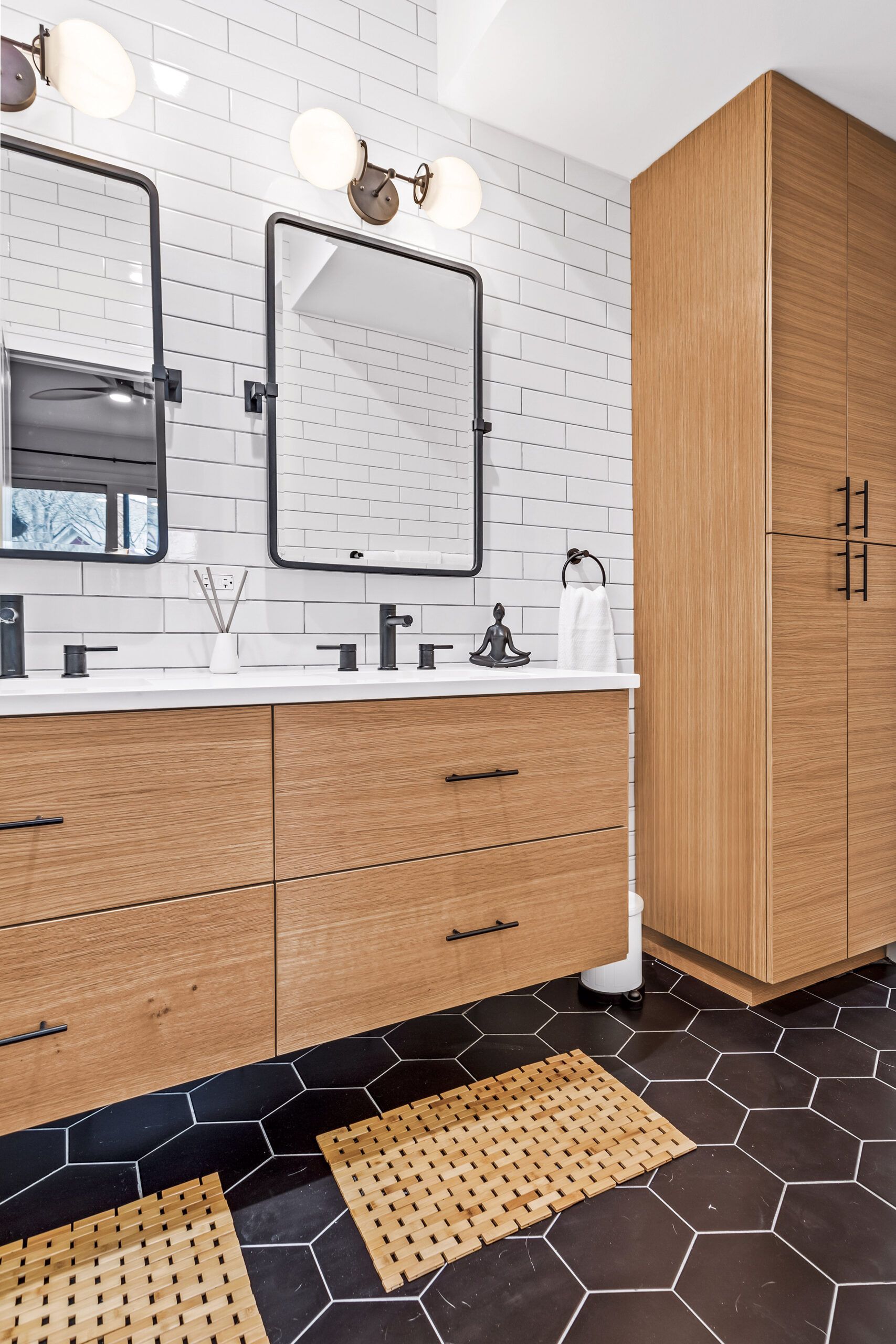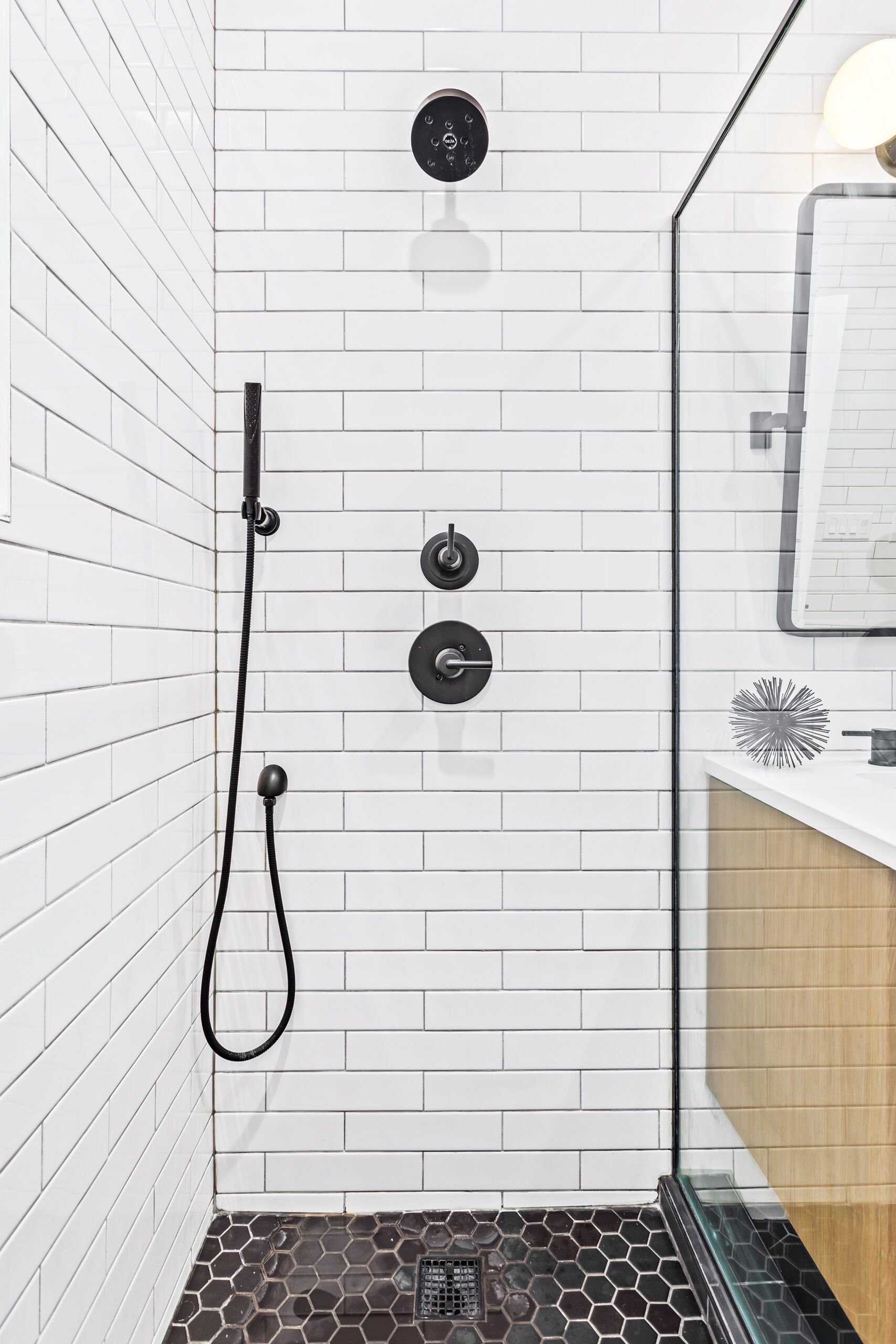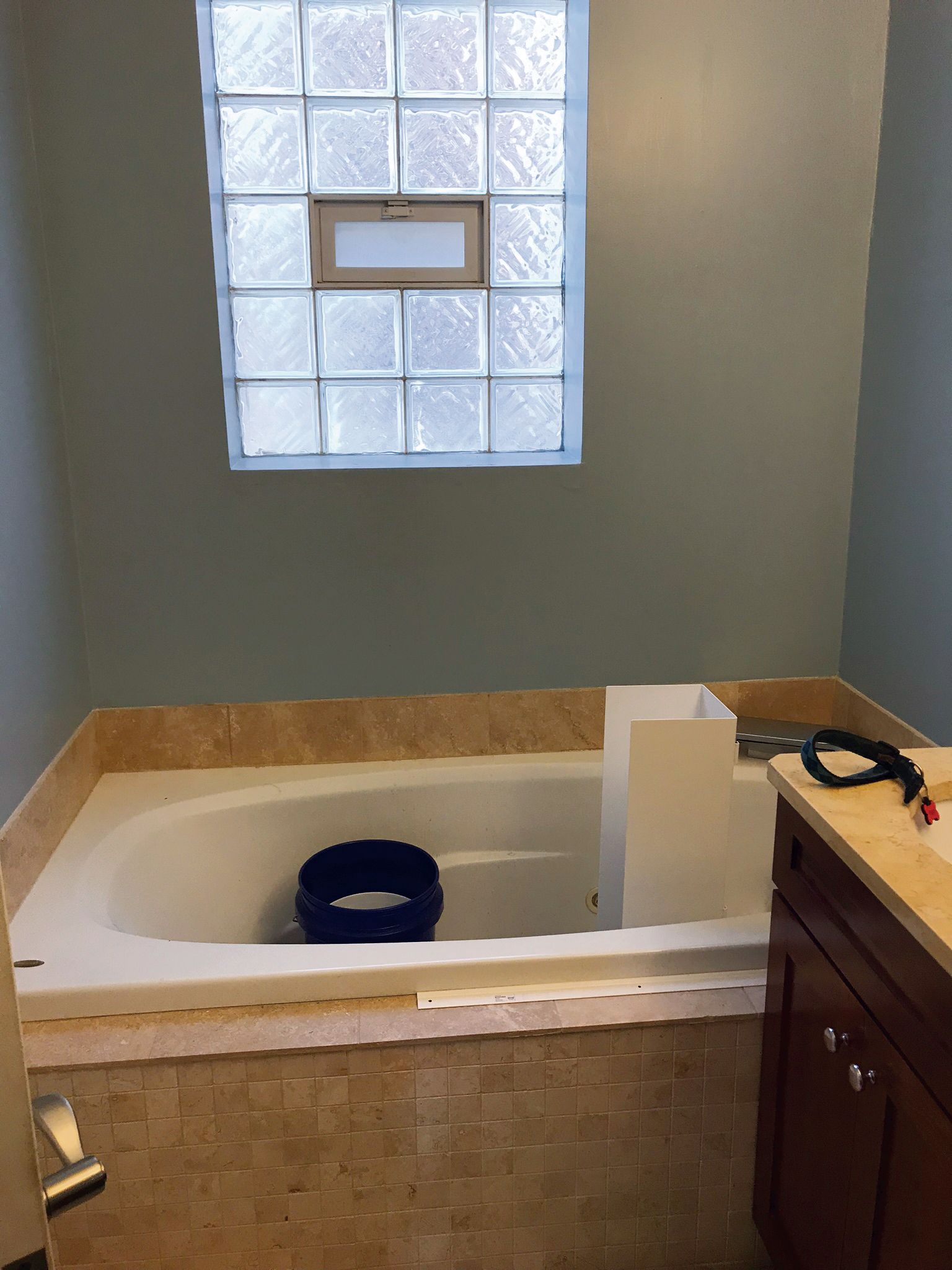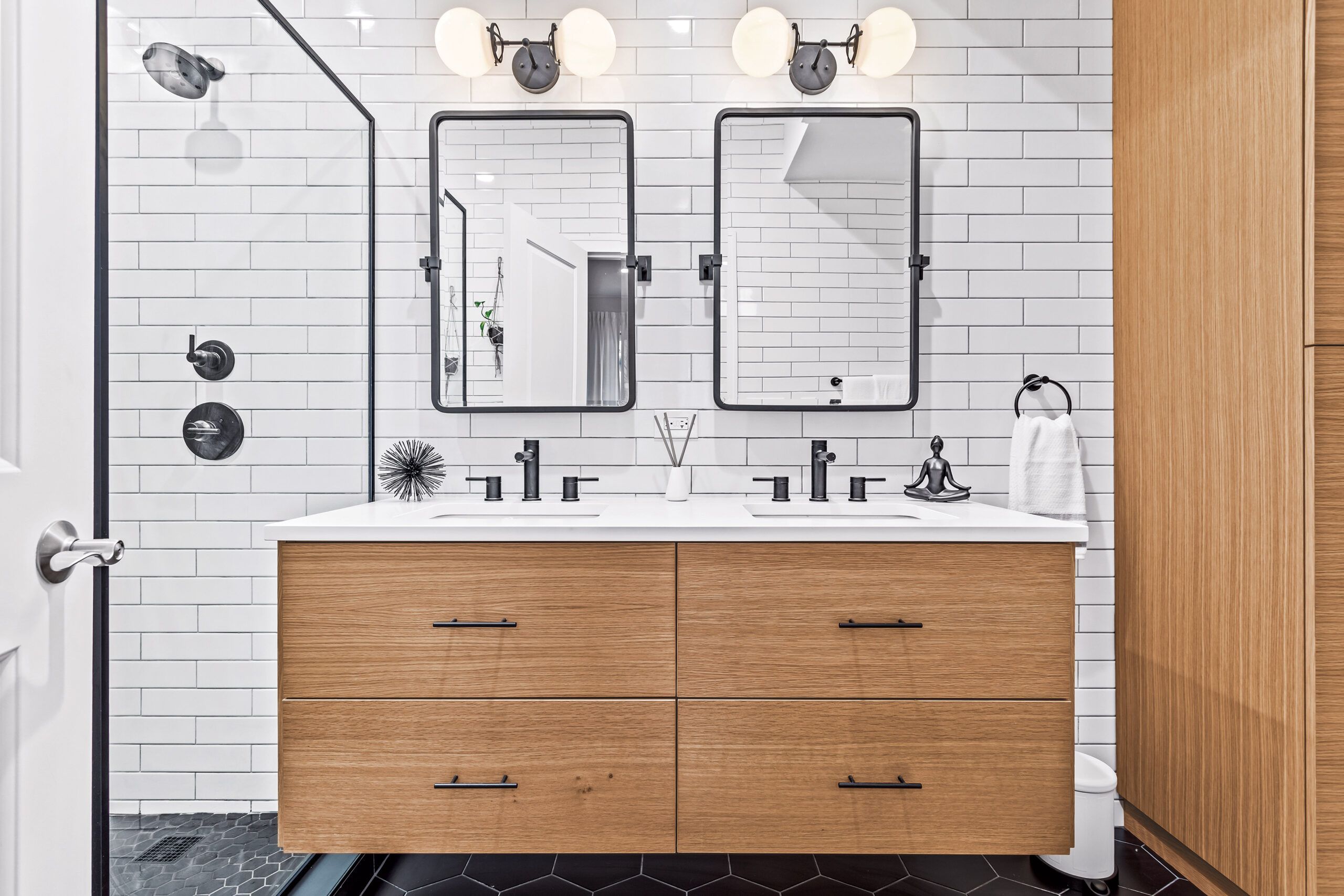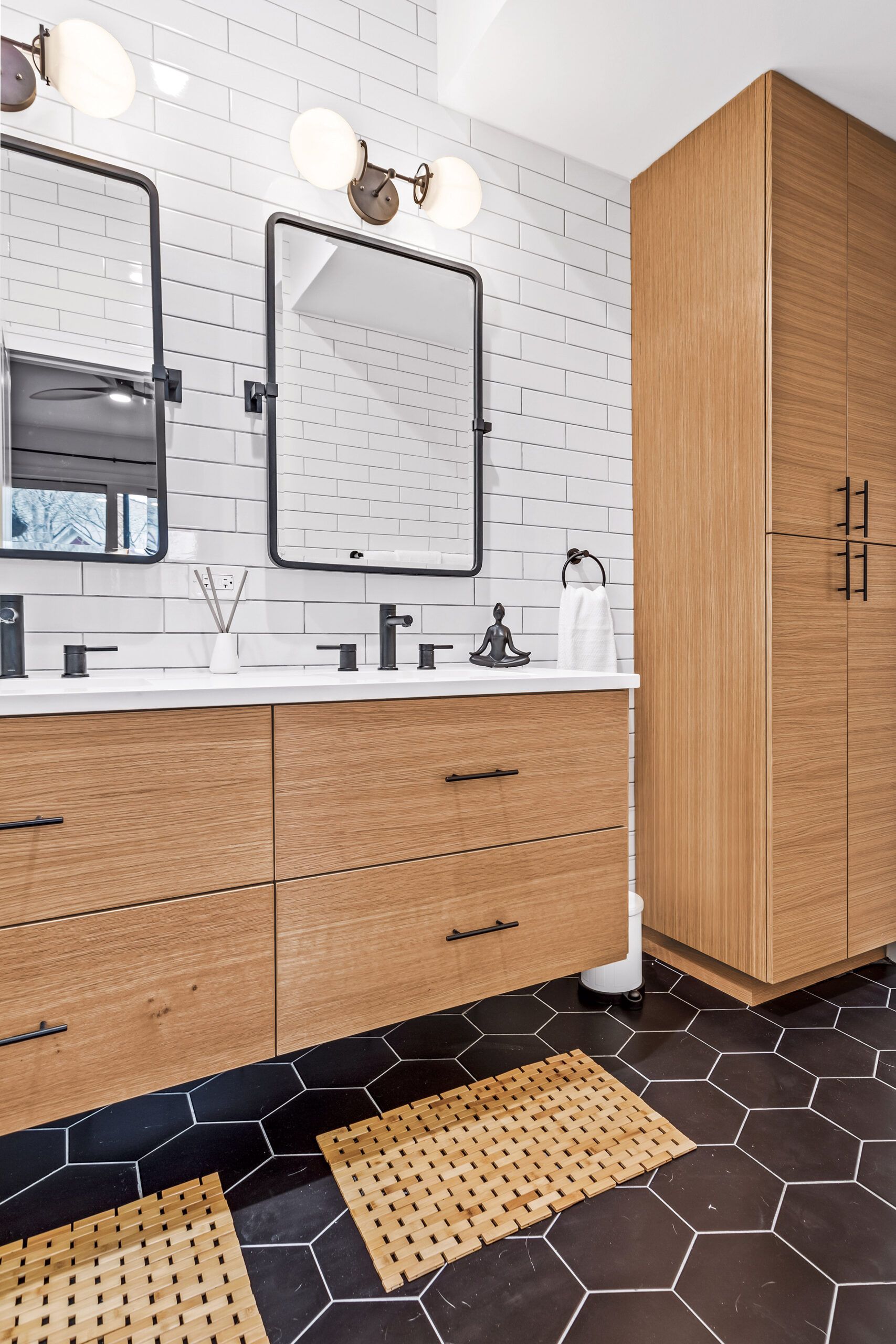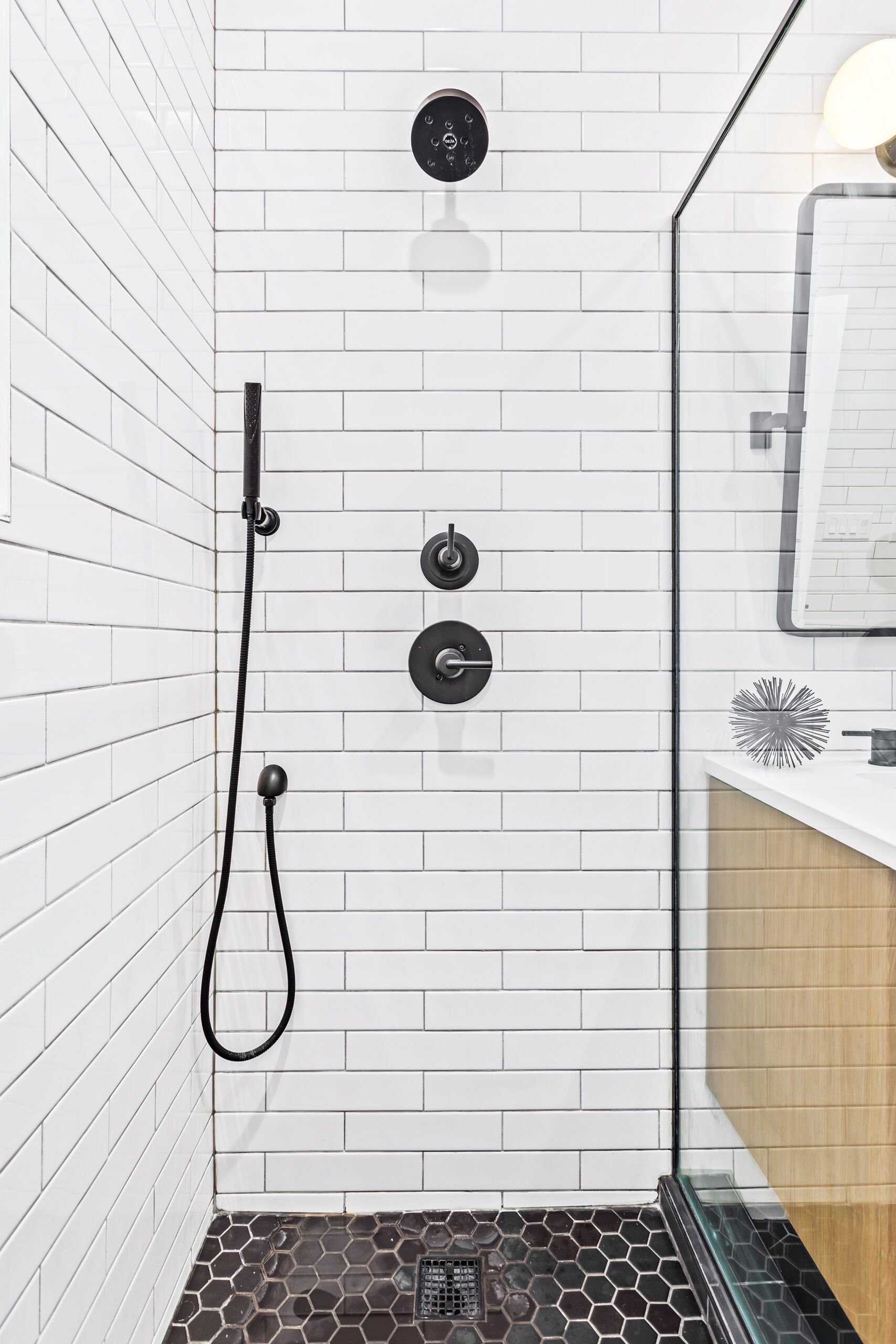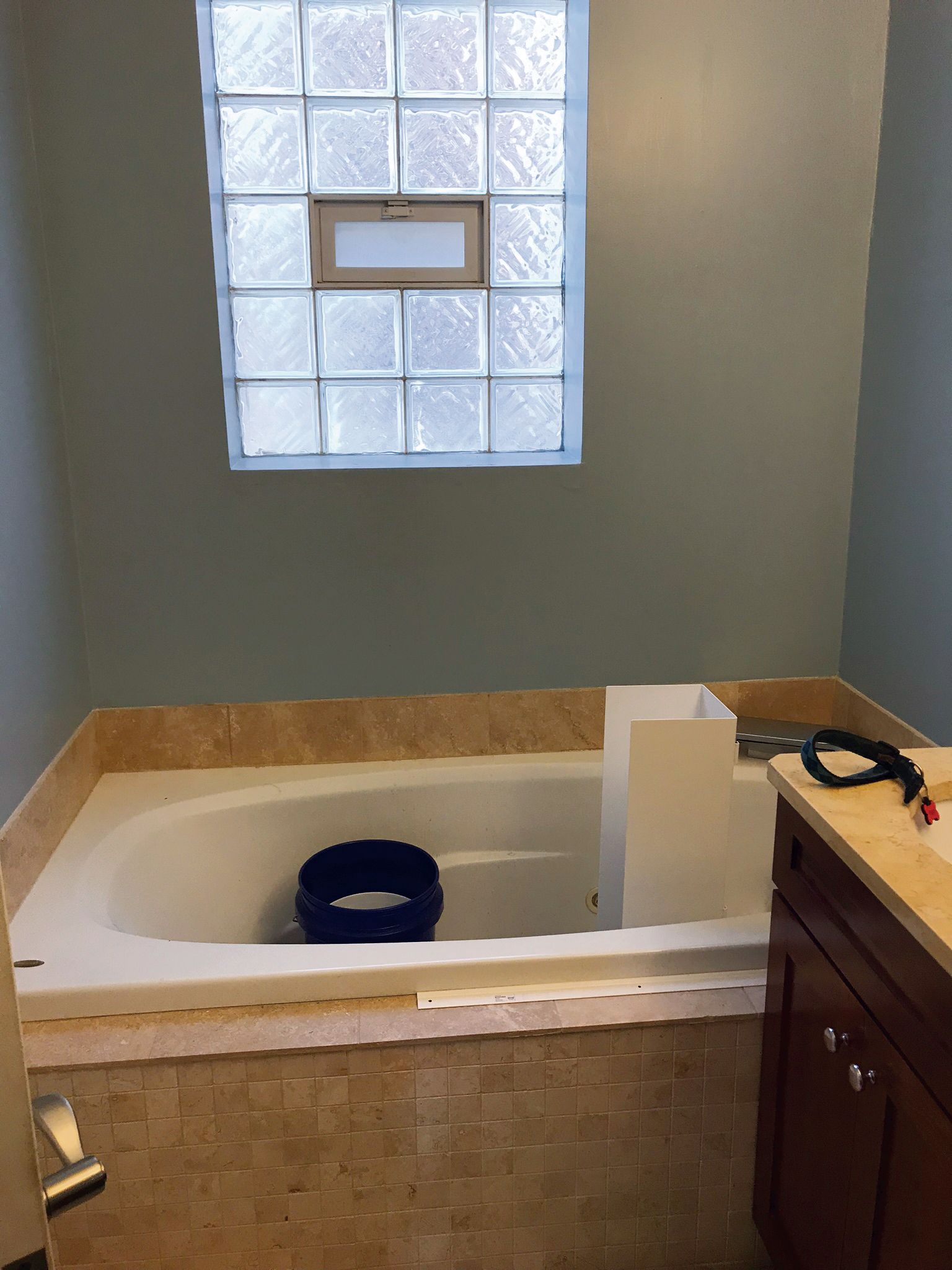 Airy and Bright
Few new homeowners love everything about the house they move into, even if it's their dream home. For Erin Wheeler, the primary bath, awash in a late-1980s sea of brown granite, was the big disappointment. The Sunny Circle Studio blogger envisioned a classic-yet-modern makeover that would suit her traditional-style home in Raleigh, NC.
While the reno kept all the fixture locations the same, removing a built-in tub and a pair of ceiling soffits really helped open up the 201-square-foot space. Rather than cover all the walls in gleaming white tile, Erin clad the sink wall with white shiplap to add some not-so-hard, clean-lined texture. "I love how everything feels bright and clean, but also warm and organic, thanks to the brass fixtures and hardware," Erin says. "It's a very nice place to be on a daily basis."
What they did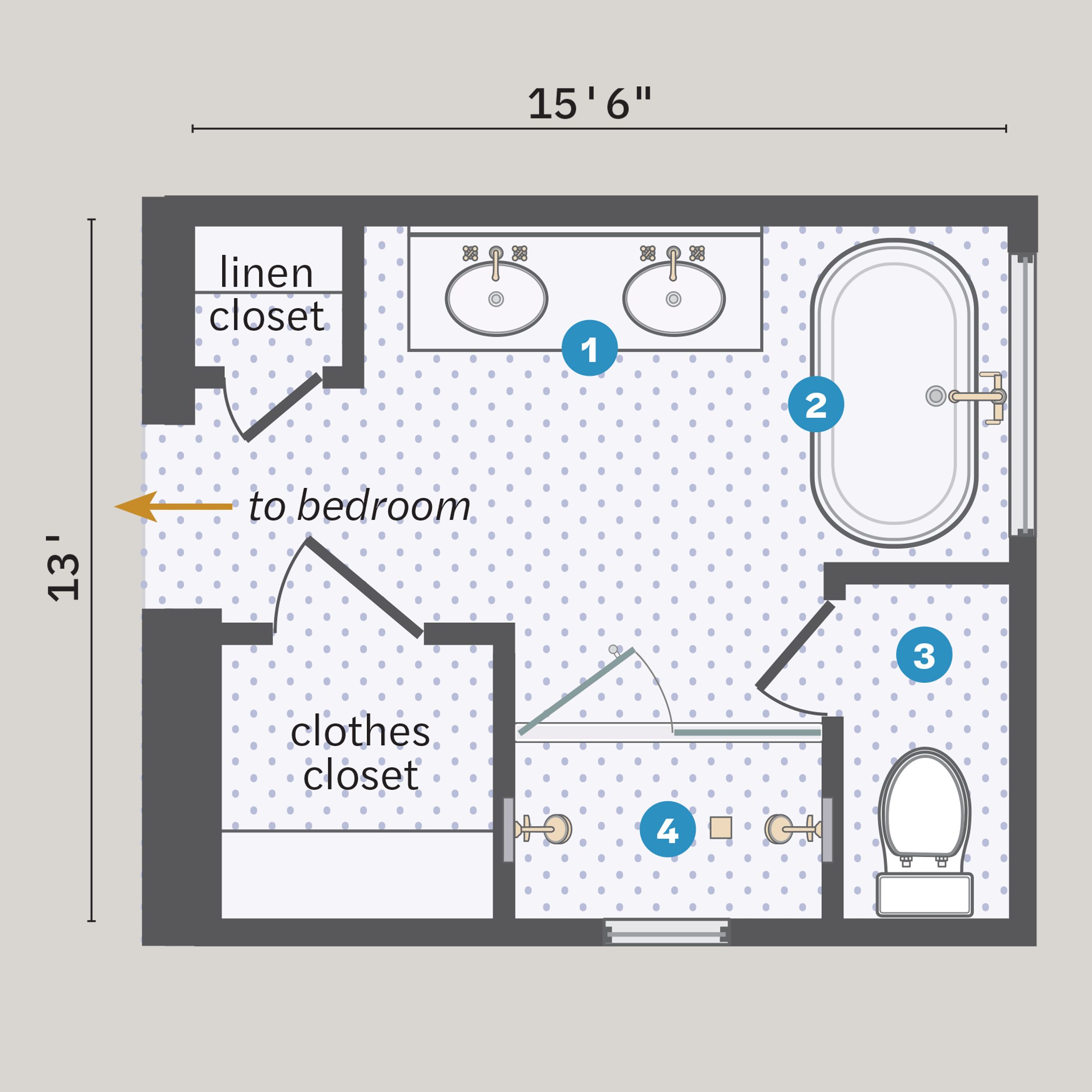 Clearing out ceiling soffits and a step-up tub platform opened up the roughly 200-square-foot bath. White tile created a clean, bright background for touches of black and brass, which add contrast.
Scrapped a curved soffit with can lights above separate sinks in favor of a 6-foot-long double vanity against a wall of shiplap and sconces.
Removed the built-in tub and installed a simple, freestanding soaker, moving plumbing lines to allow for a floor-mount tub filler centered under the window.
Kept the toilet closet, replacing just the floor tile and fixture, and adding a fresh coat of paint.
Retiled the approximately 3-by-5-foot existing double shower, adding niches on the opposite walls; swapped in new fixtures and a frameless-glass door. Kept the clothes closet alongside it as well as the small linen closet that sits opposite it.