You can make a real statement about your style with the bathroom sink. There are so many looks, materials, and shapes to choose from, ranging from rustic farmhouse basins to sleek vessels. Before you settle on your sink of choice, however, remember that function matters as much as form. How often will it be used? How much space will be allotted for it? How much work do you want to put into cleaning it? And do you need to combine the sink with storage space?
For many household bathrooms, storage is at a premium. While you may admire the elegant look of a pedestal or the minimalist aesthetic of a console, neither of these designs offers cabinet space for toiletries and towels. And even though a vessel sink might be the lavatory of your dreams, it'll quickly become a nightmare if you've got small children using it every day—cleaning up stray soap suds and toothpaste can be difficult to clean when the basin is sitting on top of the counter.
Also consider how much activity the bathroom will be subject to. If it's used every day by multiple people, you'll want a sink that's durable and easy to clean. We all dream of having a bathroom that belongs in a home decor magazine, but the materials for those styles tend to be more delicate and difficult to keep up properly.
Let's take a look at some other considerations that go into choosing the perfect sink.
Material and Size
When it comes to sinks, there's a wide array of materials that you can choose from. It all comes down to finding something that suits your tastes. Porcelain is the most popular option for bathroom sinks, but metal, cast iron, stone, glass, and even wood can all be molded into a basin of any size or shape.
One thing to consider is how well the material you choose will stand up to cleaning products. Some materials are more susceptible to degradation than others and need to be cared for differently from porcelain. Copper, for example, requires a special cleaner and wax. Make sure you're aware of a sink's care requirements before you decide that it's the one for you.
There are no restrictions on the size of your sink, but it should be suitable for the dimensions of your bathroom. There's no point in having a luxuriously large basin if it will dwarf all the other elements. Consider a corner sink if you're limited on space. At the other end of the spectrum, if you have room, it can be very useful to have two basins in a shared bathroom.
Types of Sinks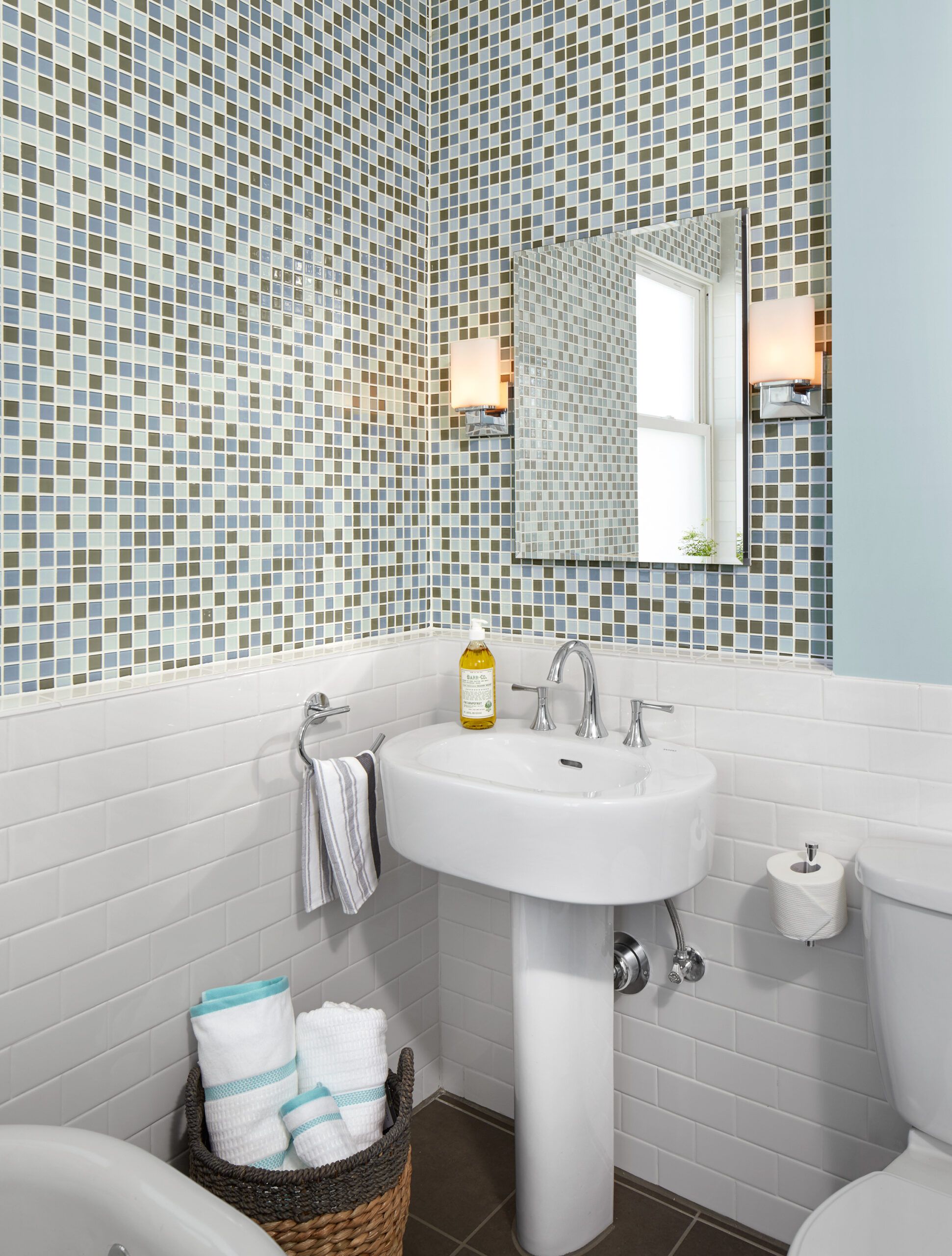 Drop-in sinks, or self-rimming sinks, feature a rim or lip that rests on the countertop. This type of sink is very popular because it's a cinch to install, fitting right into the pre-cut hole on most vanities.
Undermount sinks sit under the countertop and must be attached from beneath. A hole needs to be custom-cut into the counter to fit the sink, making it very difficult to install on your own. But the benefit to having this type is that there are no obstructions—you can wipe liquid and whatever else falls onto the counter directly into the sink.
Vessel sinks are typically installed above the counter, which is positioned with the bottom of the sink sitting right on top of the vanity. Sometimes, a vessel sink will be partially sunken into the counter (recessed installation), but more than half the sink will still appear above it. This raised basin design is undeniably stylish, but it can be difficult to clean around the base where it sits on the counter.
Pedestal sinks aren't set on a vanity cabinet; rather, they're freestanding and comprised of two pieces: the basin at the top and the column underneath. The slim, graceful profile of a pedestal sink is perfect for a smaller bathroom or powder room, though it doesn't offer much in terms of storage space.
Wall-mount sinks, also known as floating sinks, are installed directly onto the wall. They don't rest on a counter or vanity, which makes them a great choice for smaller bathrooms (and where wheelchair access is needed). Wall-mount sinks may feature exposed plumbing as an element of design, and a towel bar can be attached underneath. Console sinks are wall-mounted sinks that have added legs for support.
Vanity tops are solid-surface countertops that have the sink molded into them. They're typically made from marble, quartz, granite, or wood. A base must be added to complete the piece.
Farmhouse sinks, or apron-front sinks, feature an exposed front that juts past the countertop. This style of sink, once reserved for the kitchen, is becoming more popular in the bathroom for its unique look and rustic aesthetic.