BEFORE | Divided Bath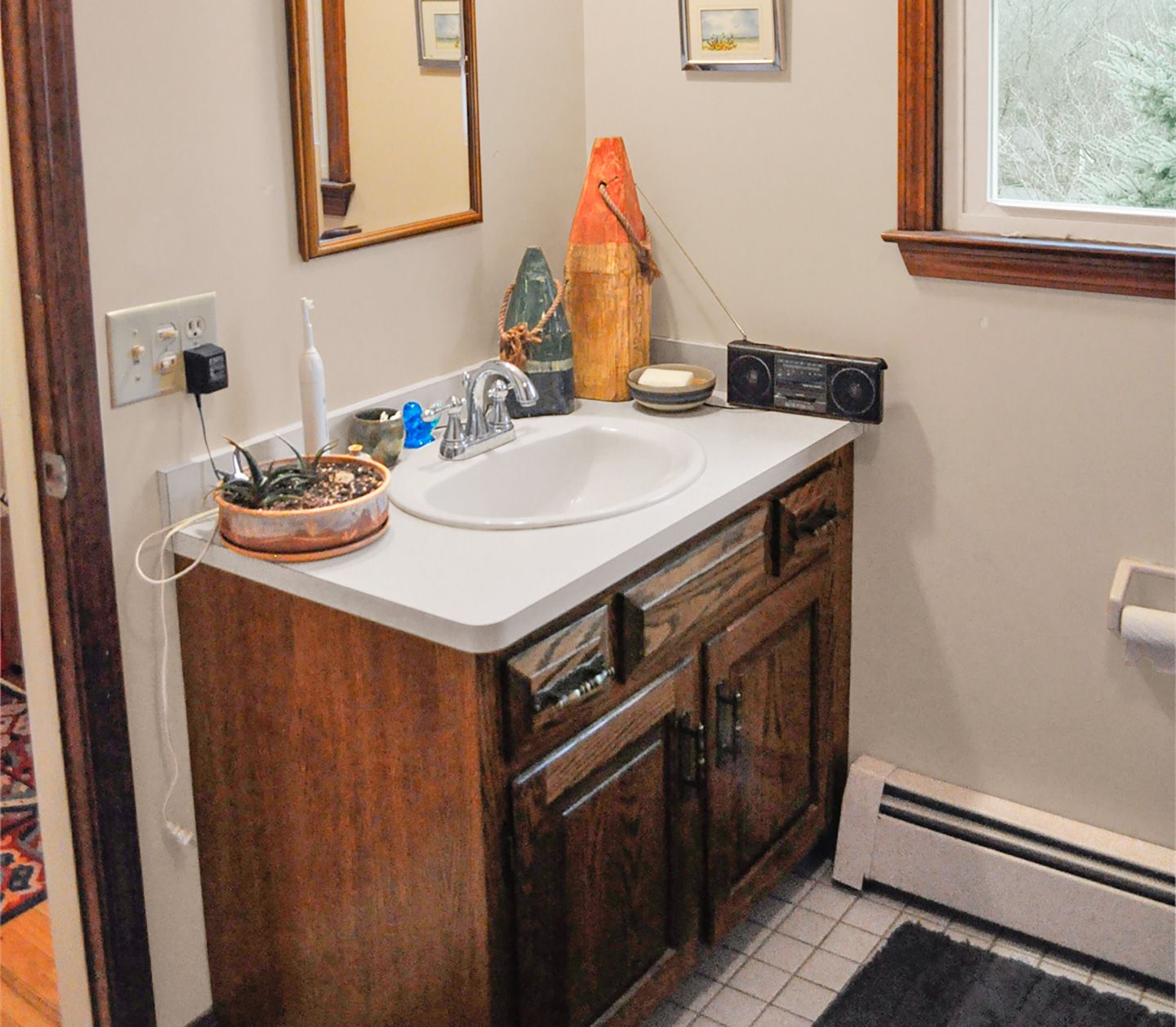 Sometimes it takes a minor disaster to finally kick-start a major renovation. For Helen and Rich Rosselli of Trumbull, CT, it was a failing shower pan in their master bath, which resulted in a leak in the kitchen ceiling of their 1980s Colonial-style home. "The room definitely needed updating, and we put it off way too long," says Helen.
Shown: The two-part bath held two sinks separated by an outer vestibule wall.
AFTER | Unified Bath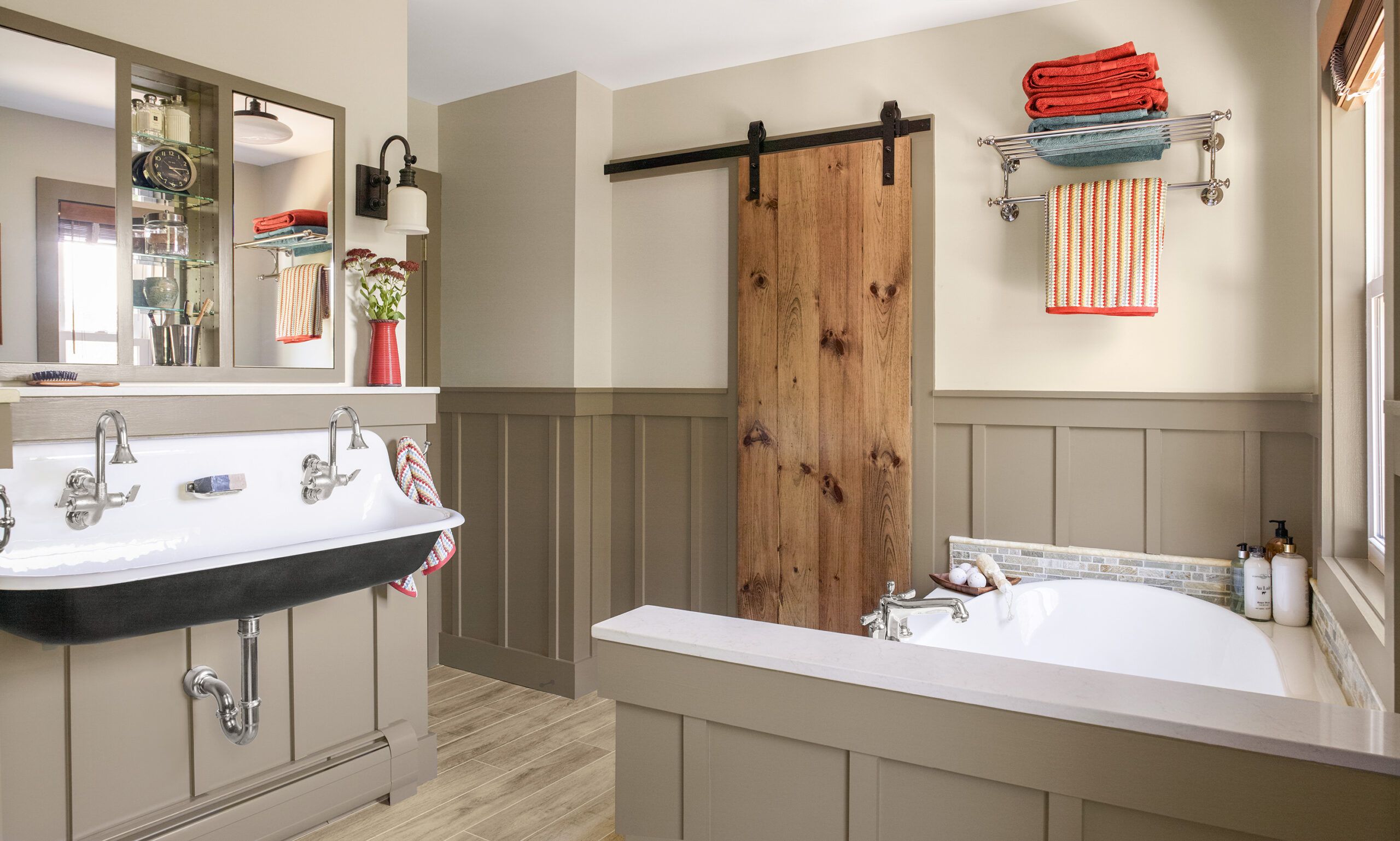 When the leak prompted them to call in architect Melissa Spoelstra, her first suggestion was to remove a wall that divided the bath in two: an awkward vestibule held a single sink, while the main area had a second sink, shower, and toilet. Spoelstra kept the shower and toilet locations the same and reused the sink plumbing lines to keep costs in check. The unified space freed up room for a soaking tub and a larger shower. One early design choice—a wide, trough-style sink—inspired the rest of the rustic-traditional finishes, including stone mosaic tile, a stained barn-style closet door, simple taupe-painted wainscoting, and wood-look porcelain plank flooring. Electric radiant heat, an additional window, and recessed lighting help bump up the comfort level in the newly stylish space. Says Helen, "Not only is the room much more efficient, it's much brighter now too."
Shown: Unifying the space made room for a soaking tub and a trough-style enameled cast-iron sink with two taps. The closet's sliding barn door emphasizes the room's rustic-meets-traditional style and saves space by eliminating a door swing.
Sink and faucets: Kohler
In-floor heat: Ditra heat cable; Schluter Systems
Recessed lighting: WAC Lighting
Roomy Shower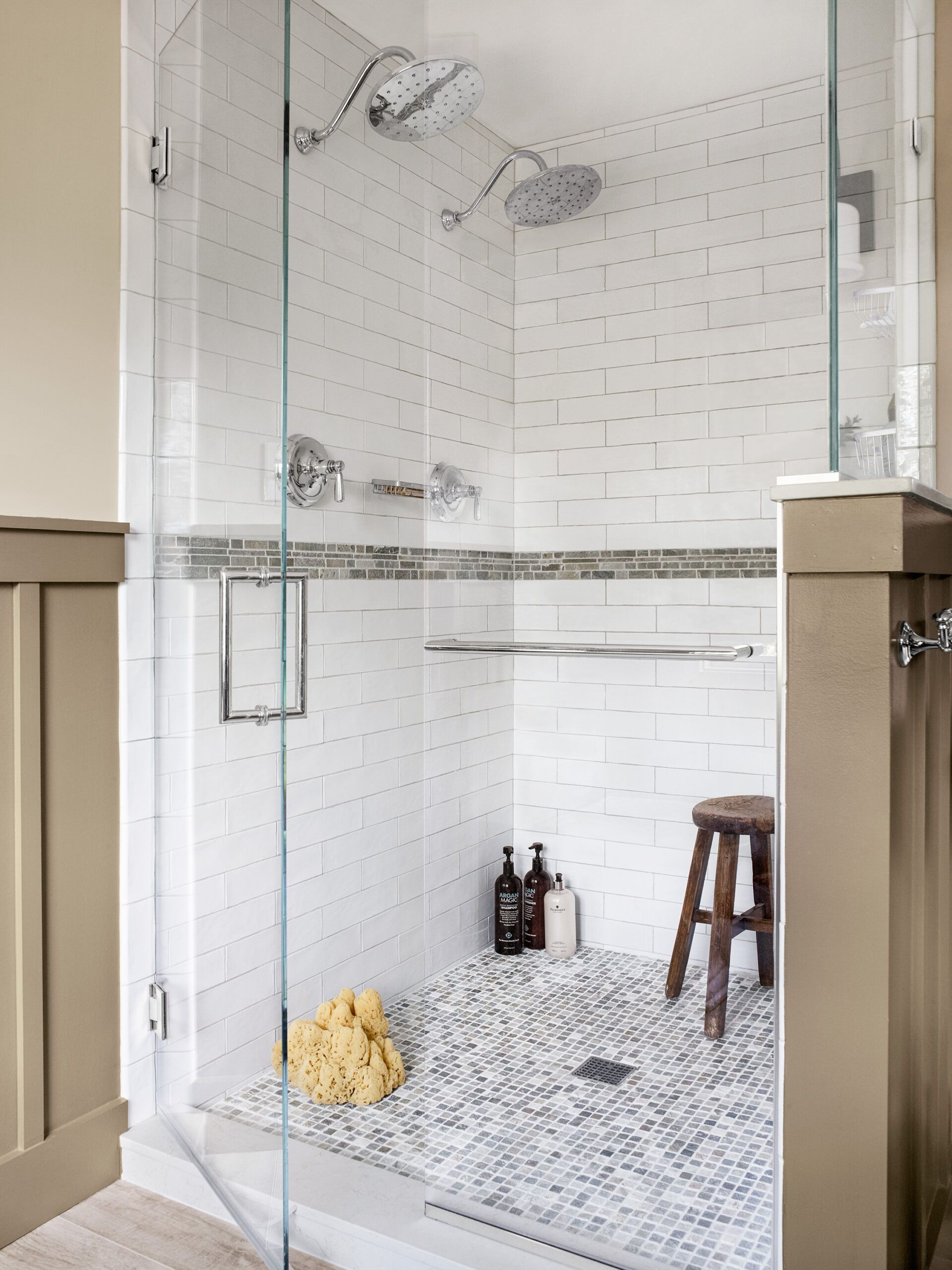 The roomy new shower measures 4½ by 4 feet and is finished with handmade subway tile, stone mosaics, and frameless glass in place of a fiberglass stall with sliding doors.
Glass shower enclosure: Clearview Inc.
Fittings: Kohler
Tile: New England Tile
Brighter Bathtub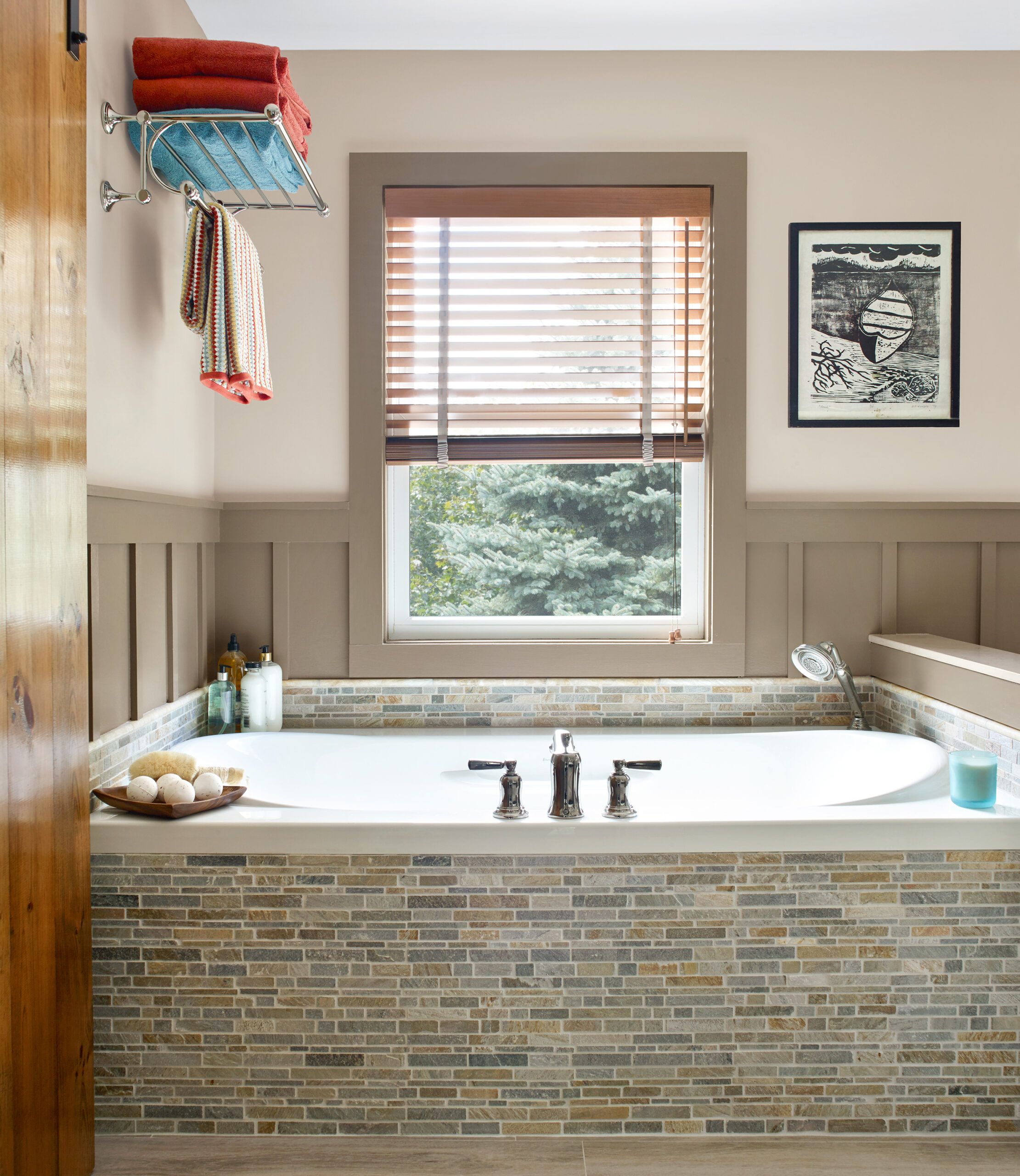 Adding a window brightened the new tub area, which has a linear tumbled-quartzite tile surround in neutral tones. Electric radiant heat warms the pale porcelain-tile planks underfoot.
Bathtub: BainUltra
Tub surround: New England Tile
Fittings: Kohler
Vinyl window: Harvey Building Products
Pro Advice:
"A small detail can make a big difference in the overall look of a space. For example, in this bath we made sure the top of the wood wainscot lined up perfectly with the slate banding on the shower wall."—Melissa Spoelstra, Stratford, CT
Sliding Barn Door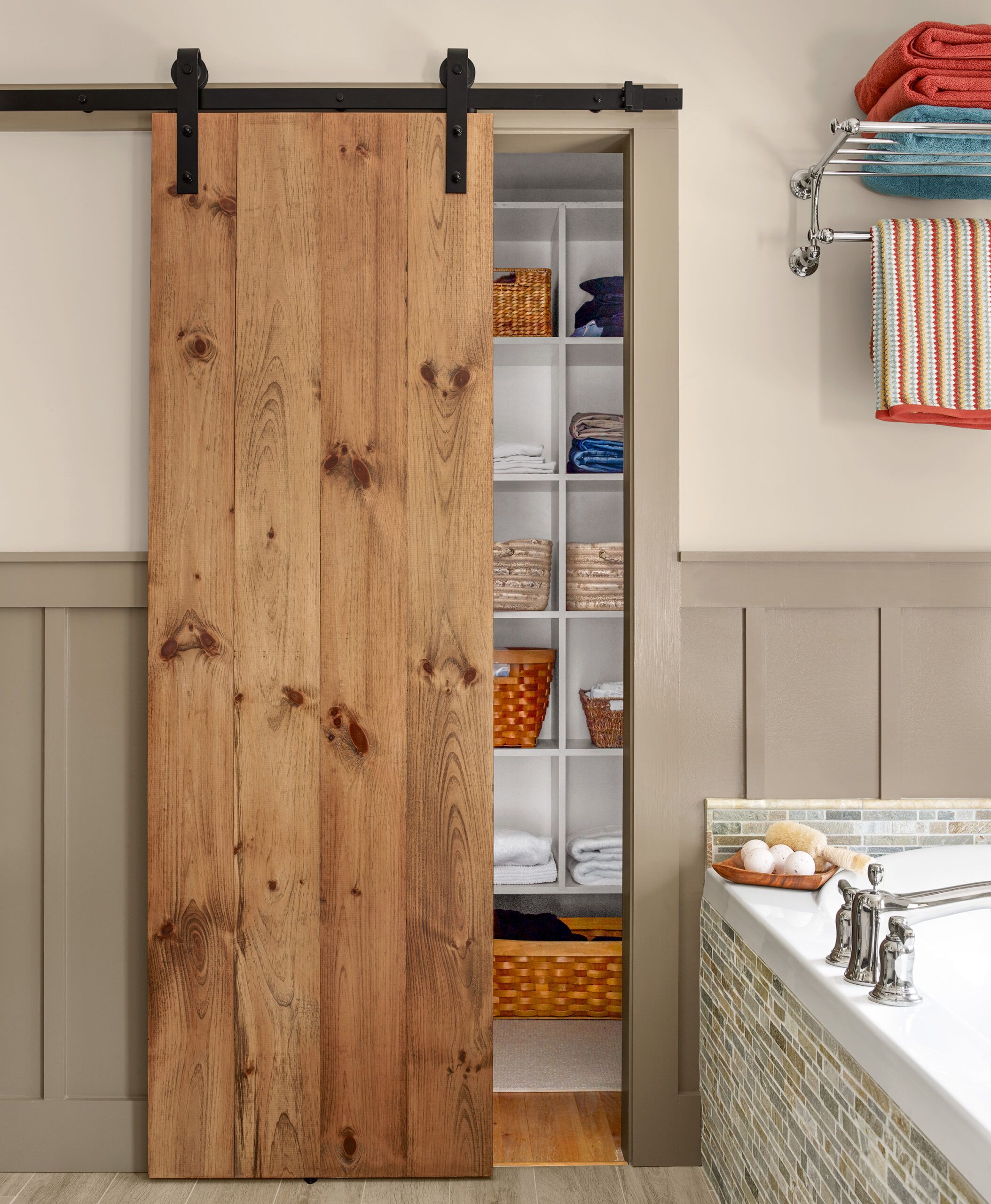 A sliding barn-style door made from poplar 2x8s and given a warm stained finish conceals existing closet storage.
Door hardware: The Home Depot
Barn-door stain: Minwax
Medicine Cabinet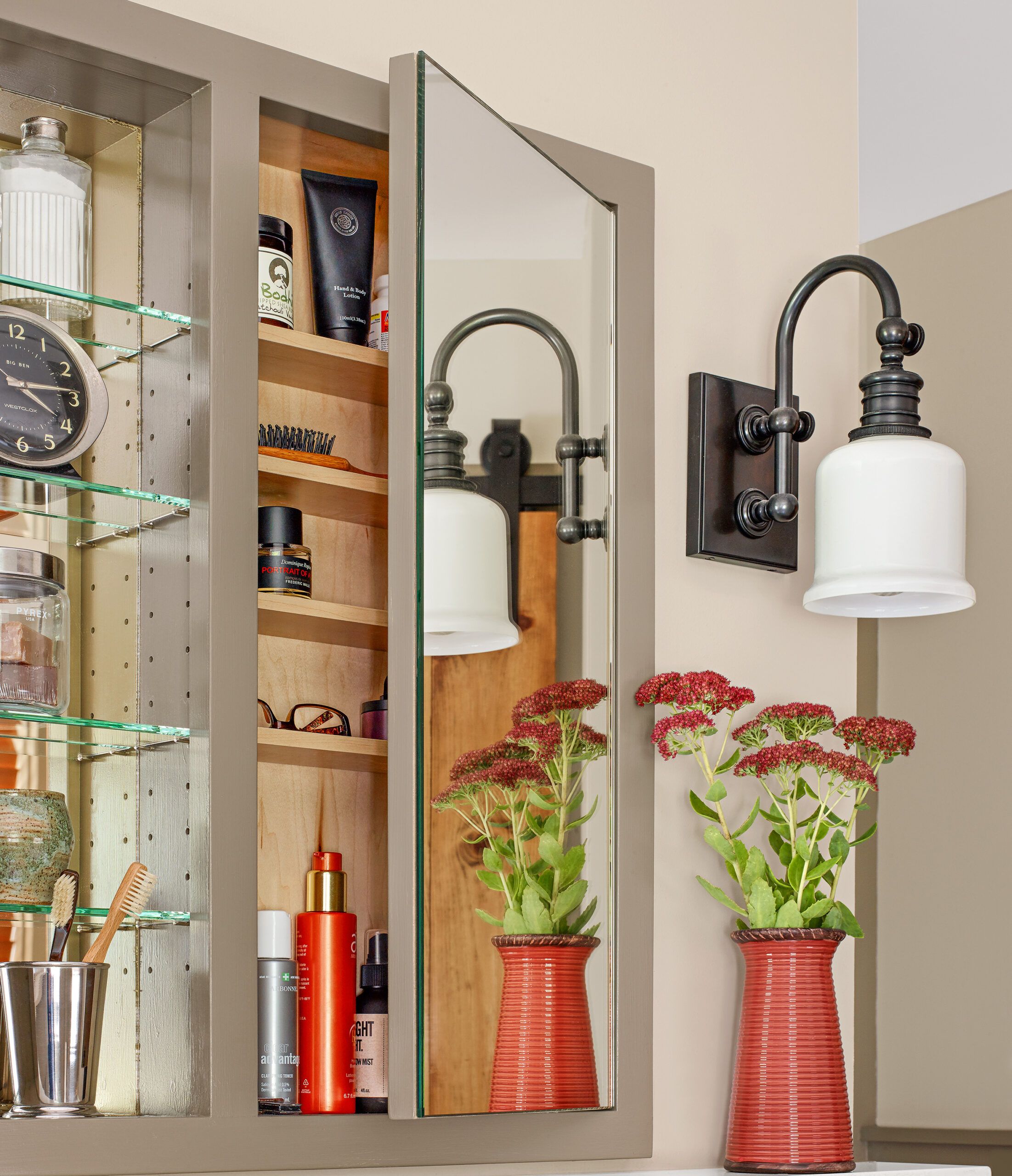 A custom medicine cabinet includes two mirrored doors that conceal electrical outlets and a center section with glass display shelves.
Sconce: Hudson Valley Lighting
Inspired Design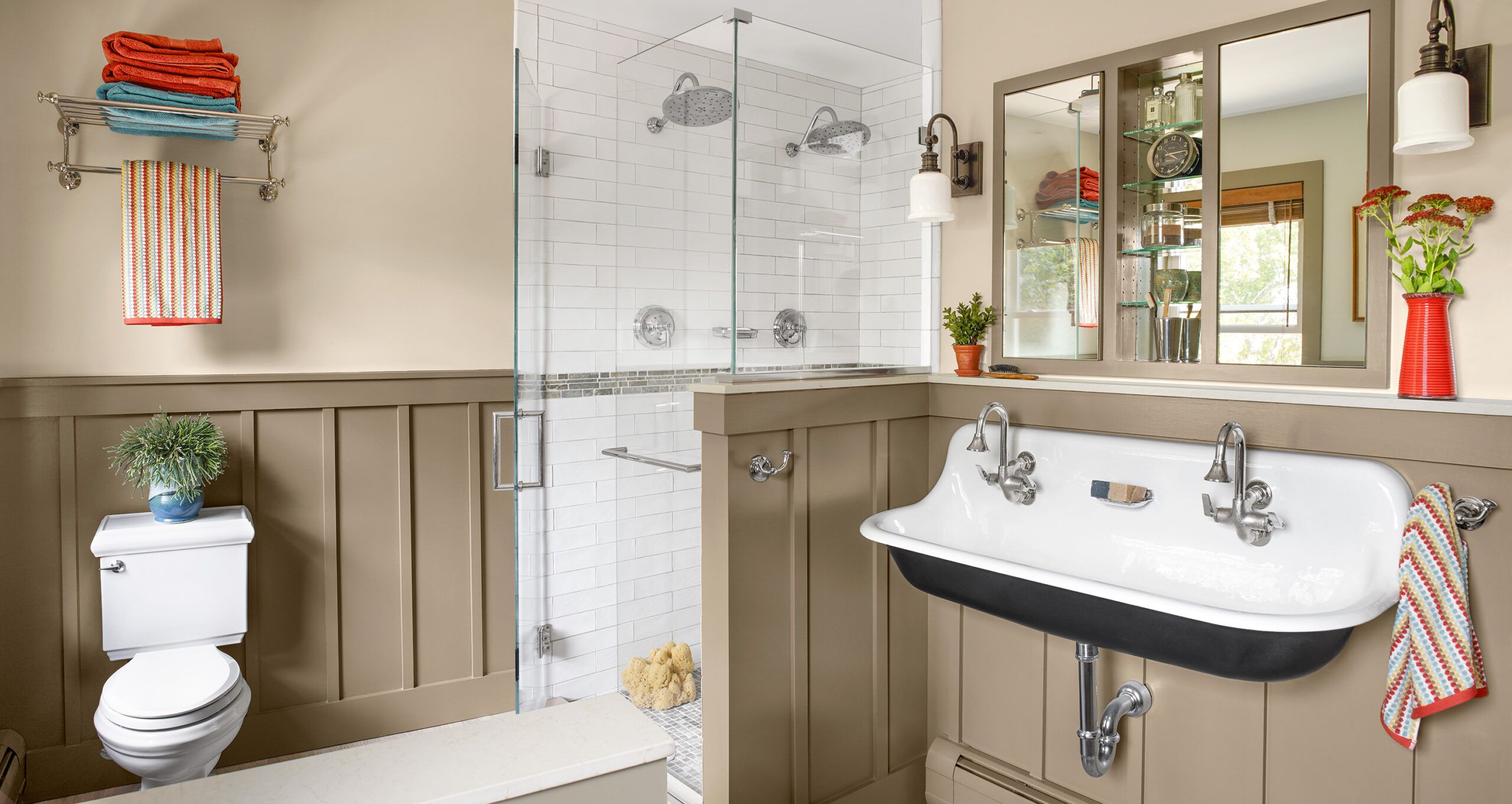 The trough-style enameled cast-iron sink was a design inspiration for the entire bath; the contractor spray-painted the bottom of the sink black, adding a bold contrast to the overall muted hues in the room.
Sink, faucets, and toilet: Kohler
Train-style towel rack, hooks, toilet tissue holder: Pottery Barn
Paint: Benjamin Moore's Edgecomb Gray (upper walls), Smoky Ash (wainscot), and Black Panther (sink underside)
Before Floor Plans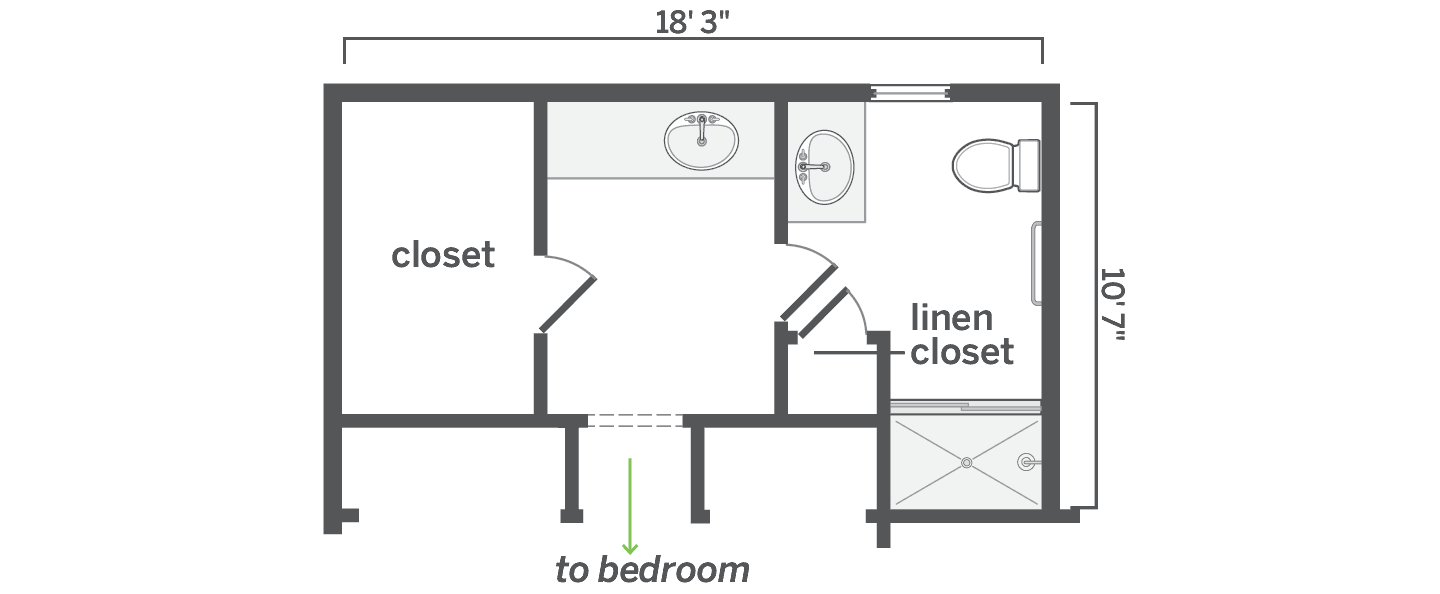 A vestibule with a single sink wasted space in the outdated two-part bath.
After Floor Plans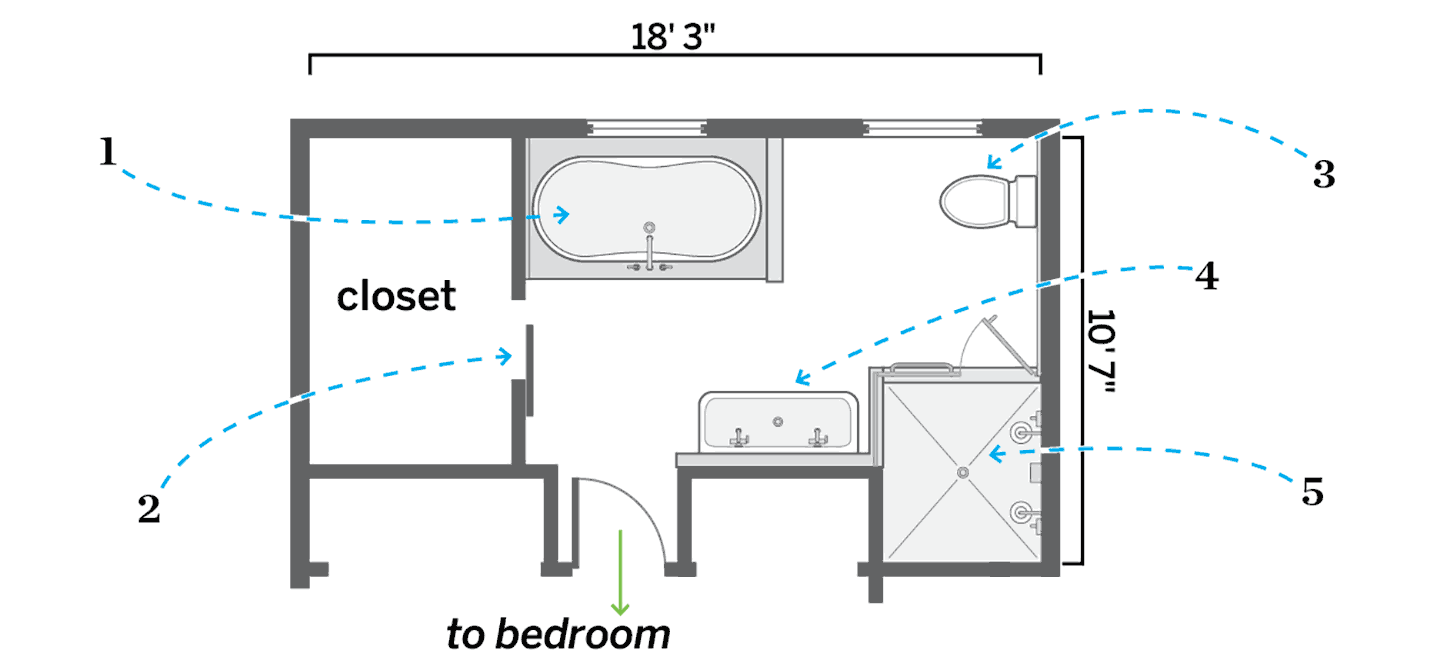 Removing a wall made room for a focal-point soaking tub, a two-faucet trough sink, and a spacious shower with two rainheads.
1. Demolished the former vestibule wall, opening up space for a soaking tub and a large window.
2. Gave the existing closet a space-saving sliding door; the cased opening to the bedroom got a hinged door for privacy.
3. Retained the toilet location, minimizing plumbing costs; replaced the 24-inch window with a 36-inch unit to match the one over the tub.
4. Removed a small linen closet and put in a trough sink with two faucets and a large medicine cabinet above it.
5. Kept the shower where it was but enlarged it by about 40 percent; also upgraded it with a frameless glass enclosure, an outswinging door, and two rainheads.