BEFORE | Storage Unfriendly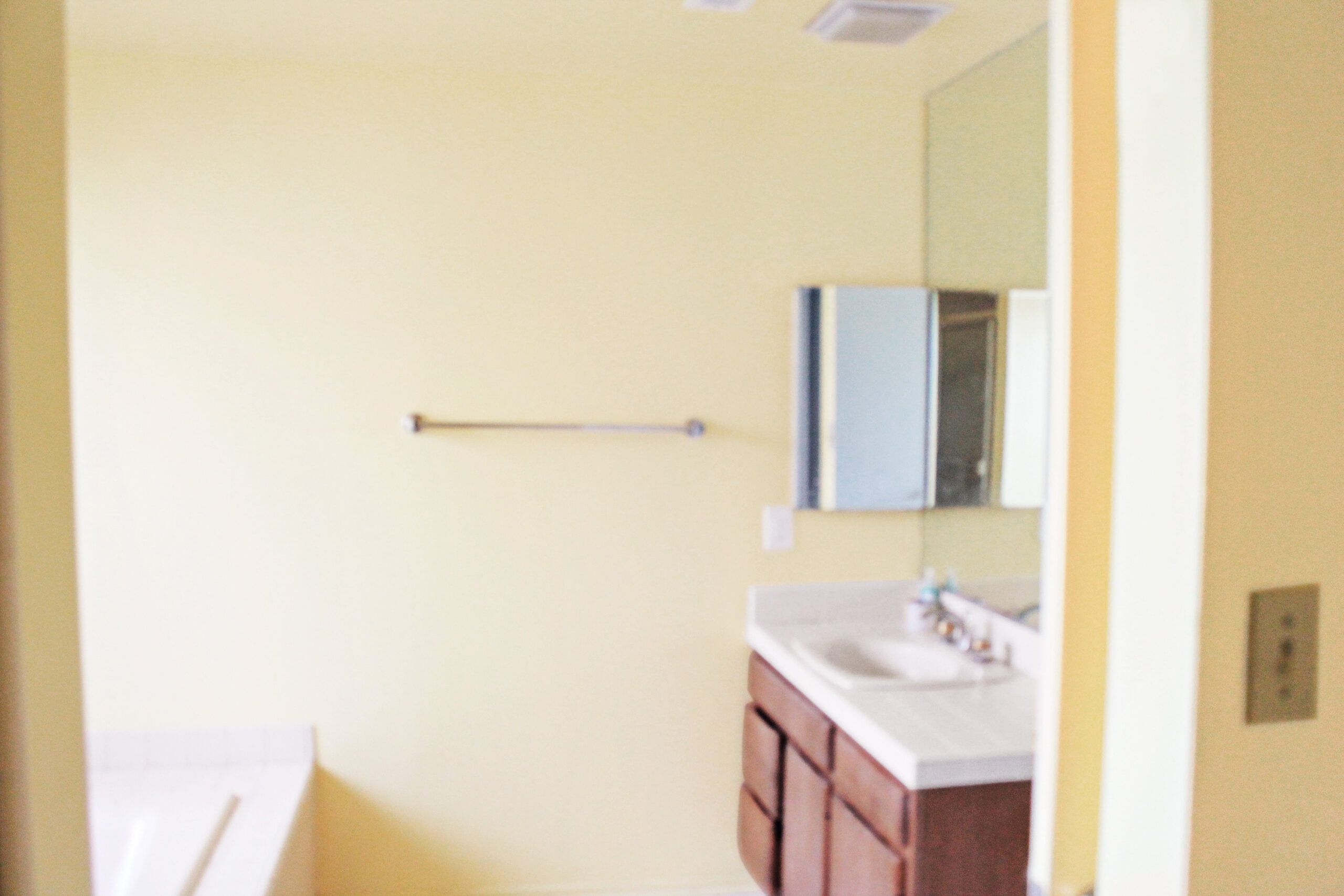 It's said that girls mature faster than boys—and with that maturity generally comes more stuff: hair stuff, nail stuff, you-name-it stuff. So when Mikaela Randolph was ready to redo her daughter Aiyanna's bathroom in their 1987 Los Angeles house, adding more storage was key. She also wanted the finishes to be pretty but not precious, so Aiyanna wouldn't tire of them as she grew. "I was aiming for a fresh, inspiring look she'd be happy with through her teens," Mikaela says.
Shown: A single vanity and medicine cabinet offered minimal storage. Builder-grade oak and faded yellow paint were no fun either.
AFTER | Double Vanity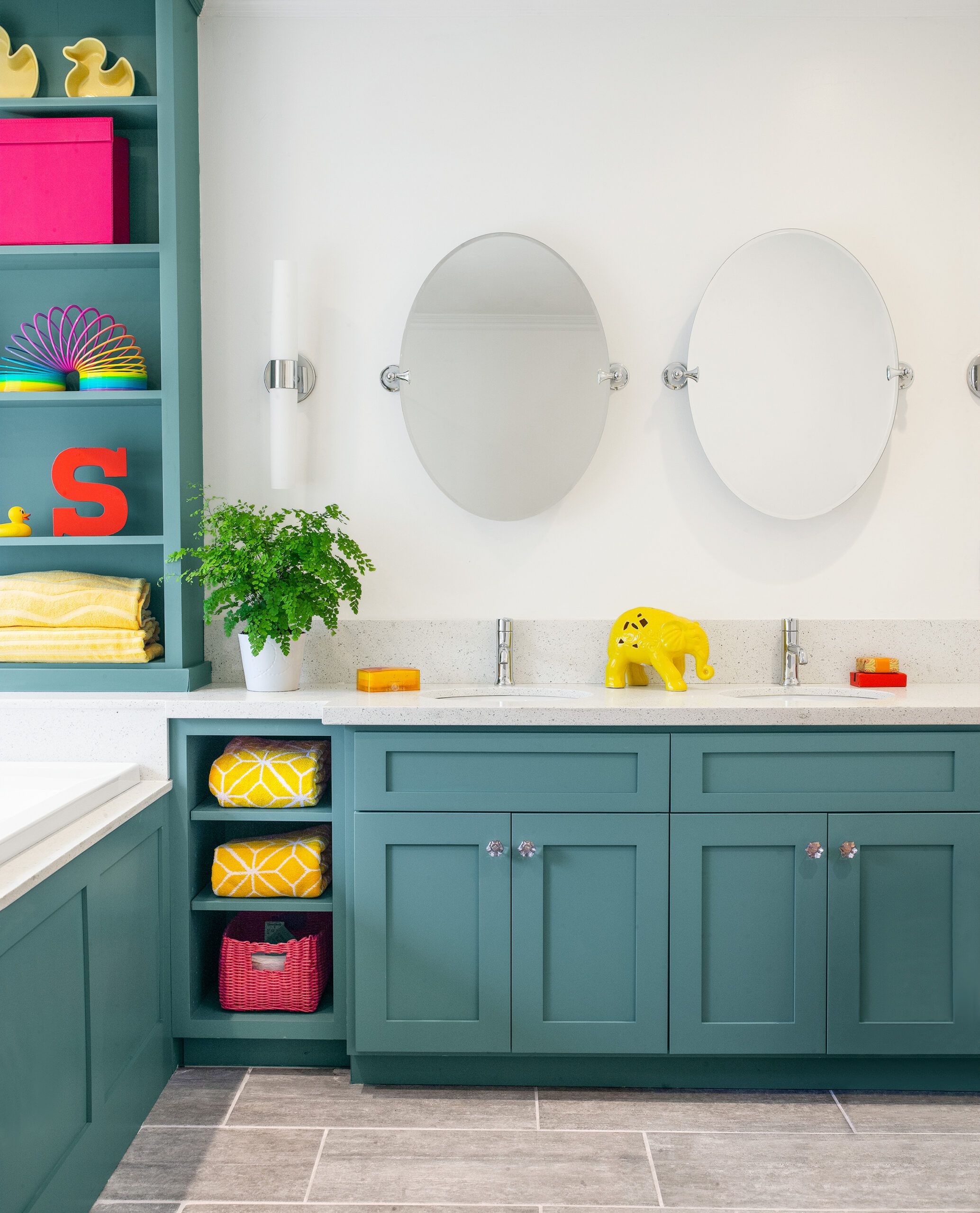 Swapping the single-bowl vanity for a double and moving it to an adjacent wall easily enhanced efficiency. Replacing the extra-long tub with a standard 5-footer allowed for a bank of open shelves at one end and a hamper cabinet at the other. Fronting the tub with board-and-batten-style paneling, giving all the woodwork a coat of rich blue paint, and adding white quartz decking created a clean look Aiyanna can enjoy for years. "I love my bathroom because it's not too girlie," says Aiyanna, now 10. "It's my Zen zone."
Shown: Call them sleepover sinks—the double vanity is great for when friends spend the night. Open shelves offer display and stow-away space.
Hinged oval mirrors tilt down so even small children can see themselves.
Designer: Kelly Finley, Joy Street Design
Custom cabinetry: JM Kitchen Cabinets
Faucets: Delta
Mirrors: Moen
Paint (built-ins): Benjamin Moore's Hemlock
Paint (walls): Sherwin-Williams' Extra White
Hardware: Lowe's
Sconces: George Kovacs
Meet Mikaela and Aiyanna
Aiyanna, now 10, admits she spends tons of time in her bathroom, which mom Mikaela compares to "a girl's playground."
Stylish Storage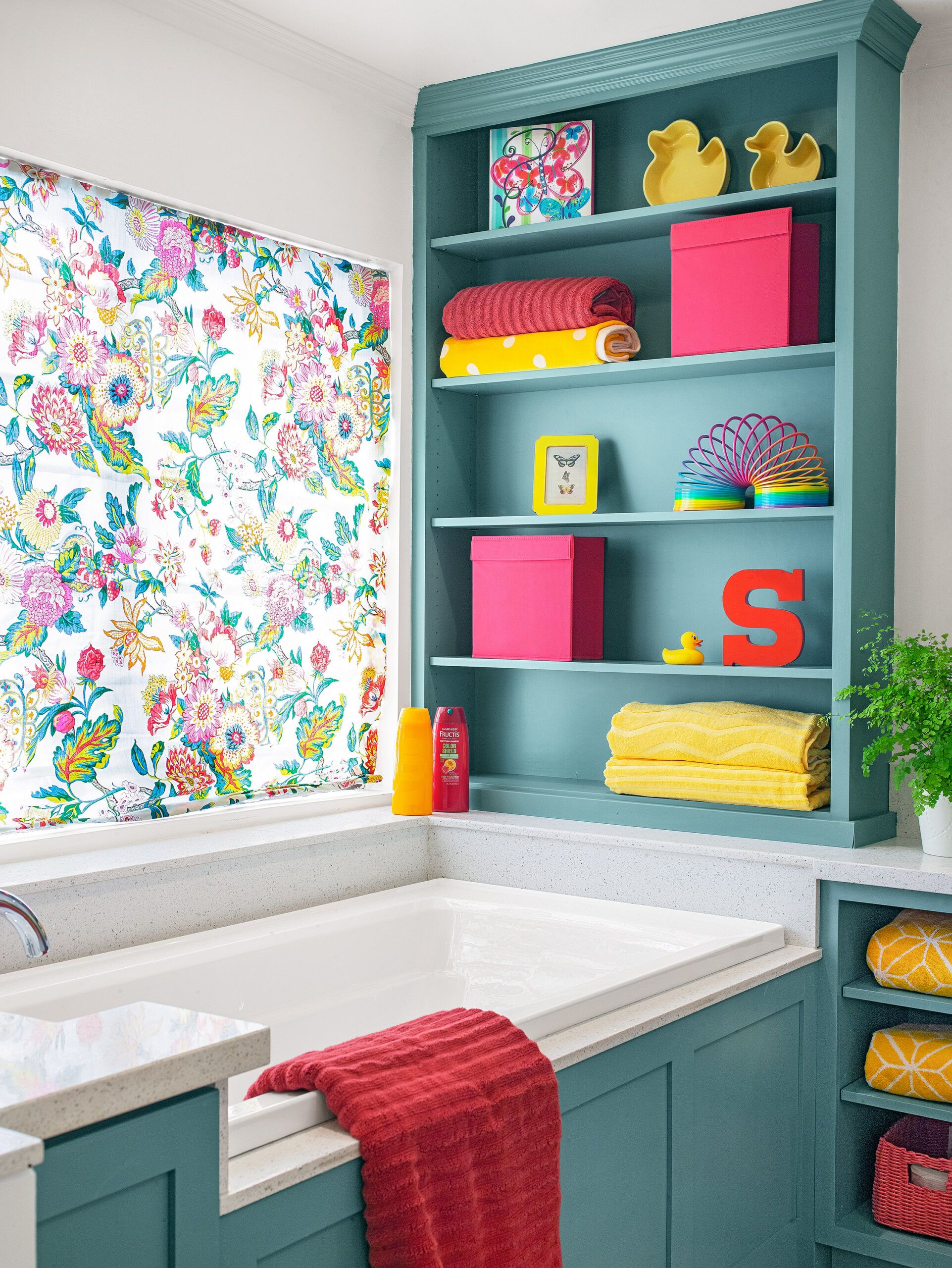 Open shelving lets kids express their own style. "I love that I can switch out the decorations," says Aiyanna. "I'll probably collect different things as I get older."
Tub: Kohler
Built-In Hamper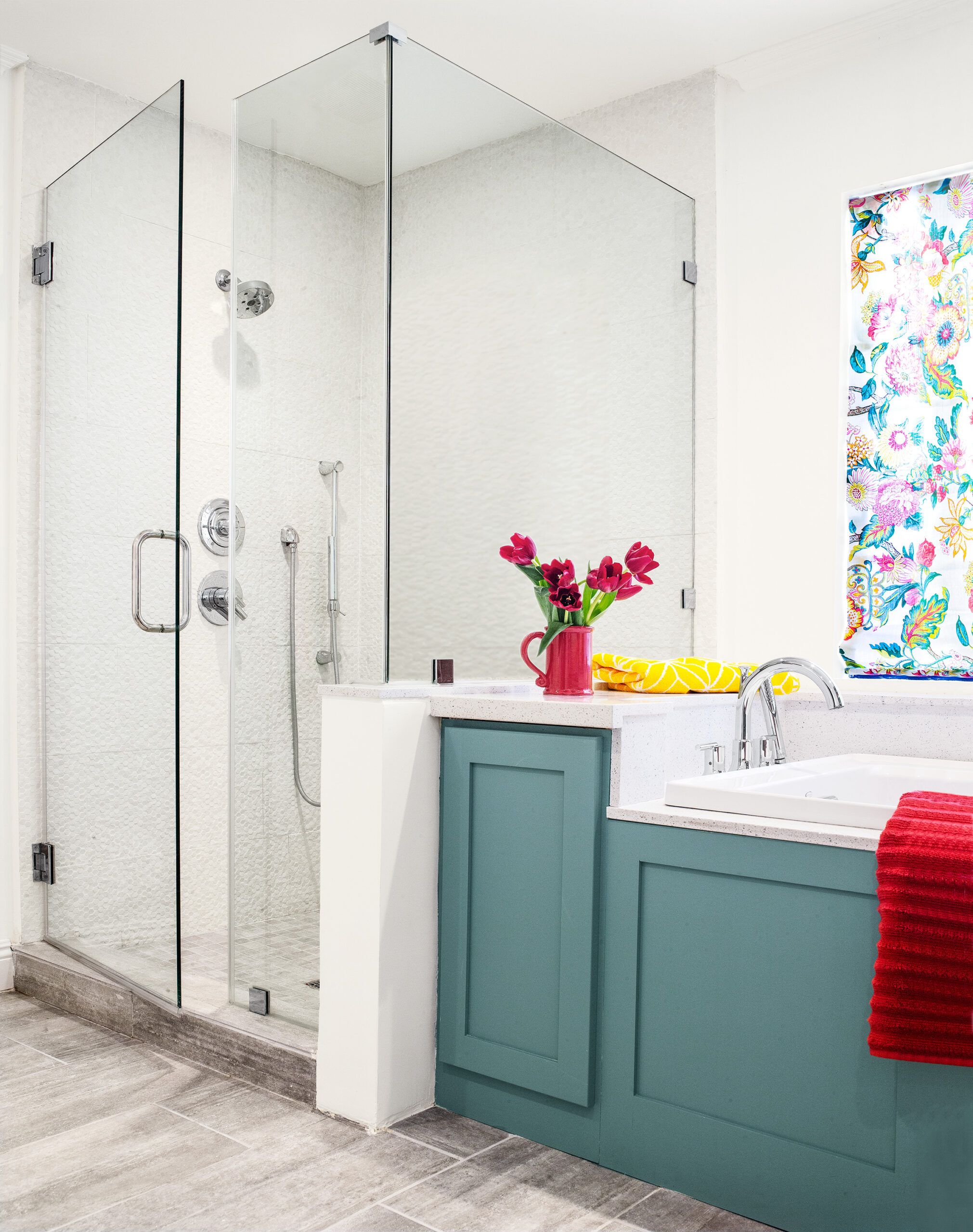 A shorter 5-foot tub made room for a built-in hamper behind a cabinet door next to the shower. Now there's no excuse for a pile of clothes on the floor.
Shower Perch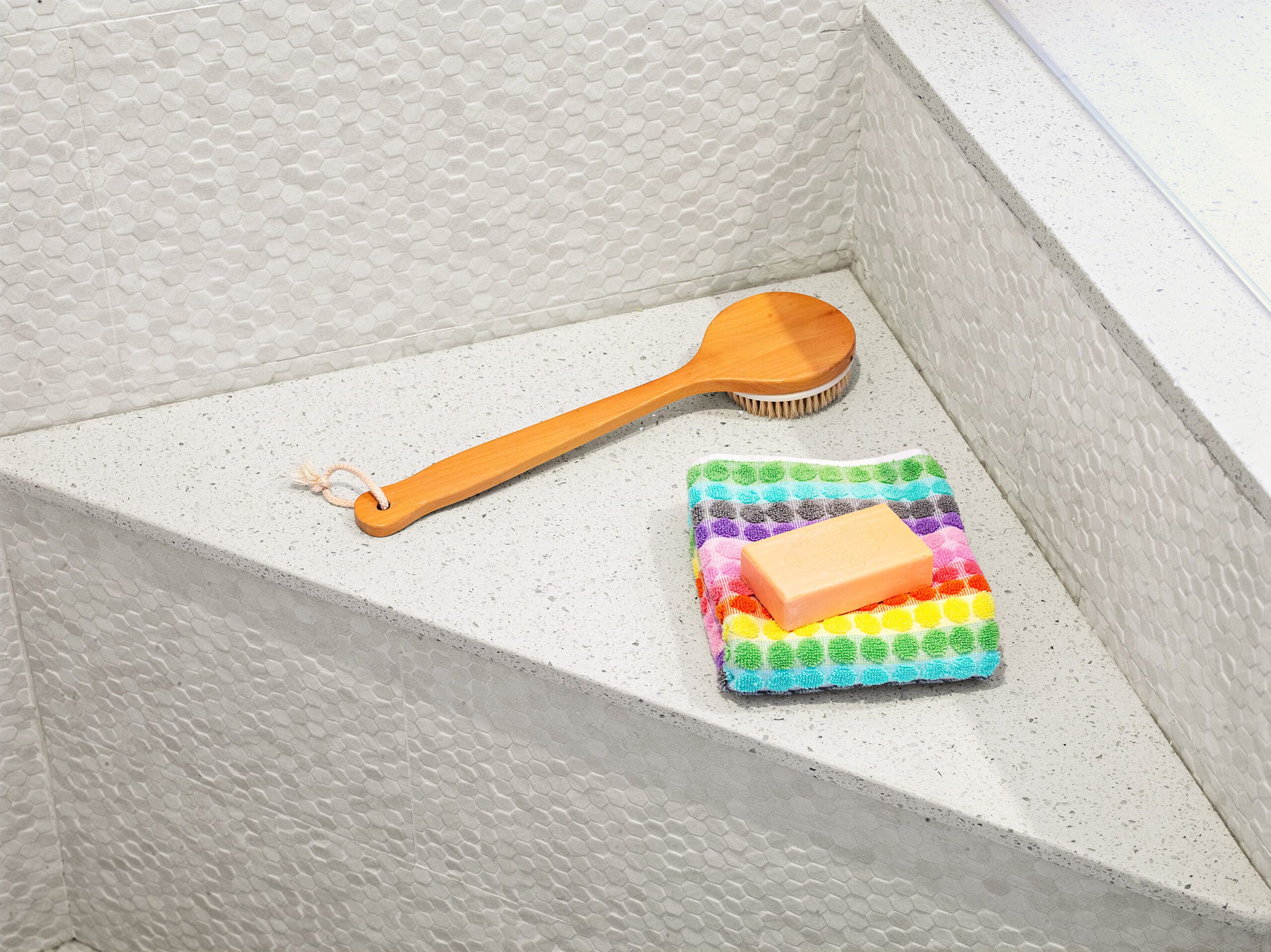 The shower's porcelain tiles have a bit of texture, for interest. A triangular seat offers a place to perch while scrubbing.
Shower tile: Avalon Tile
Driftwood Look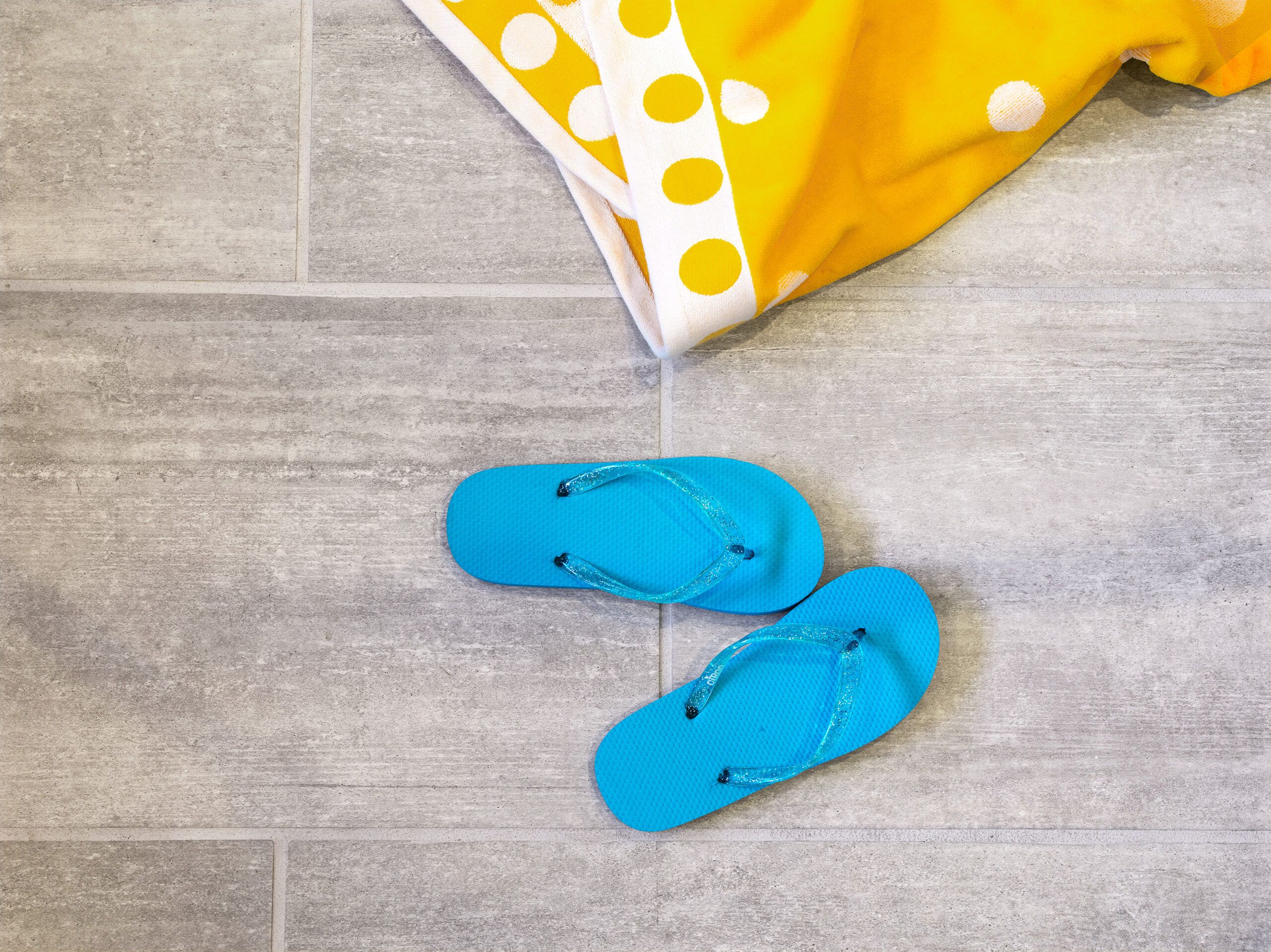 To minimize grout lines that can be a magnet for grime, the homeowner chose 12-by-24-inch porcelain planks with a driftwood look for the floor.
Flooring: Contempo
Before Floor Plans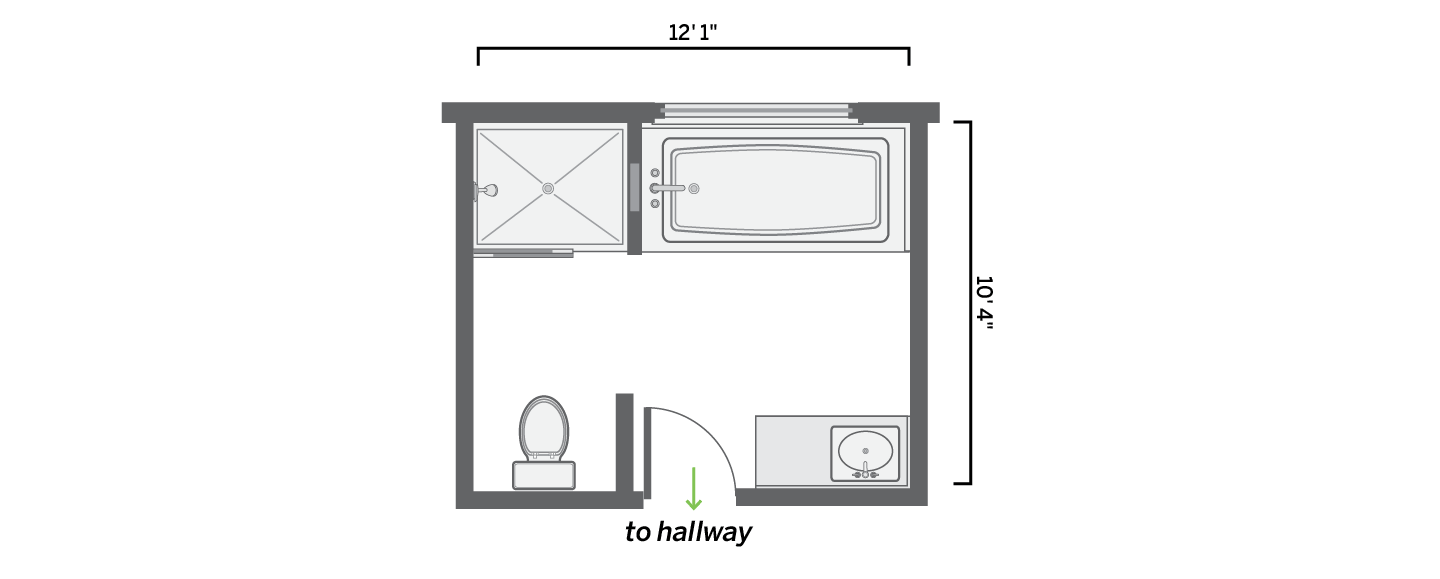 A 7-foot tub and a single sink simply didn't serve the 125-square-foot space—or a growing girl.
After Floor Plans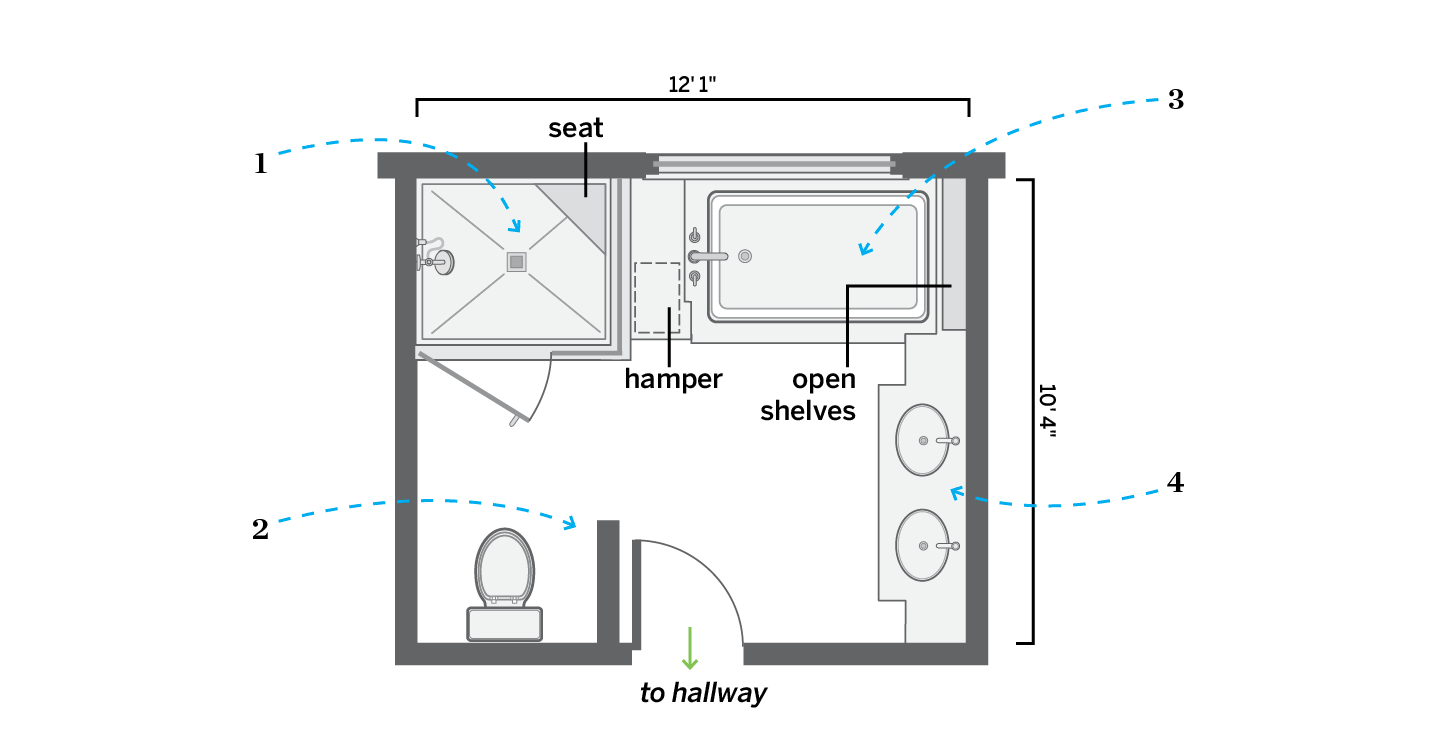 Adding a double vanity, open shelves, and a hidden hamper cabinet greatly improved storage and function within the same footprint.
Retiled the shower, added a handheld spray, swapped in two glass-panel walls, and replaced the sliding door with one that swings outward.
Kept the toilet where it was, screened by a low partition wall behind the door.
Replaced an elongated tub with a standard 5-foot model, allowing for to-the-ceiling open shelves at one end and a built-in hamper at the other.
Moved the vanity to the wall adjacent to the tub and more than doubled its size, adding a second sink and open shelving at either end.