Hang out a while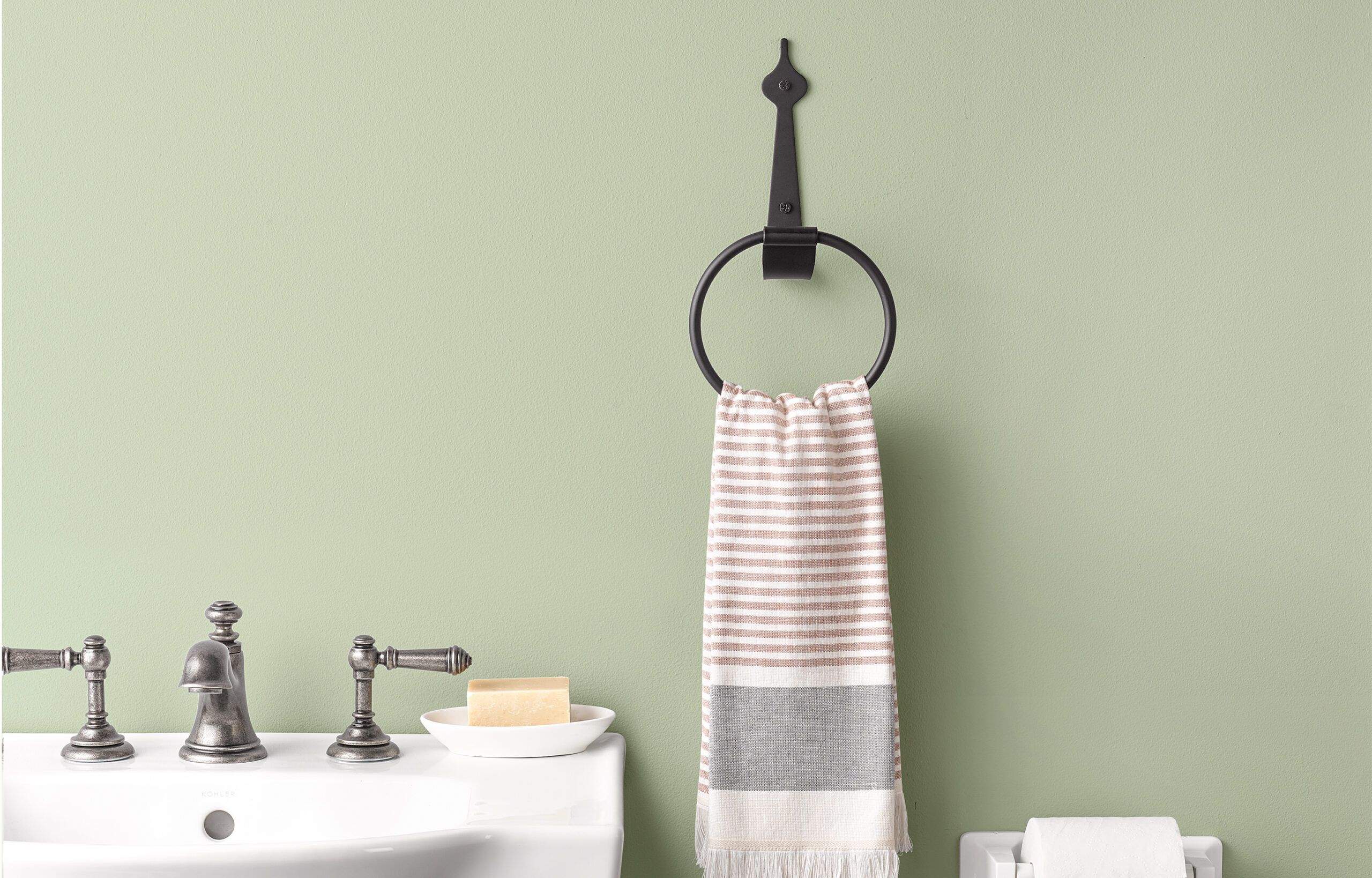 Put the finishing touch on a powder room or change up the design of a bath large or small with a standout towel ring (or two). It's a decorative accessory that definitely earns its keep, placing a towel close at hand.
While towel bars still do the heavy lifting, holding bath sheets and the like, rings allow for a bit more creativity. Today's designs go beyond basic circles, with squares, rectangles, and hook-like open-sided shapes.
Styles ranging from Colonial to contemporary offer a wide array of finishes, too, from deep bronze and black to warm brass and gold to silvery chrome and pewter. Stay in the same finish family as your other bath fittings if you want to play it safe, or go for bold and choose a contrasting tone.
Keep reading to see 19 towel rings we think are tops.
Styling: JJ Chan/Halley Resources
Sink: Veer Pedestal Sink with Widespread Faucet Holes in White; Kohler
Faucet: Artifacts Bell Bathroom Sink Spout in Vintage Nickel; Kohler
Handles: Artifacts Bathroom Sink Lever Handles in Vintage Nickel; Kohler
Towel: Karla Copper Hand Towel; CB2
Past Present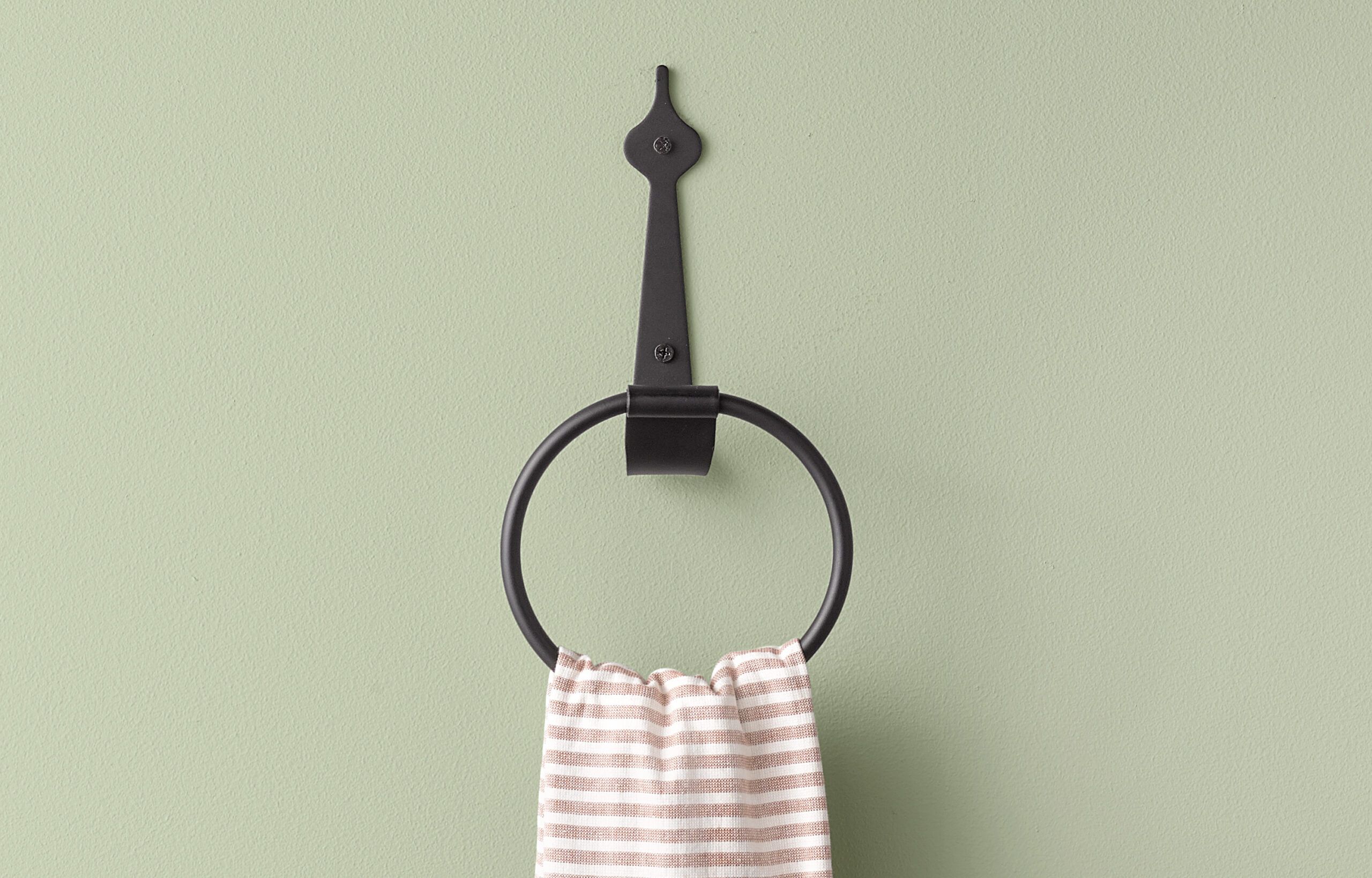 ACORN
Made of: Lacquered iron
Size: 7 5⁄8″ H × 6 1⁄4″ W × 2 3⁄4″ D
Highlights: This forged ring takes its design cues from spear-tipped strap hinges of the colonial era. $45; House of Antique Hardware
Mix Master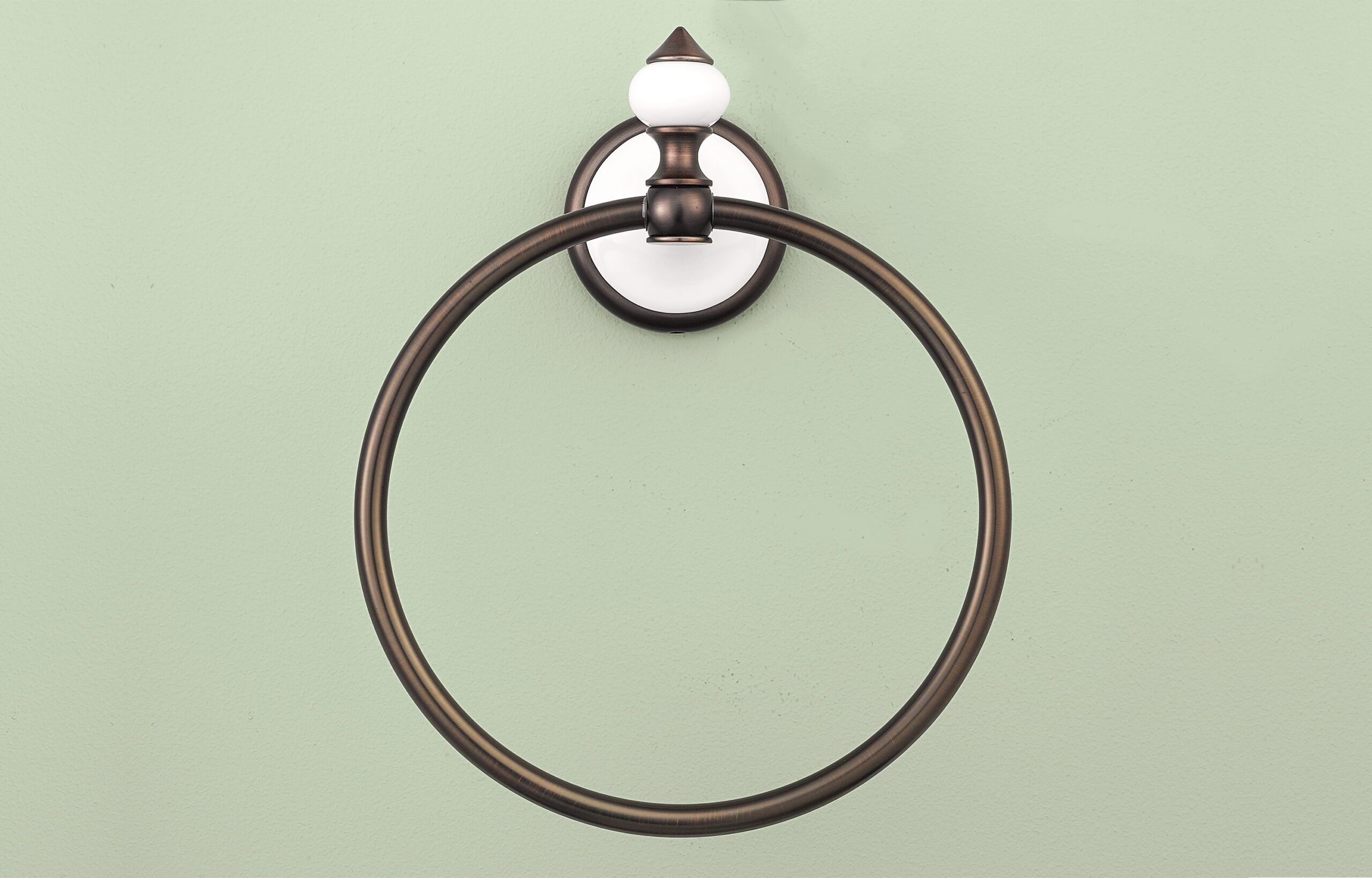 SIGNATURE HARDWARE
Made of: Brass and porcelain
Size: 9 ½" H × 7 3⁄4″ W × 2 3⁄4″ D
Highlights: White accents make this bronze-finish ring a standout. $29;
Right Angle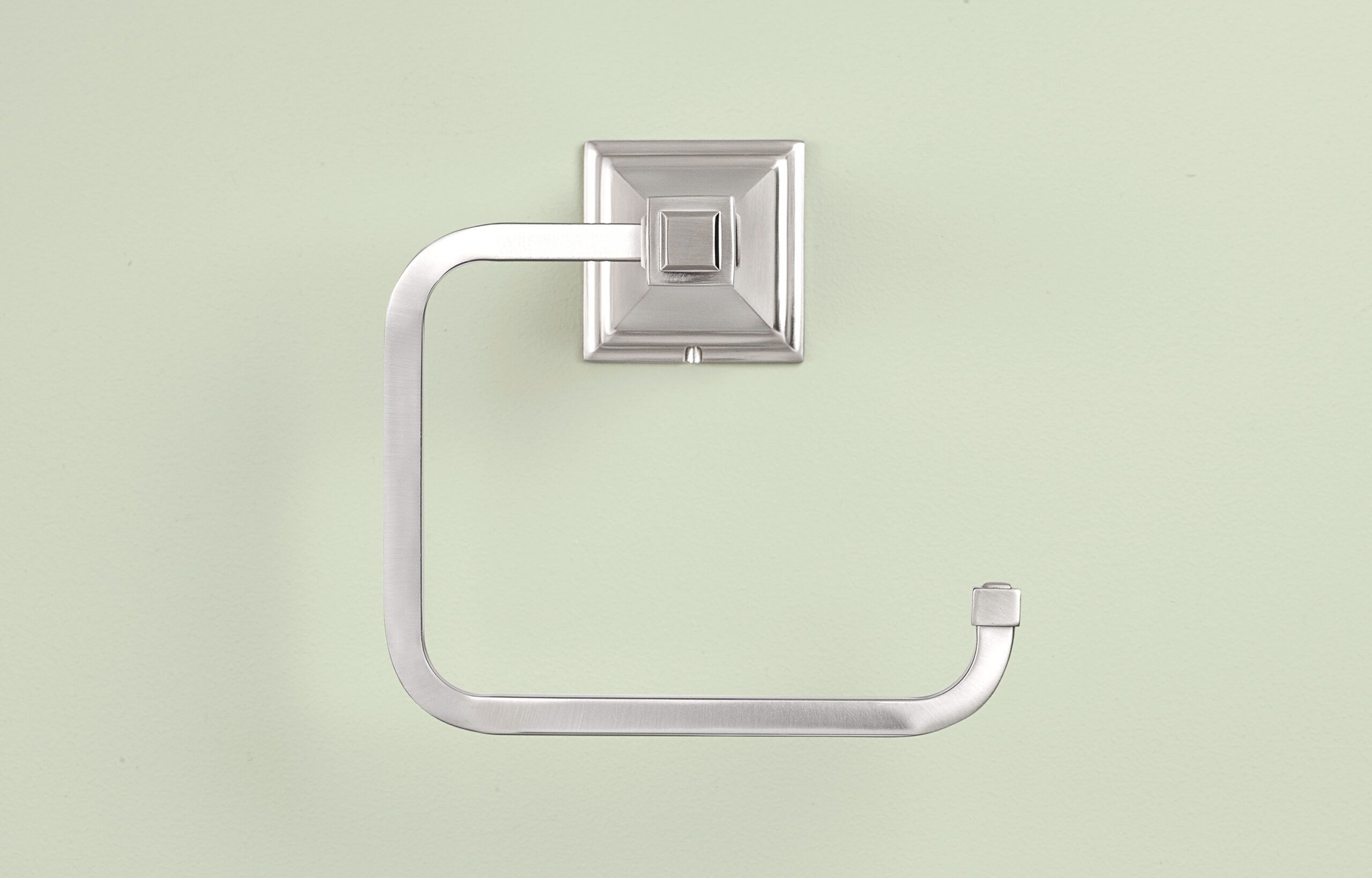 FRANKLIN BRASS
Made of: Die-cast zinc
Size: 6 ½" H × 6 ½" W × 3 3⁄8″ D
Highlights: A brushed-nickel finish lets the beveled backplate on this open-sided ring really shine. About $17; Home Depot
Big Help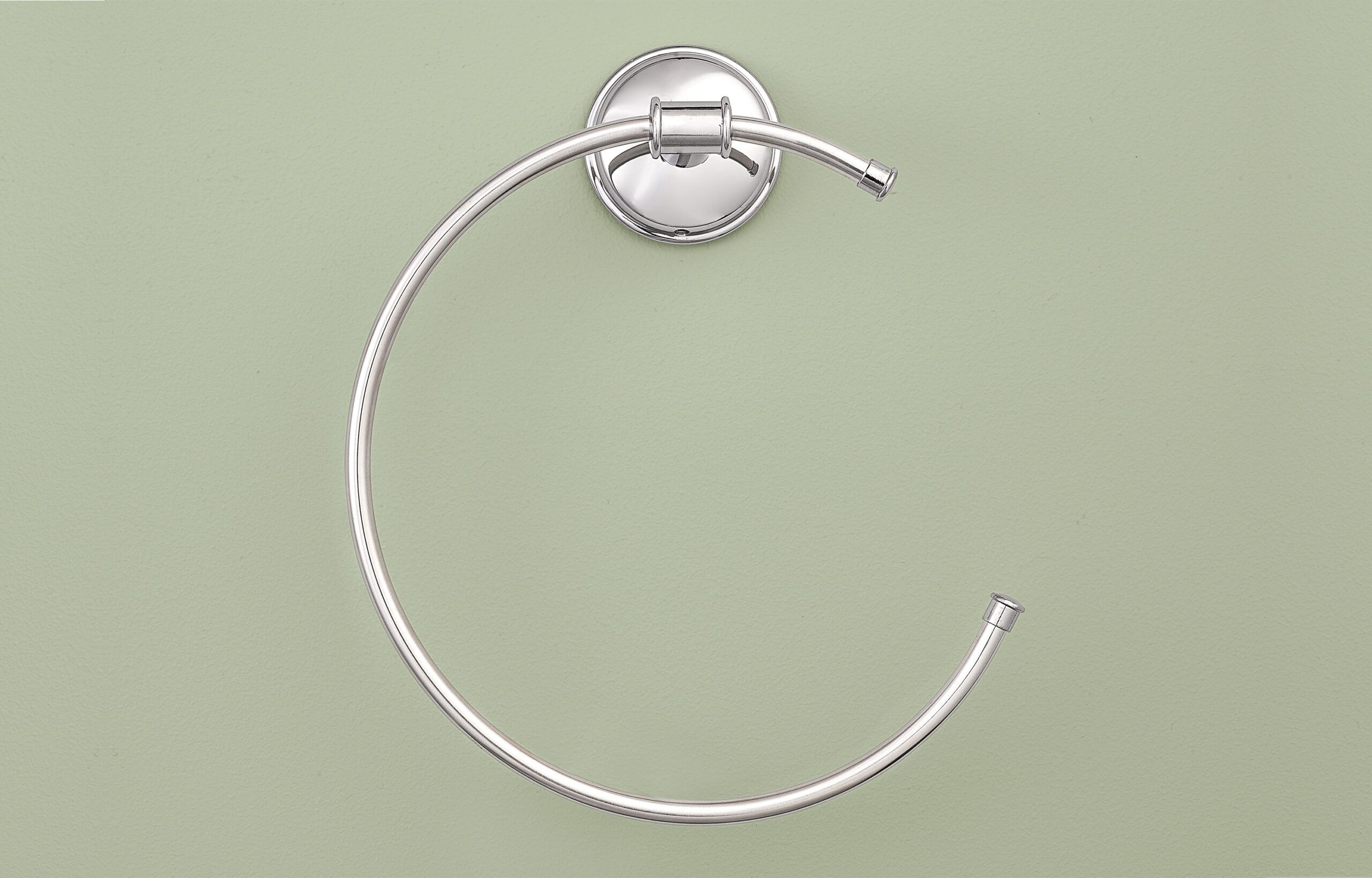 IKEA
Made of: Stainless steel and zinc
Size: 9 1⁄4″ H × 8 1⁄8″ W × 2 1⁄8″ D
Highlights: This sizable chrome-plated open ring could easily handle a bath towel. $13; IKEA
Fab Frame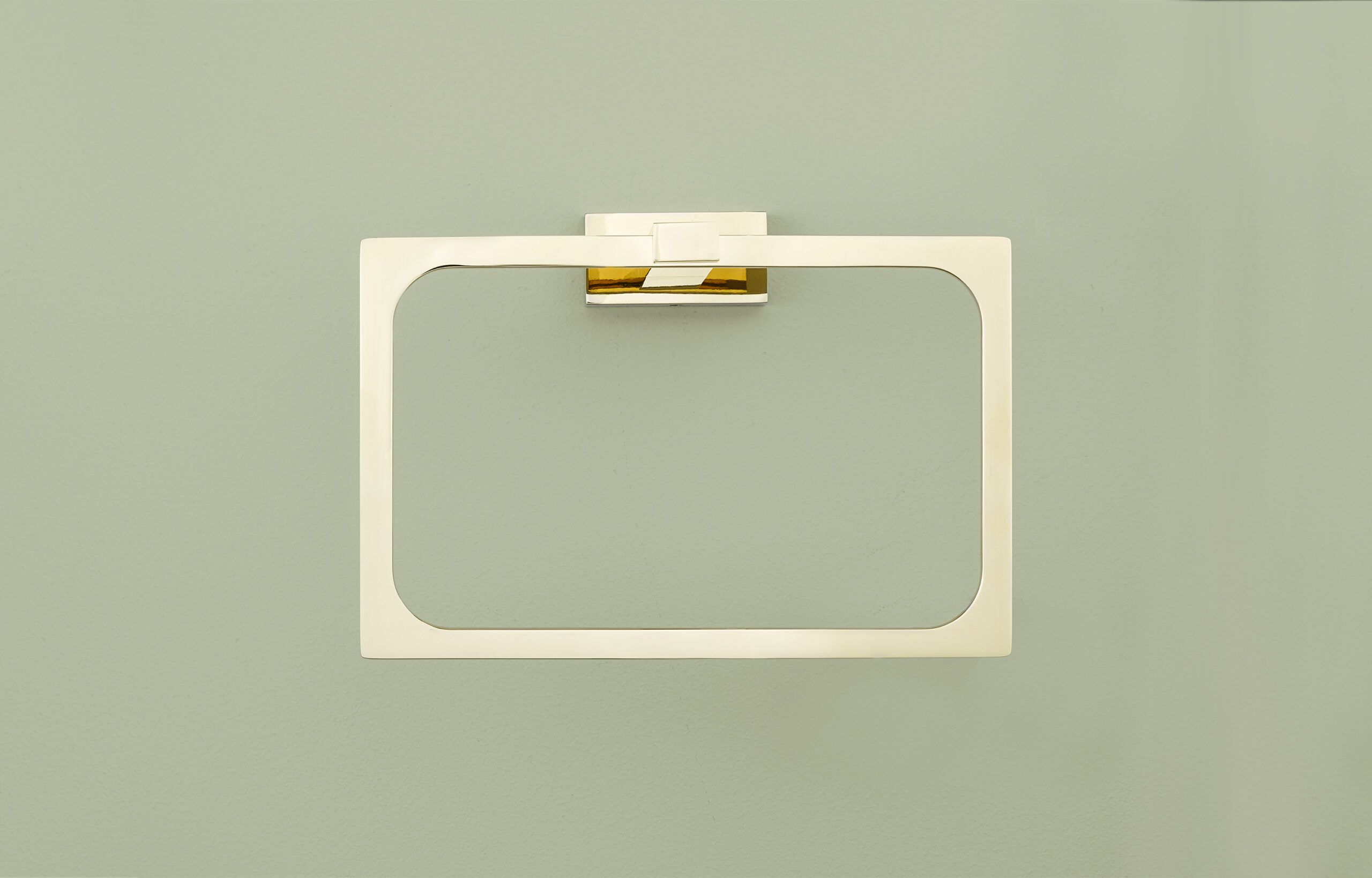 ATLAS HOMEWARES
Made of: Brass
Size: 5 ½" H × 7 7⁄8″ W × 2 7⁄8″ D
Highlights: A glossy gold finish and an eye-catching silhouette give this ring a luxe look. $104; Atlas Homewares
Tuscan Style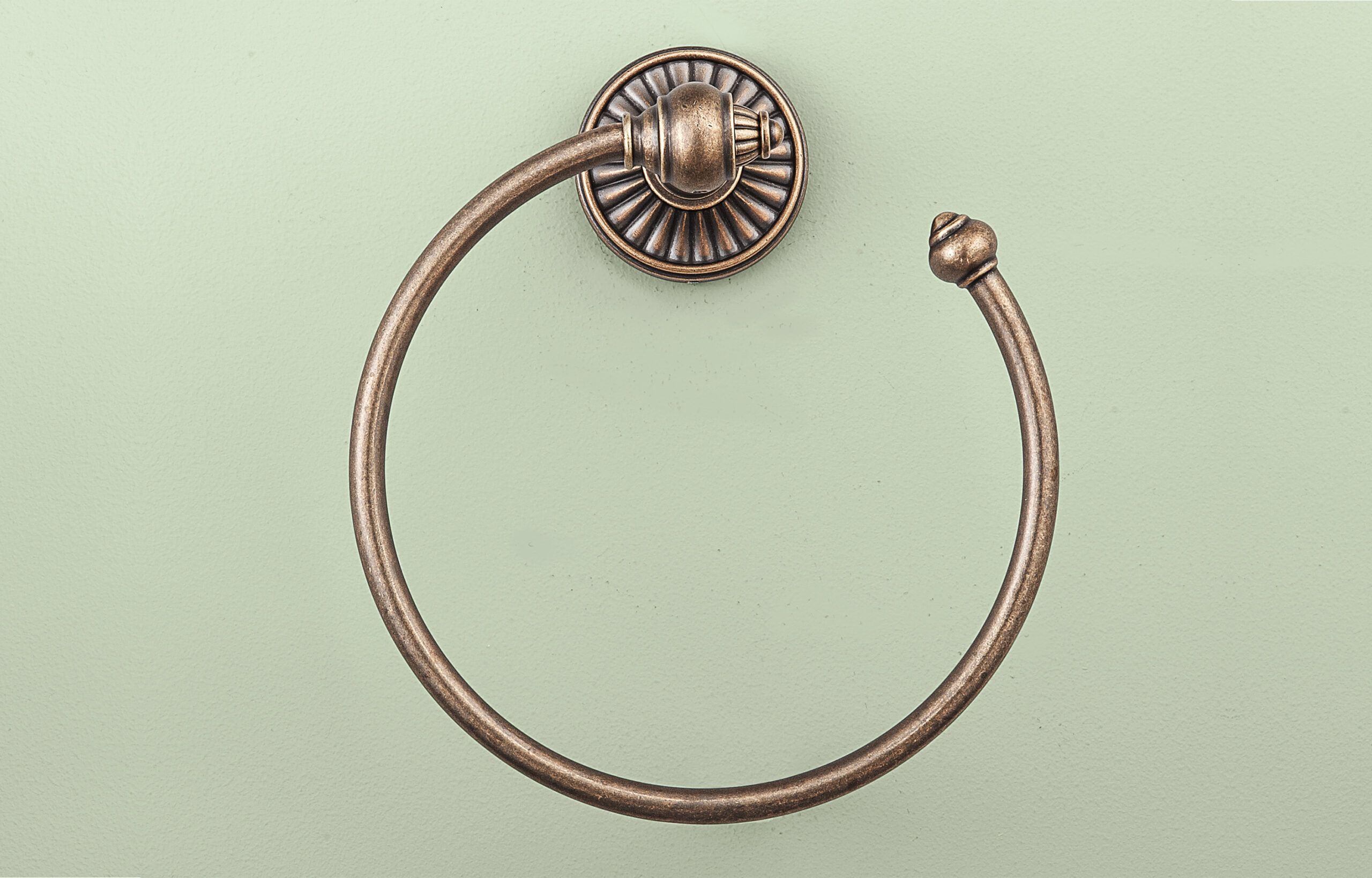 TOP KNOBS
Made of: Zinc alloy
Size: 8″ H × 7 1⁄8″ W × 3 ½" D
Highlights: This open ring has an antiqued-bronze finish that draws attention to its details. $71; Top Knobs
Gilded Age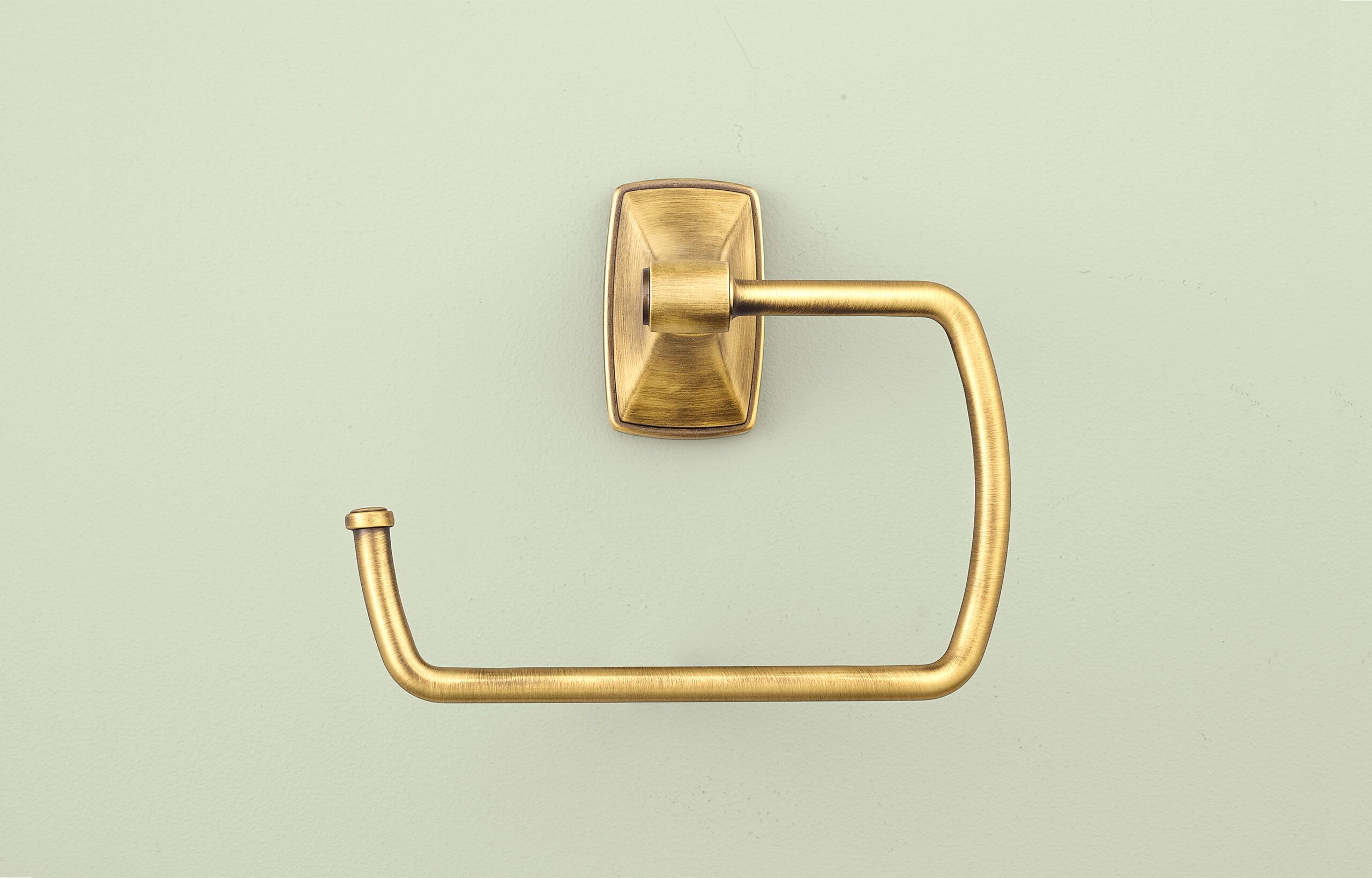 AMEROCK
Made of: Zinc
Size: 5 7⁄8″ H × 6 7⁄8″ W × 2 15⁄16″ D
Highlights: Sized just right for a hand towel, this brushed-gold ring makes a bold statement. $41; Amerock
Subtle Hint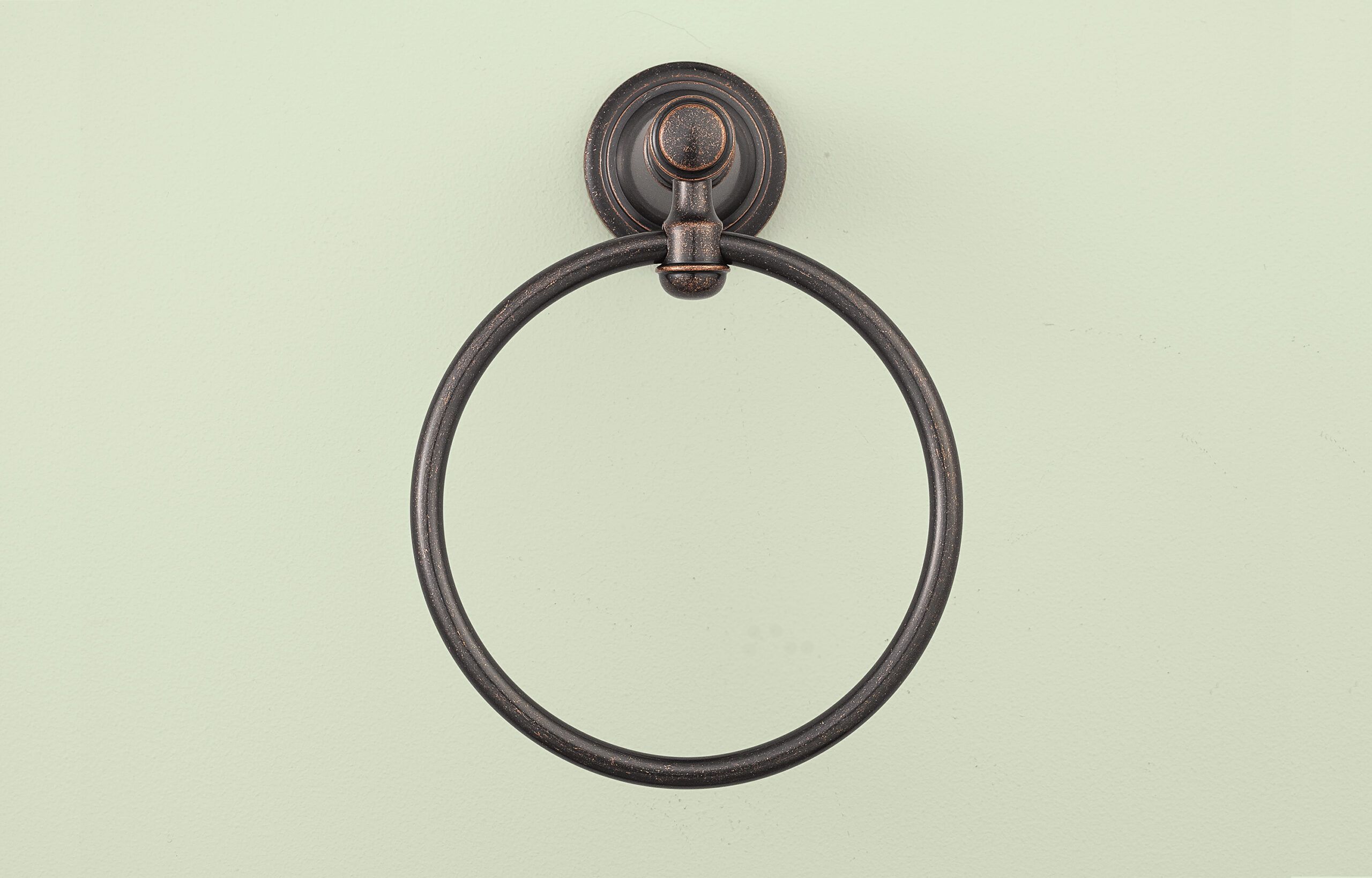 MOEN
Made of: Stainless-steel-plated zinc alloy
Size: 8 3⁄8″ H × 6″ W × 3 1⁄4″ D
Highlights: Lively coppery glints shine through this model's oil-rubbed bronze finish. $31; Moen
High Shine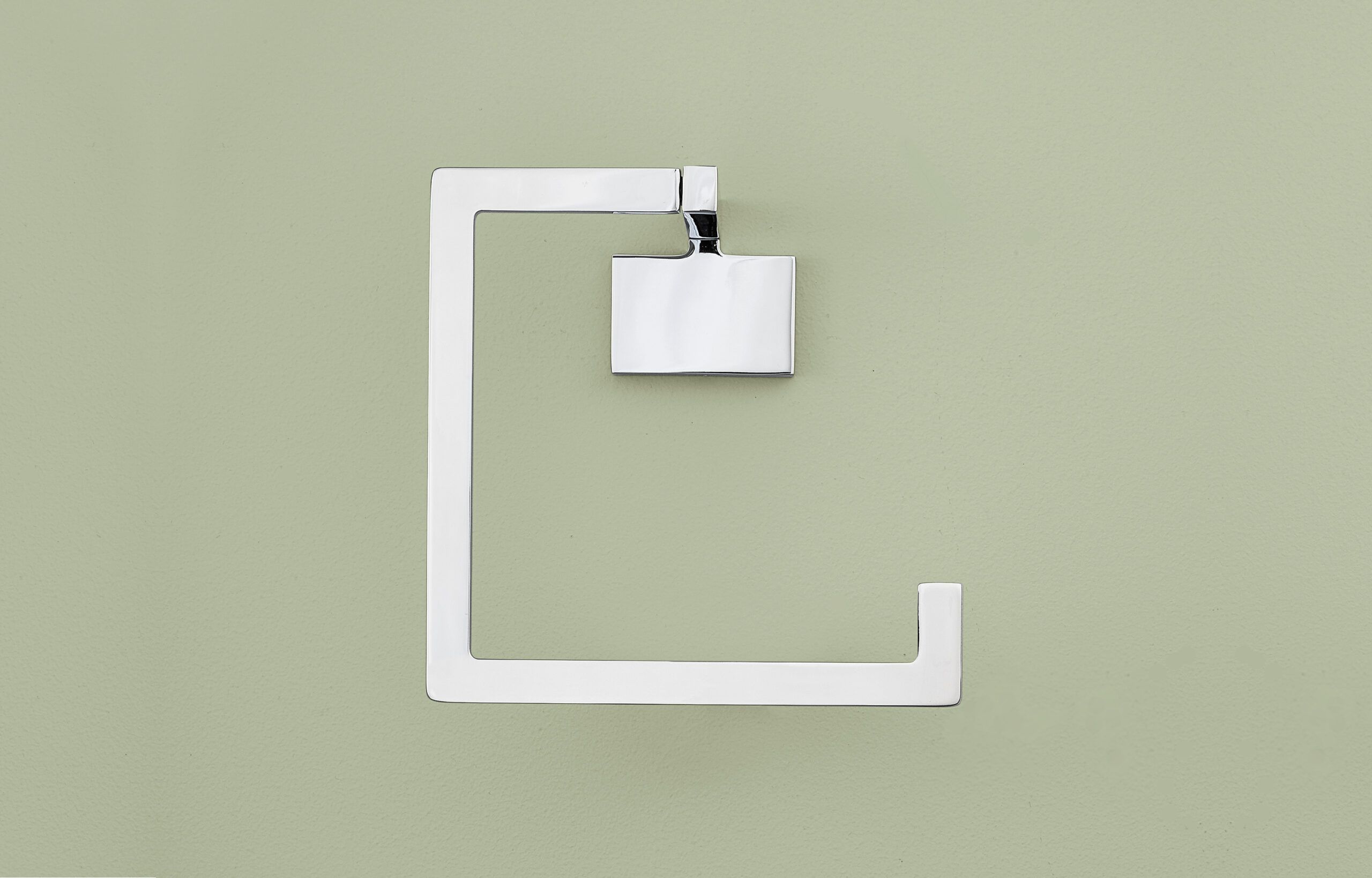 BRIZO
Made of: Zinc, brass, and steel
Size: 6″ H × 6″ W × 3″ D
Highlights: This sleek, open square has a neat, tailored look that can go either traditional or modern. $116; Brizo
Shape Up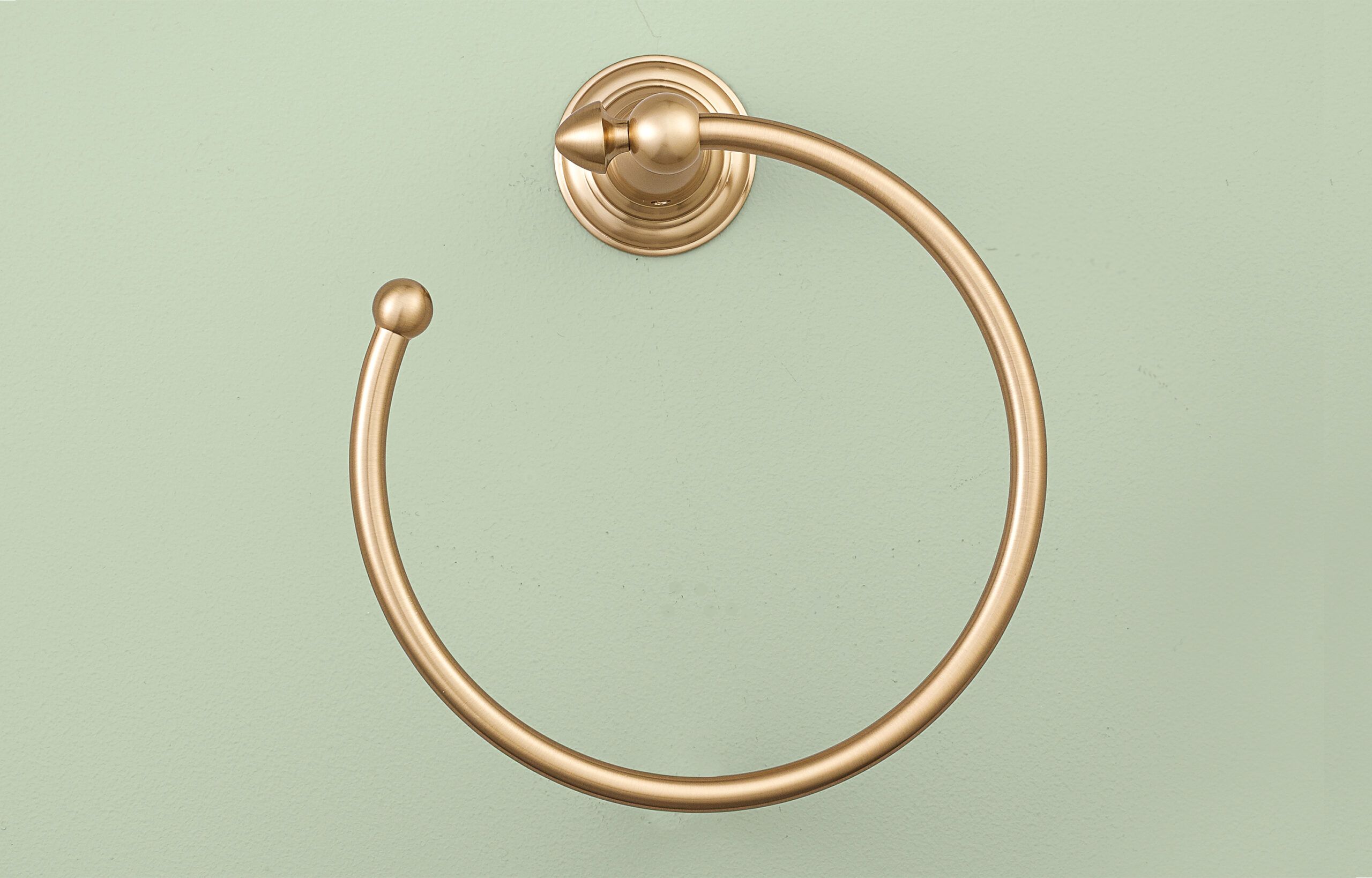 DELTA
Made of: Zinc
Size: 7 3⁄4″ H × 7 1⁄16″ W × 3″ D
Highlights: Unmatched finials on the ends distinguish this Victorian-inspired open ring. $58; Delta
Heavy Metal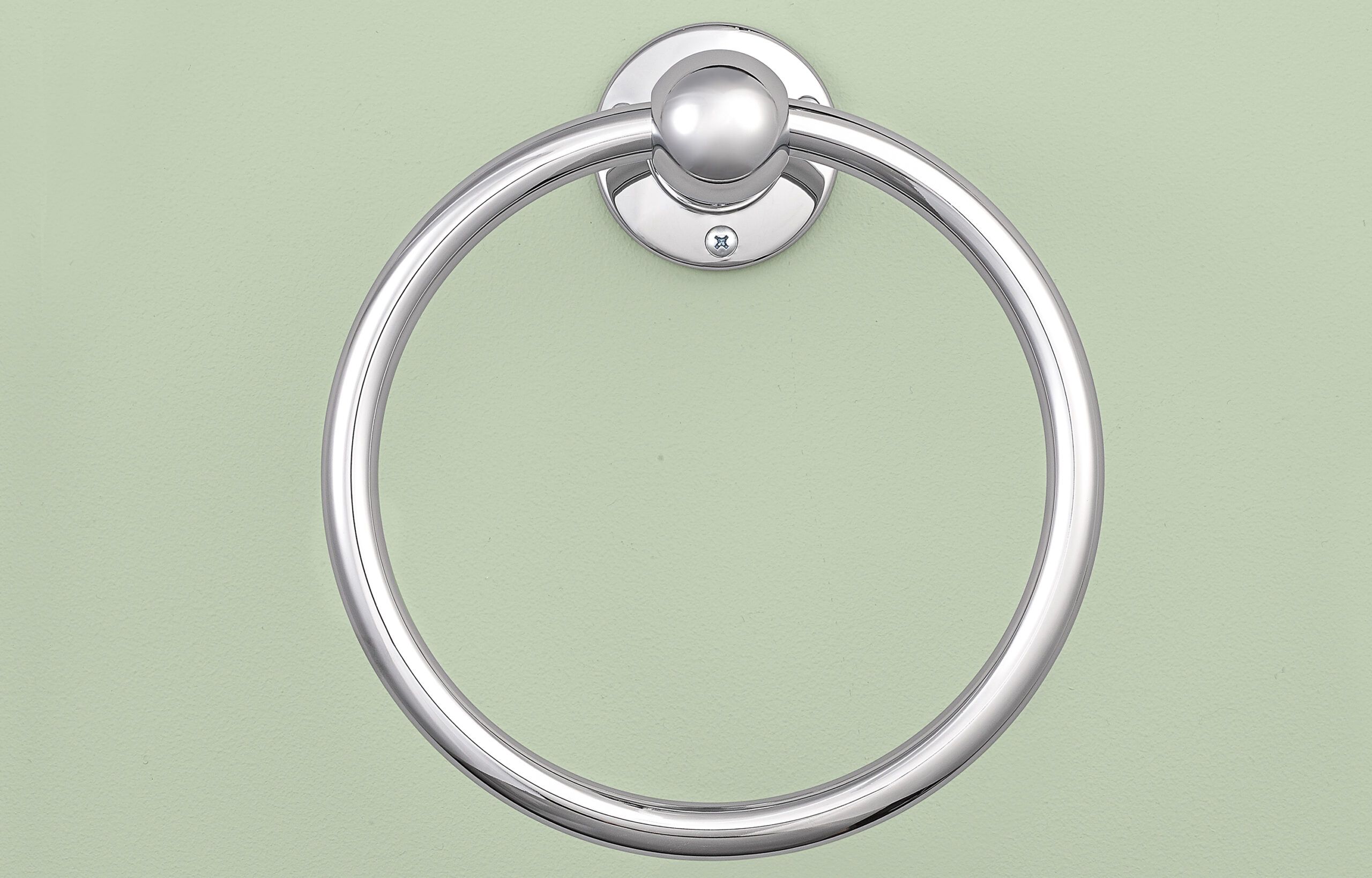 RESTORATION HARDWARE
Made of: Brass
Size: 8 ½" H × 7 ½" W × 3 ½" D
Highlights: A chrome finish enhances this 1930s-influenced style. $75; Restoration Hardware
On Edge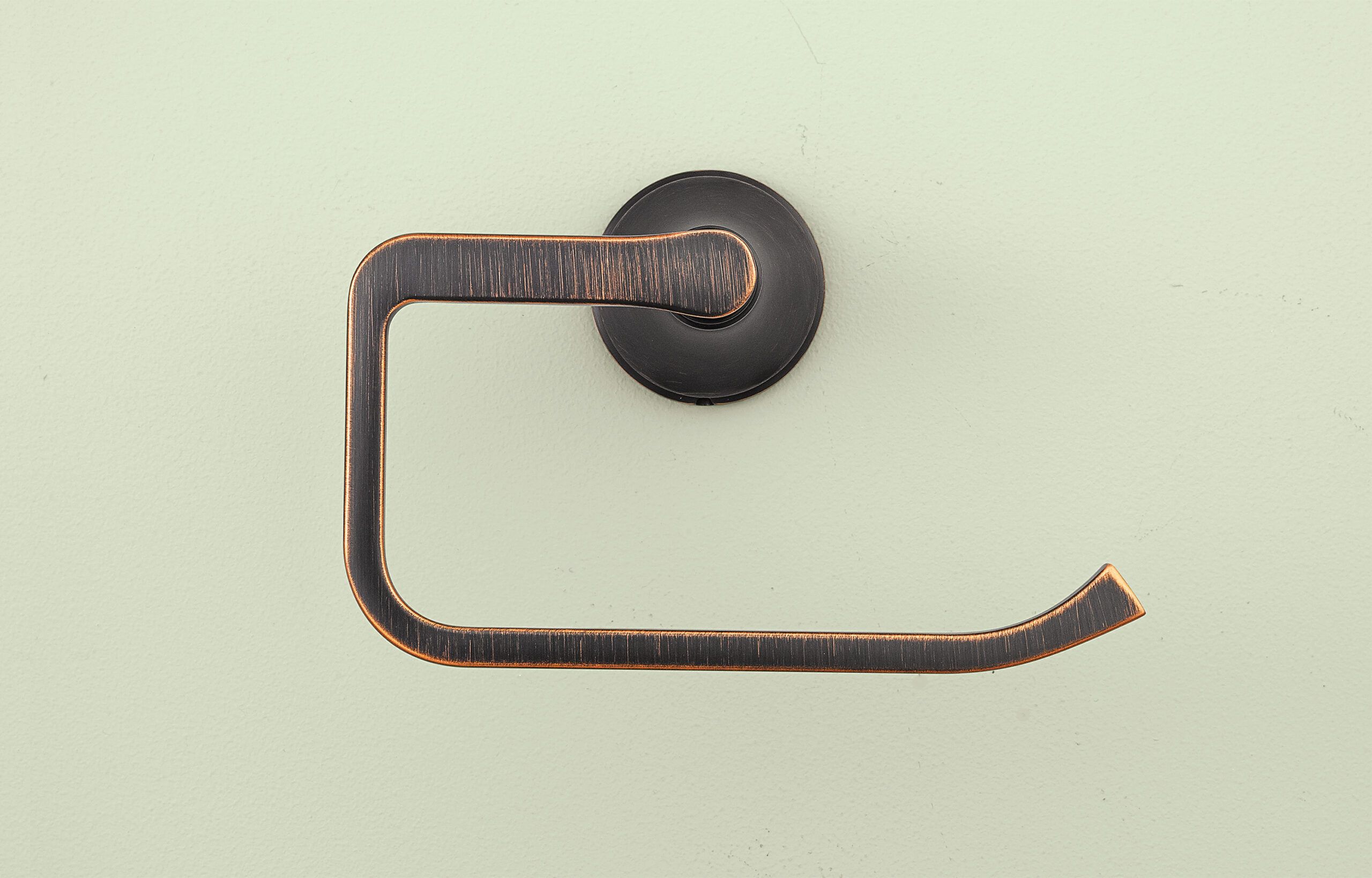 PFISTER
Made of: Zinc
Size: 4 15⁄16″ H × 7 19⁄32″ W × 3 1⁄8″ D
Highlights: A gleaming distressed finish plays up this oil-rubbed bronze hook's wide, curving arm. $44; Pfister
Showstopper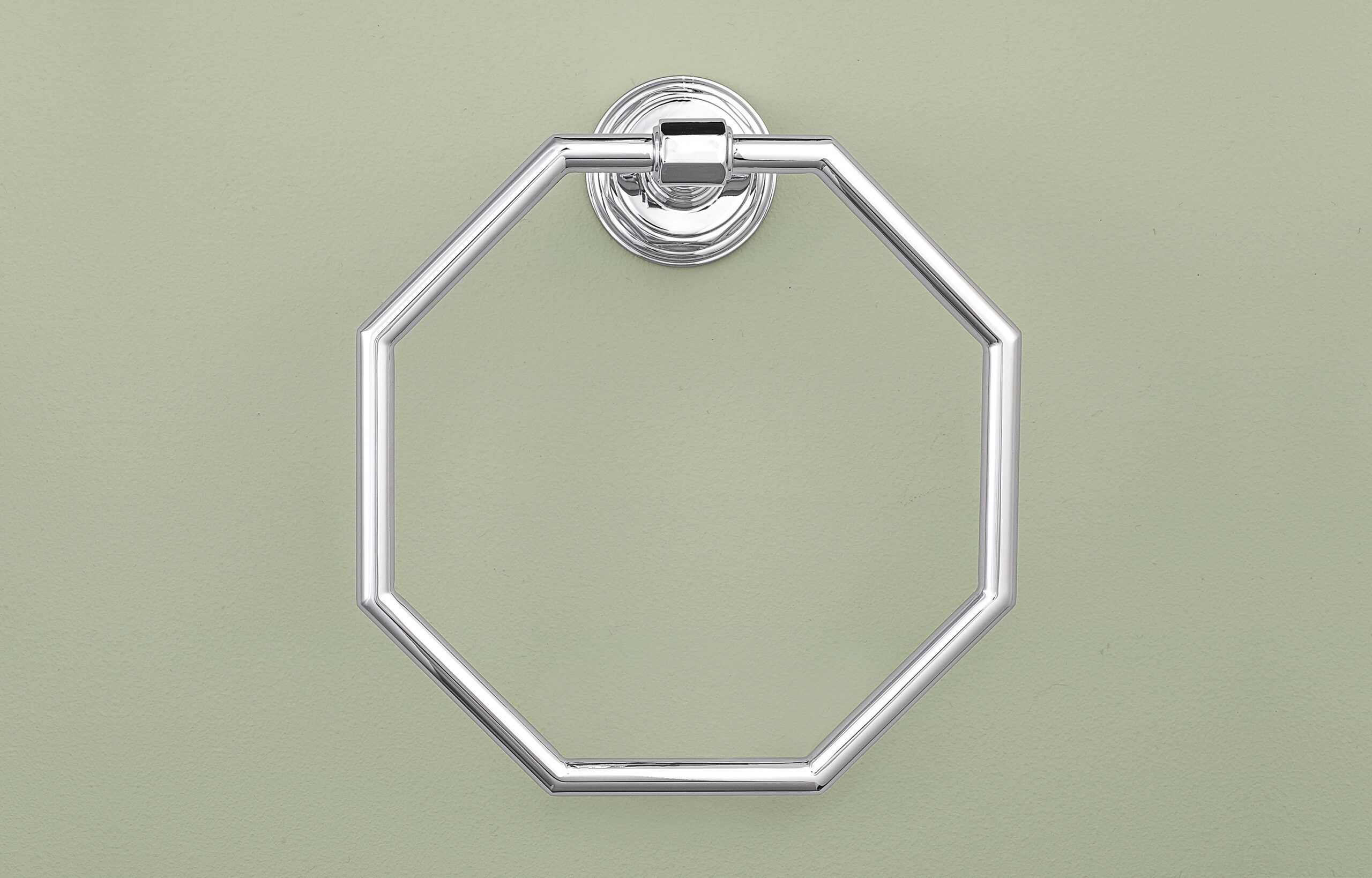 KOHLER
Made of: Brass
Size: 8 3⁄8″ H × 7 ½" W × 2 11⁄16″ D
Highlights: In polished chrome, the striking octagonal shape of this Art Deco–inspired ring is hard to miss. $232; Kohler
Fine Detail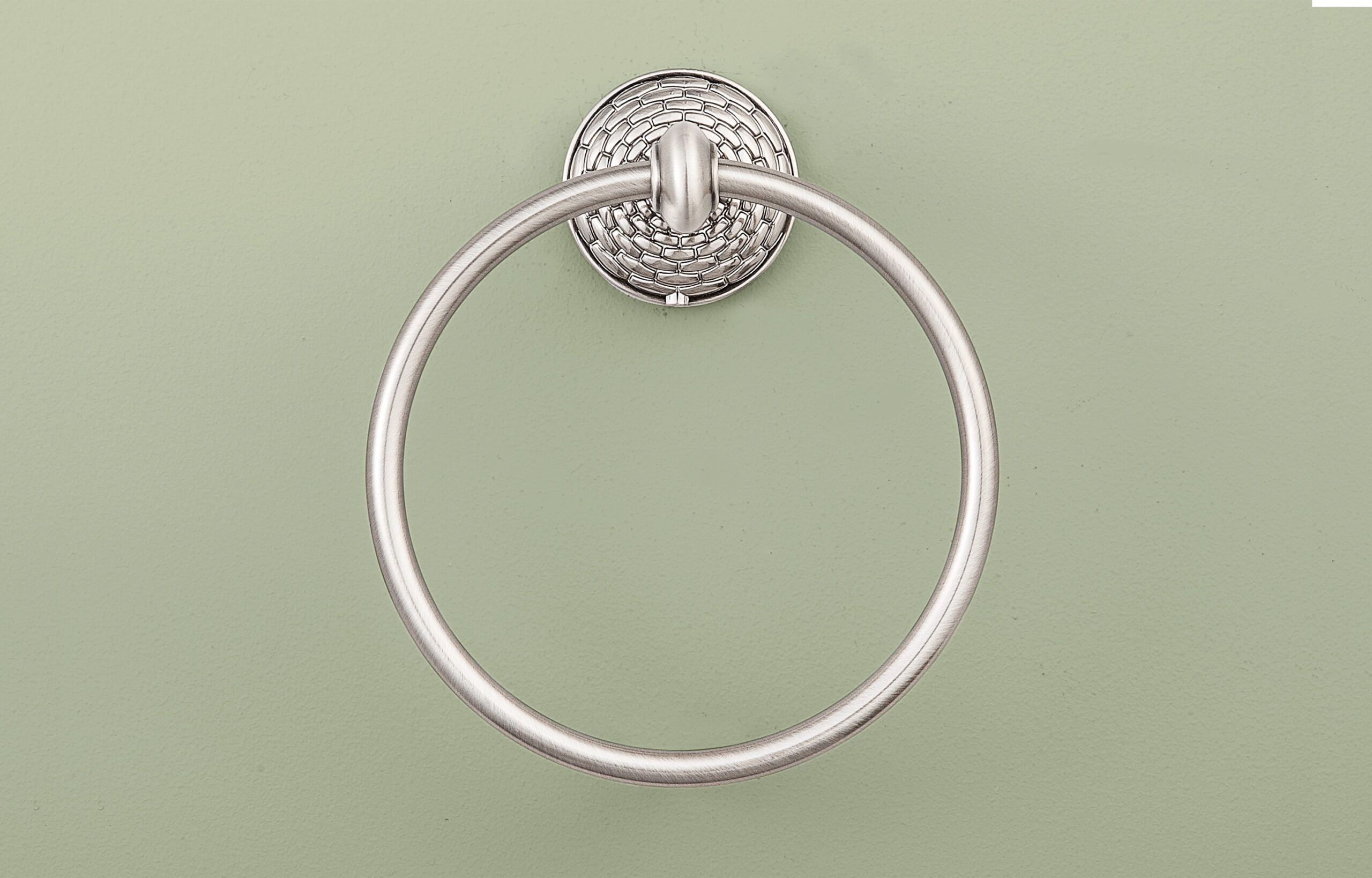 ATLAS HOMEWARES
Made of: Brass and zinc alloy
Size: 7 1⁄16″ H × 6 1⁄8″ W × 2 1⁄4″ D
Highlights: Brushed nickel shows off the backplate's basket-weave design. $70; Atlas Homewares
With a Twist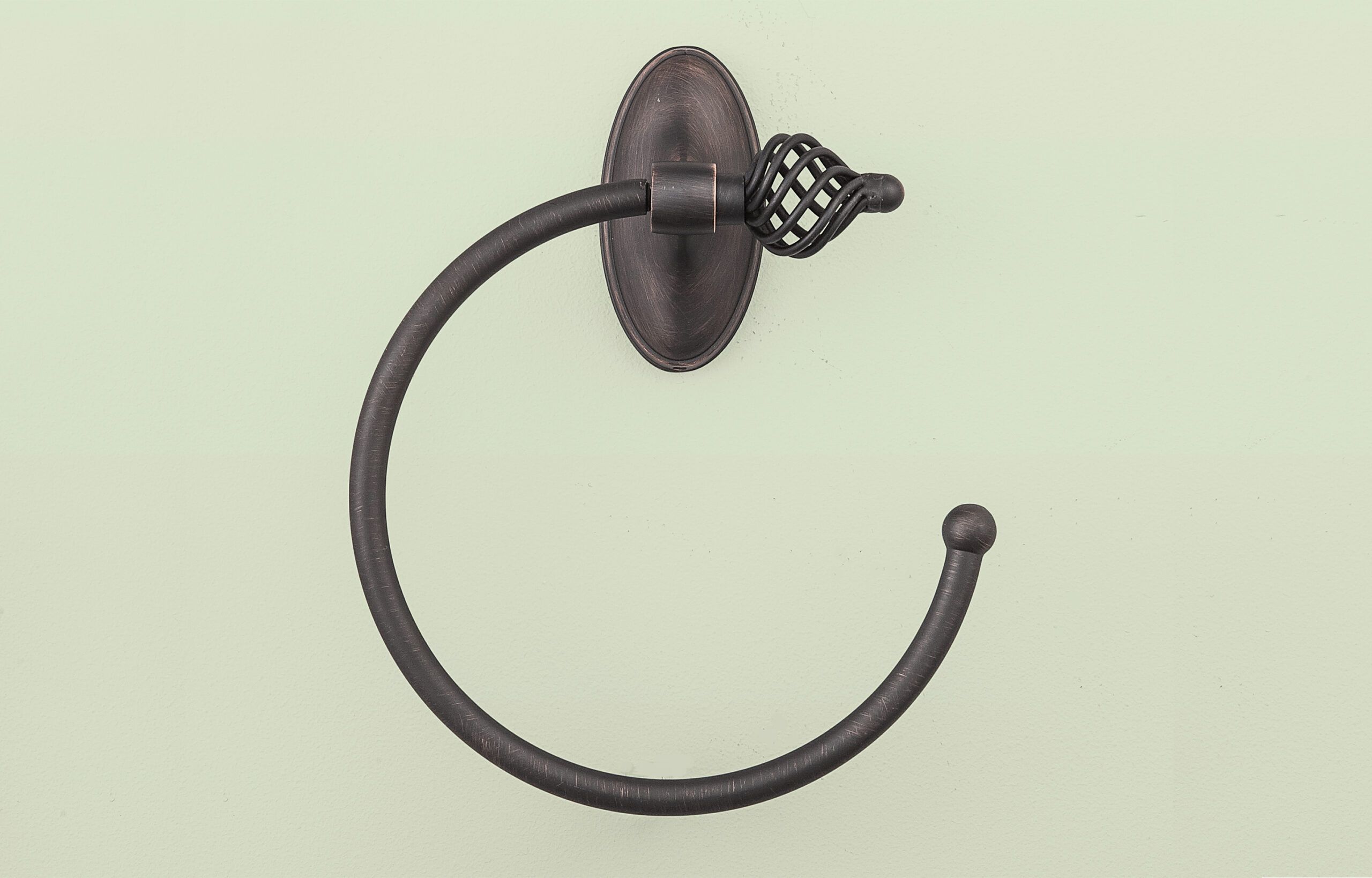 AMEROCK
Made of: Zinc
Size: 8 1⁄4″ H × 6 3⁄16″ W × 2 7⁄16″ D
Highlights: With a birdcage finial and a dark, oil-rubbed bronze finish, this open ring has a traditional feel. $41; Amerock
Bold Brass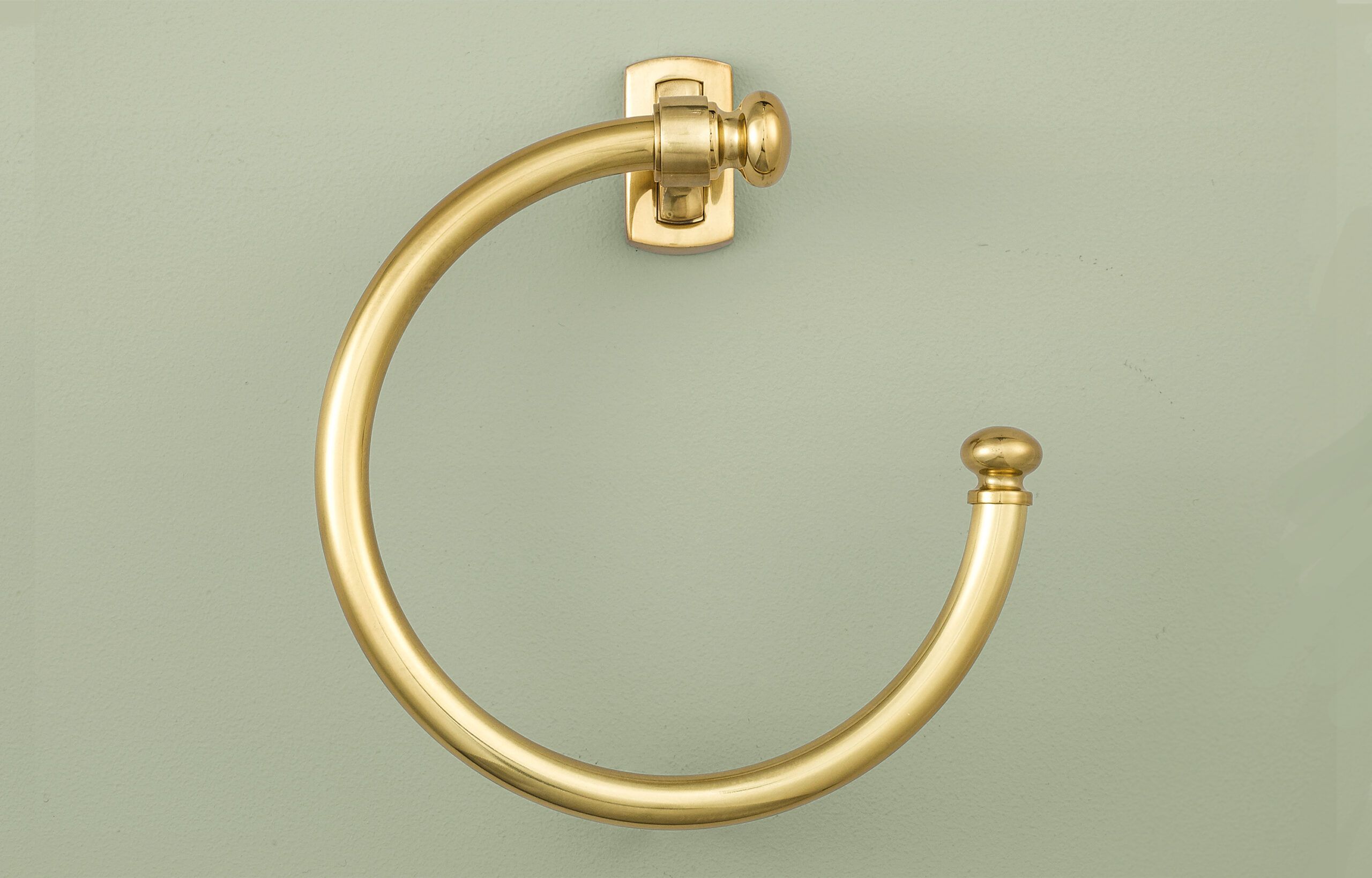 RESTORATION HARDWARE
Made of: Drop-forged brass
Size: 8 1⁄4″ H × 7 ½" W × 2 ½" D
Highlights: A rich aged-brass finish and lozenge-shaped finials enhance this ring's handsome heft. $75; Restoration Hardware
Well Crafted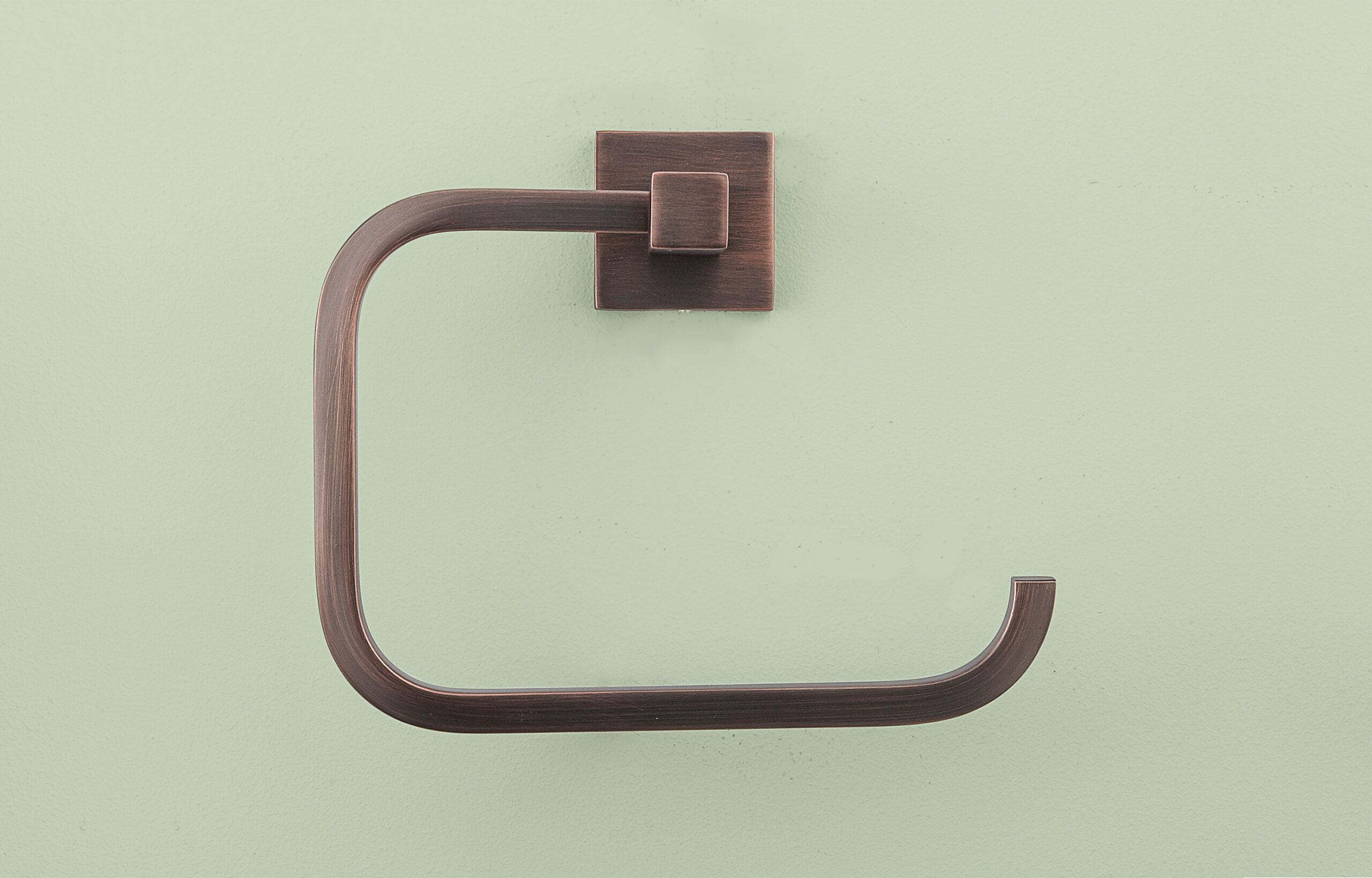 SIGNATURE HARDWARE
Made of: Brass
Size: 6 ½" H × 7 ½" W × 2 5⁄8″ D
Highlights: This ring's warm bronze finish and simple square backplate have a goes-with-anything appeal. $50; Signature Hardware
Squared Away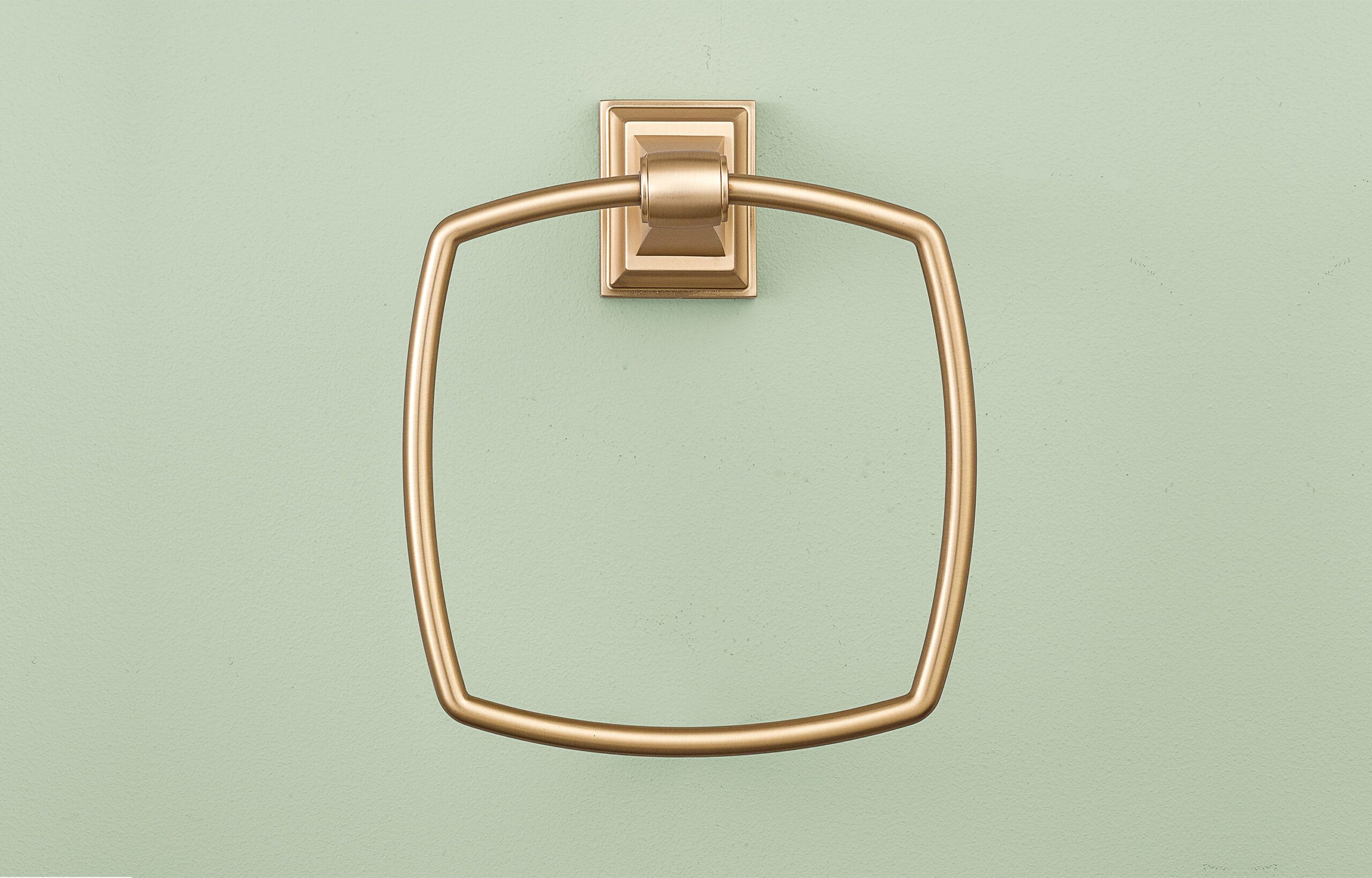 TOP KNOBS
Made of: Zinc alloy
Size: 8 1⁄16″ H × 7″ W × 3 3⁄8″ D
Highlights: A pillowed square shape and stepped backplate distinguish this pale-gold piece. $67; Top Knobs
Vintage Look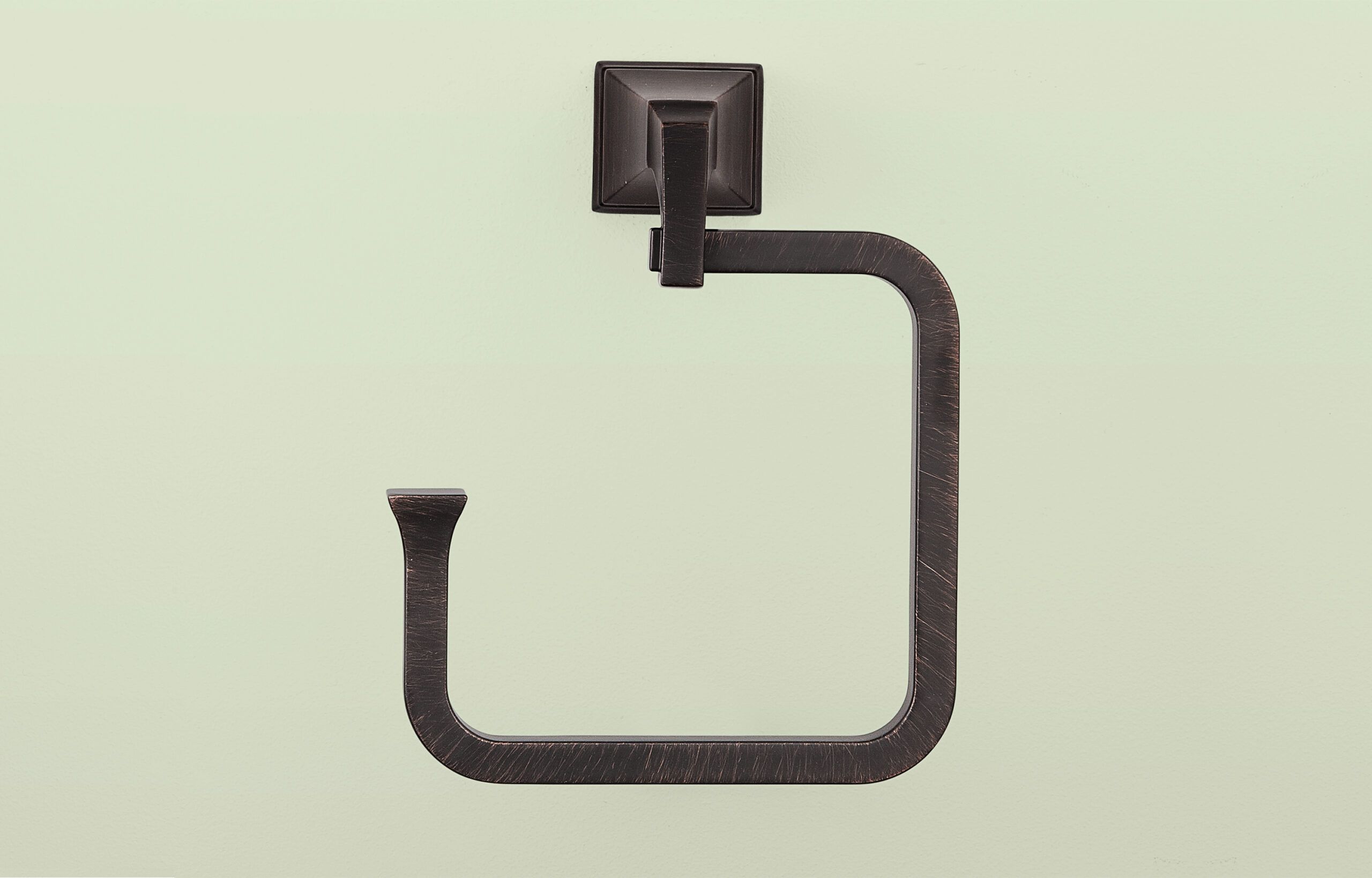 DELTA
Made of: Zinc
Size: 7 3⁄4″ H × 6″ W × 3 ½" D
Highlights: This open ring's squared-off edges and nearly-black bronze finish evoke Craftsman style. $49; Delta