Stuck in the Eighties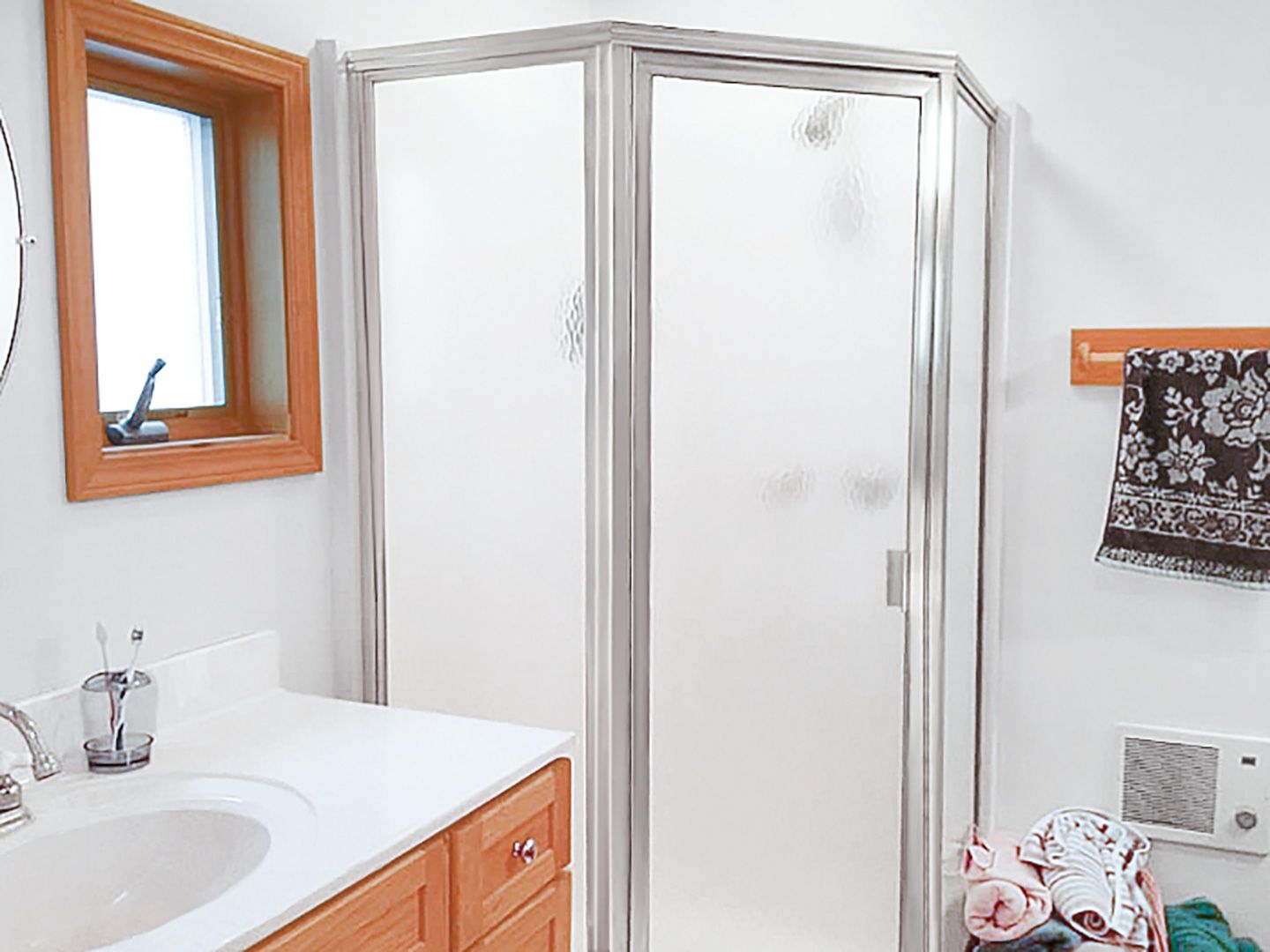 Lake houses are made for hosting friends and family, which makes a welcoming guest bath key. When Chicagoans Ashley and Kyle Harding purchased their 1899 house in Fontana-on-Geneva-Lake, Wisconsin, they knew the dated hall bath upstairs would need an upgrade to accommodate a full house on weekends. To create the spa-like experience she wanted for their guests, Ashley redesigned the room from scratch, allocating one entire wall to a large shower.
Shown: The guest bath, a 1980s addition, had brassy metal accents and honey oak cabinets and trim that hadn't aged well—plus a cramped corner shower.
Classic and Calming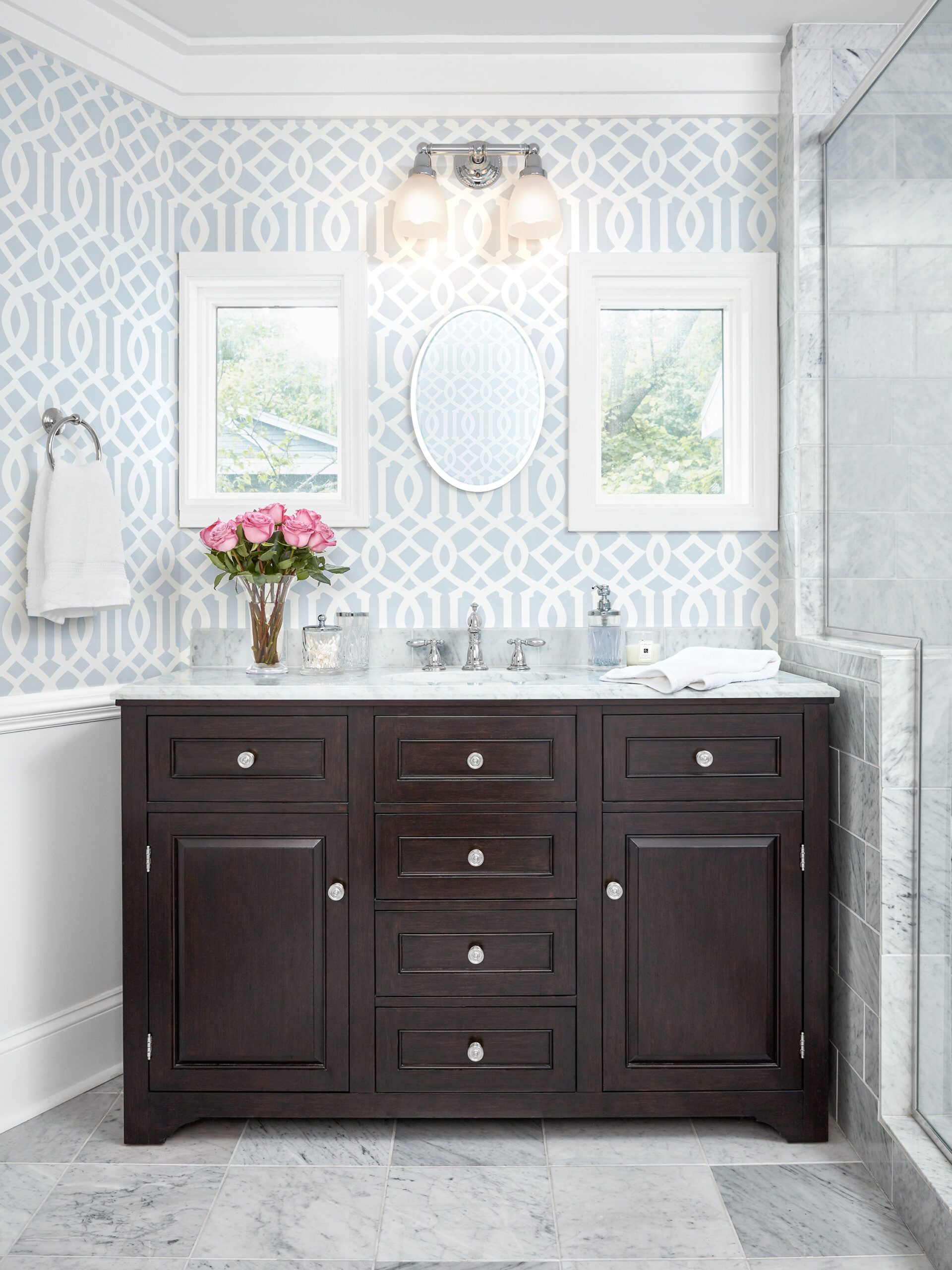 Every surface got a lift, either with sleek Carrara marble or fresh drywall covered with a classic trellis-print wallpaper and extra-wide moldings. A dark wood vanity, an elegant double sconce, and a chrome faucet and shower fittings top off the luxurious look. As for the Hardings' friends and family, who all pitched in on demolition day to gut the plaster walls and fixtures, Ashley says, "They have an open invitation."
Shown: Soft blue-and-white wallpaper, Carrara marble tiles, and chrome hardware brighten the rich-looking wood vanity in the remodeled space.
Vanity, mirror, towel rack, towel ring: Pottery Barn
Faucet: Delta
Light fixture: Wayfair
Train Rack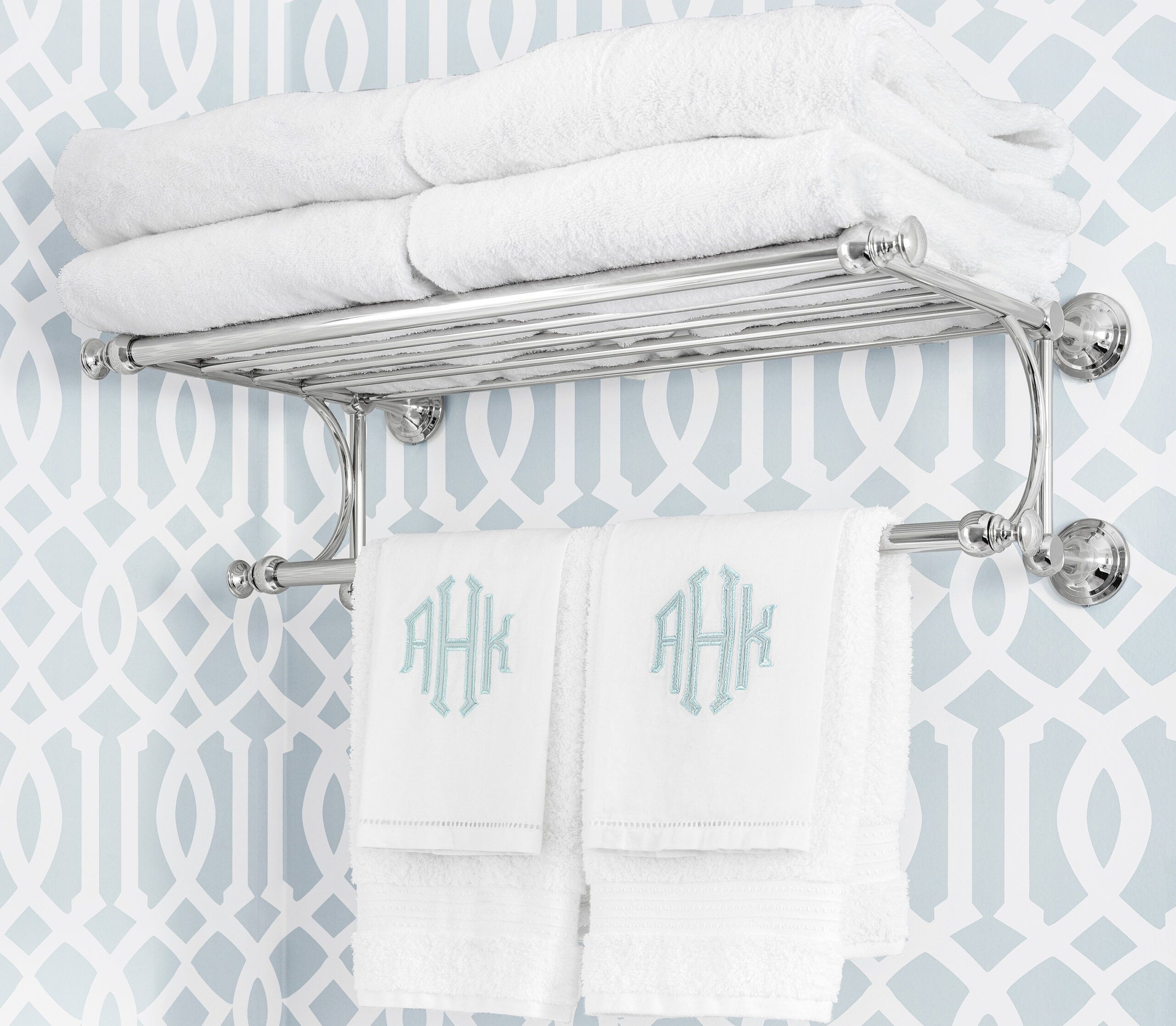 A train-style rack holds guest towels. The wallpaper's soft color keeps the bold pattern from overwhelming.Towel rack: Pottery Barn
Wallpaper: Schumacher
Homeowner tip: "Put essentials out in the open for guests: towels on open shelves and basic toiletries in glass jars on the countertop."—Ashley Harding, Chicago
Wall Niche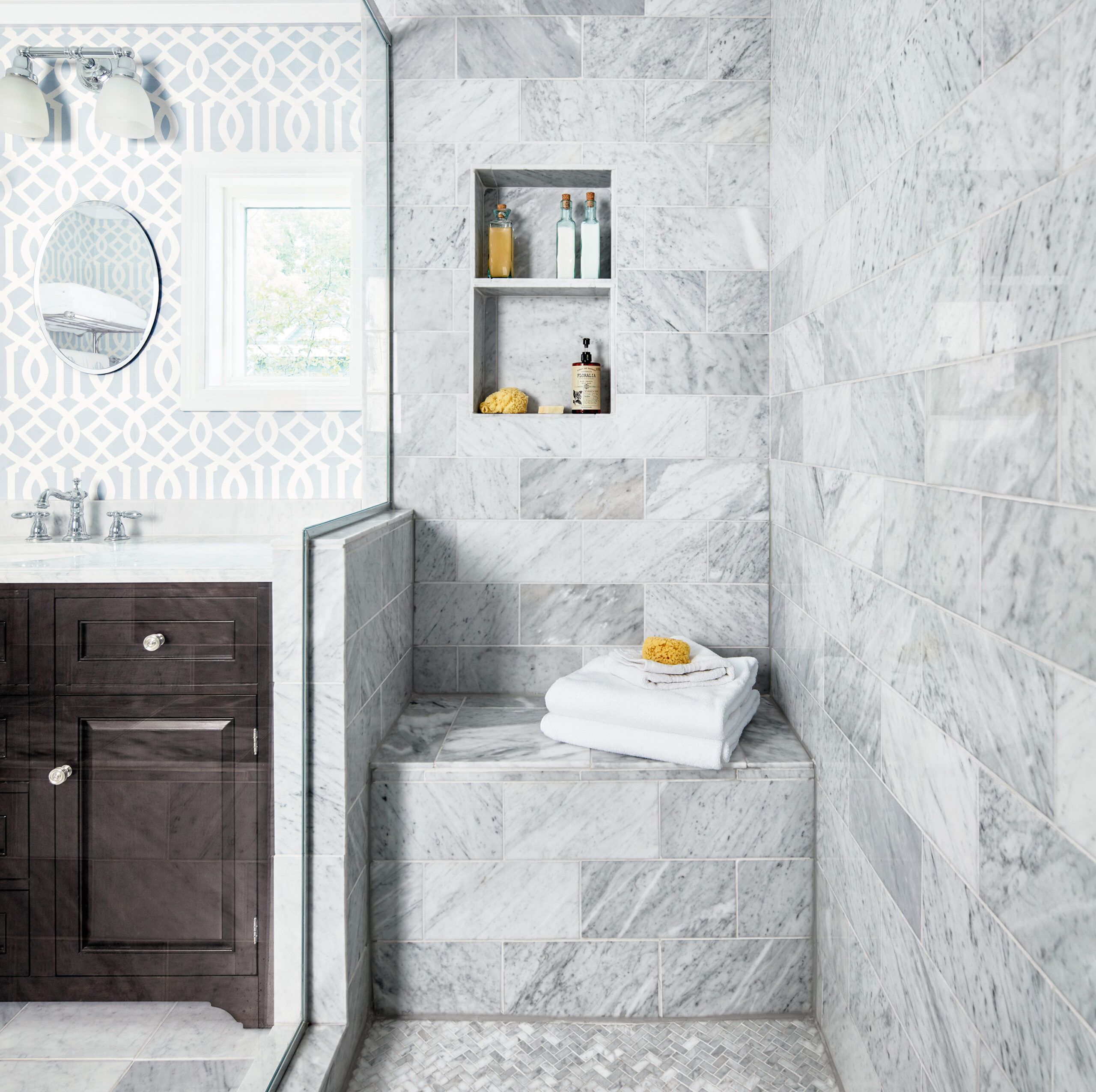 To carve out enough room for a walk-in shower, complete with a built-in bench and wall niche, the homeowners sacrificed a never-used makeup vanity near the door.Carrara marble floor and wall tile: Floor & Decor
Spacious Enclosure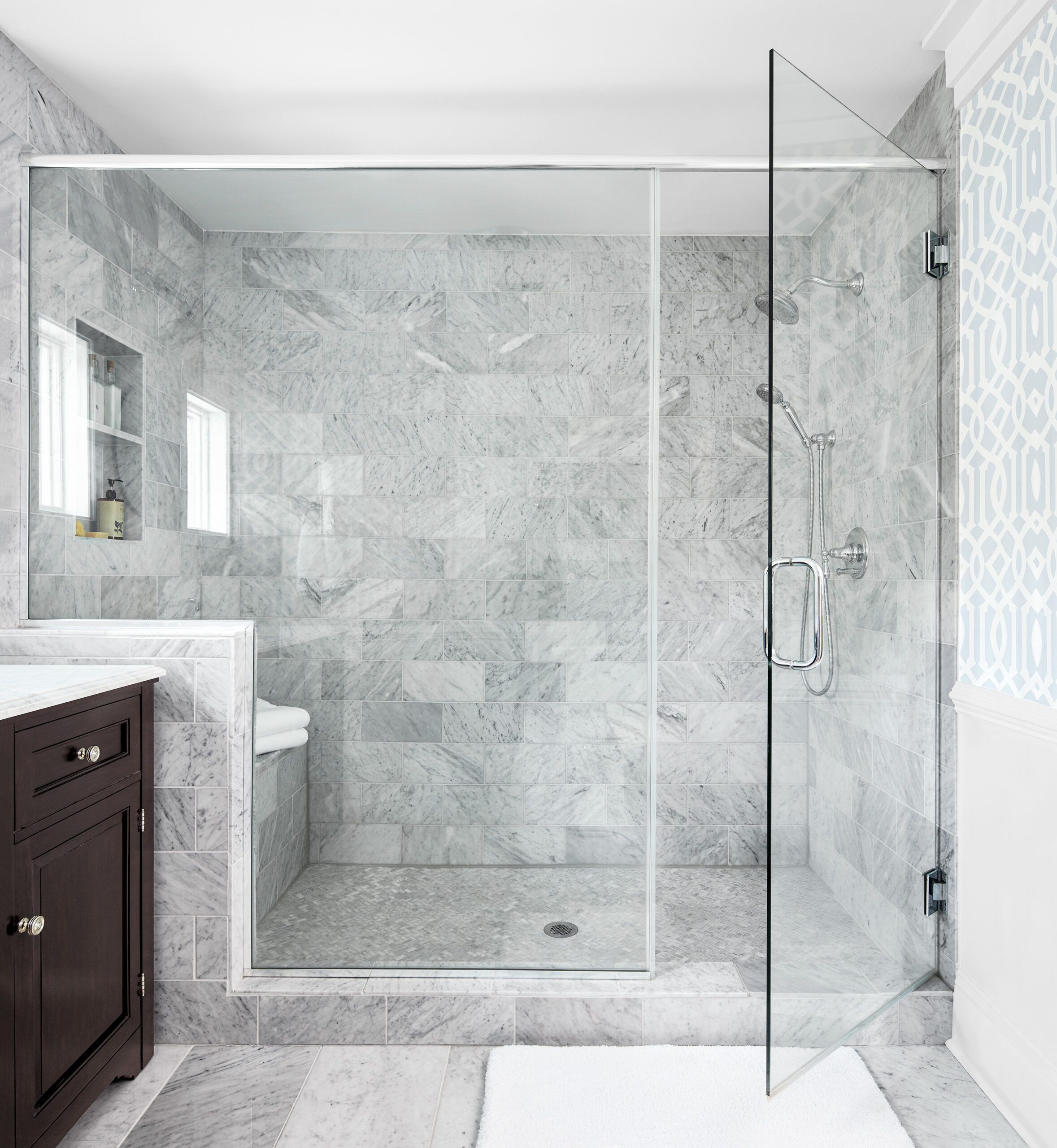 The frameless glass enclosure allows natural light to stream into the shower and makes the guest bath feel as spacious as possible.Custom glass enclosure: Ackman Glass & Mirror, Williams Bay, WI
Herringbone Marble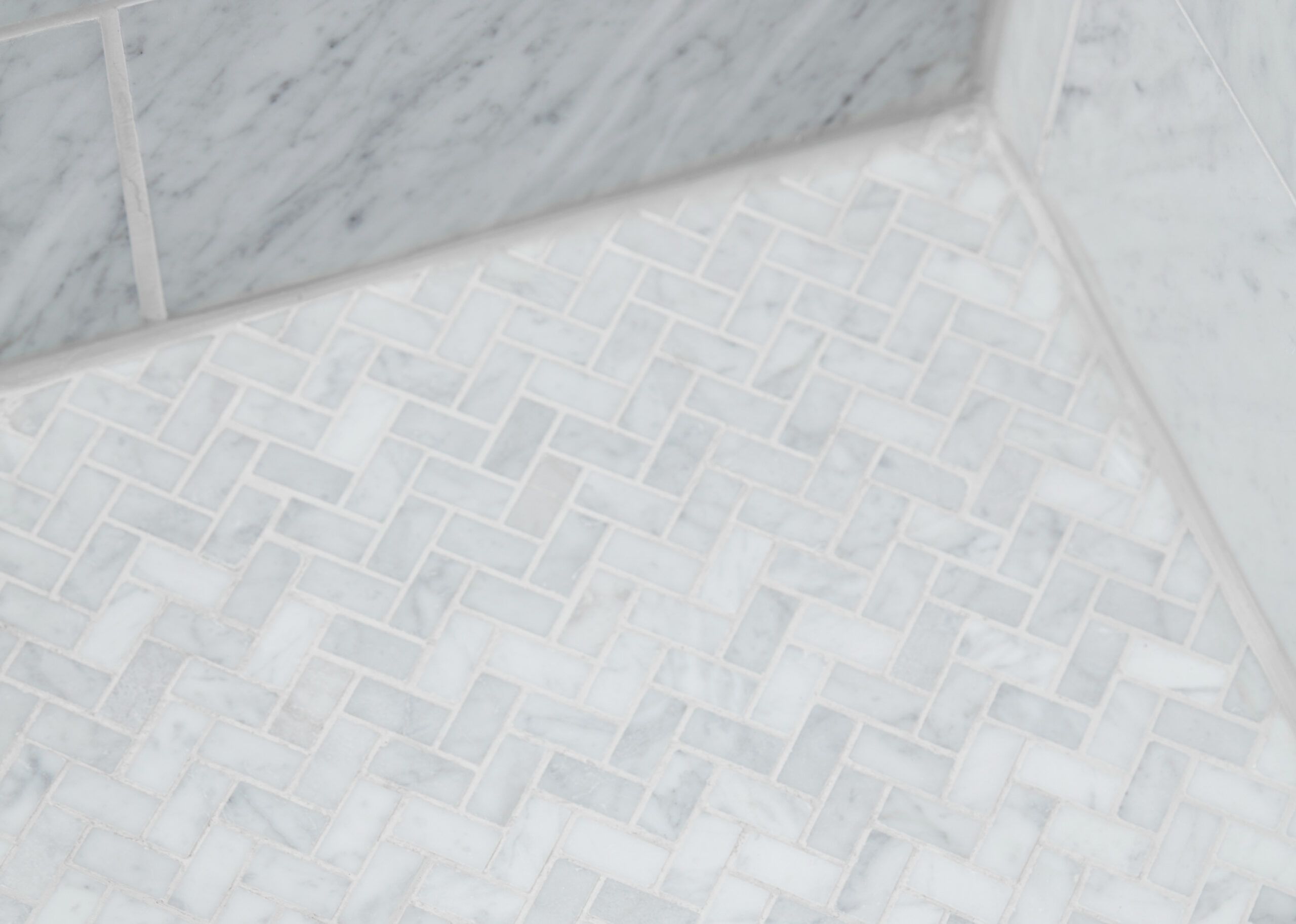 Marble herringbone tile on the shower floor breaks up all the boxier marble shapes used around the room, while preserving a cohesive look.
Plenty of Vanity
A stock vanity in dark wood with a marble top and chrome knobs provides ample storage and looks custom-made for the space.Vanity: Pottery Barn
Refined Not Fusty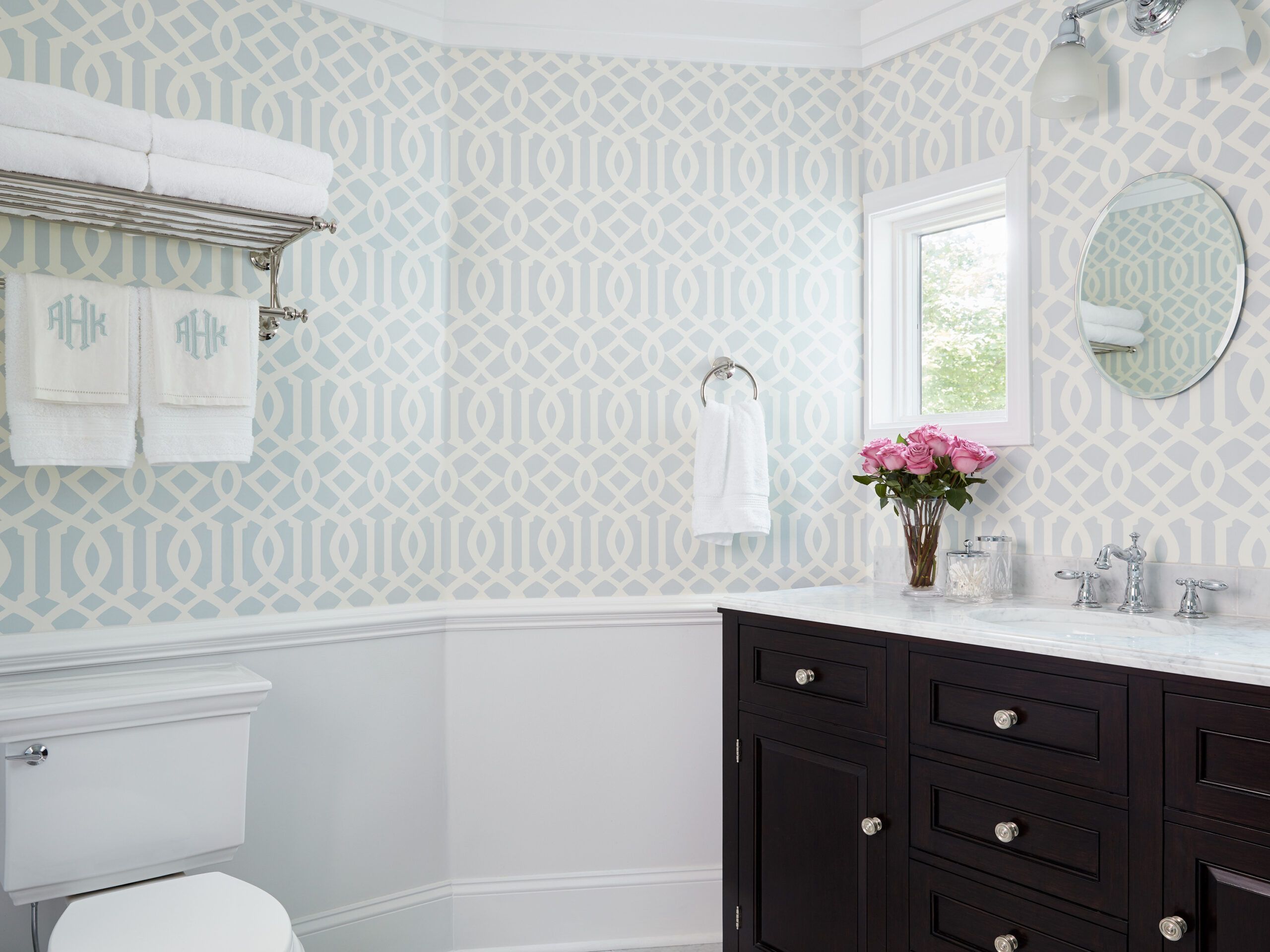 Eight-inch-tall baseboards and wide crown molding with clean lines make the room feel refined but not fusty. The homeowner painted the drywall below the chair rail the same white as the trim as a contrast to the patterned wallpaper above it.Paint: Snow Fall (lower walls and trim); Behr
Toilet and shower fittings: Kohler
Unified Fixtures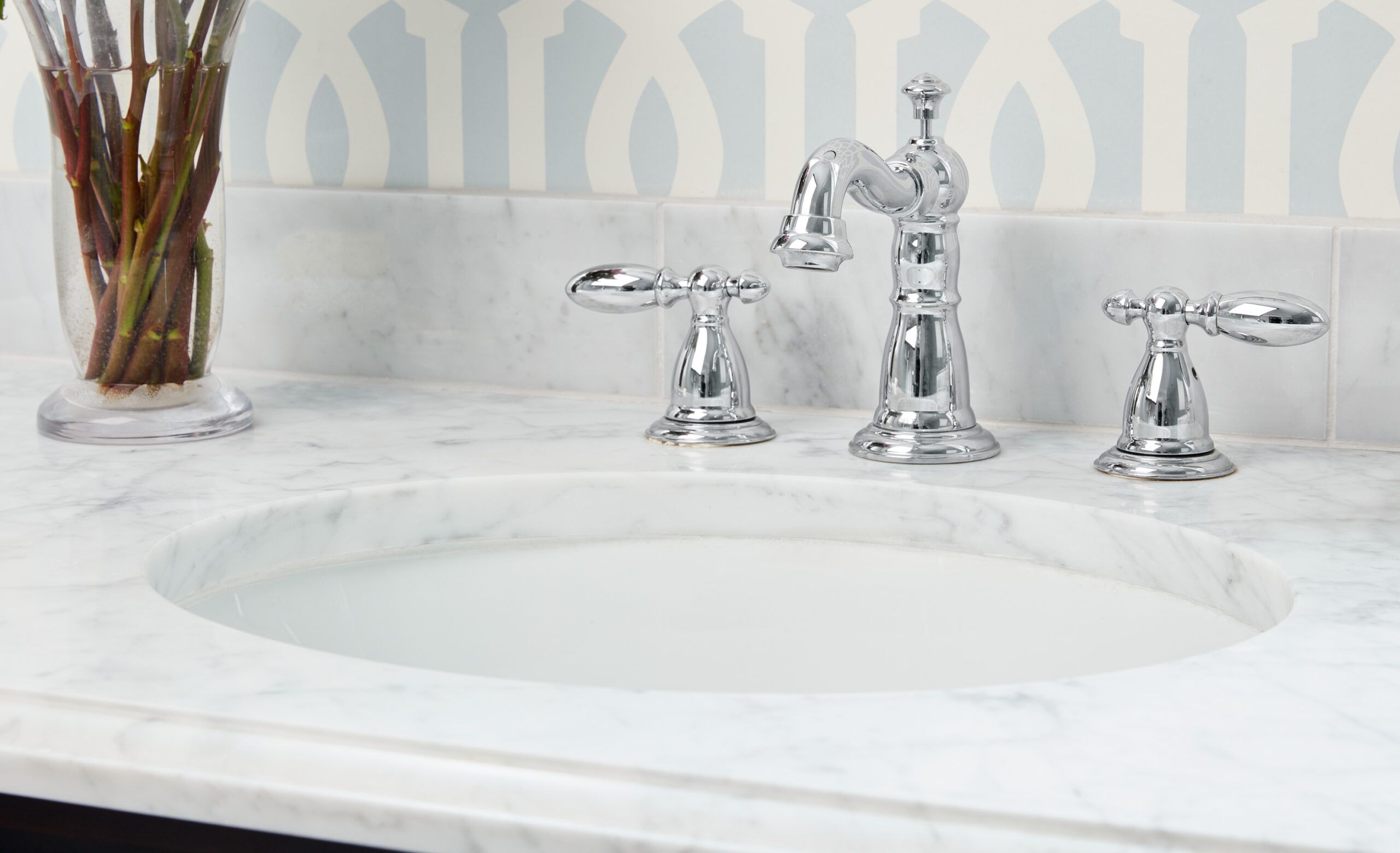 The homeowner used the same faucet, toilet, and moldings in another bath on the first floor of the house, making for a subtly unified look.Faucet: Delta
Counter Space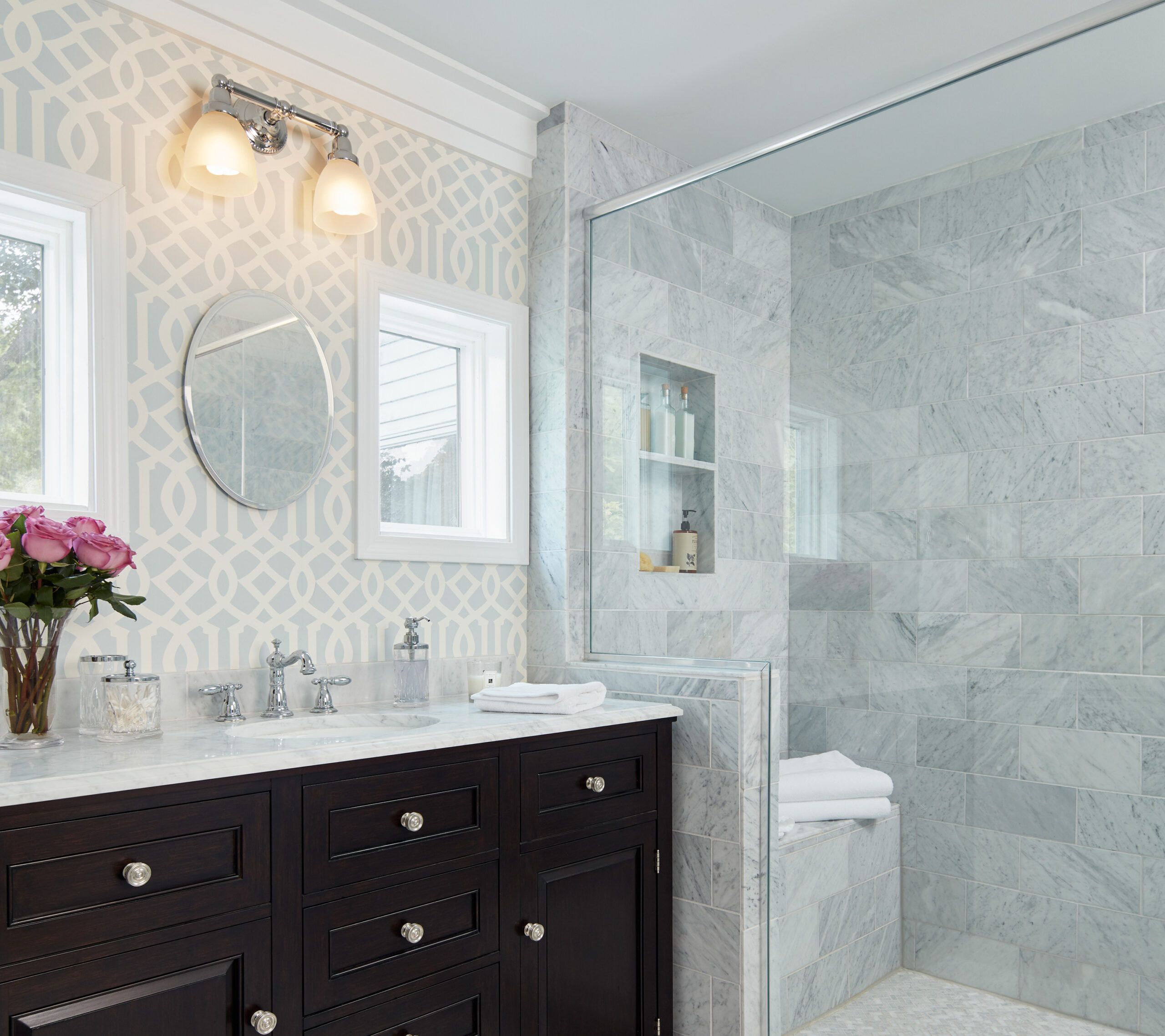 With only one sink, the 55-inch-long vanity provides plenty of counter space for guests' toiletries.
Before Floor Plans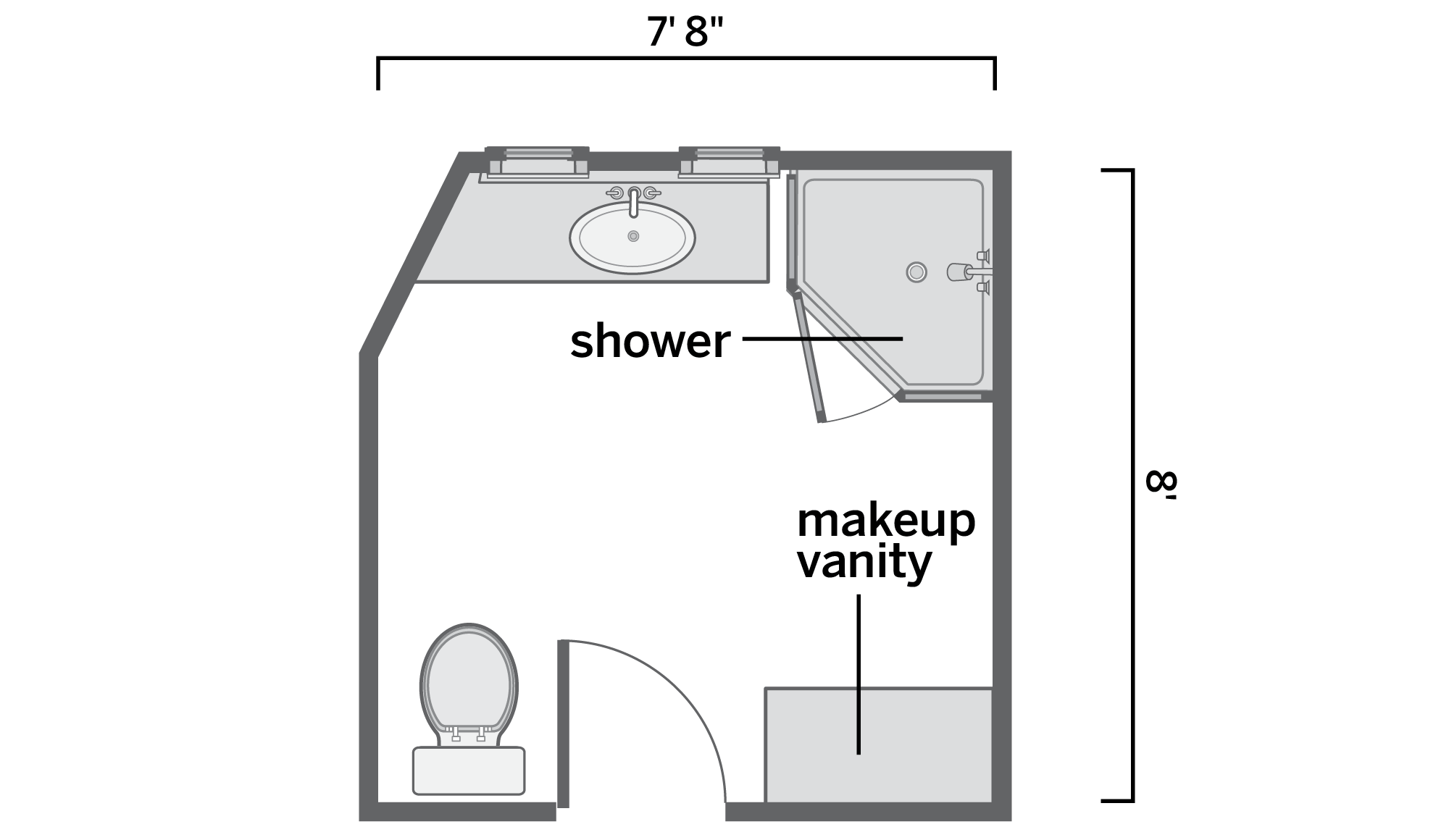 The existing bath had small, outdated fixtures and a toilet stuck in a corner behind the door.
After Floor Plans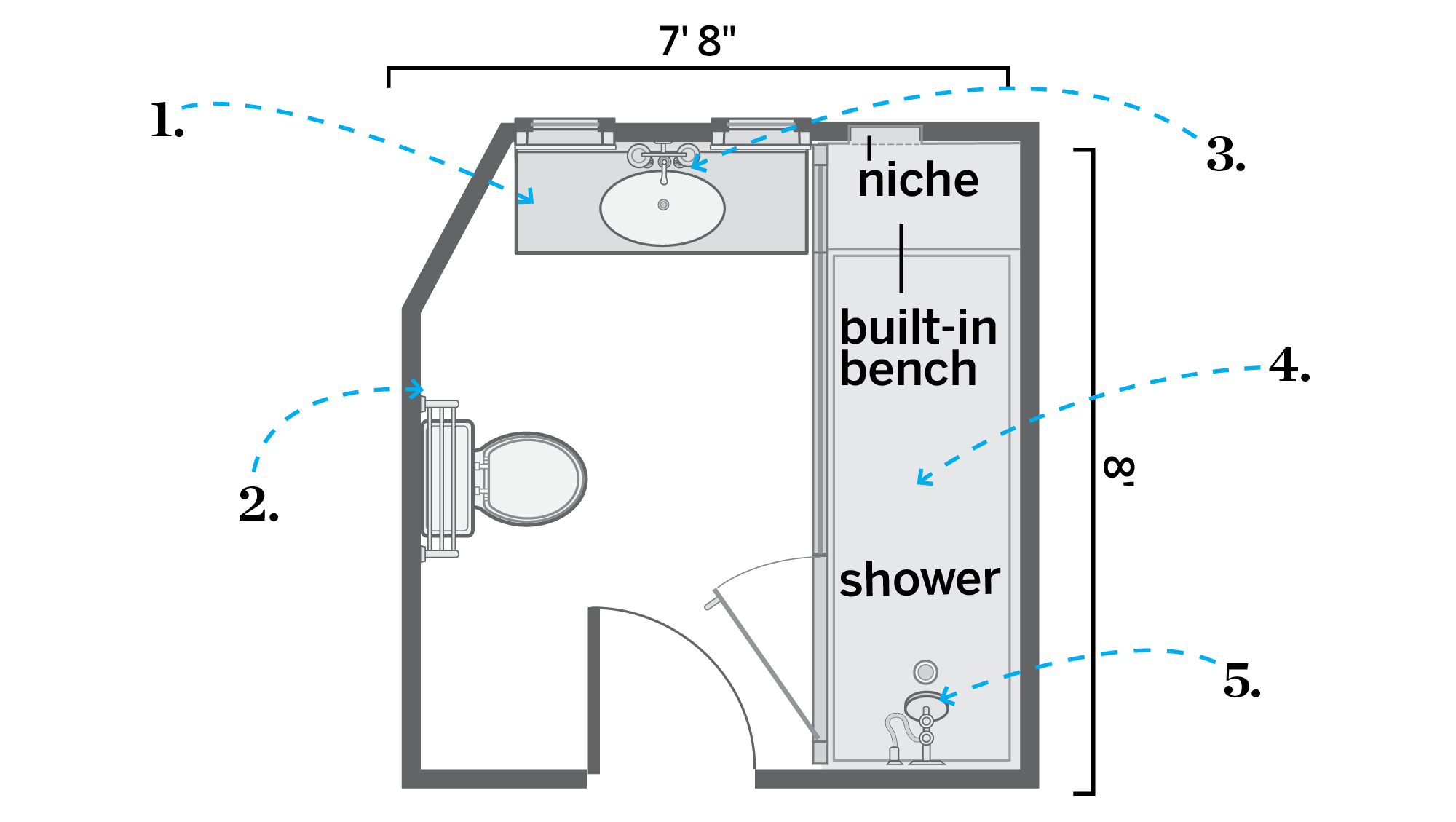 Removing a small makeup vanity made room for a spacious shower along one wall; moving the toilet gave it some elbow room1. Swapped a builder-grade vanity with an angled top for one 55 inches long in a furniture-like style.
2. Moved the toilet to the adjacent wall to clear the door swing and provide more clearance all around.
3. Installed a double sconce over a chrome-trimmed mirror between two existing windows above the sink.
4. Replaced a small corner shower with one that spans the full length of the wall and features a built-in bench and a toiletry niche.
5. Removed a small makeup vanity to free up space to enlarge the shower.
Contractor: Clyde Brothers Construction and Home Improvements, Lake Geneva, WI