Before Boxed In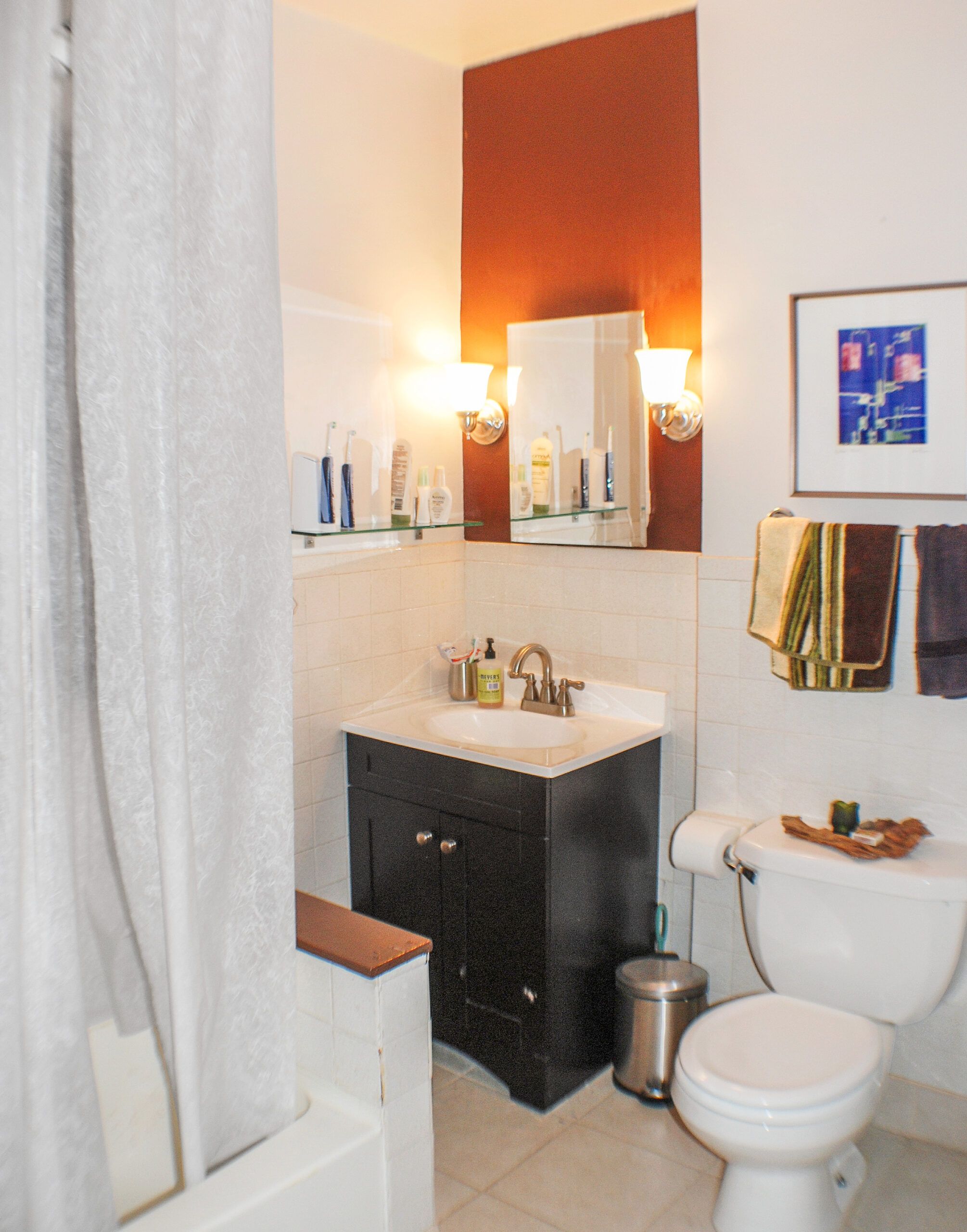 Even in a traditional home, nontraditional solutions can be the key to a successful remodel. Mary Young and Martha Nodarse had some unique requests for the master bath reno in their 1904 American Foursquare—specifically, a claw-foot tub that could take center stage, function as a shower, and not be boxed in by a clingy shower curtain hung from a ring overhead.
Shown: The small master bathroom needed repairs to the plumbing and tile, and the boxed-in 1980s tub wasn't ideal for taking long soaks.
Modern Comforts, Vintage Tub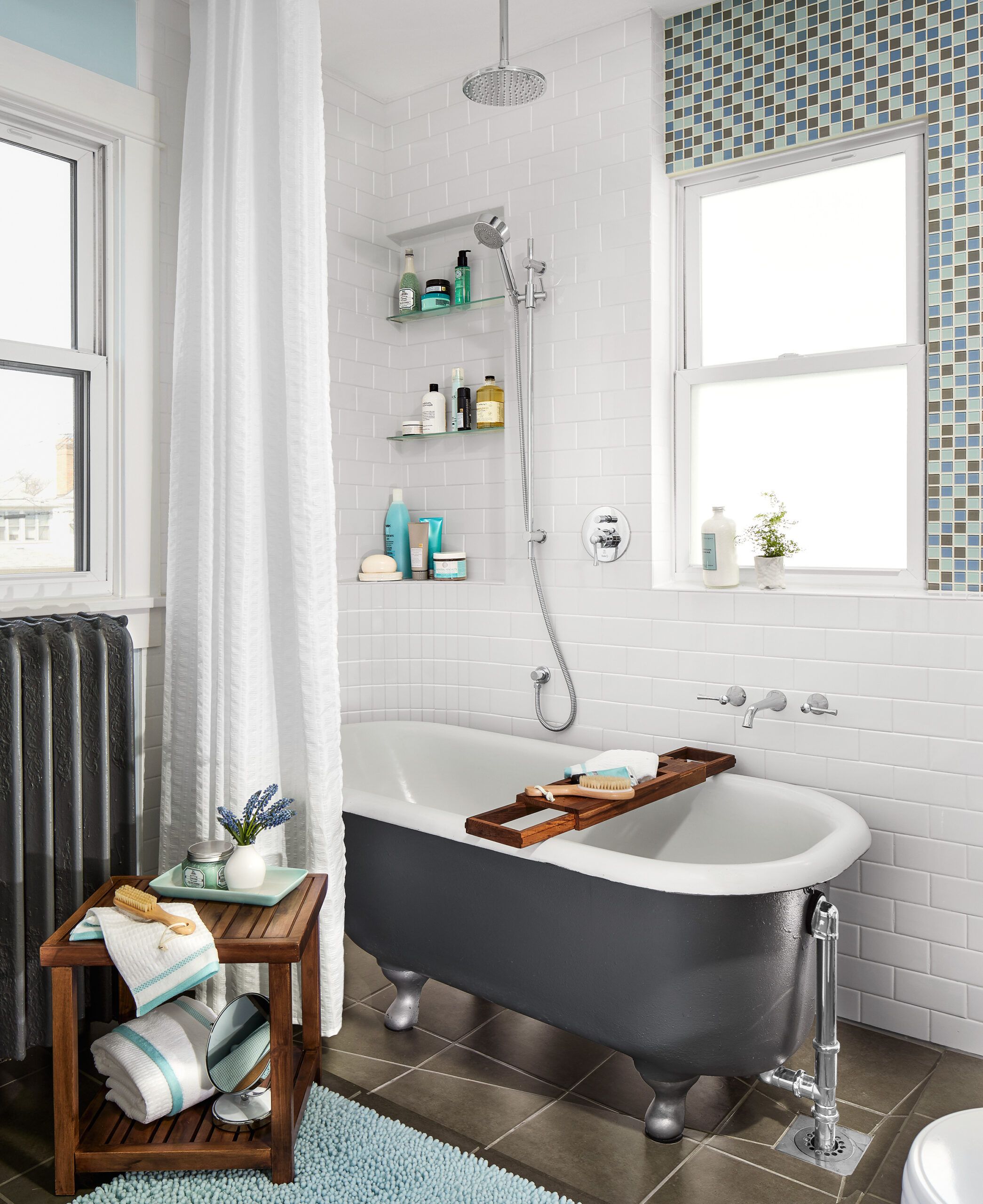 They wanted to make it meld with some modern finishes, too. Enter Minneapolis-based Ryan Sturtz and Zoe Kardasis Sturtz of Edit Design Build Studio, who rose to the challenge. They installed a shower pan beneath a salvaged tub and rainhead so overspray would drain away, and a track from a medical-supply store with an oversize curtain to section off the splash zone. Colorful mosaic tile and sleek chrome fixtures complement the tub and subway tile, packing a big design punch. Mary says, "It turned out to be the nicest space in the house!"
Shown: The airy renovated space is full of modern comforts, but the focal point, a vintage claw-foot tub, pays tribute to the era of the home.
Showerhead: Riobel
Shower curtain track: Hospital Curtain Solutions
Towel Storage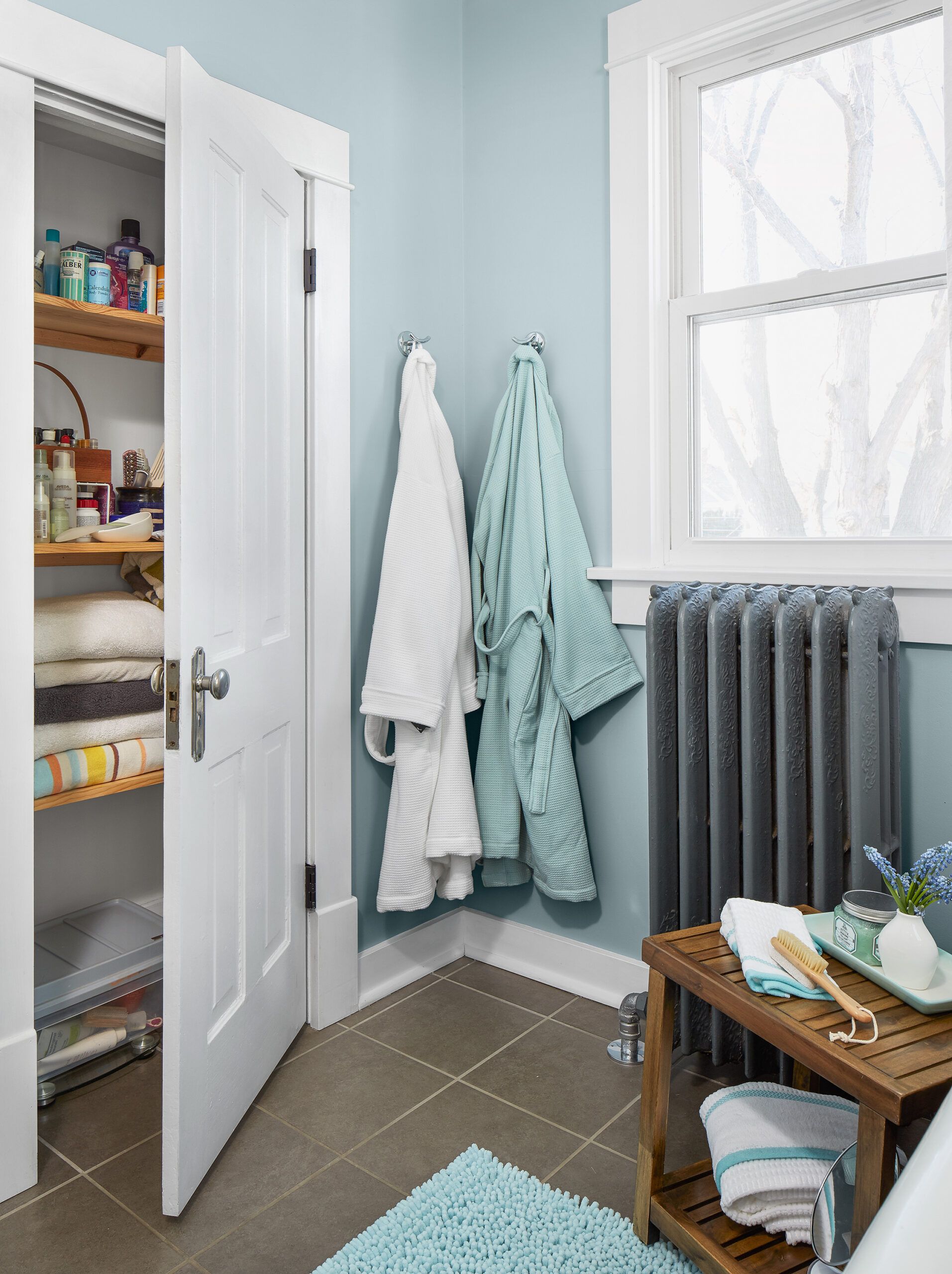 A closet provides toiletry and towel storage. Radiant heat beneath the tiled floor is a welcome upgrade for cold Midwestern winters.
Electric floor mats: SunTouch
Robe hooks: Pegasus
Pedestal Sink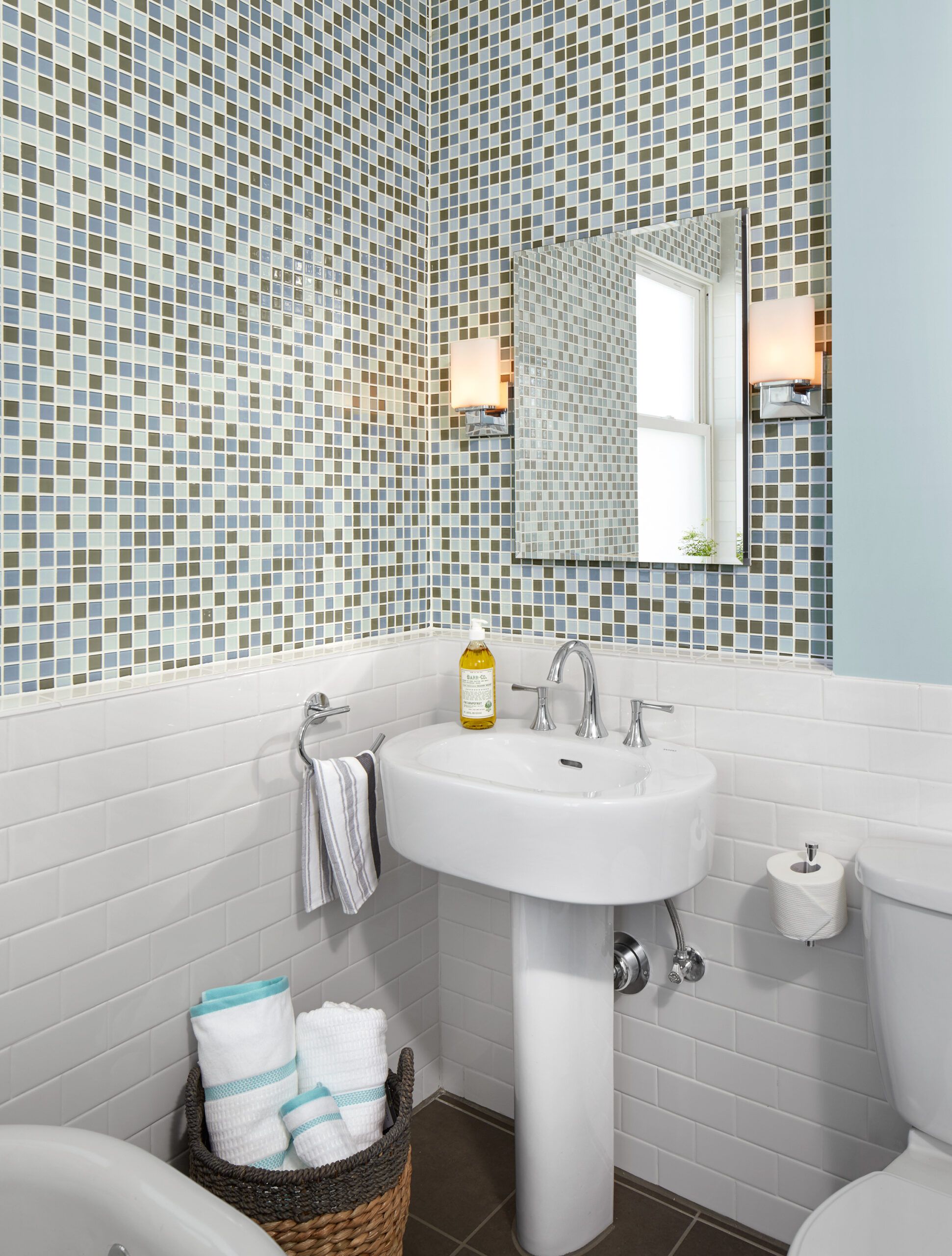 A new pedestal sink replaced a boxy vanity, making the cramped corner feel more spacious. Lost storage was compensated for with a recessed medicine cabinet.
Sink: Toto
Sconces: Eurofase
Subway tile: Daltile
Sink faucet: Riobel
Mirrored recessed medicine cabinet: Kohler
Towel ring, toilet paper holder: Pegasus
Homeowner Tip: "If at all possible, move out of the house during a bath renovation—that way, the builders can work uninterrupted."
—Mary Young, Minneapolis
Water Catcher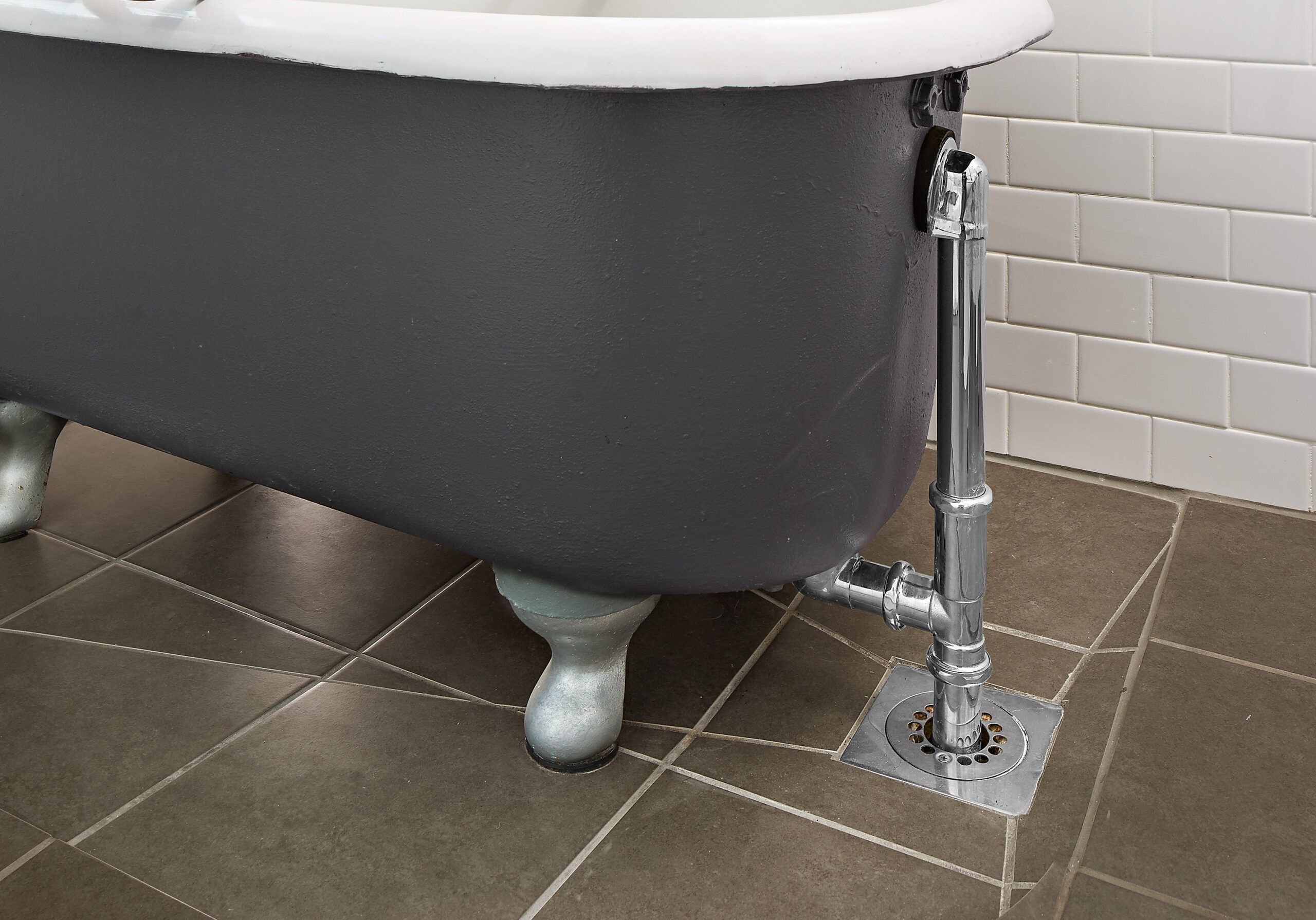 A shower pan and drain under the tub catches overspray from the shower, which is curtained off, floor to ceiling, outside the soaker.
Shower pan and drain: Tile Redi
Tub Filler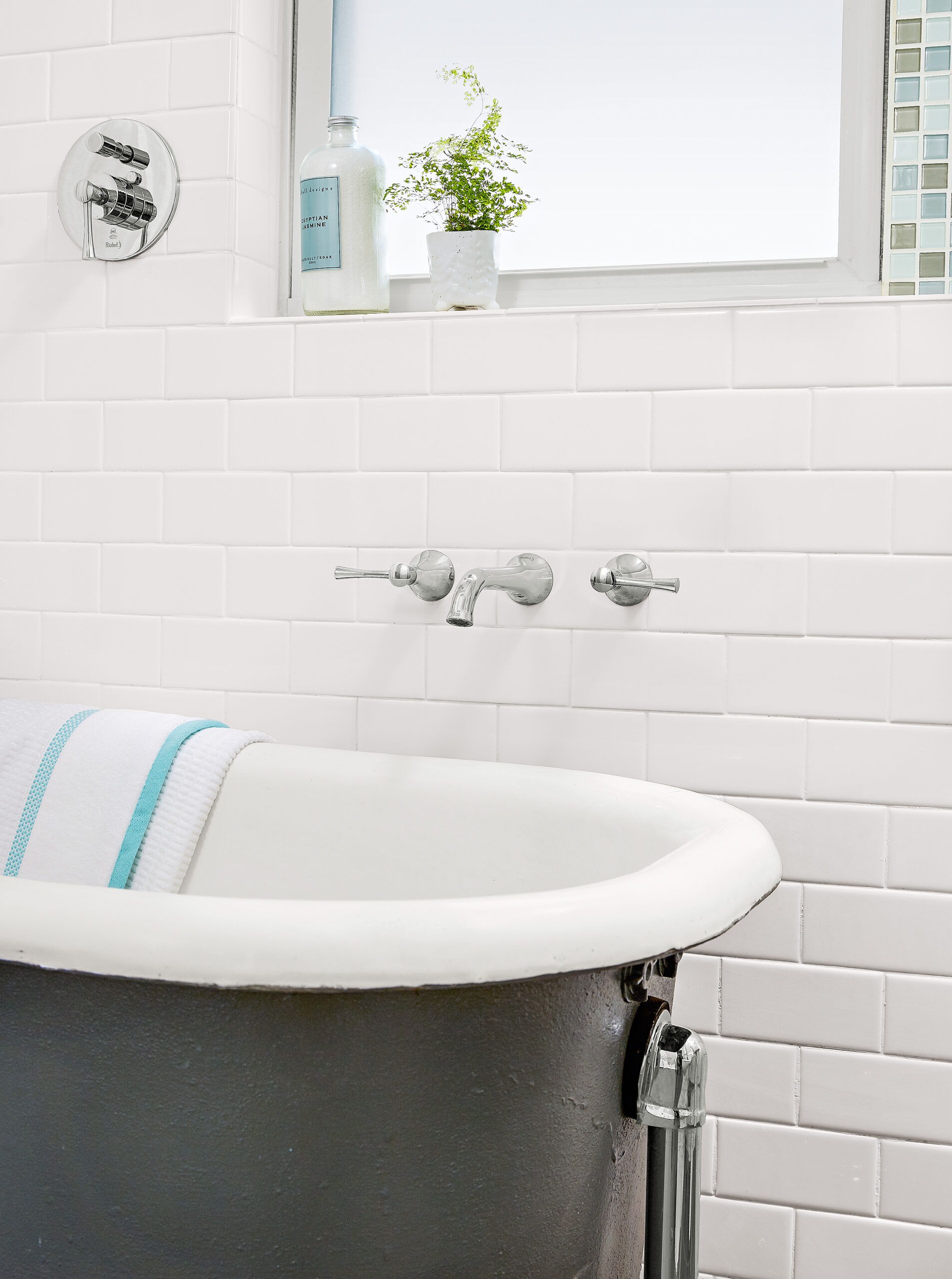 The wall-mount tub filler was a more modern alternative to a floor-mount one—in keeping with the 21st-century look the homeowners requested.
Wall-mount tub filler: Riobel
Shower Niche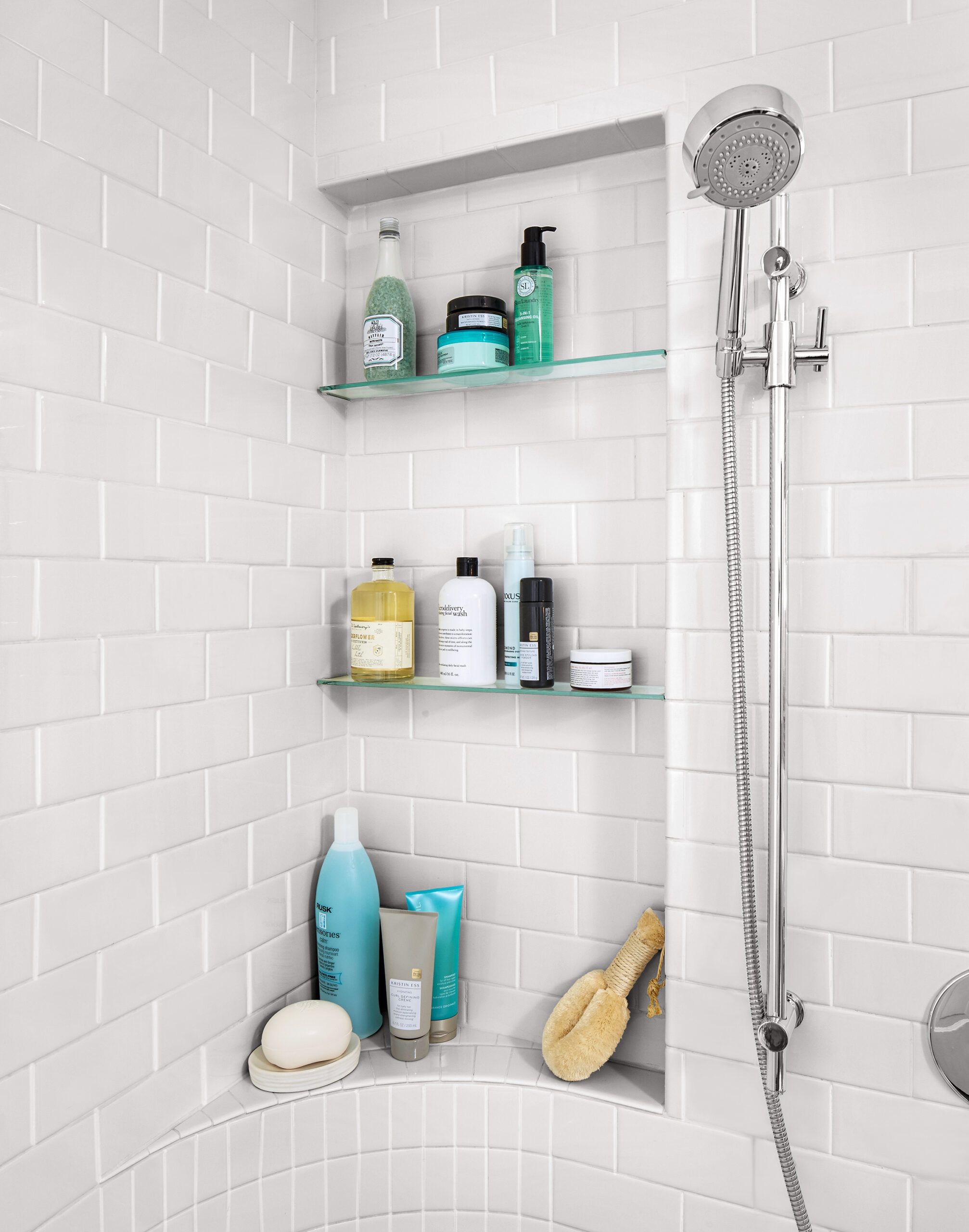 The lower half of the shower wall is curved to mimic the outline of the tub. A niche with glass shelves was made possible when the wall was furred out to accommodate new plumbing.
Handshower: Riobel
Water-Resistant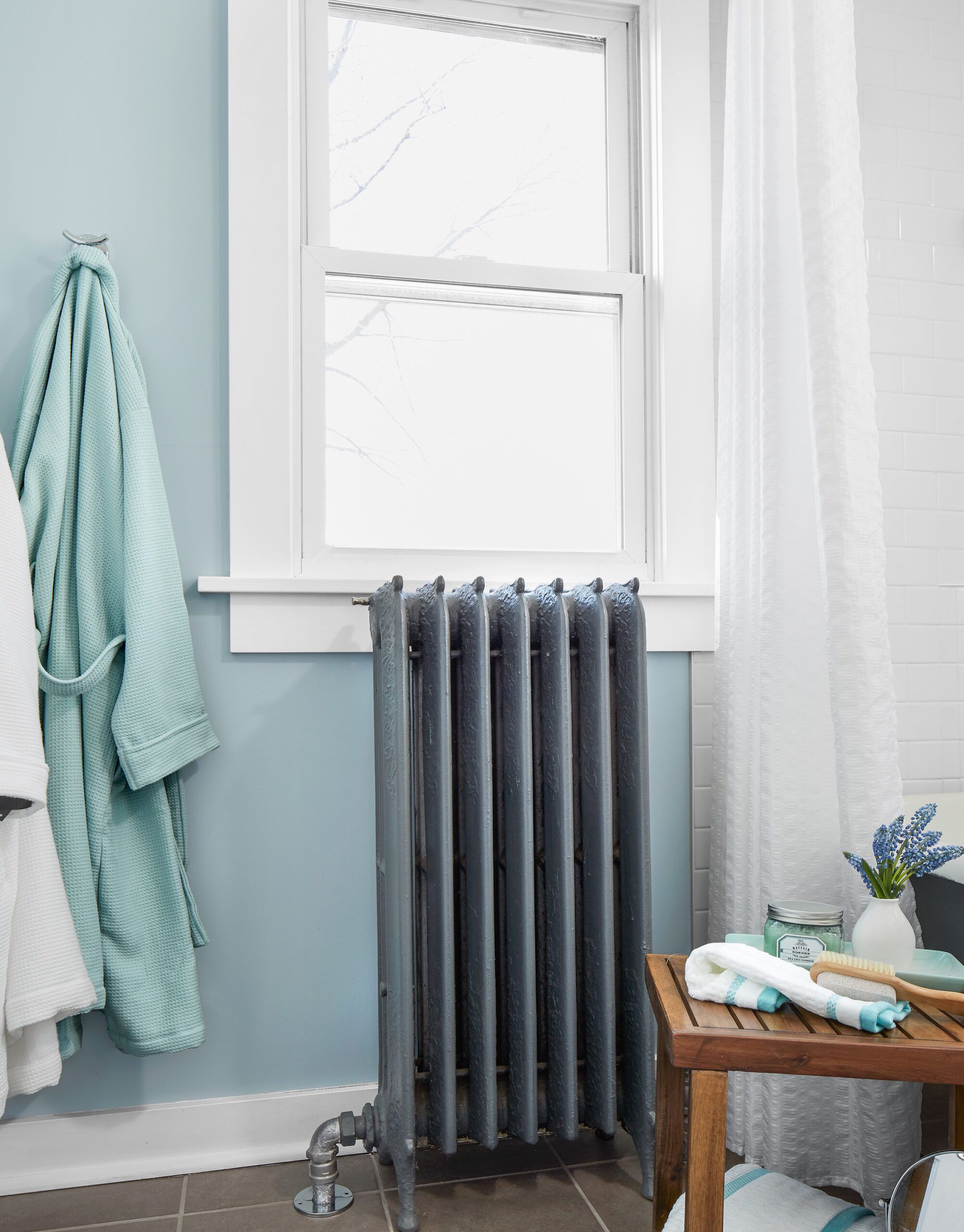 The original wood windows were in bad shape, so they were replaced with water-resistant vinyl models. New trim matches other window trim throughout the house.
Floor Plan After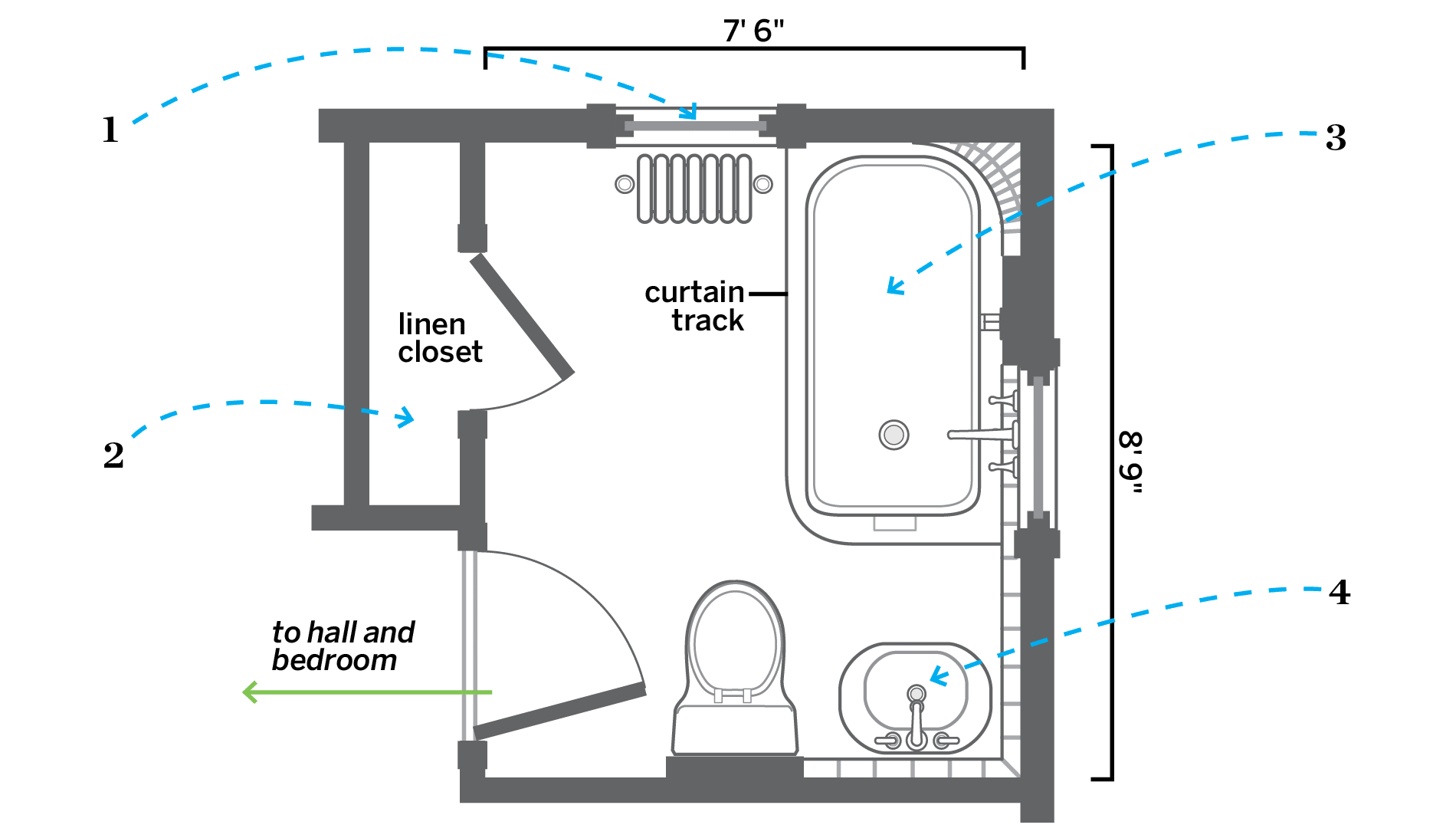 Keeping the old layout saved the budget, while thoughtful upgrades maximize the 68-square-foot space
1. Replaced both water-damaged wood windows with new vinyl models.
2. Upgraded an existing linen closet with wood shelving, a no-threshold tile floor, and a new door.
3. Removed the built-in tub and its low partition wall; installed a claw-foot, furring out the wall alongside it for new plumbing and sloping the tile floor toward a drain. Hung an oversize shower curtain around the outside of the tub from a ceiling track.
4. Swapped the old vanity for a space-saving pedestal sink, and added a recessed medicine cabinet.