Mosaics—More Versatile Than You Think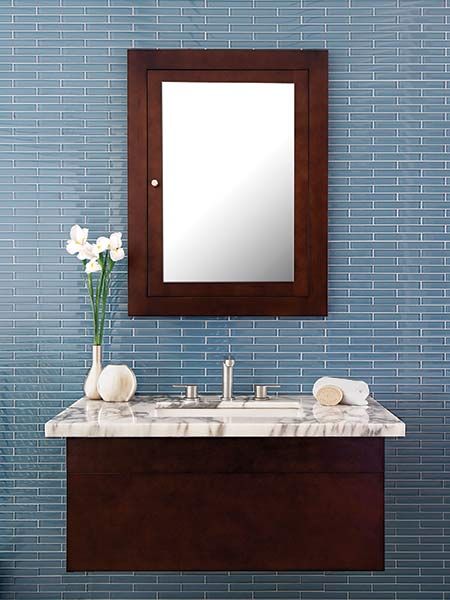 Perhaps you haven't been properly introduced to mosaic tile. This type isn't limited to your standard kitchen backsplash. There's lots of creative freedom in even the smallest of baths to create a custom look. "Mosaics can be used to cover almost any surface, whether it be horizontal or vertical, while adding style and personality to the room," says Kate Sterling, tile expert and head of the AKDO marketing and design department. She shared ways to use the tile style to make your small bath look larger—without encroaching on the footprint of your adjacent rooms.
Read on for Sterling's tips and pin-worthy inspirational images.
Shown: Caspian Blue Light (Clear) 1×6 Brick Mosaic, AKDO
Install Patterns Vertically for a Wallpaper Effect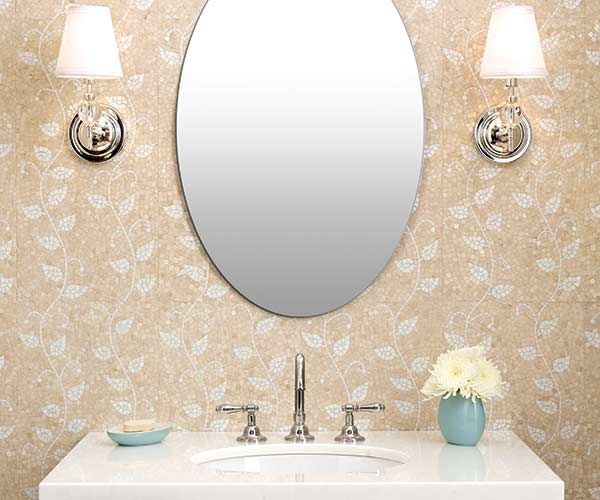 Go for a wallpaper look with an easier-to-clean surface for this humid room. "Mosaics can be installed as small accents, similar to hanging a piece of artwork, or can cover the wall to make a rich wallpaper look," says Sterling. Use shapely mosaic tile to run vertical patterns that demand attention and draw the eye upward for a high-ceiling effect.
Shown: Lace Vine Mosaic, Bursa Beige, AKDO
Read our intro on using tile in the bathroom.
Use Large Patterns to Create an Open Feeling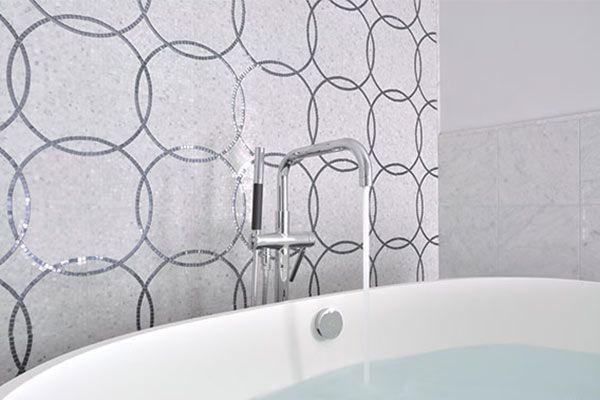 There's no need to fear pattern when it comes to mosaic tile. Actually, using large-scale patterns in a small space is an old trick of interior designers. "The pattern keeps the viewer's eyes moving, tricking them into thinking there is more space," says Sterling. Here, a mosaic pattern gives a freestanding tub the illusion of more breathing room in a small bath.
Shown: Empire Mosaic, Cararra & Pewter Mirror, AKDO
Get the perfect fit by watching a how-to on cutting stone tile.
Fake More Floor Space With a Tiled Rug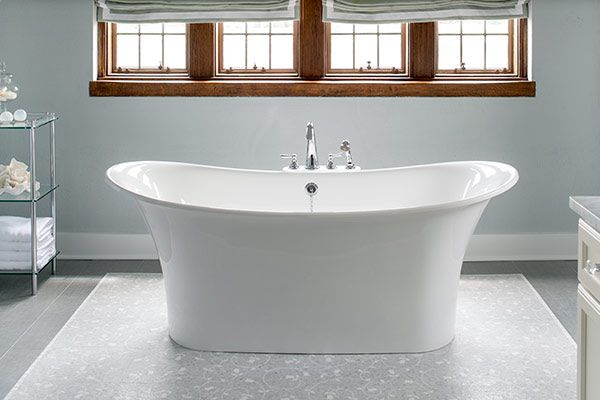 Alternatively, turn a freestanding tub in the middle of a bathroom into an island of serenity by installing a tiled "rug" underneath it. "The texture of the small stone tesserae creates a woven textile feel, creating an inviting environment," says Sterling. Tiled rugs are practical as well: They provide a sturdier grip for wet feet than traditional bath rugs.
Shown: Lace Tulip Mosaic, Carrara & Thassos, AKDO
Get a pro's secrets for tiling a bathroom floor.
Wrap a Border for a Bigger-Looking Room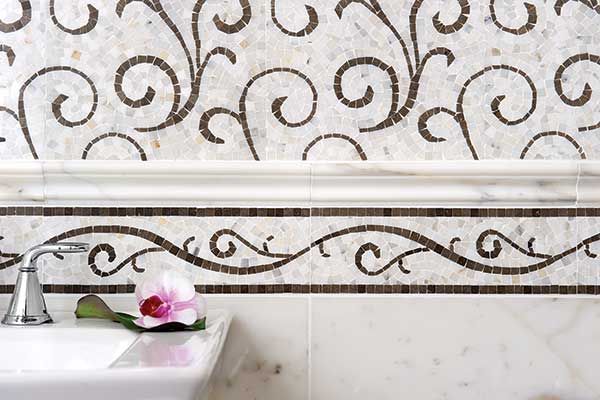 Get more bang for your tile budget by wrapping your small bathroom in a mosaic hug. "Mosaic borders are a wonderful way to add designer touches to a room while tying in details from other areas of the space, allowing a transition from one material to the next, or working within a budget," says Sterling. The continuous design keeps the eye traveling from one design element to the next, while letting you cover larger areas with less expensive tile styles.
Shown: Lace Curve Mosaic, Calacatta & Blue Lagos, AKDO
Watch an expert's tricks for replacing a cracked wall tile.
Stack Rectangular Tiles Vertically for a Higher-Looking Ceiling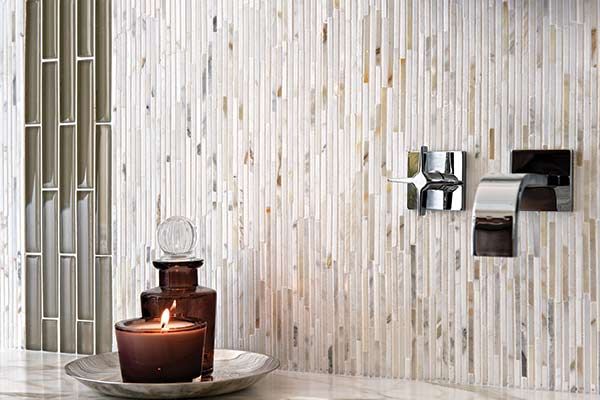 If you're mosaic-shy, this might be your best design choice. "Neutral colors like white, gray, and taupe are very adaptable, and can be used to create a variety of looks, ranging from simple and clean to a style equally as dramatic as those incorporating stronger colors," says Sterling. Here, mixed neutrals create an interesting rippling effect that's easy on the eyes.
Shown: Heavy Rain Mosaic, Calacatta, AKDO