Before: Too Purple and Young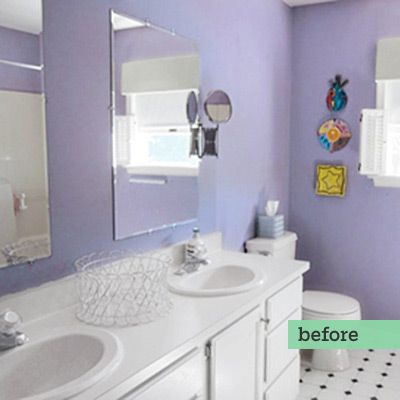 Brightly painted walls can boost a bare-bones space for only so long. In Diane and Ed Henkler's 1994 home, in Lansdale, Pennsylvania, the punchy purple their now-grown daughters had chosen for their childhood bath hadn't aged well, so when the girls moved out, Diane knew it was revamp time. Major changes were beyond the budget for the bath, now used only by overnight guests, so Diane focused on adding custom cosmetic touches.
Shown: Vivid violet walls were the only uplifting note in this plain space.
After: For Grown Overnight Guests
First, she created a board-and-batten look by nailing up medium-density fiberboard (MDF) strips spaced 10 inches apart, then used 5-inch strips of the same material to replace the room's wimpy baseboards. When she couldn't find mirrors with the look she wanted, Diane framed the existing ones with MDF and crown molding. She caulked all the seams where the boards meet the walls, re-primed everything with a formula made to resist moisture, then finished it all in satin white; she painted the rest of the walls to match the tan tub/shower insert.
Shown: Faux paneling and framed mirrors add sophistication and architectural interest, while a clever window treatment lends a lofty feeling.
Watertight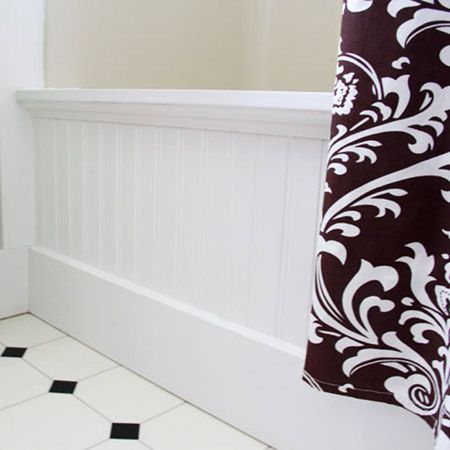 Continuing the paneled look, she covered the tub front with pine beadboard capped with watertight PVC.
Bigger Window Illusion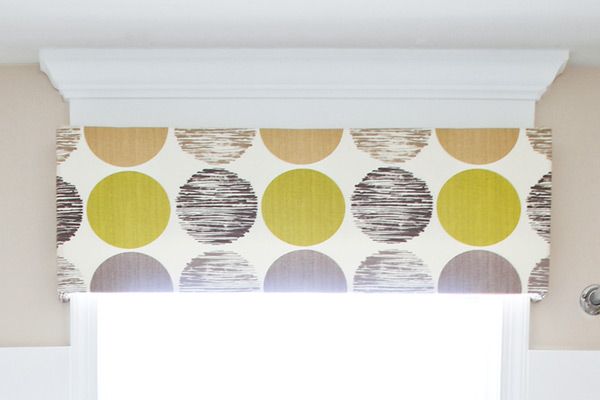 To give the illusion of a larger, more dramatic window, she added plywood and beefy crown molding above the head casing and finished the effect with a valance made of rigid foam insulation, batting, and fabric.
A Touch of Nickel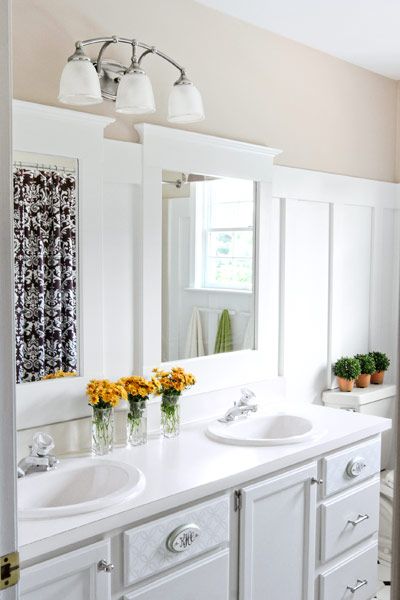 The final flourishes: an elegant nickel light fixture and, on the vanity, simple drawer pulls and decorative wood plaques. "It's definitely more grown-up now," Diane says of the space. "Friends who have seen it are just floored."
The Project Tally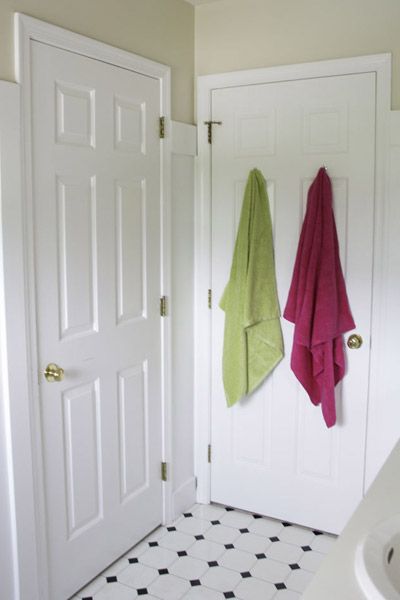 • Mimicked board-and-batten walls with pre-primed MDF. $80
• Framed mirrors with leftover MDF and crown molding. $0
• Caulked, re-primed, and painted the battens and top rail; used leftover tan paint for the walls. $70
• Paneled the tub front with a sheet of pre-primed pine beadboard and a PVC cap, then caulked, re-primed, and painted. $30
• Added height to the window with plywood and spare molding above the head casing and a valance made of batting, fabric, and leftover foam. $12
• Crowned the mirrors with a stylish clearance fixture. $50
• Fitted vanity drawers with pulls and wood plaques. $23
Total: $265