Design for Ease in Use: After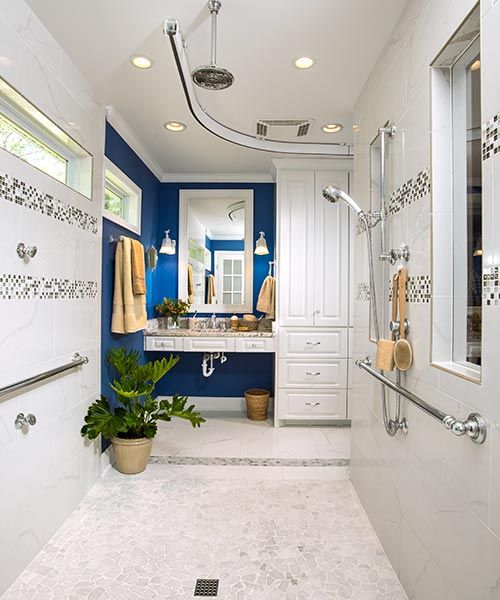 No matter the size, a bathroom is useless if it's inaccessible. That's what Lena
and Ted Swanson found when they bought their 1980s home, in Walterboro, South Carolina, shortly after Ted was diagnosed with ALS, a degenerative neuromuscular disease. Knowing that they'd need to rethink the space to make it easier for Ted to navigate as the years progressed, the couple sought the help of Charleston designer Sandra Gaylord. With Ted's needs in mind, Gaylord gutted the space—including a massive walk-in closet—to set the stage for an open floor plan that would accommodate a shower chair and attendants. The centerpiece: a spacious, curbless shower with four wall-mount sprays, long grab bars, a rainhead, and an adjustable-height hand shower, plus openings at both ends for easy comings and goings. With its expanse of clerestory windows and crisp white and blue walls, the room feels warm, not sterile. "We spend a lot of time in there, so we love the windows," says Lena. "It's so nice to be able to look out and see the sky."
Bath Full of Obstacles: Before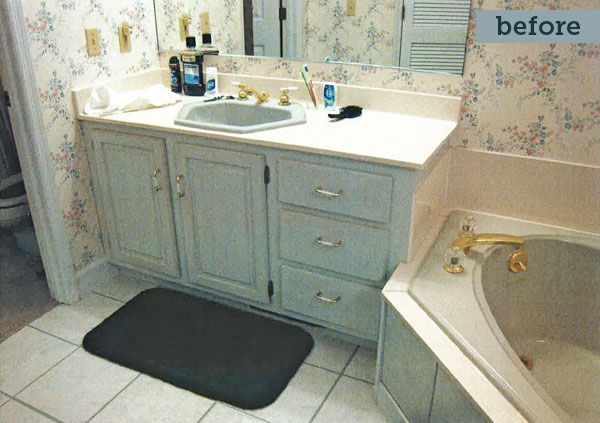 The hulking corner tub and vanity cabinet were among the master bath's obstacles.
Clerestory Windows for Plenty of Light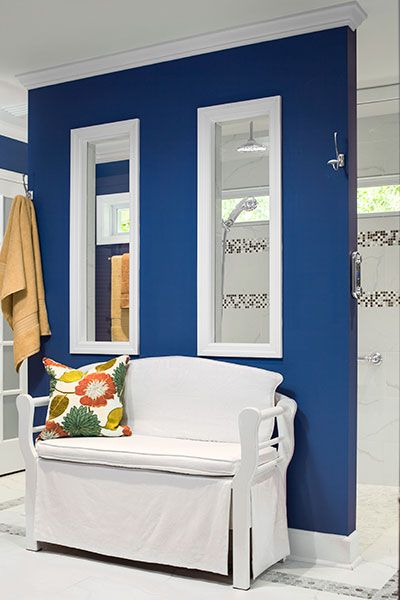 Clerestory windows in the shower let in plenty of natural light without sacrificing privacy or requiring cumbersome blinds or curtains. Two large glass panels on the interior shower wall filter light all the way through the room.
Handheld shower: Grohe
Shower fixtures: Moluf's Supply
Contractor: Classic Construction of Summerville, Summerville, SC; 843-817-1721
Bath to Bedroom Lift System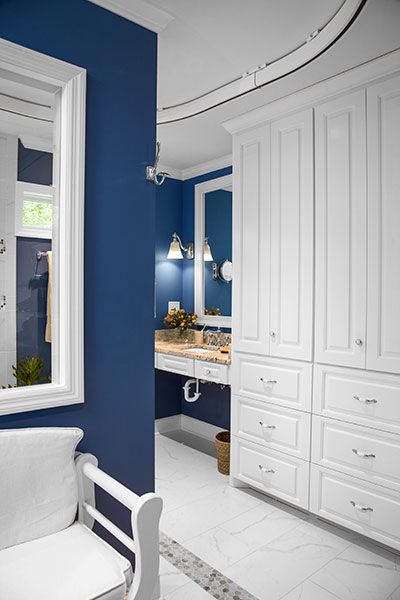 A ceiling track guides Ted's lift system, which runs from the bath into the bedroom.
Overhead track: All in One Accessibility
Sinks: Kohler
Sconces and faucets: Restoration Hardware
Shower Temperature Controls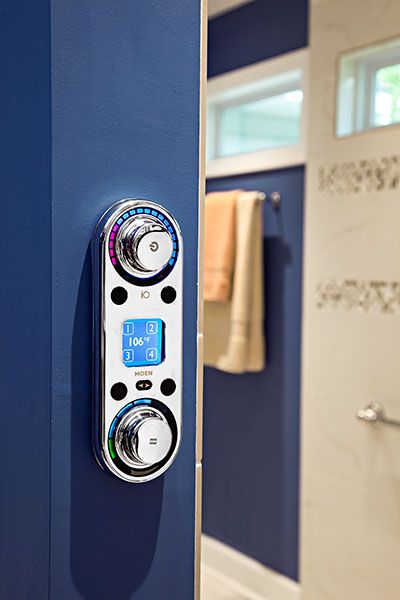 High-tech shower controls store water-temperature preferences for comfort and safety.
Shower controls, rainhead, and grab bars: Moen
Unobtrusive Built-In Storage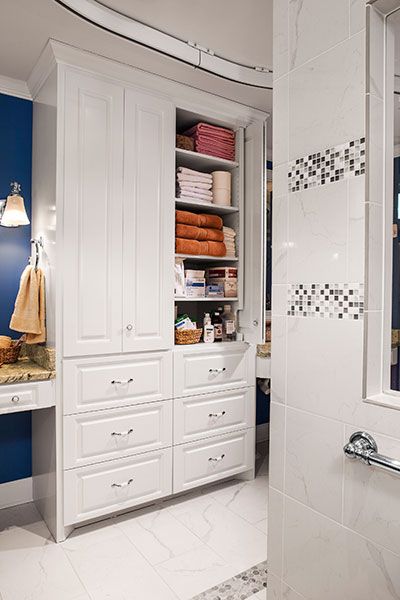 Folding doors tuck into the built-in so that they don't block the walkway.
Cabinets: Dave's Custom Cabinets, Charleston, SC; 843-608-4828
Granite countertops: Stone Horse Imports
Toilet: TOTO
Floor Tiles With a Good Grip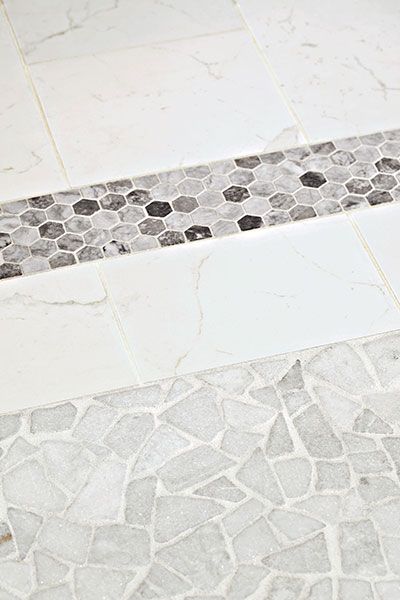 Large, rectangular floor tiles are wheel-friendly; smaller border tiles and irregular shapes in the shower have plenty of grout for extra grip. Folding doors tuck into the built-in so that they don't block the walkway.
Tile: Walker Zanger
Floor Plan Before: Wheelchair Unfriendly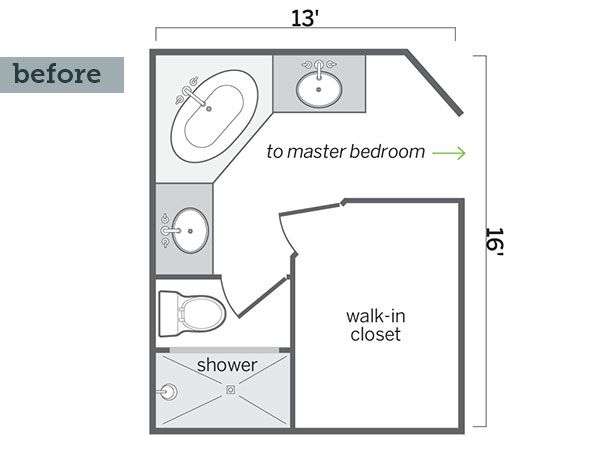 A walk-in closet and a giant corner tub left little room for a wheelchair to maneuver.
Floor Plan After: Layout for Easy Maneuvering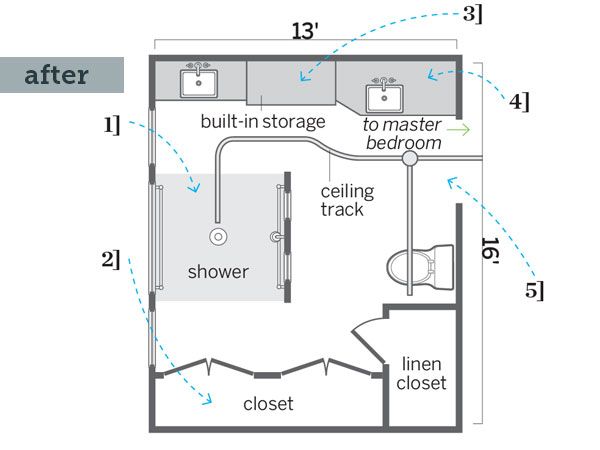 Swapping the large closet for two smaller ones, plus a built-in cabinet, freed floor space to create an easily navigable open layout.
1. Replaced the old shower with a wide roll-through space that leaves enough room for attendants.
2. Added a shallow closet that puts everything within reach without obstructing valuable floor space.
3. Built in cabinets and drawers for most-used equipment.
4. Created two vanities, the larger of which has knee-to-toe clearance for wheelchair access, plus large counters to keep essentials close at hand.
5. Widened the entry to 42 inches and kept the door off for maximum accessibility.