Frank and Janice Go to Hollywood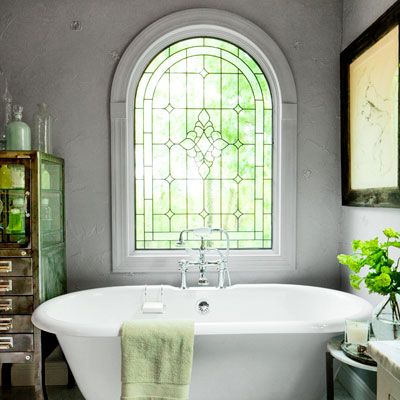 "If we were going to do this bath, it had to be magnificent." —Janice and Frank Gingerelli, Bloomfield, New jersey
After 30 years of enduring their master bath's busy orange-and-fuchsia wallpaper, dingy beige tile, and dim light from one puny window, Janice and Frank Gingerelli wanted the opposite for their remodeled space. They made it bright and airy by installing a new leaded-glass window and exposing the ceiling rafters.
Silver-Screen Style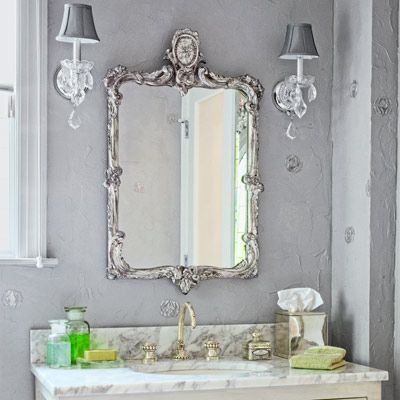 A silvery color palette, mirrored surfaces, and crystal accents—all hallmarks of 1930s Hollywood Regency style—added sparkle. And a pedestal soaker tub and marble-topped vanity gave the room a luxurious feel.
Splurges and Savings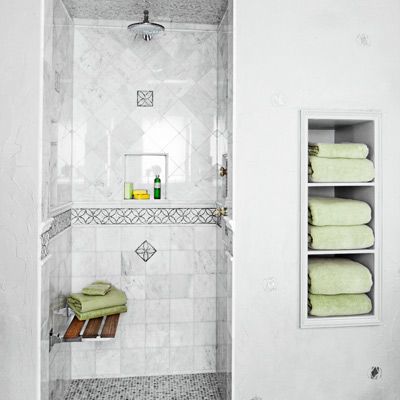 While the couple splurged on materials, they saved by doing most of the labor, including framing out the window. Janice even silver-leafed the vanity mirror's frame and the chandelier to coordinate their finishes. "No one knows your taste or works as hard for you as you do," says Janice. To bring the Gingerellis' silver-screen style to your bath on a more modest budget, read on.
1. Accent Window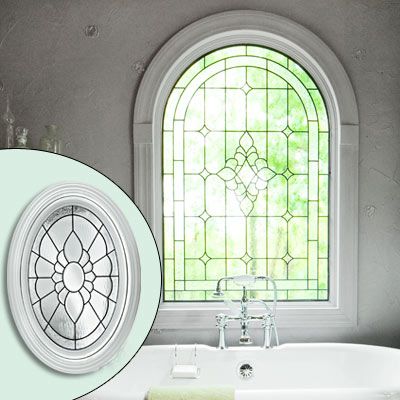 Add a leaded-glass window to boost elegance and natural light without sacrificing privacy.
Oval floral-pattern window, $327; homedepot.com
2. Apothecary Bottles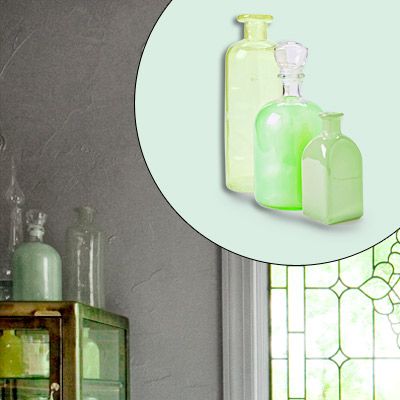 Trade plastic soap pumps for refined glass containers.
Tall bottle, $19, and green bud vase, $6; westelm.com
Bubble bath in stoppered decanter, find a similar product here at Amazon
3. Glimmering Chandelier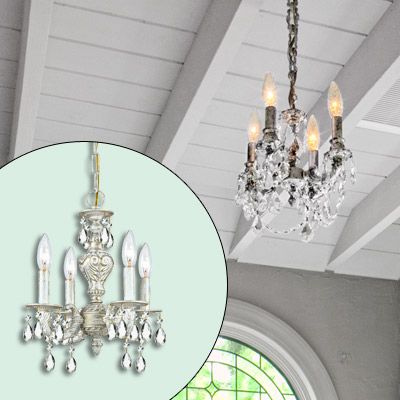 This antiqued-metal fixture will draw eyes up to the ceiling and refract light through its faceted crystal drops.
Chandelier, $230; lampsplus.com
4. Vanity Accessories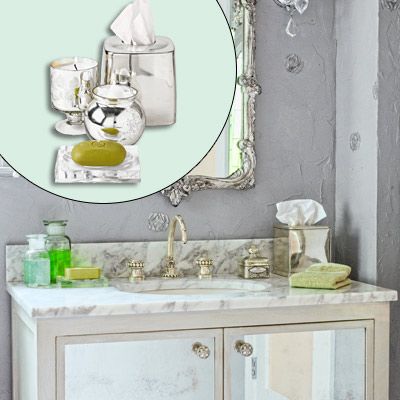 Accents with light-reflecting surfaces, such as mirror glass or polished steel, add shine without taking up much visual space.
Tissue holder and glass soap dish, $20 each; bedbathandbeyond.com
Mercury-glass candle, $16;
Vase, $12; westelm.com
5. Crystal Sconce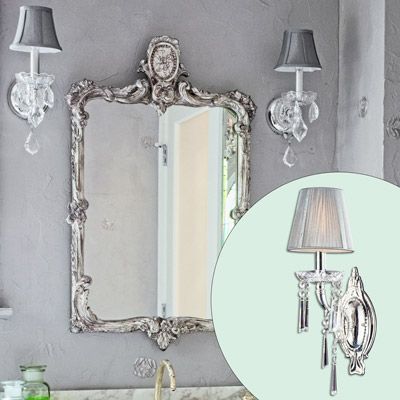 Frame a vanity mirror with a pair of sconces to cast a candle-like glow. The Gingerellis' hand-cut-crystal lights were $350 each.
Sconces, $127; wayfair.com
6. Gilded Mirror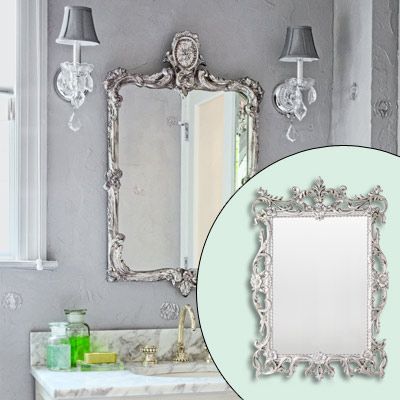 This handcrafted mirror's ornate silver frame epitomizes the showiness of the Hollywood Regency style.
Mirror, $174; shabbymcfabby.etsy.com
7. Gooseneck Faucet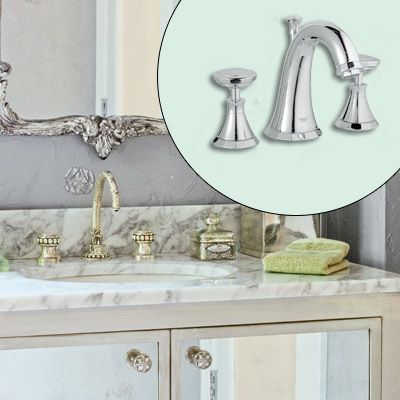 The graceful arch of the spout and the round handles echo the styling of the couple's faucet, but for half the price.
Grohe faucet set, $510; directplumbingsupply.com
8. Marble-Top Vanity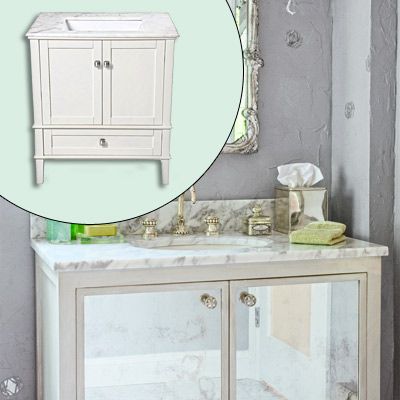 The Gingerellis' vanity was custom-made. For a similar look, fit the recessed panels in this stock sink cabinet with mirrors cut to size at a glass shop. Glue the inserts in place with mirror mastic.
Vanity with marble top and undermount sink, $650; wayfair.com
9. Tile Tableau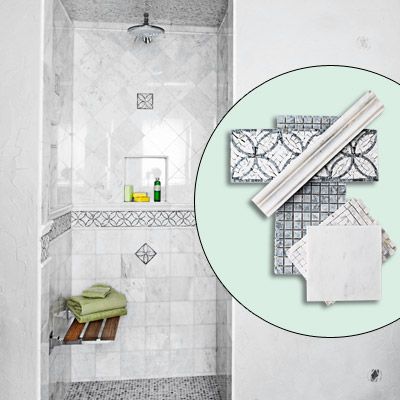 Work the angles for a unique tile display. In the Gingerellis' shower, a floral mosaic border and a chair rail divide field tiles set as squares on bottom and diamonds on top. Details cut from the border echo the motif.
Floral border, $23 per linear foot;
chair rail, $12 per linear foot;
gray mosaic (shower floor and ceiling), $21 per square foot;
white micro mosaic (bathroom floor), $25 per square foot;
and statuary field tile, $12 per square foot; stoneandtilenj.com
10. Textured Plaster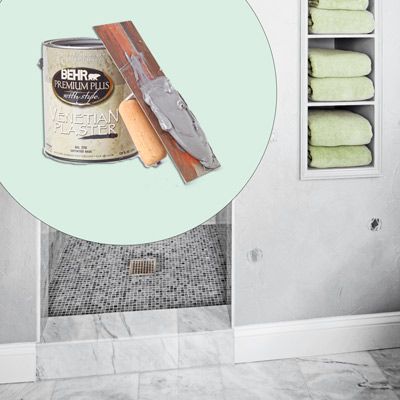 Add depth and a rich look to walls with Behr's trowel-on Venetian plaster, shown in Silver Screen.
Plaster, $37 per gallon; homedepot.com
11. Plush Towels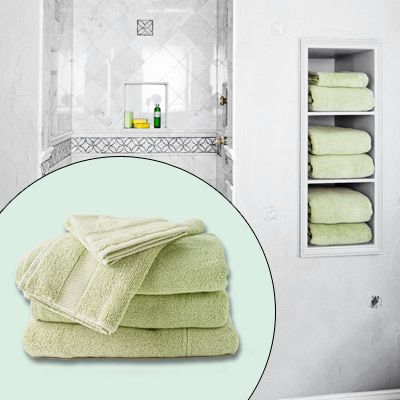 Sage-green towels add a pop of color and soften the look of the bath's hard surfaces.
Bath towels, $10 each; bedbathandbeyond.com
12. Pedestal Tub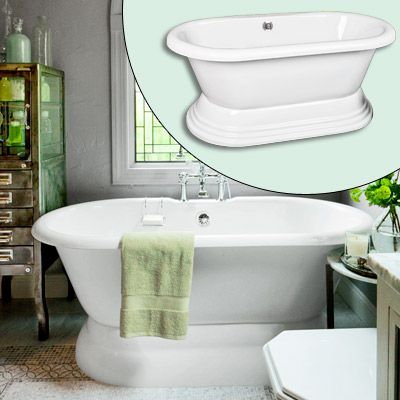 Make the tub the main event. Centered under the window, it's the first thing you see upon entering the Gingerellis' bathroom. For a more affordable version of their cast-iron soaker, choose this acrylic one.
Acrylic tub, $1,100; signaturehardware.com