After: Era-Transcending Master Bath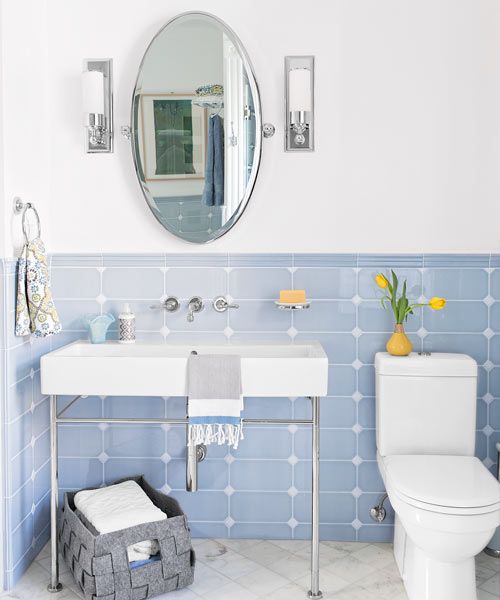 Incorporating contemporary sensibilities into a period home can be tricky. Patricia Jagtiani loved the vintage charm of her 1930s house, in Alexandria, Virginia, but when she decided to add a master bath—part of a renovation that included a new master bedroom addition—she hoped for something more modern.
Shown: The new bath's contemporary look is tempered by period details.
Architect: Gaver Nichols, Alexandria, VA; 703-836-5209
Contractor: Danny Graumann, Woodbridge, VA; 703-497-9173
Console, sink and toilet: Duravit
Faucet: Brizo
Sconces and mirror: Restoration Hardware
Basket: West Elm
Before: Tired Master Bedroom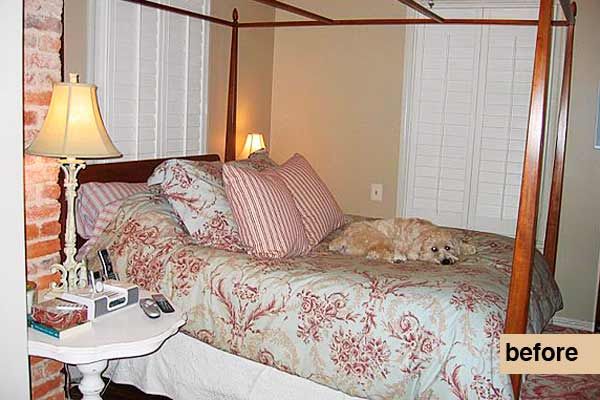 Taking the place of the former master bedroom, the bath features a blended style inspired by an early find: the clean-lined sink, an update of the classic console. Patricia chose a tub to match, settling on a rectangular jetted soaker juxtaposed with Victorian-style fittings. A bright and airy shower enclosure sits adjacent to it. On the walls, she added vintage-inspired blue and white tile, keeping it current in a blown-out size. Marble tile underfoot and period-perfect molding throughout ensure the room fits with the rest of the home.
The fusion is just what Patricia was looking for. "It was created for me, with everything I like," she says. "It's a peaceful haven I lacked before."
Shown: The master bedroom occupied this space.
Plenty of Space for Suds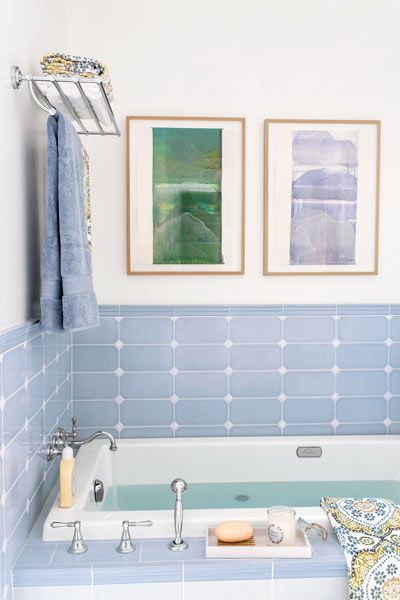 The modern, boxy tub has a broad deck for toiletries and a separate handshower to accompany the wall-mount shepherd's crook faucet. Towels hang within reach from a vintage-style train rack.
Tub: Aquatic Bath
Train rack: Restoration Hardware
Faucet: Riobel
Handshower: Brizo
Artwork: Randy Toy
Bright Glass Shower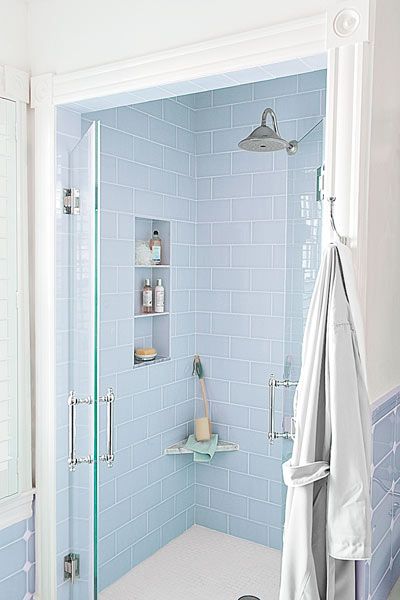 Frameless glass double doors invite in light from the adjacent window. A recessed niche and a slim corner shelf hold necessities.
Rain showerhead: Brizo
Compact Pocket Door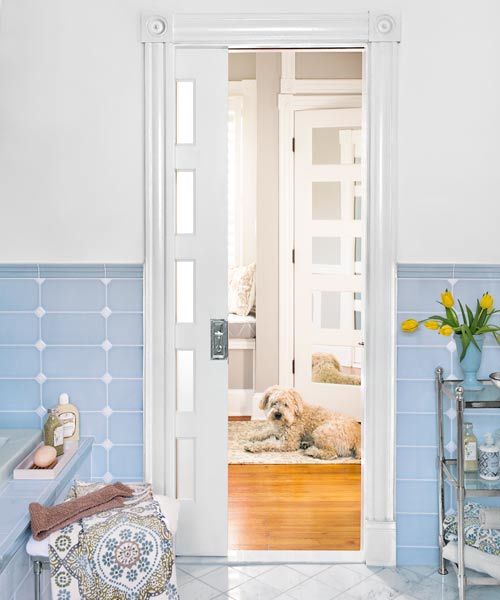 A pocket door closes off the dressing room (where the homeowner's wheaten terrier, Wilson, relaxes) without sacrificing space. Contemporary frosted-glass panels brighten the area while maintaining privacy.
Door: TruStile
Floor tile: MS International
Double-Duty Storage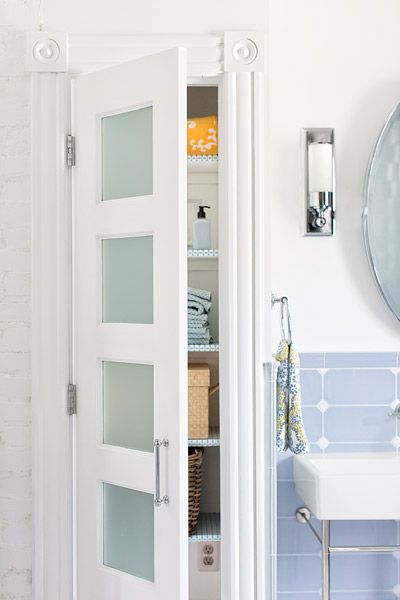 The linen closet, which doubles as a medicine cabinet, pairs modern square lights with a traditional chrome pull.
Coordinating Fluted Casing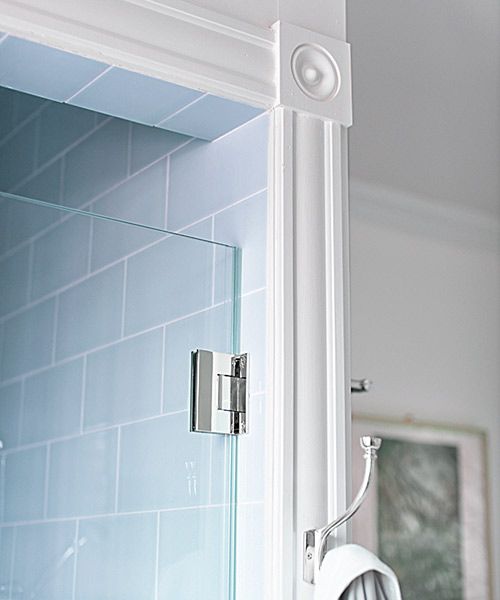 Fluted casing and bull's-eye corner blocks unite the new space with the rest of the 1930s house.
Robe hook: Restoration Hardware
A New Twist on Subway Tile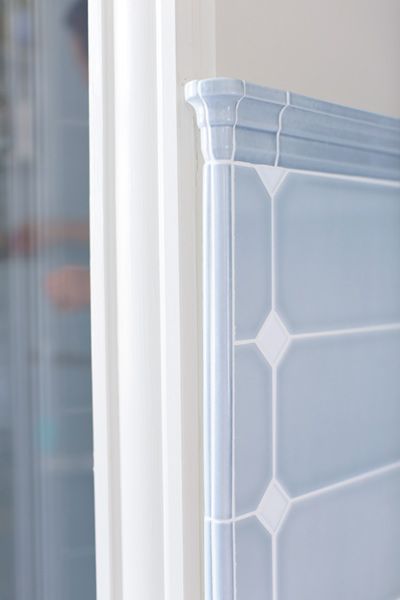 Subway tile gets a shake-up with fresh 5-by-10-inch dimensions and diamond insets. A classic tile chair rail with bullnose corners caps it off.
Wall tile: Ceramiche Grazia
Floor Plan Before: Old Master Bedroom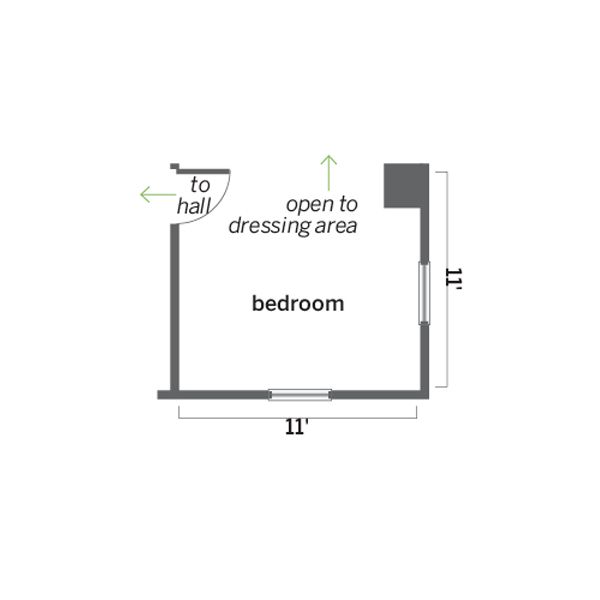 The 121-square-foot space held the master bedroom.
Homeowner Tip: "To update the look of classic subway tile, I ordered it in a larger size and in a soft blue." —Ratricia Jagtiani, Alexandria, VA.
Floor Plan After: Timeless, Luxurious Bath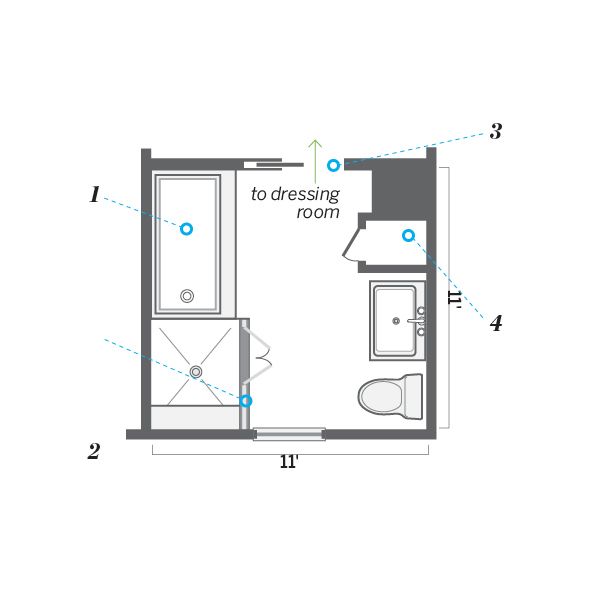 Gutted, plumbed, and rebuilt, the room became a bath with a 6-foot tub and a separate shower enclosure.
1. Built in the tub right at the room's entry to maximize an open feel in the room.
2. Chose a shower enclosure with frameless glass doors to channel light from the window.
3. Created an entry with a space-saving pocket door to the dressing room, which connects the bath to the hallway and new master bedroom.
4. Installed a linen closet that blends with an exposed chimney chase. This former exterior wall became an interior wall, with the addition beyond it.