Functional and Charming: After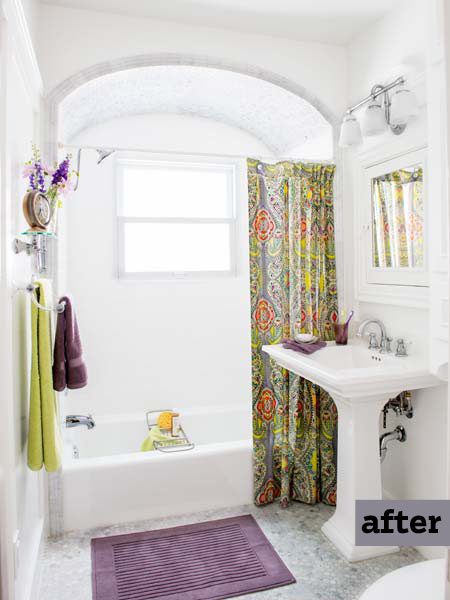 There comes a point in every remodel when a homeowner hits that This is getting old! feeling head-on. For Beverly Grafflin, that time came when she found herself, on one too many nights, standing naked on a towel in a windowless corner of her kitchen—bathing out of a bucket.
Shown: White subway tile, a new fixture layout, a sleek pedestal sink, and an arched tub enclosure add function and charm.
Contractor: Grafflin Construction, Corona, CA; 909-217-3428
Paint: Falling Snow (walls); Behr
Window: Milgard
Towel bar: Home Depot
Glass shelf: Gatco
Tub: Kohler
Faucets, showerhead: Delta
Light fixture: Hampton Bay
Tiny and Cramped: Before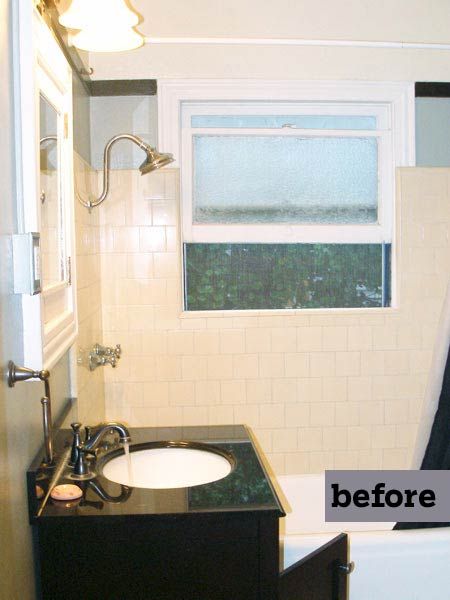 Gutting the only bath in her 1926 Spanish Mission house, in Riverside, California, was the only solution to its many flaws: a door that swung into the 5½-by-8-foot room, nearly hitting the toilet behind it; an awkwardly placed vanity; and old cracked tile. "When the shower drain kept plugging up, I figured it was time to do the whole thing right," says Beverly, who called on family—her daughter and ex-husband are contractors—to help streamline the layout and oversee moving the sink and toilet, replacing the tub, and installing fresh tile. To duplicate existing features in the house, Beverly made a template for an arch above the shower, which helps give the space a loftier feel. Months of inconvenience later, she couldn't be happier with the result and says: "I love my beautiful little bath."
Shown: A door that opened onto a dark, bulky vanity and nearly hit the toilet made the 45-square-foot bath seem even more cramped.
Streamlined Shapes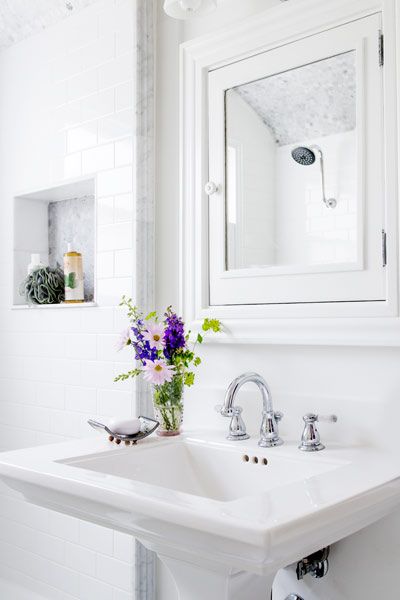 A shapely pedestal sink lightens up the look of the room. The old medicine cabinet was refinished and reinstalled. A built-in shower niche keeps essentials handy.
Sink: Kohler
Flush Storage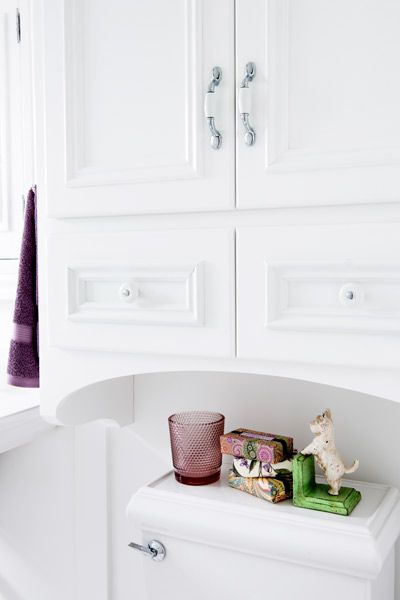 A custom cabinet above the toilet stretches to the ceiling, providing storage—lost along with the vanity—and echoing the tub enclosure's arch.
Toilet: Kohler
Ceramic knobs: Aubuchon Hardware Store
Hand-Honed Shower Tile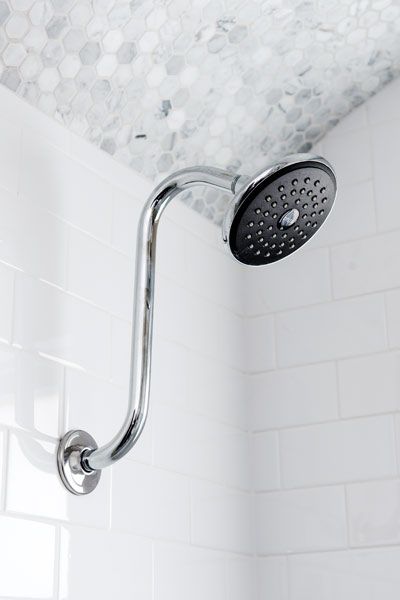 A sinuous showerhead is crowned by an arched ceiling lined with marble hexagonal tile that was honed by hand after it arrived with the wrong finish.
Showerhead: Delta
Floor Plan Before: Tight Feel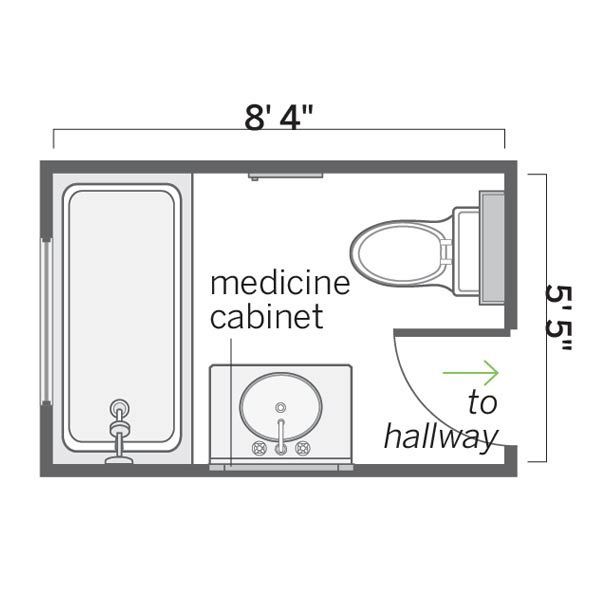 The door opened onto the vanity and banged into the toilet, making the space feel tight.
Floor Plan After: Small Moves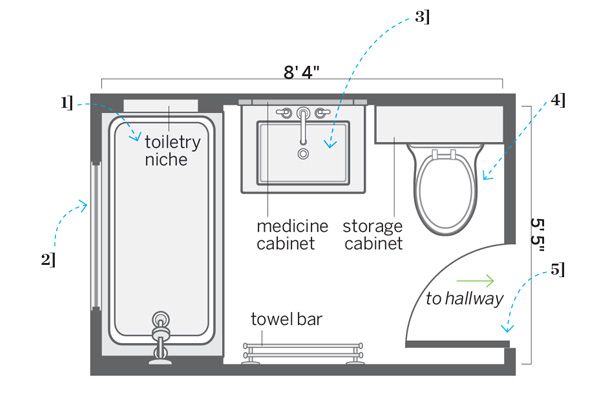 While the footprint stayed the same, reversing the door swing and moving the sink and toilet to the same wall streamlined the layout.
1. Created an arched ceiling above the new, low-profile tub for an airy feel.
2. Replaced the rotting window-sill and installed a new, vinyl-clad wood window with frosted glass for privacy.
3. Moved the sink and replaced it with a sleek pedestal model.
4. Relocated the toilet to the new sink wall for more open floor space.
5. Reversed the door swing so that it rests against the wall when open.