Pattern Play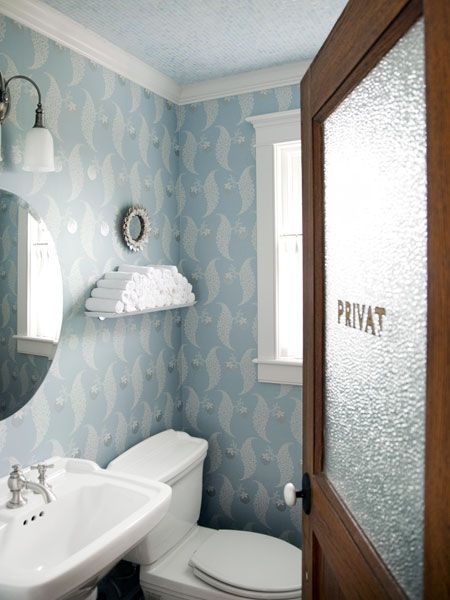 "There are four excellent reasons to use wallpaper in a powder room," says Jane Coslick, an interior designer based in Savannah, Georgia. Without a steamy shower, there's no worry about peeling paper. Continuous patterns—like the eye-catching blue-and-white print here—have the effect of making corners disappear, so small spaces feel more expansive. And you don't need much material, so you can spring for the good stuff. Best reason of all: "The wow factor when you open the door!" says Coslick.
Shown: Rosslyn wallpaper (walls), about $225 for a 58-square-foot roll; us.farrow-ball.com
Repurposed Character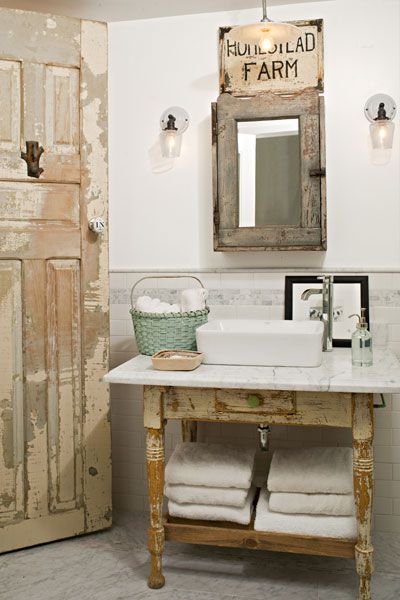 Turn a flea-market table or a discarded dresser into a unique bath vanity (See how to turn a table or dresser into a unique bath vanity here). Here, a vintage table becomes an unexpected base for a rectangular vessel sink; other distressed elements include the weathered medicine cabinet and salvaged door. Subway tile, marble, and a single-stem faucet mix in for a rustic-meets-sleek look. "A powder room is a great place to showcase your style with something fun, whimsical, or offbeat," says Birmingham, Alabama–based designer Lindsey Ellis Beatty.
Similar to shown: Blanton sink, about $140; signaturehardware.com
Deep Thinking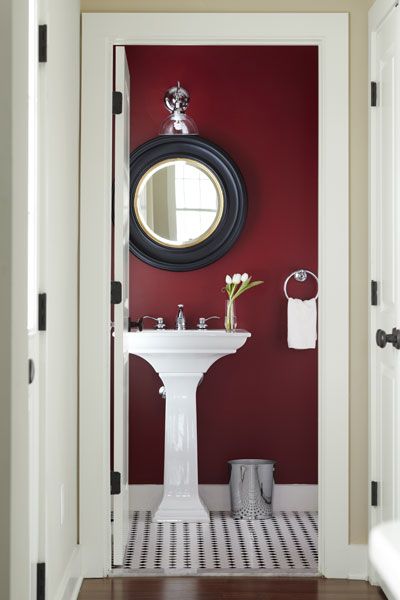 "People worry about using a dark color in a tiny room," says Rita Wilkins, a designer in Avondale, Pennsylvania. "But a coat of white paint isn't going to change the fact that it's small—you might as well embrace it!" Consider a deep red, like the one here, or an equally intense blueberry, peacock, plum, dark gray, or chocolate brown. "These shades can make the room rich, luminous, and cozy all at once," says Wilkins. To get the right depth of color, she advises prepping with a tinted primer, following with at least three coats of paint. "If you don't love it," she says, "it's not much wall to repaint."
Similar to shown: Valspar's Front Door Red, about $34 per gallon; lowes.com
Upscaled Elements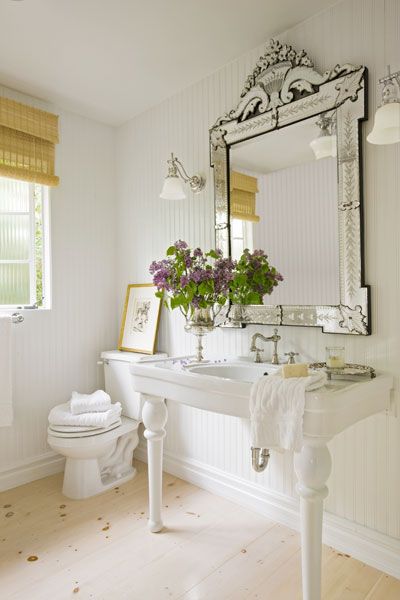 Often among the last areas to be revamped, powder rooms can suffer from "builder-basic syndrome," with home-center cabinets and minimal mirrors. Go from standard to striking by adding one oversized element, such as a huge mirror, as shown here. "You can use scale and proportion to create the illusion of a higher ceiling and improve the proportions of a small room," says Wilkins. A powder room mirror typically measures two-thirds the width of the vanity and two-thirds the height from sink top to ceiling. To oversize, go up proportionately in thirds, such as a 36-by-48-inch mirror over a 36-inch-wide vanity.
Similar to shown: San Marco mirror, about $390; wayfair.com
Standout Sink
An unusual shape, size, or material can make a sink special enough for guests but ideal for family use, too. An extra-deep utility basin, such as this one, which is set into a handsome wood base, is super-functional when the powder room is also hand-washing central for kids. In fact, the twin faucets make it doubly so. Just don't neglect to put in high-quality fittings. "Too often people install a cheap faucet, figuring, 'It's just the powder room,'" says Ritch Holben, an architectural designer based in New Marlborough, Massachusetts. "But in a busy household that sink can get a lot of use."
Similar to shown: Harborview sink, about $2,900; Amazon
Lighting Done Right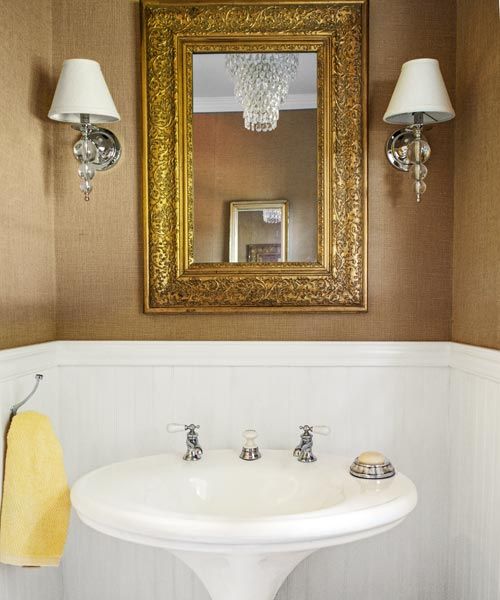 While powder room grooming is likely limited to hand-washing and a quick swipe with a comb, flattering light is critical to making guests feel comfortable. Task lighting in the bath shouldn't come from overhead, as it casts unflattering shadows. The better option, according to Holben, is to create a cluster of lighting, with overall ambient illumination coming from a small chandelier, pendant, or flush-mounted fixture on the ceiling, and task lighting provided by a pair of dimmable wall sconces set at eye level on either side of the mirror.
Similar to shown: Adele chandelier, about $560; potterybarn.com; Wilcox Globe sconce, about $70 each; amazon.com
Textural Touches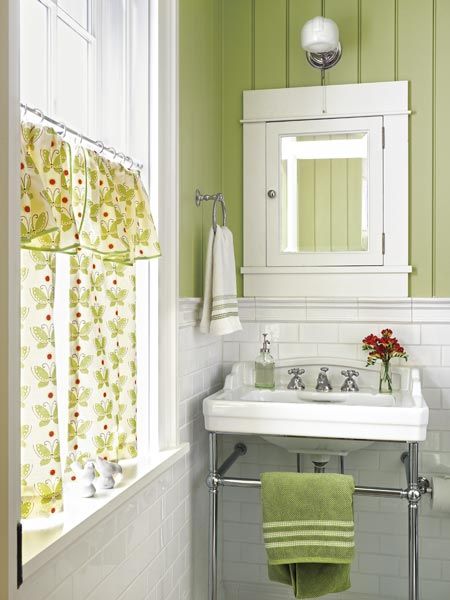 The trick to making a primarily white half bath spa-like rather than lab-like is mixing and layering textures, says Coslick. Budget-friendly white ceramic subway tiles are easy to install (and to clean) and leave a space feeling sparkly and bright. Adding detailed millwork and a splash of cheery color—like the wood-frame medicine cabinet and green-painted beadboard here—are sure ways to warm it up.
Similar to shown: Pennington console sink with polished-nickel stand, about $700; signaturehardware.com
Stylish Storage: Baskets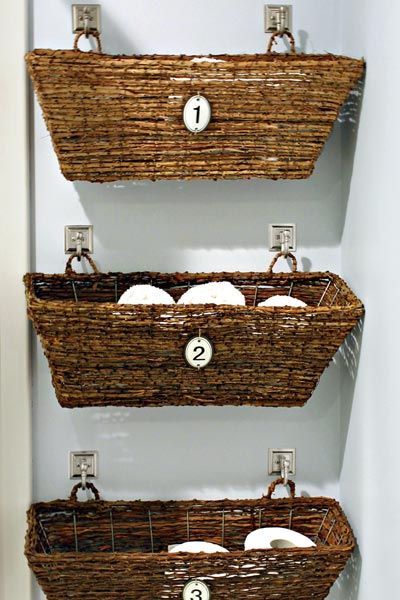 Company's on the way? In minutes you can install a wall of baskets so that guests never run out of TP.
Similar to shown: Rachael basket, about $12; worldmarket.com
Stylish Storage: Floating Shelves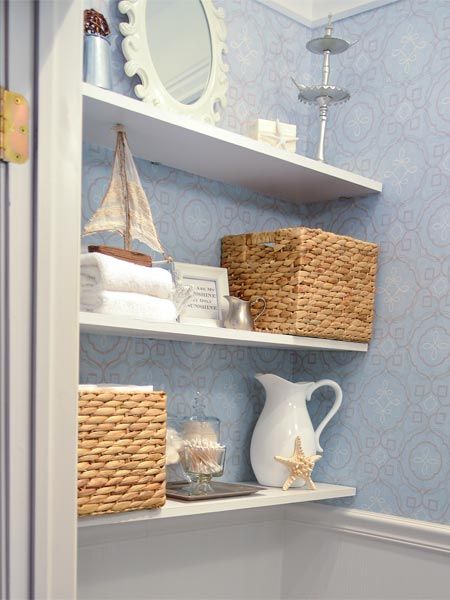 Plain planks with hidden hardware offer sleek, low-profile display and storage space.
Similar to shown: Home Decorators Collection, from $22; homedepot.com
Stylish Storage: Built-in Niche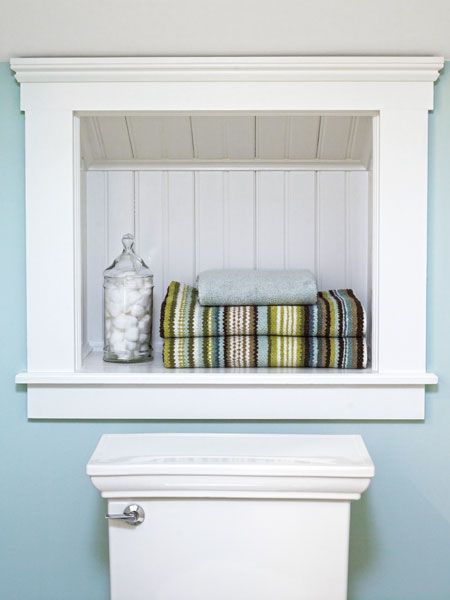 ln a half bath with little elbow room, a recessed cubby is an ideal solution. Get the basics for creating space between wall studs here.
Worthy Extras: Handsome Hardware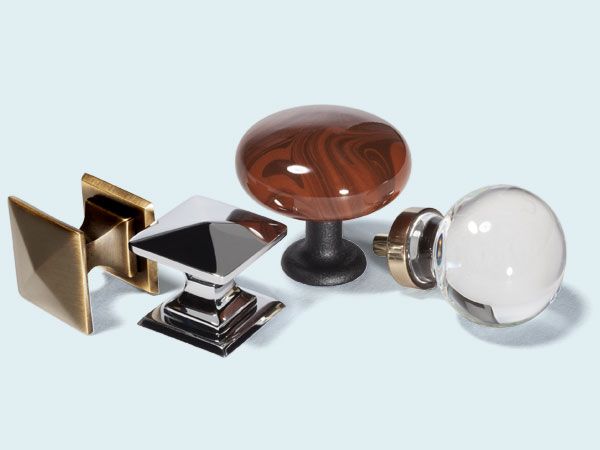 With just a screwdriver and a few new knobs, you can instantly update an old vanity.
Shown: Knobs, $9-$12; rejuvenation.com
Worthy Extras: Soft-Close Seat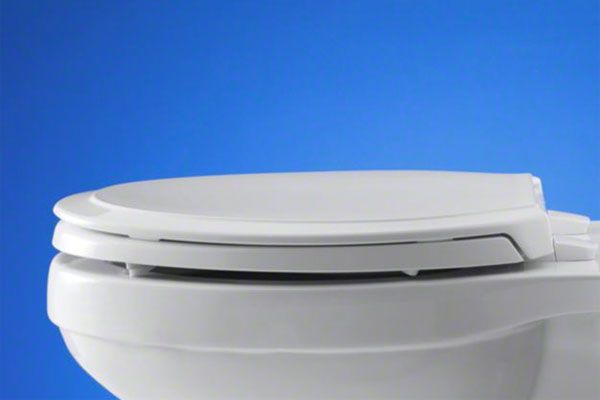 Save guests (and yourself) from the unceremonious sound of a slamming lid.
Shown: Q3 Quiet-Close toilet seat, about $67; Amazon
Worthy Extras: Wall Art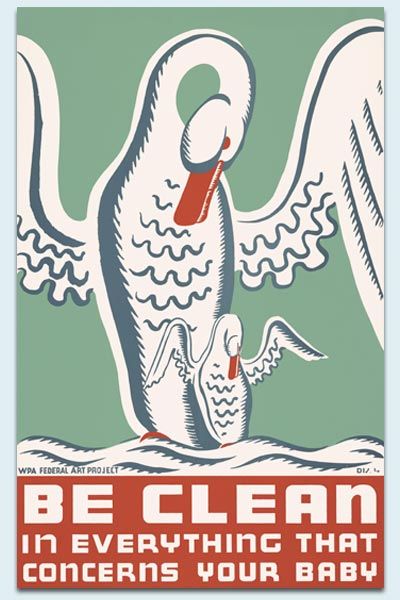 Seek affordable prints with graphic punch, or create a custom piece from a cell-phone snap. WPA poster print, from $15; vintagraph.com. Canvas prints of your own photos, from $35; allposters.com
Worthy Extras: Special Hand Towels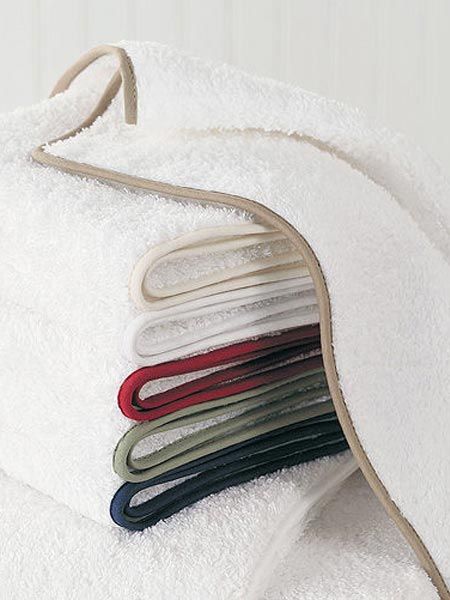 In an intimate space, guests are going to notice details, such as nice towels. Look for Egyptian cotton or ones with embroidery or trim. Matouk Cairo towel, about $23; gracioushome.com
Worthy Extras: Cushy Rug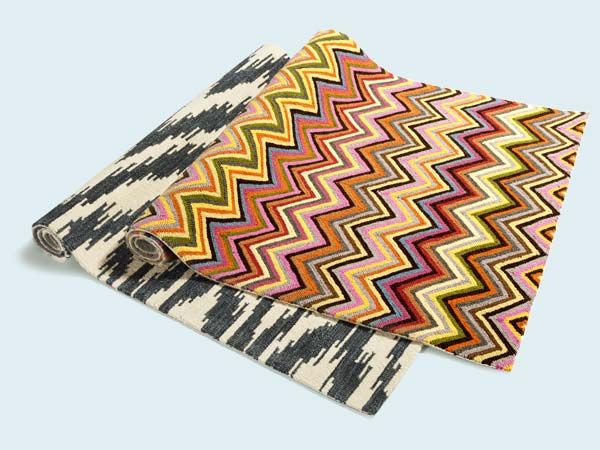 A plush textile underfoot can soften a powder room's hard surfaces. One with a distinctly horizontal or vertical pattern can trick the eye and make a space feel longer or wider. 2-by-3-foot rugs, about $83 (left) and $95, dashandalbert.com