After Bumpout: New Scenic Bath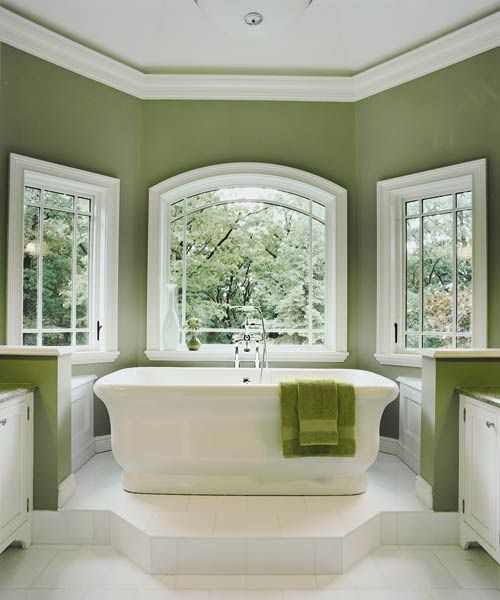 One thing can lead to another when a remodel is under way. The owners of this sunlit master bath in Westchester County, New York, were embarking on some changes to their Shingle-style home when architect Carol Kurth came up with a suggestion: Instead of the simple cosmetic update they'd planned for their leaky, '80s-style bath, why not go a bit further? "When we showed them the opportunities for storage and views that a small addition would open up, they decided to go for it," says Kurth. Her plan hinged on a modest bumpout—about 8 feet deep and 10½ feet wide—to allow for twin vanities and a vaulted, windowed bay for a freestanding tub, positioned to maximize Hudson River views. The original section now holds a shower, a dressing area with custom cabinets, and a private toilet room.
Shown: On a platform in the new windowed bay, a Waterworks tub soaks up natural light and scenic vistas via Kolbe windows.
Before Bumpout: Narrow '80s Bath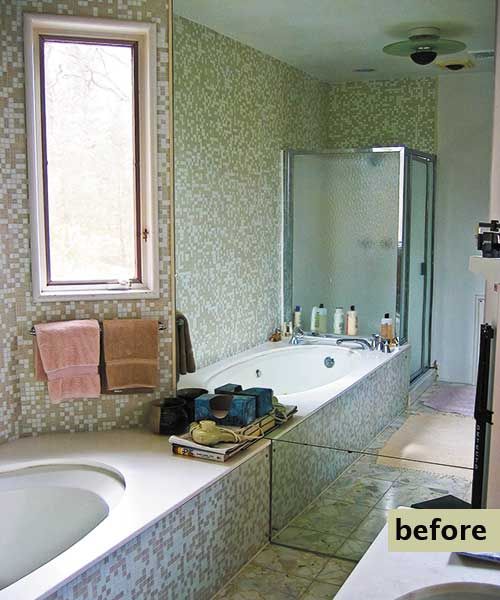 Narrow windows, dingy tiles, mirrored walls, and leaky pipes made the 1980s-style bath redo feel uninviting and out of
sync with the house's period.
Extra Storage for The Master Suite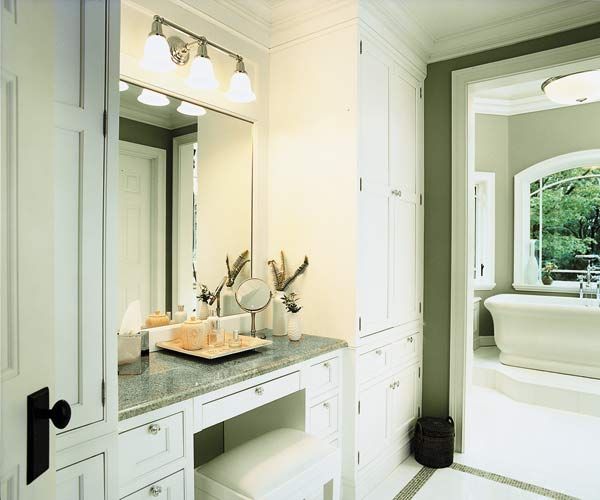 To make up for an overall lack of storage space in the master suite, the architect integrated wardrobe cabinets on either side of a built-in vanity table, creating a dressing area.
Serene Green Paint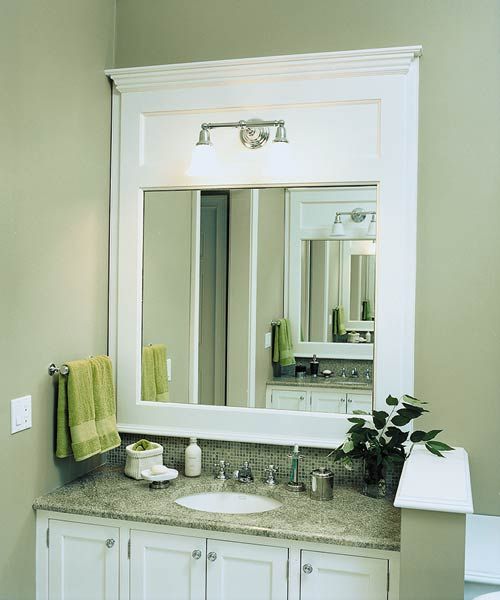 Vanity and hanging fixture are both from Nulco. The paint is Grassland SW 6163 by Sherwin-WIlliams.
Custom-Look Shower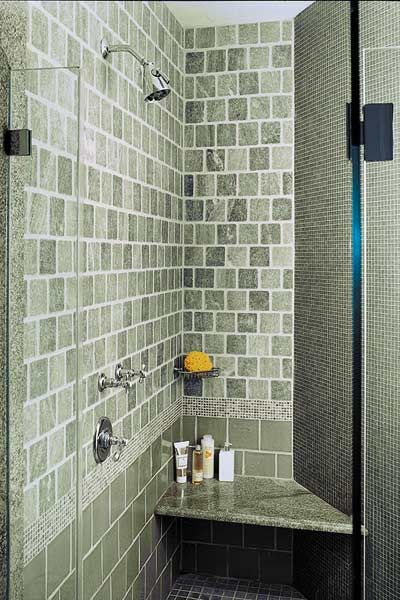 The luxurious shower has a curved wall, a glass door, and built-in seating. Twin stone-topped vanities flank the tub area. The shower, fittings, head and valve trim are from Waterworks.
Mix of Tile Materials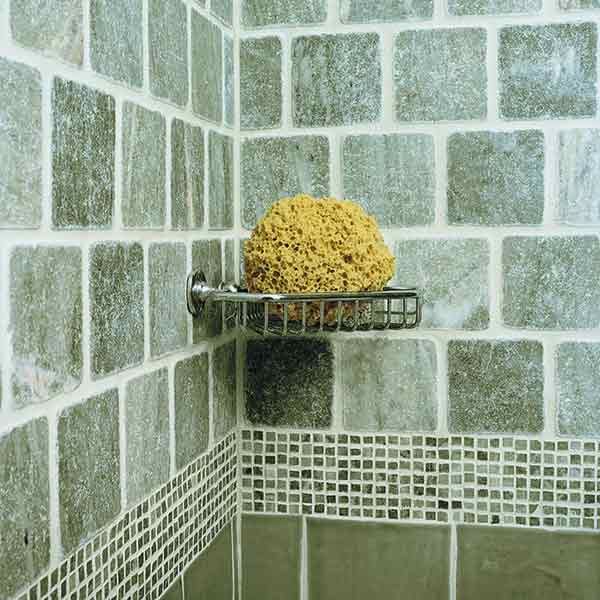 The shower is tiled in Verde Laguna marble and ceramic tiles, both from Terra Tile, and glass mosaics from Waterworks.
Chrome Fittings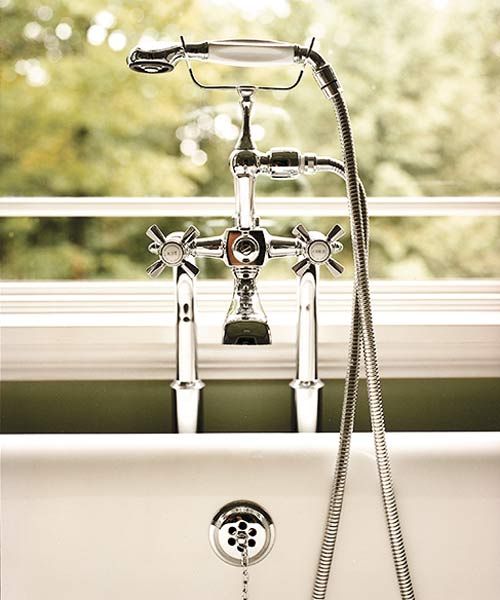 Polished-chrome tub and shower fittings from Waterworks honor the home's turn-of-the-century vintage.
Floor Plan After: New Space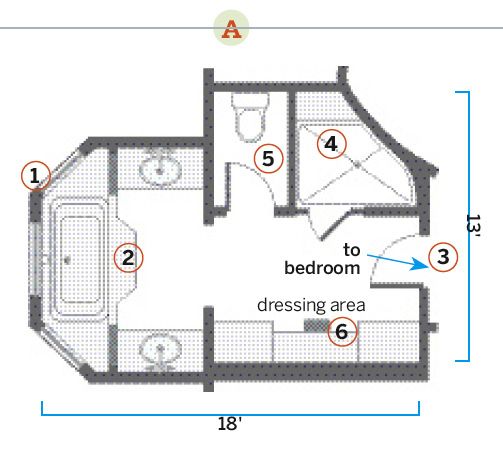 A 78-square-foot bumpout created a space that two can share comfortably, with three big windows, dual vanities, a walk-in shower, and a private toilet room. New built-in storage keeps everything neat and tidy.
What They Did
1. Bumped Out the Far End of the Bath, creating a larger, windowed bay to hold the freestanding 6-foot tub and enough room for built-in vanities on either side.
2. Built a Platform to raise the 6-foot tub high enough to give the bather an uninterrupted sight line to the river.
3. Moved the Doorway out of the clipped corner where it stood and toward the center of an adjacent wall.
4. Relocated the Shower to where the linen closet was, expanding its footprint as well as that of the adjacent toilet area.
5. Increased Privacy in the master bath by creating a separate toilet room with its own door.
6. Created a Dressing Area with a vanity table flanked by floor-to-ceiling wardrobe cabinets along the wall where the tub and shower had stood.
Floor Plan Before: Squeezed Amenities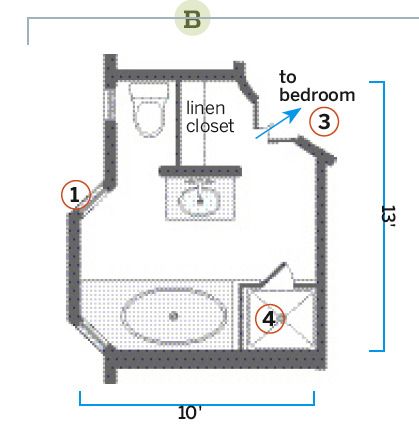 The 10-by-13-foot bath had a big built-in tub, but the other fixtures were squeezed for space. Small windows cut off light and views.