Moved and Improved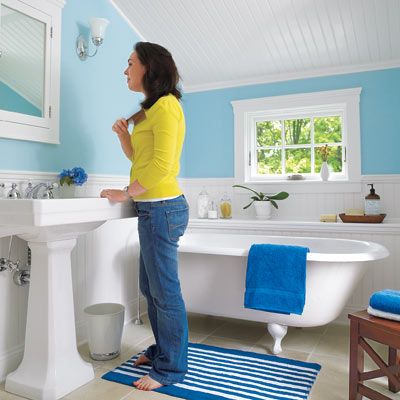 Sometimes starting from scratch is the only way to go. When Brennan and Stephanie White first saw their 1820 Cape Cod cottage, they were taken aback by its only bath, a very narrow former pantry on the first floor. An avid DIYer with plans to reorganize the layout of the whole house for better flow, Brennan decided to turn the bath into a hallway and carve a master bath out of a spare bedroom in the home's slanted-roof addition, which dates to the 1940s.
Cool-blue walls, sand-colored marble floor tile, and white beadboard wainscoting give the new room a relaxing feel. "The bath is our safe place from all the dust," Stephanie says of ongoing work at the house. That payoff clearly inspired them—they've already added a half bath upstairs for guests.
Paint: Benjamin Moore. Windows: Marvin Windows and Doors.
Before: Cramped and Dingy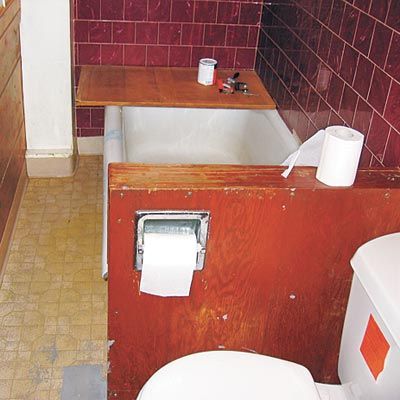 Brennan started by gutting the addition, framing one new wall to create a workable rectangle for the bath, and laying a new plywood subfloor. Using chalk, the couple sketched a layout right on the plywood, figuring out where the tub, sink, storage shelf and cabinets would go, as well as an alcove for a shower stall. Then Brennan hung drywall, cut a new doorway, laid tile, and worked alongside a plumber and an electrician to set the fixtures in place.
Shown: The lone existing bath was just 3½ by 7 feet. Plywood laid across the tub provided a place to rest tools.
Key Details: Stylish Set-Up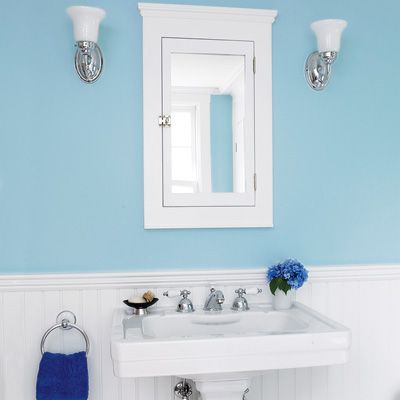 The medicine cabinet, built by homeowner Brennan, is a perfect fit between reproduction sconces over a pedestal sink.
Sink: Porcher. Faucet: Elizabethan Classics. Sconces: Progress Lighting.
Key Details: Handsome Hardware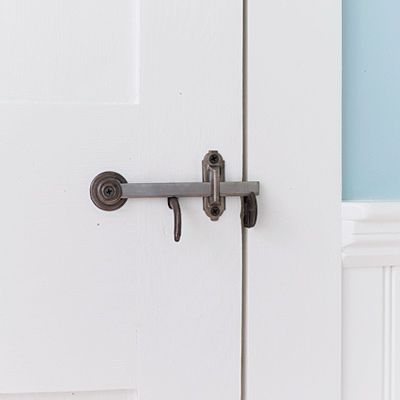 Cast-iron latches from the original bath were stripped of years of paint and reused.
Key Details: Laundry Station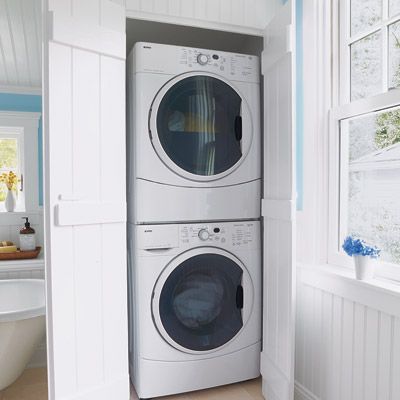 A laundry closet hides behind beadboard doors with board-and-batten styling on the inside.
Floor tile: Botticino Marble. Washer and dryer: Kenmore.
Key Details: Classic Tile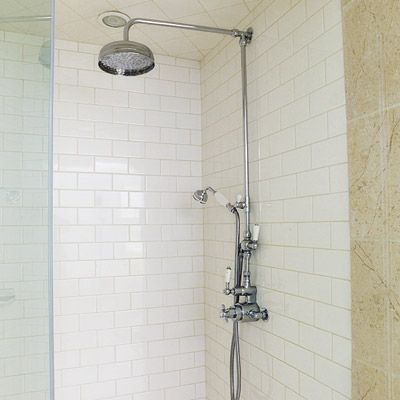 Subway tile reinforces the vintage look of the exposed shower riser, rainhead, and handshower.
Shower fittings: Hudson Reed.
Before and After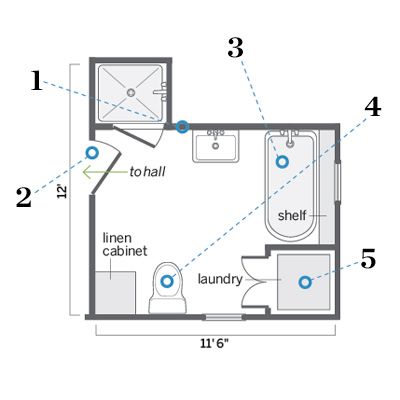 Relocated to an adjacent bedroom and now four times its former size, the new bath serves the master bedroom and even handles laundry without feeling cramped.
1. Built a wall to reshape the space, carving out an alcove for a shower stall.
2. Cut a doorway in the wall shared with the former bath, which became a hallway.
3. Placed the tub under the slanted ceiling and across from the door as a focal point. A boxed-out shelf adds storage for bath supplies.
4. Tucked the toilet out of view, away from the door. Next to it, a built-in linen cabinet holds fresh towels.
5. Built a laundry closet next to the tub to fit stackable units.