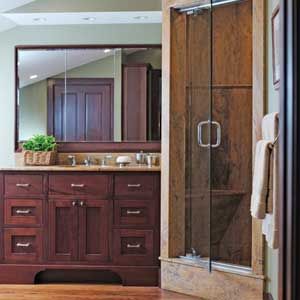 Separate bathrooms may seem like the
ultimate luxury, but for some couples it's practically a necessity. That was certainly the case for Paul Barclay, a restaurateur and nightclub owner, and his wife, Heidi. Paul typically leaves the house for work around midday and doesn't return until well after midnight — between 2 and 4 a.m. most days — when he's ready to hit the sack straightaway. "I needed a way to get ready for bed without waking Heidi up," says Paul. And she wanted to get up and get dressed in the morning without interrupting his sleep.
The answer was his-and-hers bathrooms — which also solved the problem of the teeny master bath they inherited when they bought their home. While the saltbox had much that was right for them — its circa-1700 antiquity, ample space for two, and 106 private acres — one element was completely wrong: the master suite. "The bedroom was small and dark, and the bath was a walk-in closet," says Paul. "So we ended up using another bedroom and bath down the hall."
While bedroom No. 2 was bigger and brighter, the bath wasn't much better than the master. "When I stepped into it," says 6-foot-2-inch Paul, "my head dragged along the ceiling. The four-foot tub was ridiculously short. It was all pretty useless."
Dissatisfaction led to a redesign when the couple brought in architect Benjamin Nutter. "There was a good opportunity for his-and-hers bathrooms because of the way the house was laid out," says Nutter. His plan called for putting in a 23-foot-long shed dormer that would connect bath No. 2 to one end of the master bedroom. The old master bath was converted into a walk-in closet, and the second bath became Paul's simply because it had two entrances, which meant he could enter it through bedroom No. 2 and quietly get ready for bed in the wee hours. When the renovation was finished, the space he so thoroughly disliked emerged with a vaulted ceiling, newly laid antique chestnut flooring, a limestone-lined steam shower, and a custom-made African mahogany vanity and armoire. "Our bathrooms have always been Heidi's," says Paul of their previous houses. "I wanted a man's bath."
On the south end of their saltbox, Heidi's dream took shape after the demolition of a jalousie-windowed porch that dated back to the 1930s or '40s. The simple strategy, as executed by Steve Nutter, Ben's general-contractor brother, was to build a year-round porch there and put Heidi's bathroom on top. With three exterior walls, there was room for plenty of windows to flood the bath with natural light, an item high on Heidi's wish list.
As for the rest, "I wanted the bath to look country," she says, "but also vintagey to go with the house." Into a roughly 13-by-15-foot space went a corner shower, a 7-by-4-foot whirlpool tub ("the biggest I could find"), and a custom-made marble-topped vanity with a novel addition: a small farmhouse-style kitchen sink. Building a dressing closet into the bath allows Heidi to get up early and dress outside the bedroom, without waking her husband.
Besides the spalike comforts of steamy showers and whirling water, the couple enjoys the warmth of radiant-floor heating within well-insulated walls and draft-free new windows. Their separate bathing-and-dressing domains make the rituals of daily life not only more pleasurable but also more in sync with their offset schedules. Says Paul, "It couldn't have worked out any better."