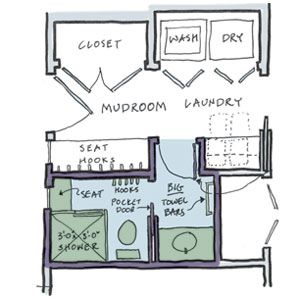 As American family life has changed, so has the way we think about our home's "service" spaces. Two-earner heads of household, single parents, and those who work at home have little time left in their schedules to spend on domestic activities. That's why, rather than constantly picking up after children, we now have mudrooms with convenient built-in storage for kids' stuff.
Instead of an isolated kitchen for preparing beautiful platters of food for guests in a remote dining room, we have "social kitchens," where cooking and entertaining happen together. Instead of a basement laundry room and endless trudging up and down stairs, we've moved the washer and dryer closer to living spaces, or even put satellite laundry rooms over multiple floors.
The next room headed for extinction is the powder room. The old-fashioned powder room was the architectural equivalent of "good" china or silver — used only on special occasions by visitors. But more and more, in all but the largest homes it functions as another family bath.
After all, potty training needs proximity, dirt is better headed off on the first floor than tracked upstairs, and who wants to wriggle out of wet workout gear in the bedroom?
Thus evolved the "extra" bath: a half or three-quarters bathroom annexed to a wide variety of household spaces. It can be steps from the mudroom, garage, or back door, adjacent to a home gym or office, next to the media room, or even part of the master suite. Here's a look at a few common scenarios.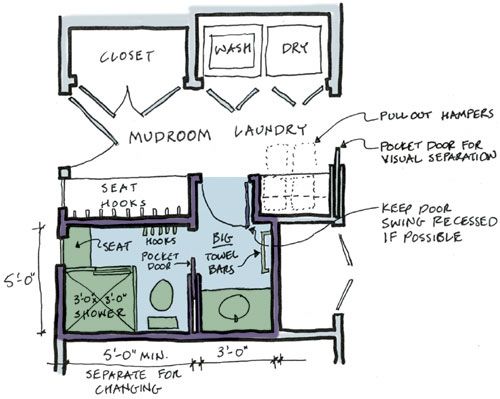 Outfitting an Extra Bath
Typically the extra bath is all business, designed for utility rather than aesthetics. Surfaces need to be durable, easily cleanable, and able to accommodate towels, laundry, and other incidentals. Here are some design tips for making the space easy to maintain and pleasant to use.
Wainscoting. Consider covering the walls with something that can stand up to abuse, like tongue-and-groove paneling, tile set level with the top of the backsplash, even sheet stock such as Avonite, Corian, or other solid surfacing. Oil-based semigloss or high-gloss paint and vinyl wall coverings are other tough-wearing options.
Laundry and towel storage. If the room will be used by grubby gardeners or active children, make sure there's a repository for dirty clothes and wet towels, and sufficient shelf space for a supply of fresh towels.
Drying space. It's a good idea to incorporate a permanent rod or pull-out clothesline in the shower for drip-drying damp clothes, hand-washed items, or other wet garments that cannot immediately go into the laundry.
Floor drains. While stone, tile, concrete, and vinyl floors are easily washed, adding an integral floor drain makes it possible to literally hose down the premises if the bath is the repository for lots of grime.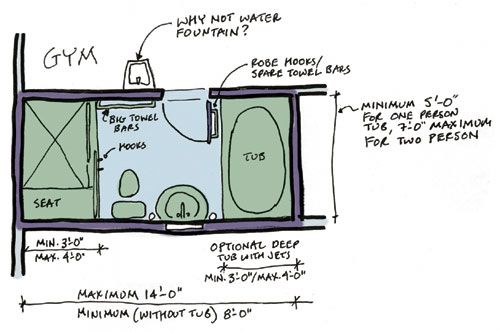 The Utility Bath
The extra bath I'm asked to design most often, even in smaller homes, is a "kids' bath" that heads children off at the pass as they troop in through the mudroom or garage. It's also perfect for gardeners who come in coated with dirt and can serve as a de facto "pool house" for washing off chlorine and hanging wet bathing suits to dry. You don't need a lot of space — 5 by 7 feet is typical — to fit in the essentials of a shower, sink, and toilet (you can go smaller, but you'll have to settle for a 30-inch shower stall and a wall-mounted sink). With a little more space, you can also squeeze in a separate changing area.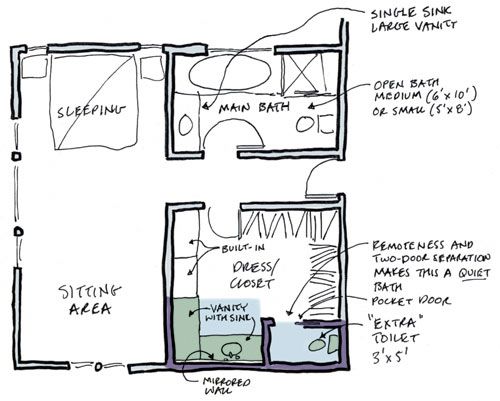 The Workout Bath
If you do your workouts at home, it makes sense to have a nearby area to shower and change. That keeps dank, sweaty gear out of the bedroom. Often these post — workout bathrooms have steam showers or whirlpool tubs for soothing sore muscles, or even saunas. They can be large — a minimum of 5 feet wide and as much as 10 to 12 feet long. Because they are often interior spaces, good lighting and adequate ventilation in the form of a powerful fan (600 cfm or greater) are musts.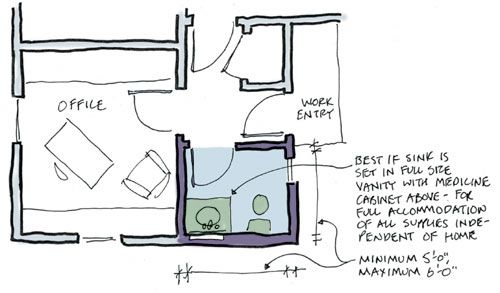 The 'Other' Master Bath
In master suites that include a formal bath and dressing area, an additional, separate toilet room with a sink and vanity can go a long way toward speeding up a busy couple's morning routine. The fact that it's separated by two doors from the bedroom and buffered by the dressing area makes this a private and quiet bath.
The Home Office Bath
For anyone who works at home, setting up an environment that keeps work separate from family life is psychologically important. A half bath adjacent to the office can help accomplish this, especially if there is ever a need to bring a client or associate into your workspace. It's best if the bath is accessible from the house without passing through the office; that way it can also function as a true powder room.