When scouting out my current apartment, I was immediately drawn to the oversize bathtub — a real soaker from an era when bathing was savored and showers described rain. But my elation quickly ebbed once I eyed the rusty gully along its bottom, the work of a persistent leak that had eroded the white porcelain tub and exposed the tub's cast-iron shell.
The building's super promised to fix it — and fix it he did, by slapping on some latex paint that flaked off every time I settled in for a warm bath. The super's methods were suspect, but he was essentially on the right track in trying to save the tub by recoating its surface.
"People very often rip out old tubs because they're slightly blemished," says Richard Trethewey, This Old House plumbing and heating expert. "But it's not easy to find an affordable bathtub with the look and size of a period tub."
Is a Bathtub Refinishing Worth It?
Each year refinishing shops across the country rescue thousands of tired old tubs and sinks by spraying on an acrylic urethane resin coating. Done correctly, either off-site in a shop or in place, sink or tub resurfacing is an effective and inexpensive solution for porcelain that is chipped, worn rough, or whose color has simply gone out of style.
How much does it cost to refinish a cast iron tub?
For an average cost of $350 to $500—a fraction of the $1,200 to $5,000 expense of a new cast-iron or steel tub installed—refinishers can make an antique fixture look brand new. "Professional refinishing can be a cost-efficient solution for that retro look," Trethewey says.
That's what Jackie Metropoulos chose to do, and hired Scott Ayers, a technician for the Miracle Method franchise in Ludlow, Massachusetts, to resurface the old cast-iron bathtub in the 1919 house she and her husband, Matt, own in Longmeadow, Mass. Their second-floor bathroom has a mix of old charm and new shine, but the mounted tub looks and feels weathered, with a green watermark under the faucet, several nasty dings on the lip, and a dull, gritty texture from years of improper cleaning.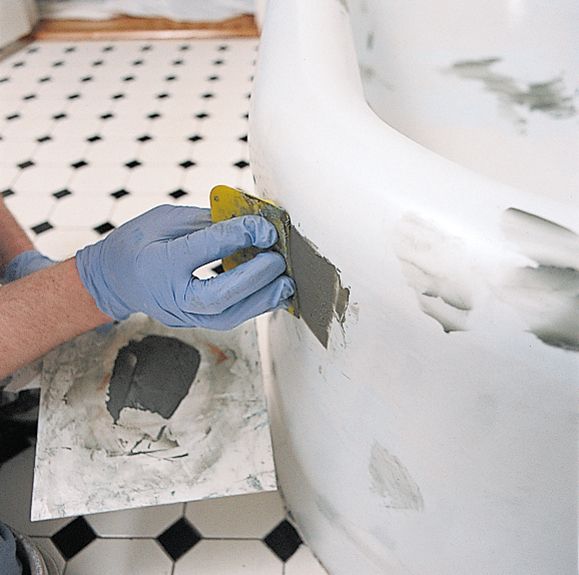 The Process
Clean and Remove
To prepare for refinishing, Ayers first carves away the caulk between the tub and the walls and floor with a putty knife, then removes the drain cover and masks off the faucets. The edge of the coating will be hidden behind the refitted fixtures and a new bead of caulk.
Next he cleans the tub to remove the impurities that can hinder adhesion of the new finish: He scrapes off soap scum with a razor blade, then wipes on an alkaline emulsifier commonly used to strip wax off floors. He follows with an acid-based citric cleanser that neutralizes the emulsifier, and after rinsing and drying the tub, rubs it clean with denatured alcohol.
Fill Dings and Scratches
Ayers, a former auto-body repairman, trowels fiberglass putty into deep chips and scratches, just as he would on a damaged car door. (Had the tub been severely etched by cleanings with bleach, he would have had to putty the entire inner surface.) After the fiberglass hardens, he sands it with a coarse 36-grit paper to knock down high spots and an 80-grit paper to feather it out. He fills any pockmarks in the dried fiberglass with a polyester glazing putty, waits for it to set, then sands it in the same manner.
After wiping with a tack cloth, he rags on a bonding agent that enables the acrylic urethane enamel to adhere to the porcelain's glasslike surface. Many refinishers first roughen up the tub's surface by brushing on a solution of hydrofluoric acid before using a bonding agent. Critics of acid etching point out that the acid must be properly neutralized before being washed down the drain or it can damage pipes, as well as the environment. Miracle Method's proprietary bonding agent eliminates the acid-etching step.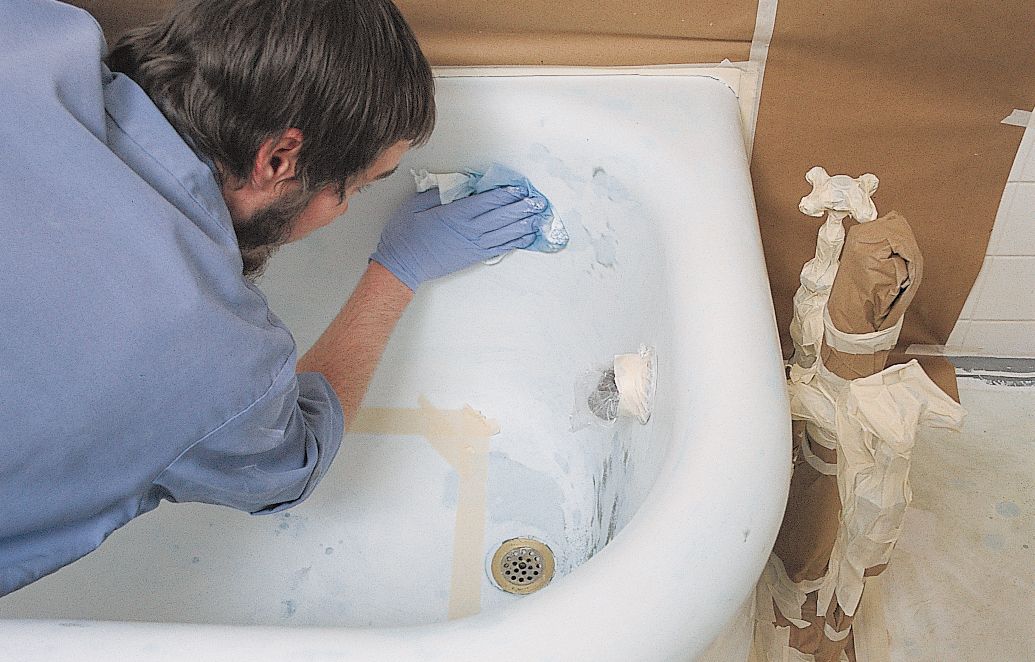 Apply Three Coats of Acrylic Urethane Enamel
As the bonding agent on the Metropouloses' tub sets, Ayers slips on a Tyvek suit and straps on an air mask connected to a ventilator so that he does not inhale paint vapor. Using a spray gun, he applies three coats of acrylic urethane enamel, letting each dry for 10 to 15 minutes. With the help of a heat lamp, the finish cures in about one hour; a wet sanding with 1,000-grit paper smooths bumps and rough patches.
Dry and Buff
After he dries off the surface with paper towels, he goes over it with a power buffer equipped with a foam pad and some auto compound to remove any scratches. Finally, he hand buffs the tub to a shiny luster with a soft cloth and polymer glaze car wax. Eight hours after arriving at the Metropouloses' house, his work is done. They'll be able to slip into a bath later that night.
Miracle Method, like many refinishing companies, offers a five-year warranty. But says Diane Robbins, co-owner of the franchise that resurfaced Jackie's tub, with proper care and maintenance (nonabrasive and bleach-free cleaners only), a refinished cast-iron tub surface should last 15 to 20 years. And while that's a few years short of the five decades you can expect from new porcelain, it sure beats buying a tub that will never be historically authentic.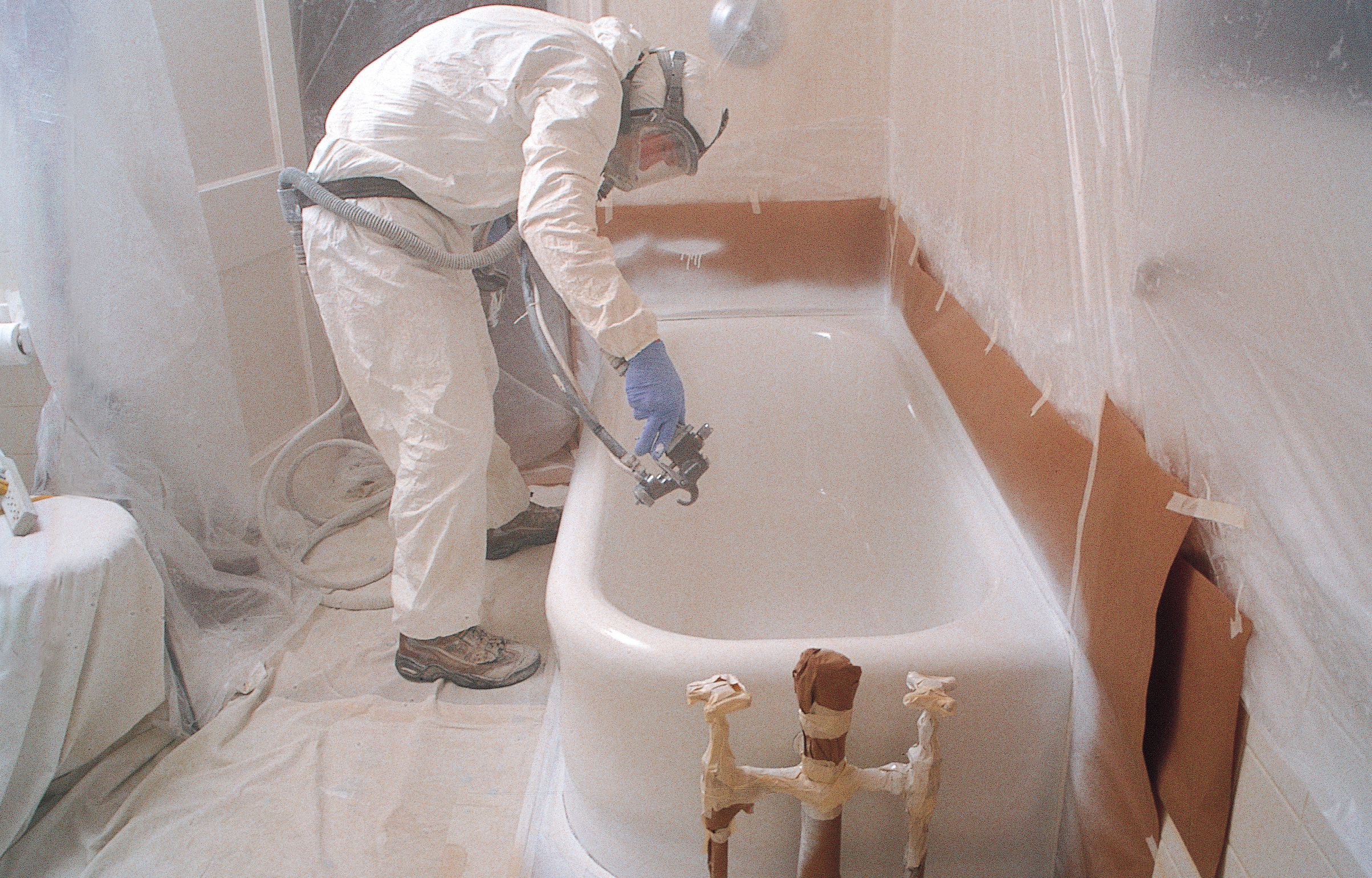 Good As New
Refinishing may be the most practical way of restoring a built-in bathtub, but for those lucky enough to have a removable claw-foot tub or cast-iron sink, the dream has long been to give it a new finish that matches the hardness and durability of the old one.
Custom Ceramic Coatings, of Lenzburg, Illinois, is pioneering a method to re-porcelain tubs in a furnace, the same way these fixtures got their original glossy skin.
The process involves sandblasting off the old finish, then baking on a new enamel coating at 1,475 degrees Farenheit for about four hours. "It's genuine porcelain enamel, the same glass coating used on bathtubs you buy in stores," says owner Kara Kopplin.
Her company has already successfully restored steel sinks for about $250 to $650. (Clay fixtures, like toilets and pedestal sinks, can't be refired.) The cost to treat a bathtub should range from $800 to $1,400; shipping will be extra.