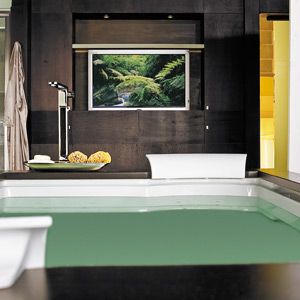 It was bound to happen. Considering that Americans shell out more for home electronics than any other luxury ($155 billion in 2007), and considering that they redo bathrooms at a higher rate than any room in the house except kitchens, it was only a matter of time until those two priorities merged to create a new (if decidedly over-the-top) trend: the media-wired bath. Gone are the days of luxuriating in the tub with a good book. Now, if you're on the cutting edge, you can sing karaoke-style to digital music streaming from your shower wall or watch that game-clinching home run on a TV screen hidden in your medicine-cabinet mirror.
Wiring your washroom is best done during new construction or remodeling, when you can add as many power outlets as you need and run all the cables for audio and visual equipment before the drywall goes up. But whether you're starting from scratch or retrofitting, here's how to design the ultimate bathroom media system.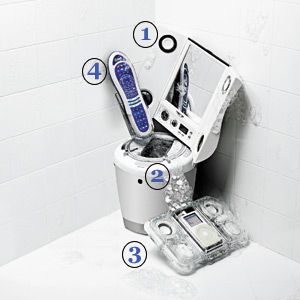 Splash-Proof Screens
The key component in any entertainment system is, of course, the television. And while the pros say that any of the latest flat-screens can be safely used in the bathroom—as long as it is splashing distance away from the shower, tub, or sink—a consistently steamy and damp environment will surely cut its life span.
One way to protect your investment is by recessing the screen into a niche in the wall and then covering it with a silicone-sealed, fog-proof glass frame. Austin Lowery of California-based Jetson Systems designed just such a watertight enclosure for the inside of a client's shower stall, placing it on a wall that shared space with the medicine cabinet. "We designed an access panel in the back of the cabinet for the TV," Lowery says. "If something happens to it, all you have to do is undo the screws, remove the panel, and pop it out." In this case, because the homeowner's audio and video equipment was all connected through a home-automation system, components could be controlled wirelessly via a waterproof remote, making it possible to channel surf, play music, and watch DVDs in the shower. If your house isn't so high-tech, another option is Samsung's new wireless plasma TV, which can pick up streaming cable or satellite from up to 300 feet away. While it still needs a power source, there are fewer connections to muddle with, which means less chance for the damp environment to take a toll on wires.
If you don't want your screen to be the star of the space, you can cover the niche with a two-way mirror. That way, when the TV is on, it's clearly visible, but when it's off, all you'll see is your reflection. Ready-to-go units, like Seura's small vanity HDTVs, look like mirrors and can easily be hooked up to your satellite, cable, or video system.
Another easy retrofit option is a marine-grade flat-panel, like Jensen Company's 15-inch LCD screen. Its circuit boards are made to withstand the humidity and salty air on boats at sea, so it can be mounted on the wall with standard brackets—no drywall destruction needed.
For optimum aesthetics (and viewability), try to keep the screen proportional to the room's space. If you'll be viewing from a distance of about 5 feet, a 26-inch wide-screen should do the trick. If your bathroom is especially large and you'll be watching from as much as 10 feet away, you can handle a 42-incher.
Water-Resistant Speakers
What's a home theater setup without surround sound? For the ultimate in shower sing-alongs, there's Kohler's new SoundTile speakers. Designed to be installed directly in the shower, these 4-by-4-inch "tiles" have sleek metallic finishes to match plumbing fixtures, and guts from high-end speaker manufacturer Polk Audio.
If you don't need your speakers to match your faucets, then marine-grade speakers will do the trick. These come in a variety of sizes and can be wall-mounted or recessed. Because of the generally small footprint and challenging acoustics of bathrooms, the best place for speakers is in the ceiling, where sound will be evenly dispersed throughout the room. Unfortunately, that's also where you're likely to run into lights, vents, and wiring. If you can't fit a pair of speakers, invest in a stereo-input speaker, which combines two high-frequency tweeters and a bass-delivering subwoofer in one unit.
To really soak up the sounds, though, you'll need the Stereo H20 bathtub from MTI Whirlpools. Acoustic transducers embedded in the shell actually turn the entire tub into one big speaker. The integral amplifier can be connected to your iPod, stereo, or home theater system, so you can literally feel the music or absorb the sounds of the football game or movie playing on the screen.
As extravagant as all this entertainment technology may be, it has a side benefit. Once you've got the setup installed, you'll never again have trouble getting your kids to take a bath.