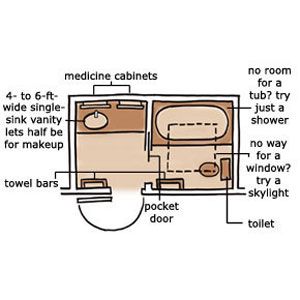 If money were no object, we'd each have our own private bathroom. But that's not likely for most people. Although I have occasionally designed separate "his and hers" baths, almost always the bathroom is shared by both halves of a couple. It's a tough job when you have to accommodate the daily personal-hygiene routines of two people in a very limited space. Here are some ways to plan a double-use bath that works.
Dealing with a Tight Squeeze
Even if your space is tiny, there are design techniques you can use to make just about any bathroom feel larger.
Mirrors Help Expand Space:Beyond just amplifying light, full wall-to-wall and wainscot-to-ceiling mirroring visually doubles space, making tight quarters seem less so.
Vaulted Ceilings Lift Spirits:If you can, raise your ceiling to the rafters — more vertical space can make a tight plan feel open.
A View Breaks the Box: Consider putting a window over the toilet or between double sinks.
Let There Be Light (And Air!)
In a space that has the potential to feel crowded, it's important to create a sense of openness. There are two basic tools for making a function-packed bathroom pleasant to use.
Lighting: The more natural light, the better. The best light for a bath comes from above — skylights or transom/clerestory windows. Above-eye-level openings have a couple of advantages. They provide privacy while they maximize the effect of light by bouncing it off the ceiling. Wall-to-wall mirrors are another way to enhance the impact of natural light.
When windows or skylights are not an option, artificial light must suffice. But overhead lighting produces really unflattering shadows. The best artificial light for grooming at a mirror is in front of you, so wall sconces are key.
Ventilation: Bathrooms are subjected to the most radical microclimate changes of any room in the house. Hot showers increase temperature and humidity to tropical levels, and because the space is shut tight for privacy, steam and odors have no easy way of escaping. In a bath used by two people, adequate ventilation is a must. Operable windows or skylights help clear the air when the weather is fair, but they need an assist from technology. Consider two exhaust fans — one in the toilet area, the other near the shower.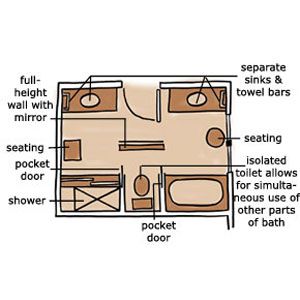 Pay Attention to Schedules
There are two types of couples who share bathrooms: those who wake up and get ready at the same time, and those with different schedules. Each type has its own considerations.
Same time, same place: The most challenging scenario is when two people get up at the same time. If both are doing their morning routines simultaneously, it is absolutely mandatory that there be two sinks. Allow at least a 5-foot run of counter if the sinks share a vanity; or 3 feet for each lav, plus space in between, if they are freestanding. Separate setups don't have to be identical. If one person does most of the primping, for example, one vanity/makeup station might be sufficient.
Similarly, to cut down on traffic jams there needs to be distance between the toilet and the shower area. Five feet apart is a good start. A low wall is another way to create separation and privacy without blocking light. Ultimately, a "zoned" approach may work best for simultaneous users, with an area for double sinks, medicine cabinets, and vanities; a separate toilet enclosure; and enough elbow room to dry off after the shower.
Different schedules, different problems: When two people have different schedules, the trick is to design the bath so that the partner who is using it doesn't disturb the partner who is sleeping (a.m. or p.m.). The bathroom can be smaller than a simultaneous-use bath, with fixtures closer together, but greater measures need to be taken to make sure that sound doesn't travel. In this case, it makes sense to put a closet/dressing area between the sleeping space and the bathroom itself, thus providing a large-scale sound buffer. There should also be a "back door," so someone can exit the bathroom without going back through the bedroom.
Pick Fixtures That Fit You
Just as people's lifestyles can be divergent, so too can their physical characteristics. If one person is six foot six and the other is five foot two, they can't comfortably use the same space without one stooping and the other stretching. In bathrooms with only one set of fixtures, it may be necessary to set sinks, towel rods, and toilet seats to the mean height: slightly low for the tall person and perhaps a little bit high for the short person. Additionally, there are many products on the market, such as elongated and taller toilets, designed with comfort for different body types in mind.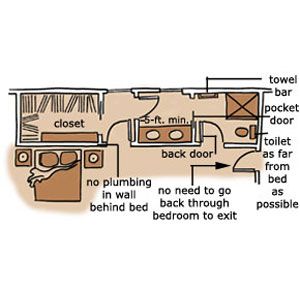 Prioritize and Multitask!
It's impossible to fit in all the amenities for two when you're renovating a 5-by-10-foot bath. That's when you have to get tough about setting priorities. For instance, is a bathtub really necessary, or is a space-saving shower all that you need? In the interest of a larger shower, you may need to eliminate double vanities, a seating area, or the tub. Ditto for double sinks. You may find that one sink in a 4-foot vanity gives you more usable counter space than a pair of sinks in a 6-foot vanity.
Successful shared-use baths are all about accommodating multiple activities at once. Clever deployment of fixtures and accessories can make multitasking easier:
• A fog-free mirror in the shower lets a man shave while showering — and frees up a sink in the process.
• A discreetly placed urinal can be a convenience for a couple who get ready at the same time in the morning.
• If there is a bidet, it's typically placed near the toilet. But if it's only used by the female half of the couple, it may make more sense to put it on her side of the space, rather than within the confines of the toilet area.
• If you're installing a steam shower, make it big enough for two. Since a steam shower is almost always used in moments of relaxation, take advantage of the opportunity to share some quiet time together in a world that doesn't often allow it.