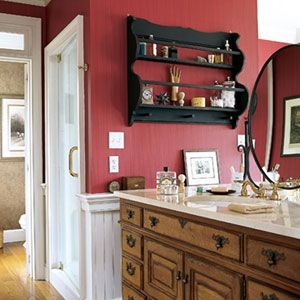 Separate but together" is how Peggy Bradbury described the his-and-hers master bath she and her husband, Bob, wanted for the new wing of their West Chester, Pennsylvania, farmhouse. Though the idea sounded like something of a Zen riddle, architect Barry H. Light was able to give it tangible form.
He translated the homeowners' wish into a gracious, 682-square-foot space the couple could share, but one that also afforded them individual privacy. "Peggy and Bob have very busy, separate lives, but they are crazy about each other. So I used their relationship and their lifestyle as the basis for the design," says Light.
The architect situated the master bath at the back of the house for privacy and installed an oversize bay window to bring in light and a view of the surrounding landscape. He positioned a two-sided vanity roughly in the middle of the room, framing it with a storage cabinet on one end and a shower on the other. Instead of conventional side-by-side sinks, the shared vanity has two sinks across from each other. "The idea," says Light, "is for Peggy and Bob to have private grooming areas and still be able to talk to each other."
This arrangement cleverly divides the bath into his side and her side. Like the vanity, the shower is accessible from both sides of the room via a pair of frameless glass doors. (The only tub, however, is distinctly on Peggy's side.) Separate water closets and dressing closets complete the his-and-hers zoning of the bathroom. Light chose to house separate dressing closets within the bath. "Making two closets spacious enough to serve as dressing rooms lets Peggy and Bob groom and dress without having to go back and forth to the bedroom," says Light.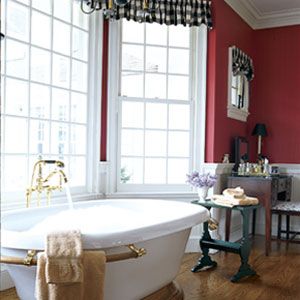 Vanity of vanities
The architect's original plan called for the vanity to be a
custom-built, furniture-style cabinet, but Peggy spotted a pair of elegant bureaus at an antiques shop, and collaborative
brainstorming ensued. Six feet wide by 41/2 feet deep, the fabricated vanity is an ingenious composition of the two dressers placed back-to-back and topped with a slab of marble fitted with two undermount sinks.
To accommodate the sinks, the top center drawers were removed (false drawer fronts remain). At 36 inches tall, the vanity is a few inches higher than standard counter height but perfect for the tall couple. "We love that we don't have to bend way over to wash up," says Peggy.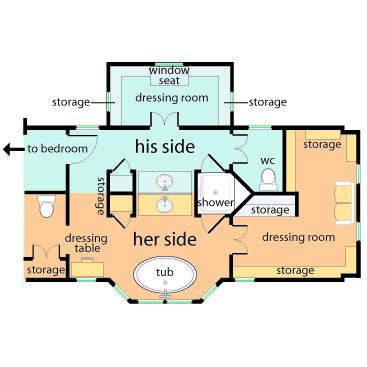 A side for each
While the vanity carves the master bath in two, the room isn't divided exactly evenly. Peggy's soaking tub takes up a large chunk of real estate, and her spacious, L-shape closet measures 176 square feet—a good 70 square feet larger than Bob's.
Peggy's closet has open cubicles for shoes, racks for hanging clothes, and shelves for sweaters and T-shirts. There's even a built-in jewelry cabinet and small windows for indirect natural light. But architect Light designed the space for more than storage and dressing. With a love seat, an end table, and a cordless phone, it's also a sitting room. "It's Peggy's one unshared sanctuary in the whole house," he says.
Though smaller than his wife's, Bob's walk-in closet is also well appointed. An antique dresser and two walls of floor-to-
ceiling storage hold clothes. As in Peggy's closet, a ceiling fan keeps air circulating, and a window seat, which overlooks the backyard, makes putting on shoes and boots a lot easier.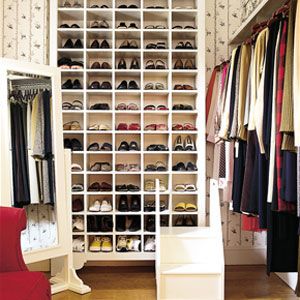 Attention to detail
The master bath's lighting, a combination of recessed spots and a chandelier, is controlled by individual dimmer switches. Every room is also wired for music, and a pair of heat lamps over the vanity provides post-shower warmth. The floor is stained oak. That's a risk in a room full of water fixtures, but the Bradburys were willing to be extra careful about splashing or dripping.
When it came to decorating, Peggy wanted a living room look, accessorizing with furniture, framed prints, and area rugs. "We didn't want it to feel like a typical, sterile bathroom," she says.
There is little they would change about the space. "We can both be in the room, even be at the vanity, at the same time and still have our privacy," says Peggy. "It's the perfect form of togetherness."