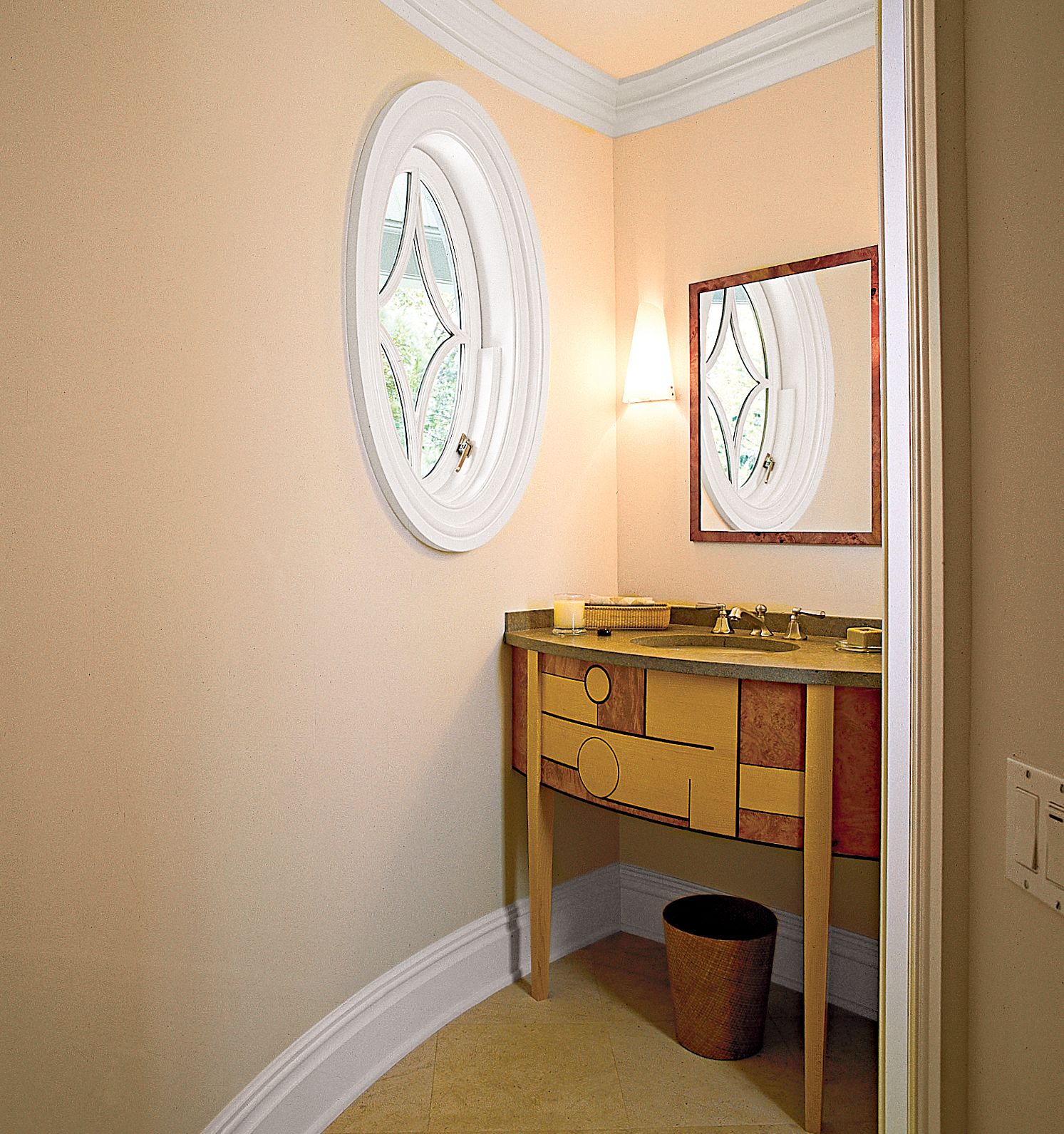 Evoking the Past
Located off of the main entrance in a lake house, this powder room has a low-key feel. Designer Dave Heigl used a distressed cherry cabinet with a zinc countertop and rounded backsplash to evoke the spirit of an old-fashioned washstand. A Waterworks vessel sink is filled by a wall-mounted brushed nickel faucet; over time, the zinc counter will develop a deep patina.
The earliest powder rooms didn't have sinks or even a commode. Their sole purpose was to provide a place for servants to add talcum powder to the white wigs of respectable men. But even though the hairpieces of the 18th century have long ago fallen by the wayside, the powder room (which now, thankfully, includes indoor plumbing) remains an indispensable place to freshen up.
While a first-floor WC was a rarity in the 1880s, seen only in the wealthiest homes, by the 1930s, powder rooms as we know them could be found in many houses of the day. Still, it wasn't until the mid-20th century that the amenity became standard fare in suburbia.
Powder rooms are generally situated near a home's public rooms (the foyer, the living and dining rooms) as a convenience to guests. As a result, these half baths are now one of the most frequently remodeled and updated rooms in the house, according to a recent survey by Moen, Inc.—and adding one to an existing home can increase resale value by as much as $20,000. Because they're so much on display, powder rooms are often treated today as small showplaces and decked out with sculptural sinks, handcrafted fittings, and decorative tile or paneling. After all, given their small scale, they offer a good opportunity to make a big style statement without a huge outlay of cash. But before you go investing in that hand-hammered copper sink or inlaid cherry vanity, here are some things to consider.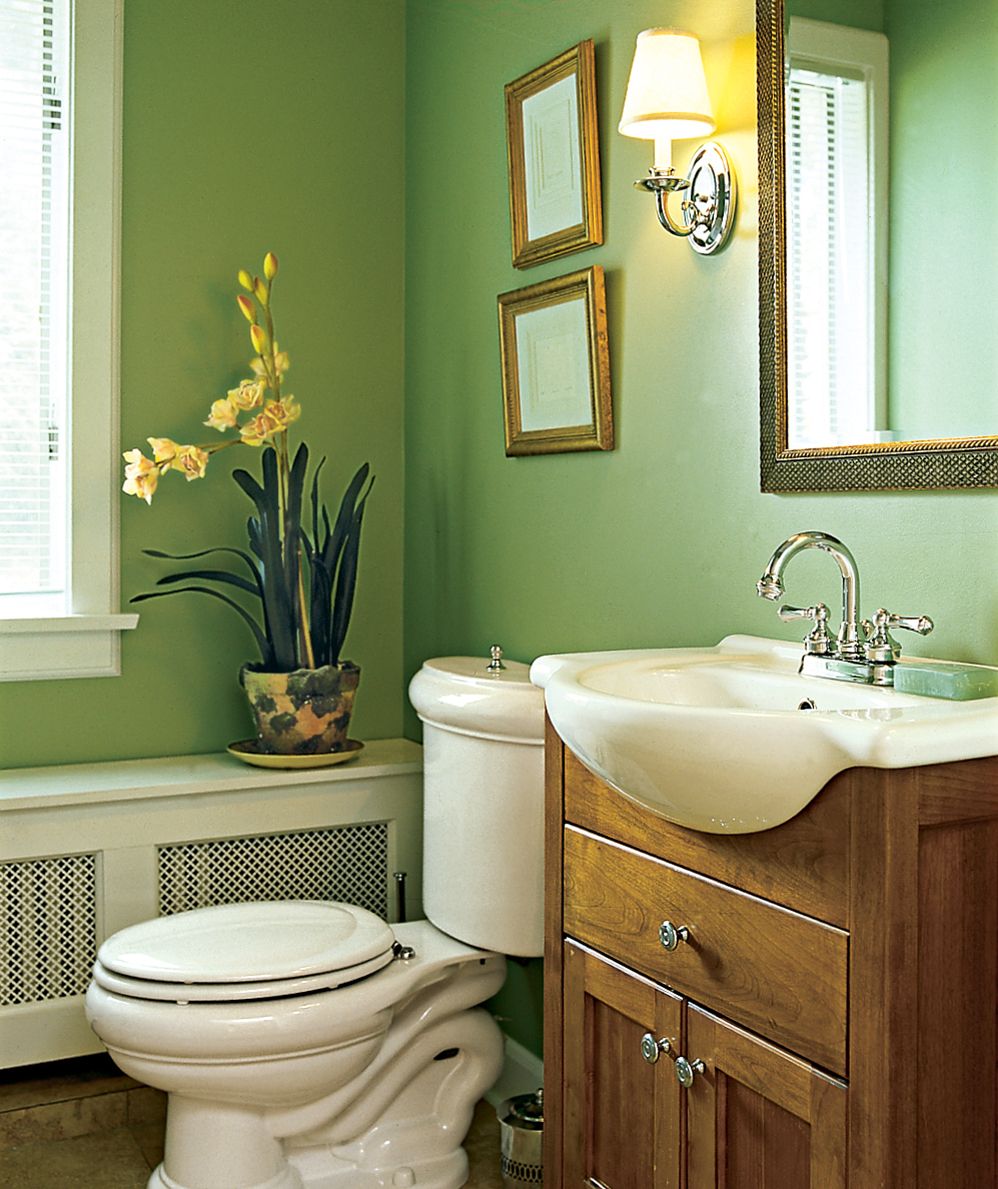 Fitting It In
When adding a powder room to an older home, the first task is carving out the space. Look for a spot that is easily accessible from the main entertaining areas, but avoid plumbing a wall shared with the dining or living room where the added noise would be a nuisance. Consider locating it in the recess under a staircase or converting a large first-floor closet. To save on costs, locate the room adjacent to plumbing lines so you can tap into the existing water and waste system. The room will need venting and piping behind the walls and under the floor—which can get very expensive if the bathroom floor is far from the main drain line or stack.
How Big
With only two fixtures to fit in, the average half bath measures about 20 square feet. After all, there isn't a huge need for storage, natural lightis a bonus (windows can actually cut down on privacy), and there's less clutter than in a full bath. But one practicality you do have to consider is the door swing. In the best case scenario, it opens in so as not to impede traffic flow at the bath entrance. So you'll need to plan for a 32-inch door opening, plus floor space (factoring in an arc that takes into account the width of the door and maneuvering room around it). In really tight spaces the door may have to open out, or you can install a pocket door that slides into the wall for storage when open.
What's the minimum space you can squeeze a powder room into? In theory, you could squeeze one into 11 square feet and meet the International Residential Code (be sure to check local code requirements as well). Code dictates minimum clearances from side to side, as well as in front of the sink and toilet so they can be used comfortably. There must be 15 inches from the centerline of the commode and sink to the nearest wall or fixture, and 21 inches in front. Allow a minimum of 7 feet for headroom; you may even want to lower a very high ceiling if the room's footprint is tight, so the space feels proportional. In half baths under the stairs, where the ceiling slants, tuck the toilet under the lowest point. Don't forget electrical outlets for lighting and, perhaps, an exhaust fan for ventilation and white noise.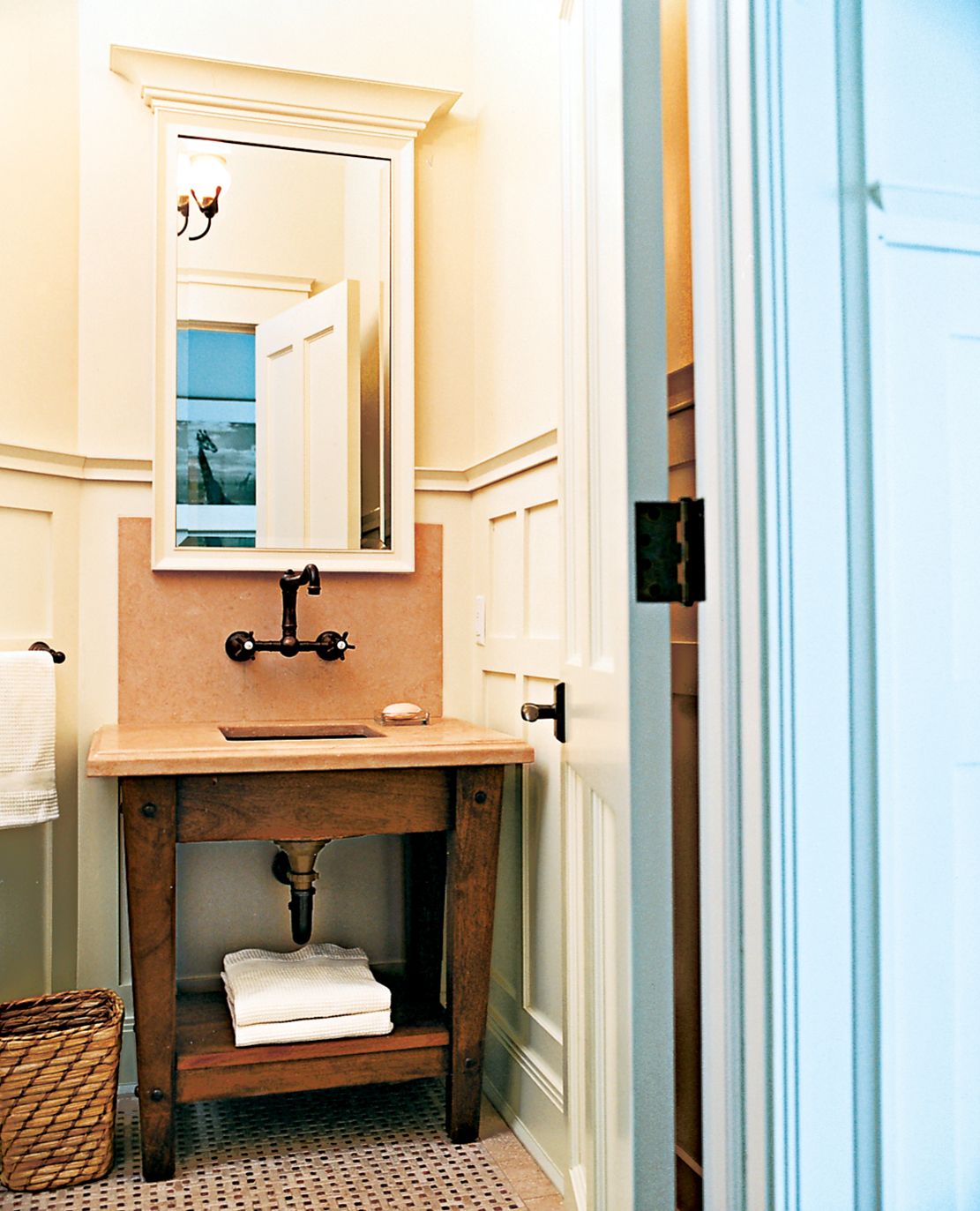 Layout Pointers
Traditionally the sink is the focal point, and the toilet is either placed next to it, where it can't be seen when the door's ajar, or on another wall entirely, where it's even less conspicuous. If space allows, using a vanity that resembles a dresser or sideboard can give the room a handsome, furnished look that ties to other rooms in the house. In a small space, a pedestal, console, corner, or wall-mounted sink can eke out a few extra inches, as can a round toilet, rather than one with an oval bowl.
If there's no squeeze on square footage, consider hiding the toilet in a niche created by a half wall far from the basin.
Materials and Finishes
Try to think outside the traditional bathroom box; the powder room should look more like a decorated room than a utilitarian WC. "It's one of the rooms that guests use the most, so it's worth spending some money on," says Illinois-based designer Mary Lou Kalmus. Kalmus suggests choosing one special item to work around. "It can be anything from a vessel sink to an antique mirror," she says. Emphasize architectural detail by carrying molding treatments and wall paneling from surrounding spaces into the room. Spring for hardwood, stone, or mosaic-tile floors, and give the walls rich color and/or pattern. A freestanding table near the sink is an attractive way to display tissues and hand towels.
Many powder rooms lack natural light, and get much of their use at night, so properly placed lighting is key. Designers often rely on wall sconces flanking the mirror to cast flattering, shadow-free task light. But it's good to have overhead ambient light as well, whether in the form of a pendant lamp or chandelier, or even a skylight to brighten the room during the day. Putting all light sources on dimmers allows you to modulate the glow for evening.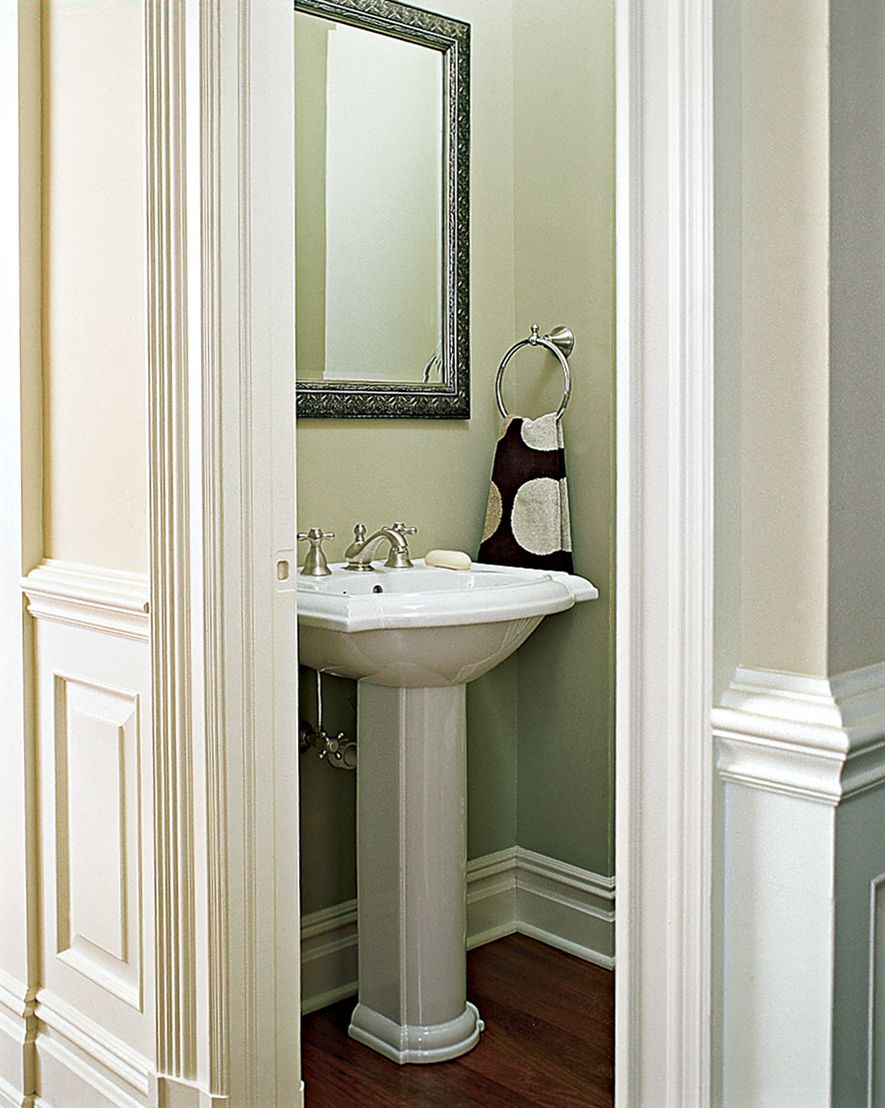 Planning Pointers
•Follow the line. When carving out space for a powder room, think about where water and waste lines can hook up to current plumbing. Adding new lines drives up costs a lot, especially if they're on an outside wall and need insulation.
•Test-drive the layout. Always dry-fit fixtures before installing them so you know exactly how their placement will work. You don't want to find out you can't get around the open door after you've installed the wash basin.
•Make it comfortable. In a small powder room, the ceiling should be no higher than 8 feet to avoid a vertical tunnel effect. Any taller and you may want to paint it a deep color to make the space feel more intimate. Putting in a pocket door or installing floor tile on the diagonal will help a small room feel more spacious.
•Make it special. Consider using stone tile, hardwood flooring, or wainscoting; retrofitting a vintage dresser with a sink; or springing for a beautiful basin—after all, the powder room is one of the rooms guests use the most. Plus, its size means such splurges are on a small scale.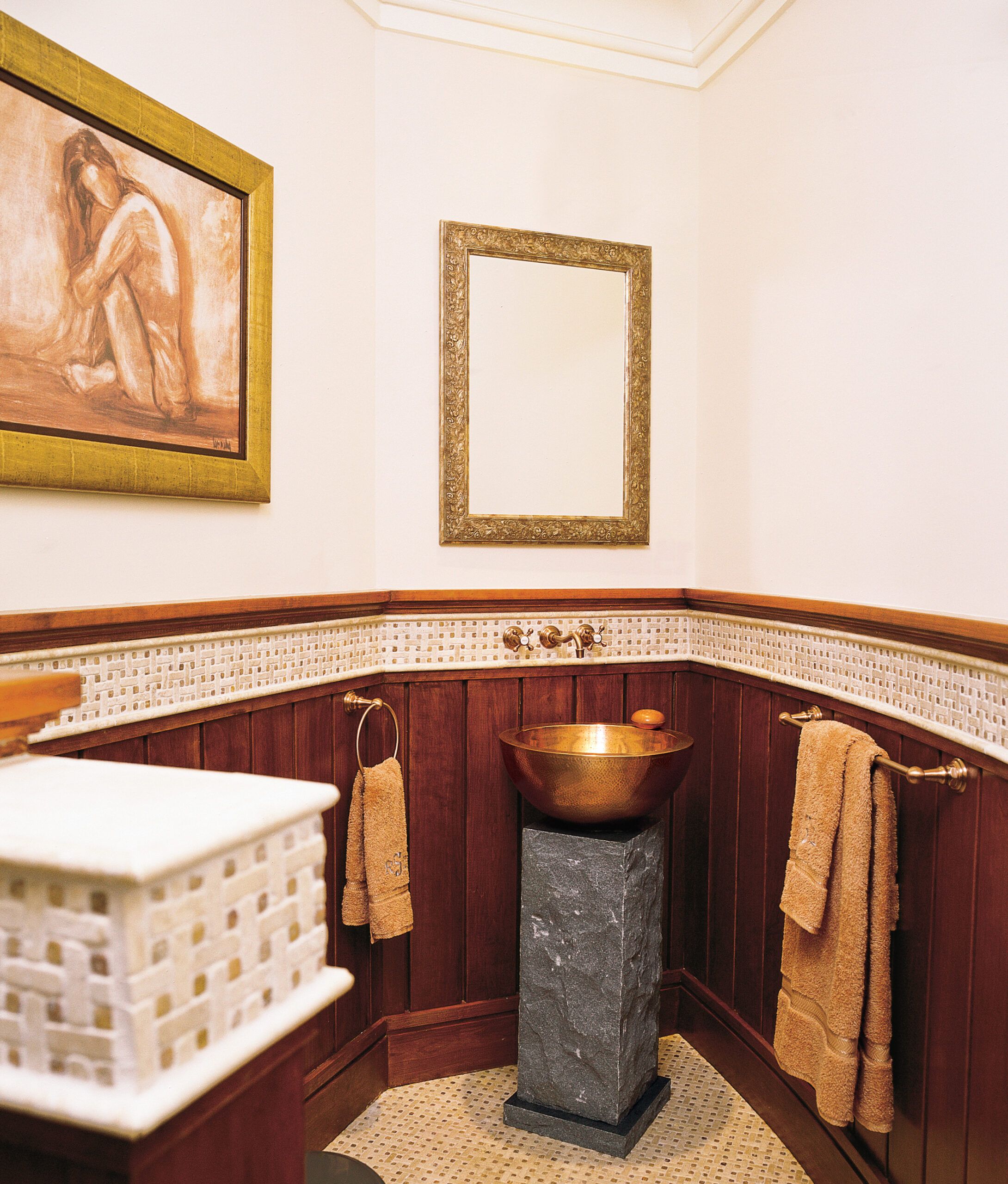 Pros of a Secondary Powder Room
An informal survey of architects from California to Massachusetts suggests that sometimes two half baths are greater than a whole.
Many home-design pros report that an increasing number of recent projects have involved building a secondary powder room for the family in new homes and additions. Characterized by ample storage space and utilitarian fixtures such as an extra-large sink or a small shower stall, these family powder rooms are all about function—catering to potty training the littlest ones, hosing down muddy young sports stars, or giving Mom or Dad a place to clean up after yard work. Connecticut-based architect Jay Haverson recommends placing a secondary half bath in the back of the house, near the mudroom, or off a great-room kitchen in a large home that has a primary powder room located near the front entry.
Designed more for function than for style, the focus in a family powder room should be on materials that are durable, easy to clean, and kid-friendly. If excess dirt is likely, a tile floor with a drain can aid in quick cleanup. Depending on the size and layout of the house, this secondary half bath may include large cabinetry or a linen closet for storing towels and toiletries. It might even act as a miniature pool house when equipped with a small 30-inch shower, changing area, and a washer/dryer—stretching the limits of the space, not to mention the meaning of the term "powder room" itself.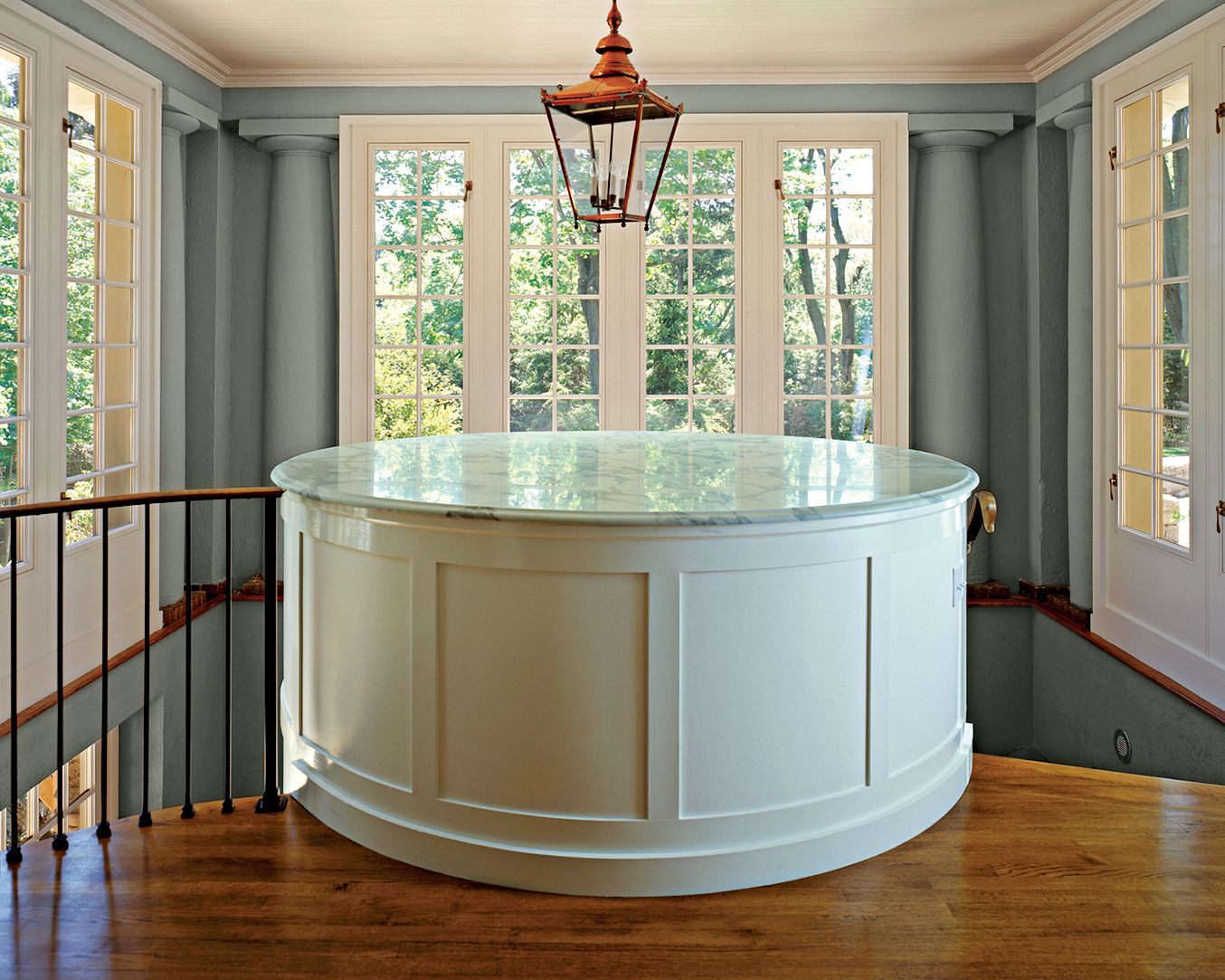 Where to Find It
"Evoking the Past" designer:
Dave Heigl
CKD, Cabinetwerks Design Studio (a div. of Orren Pickell Builders)
Lincolnshire, IL
847-572-5220
"Evoking the Past" cabinet:
Cabinetwerks Design Studio.
"Evoking the Past" sink and faucet:
Waterworks
Danbury,CT
800-927-2120
"Mission Update" designer:
Dave Heigl
CKD, Cabinetwerks Design Studio
"Mission Update" cabinet:
Cabinetwerks Design Studio
"Mission Update" faucet:
Memoirs Collection
Kohler
Kohler, WI
800-456-4537
"Mission Update" sink:
Hammertone in Satin Brass
Bates & Bates
Paramount, CA
800-726-7680
"Thrown a Curve" architect:
Chris DiSunno
DiSunno Architecture
East Hampton, NY
631-324-6676
"Thrown a Curve" vanity:
Custom made
"Thrown a Curve" faucet:
Astoria Collection
Waterworks
800-927-2120
Where to Find It (continued)
"Thrown a Curve" window:
Dynamic Architectural Windows & Doors
Abbotsford, B.C.
Canada
800-661-8111
"New Traditional" architect:
Robin Zahn
Robin Prince Zahn Architecture
Yorktown Heights, NY
914-245-2025
"New Traditional" toilet:
Revival tank with seat and chrome trim
K-4445-00-WH, Kohler
"New Traditional" sink:
Revival white elongated bowl
K-4355-0, Kohler
"New Traditional" fixtures and fittings:
All through Best Plumbing Supply
Yorktown, NY
914-736-2468
"New Traditional" cabinet:
The Home Depot
800-553-3199
"Finely Crafted" architect:
Jay Haverson
Haverson Architecture and Design P.C.
Greenwich, CT
203-629-8300
"Finely Crafted" vanity and mirror:
Hibernian Millwork
Hopewell Junction, NY
845-227-1939
"Finely Crafted" sink:
Bates & Bates
"Finely Crafted" faucets and hardware:
Rohl
Costa Mesa, CA
800-777-9762
"Finely Crafted" floor tile:
Available through Ceramic Design
Greenwich, CT
203-869-8800
"Finely Crafted" lighting:
Restoration Hardware
800-762-1005
"From Outside In" sink base:
A garden urn by Winston Flowers
Boston, MA
617-442-0660
"From Outside In" Onyx top:
Granite & Marble Works Inc.
Wilton, NY
518-584-2800
"From Outside In" sink:
Available through Waterworks
Boston, MA
617-267-2511
"From Outside In" faucet:
Danze Inc. (a div. of Globe Union)
Bolingbrook, IL;
877-530-3344
"From Outside In" faux painter:
Anita Medina
Albany, NY
518-458-9240
Thanks to Sally Jenkins, Albany Tile
Albany, NY
518-434-0155
Where to Find It (continued)
"Cozy Classic" designer/builder:
Steven Lecher
Lecher Development, LLC
New Canaan, CT
203-948-0335
"Cozy Classic" sink:
Devonshire Collection
Kohler
"Cozy Classic"faucet:
Newport Brass 7000-15S with cross handles
Newport Brass (a div. of Brasstech Inc.)
Santa Ana, CA
949-417-5207
"Rich in Detail" architect:
Jay Haverson
Haverson Architecture and Design P.C.
"Cozy Classic" sink and pedestal:
CP-01 in Antique Copper
C01-P1 in Stone
Stone Forest
Santa Fe, NM
888-682-2987
"Cozy Classic" faucet trim:
3-9301/18A, Stone Forest
"Cozy Classic" faucet, towel bar, towel ring, and tissue holder:
Newport Brass
"Cozy Classic" toilet:
K-3360-58
Kohler
"Cozy Classic" flooring, sink base, wall liner, wall tile border, and towel bar base:
Mexican Basketweave Aztec/Red Travertine tile, custom Aztec insert, Aztec pencil rail, custom basketweave strip and Aztec custom insert tumbled, all available through Ceramic Design
"In the Round" architect:
McKee Patterson
AIA, Austin Patterson Disston Architects
Southport, CT
203-255-4031
"In the Round" vanity:
Custom made
"In the Round" mirror and towel bar:
Samuel Heath
available through Klaff's
South Norwalk, CT
800-552-3371
"In the Round" marble top:
Custom made