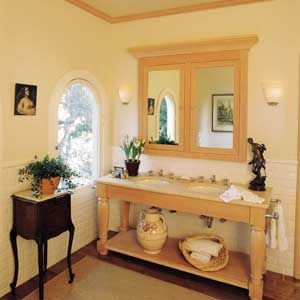 A second sink in the bathroom is like an extra pair of hands: You can always find a use for it. A double-sink vanity is a practical feature for large (or growing) families, or for a working couple whose morning routine would be vastly improved without the daily do-si-do at a single sink.
Custom Vanity
Adapting a piece of furniture like a farmhouse table or sideboard to serve as a vanity can have its limitations. In the photo at top, the two undermount sinks are set close together, there isn't a lot of countertop area and the level of the lavs is fixed by the height of the table. Still, a one-of-a-kind look like this can make an ordinary bathroom special.
Finding the Room. Of course, the extra plumbing and cabinetry for a second sink require space. To determine if your bath is a candidate for a second sink, chart out the room with a tape measure and graph paper, making a scale drawing of the space and all its fixtures so you can evaluate the possibilities.
The easiest way to accommodate a second sink is to expand your existing vanity area. There should be a maximum run of 30 inches between the centers of the two basins. This will allow you to tie the two sinks together with a single waste line. However, separate traps and drains are usually required if the vanity contains a stack of full-length drawers between the basins, because the pipes are blocked by the drawer boxes.
Even if you find the room to add another sink without reconfiguring other fixtures, you have some other space concerns to deal with. They include:
When a sink is opposite a tub or toilet, a minimum of 30 inches of open space should separate the fixtures.
Make sure there's at least 12 inches from the center of the sink to the nearest wall.
If you're moving a toilet to make more room, there should be at least 15 inches from the center of toilet to a wall or cabinet.
Leave room for the swing of the bathroom entry door, linen closet door or shower door. These are minimum measurements required by code; as always, check with the building department for other codes of this type in force in your community.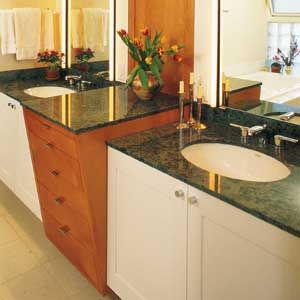 Fixtures and Fittings
Adding another basin in the bath presents a great opportunity to upgrade components.
Sinks
Perhaps the most obvious one is the sinks or lavs themselves. Although you'll probably have to buy two basins to get a matched pair, you have a wide choice of materials and mounting styles. Vitreous china, porcelain over cast iron and solid surfacing are the most popular choices in bath lavs.
Mounting options include self-rimming, undermount, integral-basin and abovecounter styles. Self-rimming is the most common and typically the least expensive when installation costs are figured in. Undermount lavs and integral-basin units are sleek and easy to clean (there's no rim to get in the way), but they come with higher price tags. Another option is to buy a vanity top with integral bowls in solid surfacing or synthetic marble.
Vanities Another obvious upgrade is replacing (or adding) a vanity. As in the kitchen, counter heights are no longer being dictated by manufacturers. More and more, vanities are being customized according to how they work and who uses them.
In baths where floor and storage space are at a premium, homeowners are opting for cabinets taller than the once-standard 32-in. units. Higher vanities not only keep taller users from having to bend over, but they also help keep toiletries from being splashed and can be home to extra storage. You may also want to consider a lower vanity top, which is great for tasks done better while seated, such as applying makeup.
Faucets
Another related improvement is coordinating the hardware on the two sinks. Faucet and handle packages (collectively called the "lav set") come in three configurations. On a single-control set, the faucet and a lever or knob regulating the water flow and temperature are combined. On a center-set control, there are separate hot- and cold-water handles sharing a common base with the faucet. In a spread-fit control, the three components—faucet and two water controls—are wholly separate.
The type of lav set you'll use will be determined by the number and position of the holes in your sinks. When selecting a model, remember it should be easy to operate with slippery, soapy hands.
Deciding what styles suit you and your bathroom is Phase 1 of the fun; Phase 2 is enjoying the convenience of your new second sink.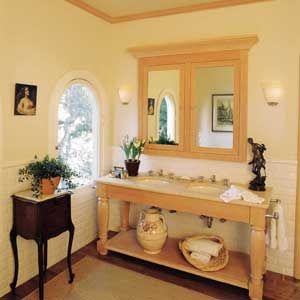 Hooking Up a Second Sink
If you're going to install a second sink in your bath, you'll save time and money if it's placed next to the existing lav. This means you won't have to cut into the wall when making the drainage hookup.
The centers of the two drains should be no farther than 30 inches apart. And if the vanity tops are going to be installed at different heights, the new sink should be no more than 6 inches higher than the existing sink.
If you choose to hire a plumber to do the work, the process is straightforward. Get at least two estimates and check licenses, insurance, and references. It shouldn't take more than a day to extend the waste and supply lines and hook up the sink if everything is ready for the installation.
Although the work is all out in the open, you should be confident of your plumbing skills in order to take on this project yourself. Here's an overview of the steps involved:
After shutting off the water, install new T-fittings and run supply lines to the new sink.
Adapt the existing drain by removing its tailpiece and inserting a slip-joint T-fitting above the trap.
Connect this to the drain hole of both lavs with a tailpiece and a 90-degree slip-joint elbow under the new lav and a tailpiece at the existing bowl.
The drainpipe from the new sink should slope 1/4 inch for every foot in length. This slope will evacuate the sink quickly but keep water from being suctioned out of the trap.
Check the local building code to determine if a separate vent is required for the new sink. In many cases, you can extend existing supply and drain lines if the distance from the vent is less than the maximum distance allowed by the building code. If you do have to add a vent, seek advice from a pro.