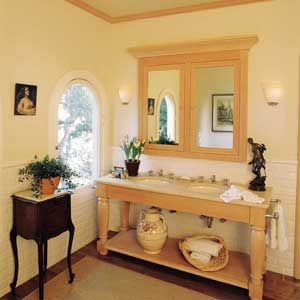 Before purchasing a sink, there are some general questions — beyond price, material, and mounting options — you should ask yourself. First, how much space do you want to devote to the lav? In a 5-by-7-foot room, for example, the sink shouldn't be wider than 24 inches, says Suzette Bonsignore of Smolka Plumbing in New York City. For a comfortable amount of elbow room, the center of the sink should be at least 12 inches from the nearest wall. Also determine the sink's height for maximum comfort and ease of use; 34 inches is typical today (up a couple of inches from
10 years ago). Height is especially important when buying a vessel sink, which sits on top of a counter or cabinet.
Keep in mind that a sink's overall look depends in large part on the faucet you choose for it. Three-hole sinks are designed for widespread faucets, with individual hot and cold handles 8 inches apart, or center-set styles, with handles 4 inches apart on a common base. One-hole sinks are for single-handle, lever-operated faucets. Vessel-style sinks with no holes require faucets mounted on the wall or in the sink surround.