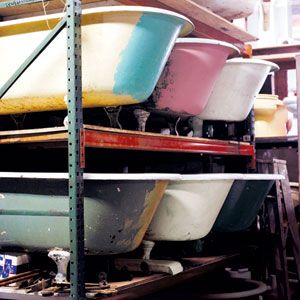 In the first half of the 19th century, taking a bath usually meant filling a copper tub with water heated over an open flame. Sounds like a rustic luxury, except that the tub was really an oversized washbucket, and typically located near the hearth in the not-so-private kitchen.
It wasn't until the turn of the last century that tub, toilet, and sink were all located in the same room, and the "bathroom," as such, was born. Hot and cold running water came from taps mounted on the wall or on pipes extending through the floor, and you could stretch out in a large vessel built not just for scrubbing, but for soaking too.
Unlike the plain molded fiberglass tubs popular today, some of the earliest bathtubs were intricately carved wooden cabinets lined with tin or copper. Next came more sanitary materials, like vitreous china, glazed earthenware, and porcelain-coated cast iron.
Freestanding cast-iron tubs are the most common type you'll find at salvage yards today. China and earthenware tubs are heavier and often had at least one side that was attached to a wall, making them difficult to remove without damaging them, says Don Hooper, owner of Vintage Plumbing in Northridge, California. "You can't just grab the rim and lift it up like you do with a cast-iron tub," he says. "Many people take them out the easy way, with a sledgehammer and wheelbarrow."
Typically supported by feet shaped like an eagle's talons clutching a ball or like a lion's paw with drawn claws, cast-iron tubs had a furniturelike look that appealed to Victorian-era America's appetite for elaborate embellishments on utilitarian objects. Companies such as J. L. Mott Iron Works of New York cast their tubs in molds and sold them through mail-order catalogs. Such mass production and distribution meant that bathtubs, previously a luxury item affordable only to the wealthy, became commonplace in working-class households as well, says Merritt Ierley, a historian and author of The Comforts of Home: The American House and the Evolution of Modern Convenience.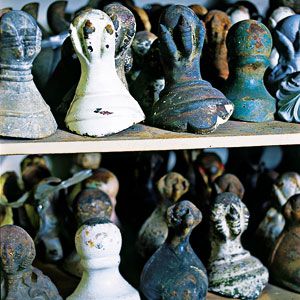 Bathtubs took on industrial styling in the 1920s with an emphasis on clean lines over frilly ornament. This is also when cast-iron tubs were offered in footless, one-, two-, and three-wall configurations that maximized space and allowed for behind-the-wall plumbing for a shower.
By the 1930s, manufacturers including the Kohler Company of Kohler, Wisconsin, offered porcelain-coated cast-iron tubs in an array of colors. Though white continued to be the most popular seller, "fashion conscious" consumers could now order a tub in jadeite green, pale yellow, or fire-engine red to match their tiled walls, says Ierley.
When deciding which style (or color) of tub to buy, think first about the look you want to achieve. If it's period authenticity, then match the style and age of the house with a tub from the same era. For a more eclectic approach, play different looks off each other. The sculptural curves of a claw-foot can make a nice counterpoint to the angular lines of a modern house.
Bring along your bathroom dimensions as well as measurements for an existing tub recess or niche when you shop. Most claw-foots are about five feet long. But finer, cast-iron "estate" tubs with skirted bases can measure six feet or more, says Hooper. In good condition, these large and rare tubs can cost as much as $6,000, compared with $400 for a run-of-the-mill claw-foot.
You'll want to avoid cast-iron tubs with large rust spots, dents, and missing feet, which are almost impossible to replace. If the tub's interior is worn and dull, hire a professional to reglaze it with a new synthetic porcelain coating. Some salvage yards offer refinishing services, for between $300 and $650, depending on the size.
If you're lucky enough to find an earthenware or china tub, beware of large cracks and chips which usually can't be repaired. Crazing, or crackling of earthenware's porcelain glaze, adds character, but too much of it can cause discoloration and mask hairline fractures in the tub. In good condition these tubs cost between $2,000 and $7,000, depending on size and design.
Once you've decided on a tub, it's time for the lounge test. Claw-foots, in particular, have angled backs for reclining and high sides with a rounded rim to support your arms. Older tubs also tend to hold more water than same-sized newer tubs because their overflow drains are as high as 18 inches from the tub floor, compared with today's standard of 12 to 14 inches. So climb in, lie back, and imagine how it'll feel to finally soak in enough water to cover your shoulders, not just your belly button.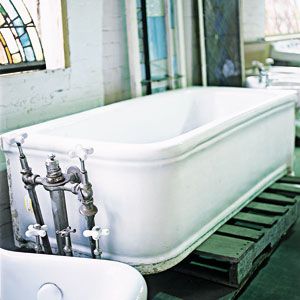 How to turn a claw-foot tub into a shower
Reminiscent of an ancient Roman soaker tub, a stand-alone claw-foot has an elegant look. Plumbing it for a shower, however, can be a challenge because you can't hide the pipes behind the wall. Specialty plumbing suppliers like Sign
of the Crab in Rancho Cordova, California, solve the problem with exposed tub and shower hardware that taps into pipes extending though the floor. This chrome set is based on
a Victorian-era design.