This innovative home by Union Studio Architects won the Cape Cod Young Professionals House Design Contest—a challenge for architects to produce plans to help year-round families and young professionals gain a foothold in an expensive real estate market.
Winning features include two income-generating spaces—a rental apartment and a maker's workspace—and a super-tight building envelope that will keep utility bills down. Our builder, Cape Associates, Inc., has been making great progress since breaking ground in December; check out these scenes from the job site.
A Firm Foundation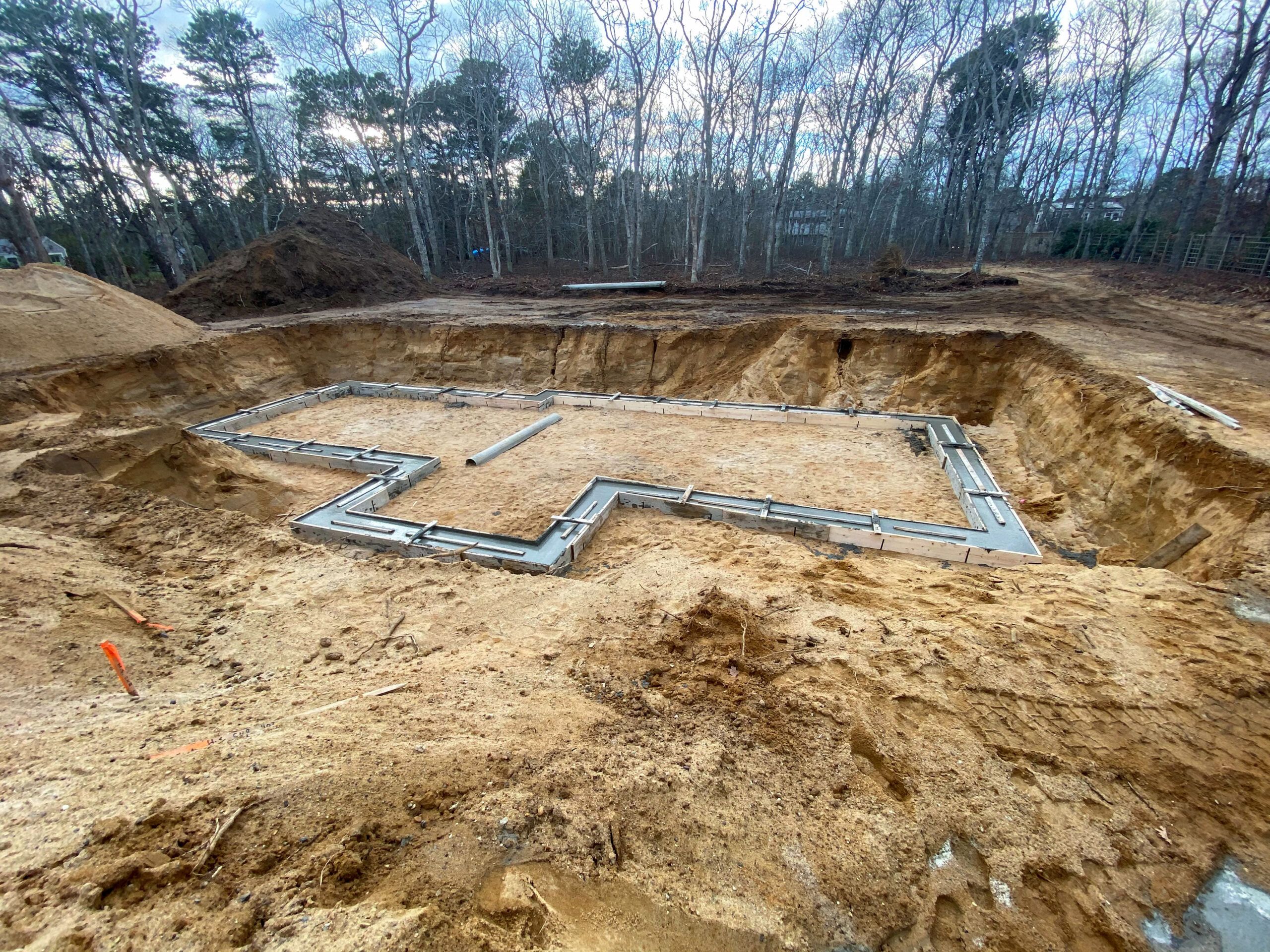 Work began in early December with a foundation pour at our wooded lot in Eastham, MA.
High-Performance Flooring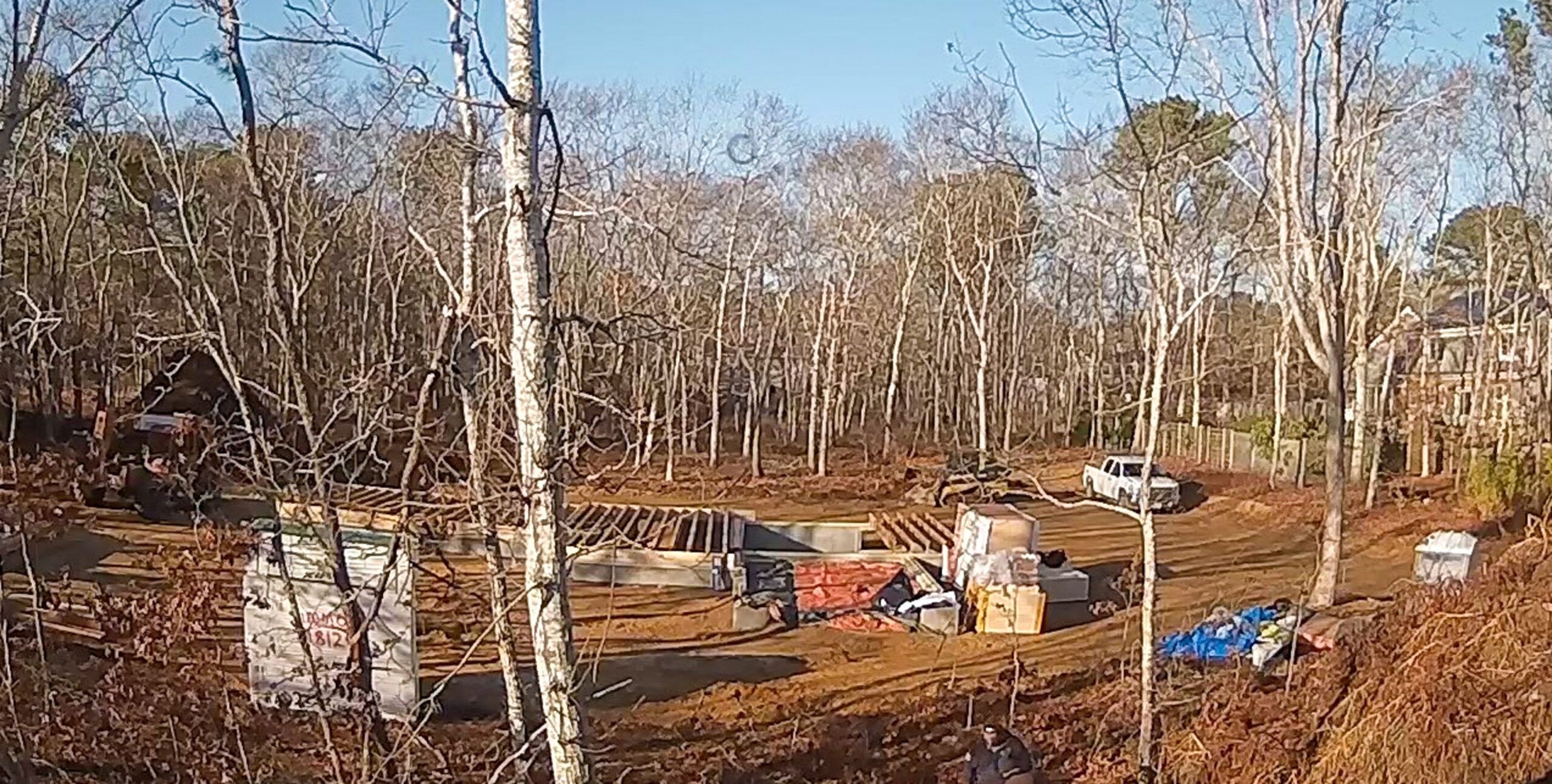 Long, lightweight, 20-foot floor joists span the entire width of the house to form the foundation of a strong, squeak-free floor system.
Floor Joists: TJI Floor Joists by Weyerhaeuser
Gull's Eye View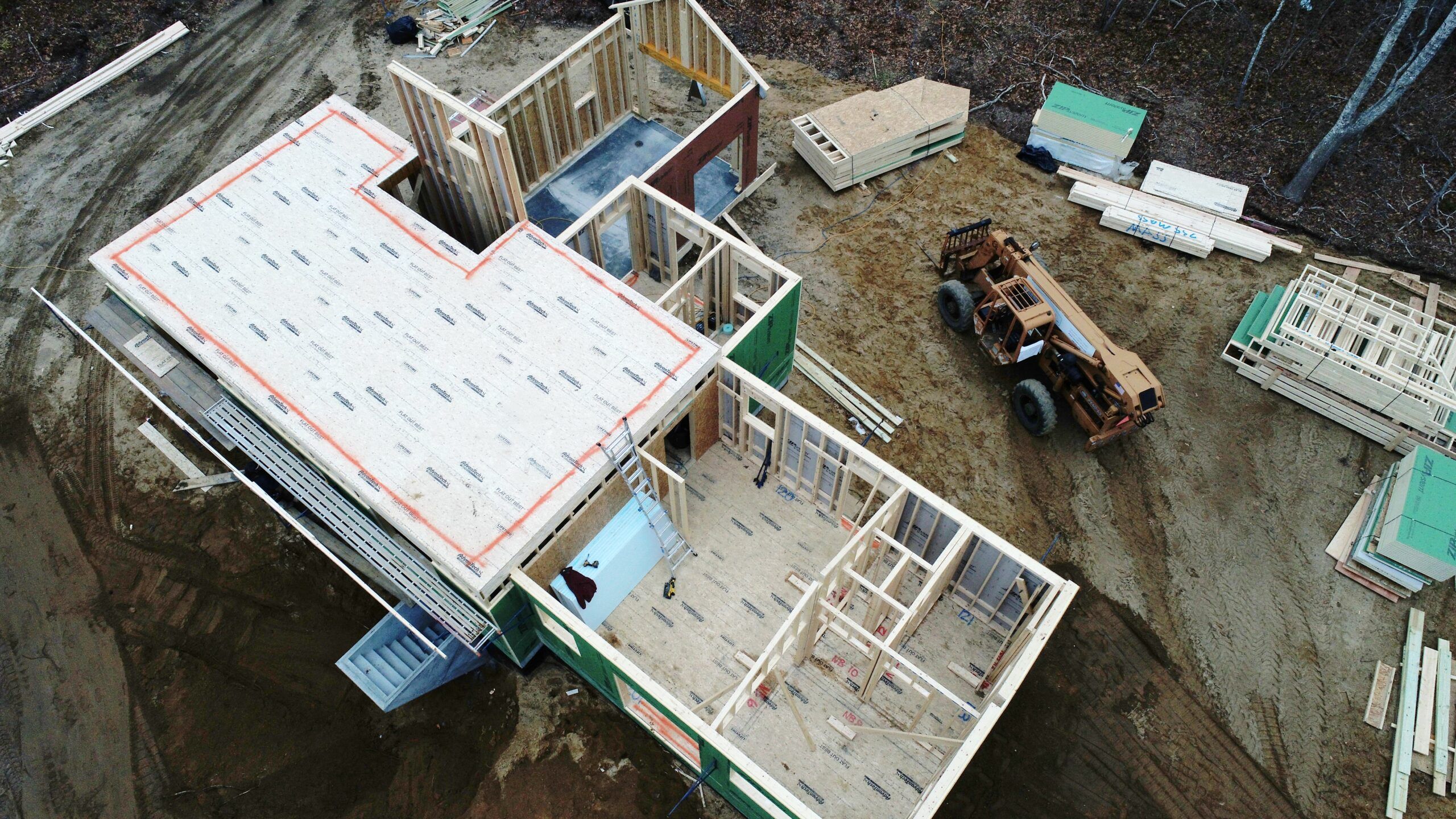 An aerial view of the home under construction shows the second floor deck of the main house in place, but allows a peek into the auxiliary dwelling unit (ADU), side entry area and garage/maker space. Exterior walls are framed and sheathed offsite and delivered to the jobsite for easy installation. Insulation-backed sheathing provides a continuous thermal break between the exterior sheathing and the framing—helping make this a super-cozy, energy-efficient house. A precast concrete stairwell leading to the basement is ready for backfill and a bulkhead door.
Sheathing and tape: ZIP System
Subfloor: AdvanTech
Engineered Lumber: Weyerhaeuser
Basement Stairwell: PermEntry by the BILCO Company
Structural Strength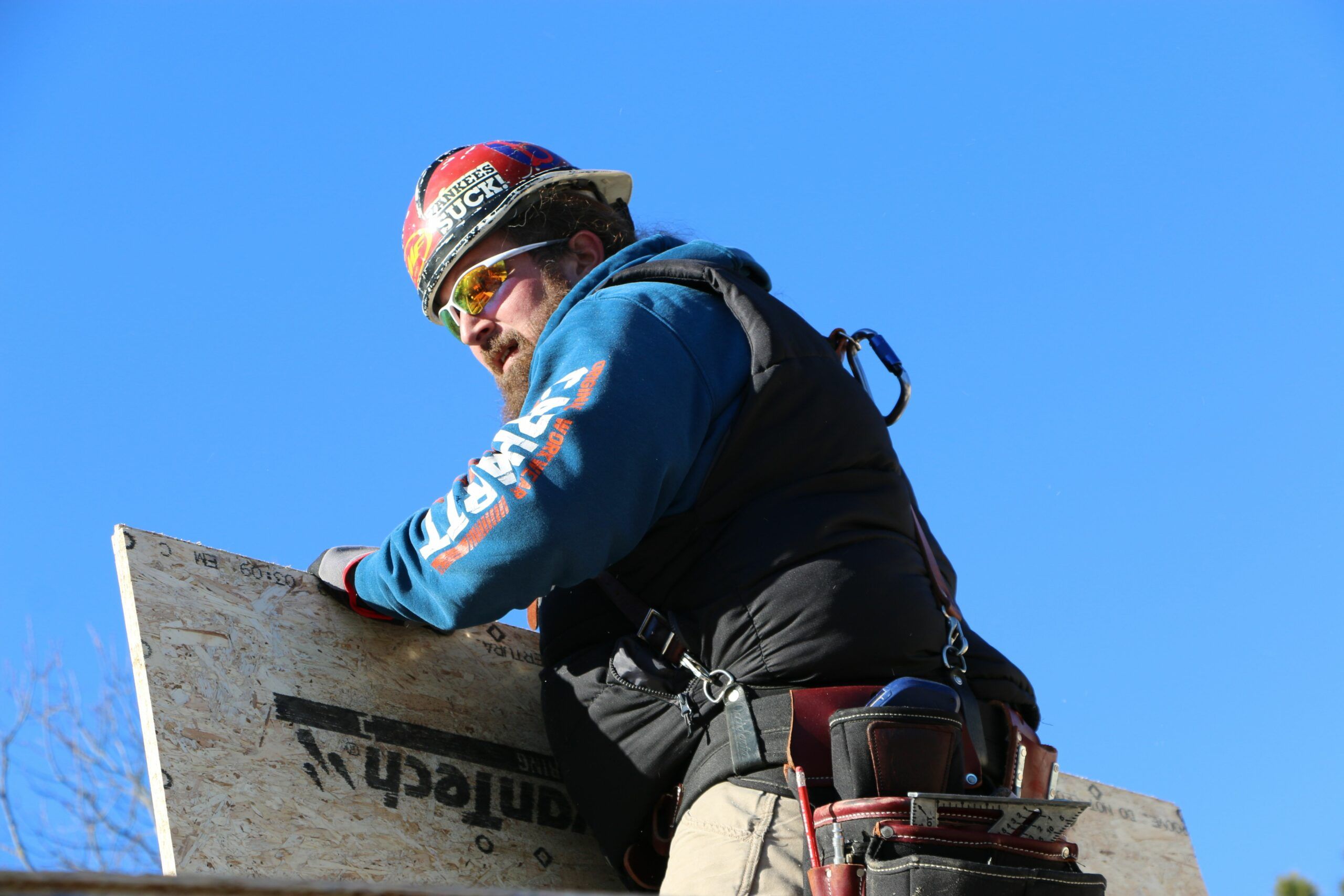 Up in the attic-level loft, a Cape Associates crew member works on laying subfloor.
Subfloor: AdvanTech
Slow and Steady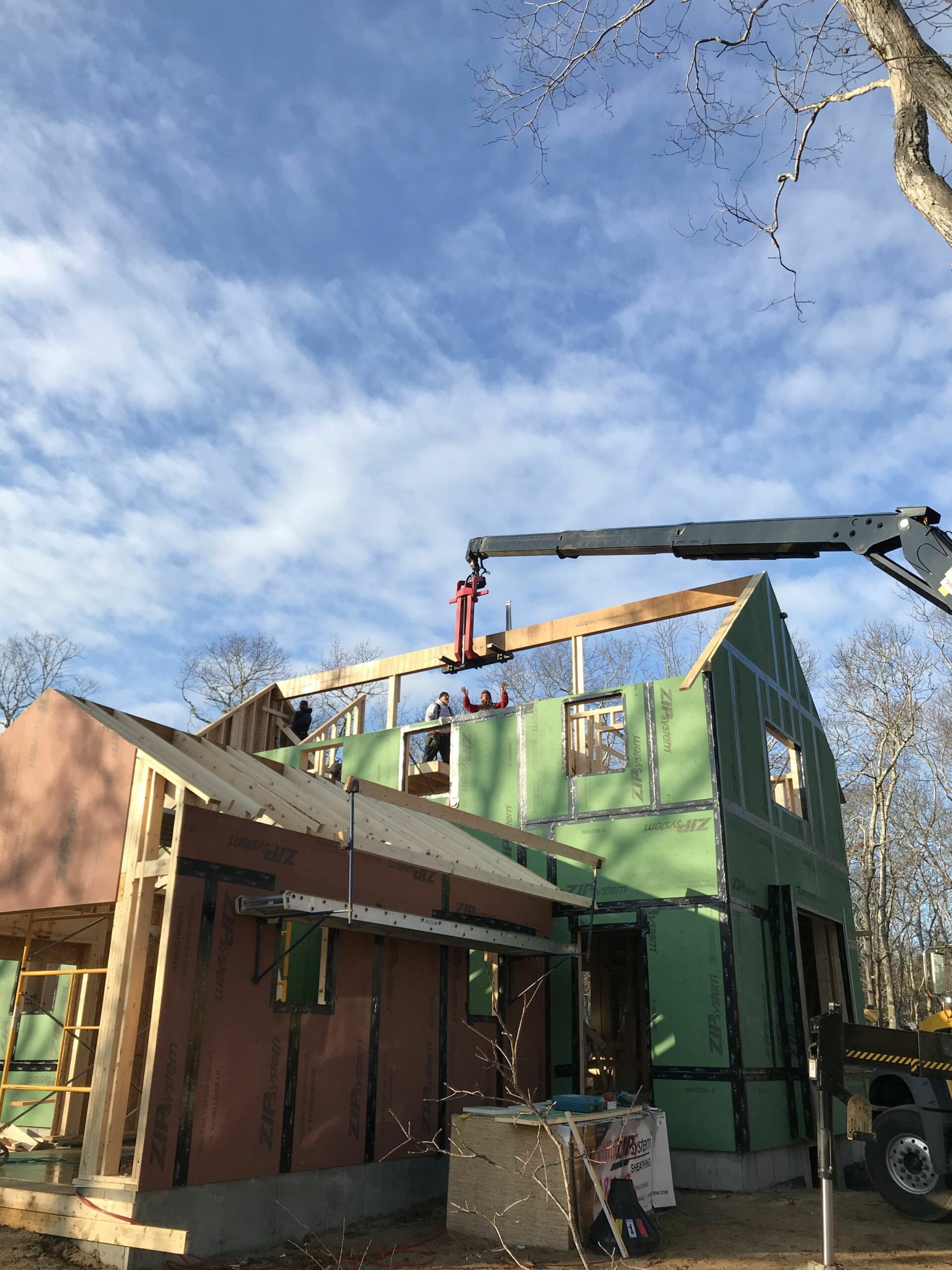 A boom truck lowers the home's main ridge beam into position. Engineered from large sheets of laminated veneer lumber (LVL) and impregnated with resin to resist moisture and mold during construction, this 36-foot beam will support the load of the rafters, thus eliminating the need for ceiling joists.
Ridge Beam: Microllam LVL Beam by Weyerhaeuser
Scanning the Window Schedule
Cape Associates crew members study plans as they prepare to install windows and doors.
Ready, Set, Action!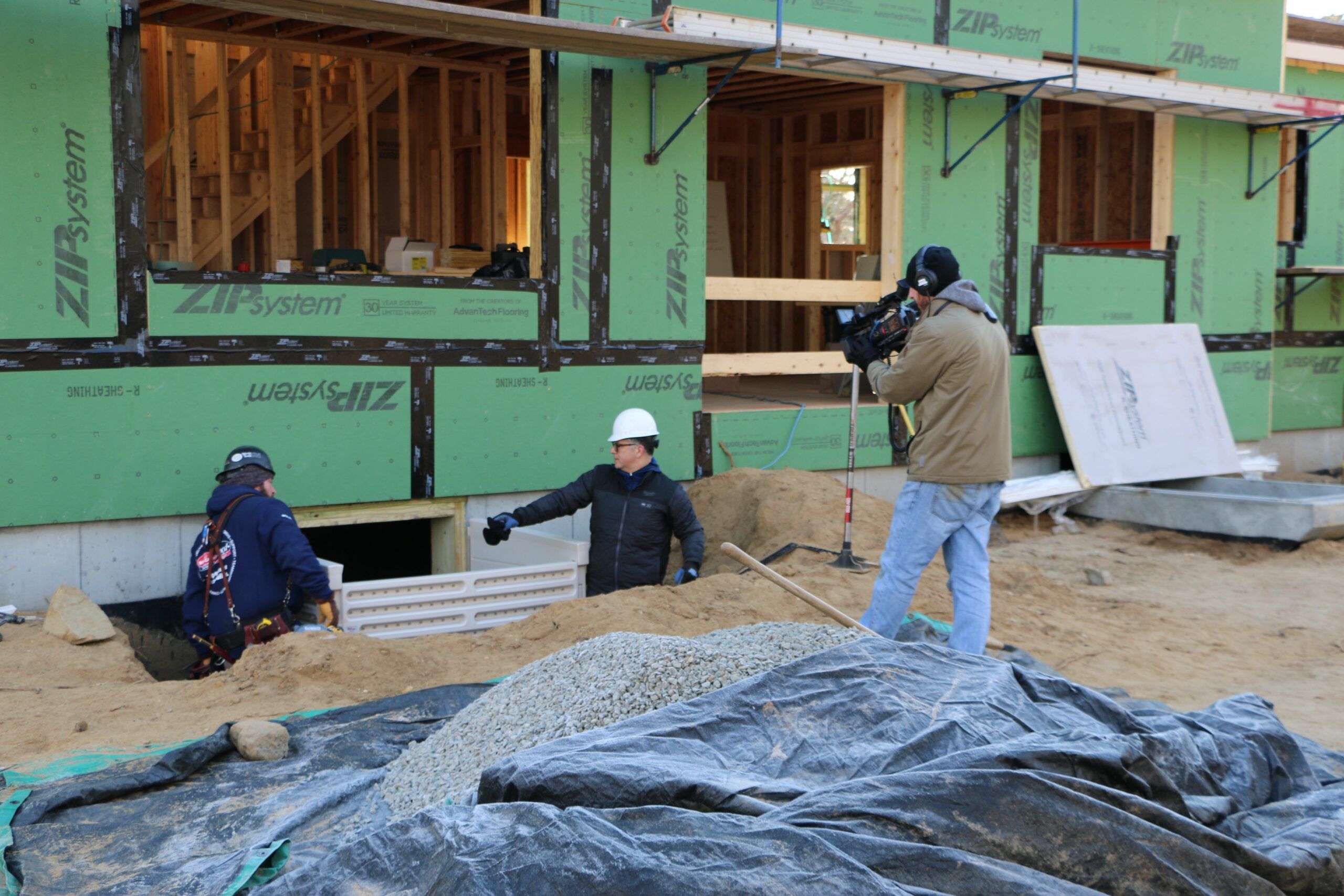 Our film crew captures This Old House editor Chris Ermides as he describes the installation of an egress window well. Adjustable steps inside the prefab unit can be planted with greenery to improve the view.
Egress: ScapeWEL by the BILCO Company
Fit and Trim
Workers complete installation of fascia boards around the lower roof. The area where wood meets roofline is particularly susceptible to rot, and these New Zealand-sourced pine fascia boards are pre-treated with an EPS-registered organic preservative to withstand damage caused by insects and the elements.
Trim: LIFESPAN Solid Select
Sheathing and tape: ZIP System
Windows: Sierra Pacific Windows
Up on the Roof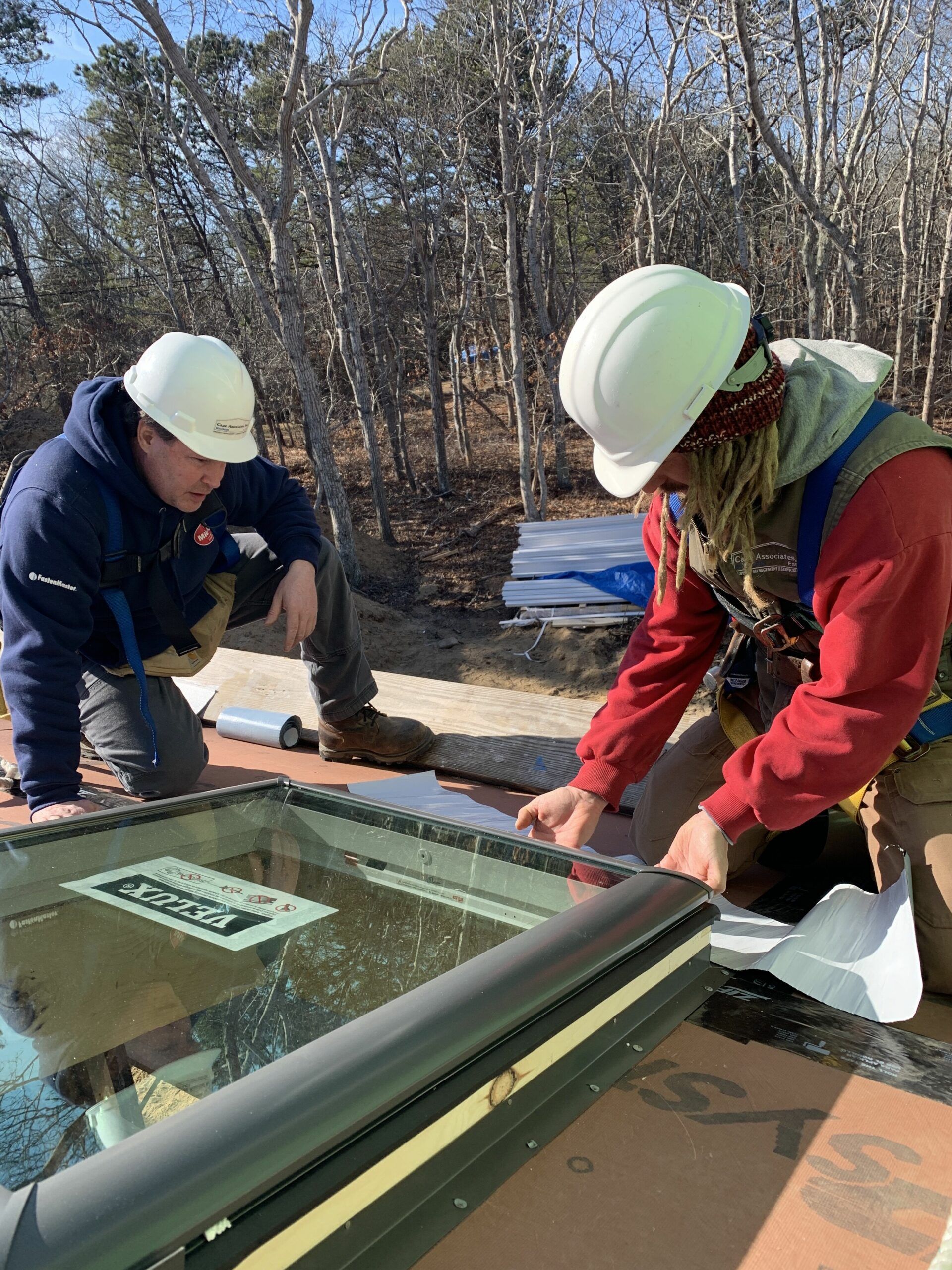 Workers install flashing around one of the solar-powered skylights above the ADU.
Skylights: VELUX
Sealed Tight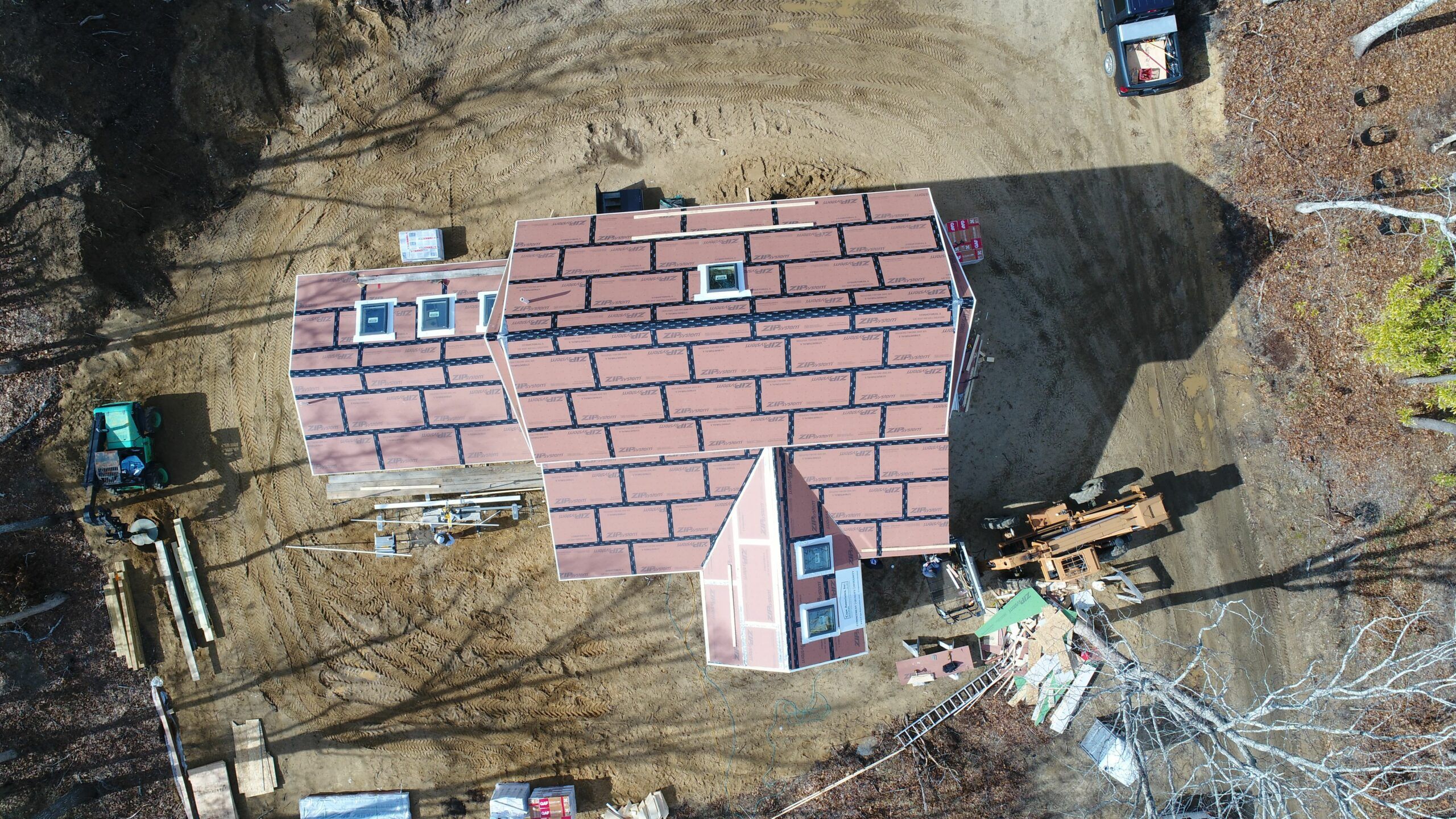 Builder Matt Cole has no concerns about keeping the house dry while waiting for delivery of the roof shingles. This sheathing and tape system provides a continuous air- and water-resistant barrier for a sealed roof deck.
Sheathing and tape: ZIP System
Skylights: VELUX
Ready for Roofing
A view from above offers a clear view of the single-story apartment attached to the main two-story structure. With sheathing in place and taped, and six skylights installed, our Cape cottage is roofer-ready.
Sheathing and tape: ZIP System
Fascia: LIFESPAN Solid Select
Windows: Sierra Pacific Windows
Skylights: VELUX
Expert Installation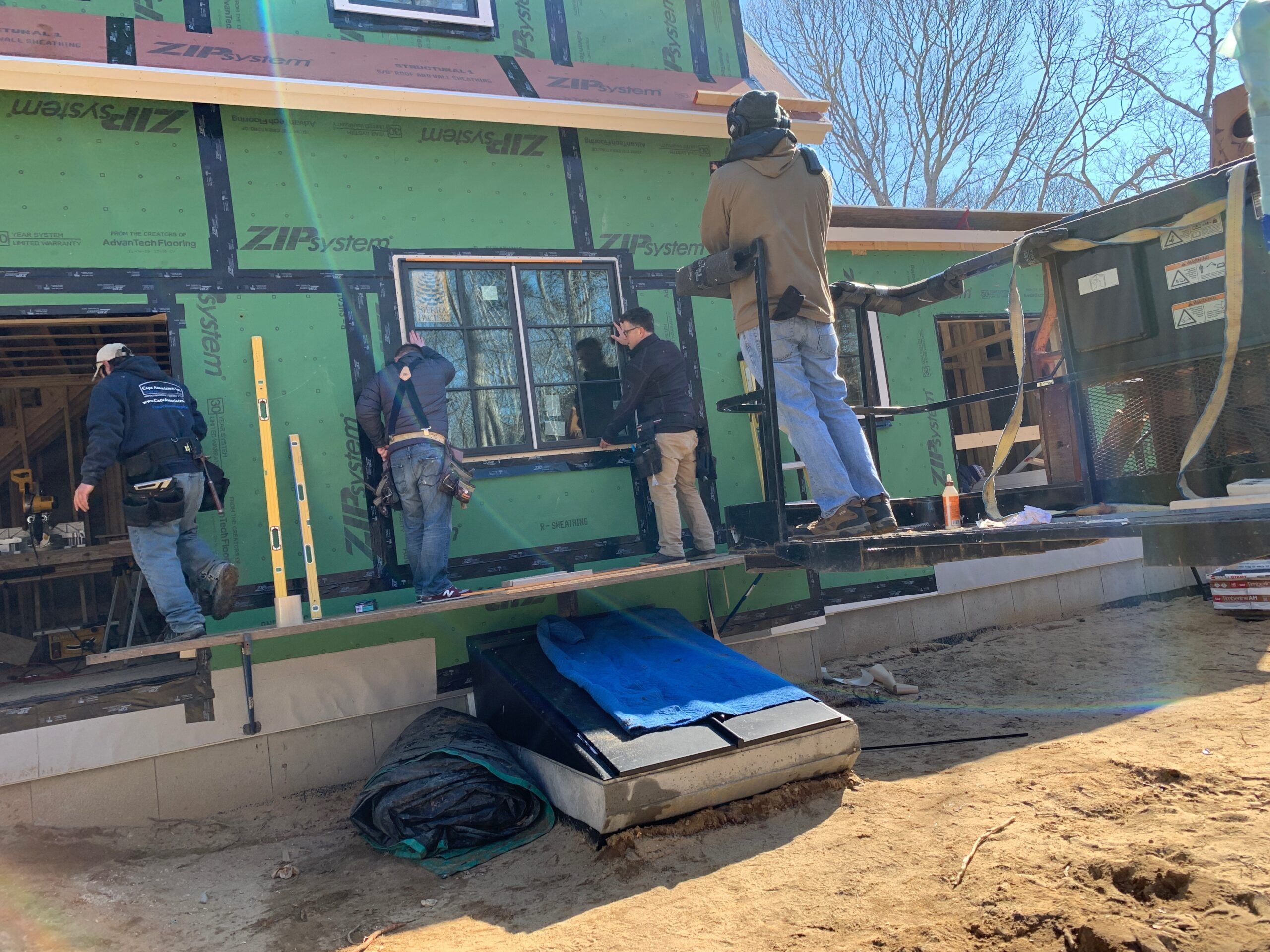 This Old House Pro Editor Chris Ermides helps the crew install a 5- by 4-foot aluminum-clad window with triple pane glass in the kitchen during filming of our OTT video series, Idea House Build. A tarp protects the matte black, factory-finished basement bulkhead doors.
Windows: Sierra Pacific Windows
Bulkhead: The BILCO Company
Opening Act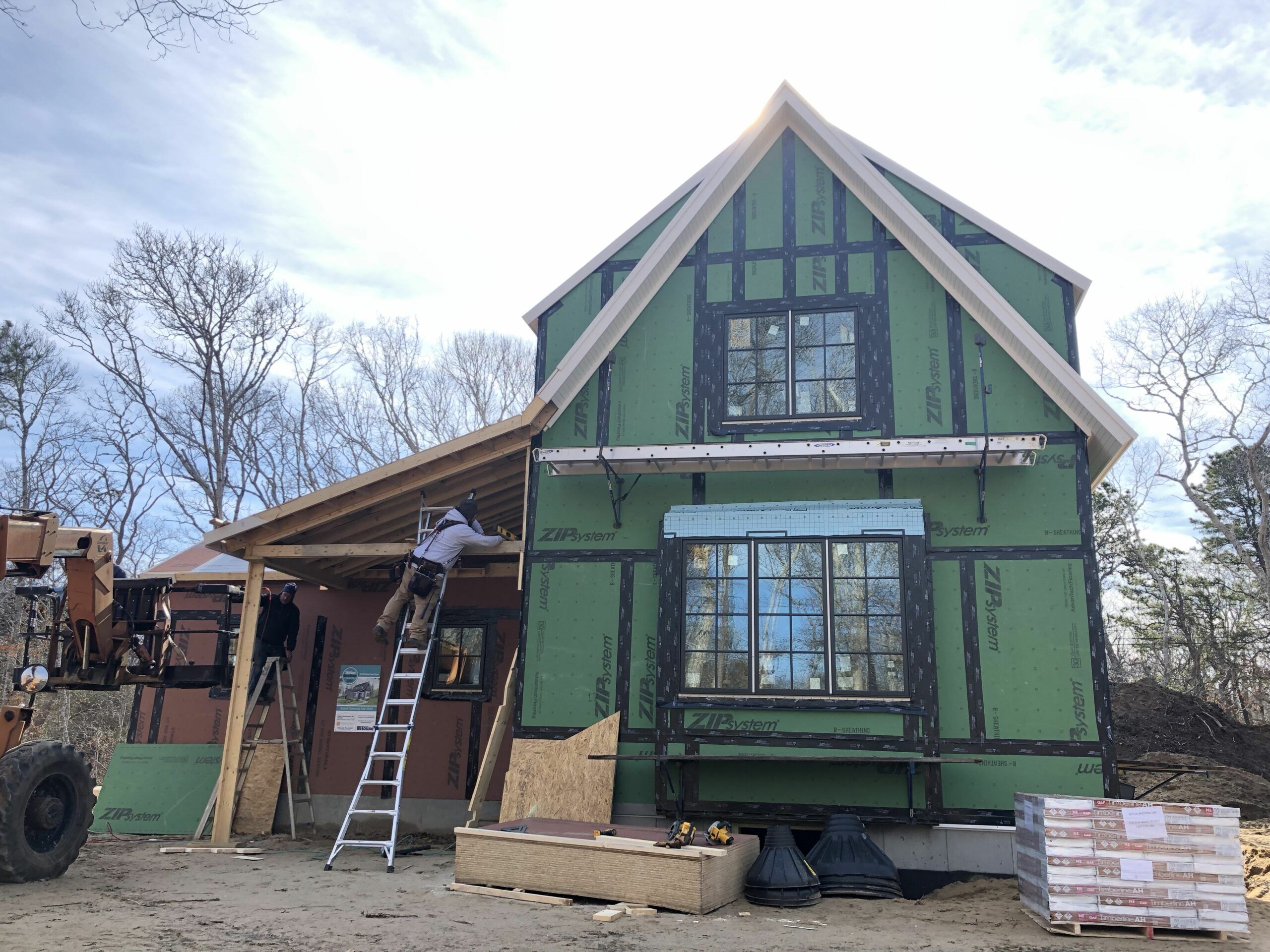 An inviting entry porch takes shape at the intersection of the main house and the garage. Fascia and soffit trim is in place on the front gable.
Sheathing and tape: ZIP System
Trim: LIFESPAN Solid Select
Engineered lumber: Weyerhaeuser
Windows: Sierra Pacific Windows
Natural Light
To bring light into interior spaces, our Cottage on the Cape features three sun tunnels, including this one in the master bath. A lens is mounted on the roof and a highly reflective aluminum tunnel connects it through the attic to a diffuser in the ceiling below. Sunlight bounces through the tunnel to brighten the room during the day. Ours are also equipped with solar-powered night lights that cast a soft moon-like glow when the sun goes down.
Sun Tunnels: VELUX
Heads Up
A lull raises a palette of high-definition asphalt shingles up to the roofers.
Shingles: GAF Timberline American Harvest in Appalachian Sky
The Big Cover-Up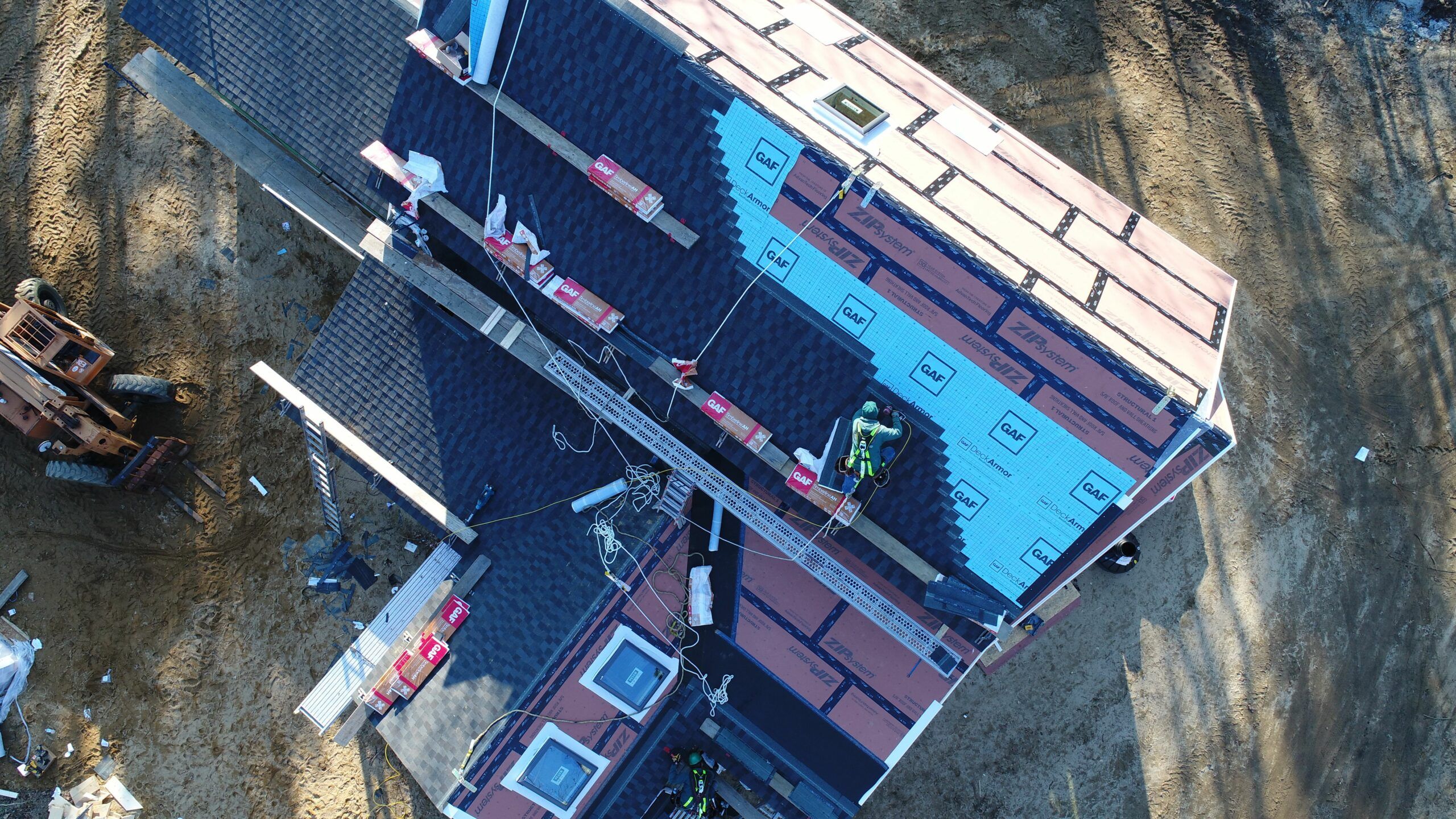 Thanks to shingles that have the widest nailing zone in the industry (600% larger than standard architectural shingles), the roof is installed over a breathable underlayment in record time. These shingles are imbued with a stain guard to protect against blue-green algae—a common issue in cool, coastal climates.
Sheathing and tape: ZIP System
Underlayment: GAF Deck-Armor
Roof Shingles: GAF Timberline American Harvest in Appalachian Sky
Work Lights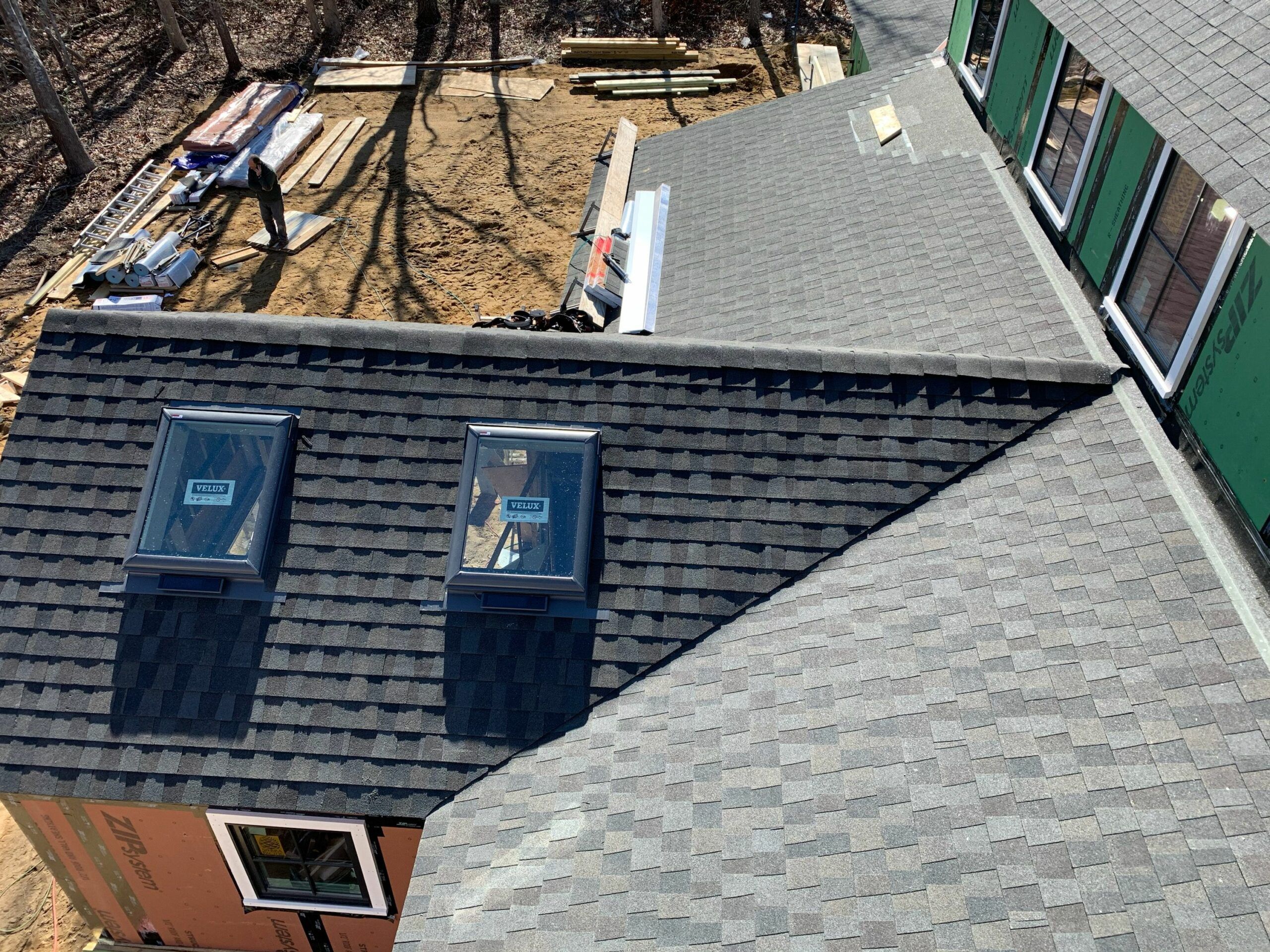 Two skylights brighten the garage/maker workshop, ensuring plenty of illumination whether homeowners are tinkering on their car or using the space as a workshop for business or personal needs.
Skylights: VELUX
Underlayment: GAF Deck-Armor
Roof Shingles: GAF Timberline American Harvest in Appalachian Sky
Sheathing and Tape: ZIP System
Windows: Sierra Pacific Windows
Exterior Wall Insulation
A semi-rigid, high-density batt insulation with an R23 value lines the exterior walls. Made from natural stone and recycled slag, this mineral wool product is resistant to water, rot, mold, and bacterial growth; and it won't slump over time like fiberglass products are prone to do.
Insulation: ROCKWOOL ComfortBatt
Fire Retardant and Soundproofing Insulation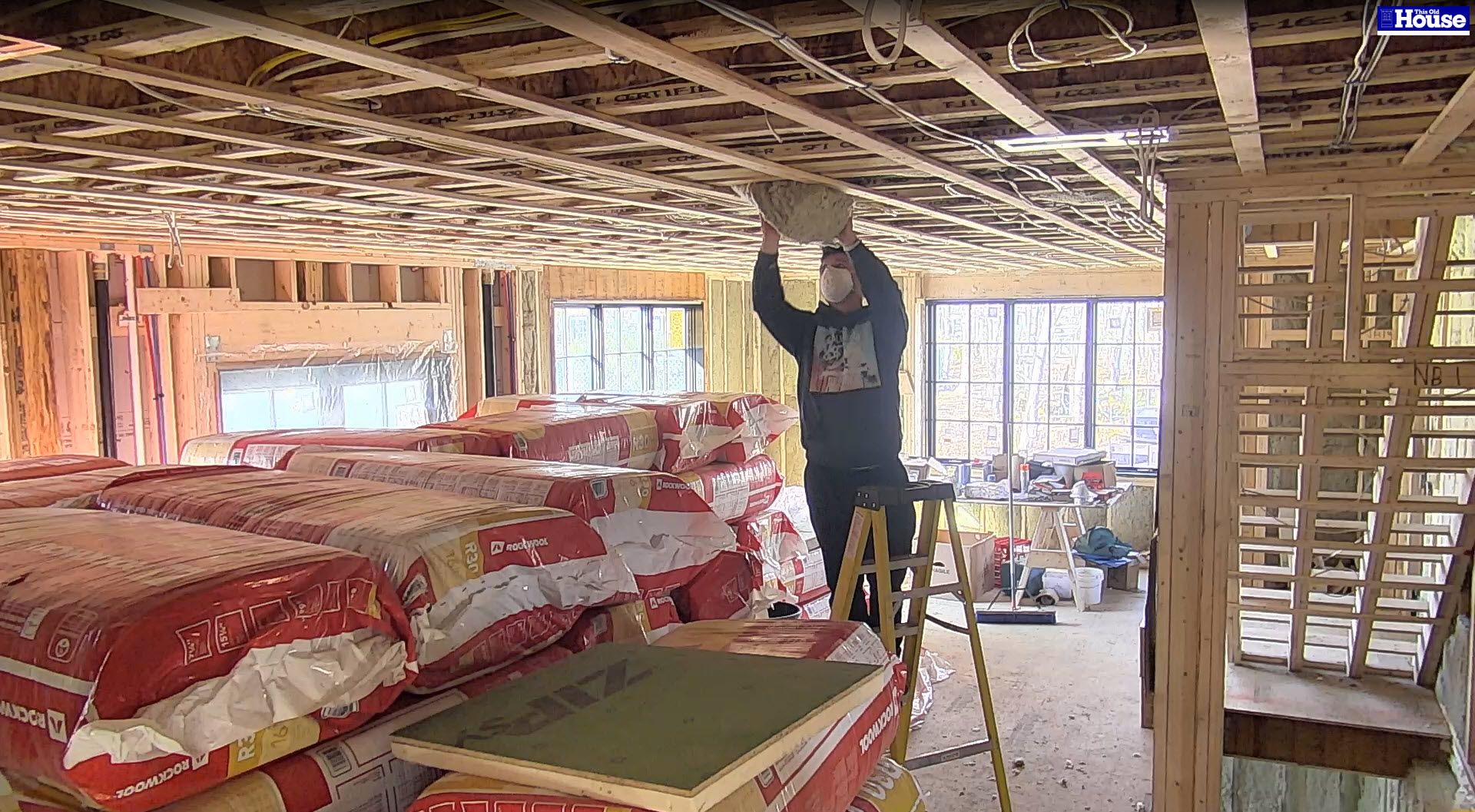 A worker fits a different mineral wool product designed for use in interior partitions between the floor joists of the first and second floors. This insulating product cuts easily with a serrated knife and fits snugly into wall cavities to deaden sound and add a protective fire retardant layer.
Insulation: ROCKWOOL Safe'n'Sound
Staircase Design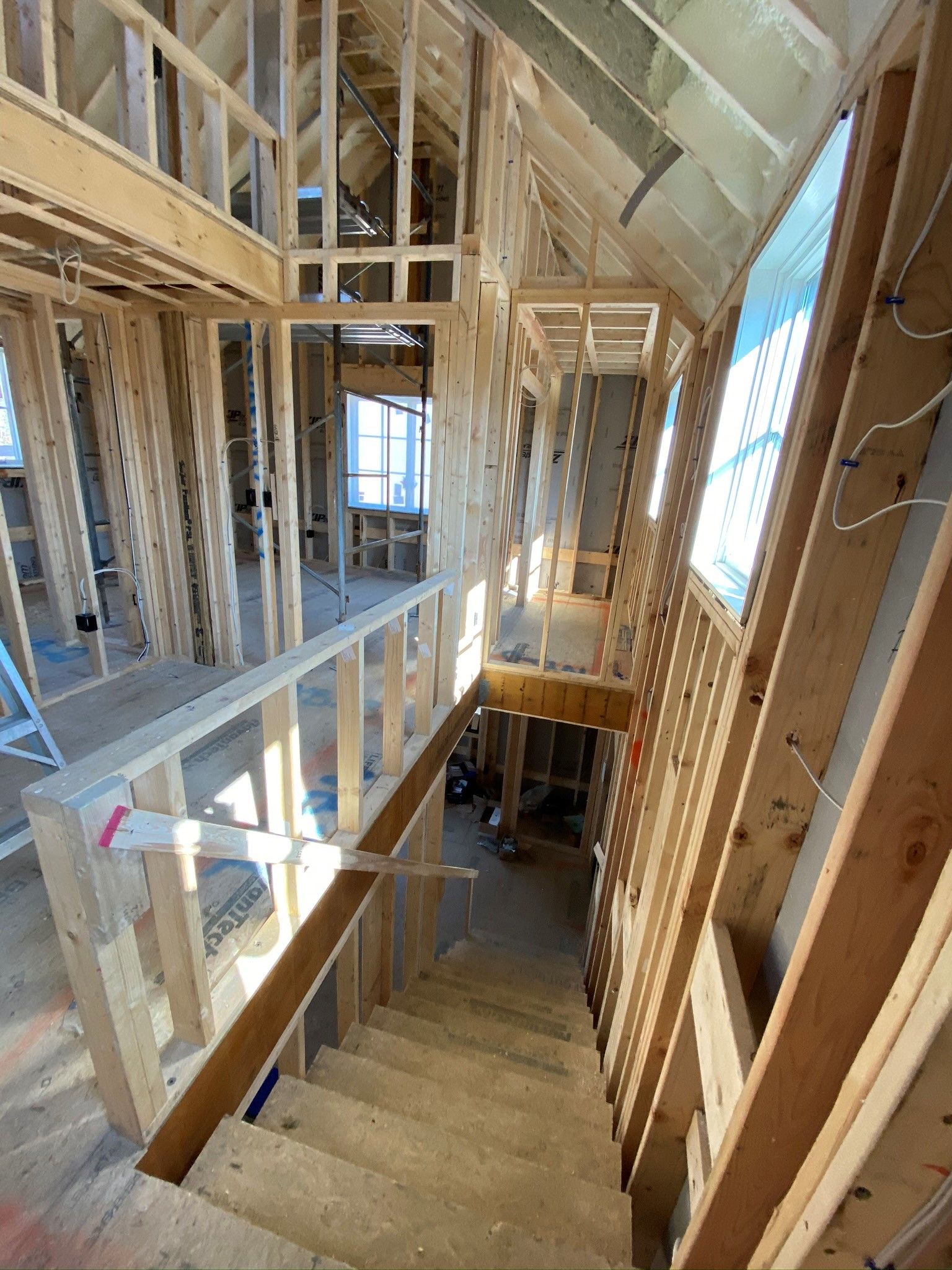 LVL header boards provide a strong, efficient way to frame and support the floor joists, allowing for an open stairway and a floor plan that's not cluttered by columns.
Stair headers: Microllam LVL Headers by Weyerhaeuser
Lumber supply: Mid-Cape Home Centers
Anatomy of an Open Floor Plan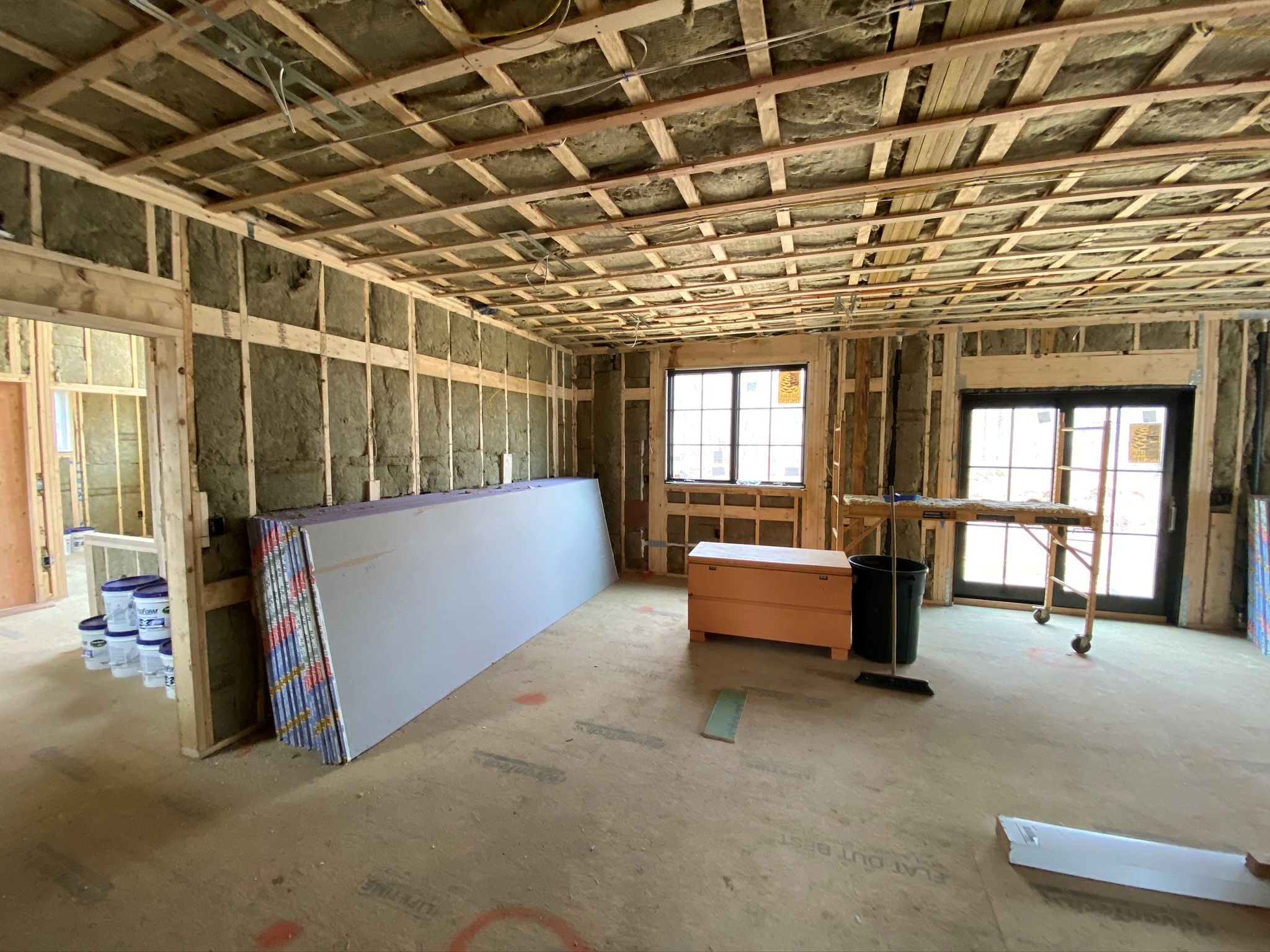 Hard working TJI joists that span up to 20′ make it possible for the main kitchen/dining/living space to be completely open and uninterrupted by columns. Here, we see a 4-ply LVL ridge beam that is helping to transfer point loads from above out to the perimeter of the space. Supporting that in the exterior wall is a strong PSL (parallel strand lumber) column.
Floor joists: TJI Joists by Weyerhaeuser
PSL Column: Trus Joist Parallam PSL by Weyerhaeuser
Ridge Beam: Microllam LVL Beam by Weyerhaeuser
Sleeping Loft Made Possible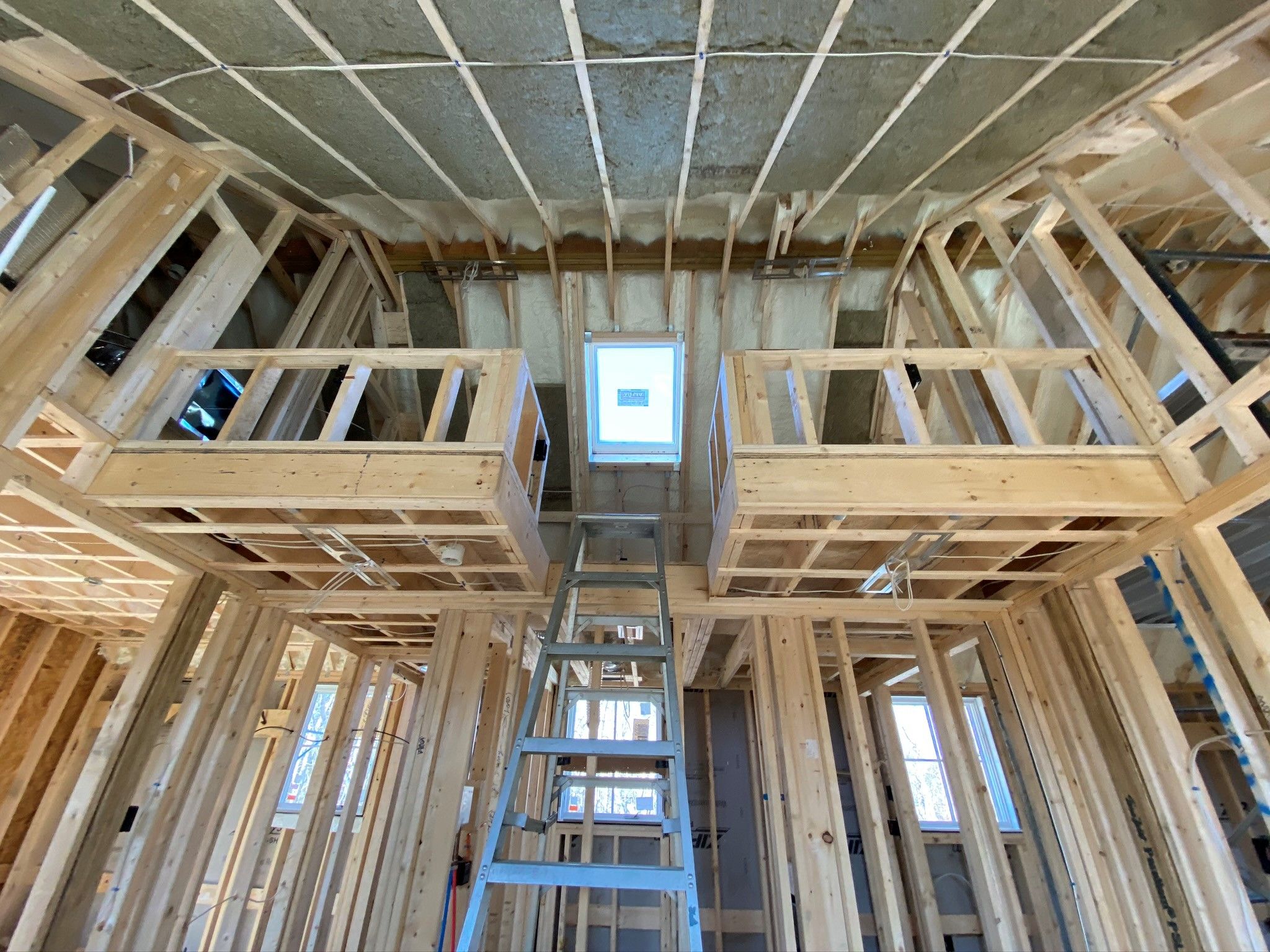 The sturdy 36′ LVL ridge beam that spans the entire length of the main house eliminates the need for ceiling joists and makes it possible to utilize the attic space for a sleeping loft that will accommodate two double beds and weekend guests. A solar-powered skylight brings fresh air and light into the space.
Ridge Beam: Microllam LVL Beam by Weyerhaeuser
Skylight: VELUX
Check back often for more progress reports from the TOH 2020 Idea House on the Cape. And follow our progress in real time via our 24/7 webcams.