Dining Room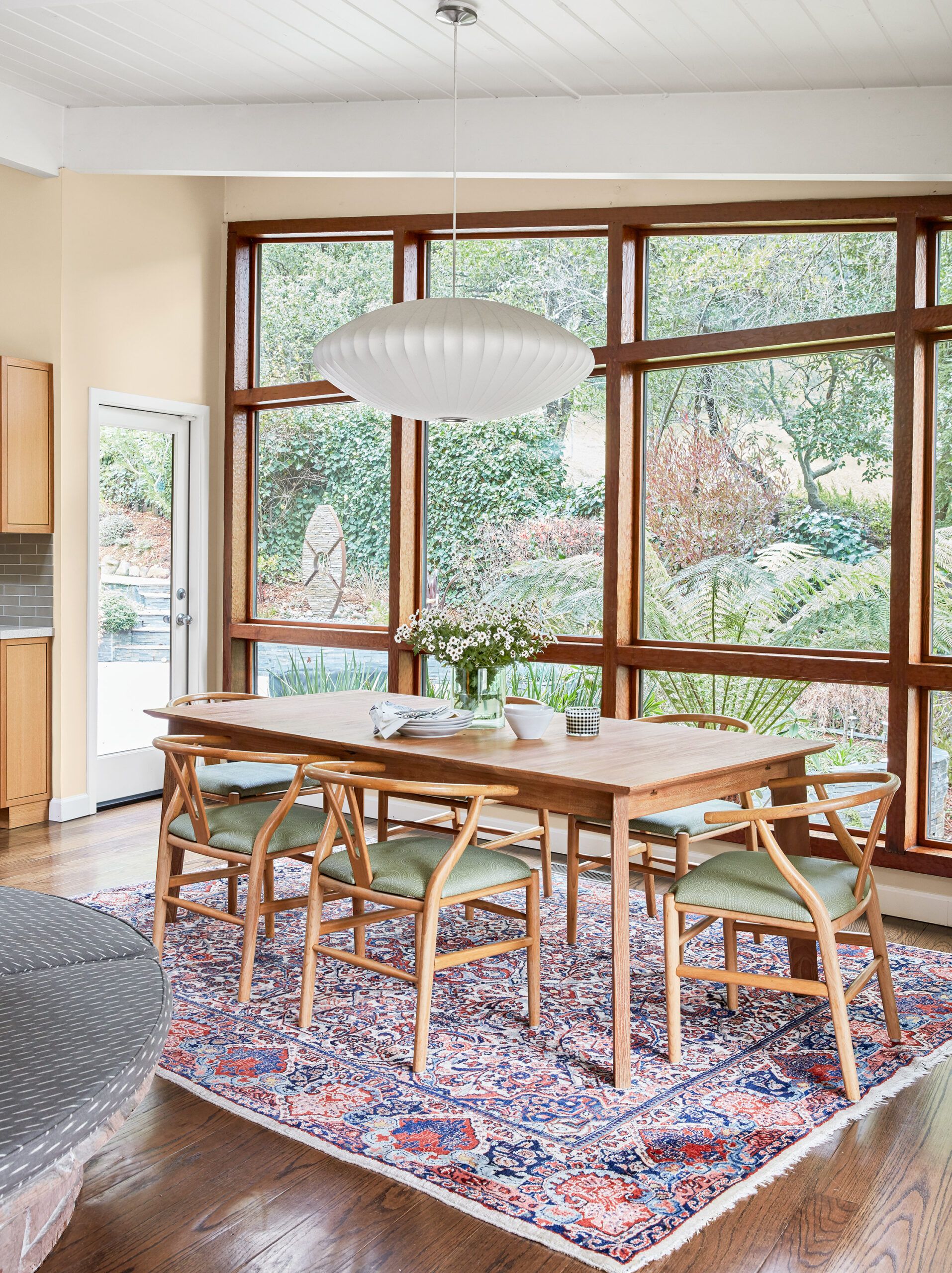 You could have called it the house that Disney built—except that little about this Mill Valley, California, home was magical when Cathy and Charlie Wilmoth bought it back in 2006. Believed to be a kit house built in 1955 by a Disney artist, the 2,265-square-foot, four-bedroom, three-bath home had devolved into something more worthy of Hitchcock. "There were army stickers everywhere, seafoam-green carpet in the bathrooms," says Cathy, and a "fish tank" toilet seat with faux tropical fish suspended in acrylic.
Shown: A Nelson saucer pendant lamp casts a warm glow over the dining room.
Paint: Benjamin Moore's Elephant Tusk (walls)
Pendant: Design Within Reach
Dining room sliding doors: Andersen
Broad Front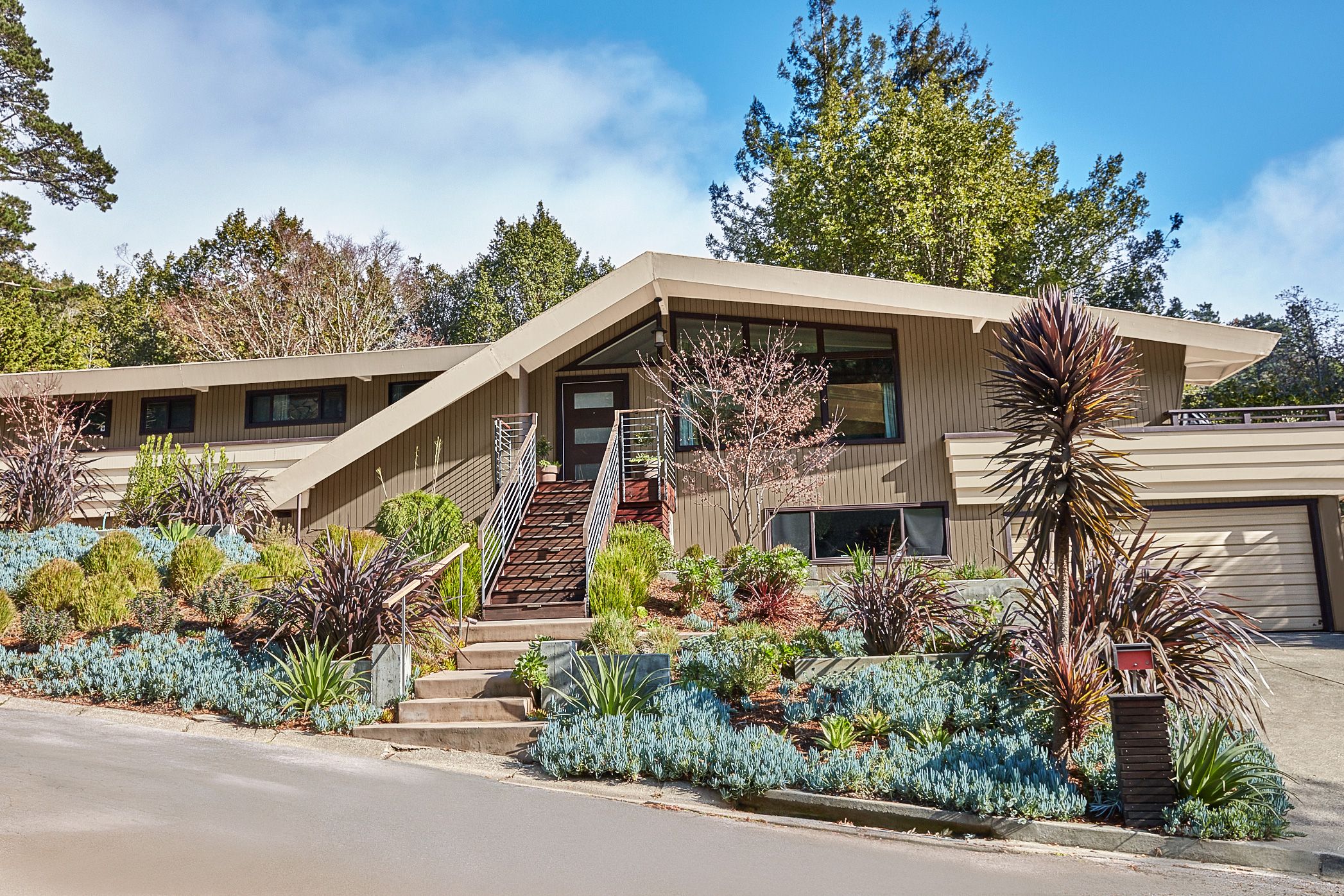 Still, with three growing kids, then ages 2, 5, and 9, the Wilmoths were desperate for larger quarters, preferably mostly on one level. "Our old house was a 1906 cottage with ceilings so low I would stretch my hands overhead and hit the beams, and taking laundry and babies up the rickety stairs was a challenge," says Cathy, whose schedule is busy with volunteer work and an office job at the local school. The property wasn't anything like the 1920s Spanish house she and Charlie, an investment manager, thought they wanted; instead, it held things they didn't even know they coveted. "I liked the Arizona sandstone fireplace and the windows and the heavy wood beams," Cathy says.
Shown: Broad swaths of sculptural low-water plants and a warm neutral paint scheme ground the 1955 house on its site.
Paint: Benjamin Moore's Weimaraner (siding) and Sail Cloth (trim)
Living Room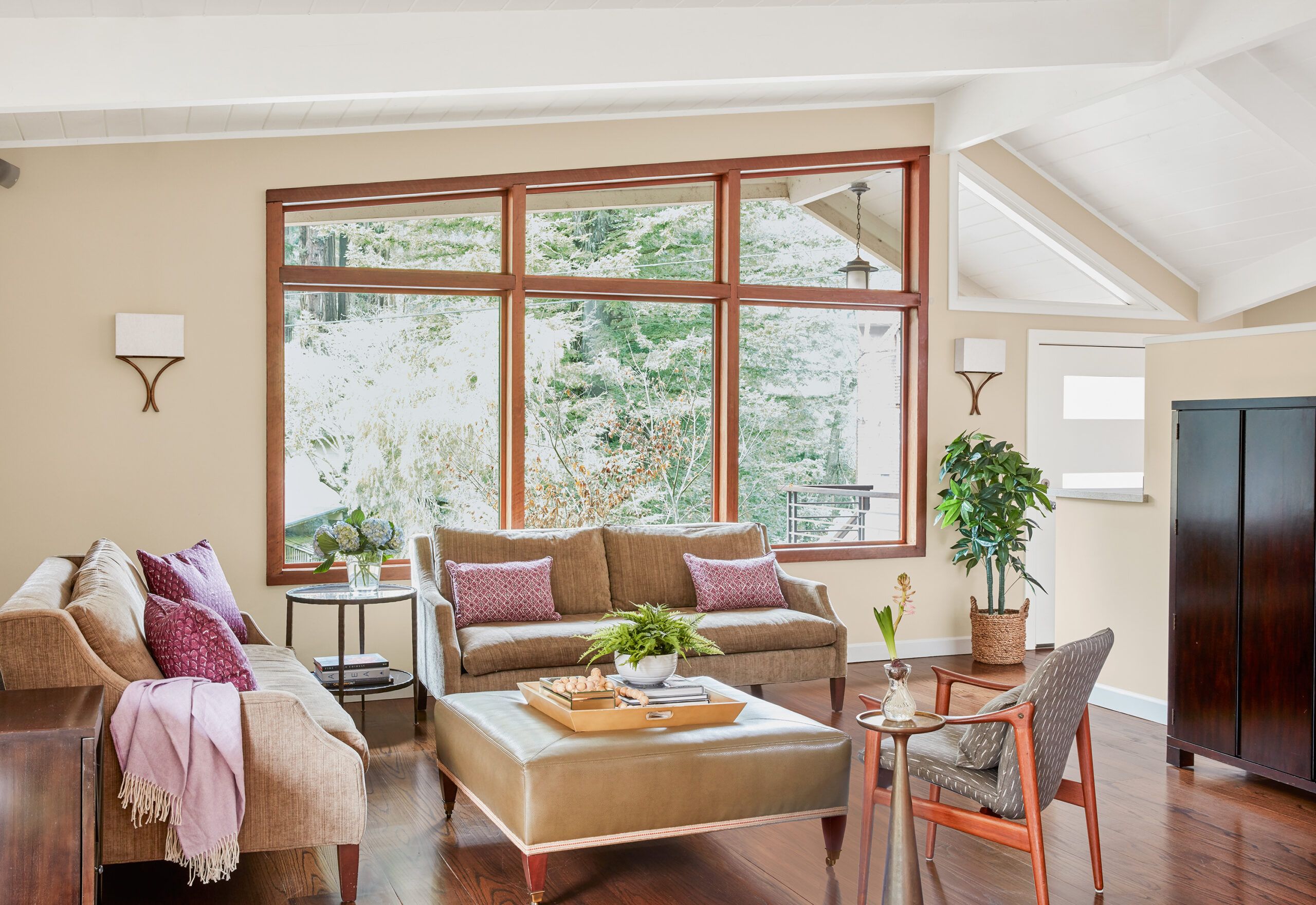 It's also atypical for Mill Valley, which is known for quaint cottages. "Mid-century kit houses were quite uncommon here," says architect Pierluigi Serraino, author of NorCalMod: Icons of Northern California Modernism. "But construction companies would customize stock plans for their clients' needs, and California was big on owner-built houses, especially by the late 1960s, when communities were developing their own aesthetic language."
Shown: The living room's original oak floors just required refinishing. Replacement windows follow the roofline, in tempered glass—a must in earthquake country.
Wall sconces: Currey & Company
Living room paint: Benjamin Moore's Elephant Tusk (walls) and White Dove (ceiling)
Sandstone Fireplace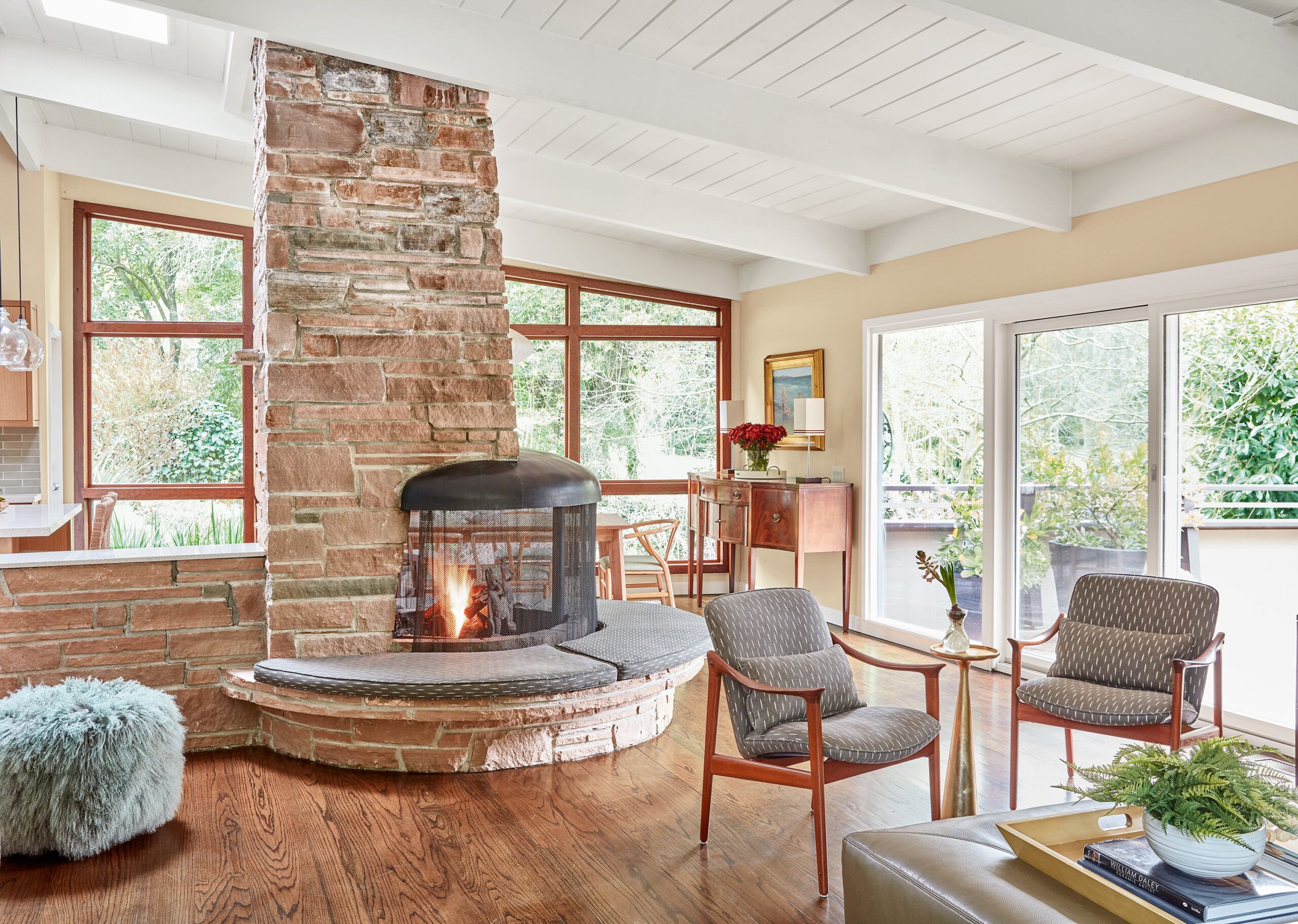 Serraino sees nods to Frank Lloyd Wright in the Wilmoth house's canted-outward roofline fascia and stepped horizontal balcony, and to Walter Gropius in the vertical siding. "I don't mean to be nostalgic, but so much of the later mid-century architecture isn't quite as imaginative and daring. California was a definite trendsetter in 1950s home design." Two issues buyers of kit-built houses need to be aware of, says Serraino: Those homes called for tailored engineering specific to the slope of the site, and they often have waterproofing issues.
Shown: The round Arizona sandstone fireplace is entirely original, including the screen. Cathy Wilmoth added the custom cushions for casual seating.
Modern Family
The Wilmoth house, on a terraced parcel, had all the makings of a real estate Cinderella story until, four days after the family moved in, on a 106-degree day, something horrifying happened: They had a small electrical fire in the walls. "We were unpacking boxes and my husband came from the back of the house, asking, 'Why aren't the switches working?' " The fire department came, didn't find anything, and left—but when Cathy put her hand on a wall and felt heat, the couple called them back. "They took an ax and broke through the redwood paneling in the living room—there were no junction boxes, everything was wired together with duct tape," she says. "It was bad." But ultimately it was also freeing: The fire forced the homeowners to upgrade all the electrical, which meant gutting the walls and removing the original paneling, which they donated to Habitat for Humanity.
Shown: Cathy and Charlie Wilmoth with their son, Chris, 15, and their terrier-Chihuahua mix, Cali. Not shown: daughters Tess, 17, and Cate, 22.
Galley Kitchen Upgrade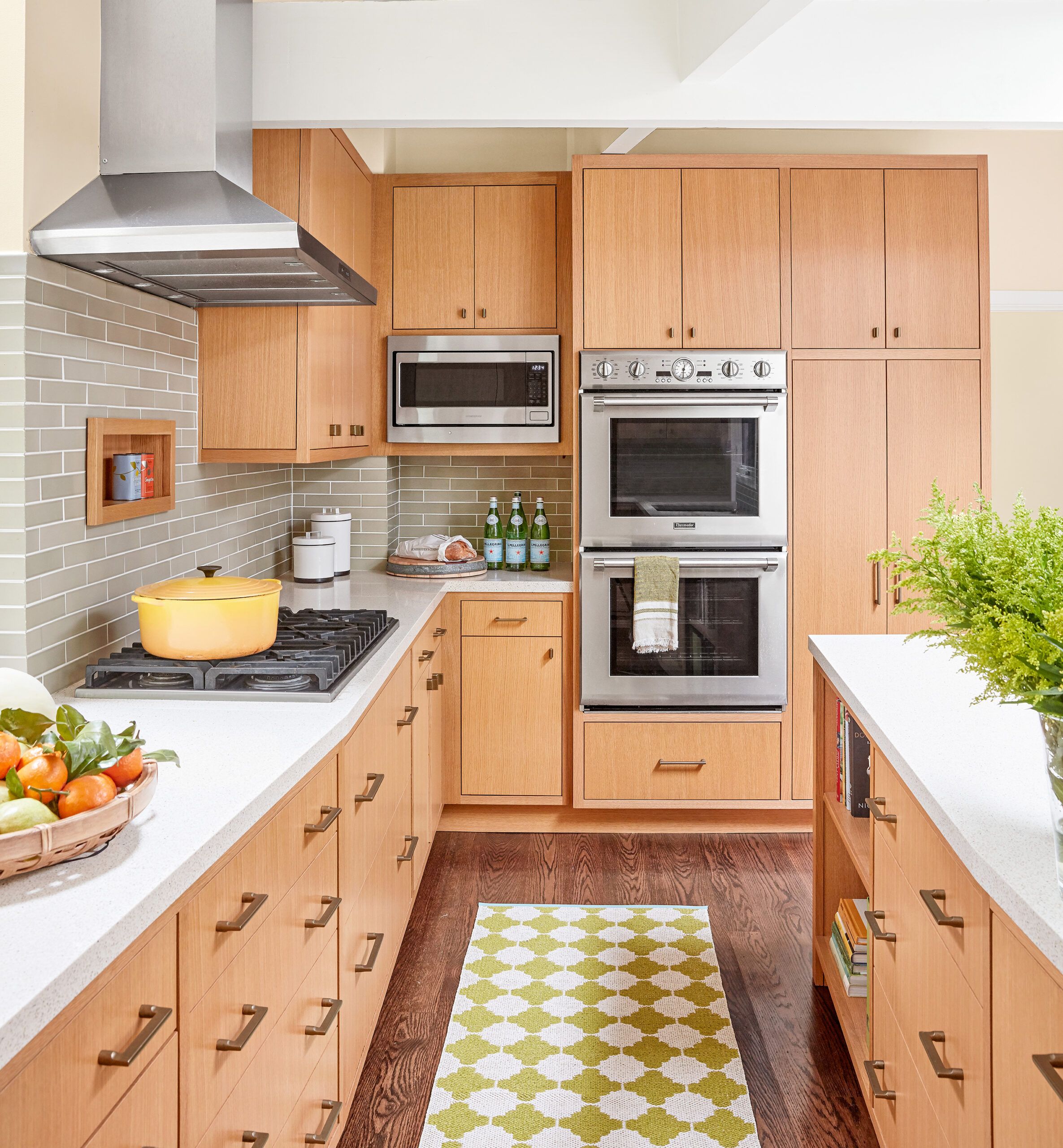 "When you move into an old house, you think, What do we keep, and what can we get rid of?" Cathy explains. "We didn't want to paint the redwood because it's so beautiful, but it also felt dated and really dark." With the walls open, the couple seized the opportunity to add overhead and cabinet lights, rare in houses of this vintage. They also repaired significant rot in the eaves, a continuing problem as the roof has no gutters.
Shown: The corner galley kitchen got an upgrade with white oak cabinets, quartz counters, locally made ceramic tile, and warm bronze hardware.
Kitchen cabinets: John Pfautz
Backsplash tile: Heath Ceramics
Ovens: Thermador
Cooktop: Viking
Vent hood: Zephyr
Counters: Caesarstone
Pulls: BauerWare
Laundry with Skylight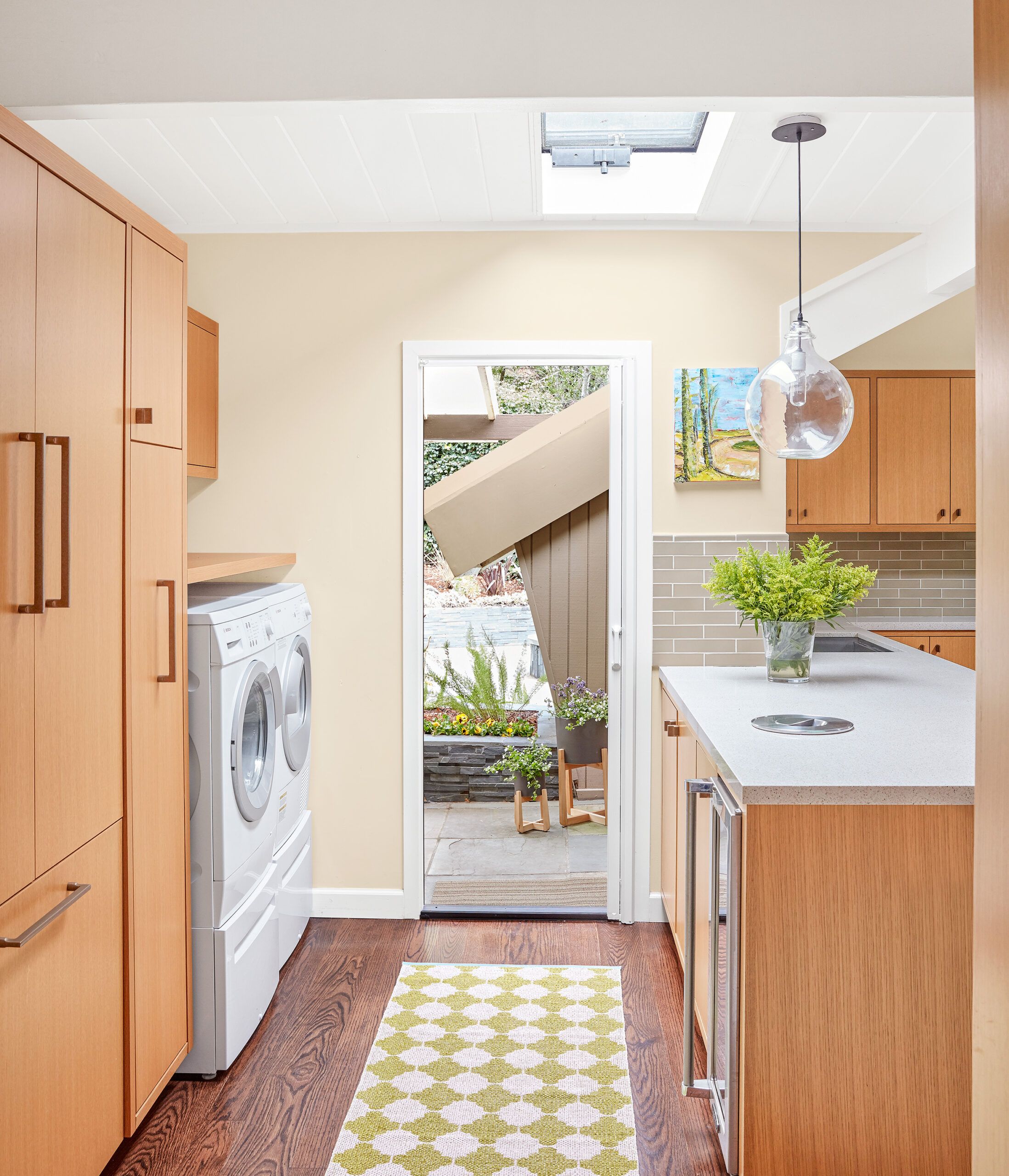 Since the unexpected expenses ate up much of their available budget (they still hadn't sold their previous house), the couple took the rest of the renovation slowly. Cathy had wanted to redo the kitchen, which had no working oven, soon after they moved in; instead, she cooked with a countertop convection oven for two years. But she's now the first to say the wait ended up a blessing, fending off slapdash decisions they might have come to regret.
Shown: A skylight brightens the other end of the kitchen, which hosts the laundry and an undercounter compost bin.
Pendant: Cisco Home
Washer and dryer: Bosch
Master Bedroom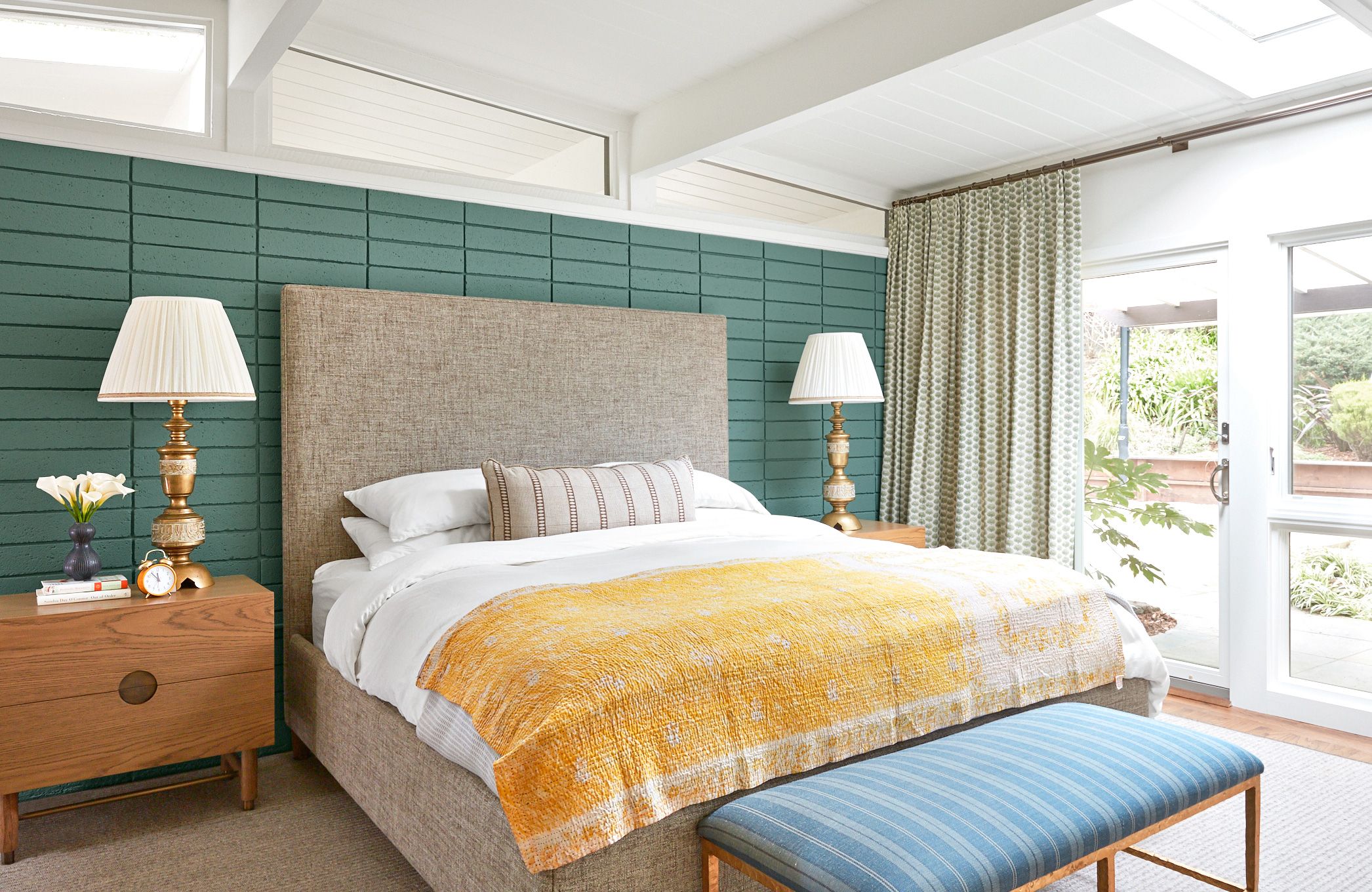 For one thing, she had longed to replace the carport outside their master bedroom with an expanded master bath. Having to wait proved a godsend when she injured her back and desperately needed easy access to her wheels. "The remodel forced us to sit in the house for a bit, which is really important. Even expanding the kitchen, something we wanted to do, would have been a mistake—it just wouldn't have made sense with our rooflines."
Shown: The master bedroom's original concrete-brick wall got refreshed with a soft blue-green paint color. Interior windows under the roofline usher in needed light.
Paint: Benjamin Moore's Mountain Laurel (brick wall) and White Dove (ceiling)
Custom bed upholstery fabric: Rogers & Goffigon's Grange in Woodthrush
Sliding door: Andersen
Master Bath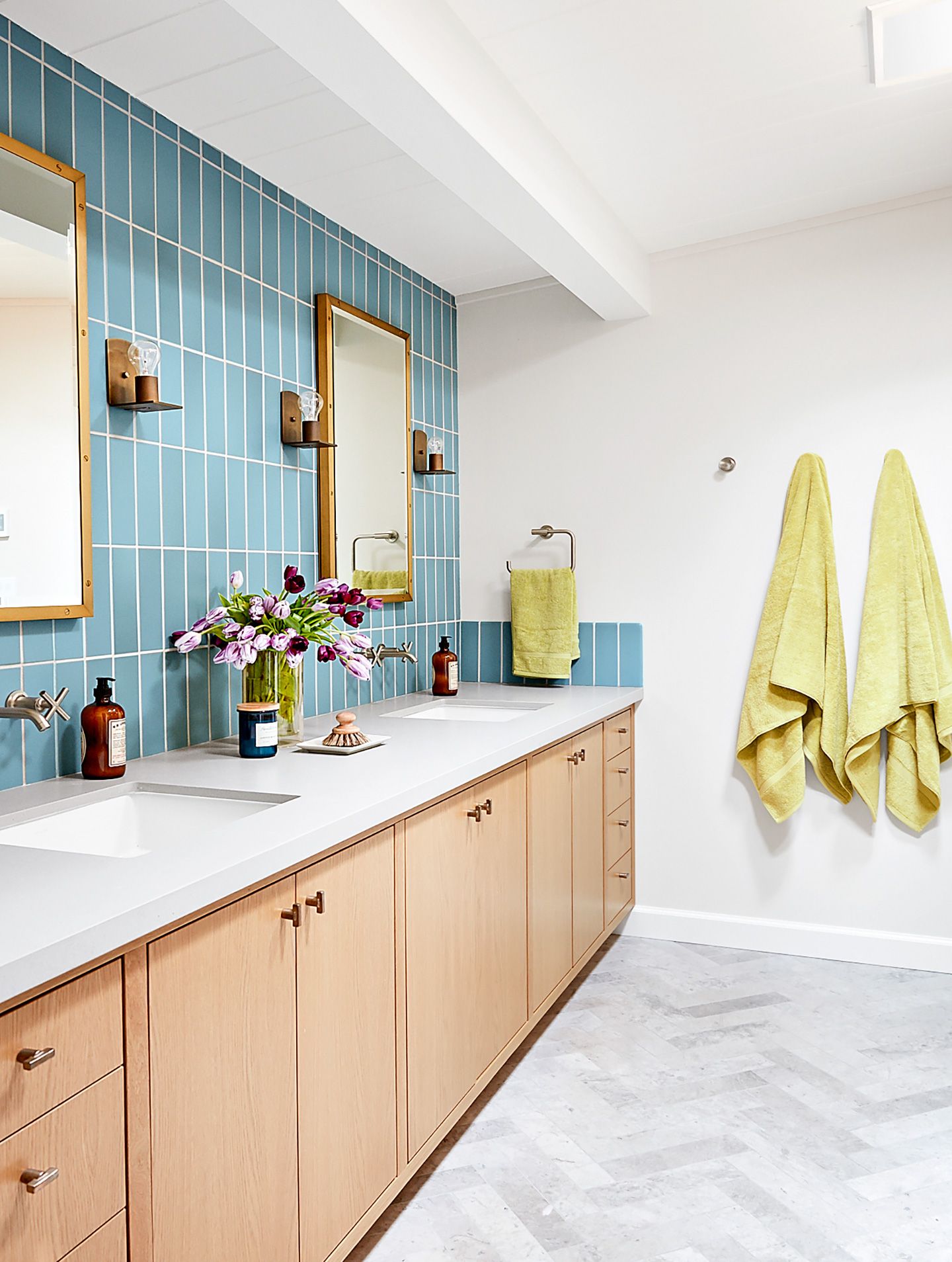 The early changes they did make were critical to their current love for the house, including painting the lofted wood ceilings—stained pinkish red—white. "I wanted it bright, because we're in a canyon, and the light changes are extreme," Cathy says. They also replaced original single-pane windows with triple-panes and tight-fitting trim. "That first year with the original windows was freezing," Cathy recalls.
Shown: Placed vertically on the sink wall and in the shower, the master bath's handmade ceramic tile gives the ceilings the illusion of more height. A quartz vanity top echoes the kitchen countertops for a cohesive look.
Electric radiant heat mat: NuHeat
Medicine cabinets: Restoration Hardware
Quartz vanity top: Caesarstone
Handmade Tile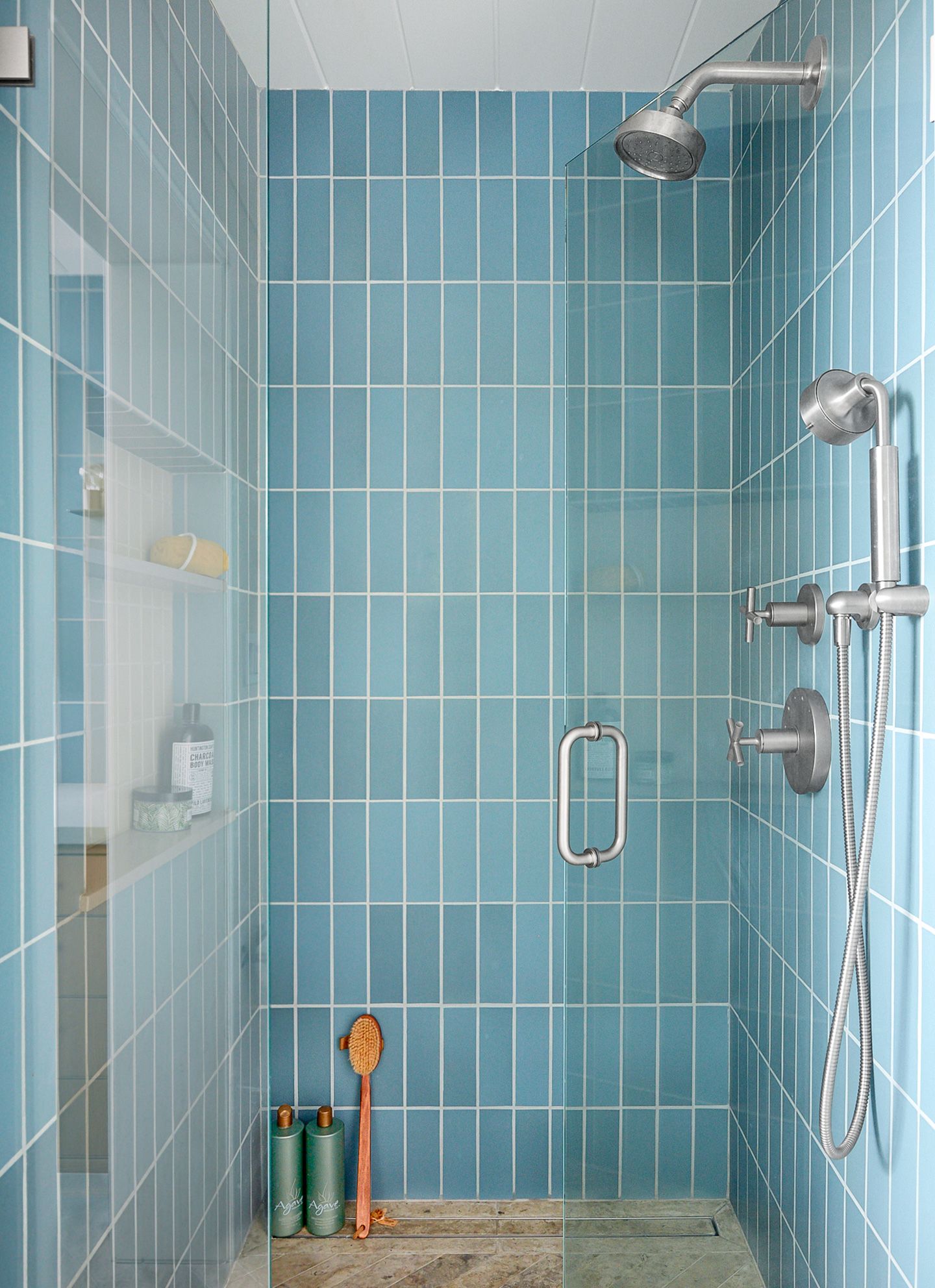 After several more years, finally ready to revamp the tired time-warp kitchen, master bedroom, and bath, the Wilmoths bit the bullet and hired a designer, Caitlin Moran. "She adores mid-century," Cathy says. "Rather than rip everything out, she wanted to stay true to the house and make it better."
Shown: The shower in the master bath is tiled with handmade ceramic tile—in Blue Fog.
Wall tile: Heath Ceramics
Faucets and shower fittings: Kohler
Bluestone Patio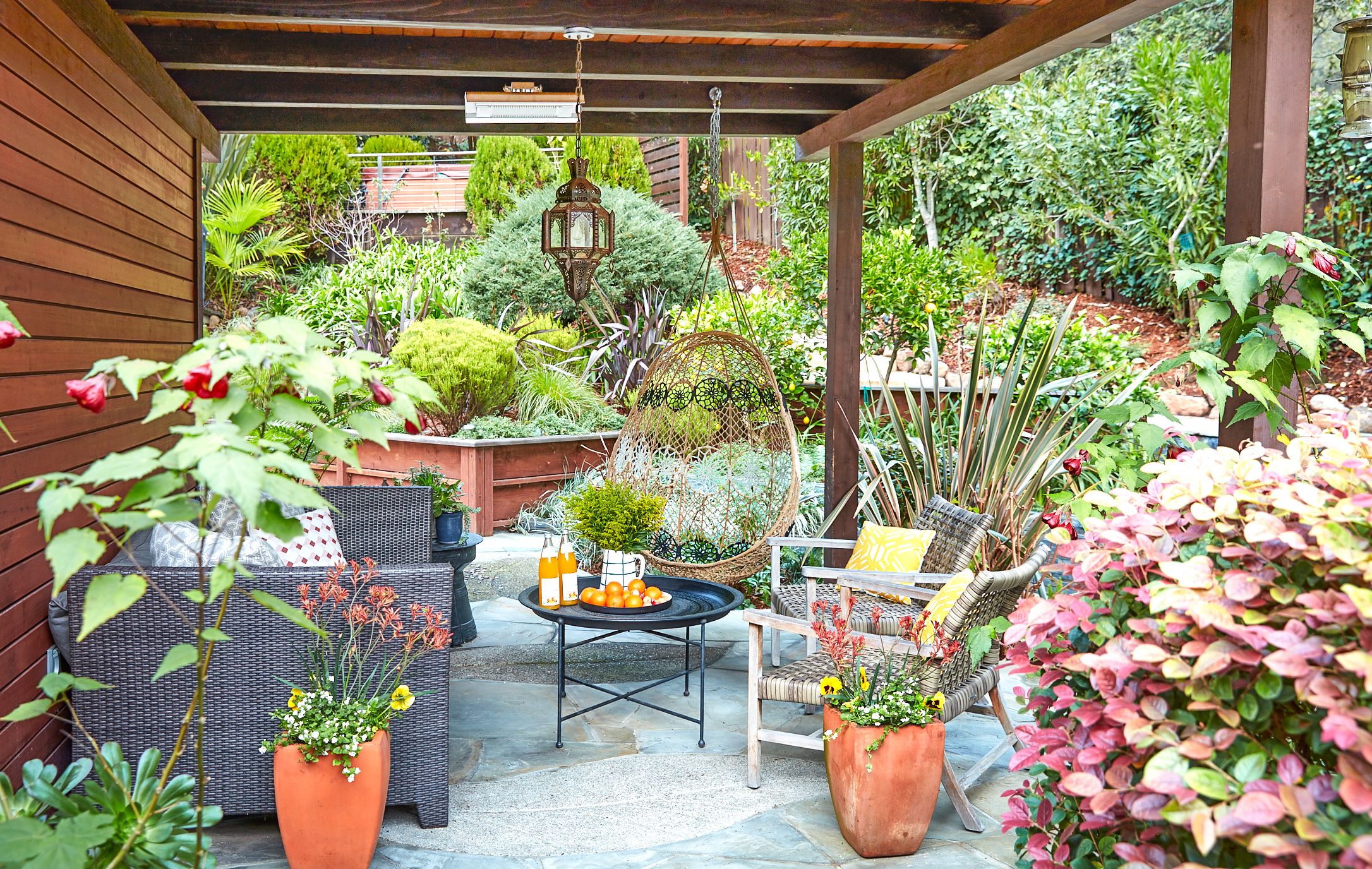 Moran was thrilled to find homeowners who felt the same and had spent hours poring over Dwell magazine and houzz.com. "Cathy's family loved the bones of the house, and weren't trying to make it something it wasn't, which was music to my ears," she says. Moran infused each room she touched with finishes that reflect its California environs, like bleached-oak cabinetry and locally made clay tile.
Shown: The backyard room is defined by an ipe roof overhead and bluestone underfoot, which is interspersed with concrete-and-pebble art pieces made by the house's original owner. It's even wired for light—and heat.
Outdoor sofa: Restoration Hardware
Jug Lamps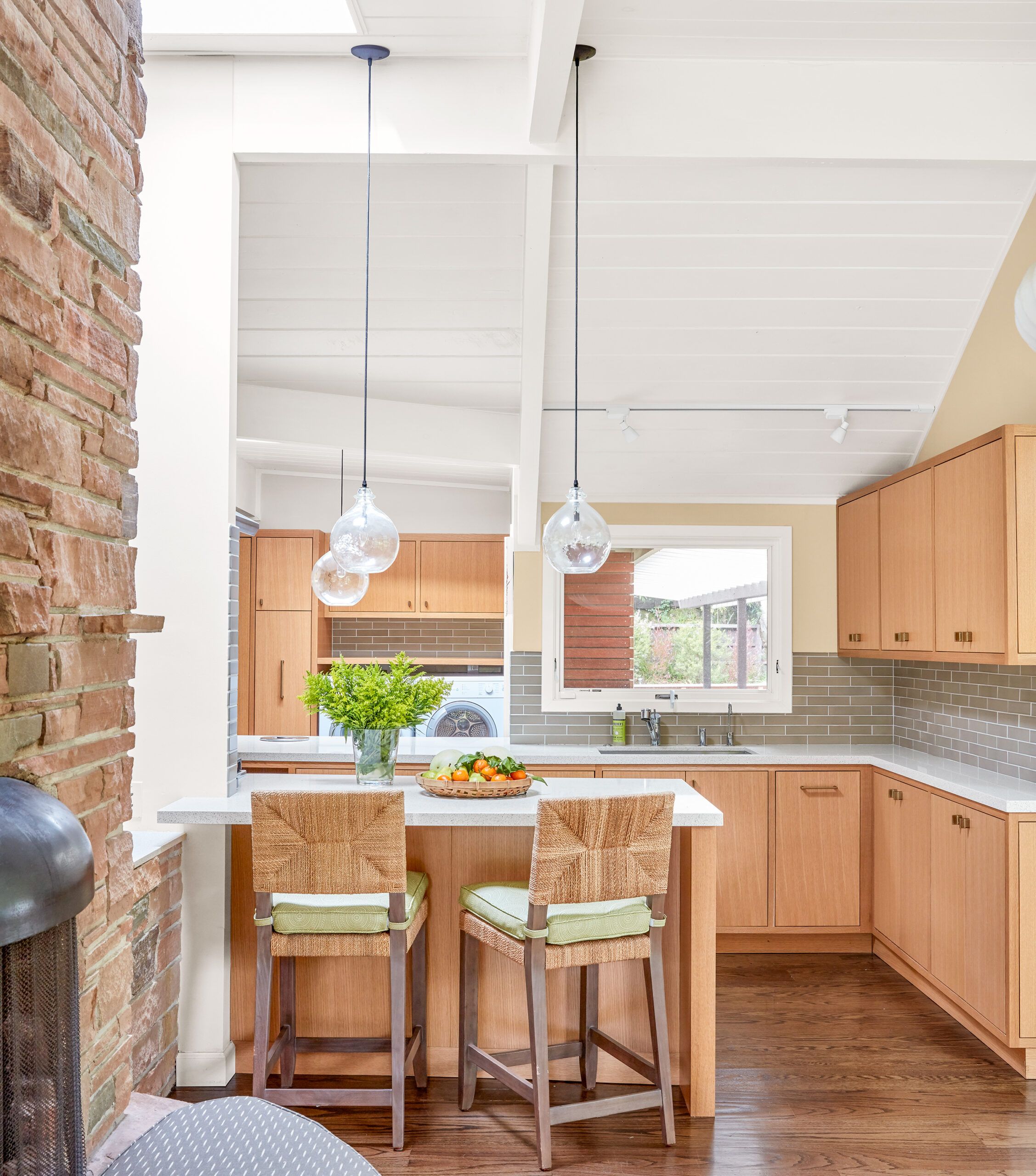 "In the kitchen, we tried to maximize storage—Cathy cooks, and it's also her laundry room—while being sensitive to mid-century lines with streamlined choices," Moran says. "Because it's visible from the dining and living rooms, the kitchen needed to feel like an updated version of what could have been there in the beginning." Still, it gained conveniences a 1955 builder couldn't have dreamed of—like a 3-gallon compost bin beneath a hole in the countertop.
In the master bath, Moran removed a closet in favor of double sinks, and laid herringbone marble floors with electric radiant heat. "Under-the-floor heat mats are a real life improver," she says.
Shown: A trio of jug lamps under the kitchen skylight illuminate the breakfast bar seating.
"Jug" lamp pendants: Cisco Home
Streamlined Sinks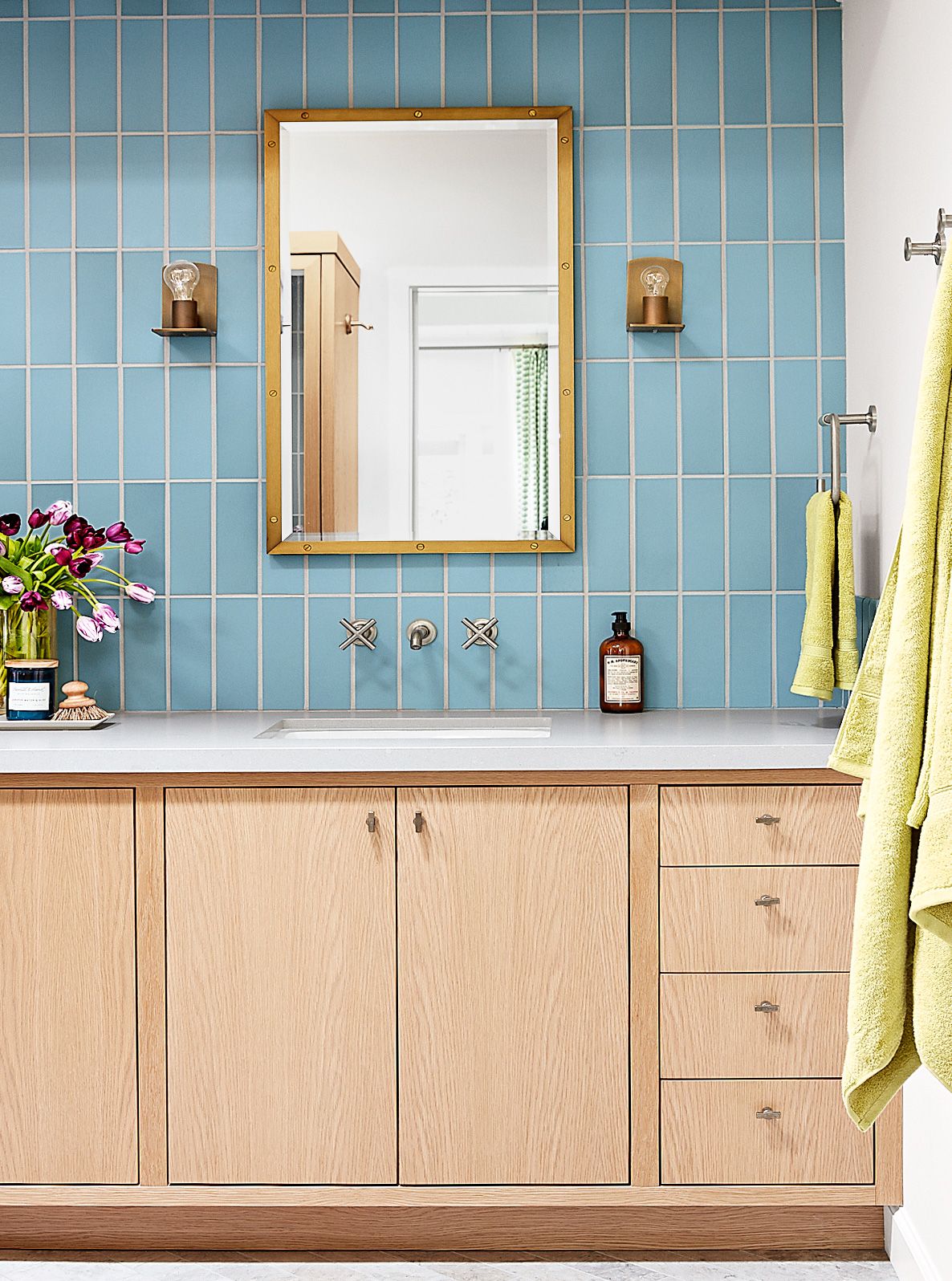 Count Cathy as a fan as well. "I walk out of this bathroom at night and get into bed with warm feet, which makes my husband happy," she says.
Shown: The master bath's sinks and faucets are simple, so as not to visually detract from the tilework and custom oak cabinetry.
Faucet: Kohler
Sconces: Urban Electric
Mirror: Restoration Hardware
Banked Wardrobe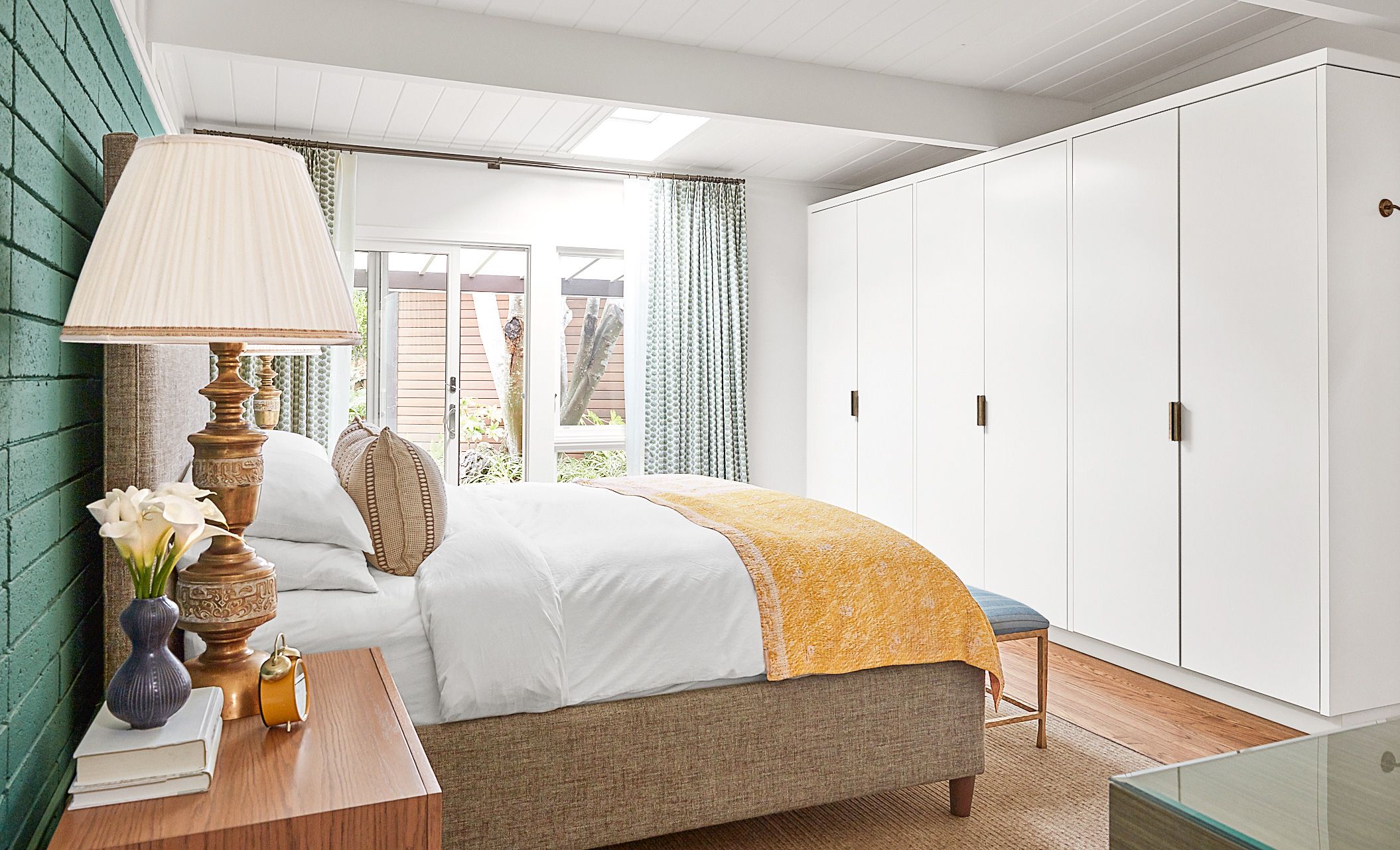 But the biggest change in the bath was also the simplest: "When we moved in, the bath was open to the bedroom!" Cathy says. Adding a door put an end to that misguided moment in contemporary design.
Shown: The Wilmoths installed blackout shades over the skylight they added in the master bedroom, and a bank of wardrobe cabinets opposite the bed.
Neutral Bedroom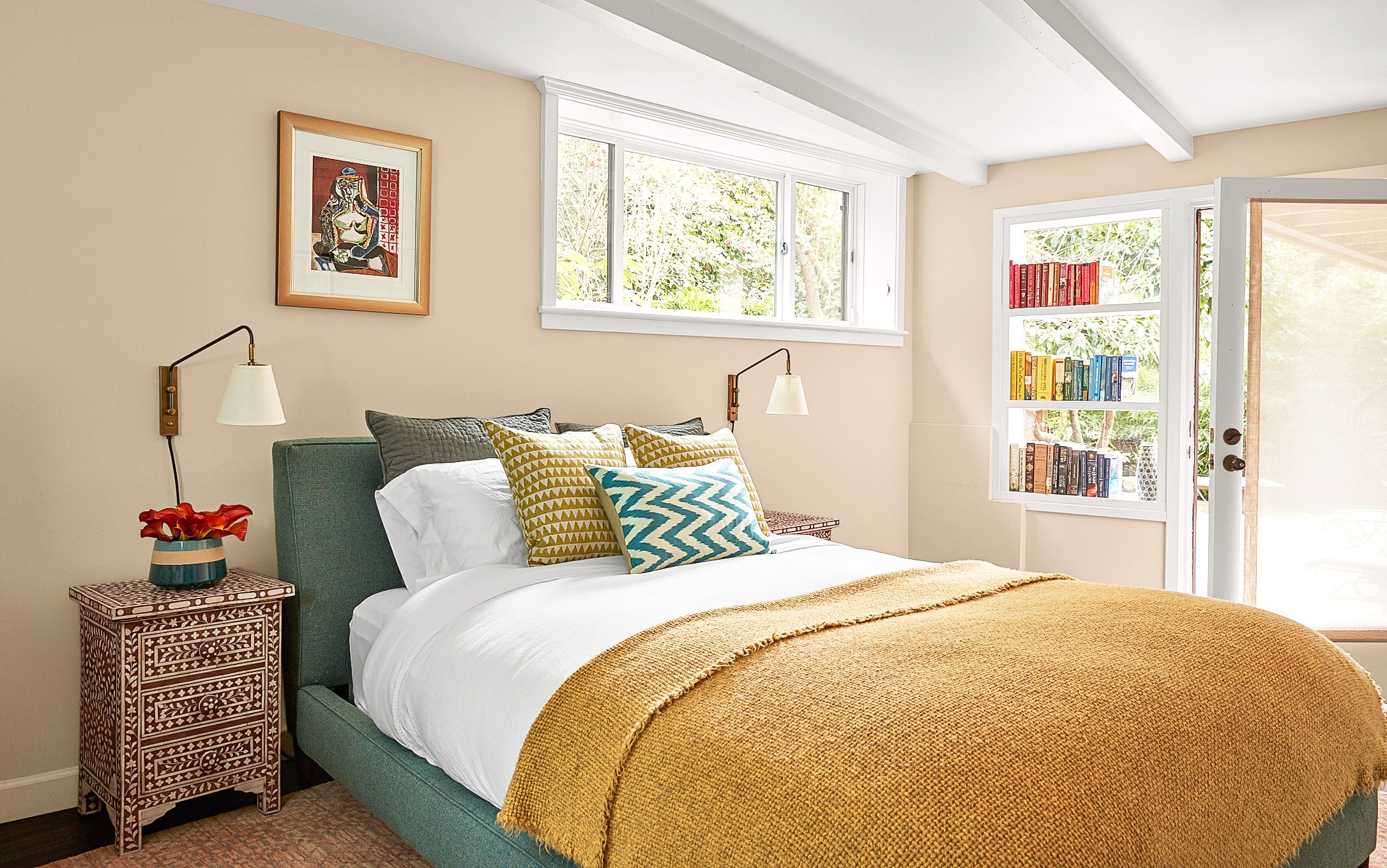 Hiring a designer is another decision Cathy more than endorses. "I feel like I saved money in the long run—I can't tell you how many times I've repainted a room because I hated it," Cathy says. "As a homeowner, you're overwhelmed with choices." Moran collected furnishings from both high-end and mainstream sources to great effect, and coaxed Cathy into unorthodox moves for reasons that make sense whether or not there are kids at home. For instance, the kitchen stools are upholstered in vinyl, "but you would never know—it's beautiful, with a cool modern pattern," Cathy says. "Someone spilled wine on a stool not long ago, and it wiped right off."
Shown: The Wilmoths' daughter Cate preferred a neutral room, with a pop of color in the form of a turquoise bed.
Paint: Benjamin Moore's Elephant Tusk (walls)
Bed: Room & Board
Window: Milgard
Backyard Paradise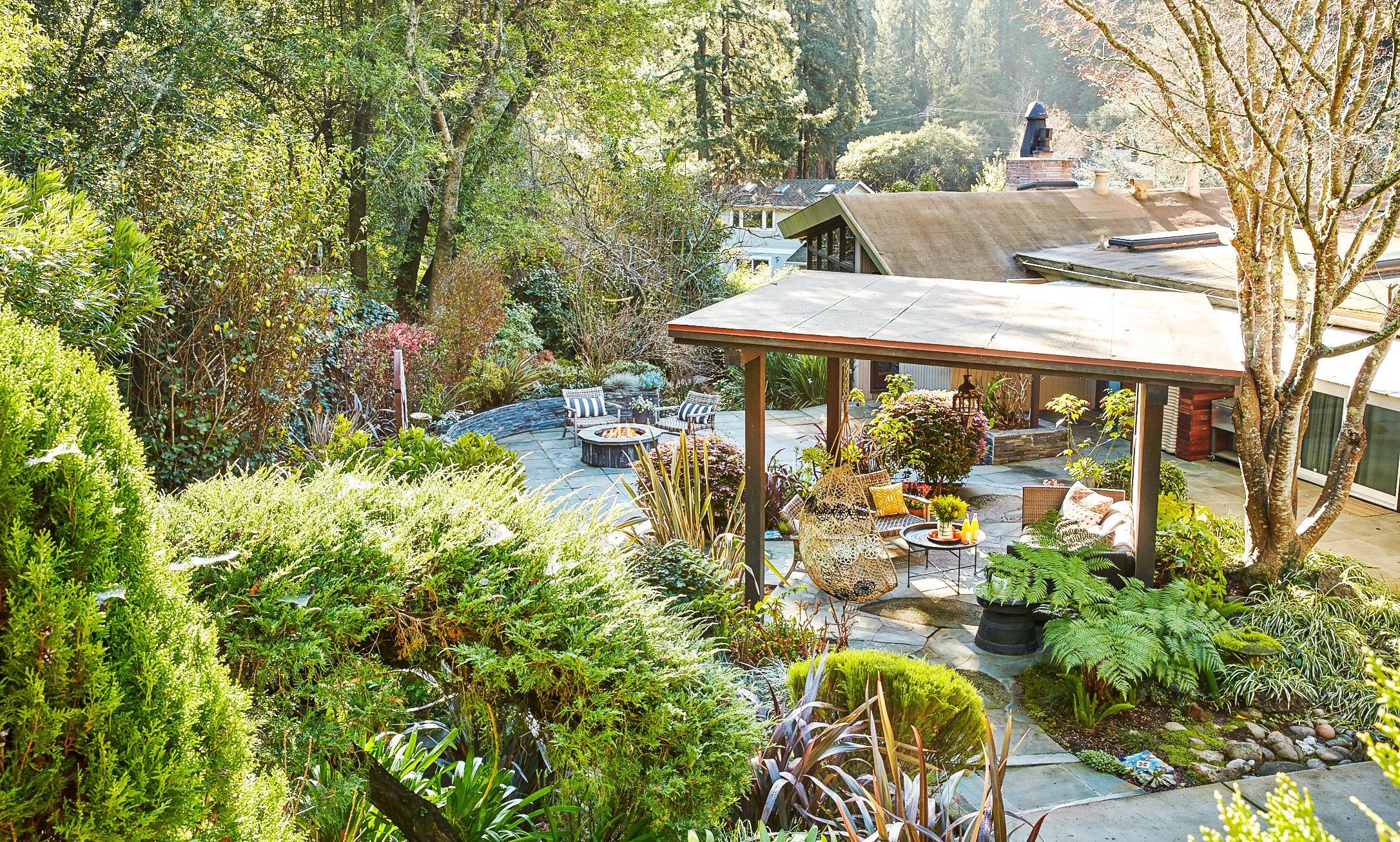 A favorite space is the 12-by-10-foot outdoor room in back, with a gurgling stone fountain similar to ones their contractor, John Long, installed at Big Sur's famous Post Ranch Inn. They added a gas fire pit nearby, which eliminates sparks in this recently wildfire-ravaged area. "While we were doing the kitchen we had access to the gas line, and we realized if we didn't do it then, we'd have to tear up the floor later," Cathy says. "We go out in the rain, we entertain there; anytime we have people over, this is the best room ever."
Shown: Looking down on the pergola from the hot tub located on a sheltered rise in the couple's many-layered backyard paradise.
Landscape contractor: John Long, JVL Designs, Sausalito, CA
Fire Pit Patio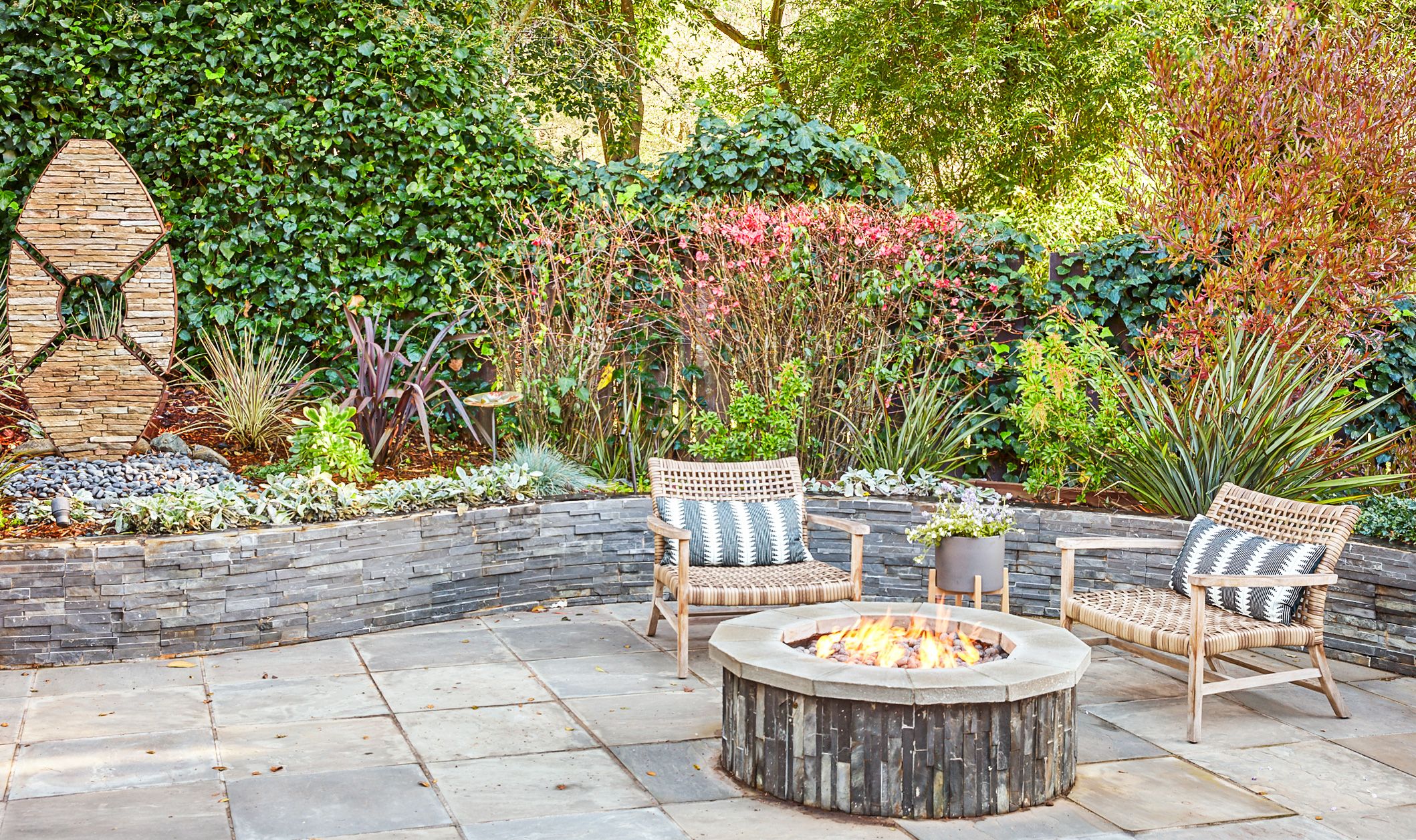 Landscape designer Kier Holmes planted low-water plants with year-round interest to complement the house's architecture—and stand up to the deer. In a nod to the man who built the house, the Wilmoths incorporated art pieces he made out of concrete and pebbles in the patio paving. "Now we love where we live. I have no complaints," Cathy says, summing up. In other words? They all lived happily ever after.
Shown: The bluestone patio—viewed from the dining area—features a gas fire pit and a low stone wall. The sculptural stone fountain was built by their contractor, and is reminiscent of ones he installed at Big Sur's famed Post Ranch Inn.
Landscape designer: Kier Holmes, M2 Design and Construction
Form and Foliage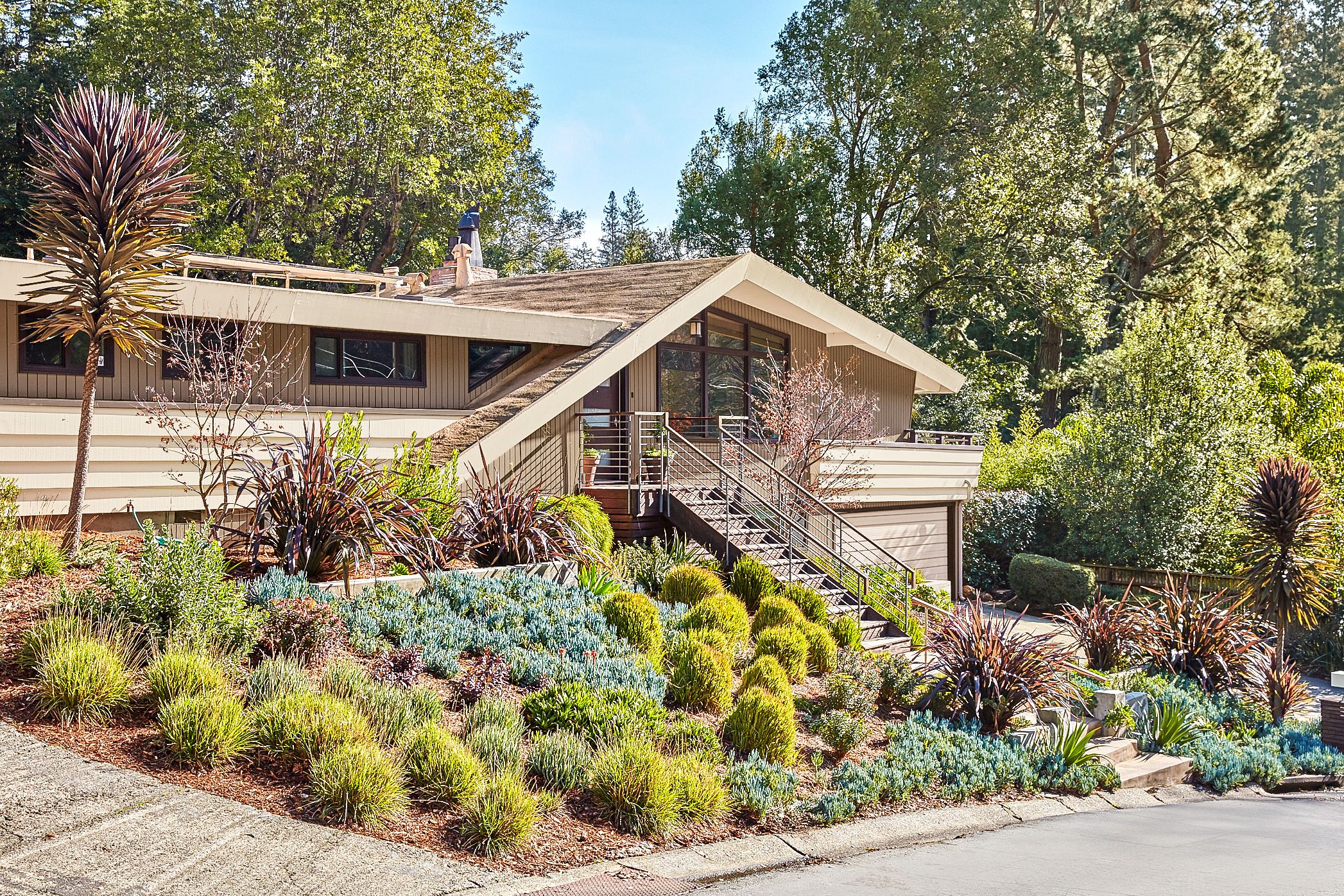 Lush landscaping that relies on form and foliage, rather than flowers, softens up the home's dramatically canted roofline.
Softened Landscape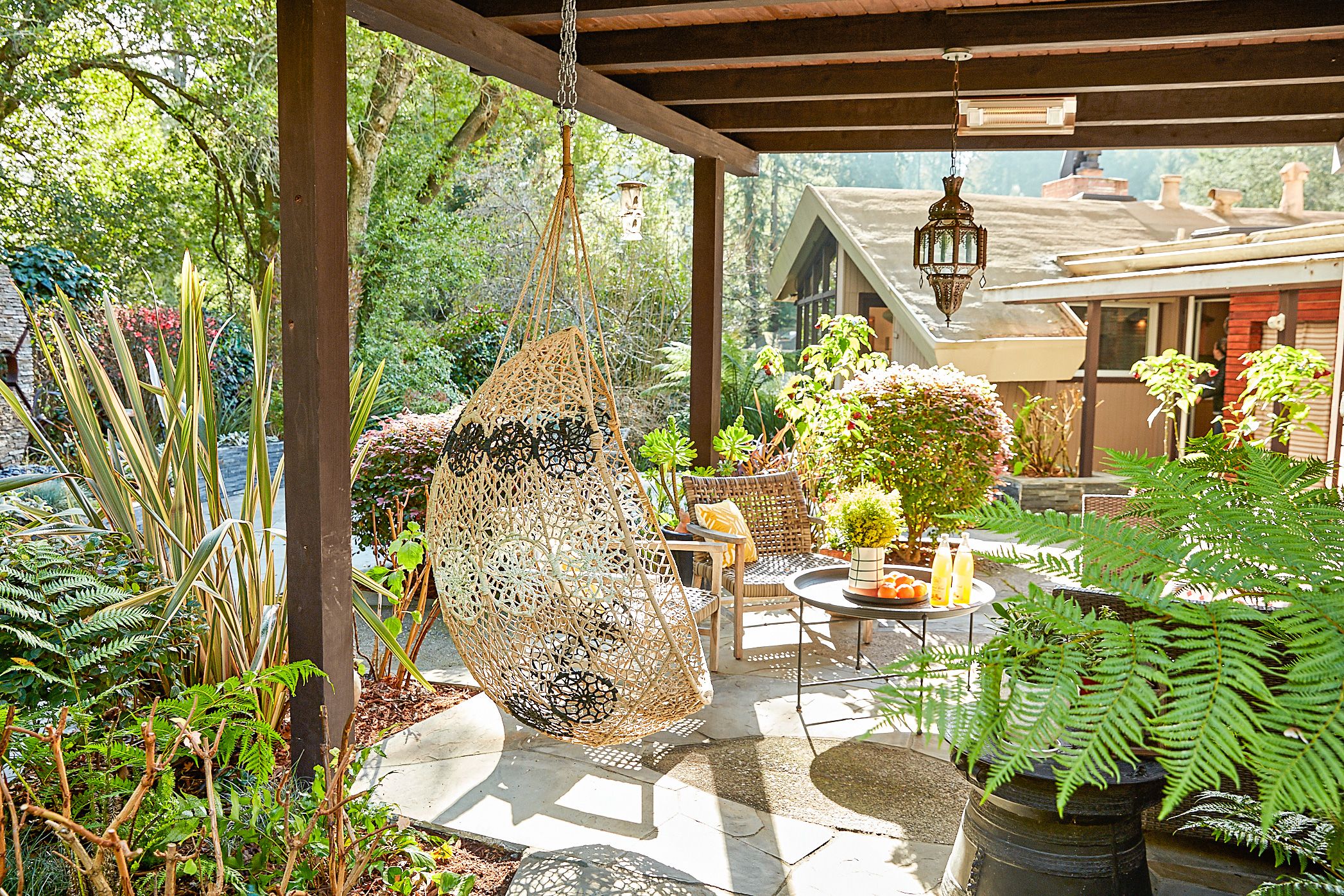 The outdoor room is softened by plantings on three sides.
Preferred Perch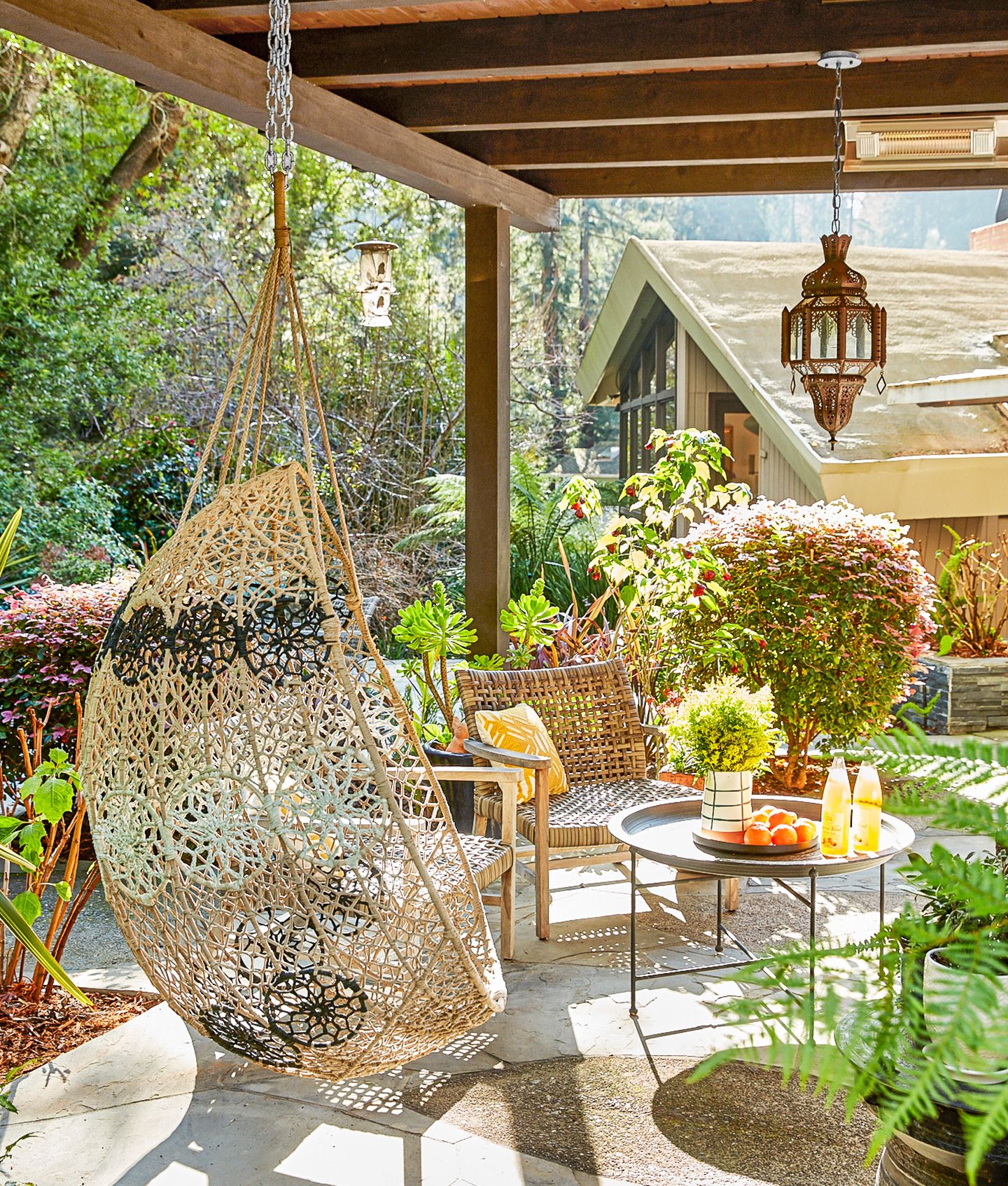 The outdoor room's hanging chair is a preferred perch for everyone in the family, even the dog.
Swing chair: Anthropologie
Flat-Roofed Garage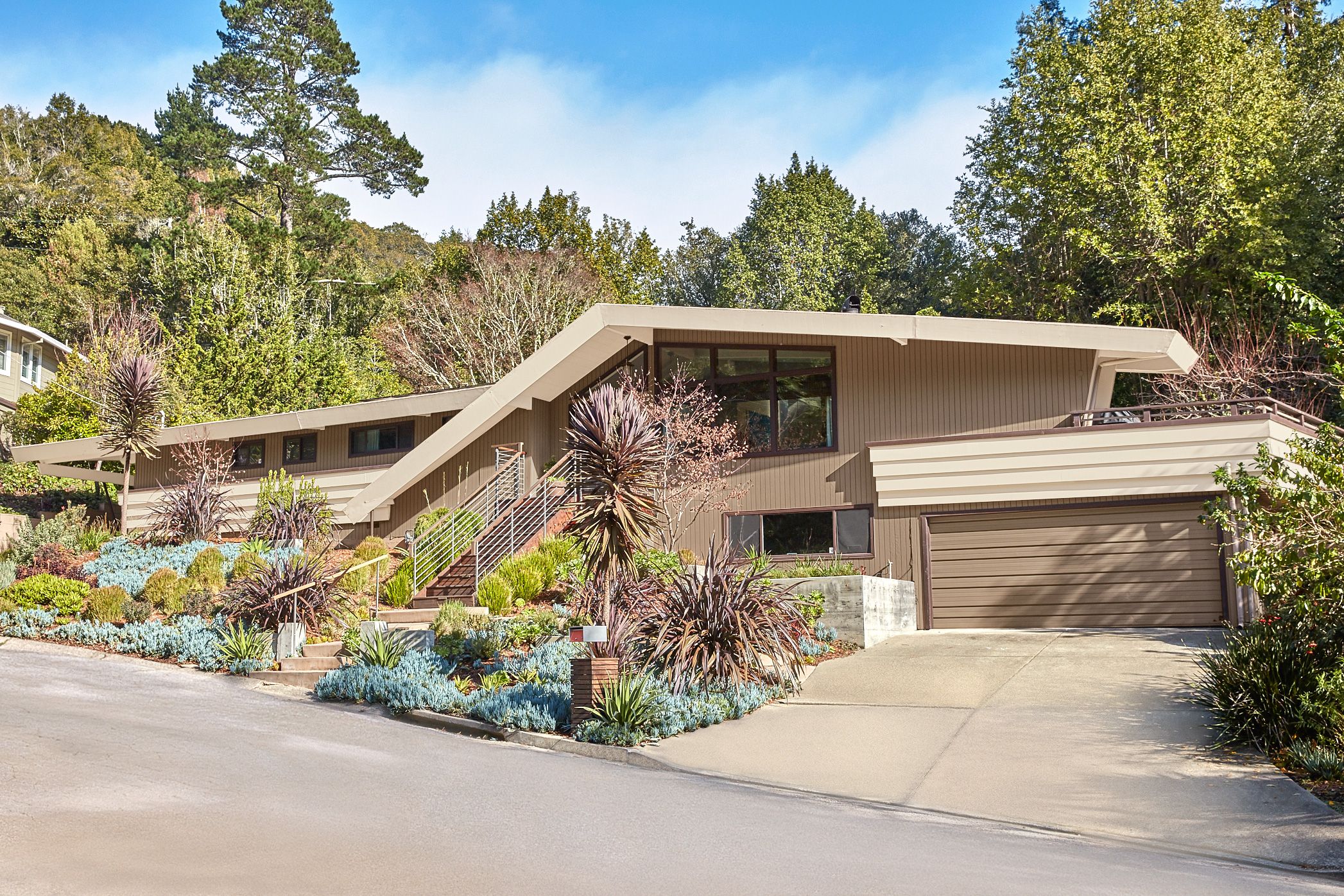 The attached garage adds a flat-roofed form to the facade, another signature of mid-century architecture. Banding along the garage's top and its linear door construction accentuate its horizontal lines.
Home Workplace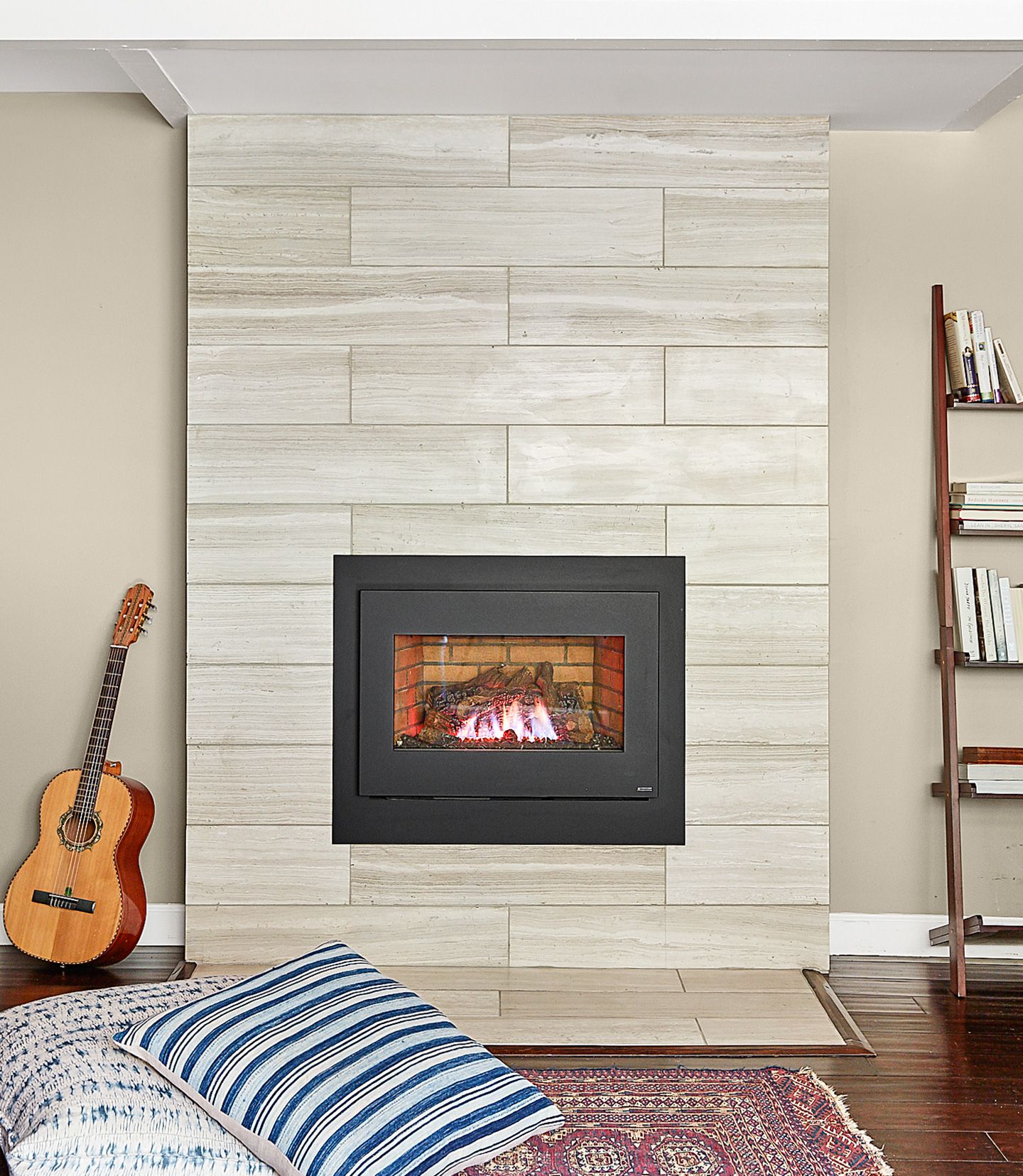 A gas fireplace on the lower level adds coziness to Cathy's home workplace.
Fireplace tile: Metro Cream Honed Marble (Limestone) 8″x36″ Wayfair
Fireplace insert: London Chimney
Floor Plans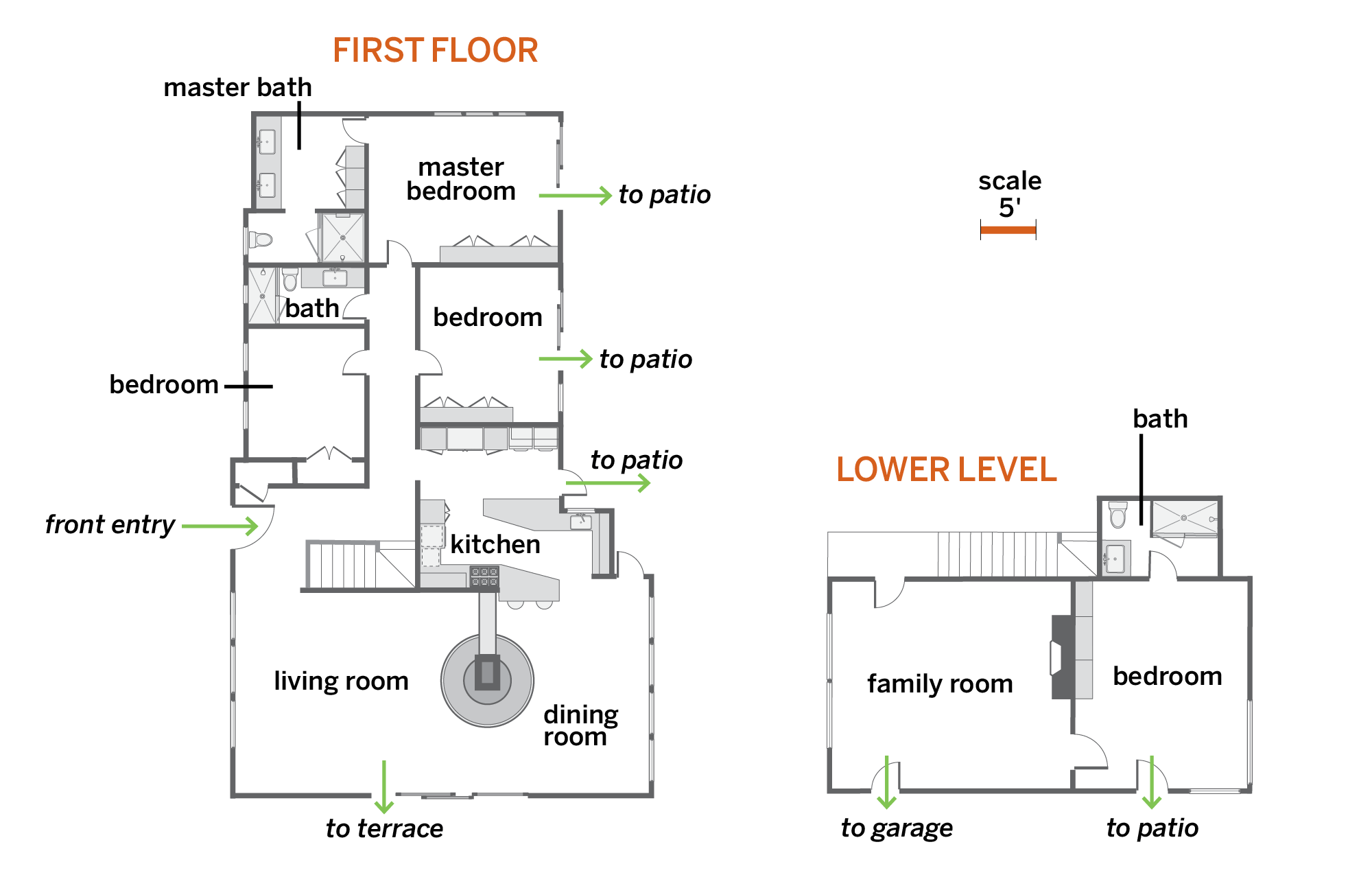 The interior of the 2,265-square-foot house, built in 1955, stayed largely as it was, with a master suite, two bedrooms, and a second bath on the main level; on the lower level, interior walls were added to carve out another bedroom suite. In the kitchen, the sink moved to a window location, upper cabinets came out above the bar seating, and the fridge moved next to the laundry, which stayed where it was. The baths were all gut-renovated; the master bath lost a closet to gain a second sink.