All for Blue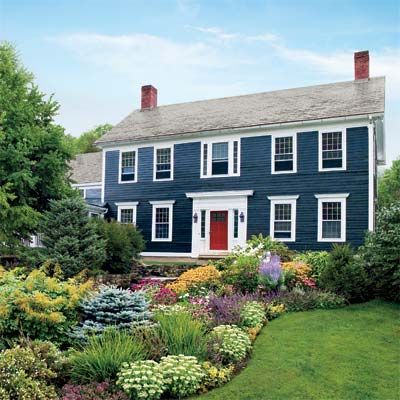 Feeling blue? Go ahead and put it right out there—on your house. The color usually appears in one of its more somber versions on exteriors, where it can almost act as a neutral in its grayer tones. But more diminutive homes just may be able to get away with a brighter blast of blue. Here, a look at some successful uses of the cool color on the outside of homes around the country.
Shown: This 1860 house boasts a deep blue color that complements the lush garden. See more on the design of this home.
Stormy Hue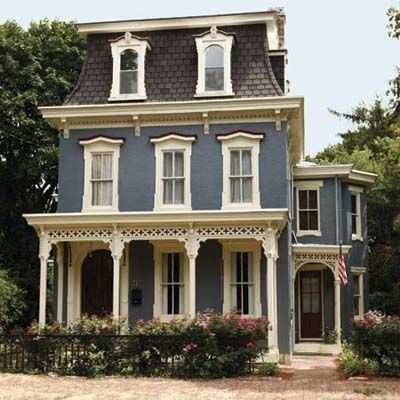 The stormy hue that graces this Second Empire home's stucco exterior is period-perfect.
See more background on this home's design.
Turquoise Meets Aqua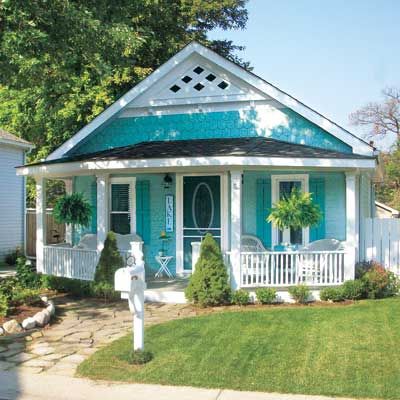 Pint-sized properties can handle shout-out-loud color combinations. Here, a lakeside cottage flaunts turquoise and aqua. Its shady location and plenty of white paint also help keep the effect in check.
Get the before-and-after story on this lakeside property's transformation.
Spruce Blue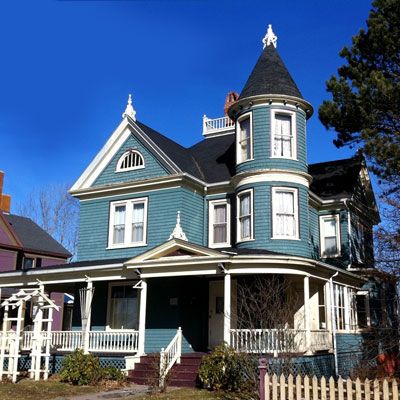 Spruce-blue shingles on this coastal home suggest waves, and white filigree work on roofpeaks and a widow's walk, whitecaps.
Read about the history of this home, which is located in Annapolis Royal, Nova Scotia, Canada.
Pewter Beauty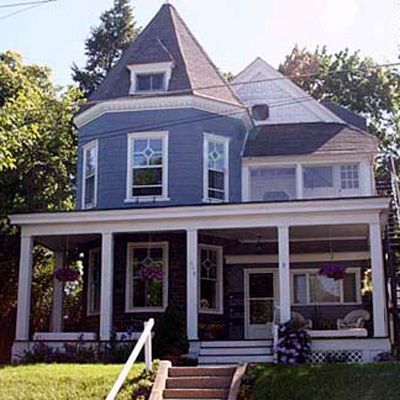 Lush hanging baskets of purple blooms bring out the blue in this pewter-colored house.
Learn more about this home's exterior.
Bright Aqua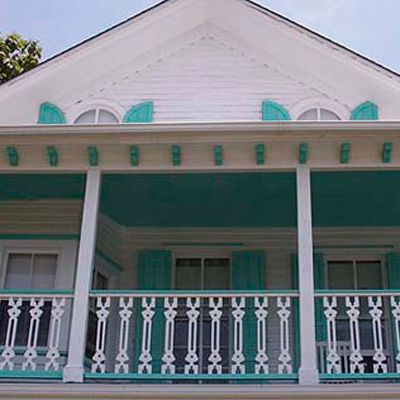 Aqua graces shutters, roof brackets, and the porch's ceiling make this home Bahamas bright.
Get more details on this home's exterior design.
Marine Blue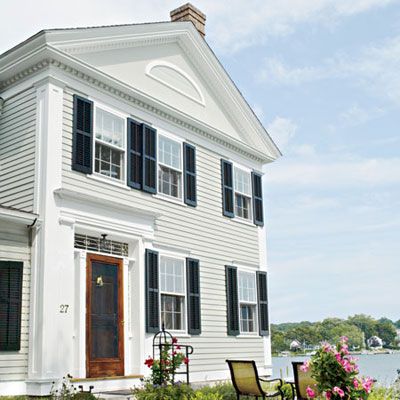 Marine blue shutters grace this Greek Revival's pale gray clapboards.
See more details on this Greek Revival home.
Bluestone Woodwork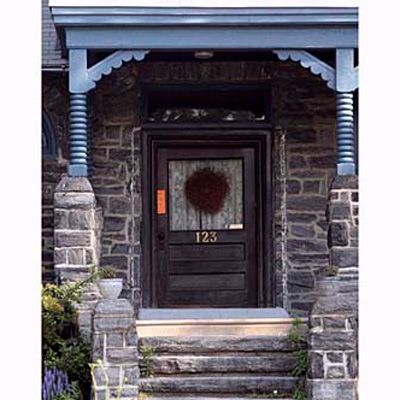 Bluestone-colored woodwork suits the heft of this stone late Victorian-era house.
Get more details on this Victorian-style home.
Gray-Blue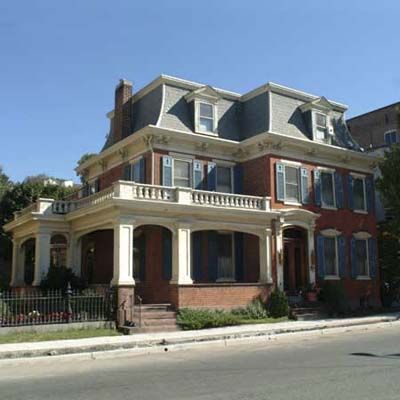 Gray-blue shutters set off weathered red brick and a handsome double porch.
Learn more about this Phillipsburg, New Jersey property.
Pretty Powder Blue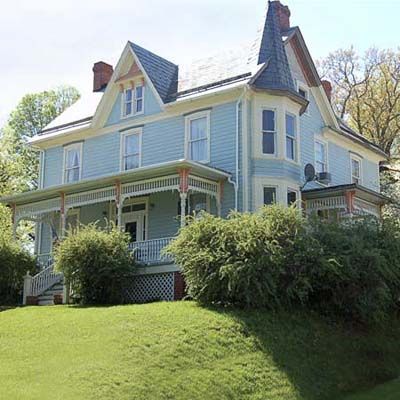 Salmon, a shade of orange, which is opposite from blue on the color wheel, works beautifully on this powder-blue house when applied judiciously to cream-colored trim.
Learn more about this property located in Harpers Ferry, West Virginia.
Midnight Blue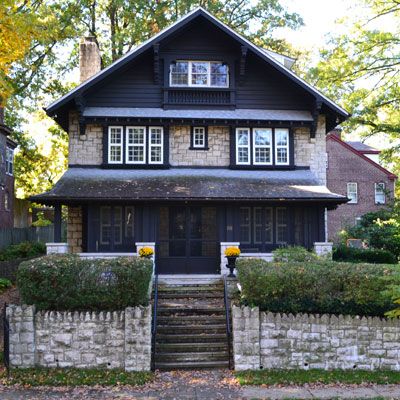 Midnight clapboards and trim form a foil for this house's cream-colored window frames and stonework.
Get more background on this Delaware home.
Persian Blue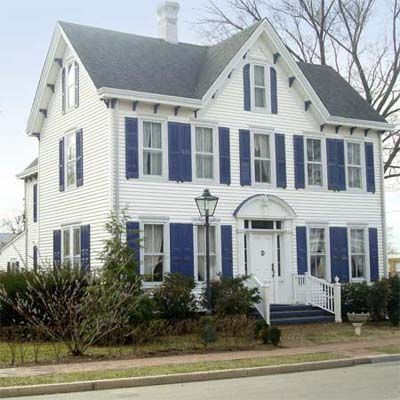 Don't stop at the shutters: Swipes of Persian blue on top of the arched entryway and roof brackets emphasize what's special about this house's architecture.
Get background on Smyrna, Delaware, where this home is located.
Sky Blue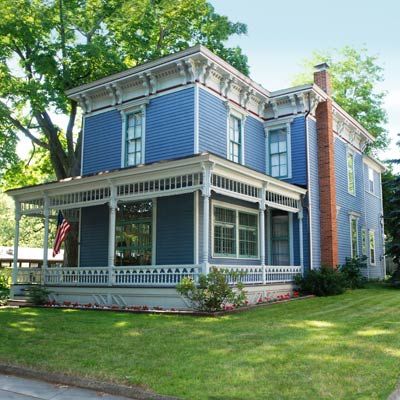 A medium sky blue makes this wraparound porch's pierced railing pop.
Green-Blue Combo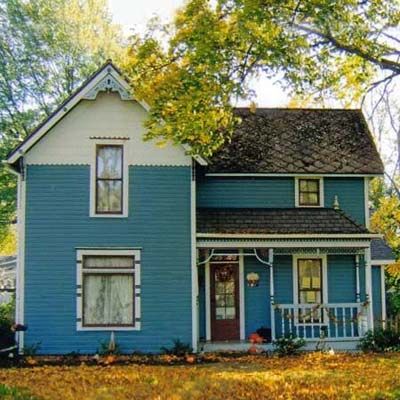 Wood siding in green-tinged blue highlights a bright-red door.
See more about this Victorian home.
Bright Turquoise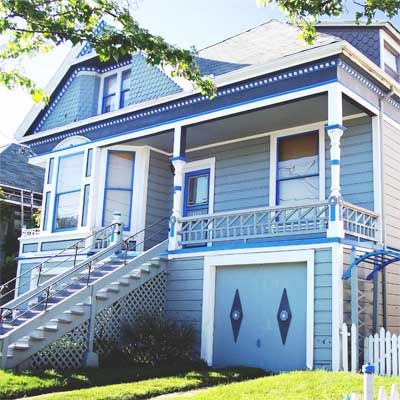 Minute touches of bright turquoise and dusky violet on top of white give this Victorian's ornate woodwork jazzy rhythm.
Get more details on this folk-Victorian home.
Fresh Blue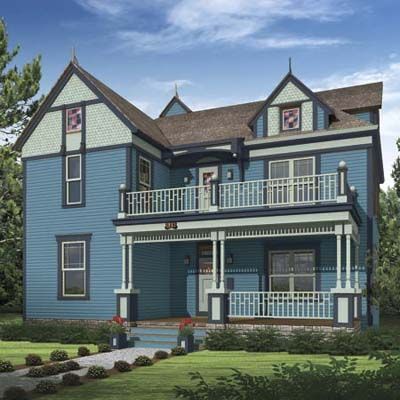 The unique blue-gray color of chosen for the rendering of an upgrade to this Folk Victorian home's exterior give it character and a fresh feel.
See the photoshop redo of this home's design.
Sweet Baby Blue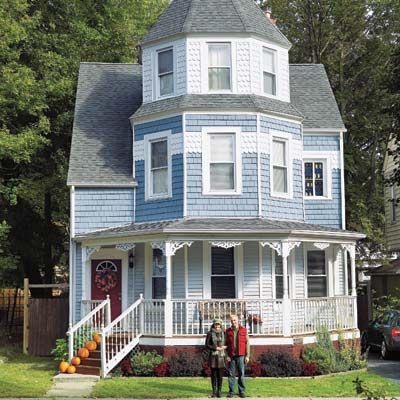 Baby blue showcases the beauty of this 1887 Queen Anne's octagonal tower.
Read on for the history of this home.
Light Blue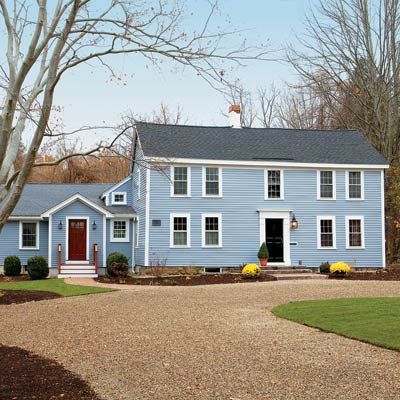 Cedar clapboards in the perfect hue of gray-blue make this Colonial-era home maintain traditional while standing out from the crowd.
Get more details on TOH TV's Bedford project house.