BEFORE | A Family Tradition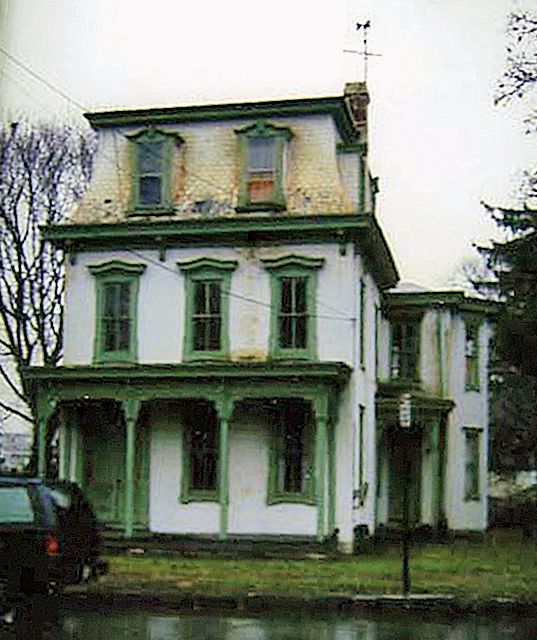 Every time I drove by the beat-up brick house with the boarded-up windows and haunted air, I wanted it even more. Someone needed to save this ­former beauty, with its irresistible gingerbread trim and curvaceous mansard roof. Why not me?
I got my love of old homes from my parents, Ed and Pam, who used to take my two younger brothers and me on house tours when we were little. My folks and I now live near each other in Carlisle, Pennsylvania, where there's no shortage of vintage houses, and they never miss an opportunity to point one out. Still, this one was special. Built around 1895 in the Second Empire style, it featured no fewer than four porches (one upstairs). Along with its gingerbread, the front facade showed off a pair of mahogany doors, six floor-to-ceiling windows, and two dormered ones poking out from that mansard roof.
Shown: Angela renovated a wreck with crumbling walls, moldy floors, and pigeon nests.
AFTER | Renewed Second Empire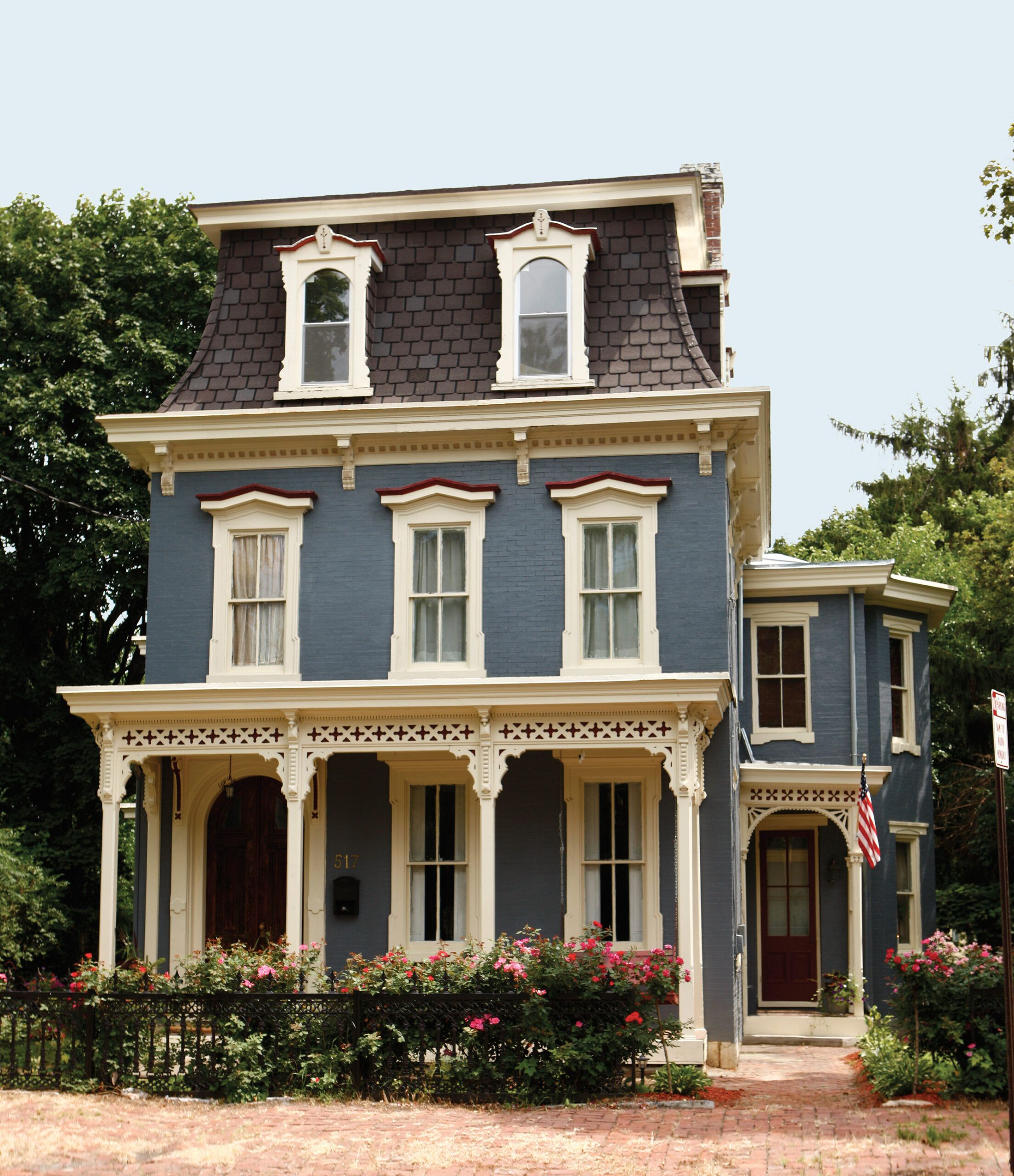 I wasn't really looking for a new place. I already owned a house that more than met my needs as a ­single 25-year-old. But this one was big—3,150 square feet—and came with almost half an acre. It also came with many headaches, which my dad was quick to point out when I got him inside to take a look.
He clearly hoped I would change my mind. But I could tell he was also intrigued by the possibilities. One of Dad's happiest memories is of building our family's former house, with the help of my mom's uncle, a contractor. Dad also took on the finish work at the house my parents now own. And this is the same man who, when I was 5, heard I wanted a playhouse and proceeded to build one, complete with a shingled roof, little glass windows, and a porch swing.
Shown: The house boasts a new roof, a freshly painted exterior, replicas of its original window moldings and cornices, and a wrought-iron fence.
One Step at a Time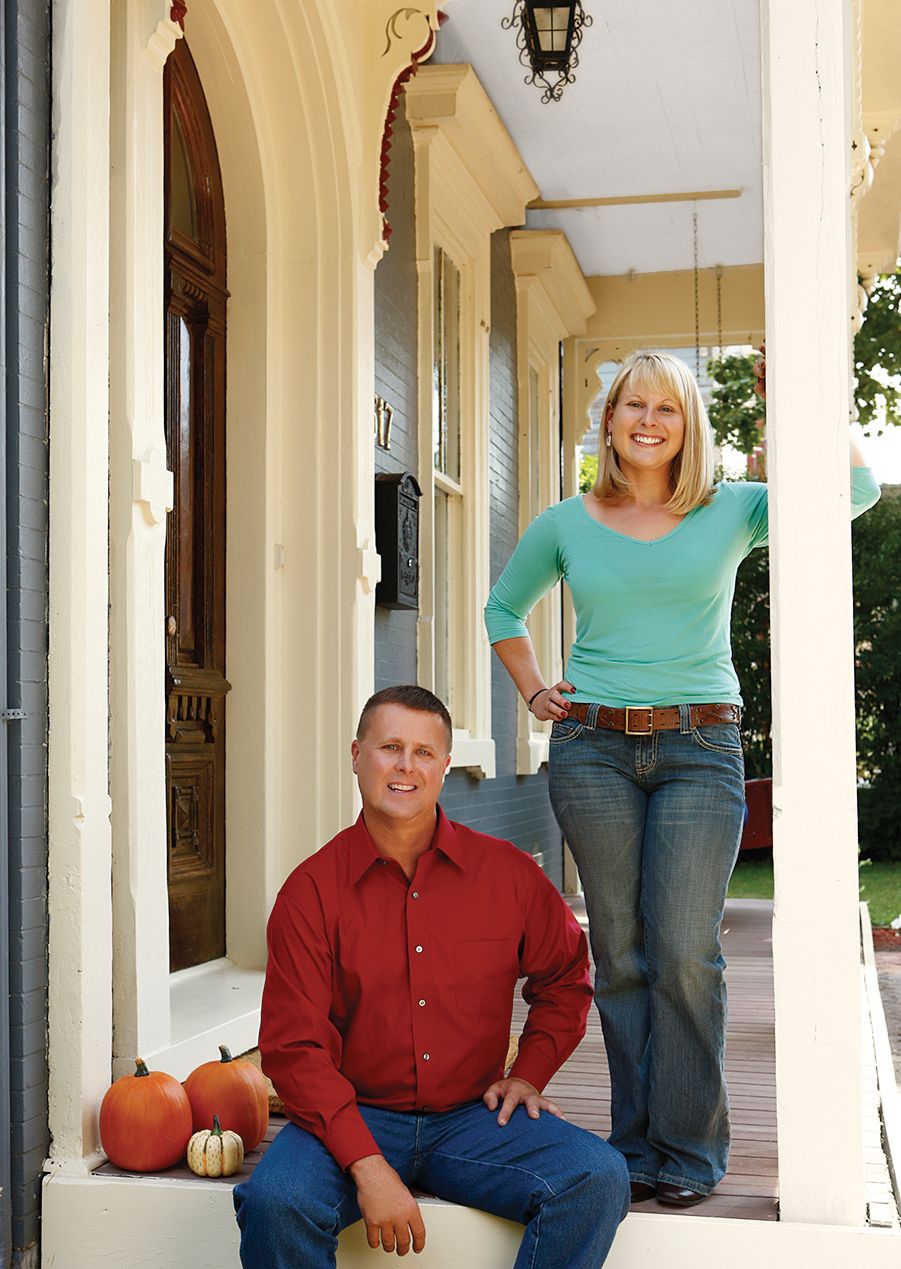 As we looked around the trash-filled rooms of the house I now wanted to save, we saw how it had been divvied up into three apartments, probably in the 1970s. TLC had been in short supply. The mantel over the ­dining room fireplace was gone, and so were the original light fixtures and crown molding. The plaster ceilings were crumbling, most walls were unsalvageable, and the slate roof—or what ­remained of it—was falling apart. The ­only sign of life was a pack of pigeons that had taken up residence in the eaves.
Naturally, Dad offered to lend a hand. And with him on board, it was no problem getting my mom involved, too. With such reinforcements, I was sure we could fix all the problems in just six months, even as Dad tried to explain that once you start ripping out walls you can never be sure what you'll find. It's not that I didn't hear him. I just thought he was, as usual, underestimating himself.
Shown: Angela Dasher and Her Father, Ed.
BEFORE | Dining Room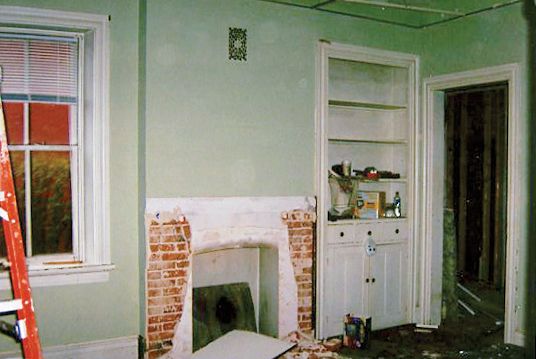 By early spring 2005, the house was all mine. And, along with my own full-time accounting job, I suddenly had a second job as a contractor, plus a second mortgage.
Shown: The dining room's original fireplace mantel had gone missing.
AFTER | Dining Room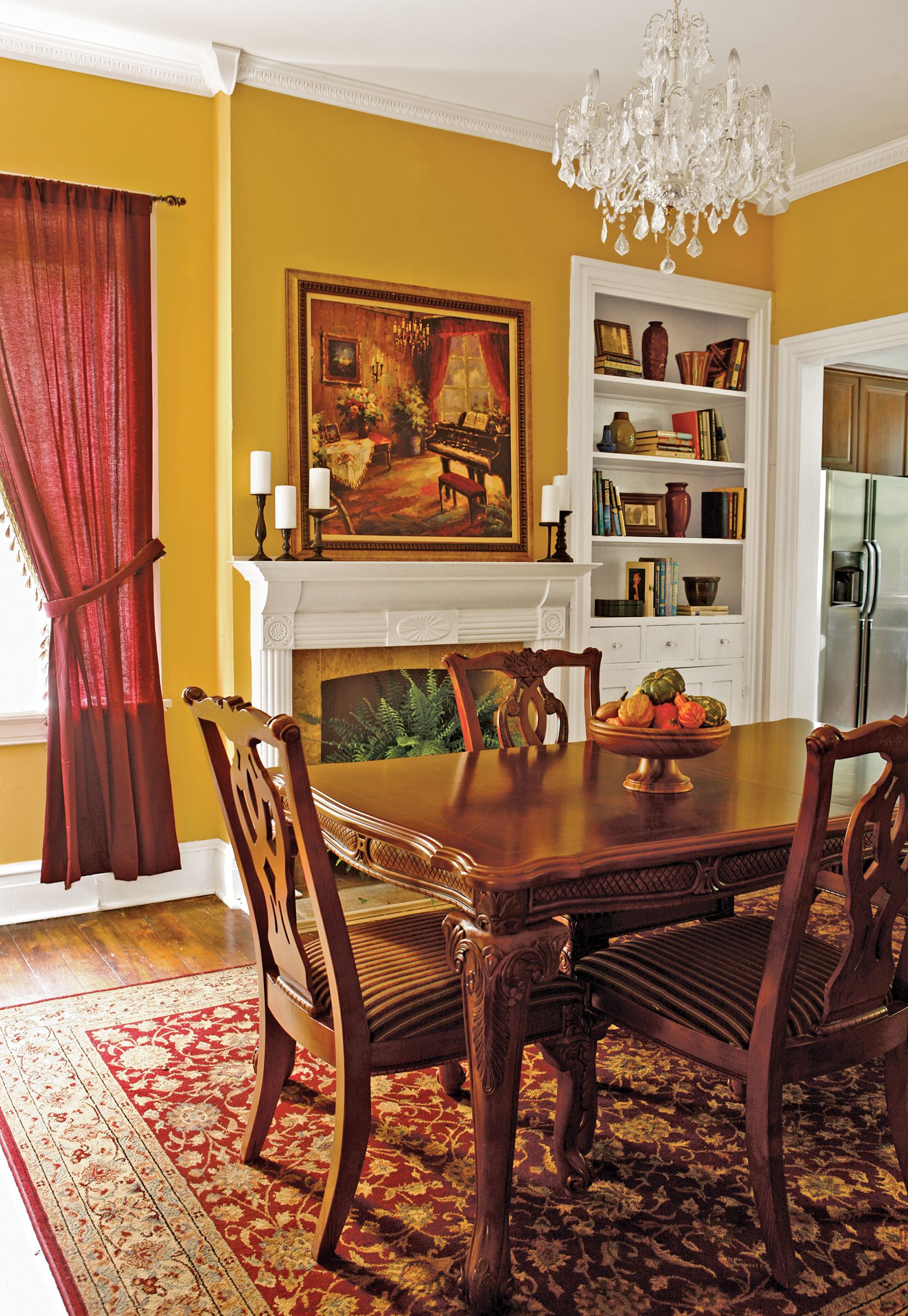 Once Dad realized that I had my heart set on a renovation, he jumped right in. From the start we made a good team. He's really meticulous, always trying to make things perfect. And what I lacked in attention to ­detail I made up for in enthusiasm.
Shown: To restore the room's elegance, the owner installed a salvaged mantel and other period details such as crown molding and a vintage chandelier.
BEFORE | Kitchen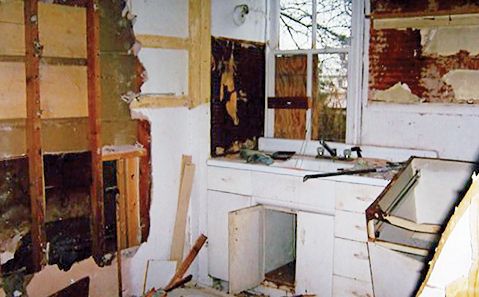 I was basically up for doing and trying anything that would help get my new home ready, no matter how dirty I got. After gutting most of the house, we moved slowly toward restoring the exterior and several priority rooms first. We attacked one task at a time, figuring that if we thought too hard about the big picture we'd never get started.
Shown: The old kitchen had metal cabinets and laminate countertops.
AFTER | Kitchen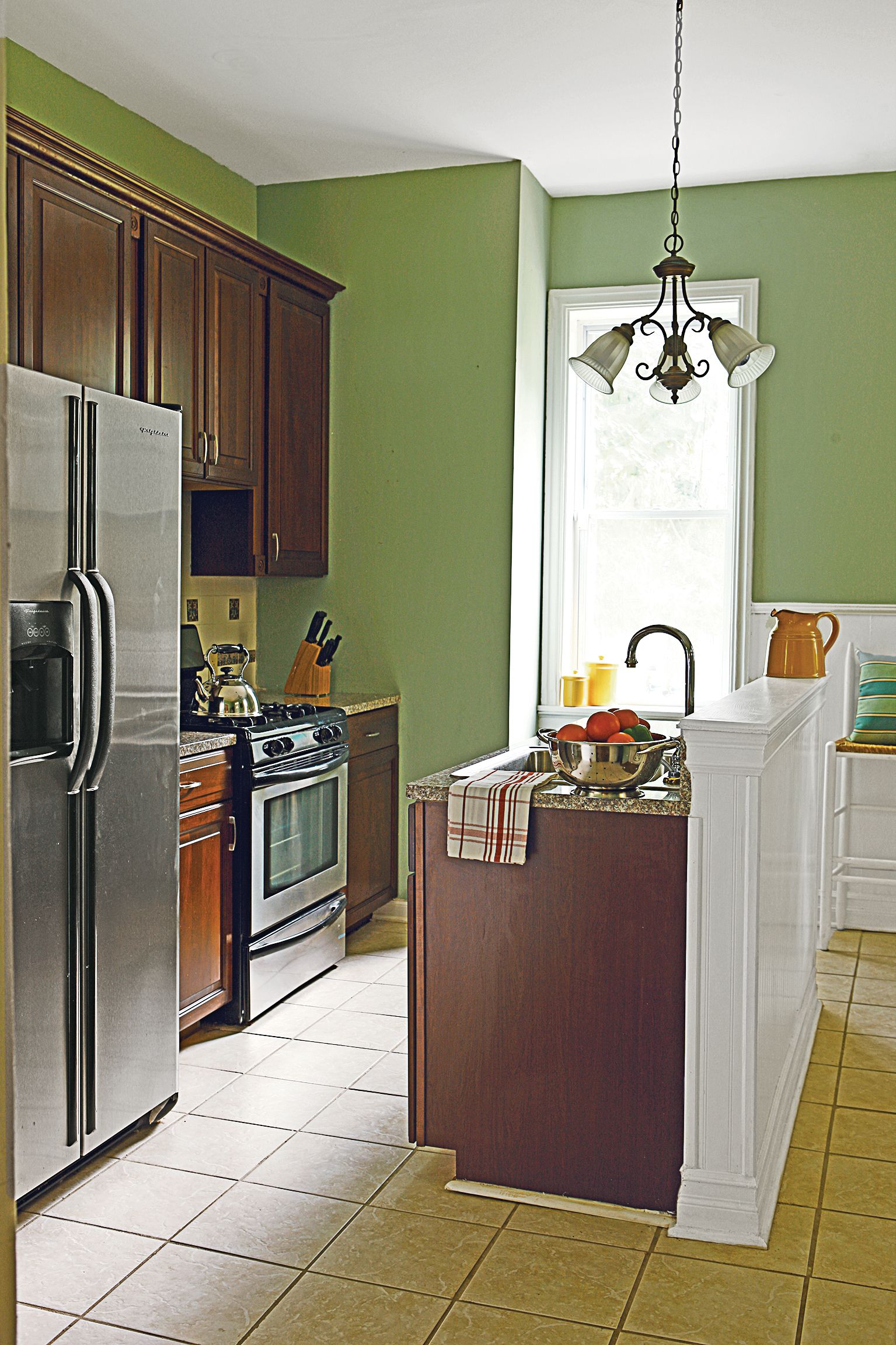 Mom came by regularly, taking on such daunting duties as stripping the five thick layers of paint from the mahogany doors. And anytime Dad lost his tools—a surprisingly regular occurrence for someone so into details—it was usually Mom who tracked them down.
Shown: The remodeled kitchen was given an update with cherry cabinets, granite counters, and stainless-steel appliances.
BEFORE | Bathroom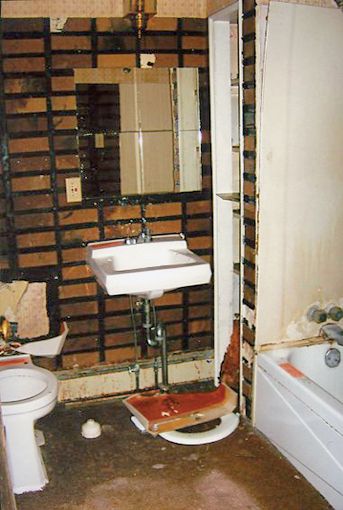 Soon 6 months stretched to 12. And by the time we geared up for a second year of hard labor, none of us could remember what we used to do with our free time. I ended up moving back in with my parents so that I could unload one mortgage. We were living, breathing, and talking about the renovation, even over dinner. Now I was really motivated to get the job done.
Shown: An existing bath had 1970s multicolored tile and a wall-mounted sink.
AFTER | Bathroom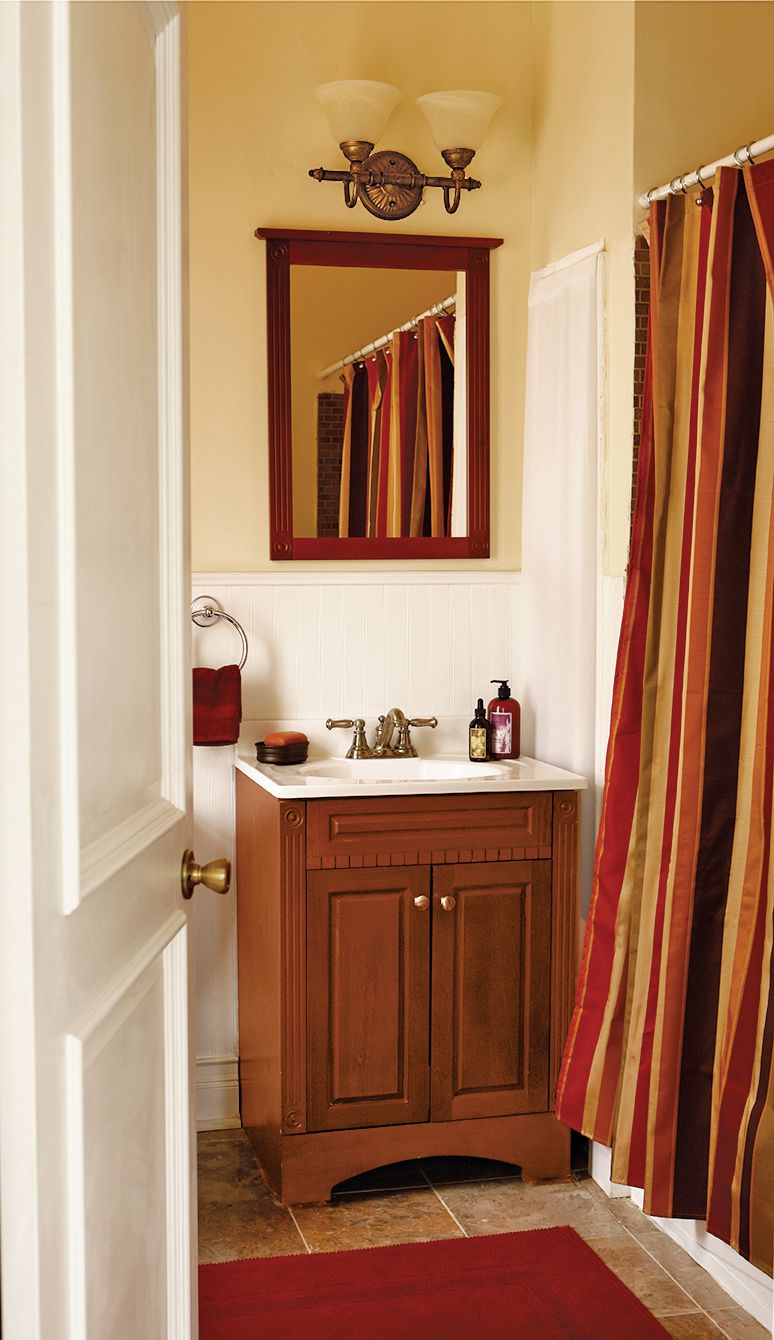 When you spend your weekends and holidays uncovering surprises in old plaster walls, sussing out weak beams, and relocating resident pigeons, it's bonding. I had never felt closer to my dad, even when we got stressed out and in each other's way as we tried to make fixes.
Shown: To give the bath a vintage look, the homeowner installed wainscoting and a vanity with detailed moldings.
BEFORE | Living Room Fireplace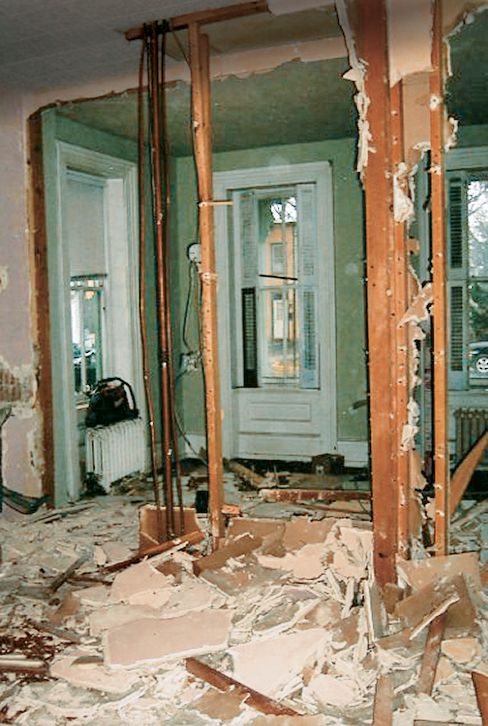 More than once we threw up our hands and swore we'd walk away from the madness—at least for a few days. In the end, we just went to work in separate rooms and cooled off, ­knowing that if we stopped it wouldn't be easy to return to the grinding routine. To ease the tension we blasted the ­radio and sang out loud.
Shown: During demolition, the homeowner uncovered a fireplace hidden in a parlor wall.
AFTER | Living Room Fireplace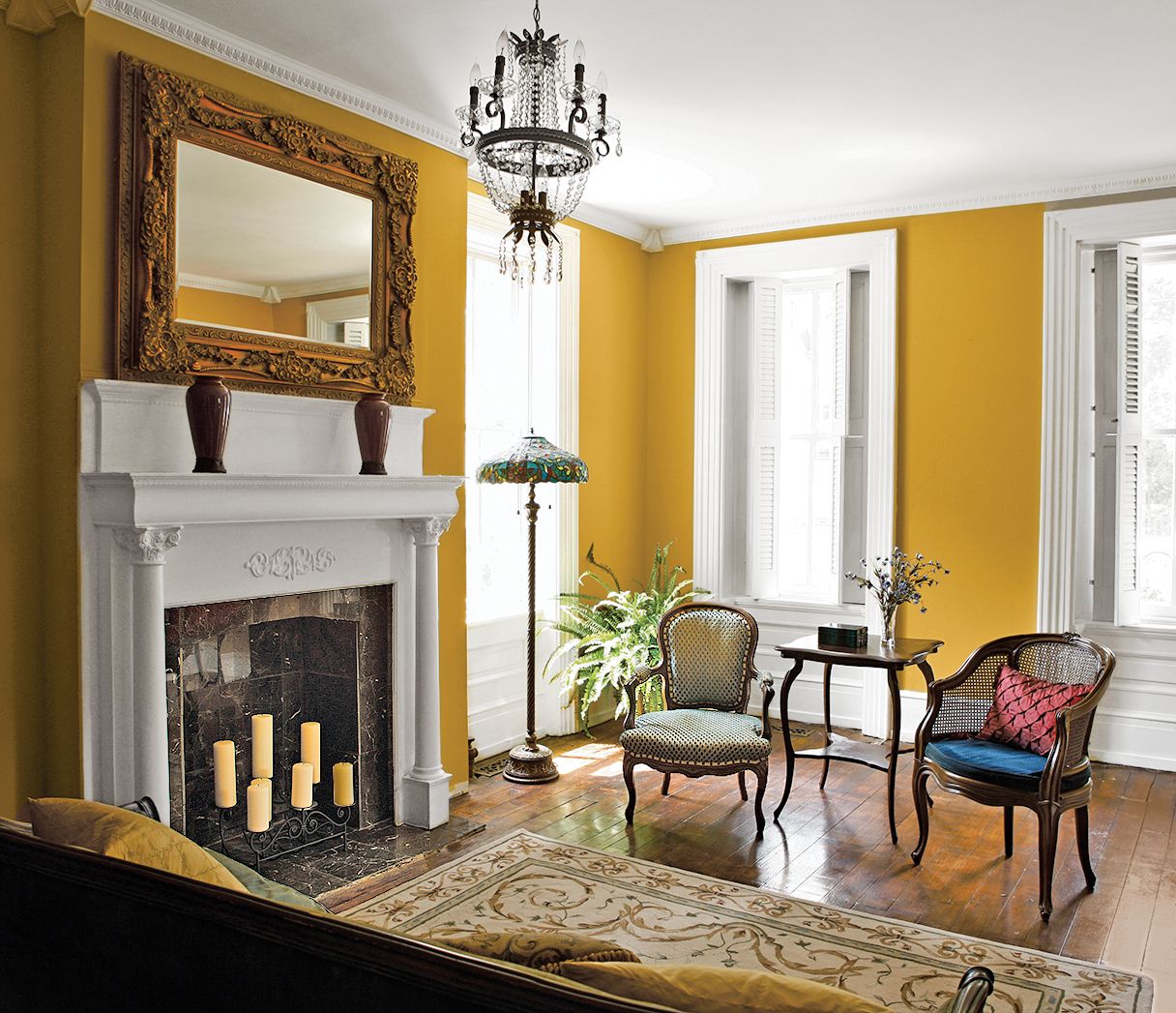 Fortunately, whenever I wanted to rush through a ­project to get it done, Dad kept true to his attention to ­detail. If every window molding and cornice was shot, he got out his rotary tools and replicated them, right down to the exterior cornices' original anchor motif.
After we uncovered a second fireplace behind a wall in the parlor, I found a Victorian-era columned mantel on eBay to top it. Dad offered to drive to Washington, D.C., to pick it up, then persuaded his own dad to come along and help carry it down three flights to the car. Once the mantel was up, Dad added ­egg-and-dart crown molding over an entryway to match the columns.
BEFORE | Foyer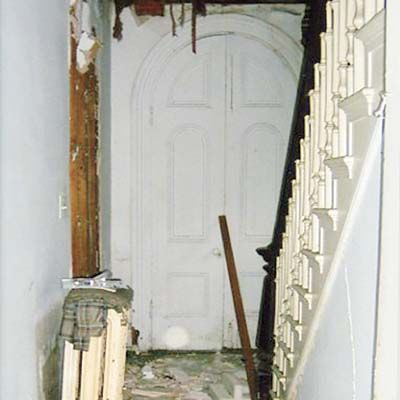 But his greatest moment probably came when he decided to give my new back door his own stamp. ­Laboring late at night, he crafted a classic sunburst to go over the door. I admire it every time I walk by and notice how it ties in with the gingerbread trim.
Shown: The foyer had been stripped of most of its molding details, and its side entry to the parlor was boarded up.
AFTER | Foyer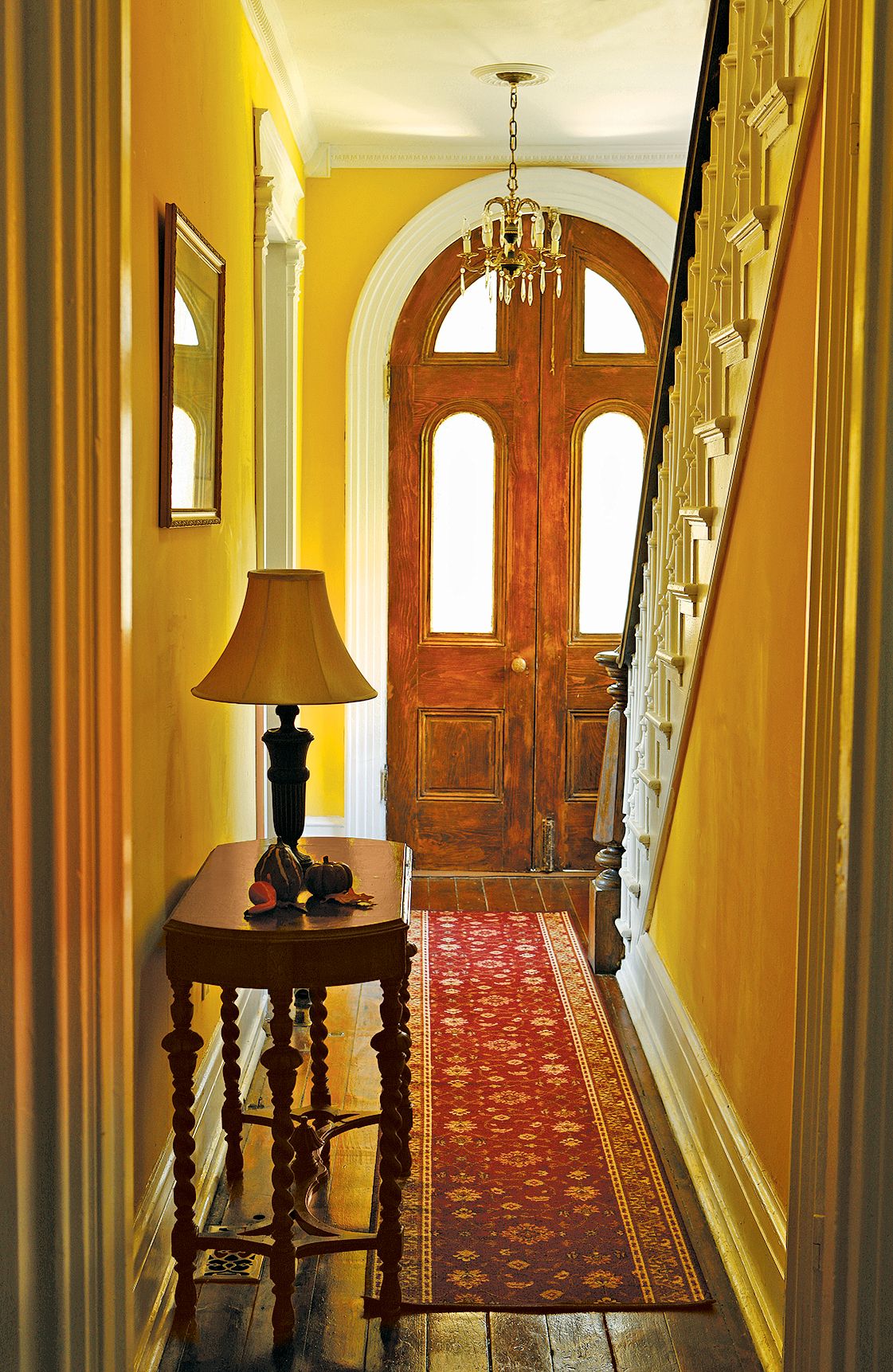 As the work ground on, my budget grew to $65,000. That included splurging on a new kitchen with granite counters, cherry cabinets, and stainless-steel appliances. I figured I'd only be doing this once.
Shown: After sanding and refinishing, the mahogany entry doors and heart-pine floors inside regained their natural warmth.
Looking After Details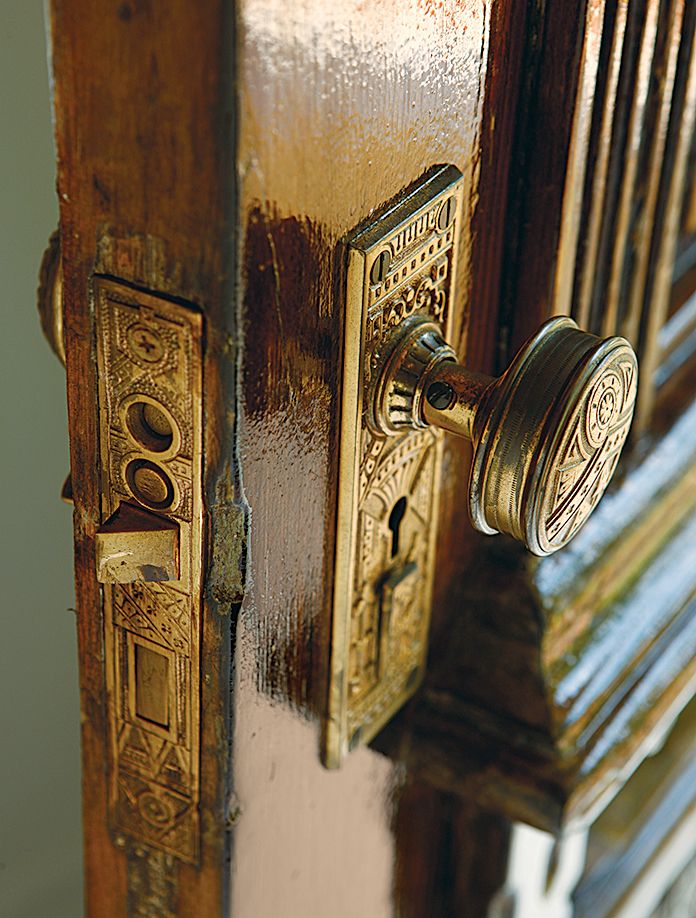 Or so I've promised my crew, which has expanded to include not only Grandpa but also my brother Matthew, who found himself repaying an old IOU last spring by installing my wrought-iron fence. I even persuaded our younger brother, Nathan, to help me tile the kitchen backsplash.
Striking Door Detail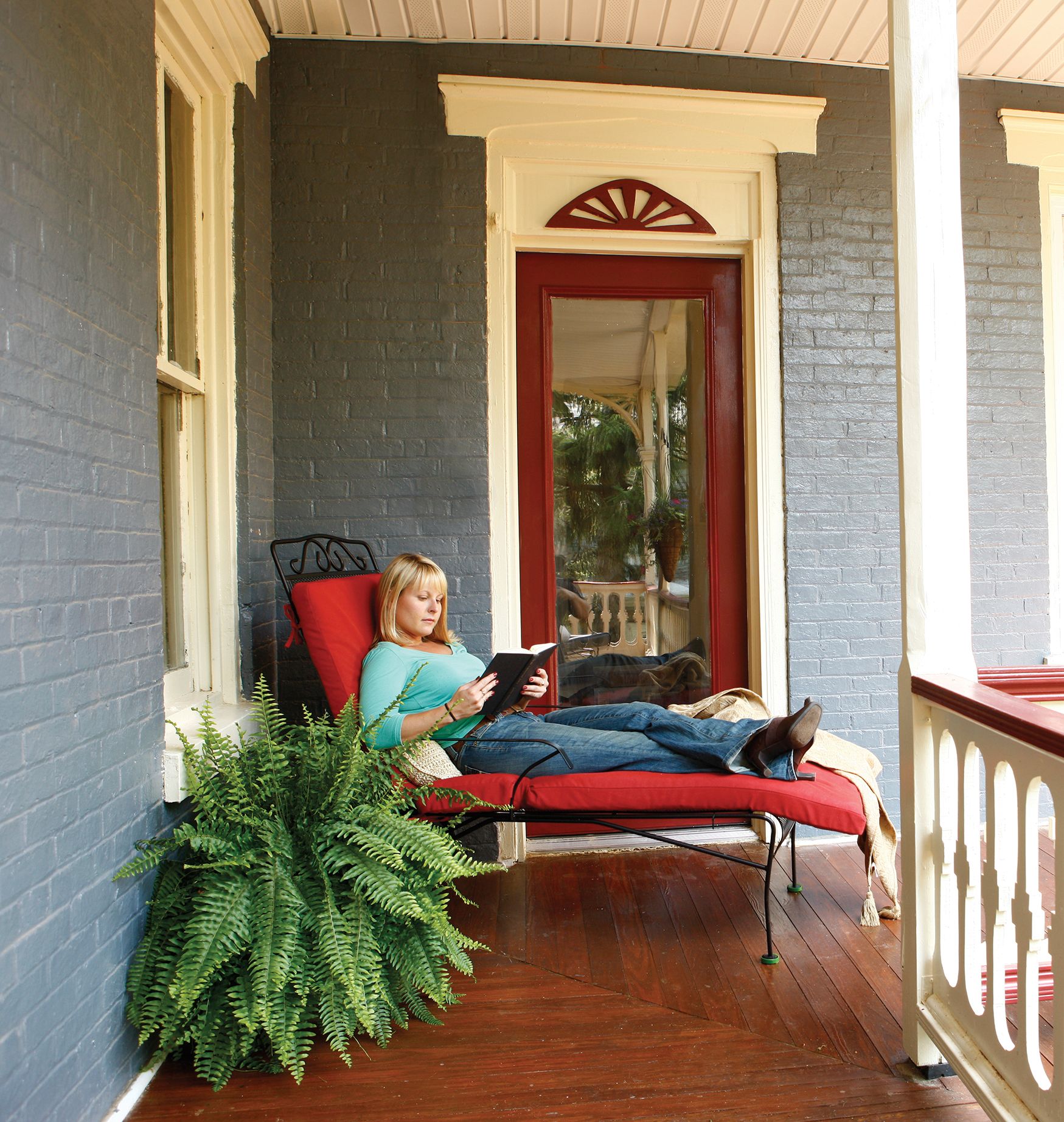 I moved in a little over two years ago, and it does feel like home—although there are a few things left on my ­to-do list. For one, even after all this time, the master bath needs new tilework. Maybe Dad will have some free time over the holidays. I'll make a note to ask him.
Shown: Homeowner Angela Dasher relaxes on the refinished side porch. The detail over the door was crafted by her dad to blend with the house's gingerbread trim. The exterior paint colors are Burnt Tile (on door), Cornerstone (on trim), and Silver Hill (on walls), all from Behr.
First-floor Plans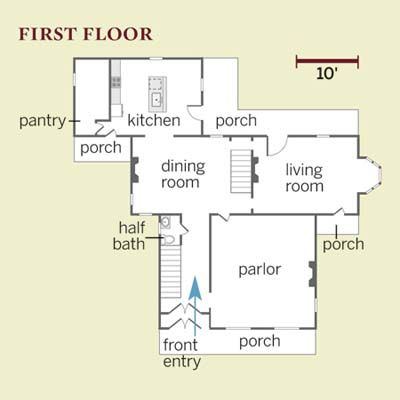 The homeowner restored her 1895 home—which had been converted into a triplex—back to its original layout.
Remodeling cost: About $65,000
Time frame: 3 years and counting
Where she saved: Choosing asphalt roof shingles instead of costlier slate-look rubber tiles and scouring the clearance section at The Home Depot for marble and other materials.
Second- and Third-floor Plans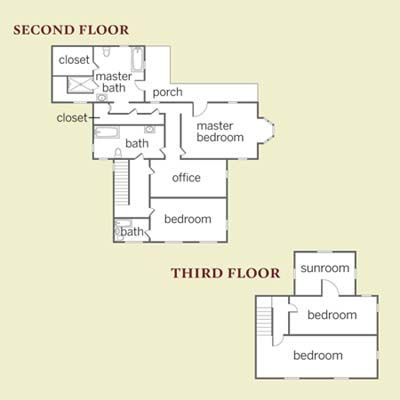 Where she splurged: Granite kitchen counters and $6-a-square-foot hexagonal black-and-white tiles for the master bath.
What she would do differently: Devise a game plan and do things in a logical order, rather than whatever we felt like doing that day.
Biggest challenge: Getting rid of 100 years' worth of paint. Between the exterior and interior moldings and the doors and floors,
I thought the sanding would never end.
How she solved it: To keep motivated, I tried to look at only the area that I was able to finish rather than at everything else that had to be done. Seeing progress helps keep you going.