Holiday Throwback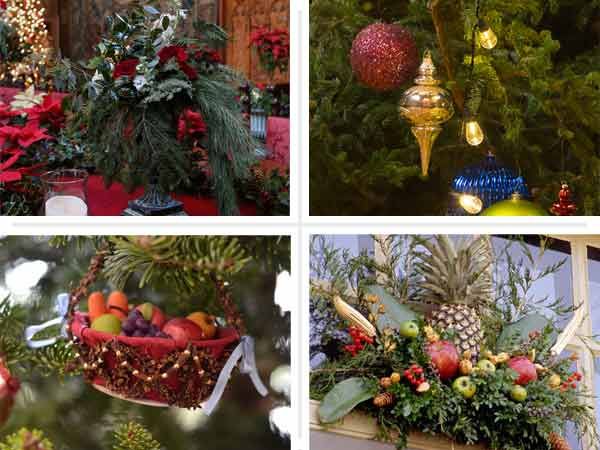 Decorating for the holidays is a timeless tradition, but This Old House readers who want to capture a particular time in history with their ornamentations have plenty of inspiration to draw from. House museums that create historically accurate interior designs tend to stick with their mission—and amp up the cheer—during the holidays. We asked the curators who decorate historic digs about some of the holiday themes they've created for their museums that you can re-create at your house.
Read on for Christmas decorating cues from the experts who deck out some of America's favorite historic houses.
The Gilded Age at Biltmore House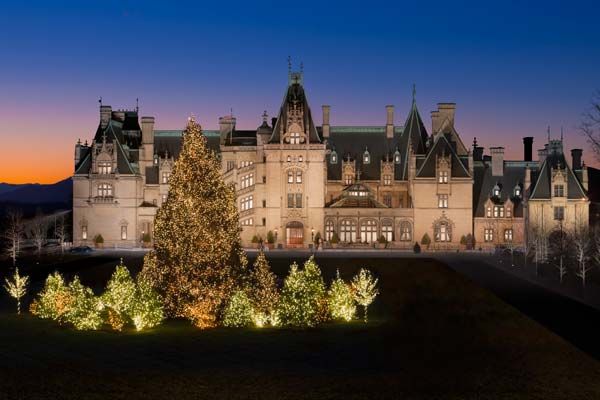 Nothing was too extravagant for George Vanderbilt when he planned Biltmore House, his French Renaissance-style chateau nestled in the mountains of Asheville, North Carolina. So it's no surprise that in 1895 he wanted to celebrate the estate's first Christmas to the fullest when his New York family came to visit. Christmas was a big deal to George, and the lavish style of the Gilded Age was the perfect backdrop for his elaborate holiday celebrations.
Today, visitors expect a big holiday to-do at an estate that's filled year-round with pricey objets d'art, such as 16th-century tapestries and Renoir paintings. For this season's holidays, floral displays manager Cathy Barnhardt and her staff erect 60 Christmas trees, drape intricate mantels and surrounds with faux garlands, and fill generous containers with seasonal garden clippings. And that's just for the 250-room house; it doesn't include the estate's winery, inn, and grounds. "It may not be a literal interpretation, but visitors are definitely going to get a feel for the Gilded Age," says Barnhardt.
Click through to learn more about George Vanderbilt's expectations for his first Christmas in his new home.
Biltmore House: Edison-Bulb-Style Tree Lights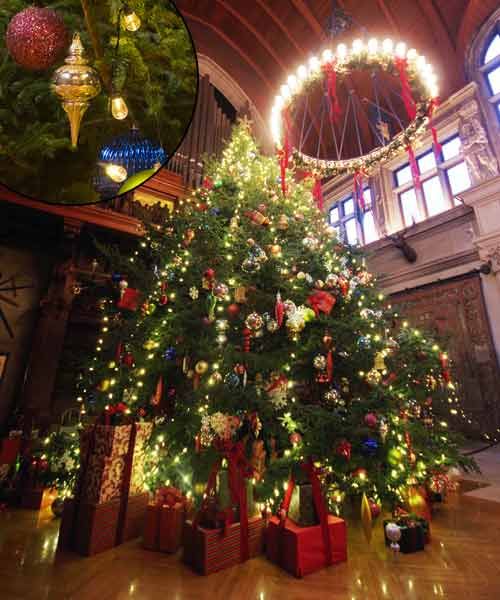 The curatorial staff at Biltmore has a collection of estate-specific resources describing happenings back in George's day. For the home's grand holiday showpiece, the banquet hall Christmas tree, George and his wife, Edith, requested a "towering" tree for the entertaining space. Today, Cathy Barnhardt works with Andrews Nursery, of Newland, North Carolina, to grow trees that have an imperfect, unsheared look to recall the style of George's time. (Modern trees are sheared several times during growth to create a uniform conical shape.) For the banquet hall, that means a 35-foot-tall Fraser fir.
Halfway through the season, the tree is replaced with a fresh one to prevent a fire hazard and maintain the look. Records show that the hall was wired for Christmas tree lights. Cathy Barnhardt prefers LED Edison-style lights—500 bulbs for the one tree—for their amber glow and black cords, which create a turn-of-the-century feel. A basket of oranges is tucked among the tree's presents every year in a nod to tales about Edith giving the household staff's children holiday gifts of citrus fruits, a rare winter find at the time.
For a similar look, string your tree with LED Edison-style lights. Amplify the warm glow by tucking shiny ball ornaments deep in the tree's branches.
Similar to shown: Edison-style string lights, about $25 for a 10-bulb string; World Market.
Shatterproof shiny red Christmas ball ornaments, about $18 for 32; Amazon.
Read on for more about how present-day decorations evoke George's love of nature.
Biltmore House: Wintry Floral Arrangements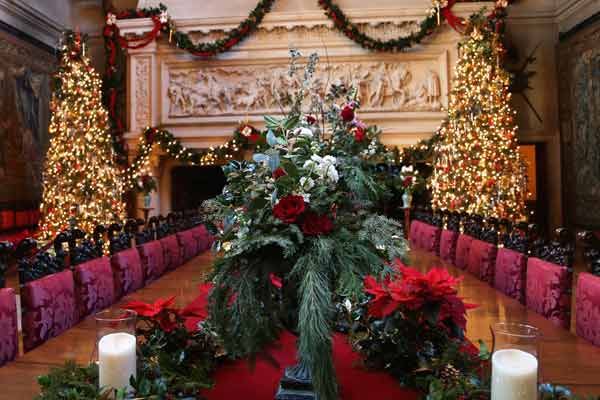 George had a well-documented love of nature. He enlisted landscape architect Frederick Law Olmsted Sr., who designed New York City's Central Park and Prospect Park, to design the estate's formal and informal gardens. To help fulfill George's holiday vision, his staff outsourced some of the seasonal foliage. "We have archived articles talking about barrels of mistletoe and wagonloads of holly," says Cathy Barnhardt. The Gilded Age arrangements—with an English Garden twist—seen today in the banquet hall and throughout the house require comparable amounts of foliage found a little closer to home. "We love when our gardeners bring us prunings, like azalea bushes with twisted branches with lichen in them," says Barnhardt. "They look awesome for flower arrangements."
For a similar look, purchase inexpensive premade flower arrangements at your local supermarket and doctor them up with natural accents found in your yard—pinecones, branches, twigs, and Christmas tree cuttings that will turn your store-bought flowers into a lush focal point. Barnhardt's favorites plants for seasonal arrangements include amaryllis, Narcissus ('Paper Whites'), and Schlumbergera ('Christmas cactus').
Learn more about how Biltmore's staff achieves Gilded Age holiday opulence without overwhelming the home's decorative elements.
Biltmore House: Decked-Out Chandelier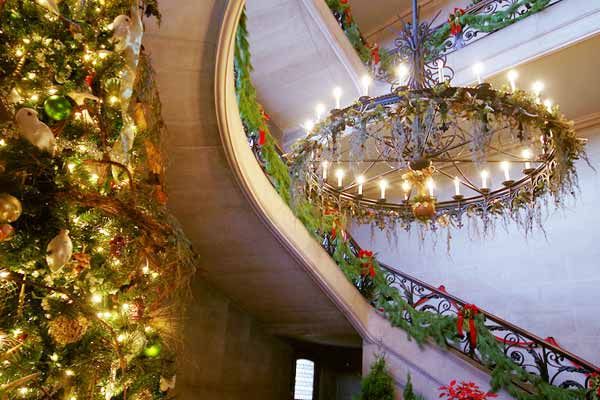 Cathy Barnhardt takes pride in her team's talent for decking the halls without obscuring Biltmore's year-round grandeur. "We are here to enhance what is already here; we are not here to steal the show," is a directive she drives home to her staff. She allows no more than three to five decorative holiday elements per room. Any more would be considered cluttered—even for Gilded Age glamour. Here, the gracious, mostly natural decor in Biltmore's entry hall gives visitors a taste for what's to come. The already opulent chandelier gets an upgrade courtesy of faux weeping cedar, pine twigs, dried wheat and barley bunches, faux-gold bay leaves, and a metal leaf garland—plus, real deer antlers.
For a similar look, use small chains to suspend an artificial wreath from a chandelier. The Biltmore staff used four black chains to blend in with the fixture's structure. After attaching the wreath, they wove a string of mini lights around it and hid an extension cord within a nearby rope of garland.
Next: Travel back to pre-Revolutionary times for a peek at how historic Colonial Williamsburg dresses up for Christmas.
Colonial Williamsburg Style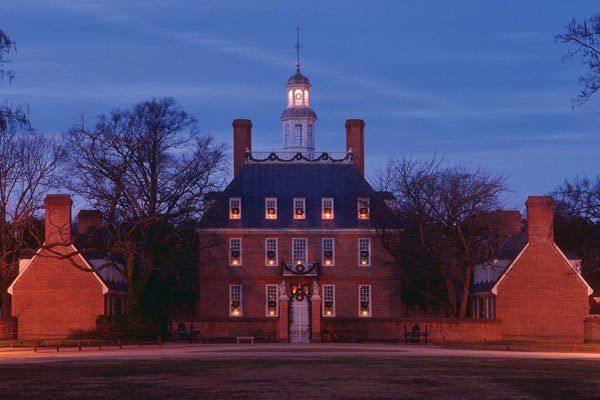 Colonial Williamsburg, a living museum in the 18th-century Revolutionary capital of Virginia, prepares for holiday tourism with considerably more decoration than the original residents would have had. "Christmas during colonial times was about religious observation and feasting," says Laura Viancour, manager of landscape services. "This whole decoration extravaganza happened in the Victorian era."
When restoration on the historic district began in the late 1920s and 1930s, the aim was education and architectural authenticity for the buildings, some of which date to 1699. "What they didn't plan on is that people would start coming to Williamsburg during the holidays," says landscape supervisor Susan Dippre. To cater to these visitors, the attraction's designers found a middle ground between period authenticity and modern tastes by putting up 1930s decorations influenced by English and Virginian traditions. Since then, these greenery-heavy adornments have become known as the Williamsburg look. Today, Dippre and Viancour oversee a staff that decorates more than 100 structures, including the administrative buildings.
Read on for a tutorial on crafting your own Williamsburg-style fruit wreath.
Colonial Williamsburg: Fruity Wreaths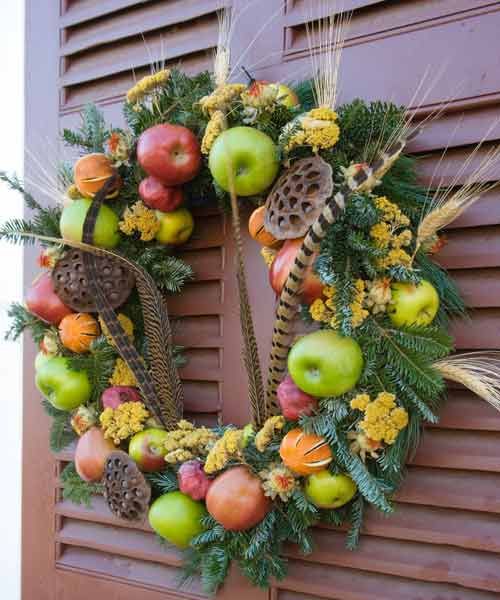 The festive wreaths you see on doors and windows in the historic district would have been absent in the 18th century. Although roped greenery was typical indoors, exterior holiday decoration wasn't the colonial norm. So during the neighborhood's early 20th-century restoration, the team in charge of flower arrangements found inspiration for bountiful wreaths in the work of 18th-century Dutch-English wood carver Grinling Gibbons and Florentine Renaissance sculptor Luca della Robbia, who used fruit motifs in many of their works. These are now known as Della Robbia Christmas wreaths.
For a similar look, craft your own wreath from scratch. Keep weather and exposure to sunlight in mind. "If it's going to go in the sun, fresh will cook and dried will do better," says Susan Dippre. Avoid citrus, grapes, pears, and bananas, as they rot quickly, and boxwood and white pine, which brown in the sun. Fresh Fraser fir, noble fir, pomegranates, and apples, as well as dried items like oranges, artichokes, and flowers, keep up appearances. But remember that even dried materials can fade in sunlight.
For your wreath, begin with a double rail frame, (from $3; Michaels). Attach your base greenery, insert straight floral wire in a heavy gauge, like 16 or 18, (from about $6 for 12 pieces; Amazon) through the center of fruit, fold down the ends, fish them through the center of the wreath's double rails, twist, and turn the ends back into the wreath with needle-nose pliers. "Instead of decorating the whole wreath, just make a focal point on the top or bottom with fruit or dried materials," says Laura Viancour.
Similar to shown: Small fruit and foliage wreath, about $180; Williamsburg Marketplace
Read on to learn more about a fruity fixture in the Williamsburg style of holiday decorating.
Colonial Williamsburg: Pineapple Motifs
A certain prickly fruit played a large role in publicizing one's enviable financial status in the Virginia colonial capital. You can spot pineapples in wreaths and swags throughout the living museum. The popular 18th-century design motif—a symbol of hospitality found in architectural details, furniture, gardens, and more—becomes a standout centerpiece in holiday decorations.
For a similar look, create a symmetrical swag with flowers, fruits, and greenery. Use an Oasis floral foam brick (from $1.19; Marshall Floral Products) as a base to hold your cuttings and provide moisture for long periods.
Similar to shown: Pomegranate and cedar spray, about $13; Williamsburg Marketplace
See another sign of wealth turned Christmas decorating tradition found in the colonial neighborhood.
Colonial Williamsburg: Candlelit Windows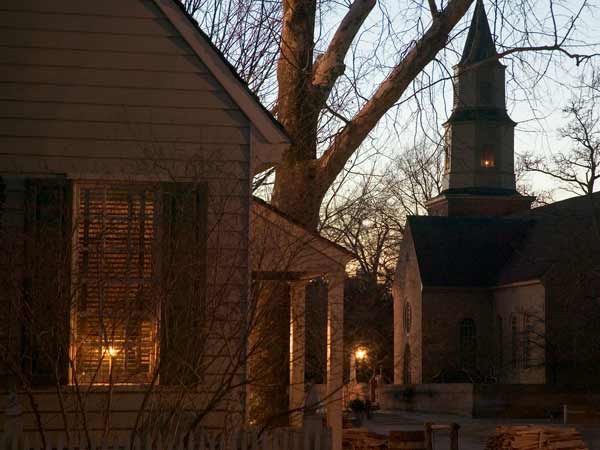 If you were short on pineapples, candles in the windows could sub in as a sign of your riches. This 18th-century tradition was associated with celebrations for the English king's birthday, and Williamsburg interpreters took inspiration from Boston's historic Beacon Hill neighborhood for using the practice as a Christmas decoration. The wealthiest Williamsburg residents would proudly and openly light their bayberry candles, pillars made from the waxy bayberry shrub, which has a distinctive fragrance and burns with a clear, consistent light. Even today, it's hard to replicate the smell without the real berries. You can purchase authentic bayberry tapers (about $5 per pair; Williamsburg Marketplace) for a period effect at home. (Today, the tapers in the district's windows may flicker, but for safety reasons they're not real candles.)
For further reading on this and more Williamsburg-style holiday decorating, read Colonial Williamsburg Decorates for Christmas, (about $11; Williamsburg Marketplace).
Similar to shown: Candle Impressions, 2-pack flameless taper candles, about $12; Bed Bath & Beyond
Next: Learn about Germanic and religious influences on decorations in a Moravian community.
Moravian and German Traditions at Old Salem Museums & Gardens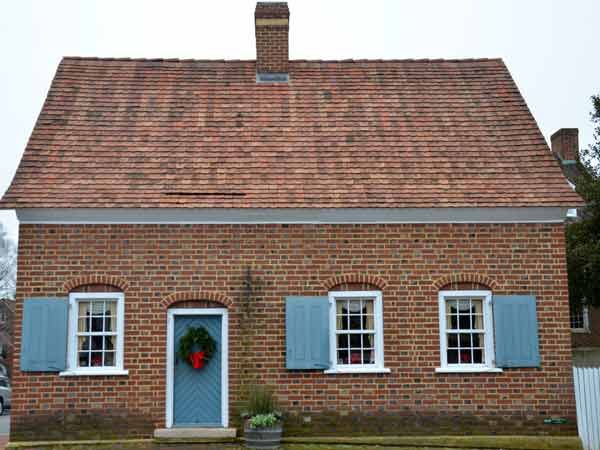 Another living museum, the Old Salem Museums & Gardens, in Winston-Salem, North Carolina, has a large archive of diaries, church documents, and other writings by its former residents about Christmas celebrations. The Moravians, a German religious group from what is now part of the Czech Republic, settled in the area in the 18th century. The oldest surviving building dates to 1771 and the latest was built around 1860.
"When we interpret and show decorations, we're showing the progression through time," says Joanna Roberts, assistant director of interpretation. Each building's decor is based upon its specific period and the documents that tell its story. "We're German. We're also a religious community, so we're staying true to that as much as we can, as the Moravians would have."
Read on for religious- and German-influenced decorating ideas that will look festive in your own home.
Old Salem Museums & Gardens: Putzes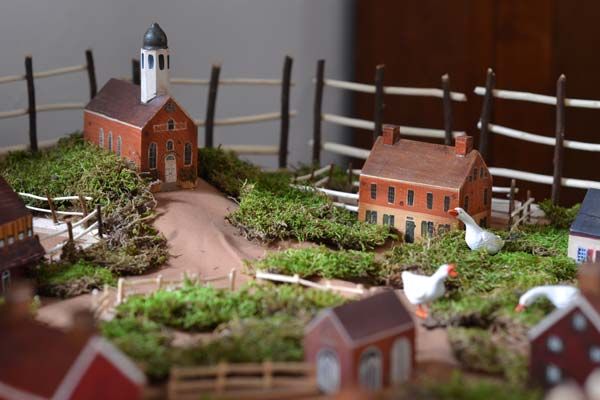 The Moravians' decorations were more religious than secular. They traditionally built putzes—detailed, miniature-scale Christmas villages—which in Old Salem often took the form of a nativity scene. Documents hint that these increased in popularity in the 1820s and 1830s and that with some, the term miniature was used loosely. "As you get into the 1840s and '50s and '60s, it became very popular for them to do some fairly elaborate putzes, then go around and visit to see everyone else's," says Joanna Roberts. One year, a girls' school in town built a putz that occupied an entire room. Others featured elaborate accents, such as fountain-like water features.
For a similar look, try giving your treasured nativity or Christmas village scene some context with rolling hills of moss or roaming animal figurines. If you're really feeling up to it, we suggest getting creative with water features.
Old Salem Museums & Gardens: Decorative Pyramids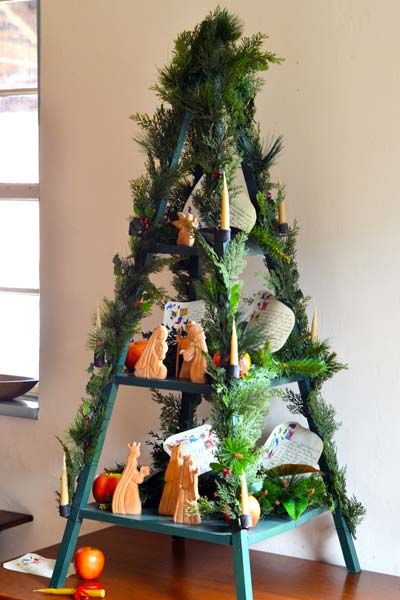 You won't spot spools' worth of ribbon or fanciful bows on garlands in Old Salem. "We find greenery used at lots of other times of the year, and we used some of those descriptions to help us decorate at Christmas," says Joanna Roberts. Pyramids in particular were often used during celebrations, including a local's notable 50th birthday. While the Christmas tree is also derived from German tradition, both the pyramid and the early Christmas tree were usually set on tables for display and were smaller than the ones we use today.
For a similar look, try building a simple three- or four-sided pyramid with shelves to hold holiday trinkets, like small nativities, gifts, and candles. You can use our pyramid trellis step-by-step for guidance on building a basic structure. Or make a rustic one with stray branches and string, tying it with greenery in lieu of trinkets on shelves.
Learn about decorative DIY Christmas ornaments next.
Old Salem Museums & Gardens: Paper Roses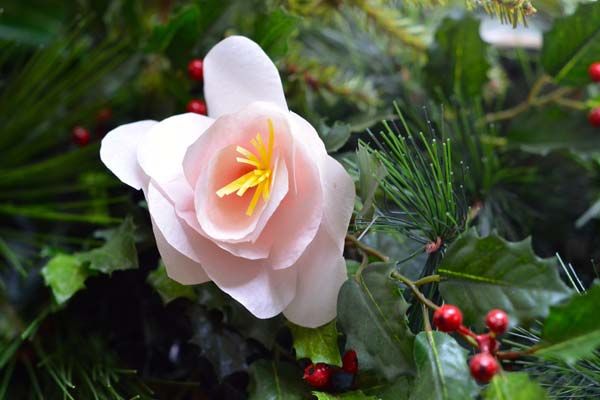 Paper flowers are a crafting mainstay, but they're hardly new. Instructional books for girls, with projects like paper roses, grew in popularity in the 1830s. Interpreters at Old Salem use these as a resource for decorations that may have been used during special celebrations and then became Christmas ornaments and other holiday accents. Roses have a special association with the holiday, as they're considered a symbol of the Virgin Mary.
For a similar look, make your own paper flowers and place them in lieu of ornaments on some of your Christmas tree's branches. There are a variety of paper flower tutorials to be found online.
Similar to shown: Short-stem handmade roses, one dozen, about $15; Amazon
Click through for another Christmas ornament idea from period crafting books.
Old Salem Museums & Gardens: Spicy Baskets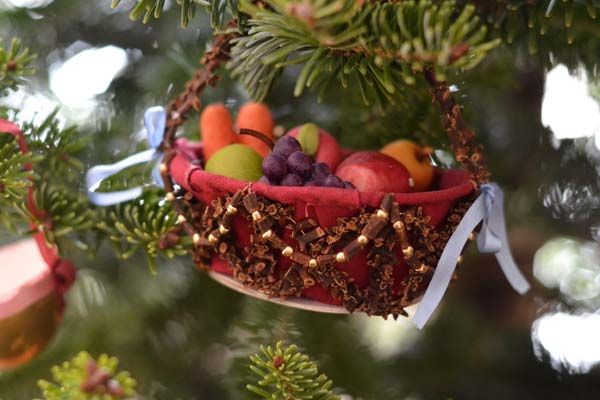 In the early 1810s, a schoolteacher noted that students at a girls' school in the town received small gifts of fruits, nuts, and candies from their teachers. The items were also a constant motif in tree decorations, as it was customary to adorn a tree with gifts. Today the interpreters at Old Salem use directions from a popular girls' craft book of the time, The Girl's Own Book (about $12; Amazon), to weave tree ornament-size baskets of cloves to hold such treasures.
For a similar look, use The Girl's Own Book as a guide to sew your own baskets and fill them with candies or other treats.
Similar to shown: Mini Bleached Willow Baskets, package of 6, about $10; Amazon
Next: Take a peek into 19th-century New York City holiday decorating and customs at Merchant's House Museum.
Greek Revival Townhouse Style at Merchant's House Museum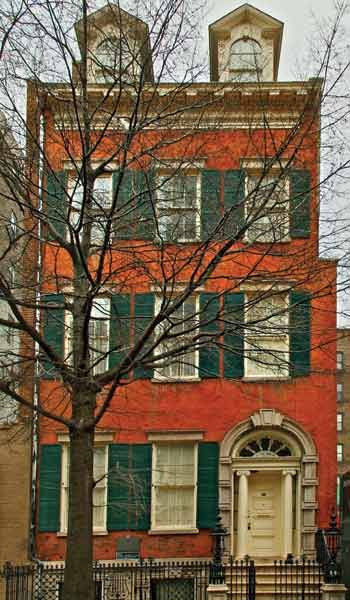 Built in 1832, New York City's Merchant's House Museum is a late-Federal–early Greek Revival rowhouse museum that preserves the home's interior as it appeared when merchant Seabury Tredwell and his family lived there beginning in the 1840s. Each year, the museum's staff decorates the home according to mid-19th-century customs. Back then, New Year's Day was a huge celebration, with men paying social visits to numerous households and women staying home to receive visitors and preside over a lavish buffet. "I think of it as a precursor to our modern Christmas parties." says communications and program manager Emily Wright. "Many sources talk about how it was the one day of the year when wealthy men could be drunk in public."
Read on for the introduction of the Christmas tree as we know it.
Merchant's House Museum: Tabletop Christmas Tree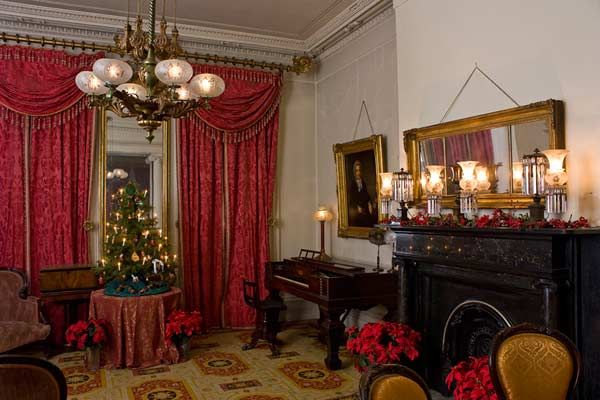 Like the residents of Old Salem, New Yorkers of the period were influenced by an important German tradition: the tabletop Christmas tree. German immigrants brought the holiday fixture to the country in the early 19th century, but the custom became a craze once an illustration of England's Queen Victoria and her German husband, Prince Albert, showed them alongside a tabletop tree. However, the version of the image that made its way to the United States in December 1850 via Godey's Lady's Book was a bit different from the 1848 English illustration. "They removed the queen's crown and Albert's moustache to make it look more American," says Emily Wright. (See slide 25.) The following year, Christmas trees were sold in New York City markets for the first time. Glass tree ornaments didn't appear until the 1870s; instead candies, berries, and handmade ornaments adorned the trees.
For a similar look, top a living-area table with a small tree as a nod to the Christmas staple's Germanic roots. For an 1870s look, use some spare glass ornaments left over from decorating your full-size tree. Protect your table surface by following our step-by-step guide for building a Christmas tree box.
Similar to shown: 2 ft. Pine Artificial Christmas Tree, about $29; Vickerman, Lowe's
Next, learn more about other popular types of decorative greenery in 19th-century New York.
Merchant's House Museum: Holly and Berry Accents
The tabletop Christmas tree would have been new for the household's mostly Irish servants as well. However, it was common practice in Ireland to decorate with holly and other types of greenery, so the home's living areas—as well as the servants' bedrooms—probably would have been decorated with these festive plants.
For a similar look, spread Christmas cheer with sprigs of holly woven into your existing ropes of garland.
Similar to shown: Nearly Natural Holly Berry Garland, about $73; Wayfair
Next: Learn how an early-20th-century California home's reserved holiday decor allowed its Craftsman-style architecture to shine through.
Craftsman Style at Gamble House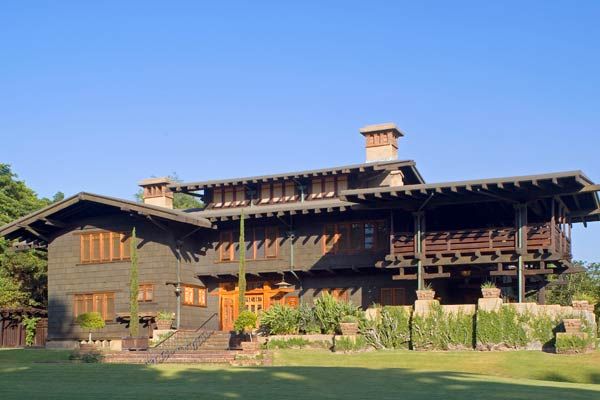 Influenced by nature and Japanese architecture, The Gamble House, in Pasadena, California, constructed in 1908 for David and Mary Gamble of the Procter & Gamble Company, is one of the "ultimate bungalows" of the area. It stands as a prime example of the work of Craftsman-style architects Greene and Greene. In the spirit of that simple form, holiday adornments are quite restrained. "I try to acknowledge that people are here to see the house and the furniture, not our Christmas decorations," says curator Anne Mallek. She adds that the Gambles weren't an ostentatious family; they chose to build a more reserved style of house in an area away from Pasadena's popular Millionaire's Row. That simplicity is reflected in letters by Mary that mention Christmastime traditions such as walking to the nearby annual Rose Parade.
Continue reading for more information on restrained Gamble holiday gatherings and keeping the focus on architecture.
Gamble House: Hearth Gatherings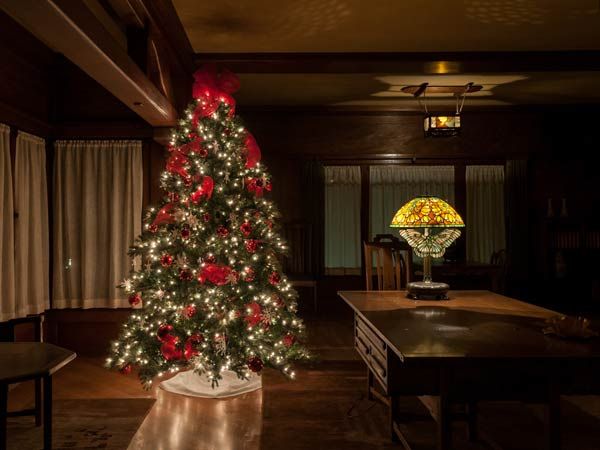 In a 1912 letter to her son, Mary Gamble describes a quiet Christmas. "We went to the Browns for the evening and had a dainty supper and then singing around the fire while the lights were turned out," she wrote. The Gambles valued sensibility and practicality over lavish decor, and Anne Mallek and the staff at the house museum strive to preserve those ideals in the holiday decorations. "The essence of the Arts and Crafts movement is the home and the hearth," says Mallek. That sentiment translates to few decorations noted in the well-documented Gambles' lives. As a result, adornments are simple and meant to accent—not outshine—the rich details of the Greene and Greene architecture. Today, simple decorations can be spotted on the living room and dining room mantels and atop the piano.
For a similar look, stick to unadorned greenery along the mantel that won't compete with the architectural details of the fireplace and your home.
Similar to shown: Classic Balsam Garland, about $36; Worcester Wreath, Wayfair
Gamble House: Understated Decor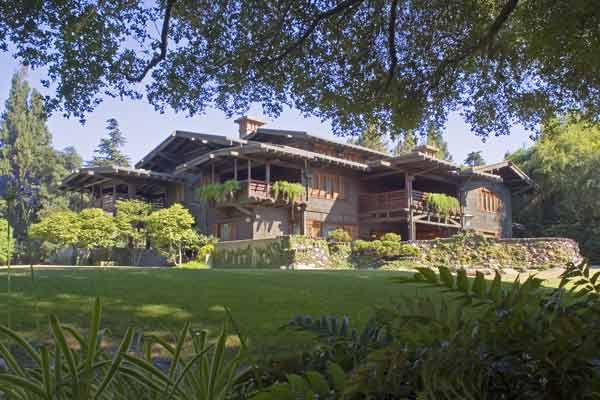 Arts and Crafts–related literature rarely discusses Christmas decoration. However, a February 1921 account by Mary Gamble discusses an exception made to accommodate the late arrival of her oldest son Cecil, in which she had William, the family gardener, decorate a tree on the lawn as a Christmas tree for the belated celebration. "I don't even know if they had a tree in the house," says Anne Mallek. "They don't mention it."
For a similar look, string outdoor lights around a single tree in your yard to provide low-key light and festive curb appeal.
For further reading on the house and the Gambles, read Gamble House Aid (Architecture in Detail), about $20; Amazon). A book on The Gamble House and the family is due out in spring 2015.
Next: Read on for tips on decking out your home like the house of iconic American architect Frank Lloyd Wright.
Precursor to Prairie Style at Frank Lloyd Wright Home and Studio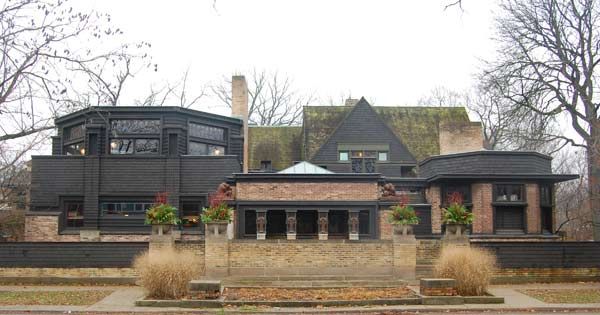 Despite its notable name, the Frank Lloyd Wright Home and Studio, in Oak Park, Illinois, is neither palatial nor grandiose. The 1889 home housed his family and served as an ever-evolving structure in which the architect experimented with Shingle Style and Arts and Crafts decoration as a sort of testing ground for the new form of Prairie style.
"The Wright family at this time wasn't a wealthy family," says curator David Bagnall. "In the 1890s, Wright was only just starting out with his own career." That meant his six children lived through his experiment, with bumpouts and additions to help perfect the soon-to-be-refined Prairie. His son John Lloyd Wright gave considerable context for growing up in such a household through his book My Father Who is On Earth (about $22; Amazon). A mere two pages cover the Christmastime happenings and decor, but that suffices for the house museum's decorating purposes.
Read on to learn about holiday hijinks Wright pulled on his kids.
Frank Lloyd Wright Home and Studio: Playroom Tree Candles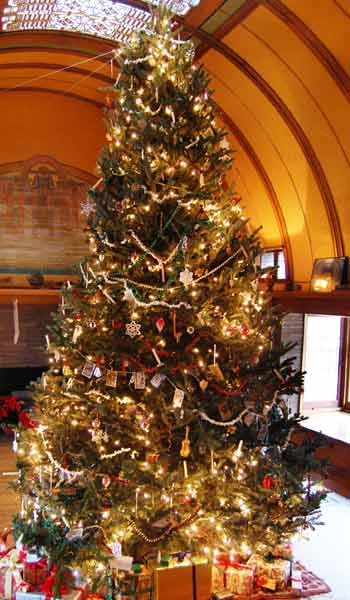 Wright added a large barrel-vaulted room on the second floor in 1895, creating a children's playroom and source of inspiration to his offspring. From John's book we know that the room was the scene of his father's Christmas jesting. "He liked to mess around with the children by wrapping small presents in large boxes," says Bagnall. One constant each year in this space, the focus of the holiday decorating, was a 12-foot Christmas tree festooned with lit candles—and a nearby metal pail filled with water in case of fire. The local fire department no longer allows living Christmas trees in public spaces, so an artificial tree, accented with unlit candles, and an empty pail now decorate the room.
For a similar look, decorate your Christmas tree branches with unlit real candles or LED candles. Give a nod to past fire precautions by nestling an empty pail under the tree with the gifts.
Similar to shown: Kurt S. Adler 10-light clip-on white candle light set, about $16; casa.com
Leaktite 5-quart metal paint pail, about $4; Amazon
Read on to find out more about the traditional decorating elements you can spot in the home today.
Frank Lloyd Wright Home and Studio: Traditional Stockings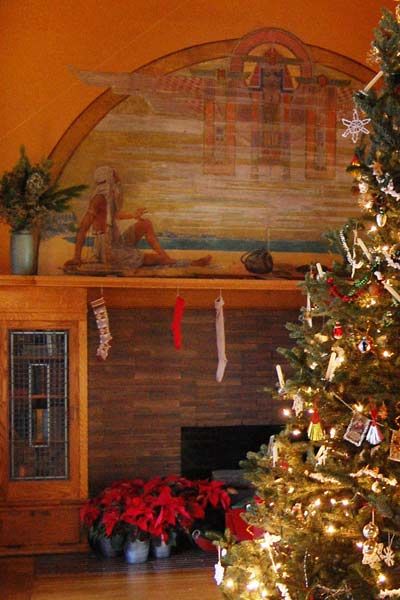 As with the Gamble House, lots of Christmas lights and holiday flair would be inaccurate for the Wright family home. "It's not festooned with greenery and lights because that's not how the house would have been decorated originally," says David Bagnall. Instead, simple floral arrangements and other traditional decor for the time highlight the home's architecture. One of these traditional elements is the knee-high stockings hung on a mantel.
For a similar look, try doing as Wright did and tease the kids into thinking you're downsizing on stocking stuffers by dressing up your mantel with classic stockings.
Similar to shown: Adults' rag doll/elf socks, about $10 for a pair; Target
Continue for curators' tips on safekeeping precious historic items through seasonal decorating.
Display Decorations Without the Damage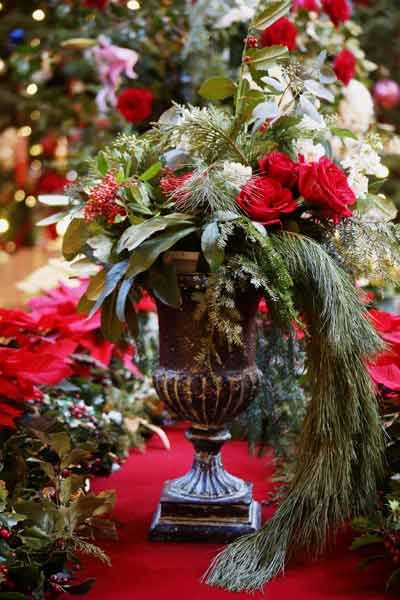 The caretakers of historic properties take extreme care to respect existing architecture, surfaces, and furniture. Here are some of the ways the pros we talked to create picturesque holiday scenes without leaving scars:
• Hanging decor: Creating a new nail hole is a drastic measure in a historically protected home. Prioritize existing holes and distribute the weight of hefty pieces with small finishing nails and fine wire.
• Live greenery and flowers: Many historic properties ban live flowers and greenery indoors, lest they bring in pests or damaging moisture. If you don't want to go faux, keep plants away from paintings, carpets, and upholstered furniture.
• Container plant condensation: Place an extra barrier between poinsettias and underlying surfaces with saucers, plates, or other dishes to catch potentially damaging leaks. If that alone won't cut it, invest in Volara, an acid-free, archival-quality foam the Biltmore House team swears by for placing between container plants and tabletops.
More Resources for Historic Holiday Decorating Ideas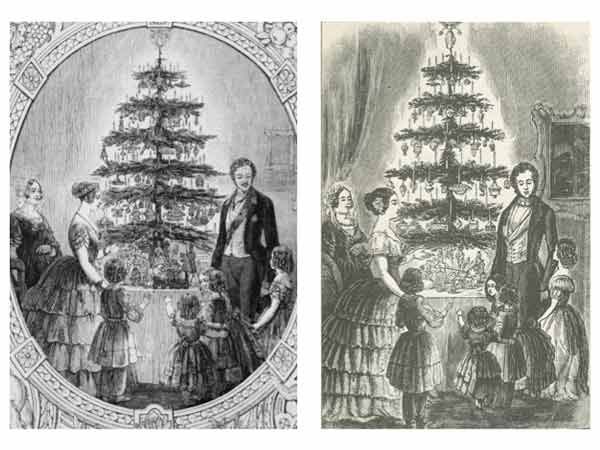 Didn't find what you wanted here? Take a cue from the experts and find some primary and secondary sources for your period-perfect holiday decorating. Here are some tried-and-true sources our experts use for historically informed decor:
• Auction catalogs: Item listings include educated guesses for time periods and styles of objects that can provide context for styles and what you can expect to pay for antique goods.
• Church records: Christmas was once a strictly religious holiday, and community churches documented decorations and other festivities. In the case of Old Salem, that documentation noted how teenagers gathered to create garland roping and had a little too much fun for the church's taste.
• Journals and letters: A line here or there about a celebration, like the descriptions provided by Mary Gamble, can divulge details on gifts, feasts, and more.
• Magazines, books, and art: Popular magazines of the time often outline popular styles and general holiday decorating practices. Our experts suggest publications like Ladies' Home Journal, Craftsman, and Godey's Lady's Book, among others. Edith Wharton, a friend of George Vanderbilt who offered advice on decorating parts of Biltmore House, penned a book with architect Ogden Codman titled The Decoration of Houses; it serves as an excellent resource for Gilded Age style. Fiction books describing interior styles also provide context. Works of art quite literally have painted a scene for celebrations for a variety of historic sites, as well.
Shown: The 1848 illustration (left) of England's Queen Victoria and her German husband, Prince Albert, entertaining with a traditional German tabletop Christmas tree popularized the practice in England. New York City markets started selling Christmas trees a year after the 1850 version (right) of the illustration appeared in Godey's Lady's Book.