Classic Craftsman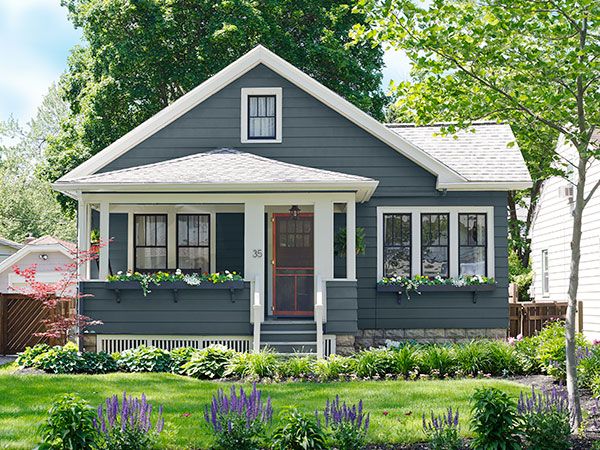 First-time homeowner Bradley Huber hit on a rich palette for the exterior of his 1930 Craftsman after an unfortunate experiment involving pea green.
Paint: Behr's Pencil Point (siding), Chocolate Froth (pale trim), Slate Gray (porch floor and ceiling), and Charcoal Black (dark trim).
Read Bradley Huber's renovation story behind the home: How to Update a Small Home Without a Pro
Welcoming Front Porch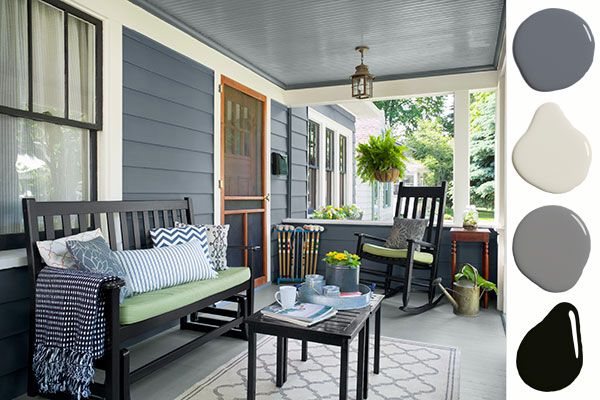 The formerly wan-white house, which he bought for a song, cried out for color inside as well as out.
Pendant light and porch furniture: Lowe's
Hand-Built Oak Mantel
Brad renovated his living room through trial and error. He built the mantel piece by piece with precut oak plywood, added a gas insert found on Craigslist, framed the flat-screen—hiding its wires and DVD player among books—and finished the walls with two neutral shades.
Paint: Behr's Elephant Skin (hearth wall) and Wheat Bread (window wall)
Living Room: The First Try Paint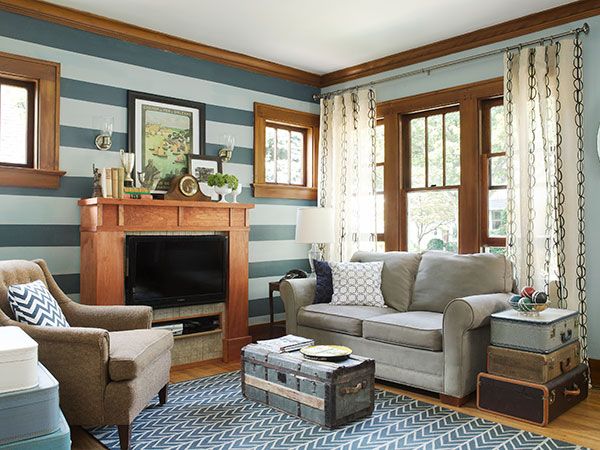 Earlier, he hung the flat-screen down low and tried a wall of bold stripes—but they clashed with the dining room's new wallpaper.
"I put paint chips up against the woodwork, painted samples on the wall. But it's hard to tell if a color is right until you've done the entire room," says Brad.
Framed Flat-Screen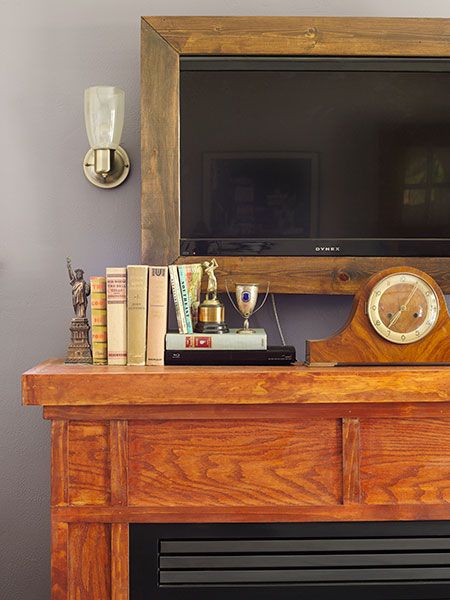 "TVs above the mantel are not my favorite thing," says Brad, who framed his flat-screen as a way to disguise it "so people would notice the fireplace first."
Patterned Dining Room Walls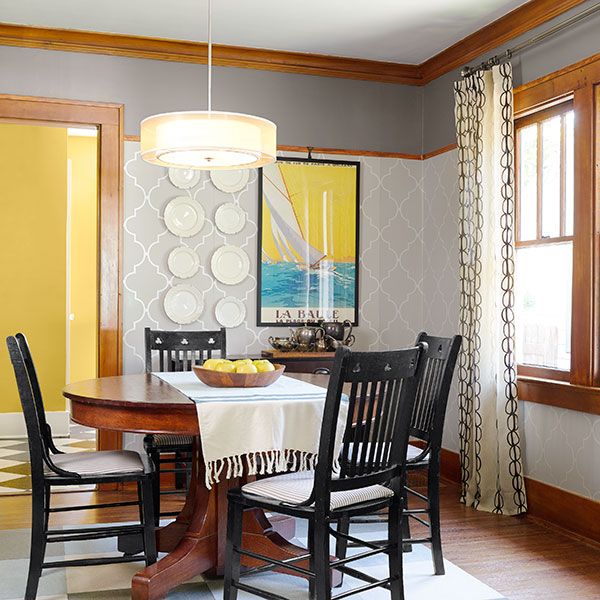 Wallpaper with a Spanish tile design, a band of darker gray above, and a stylish pendant light give the dining room an updated look.
Wallpaper: Lowe's
Area rug: Flor
Pendant light: Overstock
Curtains: IKEA
Travel poster: Allposters.com
Dining Room: The First Try Paint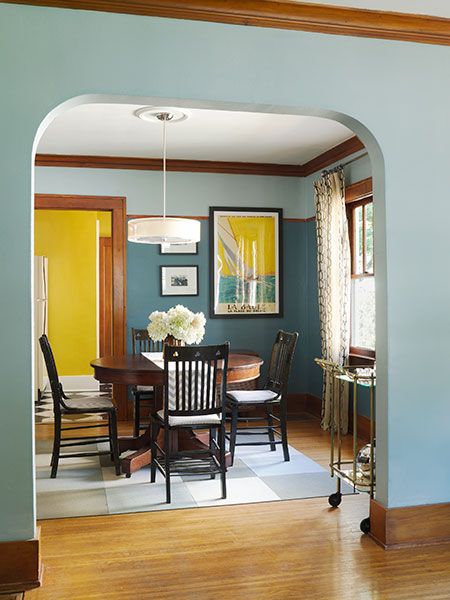 The initial scheme—"Too bold," Brad says now—echoed the blues in the now-defunct living room stripes. "I found a wallpaper I liked for the dining room, one with a subtle pattern—the blue walls were too loud. But then it didn't go with the living room…."
Picture Rail Trim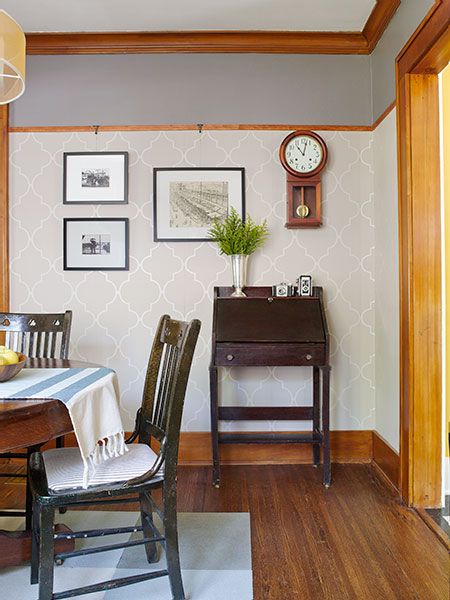 The house came with minimal woodwork, so "I kicked it up a notch," Brad says, by adding picture rail in the dining room stained to match the existing baseboards.
Yellow and White Kitchen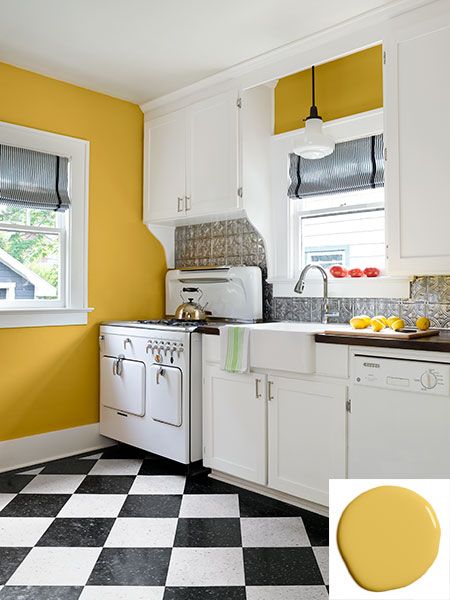 Brad painted before replacing the kitchen appliances, countertops, sink, flooring, and cabinet doors. "My main concern is that yellow with the black-and-white checkerboard floor reads too retro," he told readers of his blog. "I'd like some feedback on that, so chime in."
Paint: Behr's Galley Gold (walls)
Laid-Back Bedroom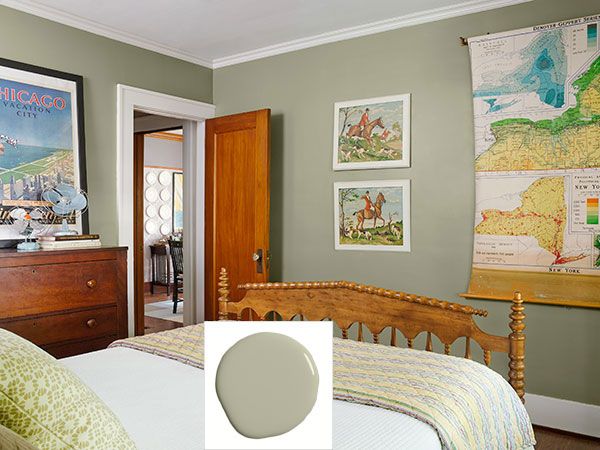 A soothing green complements the front bedroom's wood door and furnishings.
Paint: Weekend Getaway (bedroom walls).
Blue and White Bath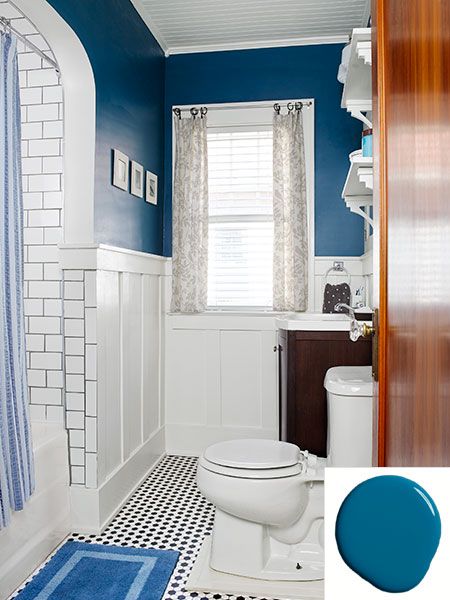 Formerly Pepto-Bismol pink, the bath has a new beadboard ceiling, faux board-and-batten wainscot, and open shelves, all painted with a white "hiding and leveling" latex.
Paint: Muralo custom blend (woodwork and trim) and Benjamin Moore's Blue Danube (walls)
Vanity: The Home Depot
Curtain fabric: DwellStudio
DIY Bath Tile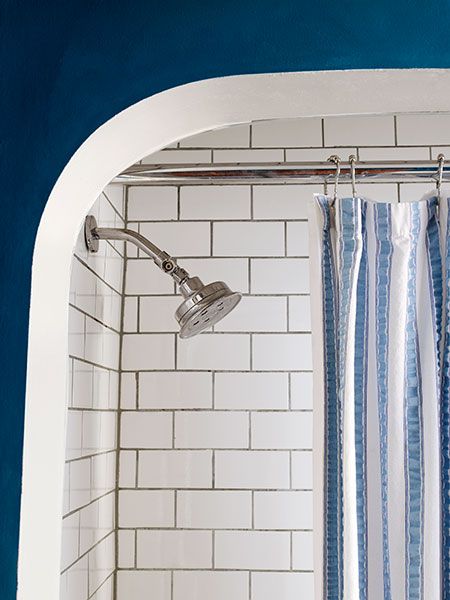 Brad retiled the tub alcove with white subways and dark-gray grout—without benefit of a tile saw.
Tile: The Home Depot
Outdoor Room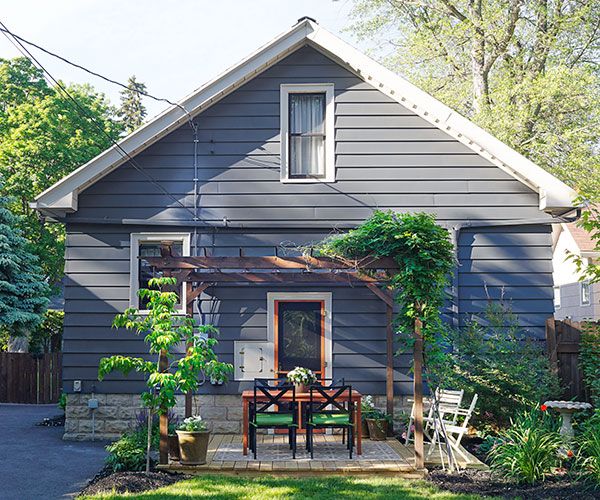 Brad chronicled every step of the DIY backyard pergola and patio—made with salvaged pavers—on his blog, ittybittybungalow.wordpress.com.