Thrifty Smarts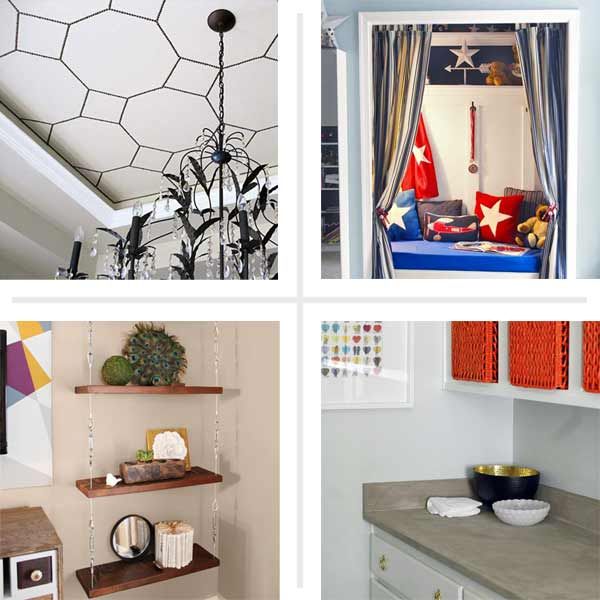 With trademark ingenuity and everyday tools, bloggers find ways to combine sweat equity with a handful of affordable materials to solve the sorts of dilemmas that less creative homeowners can only gripe about. Follow their optimistic examples and you'll soon be enjoying enhanced spaces in your own house, with money left over for, yep, your next project.
1. Beadboard Kitchen Banquette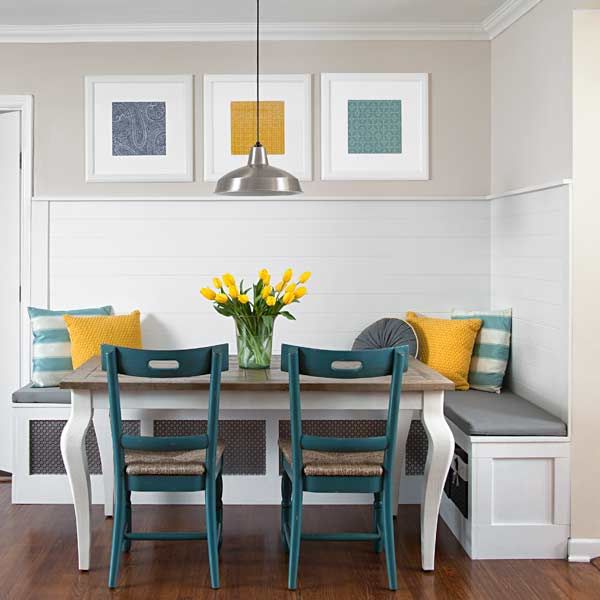 Masterminds: Sada and Reagan Lewis tackle renovation projects in their 1960s ranch, in San Antonio, and share them at sadalewis.com.
Inspiration: "This was a funny little corner next to the kitchen, and since we don't have any seating in the kitchen itself, we knew this would be ideal for entertaining—and for the baby," says Sada, who was 8 months pregnant with their daughter, Paige, when they completed the project.
How They Did It: They bought framing lumber, measured chairs for reference, and built the banquette 16 inches deep and 20 inches high. They stapled perforated aluminum sheets to the front of the L-shaped bench seat's long side, which covers an AC register, and left the short side open for basket storage. Preprimed MDF beadboard, oriented horizontally and framed at the top and sides, form the bench's back. Reagan gets hero honors: In the Texas heat, he shimmied into the attic's crawl space to move an existing junction box so that the new pendant light would be centered over the table.
What It Cost: $490 for the framing lumber, MDF beadboard sheets, and trim ($290); metal sheeting ($65); seat-cushion foam ($75); pendant light ($30); and paint supplies ($30). Using leftover fabric and paint helped keep the project's costs down.
2. Garden Bench From an Old Bed: After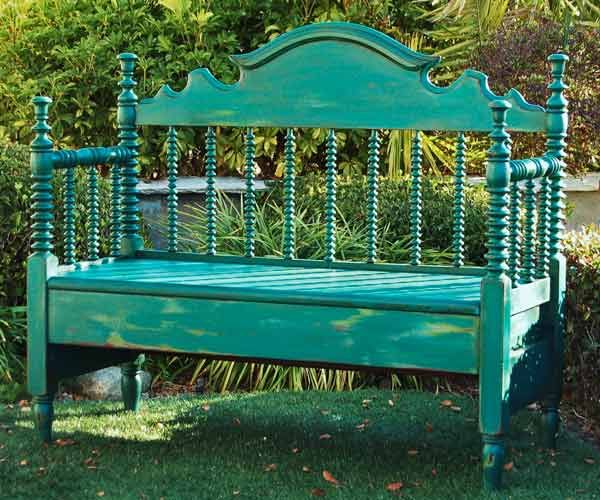 Masterminds: Marjee Ann Kress ("Mak") and Jill Wilson restyle secondhand furniture for their shop, in San Clemente, California, where Jill's husband, Simon Wilson, provides much of the carpentry magic. They dispense their know-how and style tips at makandjill.com.
Inspiration: "We like to find old pieces of furniture with great lines and give them new life," says Mak. "This spindle bed had no future, since not many people use double beds now, so we went and turned it into a garden bench!"
Smart solution: To give the piece a distressed look, Mak and Jill applied a base coat of Annie Sloan Chalk Paint in a bright green and followed with a cheerful mix of Florence and Napoleonic Blue. Then they randomly roughed up the surface with 150-grit sandpaper and finished with a coat of polyurethane to protect the piece outdoors.
2. Garden Bench From an Old Bed: Before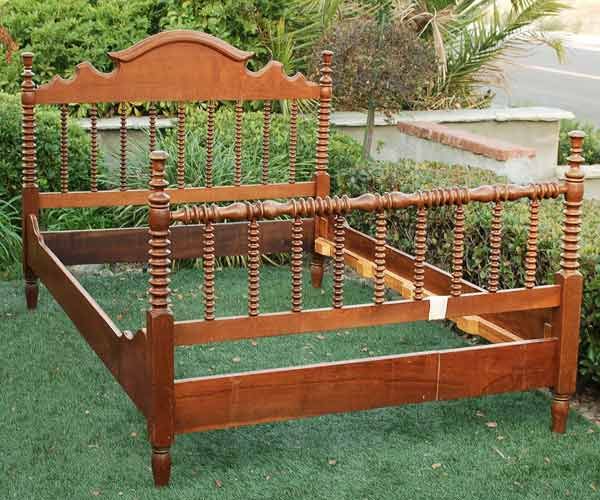 How They Did It: Simon merged parts from the 1930s maple bed and an old coffee table. He used the intact headboard for the bench's back and cut the spindle footboard in two to form the arms. The bed's side rails frame the seat, which he made from the coffee-table top. For maximum strength and stability, he glued and screwed every joint and added corner brackets. Mak and Jill finished the bench with a distressed paint treatment and added a final coat of polyurethane for protection.
What It Cost: $30 for the bed ($20) and table ($10). All the sandpaper, paint, and polyurethane for the finish was left over from other projects.
3. Interior Barn Door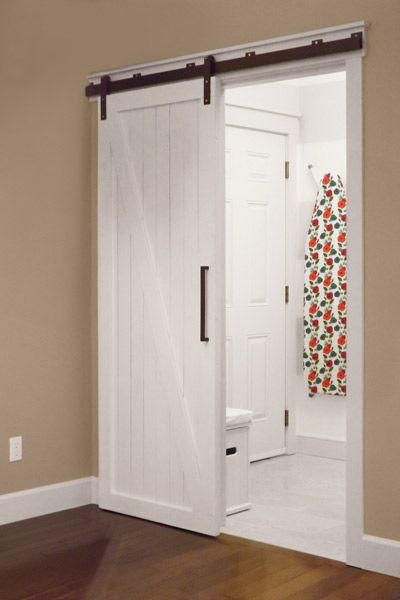 Masterminds: Ashli and Lee Malinek collaborate on projects for their manor-style house, in British Columbia, and post them on their blog, maillardvillemanor.com.
Inspiration: "This idea came out of necessity," Ashli says. "We had a swinging door between our kitchen and mudroom that would hit the table in our eating area when it swung in. I love the look of sliding barn doors and realized that was the solution."
How They Did It: Lee built the door from pine 2x4s and slats, and Ashli primed and painted it. Lee welded the track and straps out of ¼-inch steel from a metal fabricator; the wheels came from an automotive shop. Ashli found the appliance pull and unified all the metal pieces by coating them with Rust-Oleum's oil-rubbed-bronze spray paint.
What It Cost: $170 for the handle ($20); metal track and wheels ($30); timber and slats ($60); and primer and paint ($60).
4. Concrete-Look Countertops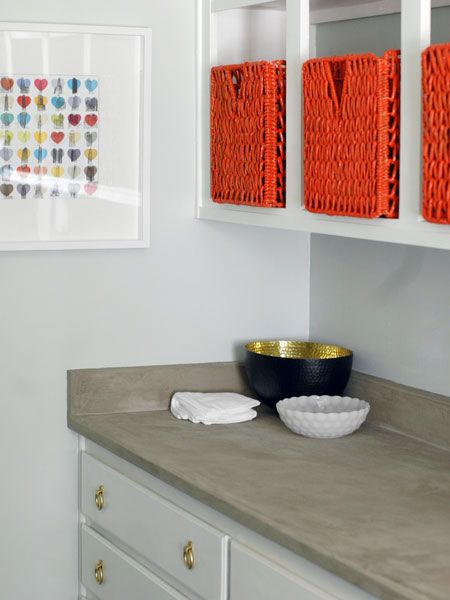 Mastermind: Jenny Komenda, an interior designer who loves a good DIY project, applies her design skills to the two-story multi-gabled house in Phoenix that she shares with her husband and three young daughters. She chronicles her projects at littlegreennotebook.blogspot.com.
Inspiration: "I wanted to change the laundry room's old laminate countertops, and I couldn't splurge on stone. I was totally inspired by a tutorial I saw on another design website, karapaslaydesigns.com, and decided to give this really inexpensive solution a try. Instantly more up-to-date."
How She Did It: Jenny cleaned and roughed up the existing laminate and applied three thin layers of Ardex Feather Finish, a portland-cement-based product typically used as a flooring underlayment. She spread on the mix in a fashion similar to frosting a cake, sanding after each layer, and finished with two coats of clear concrete sealer to repel water.
What It Cost: $40 for Ardex Feather Finish mix ($15) and Sikagard Natural Look clear concrete sealer ($25).
4. Concrete-Look Countertops: Step 1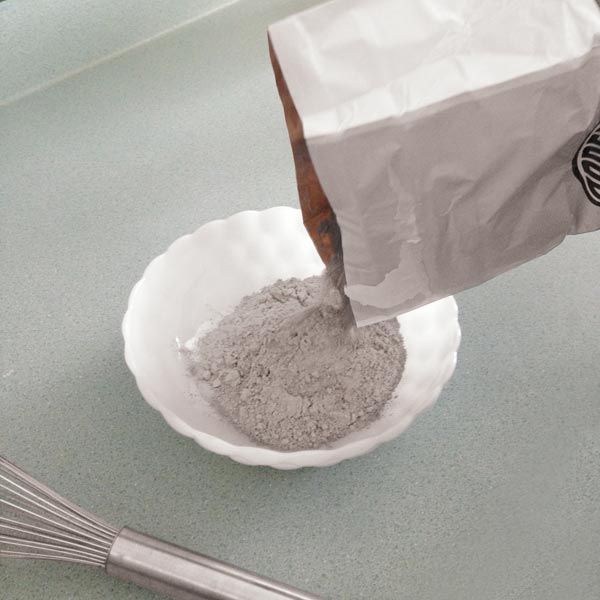 Jenny mixed up a batch of Ardex Feather Finish to a thick-gravy consistency.
4. Concrete-Look Countertops: Step 2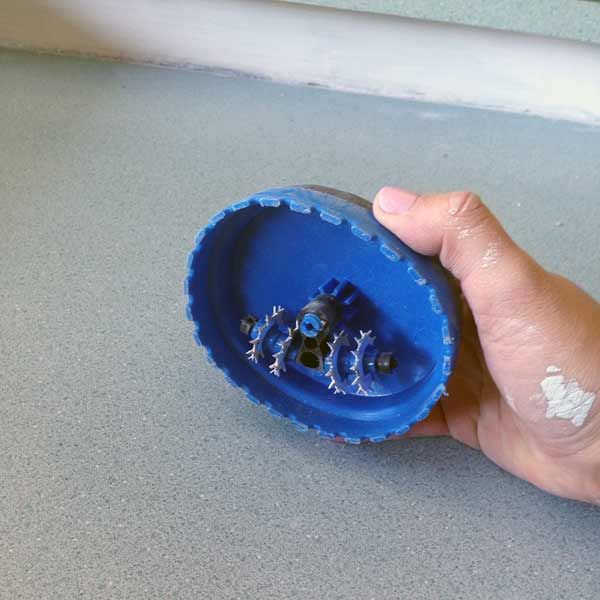 To help the product adhere, she used a wallpaper scouring tool to roughen the old surface. (Sanding thoroughly with a coarse grit would work well too.)
4. Concrete-Look Countertops: Step 3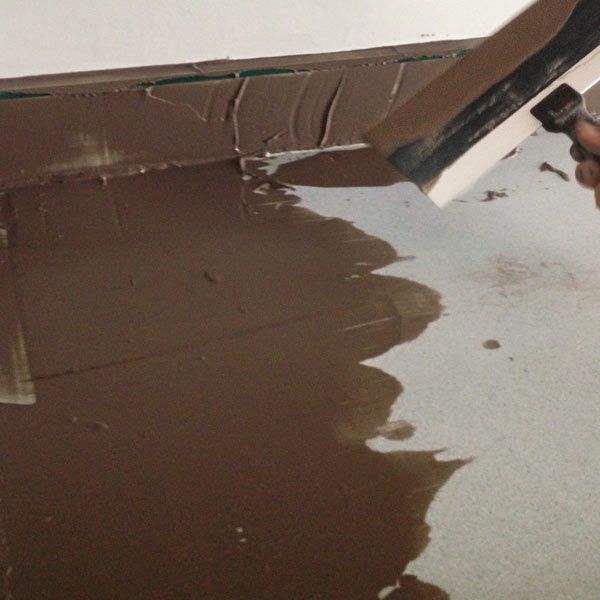 With a wide taping knife, she applied three thin layers of the mix, sanding between layers.
4. Concrete-Look Countertops: Step 4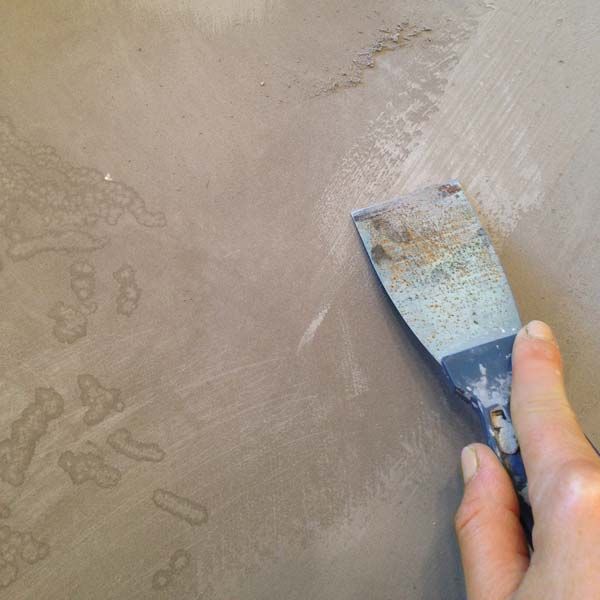 A small putty knife helped smooth lumps and bumps. Jenny also used the knife to score a line between the countertop and wall to suggest the seams of solid slabs.
4. Concrete-Look Countertops: Step 5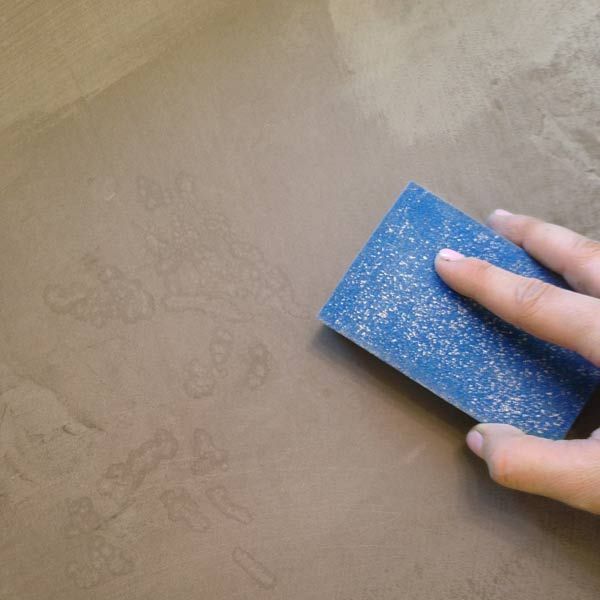 A final sanding reveals natural patterns.
4. Concrete-Look Countertops: Step 6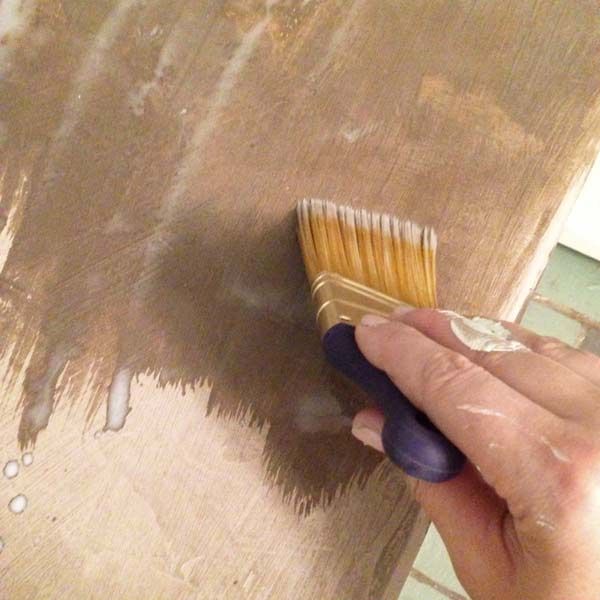 Jenny brushed on two coats of clear sealer, letting each fully saturate the countertop.
5. Closet Turned Reading Nook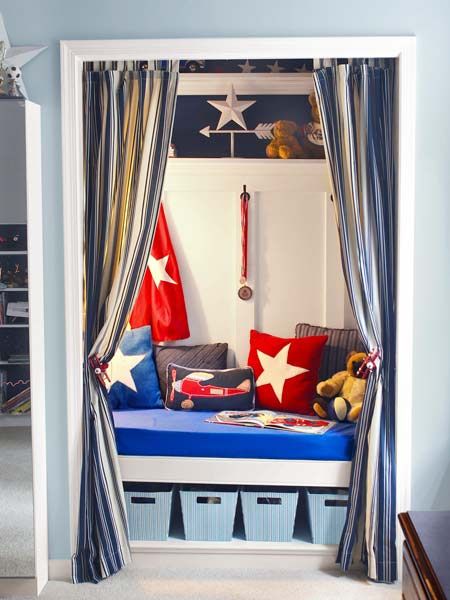 Mastermind: Brittany Bailey has been fixing up the 1978 Dutch Colonial she shares with her husband and two sons, in Raleigh, North Carolina, for seven years. She shares her DIY ideas on prettyhandygirl.com.
Inspiration: "My older son has a walk-in closet in his room that he uses as a hideaway, but my younger son's room only had two small closets, so I converted one into a reading nook for him."
How She Did It: Brittany removed all the trim from the closet's interior. For a built-in bench with open storage, she built two frames. The first frame hugs the inside perimeter of the closet at floor level and has a piece of plywood nailed onto it, forming a storage shelf. The second frame, for the bench, hugs the closet perimeter at a height of 19 inches. Brittany anchored the frame to the wall studs, then added two center supports and topped the frame with plywood for a seat. Two 8-inch-deep display shelves are finished with crown molding; 1×4 pine furring strips suggest wall panels.
What It Cost: $270 for lumber and trim ($80); hardware and hooks ($20); paint ($60); curtains ($25); foam cushion ($80); and a light ($5).
6. Bookcase Kitchen Island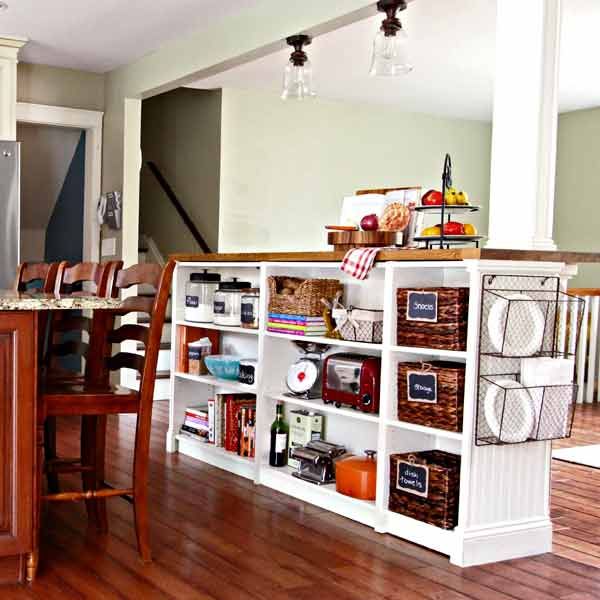 Masterminds: Courtney and Bill Affrunti have renovated three homes, including the 1956 split-level in New Jersey where they are raising three sons. They write about it at goldenboysandme.com.
Inspiration: "We wanted to add storage and build an island,"Courtney says. "IKEA shelves gave us an affordable way to do it."
Smart solution: Three low bookcases supply open storage on one side of the island. On the other side, a corbel-supported overhang creates a seating area. Outlets installed high up on the living room side of the half wall give the family a place to plug in.
6. Bookcase Kitchen Island: Detail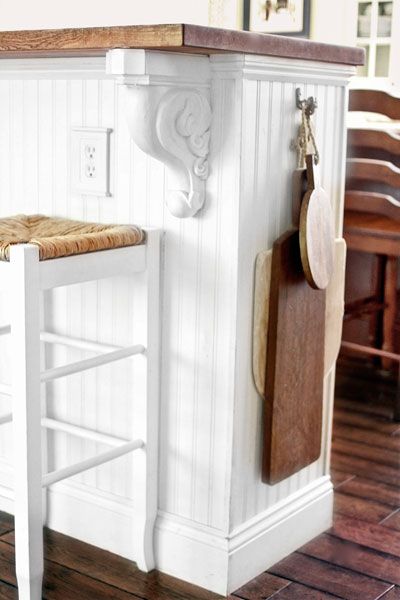 How They Did It: A contractor helped the couple take down the 6½-foot-wide load-bearing wall and install a laminated veneer lumber (LVL) beam overhead. Bill built the half wall and added the column. To create a kitchen island with open storage, he fastened three prefab bookcases from IKEA to the kitchen side of the half wall. Then he wrapped the island's three closed sides with beadboard and added a butcher-block top.
What It Cost: $583 for three low Billy bookcases ($105) and a butcher-block counter ($169) from IKEA; lighting ($109); and construction materials, including MDF beadboard sheets, molding, and corbels ($200).
7. Diagonal Plank Wall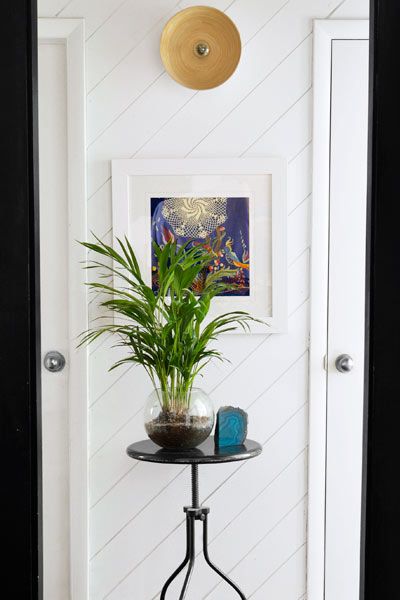 Mastermind: Mandi Gubler applies her "fearless DIY" philosophy to projects in her home in southern Utah and on her blog, vintagerevivals.com.
Inspiration: "I wanted this small stretch of hallway near my girls' bedrooms to have texture and interest and fun at the same time, and I was ready to rethink the black and white painted stripes. I had been noticing awesome planked walls floating around the Internet, but I wanted mine to be different, so I planked diagonally instead of horizontally."
How She Did It: Mandy bought two ⅛-inch-thick, 4-by-8-foot pieces of Masonite and had the home center rip them into 5-inch-wide planks. Once home, she measured starting from the bedroom door casing and cut the planks to length, using a miter saw to make 45-degree cuts at the ends where they meet the door trim, wall, or ceiling. She made straight cuts wherever two lengths butted end to end. Scraps of Masonite served as spacers to create a slight gap between the rows. Mandi fastened the planks right over the black-and-white-striped wall using a nail gun, then filled in the nail holes, primed, and painted.
What It Cost: $16 for two 4-by-8-foot pieces of Masonite; she used spackle, primer, and paint left over from other projects.
7. Diagonal Plank Wall: Step 1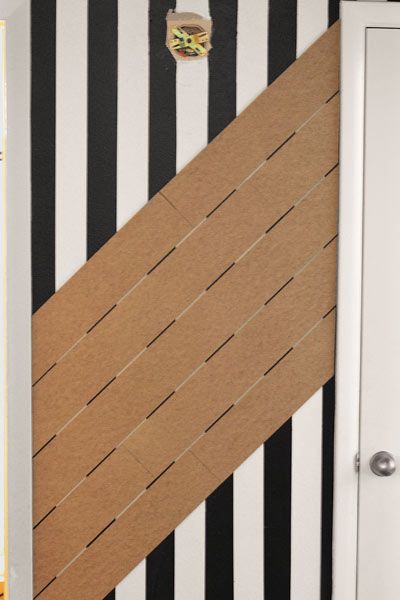 Mandi measured between casings on a diagonal, then used a miter saw to cut Masonite planks to length with 45-degree angles at the ends that meet trim, wall, or ceiling. Between planks, ⅛-inch Masonite scraps served as spacers.
7. Diagonal Plank Wall: Step 2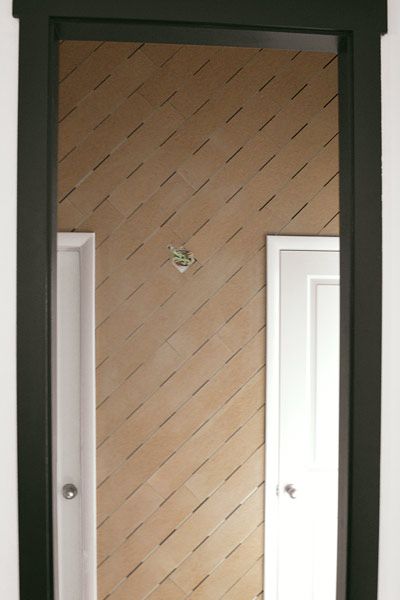 She fastened the planks to the wall with a nail gun. On long runs, she made straight cuts where the ends butted together.
7. Diagonal Plank Wall: Step 3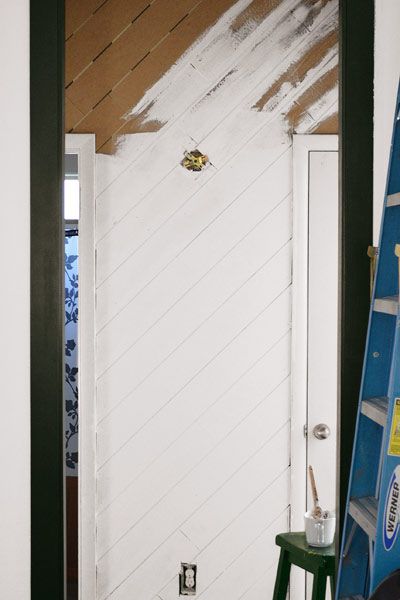 After installation, she filled nail holes, primed, and painted.
8. Nailhead Dining Room Ceiling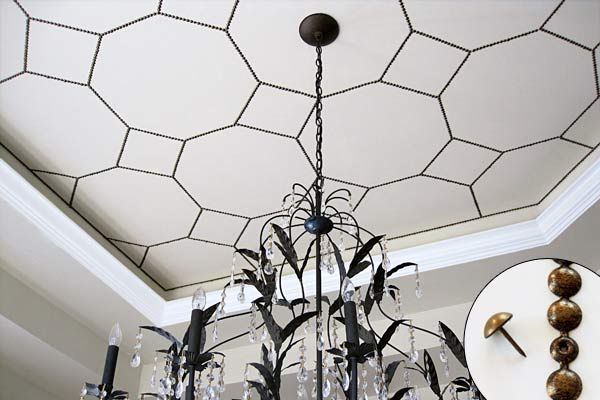 Mastermind: Pam Zundel adds her stylish touches to the 1938 Denver-area home she shares with her husband, son, golden retriever, and cat. She writes about it at simpledetailsblog.blogspot.com
Inspiration: "I thought it would be fun to give the tray ceiling in our dining room some pattern. I saw a patterned feature wall that designer Kara Paslay created at karapaslaydesigns.com, and I adapted the design for a ceiling, using nailhead strips and matching tacks I purchased at a fabric store."
How She Did It: For her 8-by-9-foot tray ceiling, Pam made a 21-by-22-inch octagonal cardboard template and traced its outline onto the ceiling using a pencil, starting at the chandelier. Using her sturdy dining room table as a scaffold, she tacked the nailhead strips in place along the pencil outlines. The flexible strips have openings for tacks at regular intervals and were easy to break off into segments to fit the pattern. Pam framed the overall design with a nailhead border.
What It Cost: $65 for forty-four 40-inch-long nailhead strips in an antiqued-brass finish ($44), plus $21 for the matching tacks.
9. Cable-and-Turnbuckle Hanging Shelves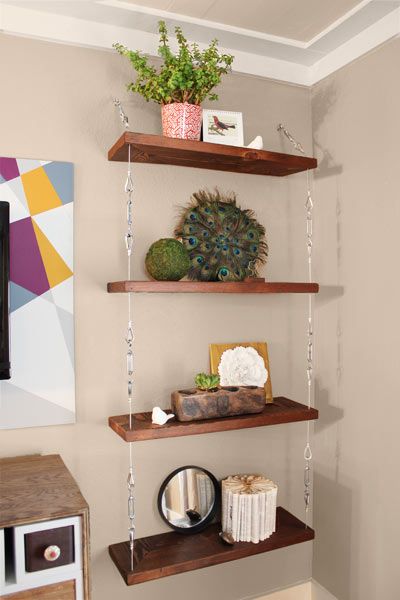 Masterminds: Kara and Tim Paslay bought a 1936 cottage in Tulsa, Oklahoma, shortly after graduating from college. By the time they moved to a loft downtown five years later, the couple had gutted the cottage to the studs and rebuilt it. They share their mutual love of DIY on karapaslaydesigns.com/blog.
Inspiration: "Kara wanted to bring some visual balance to the living room wall, where there was already a media console and a window," says Tim. "I thought hanging shelves would be good for the small area since we didn't want anything with a big profile."
How They Did It: Tim made four shelves from Douglas fir, cutting the ends at a 45-degree angle, flipping the triangles, and gluing and pin-nailing them back on so that he would have three finished edges. Then, after determining the shelf heights with Kara, he ran lengths of 3/16-inch galvanized-steel cable through the front corners, making loops at either end and joining them with turnbuckles. He hung the entire assembly from two eyebolts anchored into the framing; screws in the wall fit slots routed into the back of the shelves to keep them level and secure.
What It Cost: $138 for Douglas fir ($25); turnbuckles ($64); ferrules and stops ($16); crimping tool ($20); loop thimbles ($10); and eyebolts ($3). He used leftover stain.
9. Cable-and-Turnbuckle Hanging Shelves: Step 1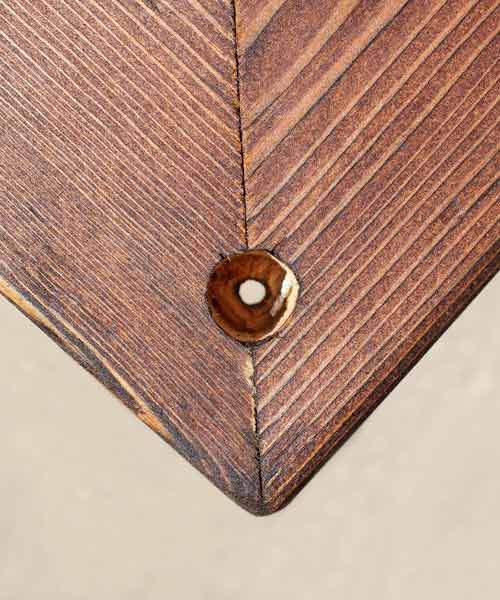 Tim drilled holes for 3⁄16-inch galvanized-steel cables in the front corners of four Douglas fir shelves, using a spade bit to hide metal stops on the underside.
9. Cable-and-Turnbuckle Hanging Shelves: Step 2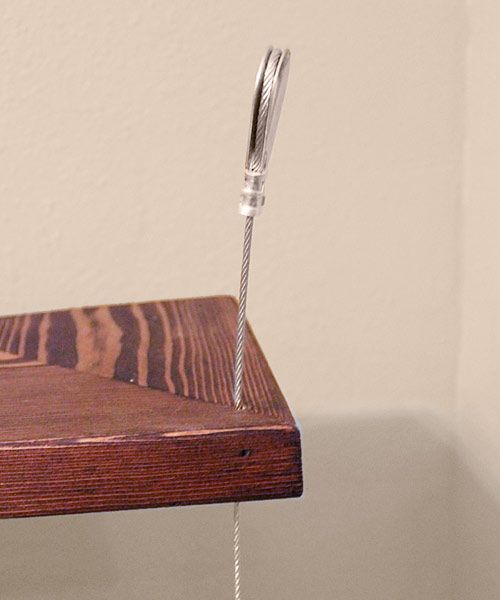 With the shelf spacing determined and taking into account the length of the turnbuckles, he cut two pieces of cable per shelf, looping one end around a metal thimble to hold the wire's shape and securing it with a crimped ferrule. He slid the cable into the hole, threaded a metal stop onto the open end and crimped it at the cable's midpoint. With the shelf lowered onto the stop, he secured a loop at the other end of the cable. The last shelf only needed one looped end and a stop.
9. Cable-and-Turnbuckle Hanging Shelves: Step 3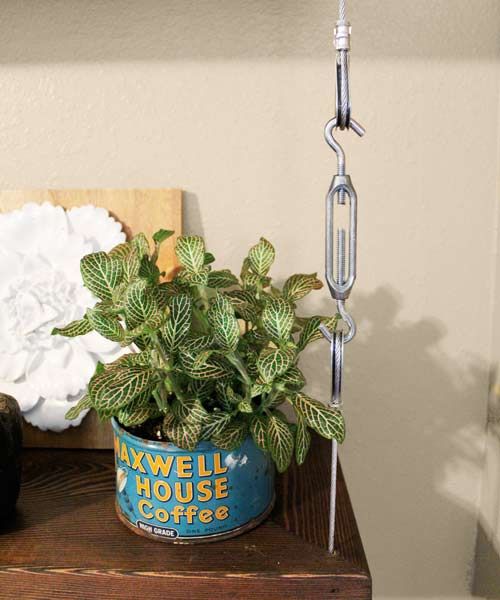 Turnbuckles join the looped cable ends together, allowing for a bit of adjustment to level the shelves.
9. Cable-and-Turnbuckle Hanging Shelves: Step 4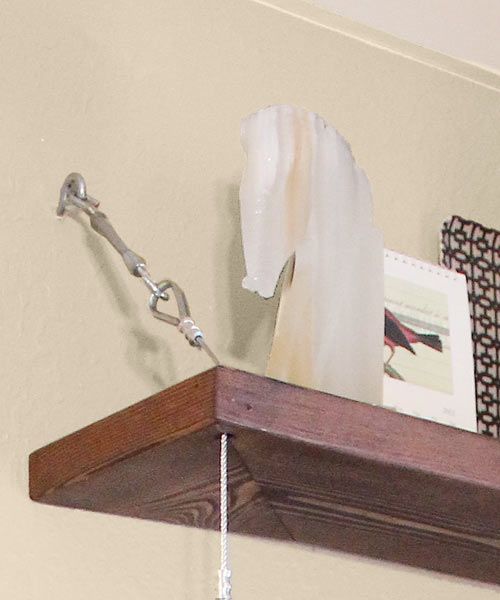 Finally, Tim hooked turnbuckles into two eyebolts anchored high on the wall that support the whole shelf unit.