New Comfy Homes in Old Buildings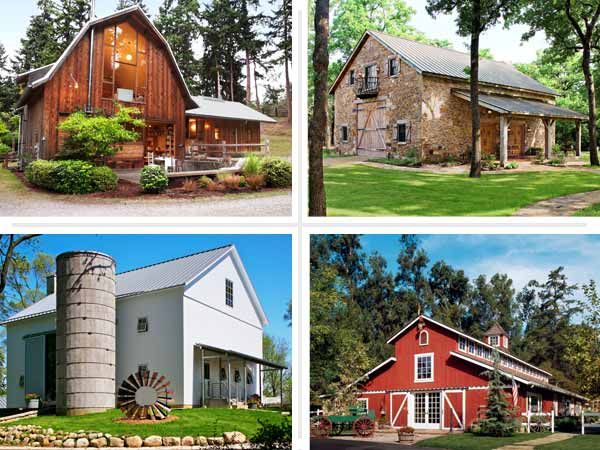 Our hard-farming forebears would be amused. We've moved our livestock into factories and ourselves into the barn. Never mind the drafty siding, gaping doors, sky-high haylofts, and wide-open spaces that make barns so hard to heat. For those who are smitten by hunky old beams or maybe just a gambrel roof, nothing but a barn will do—even if it does mean developing an eye for untapped potential and a network of subcontractors with unusual skills. The payoff is a chance to save a piece of history, to own and occupy a rare antique—bragging rights in an era of tree farms and MDF. Read on for the stories of four living barns, brought back from the brink by their visionary owners.
Before: Earthbound Artwork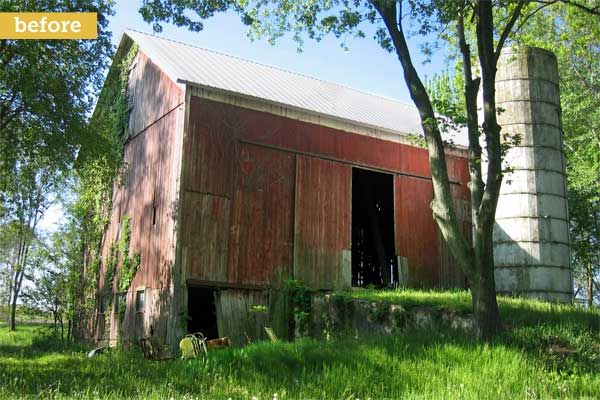 When art gallery owner Judith Racht acquired a lovely old farm in Niles, Michigan, 25 years ago, she knew the house was a bore. But the romantic-looking barn out back? "I always had this idea I was going to do something with it," she says.
Shown: The 19th-century Michigan barn had more charm than creature comforts.
After: Earthbound Artwork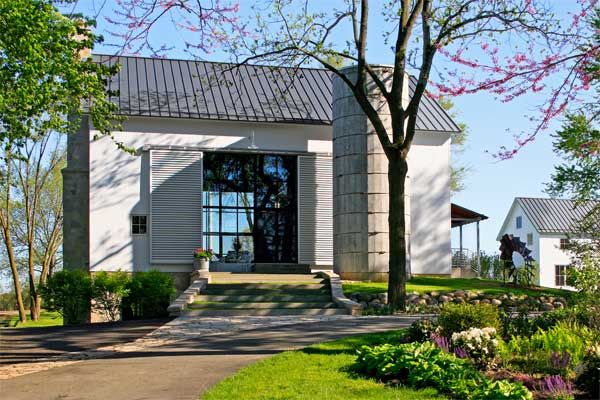 Several years ago, she came up with a plan, and that's when architect Austin DePree got involved. "He really put my ideas on paper," she says of an elegant upgrade that juxtaposes old wood and contemporary finishes.
Shown: Raised and rebuilt with sliding louvered shutters, it still has its silo and pleasing profile.
Barn Proud Homeowner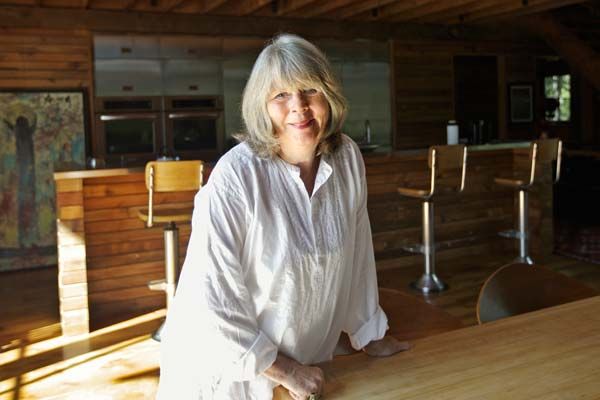 After local house movers jacked up the barn for a new foundation, general contractor Steve Nitz rebuilt the walls from the inside out, cladding the hand-hewn frame with reclaimed barn wood, followed by padding for chases, insulation, sheathing, and aluminum panels.
Shown: Proud barn owner Judith Racht
Amenities: Earthbound Artwork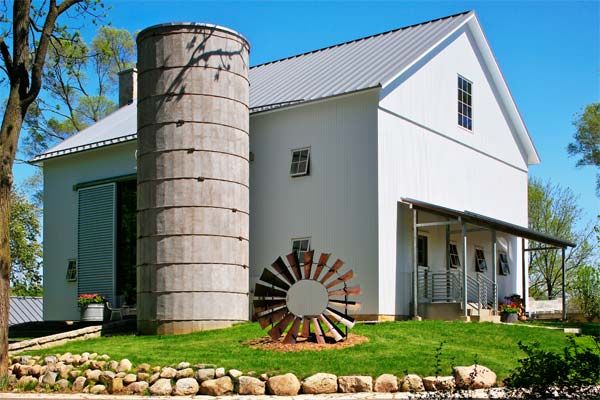 He worked sheets of glass into larger versions of the old barn-door openings, digging channels in the floor to catch condensation; wind and geothermal energy contribute power and heat.
Shown: Art lover Judith Racht planted a sculptural windmill blade near the side entrance; a working wind turbine hides behind the silo.
Materials- Reclaimed Barn Wood: Earthbound Artwork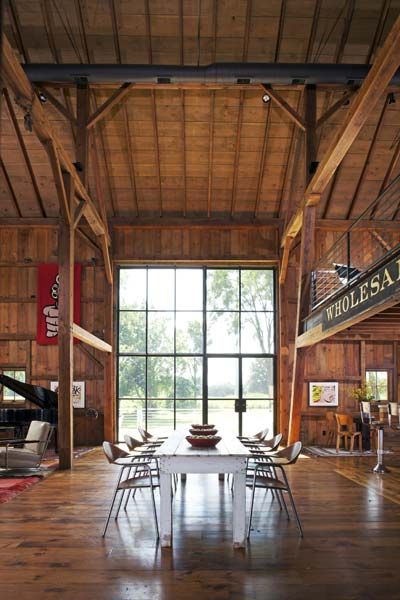 To keep the walls from moving and to support an often snow-laden zinc roof, the team reinforced the collar ties with steel tension rods.
Shown: The original post-and-beam frame is lined with reclaimed barn wood and has a dining area illuminated by soaring steel-framed glass panels. The master suite sits hayloft-style over the kitchen.
Materials- Beams: Earthbound Artwork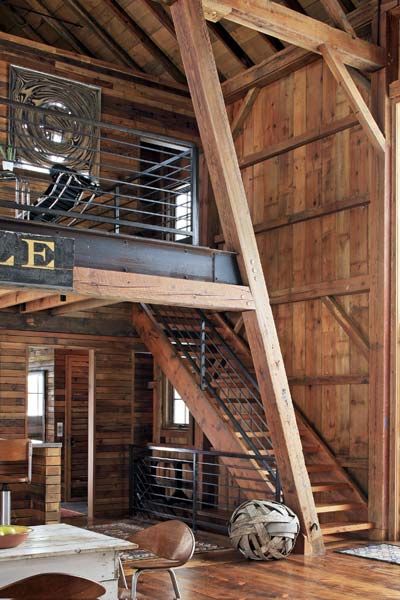 Masons, metal workers, and structural engineers also did their part to turn the barn into a polished work of art. "It was a great collaboration," DePree says. Often with such conversions, he adds, "there's a tendency to add more, but the focus was to simplify and reduce it down."
Shown: An original support beam, tilted to give wagons turnaround space, is joined by a new steel beam and found art.
Split Level : Earthbound Artwork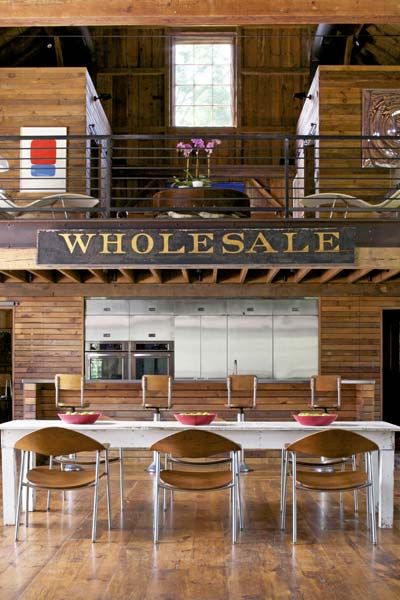 As a result, amenities like the kitchen fade into the woodwork and what you feel—to Judith's great satisfaction—is the warmth and character of a beloved old barn reinterpreted with a modern eye.
Shown: The master suite looks over the dining area, where mid-century-modern chairs mingle with a farmhouse table and a kitchen framed by reclaimed barn wood.
Industrial Accents: Earthbound Artwork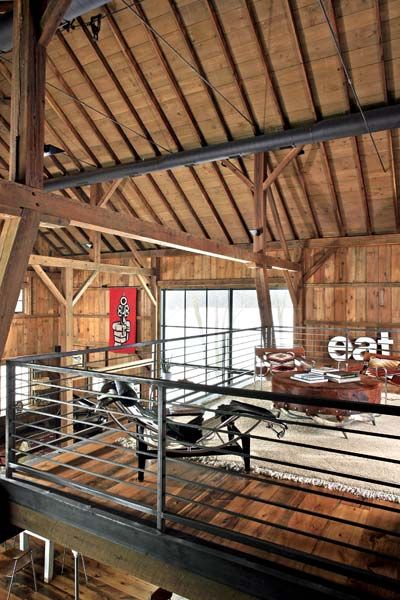 Steel tension rods and pipes reinforce the roof, and a steel beam helps hold up the master suite. Cable railing echoes the lines of the barn wood and metal alike.
Master Bath: Earthbound Artwork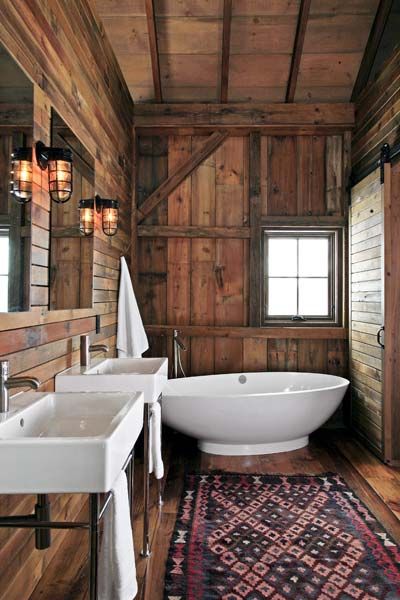 Clean-lined fixtures keep the master bath from feeling like a cigar box.
Before: Ranch Deluxe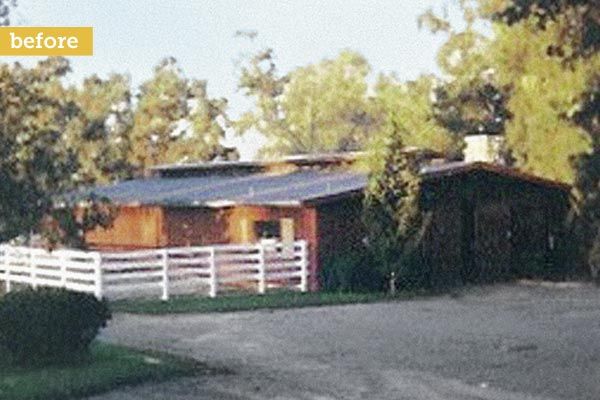 Gail Claridge's job as an interior designer is to conjure up style—Tuscan, French, Americana, whatever her clients hanker for—so turning her mid-century horse barn into a home wasn't a big stretch. Plus, she's in Ventura County, California, north of Hollywood, where reinvention is a way of life.
Shown: The squat 1949 horse barn before renovations.
After: Ranch Deluxe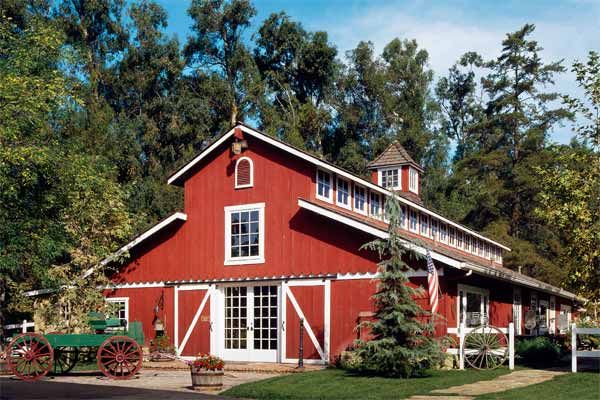 "At first we thought we could use the barn for my husband's vintage cars," she recalls, "but, as we discovered, the barn aisle wasn't wide enough for a 1957 Chevy to turn into a stall." For a while they used the barn to store other stuff.
Shown: The owners raised the roof, turned the corrals into porches,and converted the stalls to living spaces.
Vet's Room Turned Kitchen: Ranch Deluxe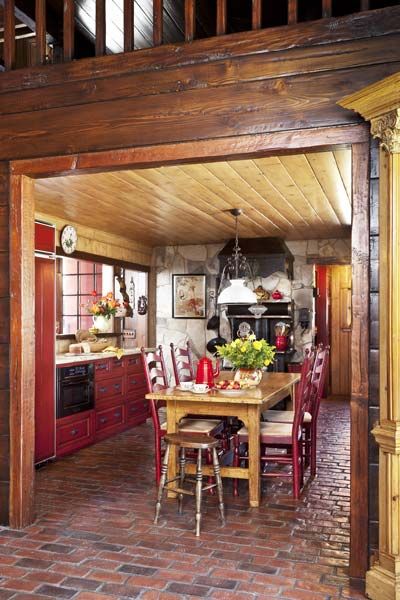 Then, she says, "Scene Two: Live in the barn. It just adapted itself so easily. The washing stall became a bathroom because the water was there. The vet's room had a big, long counter for horse liniments, so it was the perfect spot for the kitchen."
Shown: The kitchen is in the former vet's room and has its original pine ceiling, along with new barn-red cabinets, a vintage Superior stove, and a stone wall.
Transformed Horse Stalls: Ranch Deluxe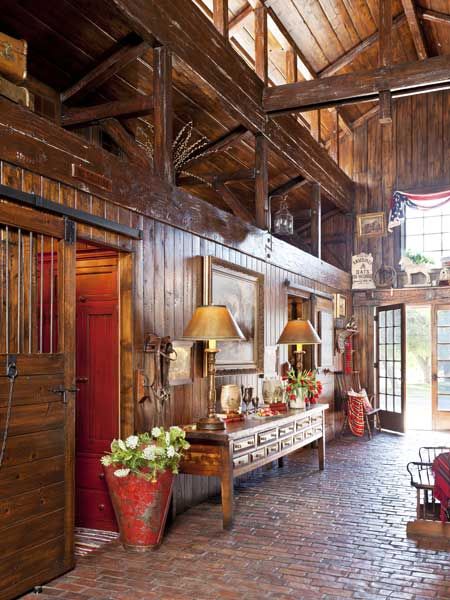 Gail and her son, Joe, both general contractors, managed the transition, slapping a wishing well over the septic tank, adding porches where there used to be corrals, raising the roof to insert a row of windows, and topping the barn with a cupola and an equine weather vane. Scalloped, red-painted siding and white trim add to the spirited new profile.
Shown: Former stalls now hold bedrooms and baths behind sliding doors. The low-care floor is blackened brick topped with polyurethane. To bring in more light, the owners added windows along the length of the raised roofline.
Barn Bedroom: Ranch Deluxe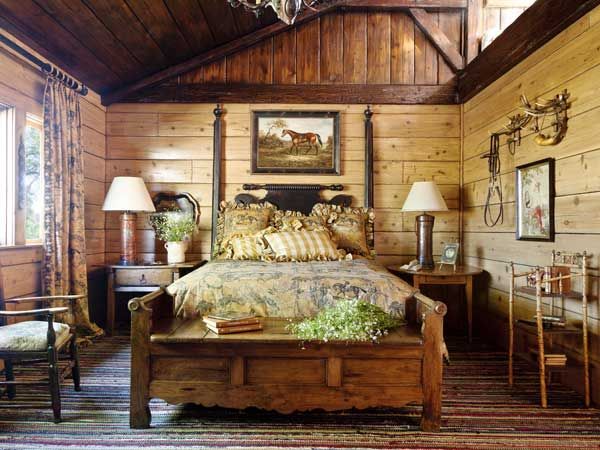 They had fun inside, too, distressing a few new beams and adding a stone fireplace, a floor of faux-aged brick, and vintage-look flat-board trim. The ample foaling stall became a dining room, two small stalls merged to form a family room, and four others became bedrooms and baths.
Shown: Unpainted wood, colorful fabrics, and a homemade rug add warmth to the master bedroom.
Stonework: Ranch Deluxe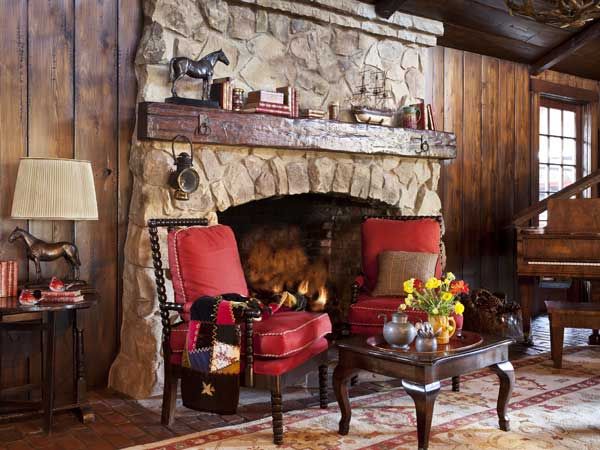 "It's like when you watch an old movie and see a simpler way of life," Gail says of these and some of her clients' favorite interiors. Only this time around, it's one with the comfort and ease that 21st-century homeowners have come to expect.
Shown: A rustic fireplace, added during the redo, anchors the living room.
Before: Texas Transplant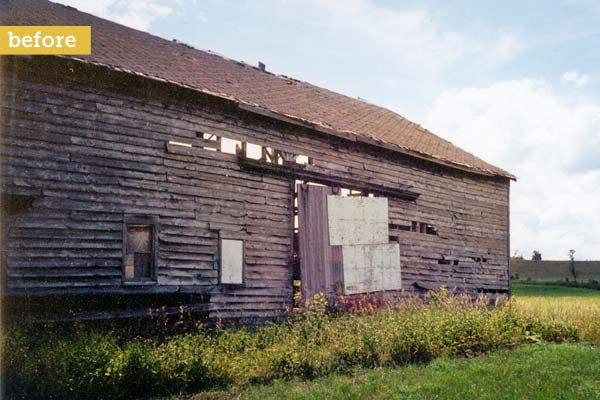 When Toni Fewox's husband, Tom, started making noises about wanting a barn on their lakeside property, near Marquez, Texas, she figured he meant a glorified garage where he could park sports equipment.
Shown: The barn's original worn siding.
After: Texas Transplant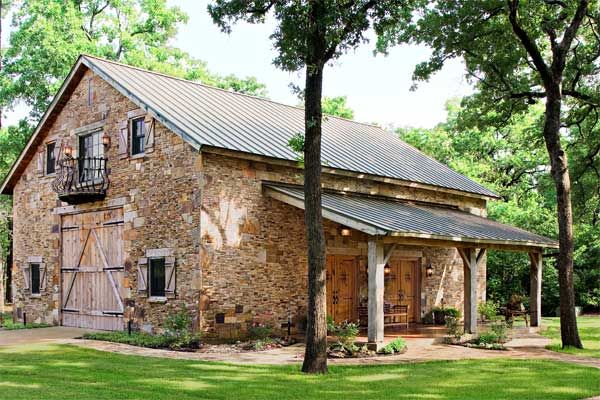 Turned out he was having private talks with Heritage Restorations, which scours upstate New York for barns in need of new owners. Next thing she knows, a flatbed pulls up and it's piled with scrubbed, fumigated, and numbered posts and beams dating, she's told, from the 1840s. The timber reeked of long-lost handcraft. "It was like we could buy a piece of history and do our own thing with it," Toni says. Heritage poured a concrete slab, resurrected the barn's 42-foot-long frame, and set about adding pipes, wires, walls, and a metal roof.
Shown: Transported across state lines to start a new life, this 19th-century New York barn swapped worn siding for spiffier stone.
Reclaimed Barn Door: Texas Transplant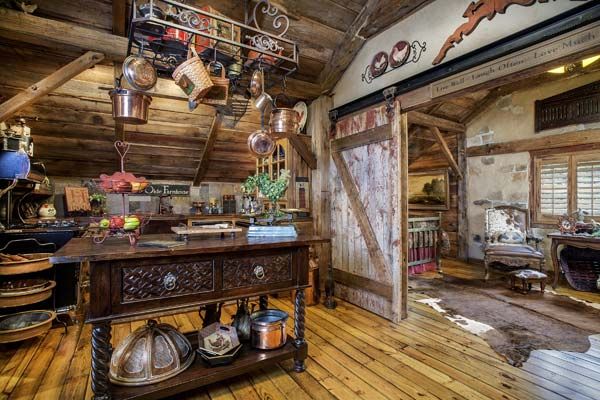 At this point, it occurred to her: Wouldn't it be fun to sleep surrounded by hand-hewn hemlock and eastern pine? Working with carpenter Joed Taylor, the couple added stairs to a kitchen and master suite—freeing the ground floor for billiards and cocktails—and lined the barn with salvaged pine. Then stonemasons wrapped the whole thing with steel mesh and Oklahoma limestone. Wrought-iron touches help the Dutch barn melt into a "Lonesome Dove" landscape, but that's not the point, says Toni.
Shown: A reclaimed barn door slides between the upstairs kitchen and master bedroom.
Barn Loft Apartment: Texas Transplant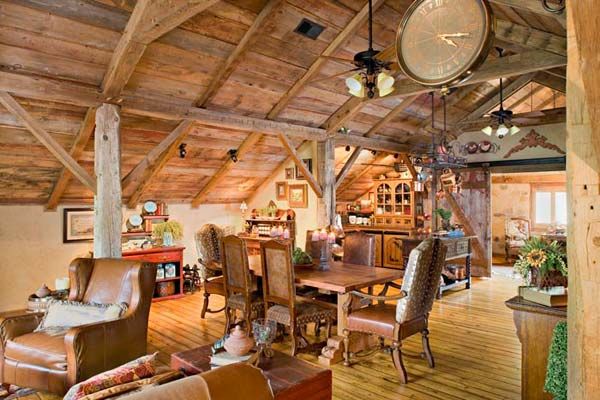 "It's the barn's history. Somebody chopped trees down with an ax and made beams for a barn that held up all these years. People who come visit are just as fascinated as we are." As for that sports equipment, it finally moved into a new barn, built from scratch.
Shown: An abbreviated second floor holds the kitchen, bedroom, and living space. Pine floorboards went down with porch screws hidden under dowels for a pegged look; layered walnut and oak stains highlight the dips and knots and give the floor an aged patina.
Before: Cedar and Glass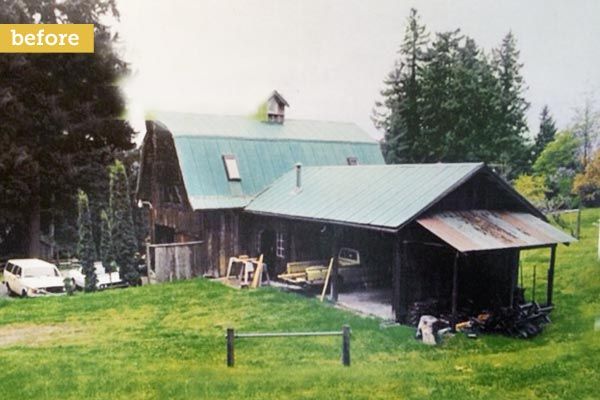 When the Griswold family bought a former farm on Whidbey Island, near Seattle, a ramshackle barn was part of the deal. The barn, built in the 1970s, didn't have much going for it beyond a graceful gambrel roof. But it was big enough to be a gathering place for friends and relatives.
Shown: The barn's former carport can now sleep a crowd.
After: Cedar and Glass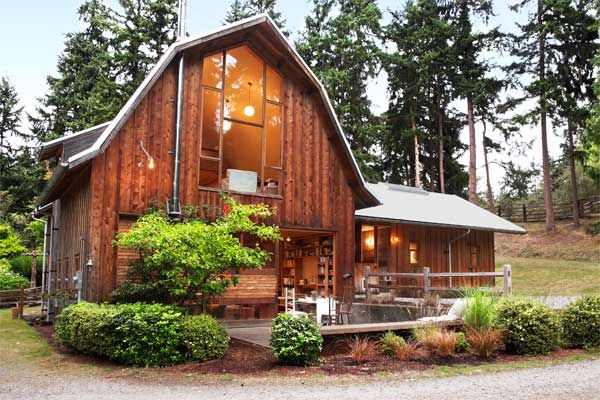 In stepped the design-build team of Prentis Hale and Thomas Schaer, who worked with the family to preserve the barn's footprint while converting its drafty interior to a series of cozy, accommodating spaces. "The owners wanted us to work with what was there," says Schaer.
Shown: The owners of this 1970s barn craved a gathering space big enough for the whole family.
Step-Down Dining Area: Cedar and Glass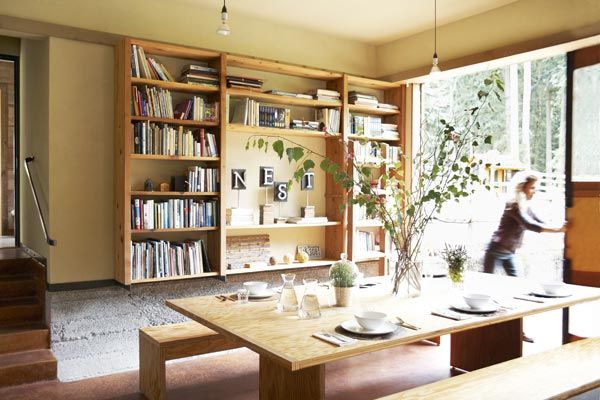 He and Hale pried off the worn siding, pulled out all the nails, and dried, sorted, and reused it inside. "People think using reclaimed materials saves money," Schaer notes. "But it actually increases costs and involves a huge effort."
Shown: The step-down dining area opens onto a new front patio.
Rustic Roofline Angles: Cedar and Glass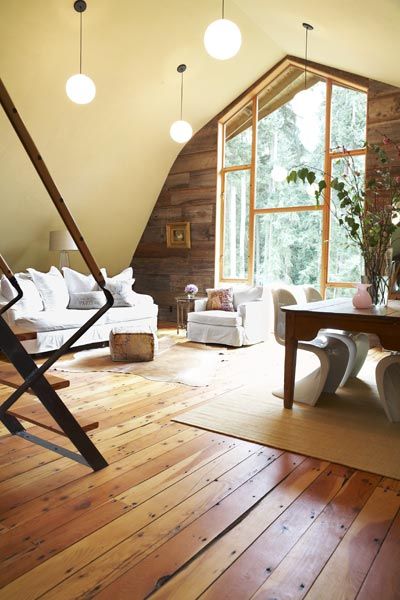 Unlike post-and-beam barns, this one had standard framing, so insulation and drywall went in easily, along with cedar board-and-batten siding matched to the original.
Shown: A gently sloped ceiling softens the roofline's rustic angles. Siding was salvaged and now frames a set of glass panels and windows. Douglas fir floorboards and simple furnishings reinforce the pared-down look.
Features- Crow's Nest: Cedar and Glass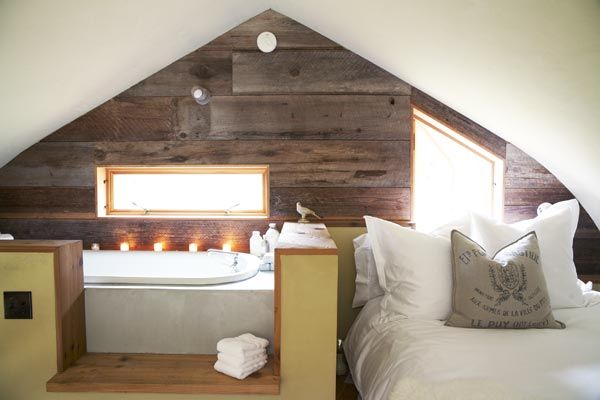 "The owners were very clear," Schaer says. "They wanted to have this patina and warmth without freezing the barn in time—to build it to last while letting it do its own thing." Come to think of it, they sound like the barn raisers of yore.
Shown: A guest loft overlooking the second floor has a wall of reclaimed cedar siding and a salvaged claw-foot tub set into a new surround.
So You Want to Live in a Barn: Skinning and Salvaging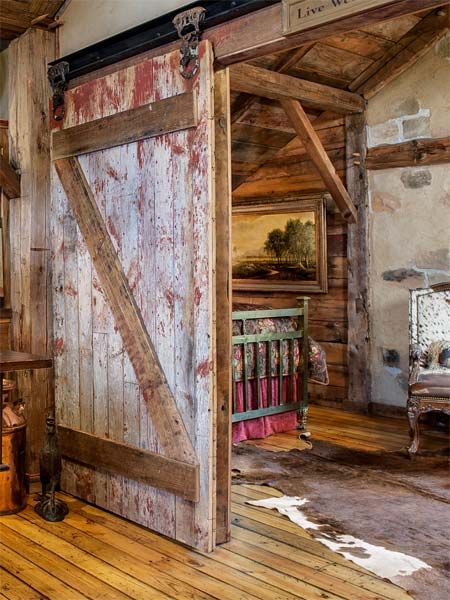 While few would deny the pleasures of living with exposed beams, open space, and a sense of the past, barns aren't the easiest structures to make livable. After all, they were designed as storage units, and thus, along with plumbing and wiring, probably lack closet space. Here are some other things to keep in mind.
• Post-and-beam frames were made to last, but roofs and siding are likely to be weather-damaged and may not even be original. Skinning a barn takes time and skill, and salvaging the wood involves yanking out nails. Then, of course, you must flesh out those old bones, using foam-core structural insulated panels (SIPs) or some more labor-intensive layering of materials.
• You may need to fumigate—powderpost beetles love old wood.
So You Want to Live in a Barn: Window Problems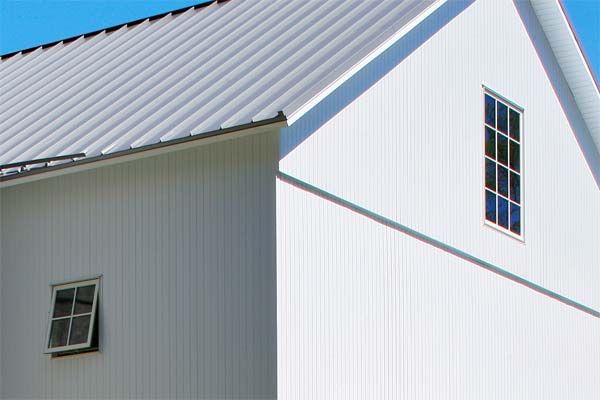 • Old barns often lacked what contemporary barn builders call "chew protection." Horses may have gnawed on the stall doors, and mice may have had their way with the siding.
• The foundation is apt to need work, if for no other reason than to raise siding above wet soil. Sill plates may need fixing too.
• Barns come with wagon-wide doors but little in the way of windows. To bring in sufficient daylight you may need to add glass—windows, skylights, a cupola.
So You Want to Live in a Barn: Local Building Code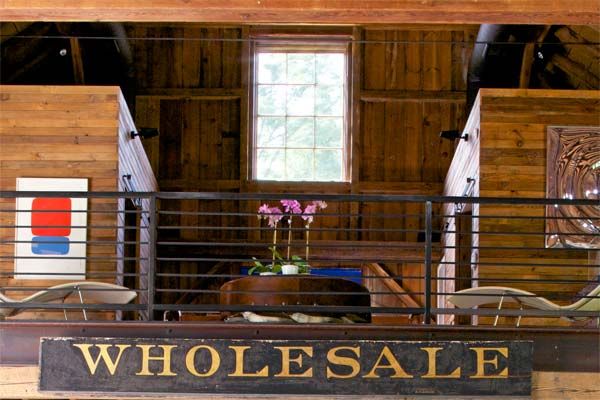 • No one pays much attention to an empty barn, but once you start converting it to a living space, the local building code comes into play. Some requirements may be a surprise—like having to engineer the roof to meet certain snow loads.
• It's hard to heat (and cool) interiors as open as a SoHo loft and as capacious as a village church, not to mention the shortage of privacy.
• Cathedral ceilings are great to look at, but they allow sound to bounce around. And assuming the old barn ladder is long gone, just how are you planning to reach those cobwebs?