Exterior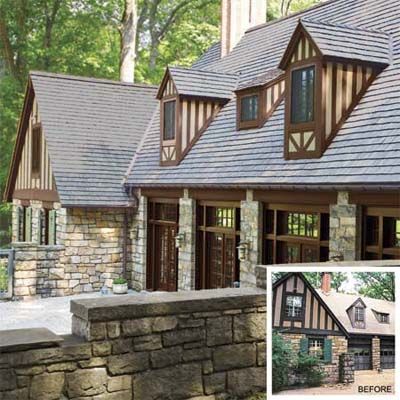 It's not often that the words open plan and vintage home are paired in the same real-estate listing. But that's just what Diane and James Murphy, serial old-house owners, were hoping for: a place with a modern open plan where they could host casual weekend and holiday get-togethers.
Knowing that such a combo would be hard to find, the couple widened their search to vintage barns and carriage houses that would need converting. That's how they came upon the place that captured their imagination: a 3,500-square-foot 1916 Tudor-style carriage house with a four-bay garage taking up most of its first floor.
Along with its facade of local fieldstone and half-timbering, it offered a relaxed, rustic setting in Bernardsville, New Jersey.
And it already had some living space carved out: the upstairs servants' quarters—three bedrooms, a kitchen, and a bath—as well as a mechanic's workshop and a chauffeur's office downstairs.
Great Room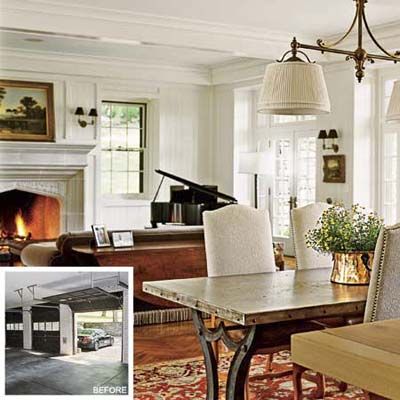 The garage space—a 25-by-45-foot area fronted by four garage doors—had an 11-foot ceiling and no interior walls. Originally home to a sugar baron's Model Ts, it was lined with structural white-glazed brick, and its oil-stained concrete floor came complete with a mechanic's pit.
But the couple already knew what they wanted it to look like: One bay would hold the kitchen, the next a casual dining area, and the last two a sitting area with a new wood-burning fireplace.
But first contractor Wayne Eberle had to jackhammer up the floor and pour a new concrete slab, filling in the pit. This allowed him to replace the old galvanized and cast-iron pipes with copper and PVC. Changing the plumbing also gave them a chance to switch from the old, bulky radiators to a radiant-floor heating system.
A herringbone oak flooring and vintage-style light fixtures refined the space. The garage door openings were filled with French doors and transoms that now open onto a gravel courtyard, and drafty double-hung windows were replaced with energy-efficient models that match the originals in style.
Kitchen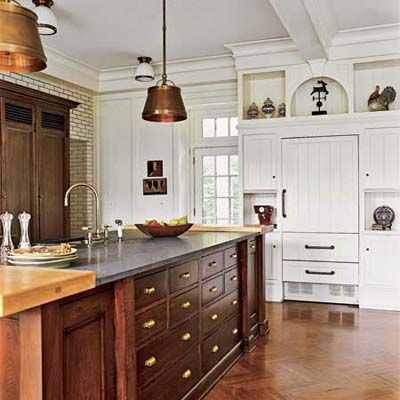 As the main area began to take shape, the couple faced a dilemma over its white-glazed bricks. "They were incredible to look at, so no one really wanted them to come down," says kitchen designer Joan Picone. "But ultimately the homeowners felt they were too cold. You need paneling to make a space this huge feel cozy."
To warm up the walls and keep the bricks, too, she decided to leave the range wall intact as a backsplash and hide the rest behind white-painted V-groove paneling. Eberle built new stud walls in front of the brick, securing them to the ceiling so that they could be taken down if the owners ever changed their minds.
To preserve the soaring plaster ceiling, which had survived the years without water damage or cracks, the designers added coffering to make it seem less stark and to hold new wiring and ductwork.
Pantry Cabinets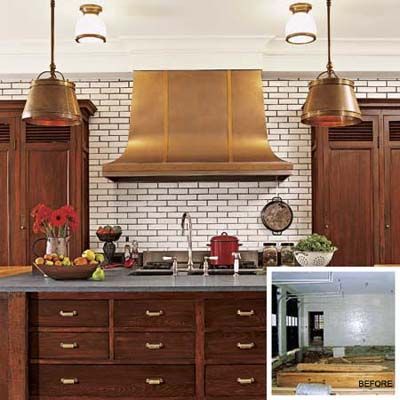 The island, now with a new limestone counter, was a built-in workbench in the mechanic's shop. It boasted a nice aged patina, but it was so damaged with motor-oil residue and burn marks from soldering guns that it needed a new top. And, at 20 feet long, it was so large that to fit it into the new kitchen, carpenters had to cut it down to 11 feet in length and to counter height, then alter the drawers to accommodate two sinks.
Tall pantry cabinets were also salvaged from the workshop, where they were lockers. The new copper lighting fixtures were acid-washed to give them an aged patina.
Cutting Boards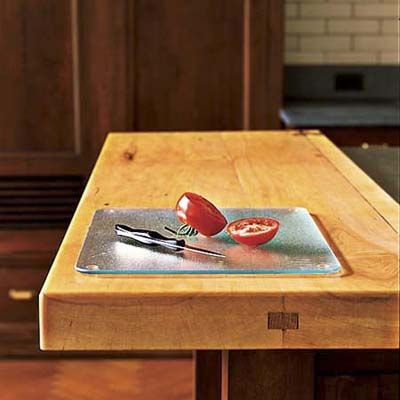 The cutting boards at each end were made from remnants of the bench's original scarred maple top.
Sitting Area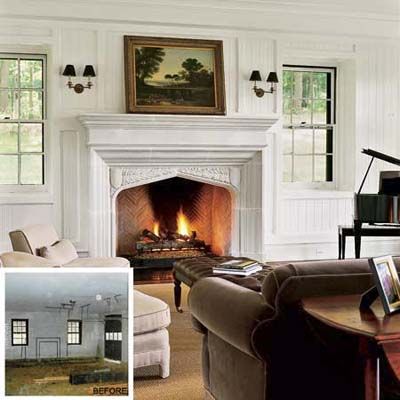 A cement-limestone fireplace erases any trace of the old garage. It also helps delineate a separate area for reading and socializing within the open plan.
Dining Room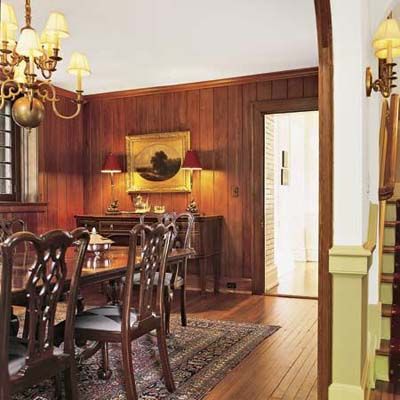 The paneled workshop became a formal dining room, with a grand arch replacing the original 32-inch-wide doorway to the foyer and front stairs. Its wooden lockers were installed in the new kitchen as pantry cupboards.
Library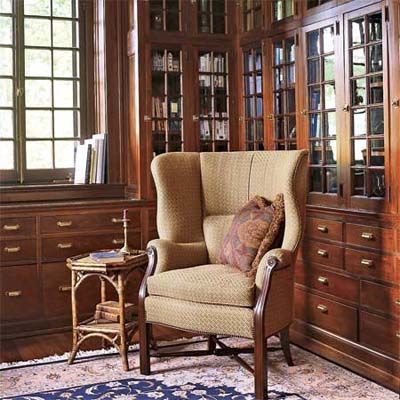 The chauffeur's office needed almost no work to become a library. It came with built-in drawers and well-preserved glass-front cabinets, which now hold the homeowners' board games and book collection.
Master Bedroom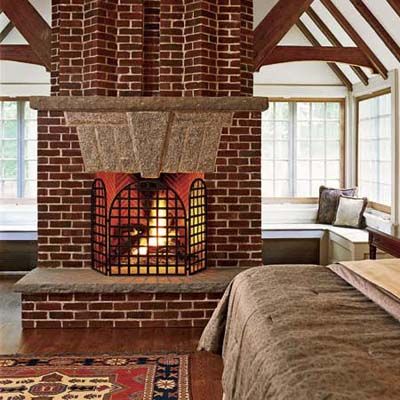 The upstairs rooms—the previous owner's bachelor quarters—still had their original varnished trim, casement windows, and Douglas fir floors. By breaking through the old plaster ceiling to tap unused attic space, the couple raised the master bedroom's 8-foot ceiling to 15 feet and exposed the original rafters. Some of them were so thick, the contractor was able to halve them lengthwise and use the extra pieces to enhance the decorative effect.
To gain floor space, a bumpout with two bay windows and window seats was cantilevered off one end of the house. The fireplace, which is stacked above the one added downstairs, was built to match the original chimney at the other end of the house. The granite keystone and the bluestone mantel and hearth are hallmarks of Tudor style.
Master Bath
The master bath was enlarged by eliminating its two closets, making space for a double vanity stained to match original cabinetry elsewhere in the house. An adjacent bedroom became a walk-in master closet. The remaining one was kept as a guest room, and the old kitchen was turned into Diane's home office, a full bath, and a laundry area.
First Floor Plan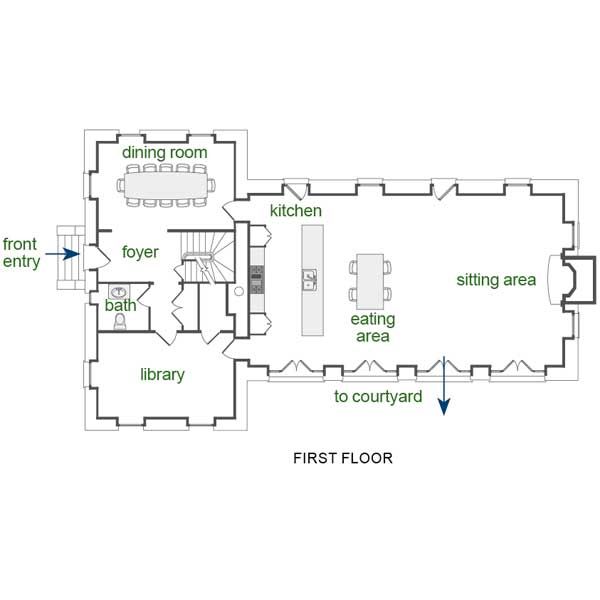 The garage space is now one open kitchen/eating/sitting area; the office and workshop became a library and a formal dining room, respectively. When the couple's daughter arrives with her husband and 11-month-old, a festive spirit takes hold. Friends join in, gathering in the high-ceilinged open living area and spilling over into the small rooms.
Second Floor Plan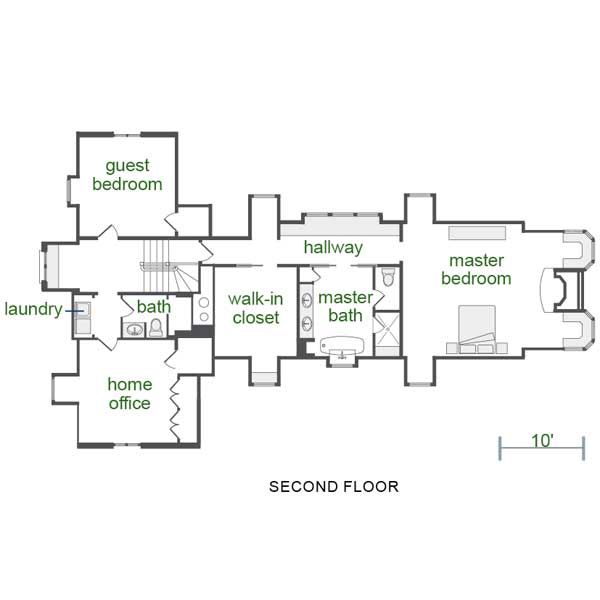 Upstairs, three bedrooms became two plus a walk-in closet and a larger master bath, and a kitchen was turned into a home office, a bath, and a laundry area. The master bedroom bumpout holds a fireplace stacked over the one added downstairs.
The redo ended up taking two years, which included building a new detached garage. But all that time and effort paid off.